The Top 5 Accounting Software in Dubai
Featured Image Source: Pch.vector via Freepik
As your business grows, staying on top of its accounting and financial aspects can be a tedious process.
Fortunately, through innovations and tools, you can now access a centralized database with just a few keystrokes.
If you're interested in that, you're on the right page. Here, you can check out our reviews of the best accounting software in Dubai!
Cost of Accounting Software in Dubai
If you're wondering why we have a price section for software, it's because most accounting software has gone the way of most other software: it's now offered using the SaaS (software as a service) model.
Hence, you typically have ongoing fees – often paid monthly – when using the solutions we listed.
The fees for accounting software in Dubai can vary depending on the plan offered and the pricing method of each software's publisher. Nonetheless, we created a table showing the rates for the plans offered by the entries on our list.
Note that these fees may still be subject to change, so we suggest that you visit our picks' respective websites.
| ACCOUNTING SOFTWARE | PLANS | RATES |
| --- | --- | --- |
| Zoho Books | Free | None (if the business retains the gross revenue threshold limit of $50,000 per year) |
| | Standard | $10 per company/month - (billed annually) |
| | Professional | $20 per company/month - (billed annually) |
| | Premium | $30 per company/month - (billed annually) |
| Quickbooks | Simple Start | $8 per company/month |
| | Essentials | $12.50 per company/month |
| | Plus | $17 per company/month |
| Tally.ERP 9 | Silver | starts at $630 (flat-rate) |
| | Gold | starts at $1,890 (flat-rate) |
| Xero | Starter | $22 per company/month |
| | Standard | $35 per company/month |
| | Premium | $47 per company/month |
| Wave | Free | None |
The Best Accounting Software in Dubai
Before you delve into our top picks, let's first discuss the criteria we used to review each entry.
1. Zoho Books

| Name | Rating (stars) |
| --- | --- |
| COST | ★★★☆☆ |
| EASE OF USE | ★★★★☆ |
| FEATURES | ★★★★☆ |
| INTEGRATIONS | ★★★★★ |
Zoho Books ventured into the world of cloud-based accounting in 2011. Its headquarters are situated in Chennai, India.
Although their services are available globally, they have yet to establish a physical branch and official website in Dubai. That may prove an issue for users who prefer an easily accessible resource for localised support.
It doesn't really negatively affect their services for the most part, though. Since they aim to be a one-stop platform for accounting tasks and transactions, their cloud storage services are accessible through Google Drive, Dropbox, OneDrive, Evernote, and more.
On top of that, they also offer mobile-friendly versions that run on Android and iOS devices.
In our opinion, they offer fairly competitive rates, especially if you consider the features and services included in each plan. If you need more time to think about whether you should avail of the software or not, their free 14-day trial can be your best choice.
Aside from that, they also offer a Free Plan for businesses that can maintain an annual revenue of $50,000. We think this is a good offer considering you can already access client portals, payment gateways, multilingual invoicing, and expense tracking through it.
But of course, there's a drawback to their Free Plan: you will not be able to integrate your banks and import transactions to the software.
To avail of more personalized services, we suggest that you look into their three paid plans with scalable systems instead. They're far better options for most organisations and cater to businesses of all sizes.
What's great about these plans is that they all include the following features: invoice management, expense tracker, timesheet and billing, payment getaways, and more.
Moreover, since you will be able to directly file taxes using this accounting software, your business can stay compliant with Dubai's Goods and Services Tax (GST).
All told, we recommend Zoho Books for small to medium-sized businesses that don't require technical accounting functionalities and comprehensive payroll tools.
However, we should warn you that there's a cap of 5,000 transactions per month even on the highest plan. That's not ideal and can be inconvenient for a large-scale business.
Also, even if they have a FAQ section and searchable knowledgebase, their round-the-clock support requires a subscription fee. As far as we're concerned, that should come immediately when you buy into any of their plans!
Can directly pay taxes using the software
Offers mobile-friendly versions
Integrated with major online payment gateways
Offers free plan and 14-day free trial
Does not have an official website and physical site for Dubai users
24/7 support is paid
Limited transactions per month
2. Quickbooks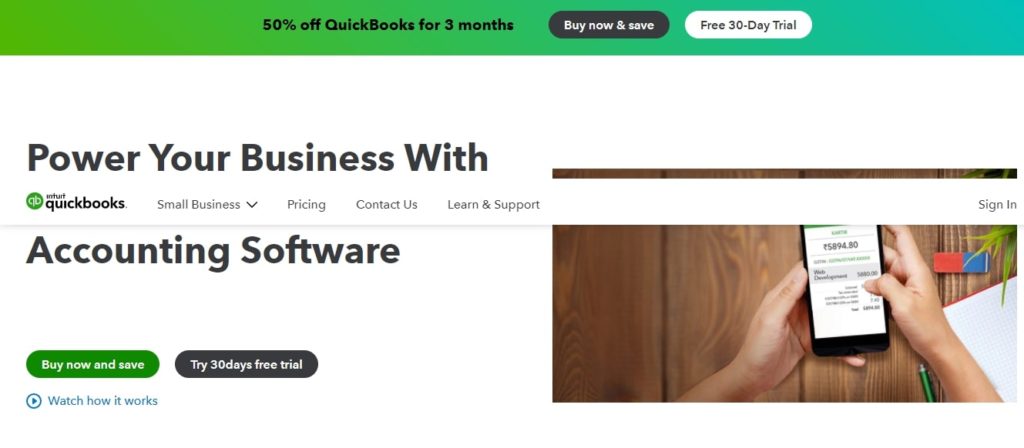 Test
Info
WEBSITE
https://quickbooks.intuit.com/in/
CONTACT DETAILS
800-446-8848
CUSTOMER SUPPORT AVAILABILITY
Monday - Friday 6 AM - 6 PM (US Standard Time - only for Pro, Premier and Plus Plans)

Monday - Sunday Open 24 hours (for Enterprise Plan)
| Name | Rating (stars) |
| --- | --- |
| COST | ★★★☆☆ |
| EASE OF USE | ★★★★☆ |
| FEATURES | ★★★★★ |
| INTEGRATIONS | ★★★★★ |
When it comes to cloud-based accounting software, one of the leading companies in the market is QuickBooks Online.
Let's start our review of them by mentioning one of QuickBooks' strongest points: its clean and simple interface, which is particularly good if the customer only has basic accounting knowledge.
Also, if you don't have an accountant, you can include their Quickbooks Live Bookkeeping add-on, which will let you outsource bookkeeping tasks to a professional accountant.
Among its features, we like that all the plans include access to customer support, mobile applications, and third-party app integrations. Furthermore, it is also integrated into over 600 apps.
Add-on services such as Quickbooks Time, Quickbooks Payments, and QuickBook Payroll are also available but with separate costs.
Of course, these features can help extend the software's functionality across platforms, but if you think the junior versions might suffice for your business, you can opt not to have them.
Just note that the plan rates are obviously more expensive without the initial discount offering. After the three-month discount offer, the plan's sticker price kicks in, so it's best to consider this point before actually purchasing it.
Sadly though, their customer support services are quite prejudiced, in our opinion.
You see, if you only avail of the Simple Start or Essential Plan, you will not have access to a direct professional support team. All you can do is rely on their FAQ sections, chat support, and online resources.
In order to get professional support, you actually need to pay for the more expensive plans. It seems to be a trend among SaaS providers in this space to tie support into payments now, which is unfortunate for us consumers, but it's still worth noting.
Plans come with a free 30-day trial
Offers 50% discount for three months
Offers a variety of add-on features
Offers resources and live support agent
Chat support is not that efficient
Does not have an email
Does not have an official website and branch in Dubai
Direct, professional support unavailable to the cheaper plans
3. Tally ERP 9

Test
Info
WEBSITE
https://tallysolutions.com/global/
CONTACT DETAILS
+971 4 2595065

+771 4 2595066

ADDRESS
4E - A 307-308, Dubai Airport Free Zone

P O Box No. 293835, Dubai, U.A.E.
| Name | Rating (stars) |
| --- | --- |
| COST | ★★★★★ |
| EASE OF USE | ★★★☆☆ |
| FEATURES | ★★★★☆ |
| INTEGRATIONS | ★★★☆☆ |
Tally ERP 9 is the latest accounting software version launched by Tally Solutions in 2019.
We recommend this accounting software for startups, small and medium-sized enterprises (SMEs), and large enterprises. Its basic operations include Accounts, Payable, General Ledger, and Accounts Receivable.
Since they want to ensure that their clients can efficiently switch to automation, Tally.ERP 9 offers a user-defined ledger system to each one of them.
Whether you have a personal or nominal account, you can manage multiple companies through the ledger system and deliver multi-billing formats that are specifically structured for the services/products you offer.
We liked the way the formats and ledgers looked in our sample. They do seem intelligible enough to be viable for a wide range of users.
We also like that their plans are available in a range of buying options. If you can pay the plan's perpetual license upfront, you can use its complete features and capabilities for a lifetime.
However, there are other options if you can't afford that. You can also try the rental license or the Renew Tally Software Service (Renew TSS) to use the software within a specified validity period.
On top of all its offers, Tally ERP 9 also included a GST support feature that can help you handle your business' taxes. Once you have inputted the GST details of your company, the software will prepare and upload your tax files directly.
Among other things, there's not much to dislike about this accounting software.
The only issue we see is that it's a desktop-based application, which means that you have to download and install it on a computer. After that, you also have to avail of NetForChoice Tally Cloud Hosting or other hosting services for it to be used in different locations.
Have a physical branch in Dubai
Offers GST support feature
Provides perpetual license
Offers user-defined ledger system
Does not offer specialized financial reports
Desktop-based application
Limited accounting features
4. Xero

| Name | Rating (stars) |
| --- | --- |
| COST | ★★★☆☆ |
| EASE OF USE | ★★★☆☆ |
| FEATURES | ★★★★★ |
| INTEGRATIONS | ★★★★★ |
Xero started its cloud-based accounting operations in New Zealand in 2006 and now has over three million subscribers worldwide.
One of their best features, which we think makes them stand out from the competition, is that all their subscription tiers support unlimited users. This means that multiple users can access the accounting software through multiple computers.
Xero is also offering a free 30-day trial, which in our opinion is a great advantage, especially if you still want to explore other accounting software before you actually make the purchase.
Just note that their Starter Plan only covers up to 20 invoices and quotes as well as 5 bill entries, so it's clearly not a viable option for a busy startup or microbusiness.
On the other hand, an excellent feature you can have with their Premium Plan is its multiple currency conversion. If you own a large enterprise, this can work in your favor since you will no longer need to manually process the conversion.
Whether you are a professional accountant, bookkeeper, or owner of a small or large-scale business, you can benefit from the many features of this accounting software. However, in terms of support, Xero is not that efficient.
Even if they provide comprehensive resources on their website, they do not have a live support phone number, so you will not be able to discuss other issues with an expert. That's a major weakness for software designed for businesses, in our opinion.
Support unlimited users in all subscription plans
Offers free 30-day free trial
Has various Xero integration partners
No live support phone number and email
Some users and testers find it not user-friendly
5. Wave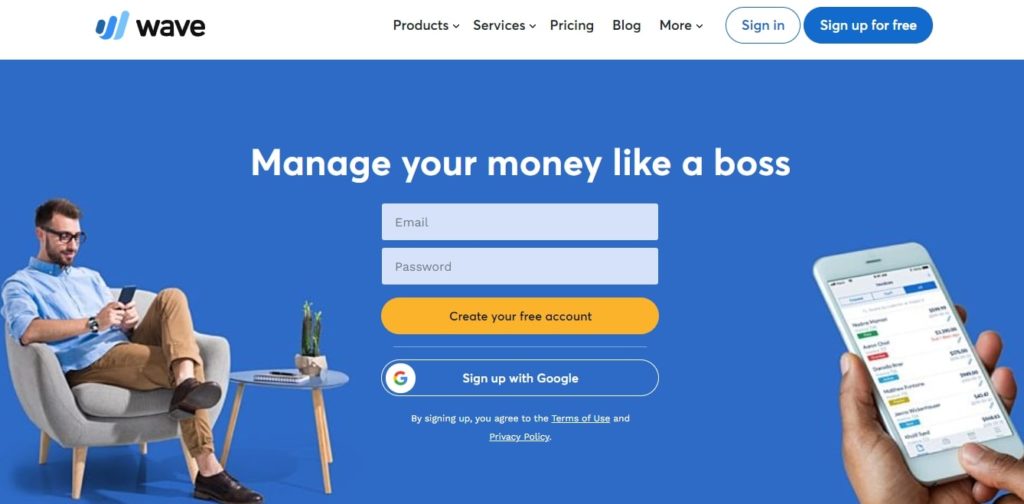 | Name | Rating (stars) |
| --- | --- |
| COST | ★★★★★ |
| EASE OF USE | ★★★★★ |
| FEATURES | ★★★☆☆ |
| INTEGRATIONS | ★★★☆☆ |
Another cloud-based accounting software on our list is Wave. It was established in Canada in 2010.
Although it's fairly new compared to other entries on this list, it's a popular choice for freelancers, independent contractors, and small business owners.
It's probably not that surprising. You see, its accounting services are absolutely free.
Yes, you heard it right, but you might be thinking, is there a catch? Why is this software's publisher not charging a cent for the service?
Well, we wondered that too. After digging around, we found that Wave makes money through its financial and payroll services.
Also, as you can observe if you try it, its accounting functions have limitations. Wave can only offer limited inventory and time tracking, and it doesn't have project management and expense tracking features.
That said, Wave is still a good pick, especially if your business is just starting out. The functions they offer include invoicing, accounting, and receipt scanning.
On top of that, the accounting software can be accessed by an unlimited number of users and can cater to multiple financial accounts.
Unfortunately, another drawback of their free services is that their live support and email support are only for users who signed up for their paid services.
Although quite a few aspects can be improved, we admit that we can't really be too picky since this accounting software is totally free. It's still a great choice if you can operate within the limitations, especially if you're an entrepreneur or a startup in the very early stages.
Offers free accounting features
Easy-to-use interface
Can be operated by multiple users
Can cater to multiple financial accounts
Not suited for large businesses
Limited accounting features
Doesn't phone number
Live and email support only available for paid services
Factors to Consider When Choosing Accounting Software
With all the available options for accounting software in Dubai, picking the right one can be a tedious process. To help you with your search, here are some of the factors to keep in mind.
1. Know the accounting functions and solutions your business requires.
Understanding the scope of your business is key in determining which accounting software to go for. What problems do you have and what should the software solve?
Do you need help in inventory management, payroll, and cost accounting? Do you want to keep track of every cash in and cash out report?
Determine the accounting functions and solutions that should ideally be performed by the software you will choose. Of course, aside from basic accounting, you can also note other add-on features that you would like to have.
2. See if the accounting software is user-friendly and accessible.
Don't be blinded by the accounting software's fancy features and interface. You see, implementing a new system is challenging enough, so if you pick one that is hard to configure, your business might not benefit from it.
Since the success of the software can vary on how it is handled, make sure that you select the one with a user-friendly operating system, functions, and design.
For example, you can opt for the one with a clean and simple interface so your workers can easily locate and access tools and options.
You can also use the demo or trial for the software first, then ask everyone in your organisation who will have to work with it to take it for a test run. See what they say afterwards to figure out if it works for them or not.
3. Check the cost of the software.
When checking the cost of the accounting software/software packages, don't forget to consider the fees for upgrades, licensing, and support.
Some providers may also charge you for the installation and setup so make sure to get quotes from a few companies before you purchase one.
4. Determine its security features and measures.
Knowing the security features that the accounting software can offer to you is important to avoid unauthorized use of data. Besides that, it also plays a big role in ensuring that all information is kept safe and secure at all times.
Note that if you choose online accounting software, you can ask the firm how they store data and also how they transfer information from your computer to their servers.
5. Look into their customer support service.
Since there can be updates or changes, it's best to pick a company that offers reliable and knowledgeable experts that can help you address any issue regarding the accounting software.
Take the time to see client reviews about the firm's customer support service to get a view of how timely and efficient they are in providing customer support.
We already noted earlier that some support features may be locked behind certain tiers or paywalls now, though. Still, it's always worth looking into what sort of support you can get before investing in one of your options.
FAQs about Accounting Software in Dubai
---
Got other accounting software in mind? Drop us a message so we can check them out as well!
If you still want to know more about financial management, we recommend that you also check out our reviews of the best accountants and financial advisor firms in Dubai.