The Top 5 Sushi Restaurants in Dubai
One of Japan's most prominent and priced cuisines is sushi. Coming in many forms and ingredient varieties, it's no surprise that it's made its way around the world.
It's so popular in fact that even Dubai is home to many sushi places. But of course, we only want the best for you, so we looked into the top sushi restaurants in Dubai. Itadakimasu!
How much does it cost to dine in a sushi restaurant in Dubai?
The cost of dining in a sushi restaurant in Dubai depends on the type of restaurant that you choose. Some all-you-can-eat places also offer a variety of other types of Japanese cuisine, which means that you're not only paying for sushi.
Conveyor belt sushi chains are also a little bit more expensive compared to regular sushi restaurants due to the wide assortment of sushi types they offer.
To help you decide, we've tabulated below the average cost of dining in at the best sushi restaurants in Dubai.
| Restaurant | Average Cost | Average Price per Person |
| --- | --- | --- |
| Miyabi Sushi | Regular | AED85-200 |
| Sumo Sushi & Bento | Regular | AED80-170 |
| Sushi Nations | Regular and All-you-can-eat | AED69-220 |
| TOMO | All-you-can-eat | AED319-449 |
| YO! Sushi | Conveyor belt and All-you-can-eat | AED79-139 |
The Top Sushi Restaurants in Dubai
In order to get the full sushi dining experience, there are some things you need to look for in order to gauge the quality of a sushi place.
We've listed down the criteria we used in our assessment of the best sushi restaurants in Dubai:
1. YO! Sushi Dubai Mall
Test
Info
MENU
Rolls

Sashimi

Nigiri

Ramen

Teriyaki

Katsu

PRICE PER PERSON
AED79-139
WEBSITE
https://yo-sushi-online-menu.webflow.io
ADDRESS
Unit LG, 116, Sheikh Mohammed bin Rashid Blvd, Downtown Dubai, Dubai, United Arab Emirates
CONTACT DETAILS
+971 4 339 9083
OPERATING HOURS
Sunday - Wednesday, 11 AM - 12 AM

Thursday and Saturday, 11 AM - 1 AM

Friday, 10 AM - 1 AM
| | |
| --- | --- |
| AUTHENTICITY AND VARIETY | ★★★★☆ |
| PRICES | ★★★★★ |
| AMBIANCE | ★★★★☆ |
| DINING EXPERIENCE | ★★★★★ |
If you're looking for the best sushi restaurant in Dubai with affordable prices and great variety, then YO! Sushi is definitely the place for you.
It is a conveyor belt type of sushi restaurant with an amazing variety of authentic and mouth-watering cuisine.
We highly recommend trying out their Flame Grilled Salmon & Cheese Roll, Salmon & Yuzu Salsa, Garlic Beef Teriyaki, and Aburi Salmon. You won't regret it!
And if you find that you just can't have enough of their delicious sushi, then we have good news for you.
YO! Sushi actually offers all-you-can-eat deals occasionally, with the prices ranging from AED119-139. Pretty impressive price for such an enticing offer, don't you think?
Although with their conveyor belt style of service, it can be rather easy to lose track of your spendings if you're not on their unlimited offer. That's why we advise you to pay attention to the colour of the plate, because that indicates the price of each item.
They also have fairly limited options for vegetarians, and we'd really appreciate it if they could also work on that.
But on the other hand, we find their long operating hours to be impressive. They're open until midnight on most days, which is perfect for customers who are busy most of the day.
Long operating hours
Seasonal all-you-can-eat deals available
Affordable prices
Easy to lose track of total spendings
Limited vegetarian options
Customer Reviews
Very perfect deal for a sushi lover
"I had great a experience here. Enjoyed their food especially the salmon yuzu and salsa and the chili chicken ramen. Aside from the food I also love the service that Abby gave. She made sure that I received all the food that order and even suggested me their mocktails which I love it so much! Thank you Abby for the service and stay bubbly!" – Michelle Micutuan
Wide variety of sushi
"Nice place with a wide variety of sushi and other Japanese plates the service was fast and food was good" – Abd Awad
2. TOMO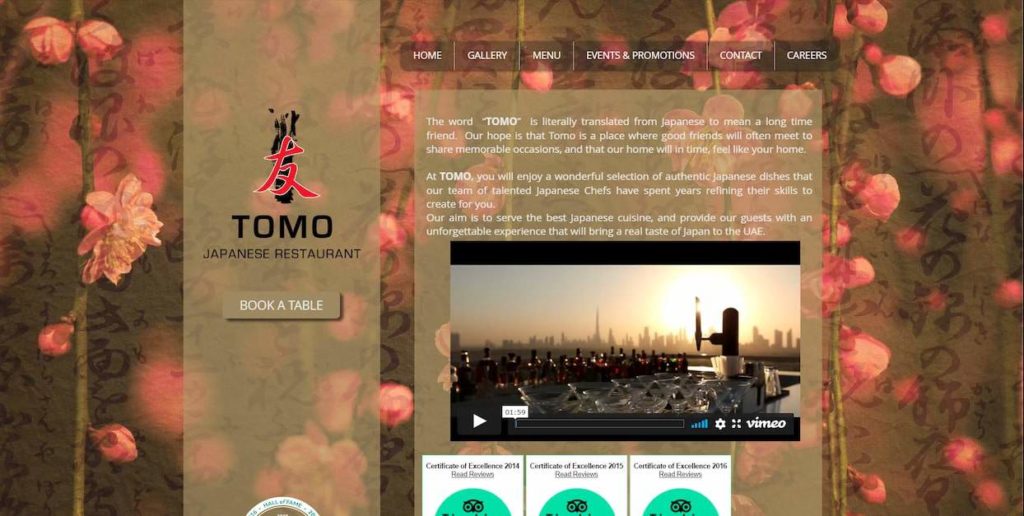 Test
Info
MENU
Seasonal Appetiser

Assorted Sashimi

Assorted Sushi

Halal Wagyu Beef

Curry Rice

PRICE PER PERSON
AED319-449
WEBSITE
https://www.tomo.ae/
ADDRESS
Exit 56, Umm Hurair 2, Dubai, United Arab Emirates
CONTACT DETAILS
+971 4 357 7888
OPERATING HOURS
Opens everyday

Lunch:12:30 PM - 3:30 PM

Dinner: 6:30 PM - 12 AM
| | |
| --- | --- |
| AUTHENTICITY AND VARIETY | ★★★★☆ |
| PRICES | ★★★☆☆ |
| AMBIANCE | ★★★★★ |
| DINING EXPERIENCE | ★★★★★ |
With two Japanese sushi chefs running the kitchen, we can gladly vouch for the validity of TOMO as one of the best sushi restaurants in Dubai.
They directly import their vegetables from Japan on a weekly basis, so you can rest assured that the dishes they serve are made only from the freshest ingredients.
You can verify this for yourself with how tasty their sushi dishes are. Some of our favourites include Shime Saba, Special Negitoro, and Toro Tekka.
Even their other dishes are yummy too. We definitely recommend trying out their Wagyu Shabu Shabu, Seafood Tempura Moriawase, and Kani Cream Croquette.
Although as an all-you-can-eat restaurant, this place can be pretty expensive if you're only looking forward to dine casually. In other words, you need to be prepared to eat a lot if you really want to savour and make the most out of your money.
But at least, you don't need to worry about accidentally eating something that contains an allergen. TOMO's menu has been thoughtfully labelled with the allergens found in each dish, and we really appreciate them for that.
We also think its superb ambiance and professional staff services makes TOMO a great venue for any business events you may need to host. In fact, they even have a business lunch set menu available during weekends.
On-staff Japanese sushi chefs
Great place for social events
Menu adequately labelled for allergens
Sufficient vegetarian options
Not recommended for casual dining
Expensive buffet price
Customer Reviews
Great sushi, great view, great staff
"Great sushi, great view, great staff and not ridiculously expensive considering the ambiance. We sat outside and had the most beautiful uninterrupted view. It was a really special night and well worth every penny." – Tina Gebel
Authentic Japanese food
"The best quality sushi ever. Order their flounder sushi, I'm craving more already. Loved my Saketini on their lovely terrace where the lovely breeze on the 17th beat the summer heat! An old gem that wins hearts for its authentic Japanese food made by Japanese chefs." – Gabrielle F M
3. Sushi Nations – Latifa Tower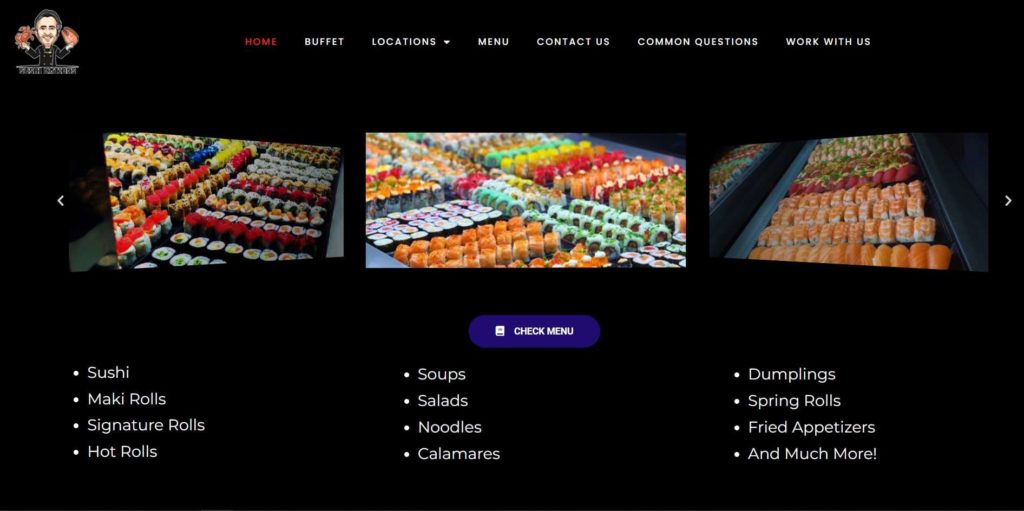 Test
Info
MENU
Sashimi

Maki Rolls

Gyoza

Japanese Street Food

Temaki

PRICE PER PERSON
AED69-220
WEBSITE
https://www.sushinations.ae
ADDRESS
Latifa Tower, Shop No.L2, Ground Floor, Sheikh Zayed Rd, Dubai, United Arab Emirates
CONTACT DETAILS
+971 4 252 3588
OPERATING HOURS
Tuesday - Saturday, 12 PM - 4 AM

Sunday - Monday, 12 PM - 11 PM
| | |
| --- | --- |
| AUTHENTICITY AND VARIETY | ★★★★☆ |
| PRICES | ★★★★★ |
| AMBIANCE | ★★★★☆ |
| DINING EXPERIENCE | ★★★★☆ |
With six branches across the metropolis, Sushi Nations has established itself as one of the most affordable and best sushi restaurants in Dubai.
Just one look at their menu and you'll know that you're in for a wide variety of various sushi types.
They offer a mix of 18 sushis for AED220, as well as a mix of 40 regular or vegetarian maki rolls for AED120. Their all-you-can-eat offerings start at AED69, although you'll have less dishes to choose from at that price range.
But while Sushi Nation's prices and variety are really great, we're afraid that the same can't be said for the authenticity of some of their dishes.
For starters, we've received some complaints about overcooked rice, which is a big no-no when it comes to sushi. We also noticed that the slices of salmon on their sashimi are thinner compared to other restaurants.
There's also nothing much special about the place's ambiance, but at least they have all the facilities you'd expect from a sushi restaurant.
Nonetheless, most of their dishes are delicious and you shouldn't really miss out on their offers.
When you get the chance, we recommend you to try out their Steamed Meat Gyoza, Crispy Salmon Skin Sushi, Spicy Tuna Togarashi Sashimi, and Shimeji Shiitake Rolls. They're all really yummy.
Affordable menu selection
Great variety of sushi options
Vegetarian-friendly menu
Small serving portions/thin tuna slices
Complaints about overcooked rice
Customer Reviews
Variety is huge for such an affordable price
"The Best Sushi in UAE!! Went there with friends and family many times and it never disappoints! The owner and managers are so kind and the food is very good!! The variety is huge for such an affordable price!! This place is a must-come spot to all Sushi Lovers! They have 5 Branches in Dubai which is amazing! Thank you for the kind service! Shusma is the best!" – Lucas Nassar
Many options for vegetarians
"Everything was so good! So many options for vegetarians! Great service and awesome flavors. Special thanks to Mr Rajiv and his team" – Srijaenthi Natraj
4. Sumo Sushi & Bento DHCC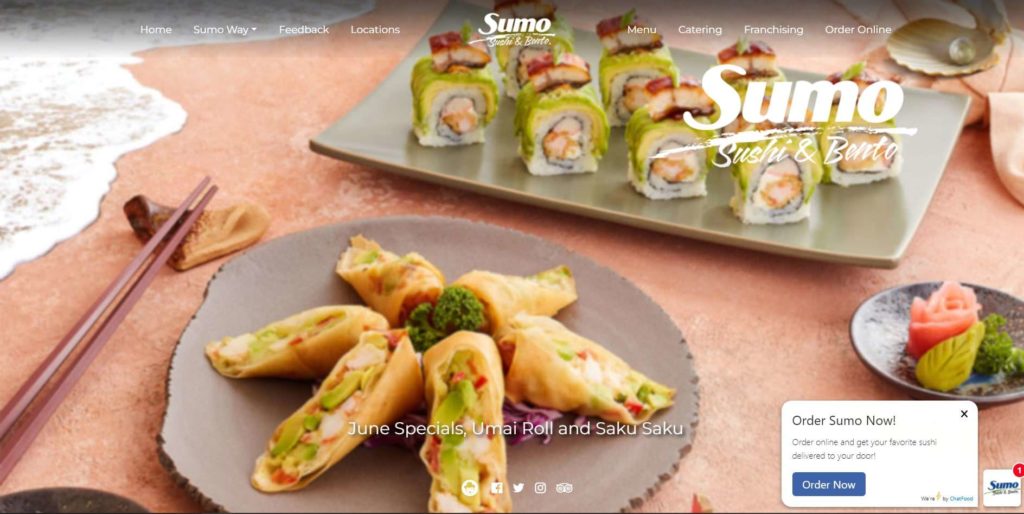 Test
Info
MENU
Sushi Rolls

Temakizushi

Sashimi

Noodles

Bento

Poke Bowls

PRICE PER PERSON
AED80-170
WEBSITE
http://sumosushibento.com/
ADDRESS
Building 49 Ground 4, 13th Street, Dubai, United Arab Emirates
CONTACT DETAILS
+971 800 7866
OPERATING HOURS
Monday - Sunday, 11 AM - 11 PM
| | |
| --- | --- |
| AUTHENTICITY AND VARIETY | ★★★★★ |
| PRICES | ★★★★★ |
| AMBIANCE | ★★★☆☆ |
| DINING EXPERIENCE | ★★★★☆ |
Since opening its first restaurant in Dubai in 2000, Sumo Sushi & Bento has grown to be one of the to-go places when it comes to fresh and delicious sushi.
The place is home to many affordable options, and their food presentation is visually appealing as well.
We've tried out their menu and some of our favourites are Chirashi Bento, Salmon and Avocado Temaki, Crabstick Salad Gunkan, and Samurai Poke. Don't miss out on those– they're really yummy!
We also loved their diverse menu for vegetarians. From their Veggie Futomaki and Vegetable Fried Rice to their Veggie Ramen and Veggie Supreme Bento, this restaurant is definitely a haven for vegetarians.
However, we think Sumo Sushi & Bento can use some work on their ambiance. The lack of Japanese elements in the restaurant's interior made us question whether we got the right place or not.
The place is also relatively small, so the seating area is fairly limited.
On the bright side, Sumo Sushi & Bento offers catering services. Thus, if you're planning to host an event, then you can count on them for all your sushi needs.
We'd also like to mention that they support organisations like The Dubai Foundation for Women and Children. So if you want to have some great sushi while supporting a charitable cause, then you should really check them out.
Lots of vegetarian options
Fresh and authentic sushi
Catering available
Insufficient seating areas
Poor ambiance
Customer Reviews
Very tasty and also look nice
"Very good and different sushi to order. The creation are very tasty and also look nice. The price is also good. " – Muhammad Bilal
Friendly crew
"Small quaint place. Love their salads and the samurai roll! Their iftar offers are good. Friendly crew and attentive :)" – Summer Finn
5. Miyabi Sushi Trade Centre 1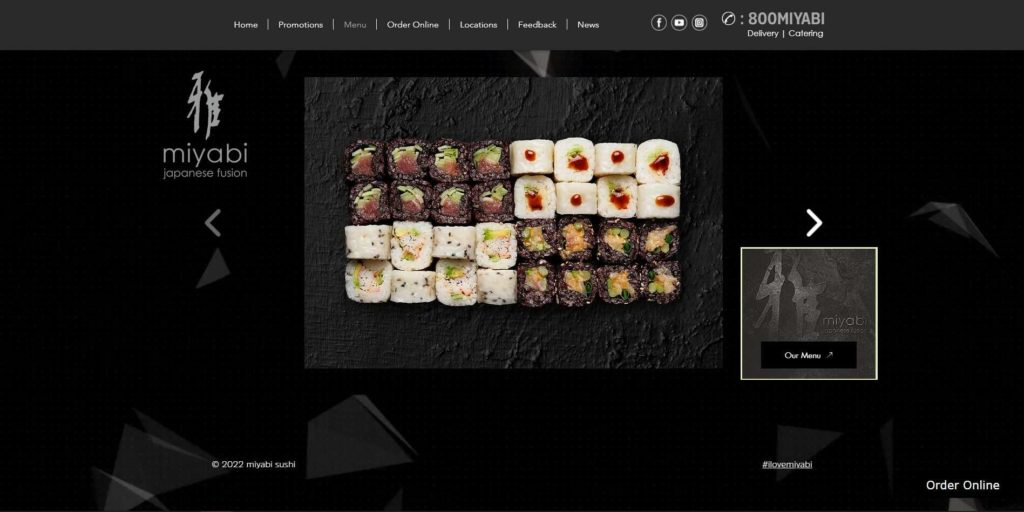 | | |
| --- | --- |
| AUTHENTICITY AND VARIETY | ★★★★☆ |
| PRICES | ★★★★★ |
| AMBIANCE | ★★★☆☆ |
| DINING EXPERIENCE | ★★★★☆ |
Serving contemporary Japanese cuisine and sushi since 2012, Miyabi Sushi is one of the best sushi restaurants in Dubai.
It has six branches across Dubai and we can say that it did a great job of maintaining the authentic flavours that we all love.
We've sampled their dishes and really loved their Butter Sake Tataki, Hamachi Tartare Roll, and Salmon Messy Nori.
They also offer 12 assorted sashimi pieces for AED92. Given its fresh quality, we'd say it's definitely worth a try.
Miyabi Sushi also offers an all-you-can-eat option for AED150, but it's only available during Tuesdays.
However, we find their variety to be quite lacking compared to other sushi restaurants. Their vegetarian options are also fairly limited.
Additionally, as far as its overall ambiance goes, the place is also pretty average. Not to mention that serving times can get pretty long especially during the weekends.
Nonetheless, the service at Miyabi Sushi is superb and their personnel are very accommodating. They're also good at making suitable recommendations once you inform them of any allergies you may have.
We'd also like to add that their upper floor is reserved for bigger groups. So if you're looking for a sushi restaurant for a family gathering, Miyabi Sushi is the right place for you.
Long operating hours
Friendly and helpful staff
Great place for family gatherings
Long serving times during weekends
Fewer menu options
Customer Reviews
Easily accessible and affordable place
"Get your Japanese fix in an easily accessible and affordable place! Try their signature rolls–super yum! 😀
My friends and my favorite is their all-you-can-eat specials every Tuesday. They have more choices that include maki, temaki, nigiri and sashimi compared with other Japanese buffet deals out there—your AED 147 is definitely worth it!" – Yvette Diangson
Good for family gatherings
"When you're a sushi lover, you should visit this place. Tucked in a corner near the Four Points of Shh Zayed Road. Good for family gatherings as they have the upper floor reserved for big crowds." – Sheikha Bangit
FAQs about Sushi Restaurants
---
So how was it? Have you decided which of the best sushi restaurants in Dubai you'll visit soon?
We hope that we helped you make a decision, but if you find another sushi restaurant deserving a spot in this list, don't hesitate to let us know!
If you find yourself craving for some Italian cuisine in the future, you can also check out our article on the best Italian restaurants in Dubai.