The 5 Best Flea Markets in Dubai
Whether you're looking for an antique centerpiece for your home or if you want to look for a rare edition of your favorite book, flea markets are where you should start searching.
Dubai has its own fair share of flea markets that range from weekend gatherings in different parts of the city to open markets that have existed for decades.
That is why we're sharing with you our favorite flea markets in Dubai. We also included the factors we considered in choosing as well as the answers to some FAQs about flea markets in Dubai.
How much does it cost to shop in a flea market in Dubai?
The cost of shopping at a flea market in Dubai may vary depending on the items you're buying and how much you can bargain for a lower price.
However, if you're looking to sell, get a booth to sell your products at a flea market, then check out the table below for the average cost of the vendor's fee.
| Fees | Price |
| --- | --- |
| Standard table with 2 chairs | AED288 |
| Cocktail table with 2 chairs | AED275 |
| Empty floor space with 2 chairs | AED300 |
| Artist's space with art racks and 2 chairs | AED287 |
| Extra space for rails/racks/mannequins that are around the fringe of the table | AED50 |
| Extra floor space - half of a normal space | AED75 |
| Workshop table for hosting activities and workshops | AED125 |
| Admin's fee for new members | AED125 |
The Best Flea Markets in Dubai
Before we get right into our favorite flea markets in Dubai, here are the factors we considered for our entries on this list:
1. Souk Al-Bahr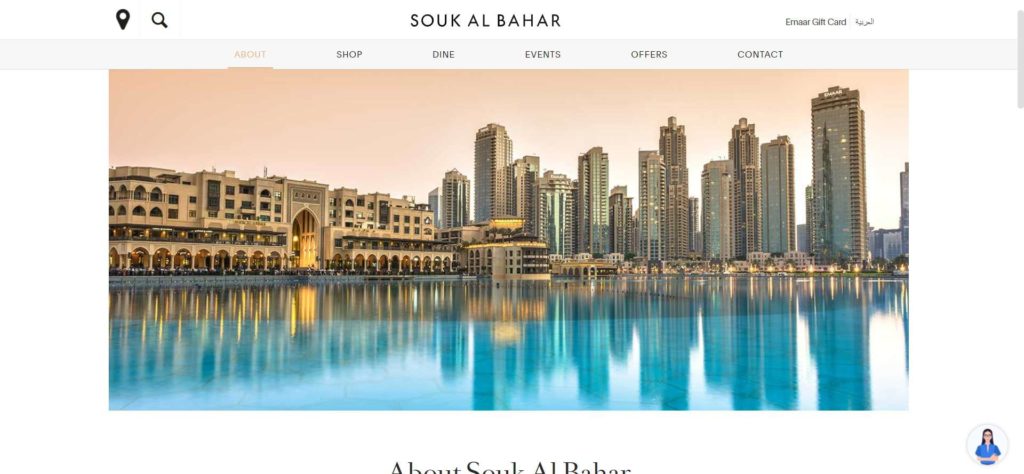 Test
Info
WEBSITE
https://www.soukalbahar.ae/
ADDRESS
Sheikh Mohammed bin Rashid Boulevard, Downtown Dubai, Dubai, UAE
CONTACT DETAILS
+971 4 362 7011
OPERATING HOURS
Monday to Thursday: 10 AM - 10 PM

Friday to Saturday: 10 AM - 11 PM
| | |
| --- | --- |
| Criteria | Rating |
| Location | ★★★★☆ (4/5) |
| Accessibility | ★★★★★ (5/5) |
| Rarity | ★★★★★ (5/5) |
| Range of Sellers | ★★★★★ (5/5) |
Offering a modernized shopping experience, Souk Al-Bahar is home to more than 100 shops alongside a beautiful waterfront dock.
While technically a mall, we love that a number of its occupants actually sell their collections of handmade antique furniture, rare discontinued editions of books, and old-fashioned rugs that we haven't seen anywhere else besides at the souks in the old parts of Dubai.
On top of that, some stores also have conventional crafted artifacts, customary Emirati outfits, and Arabian fragrances. The market in general had the busy, welcoming feel of old souks.
We also love that it's right next to the DIFC and the Dubai Design District.
It's also nestled right between downtown Dubai and residential areas, making it a great pit stop going to and from houses.
However, it only has one location, so it doesn't have as much great coverage when compared to other flea markets you're about to read on our list.
In terms of its accessibility, we love that since it's designed to be like a modernized souk, accessibility for people with disabilities is integrated into its architecture quite successfully.
The place had enough ramps to allow people in wheelchairs to get from one level to another. It also had elevators and PWD cubicles in the restrooms for them.
So, despite the busyness of Souk Al-Bahar, everyone can still manage to navigate through the place on their own with no problems.
All in all, if you're looking for a comfortable flea market shopping experience with amenities and dining experiences nearby, Souk Al-Bahar is at the top of our list.
Located right next to busy downtown districts and residential areas
Designed to be like a mall with amenities for accessibility
Great place for antique furniture, books, and rugs
Also has stores that sell items usually found in malls
Only has one location
Doesn't have many rare finds except for books
2. Covent Garden Dubai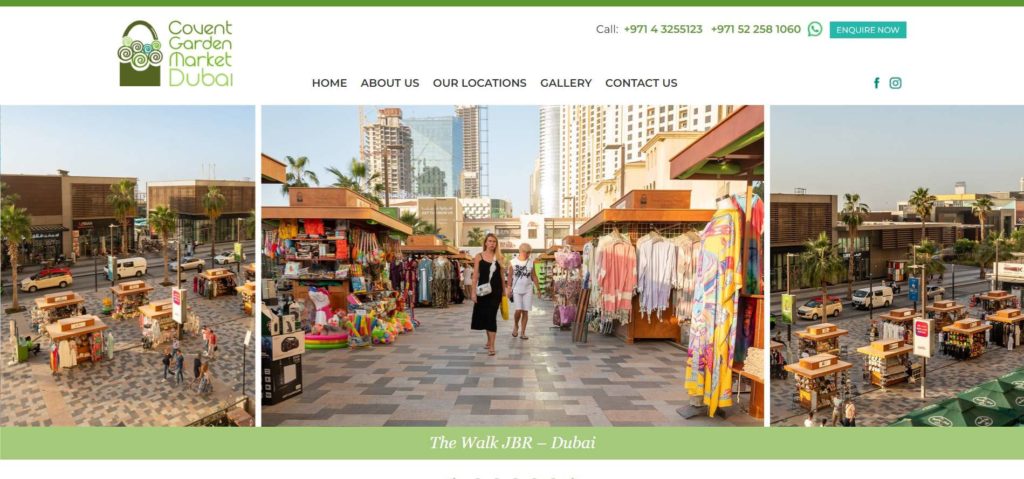 Test
Info
WEBSITE
https://coventgardenmarketdubai.com/
ADDRESS
Office 213 – 214, Dubai Investment Park 1, P.O. Box 65978, Dubai, UAE

Has 8 locations located all over the city

CONTACT DETAILS
04 3255123

050 185 7728

055 518 8672

050 586 6481

OPERATING HOURS
Daily: 10 AM - 12 AM
| | |
| --- | --- |
| Criteria | Rating |
| Location | ★★★★★ (5/5) |
| Accessibility | ★★★★★ (5/5) |
| Rarity | ★★★★☆ (4/5) |
| Range of Sellers | ★★★★★ (5/5) |
Dedicated to launching markets, Covent Garden Dubai's reputation precedes them and for good reasons.
With eight locations all over Dubai, each Covent Garden Market has at least 20 stalls—more than enough to provide a diverse shopping experience for customers looking for unique wares.
Their knack for establishing these successful markets is noticeable from the kinds of locations they pick.
Most of their markets are in commercial neighborhoods and complexes that are not only easy to get to but are also designed to be fully accessible for people with disabilities.
So not only have they built and maintained a strong presence over the city with their numerous branches, but they have also done a great job at keeping these markets accessible for everyone.
As for our visit to some of their locations, we found some pretty uncommon and unique artifacts that have come from collectors and people looking to get rid of old souvenirs, trinkets, and adornments.
And while there were uncommon finds, we quickly realized most of these were just older versions or discontinued editions of trinkets and souvenirs.
We didn't really find any one-of-a-kind products save for some paintings that some vendors were selling and some amazing handmade home products.
Another thing we love about these markets though is they're more than just a group of kiosks huddled together selling used items.
Some vendors also sell artisan goods, artworks, and, our favorite, flowers! This made so much sense to us because we came across some vases being sold here, and when we saw the flowers as well, both were too hard to pass up.
All in all, with the numerous locations all over the city, Covent Garden takes the beauty of flea markets and pushes it even further.
By eliminating the seasonal nature of these kinds of markets and establishing a permanent presence, they give people the convenience and accessibility that is lacking in most flea markets.
Has eight locations all over the city
Locations are designed to provide full accessibility
Sells uncommon unique wares, paintings, and artisan goods
No one-of-a-kind rare finds
3. ARTE The Makers' Market
Test
Info
WEBSITE
https://www.arte.ae/
ADDRESS
Al Marabea Road - Al Quoz - Dubai - United Arab Emirates

Has 3 other locations in the city

CONTACT DETAILS
+971 50 458 9411
OPERATING HOURS
Opens every 2nd and 4th Saturday of the month: 10 AM - 6 PM
| | |
| --- | --- |
| Criteria | Rating |
| Location | ★★★★★ (5/5) |
| Accessibility | ★★★★☆ (4/5) |
| Rarity | ★★★★★ (5/5) |
| Range of Sellers | ★★★★☆ (4/5) |
UAE's largest pure handmade designer, art, fashion, and craft market, ARTE The Makers' Market stands by its taglines, "We make what we sell," and "Handmade in the UAE."
The only products being sold here are designed and made by the vendors themselves. So if you're looking for one-of-a-kind works of art, then you'll find what you like among the over 150 contemporary and highly original makers and designers.
Their flagship market is held twice a month in Times Square Dubai, but they also have boutique markets in Mercato Mall, QE2 in Port Rashid, and Dubai Design District.
We love how these locations are popular and can welcome large amounts of foot traffic because of their connectivity with public transportation.
These spots are also designed to have wheelchair ramps, special restroom cubicles for PWDs, and many more features.
Although the degree of busyness some of these locations have during peak hours really undercuts the accessibility of ARTE.
As for its range of sellers, what we appreciate about them is that besides these vendors who crafted their wares, there are also vendors who sell sweet delicacies that are perfect for a quick pick-me-up when you're out having a shopping spree.
However, if you're looking for antiques or old and rare editions of items from bygone eras—as flea markets are known to sell these—then it's better to look for that somewhere else. Vendors only sell handmade original products.
All in all, ARTE The Makers' Market is our top choice if you're looking for one-of-a-kind pieces to spruce up your space.
The diversity in their vendors really makes going through each kiosk one by one worth the effort.
Has three locations in popular commercial hotspots
All products sold are made by the vendors themselves
Has over 150 makers and designers to check out
Offers food and beverages
The locations get really busy during peak hours
There are no antiques being sold
4. Dubai Flea Mark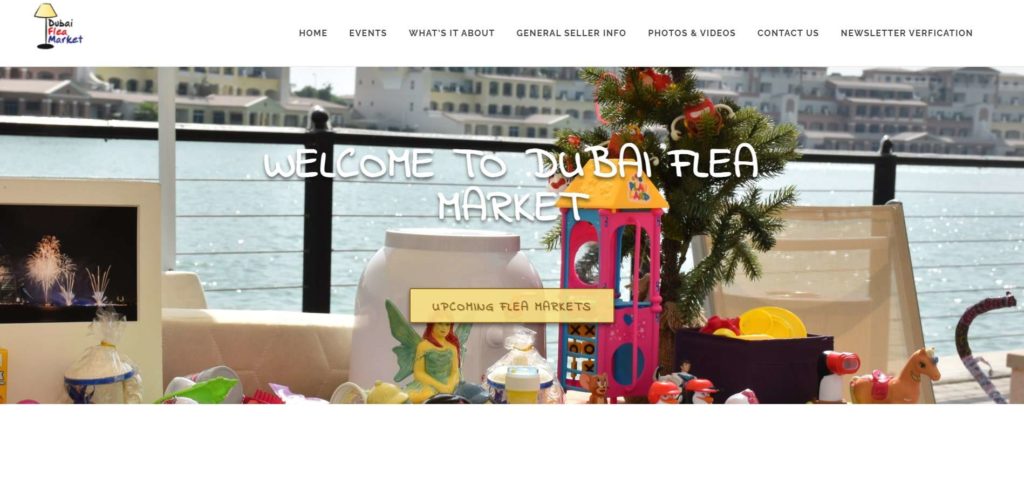 Test
Info
WEBSITE
https://www.dubai-fleamarket.com/
ADDRESS
Al Hudaiba Award Building, Block B, office 411, P.O. Box 390483, Dubai – VAE

Market's location changes every weekend

CONTACT DETAILS
0567882348
OPERATING HOURS
Tuesday to Wednesday: 9 AM - 5 PM
| | |
| --- | --- |
| Criteria | Rating |
| Location | ★★★★★ (5/5) |
| Accessibility | ★★★★☆ (4/5) |
| Rarity | ★★★☆☆ (3/5) |
| Range of Sellers | ★★★★★ (5/5) |
Flea Market Dubai is one of the biggest secondhand markets in Dubai, with over 300 vendors joining them every weekend.
What makes Dubai Flea Market so fun for us is the fact that it has a different location every weekend, providing full coverage of the whole city.
Learning about their different locations each weekend felt like a scavenger hunt for us, and it also allowed us to explore the areas we usually wouldn't visit around Dubai.
The great thing about this is that it also creates a sense of urgency for the buyers to really grab everything they want before it transfers to another location the next time around.
For the sellers, it's great because they get to exhibit their wares all over the city without having to worry about the logistics of constantly moving their store.
However, a downside to this is its accessibility heavily relies on the current location of the flea market. Not all locations focus on providing amenities and architectural choices to accommodate everyone.
On top of that, despite its 300 plus vendors, rare items are hard to come by in this flea market.
Besides old editions of electrical gadgets, like film cameras, and antique wooden furniture, nothing really stood out to us as a one-of-a-kind find that was worth spending much.
Despite that, it was fun jumping from one stall that sold DVDs, to a stall filled with pre-owned books, to a stall that just had an eclectic collection of almost any kind of trinket we can imagine.
All in all, Dubai Flea Market's choice to transfer from one location to another every weekend makes the whole shopping experience with them engaging and exciting.
With over 300 vendors joining them, we never ran out of things to look at and buy. Each kiosk was wildly different from the next, and we easily spent hours going around there.
Has a different location every weekend
Has over 300 vendors
Has a great range of antique and retro items
Rare items are hard to come by
Different locations mean that accessibility varies
5. The Market At The Beach

| | |
| --- | --- |
| Criteria | Rating |
| Location | ★★★☆☆ (3/5) |
| Accessibility | ★★★★★ (5/5) |
| Rarity | ★★★★★ (5/5) |
| Range of Sellers | ★★★☆☆ (3/5) |
Modelled after the souks in the city, this old-style market in Dubai Marina almost seems out of place among the skyscrapers and malls, and yet it beautifully fits the scenery of piers and the sea.
Their location is a great place for walking around any time of the day, as we enjoyed the salty breeze and the lovely Arabian sun during our shopping experience here.
And since it is modeled after the souks in the city, the main mode of going around is walking.
So, while the majority of the market is flat, we can imagine someone in crutches struggling to walk carefully so their crutches won't slip through the wooden planks of the piers.
For those who aren't brand cognizant and are looking for conventional antiques, such as statuettes and trinkets, then this is the place for you.
We enjoyed the eclectic items being sold. The market felt authentic because of the lack of curation we can see throughout the area.
However, these products are simply just discontinued products from a bygone era, so while these are some uncommon finds, there aren't really any one-of-a-kind finds here.
As for their range of vendors, besides antiques, they also have some of the usual market items like dried organic products, such as spices and aromatics.
On top of that, the market is rounded off by a great collection of restaurants that we found to be perfect as a finisher for our shopping spree there.
All in all, The Market At the Beach is such a great outdoor shopping experience. With a wide variety of vendors, you can shop for anything that catches your eye plus items that you need to cross off your grocery list.
Old-style open-air market by the beach
Offers a great range of antiques and trinkets
Offers perishable items such as spices
Has some restaurants within the area
The piers make it less accessible for people with disabilities
Most of the items are just discontinued products
FAQs about Flea Markets in Dubai
---
We hope you get rare finds as you check out these flea markets around Dubai. Also, if you're looking for other ways to reward yourself other than shopping, then check out these articles: