The 5 Best Restaurants for a Burger in Dubai
You can dress it up or dress it down, that is the beauty of a burger. However you want it, it always turns out great, making it one of the best comfort foods out there.
Finding the perfect burger for you is not easy in a city with thousands of restaurants like Dubai. So, we searched far and wide to give you our favorite restaurants for a burger in the area.
We included our criteria in choosing them and also answered some FAQs about burgers in Dubai.
How much does eating a burger in Dubai cost?
The cost of ordering a burger varies depending on the restaurant and the ingredients used.
To give you a starting point, we've made a table of the average cost of a burger in each of our entries for this list below.
| Restaurant | Average Cost of a Burger |
| --- | --- |
| B2B Burgers | AED37.40 |
| GT Burger | AED37 |
| Gourment Kitchen Burger | AED50 |
| Pickl Burgers | AED67.80 |
| Black Tap Craft Burgers & Shakes | AED68.50 |
The Best Restaurants for a Burger in Dubai
Before we get right into our list of the best restaurants for a burger in Dubai, here are the criteria we considered in choosing them:
1. Le Burger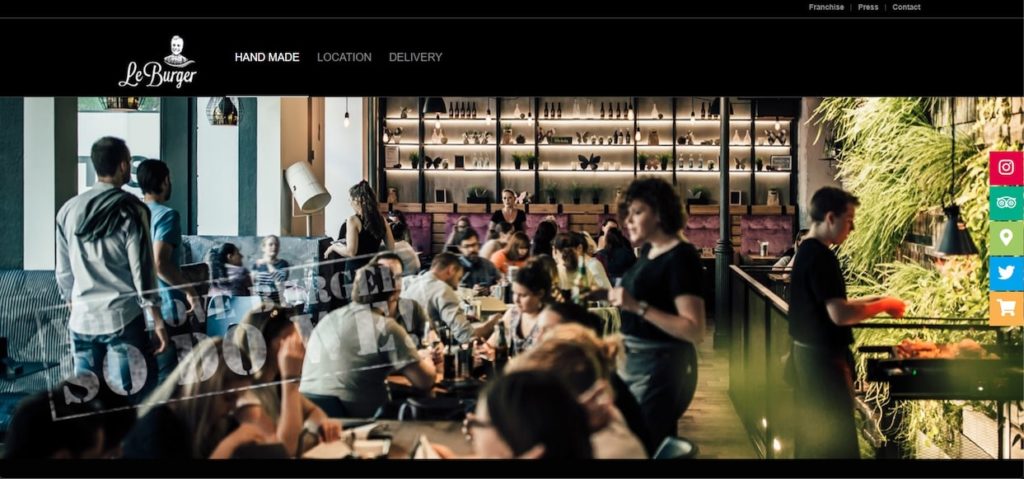 | Test | Info |
| --- | --- |
| WEBSITE | https://www.leburger.ae/ |
| ADDRESS | Mall of The Emirates - 1 Sheikh Zayed Rd - Al Barsha - Al Barsha 1 - Dubai - United Arab Emirates |
| CONTACT DETAILS | +971 4 880 8989 |
| OPERATING HOURS | Every day: 11 AM–11:30 PM |
| | |
| --- | --- |
| Criteria | Rating |
| Quality of Burger & Ingredients | ★★★★★ (5/5) |
| Range of Add-ons and Sides | ★★★★☆ (4/5) |
| Uniqueness | ★★★★★ (5/5) |
A dedication to handmade and ethically sourced burgers, Le Burger is known to take no shortcuts to achieve the level of standard it maintains with its burgers.
We love that the meat it uses is freshly ground every day, and it never uses frozen meat. This means that the flavor we got from the patties is pure unadulterated freshly grilled beef.
Another great thing about its burgers is their buns. Hand-baked daily using organic ingredients, and following recipes that stop the buns from getting soggy.
This is great because not only does it mean that you can ensure that your hands relatively stay clean throughout the eating process, but the texture of a soft and crunchy bun is the perfect vehicle for all of its ingredients.
Le Burger is also great for letting its customers design their burgers.
And while the choices for building your burger aren't anything special, what makes it great is that all the ingredients and sauces are all handmade fresh.
As for its menu, yes, it does have the classic cheeseburger, but we love the uniqueness of the menu as a whole.
From the Mediterranean burger with the grilled halloumi to the Perse, which is a burger with fresh avocado for buns, Le Burger manages to serve some weirdly great hits.
All in all, Le Burger serves up some quality burgers that hinge on its passion for doing every aspect of it from scratch and sourcing the freshest and highest quality ingredients.
Handmade and fresh ingredients
Buns do not get soggy
Lets customers design their own burger
Has some unique burgers
Choices for ingredients in designing a burger are not that special
Customer Reviews
Quality burger
"Le Burger 🍔 is a great place to have a quality burger, when in the Mall of the Emirates. Plus they have good vegan options. Whoop!! whoop!!
Choosing a filling selection can take time, as so many choice variations, 🥗 and consistent standards.
There's a bell 🛎 on the table, ensuring efficient service. Instead of waiting to get the attention of a waiter – trying to catch their eye 👁 or snapping fingers
The decor is modern, quirky, but homely, so very relaxing. The staff is friendly, polite, and knowledgeable regarding the menu." —Mandy, Google Reviews
The avocado burger is a must-try
"The avocado burger and the chips were definitely the stars of the menu. So generous with the potions and taste amazing! The ambiance of the restaurant is another bonus. This place has so many choices even if you are in the mood to eat healthily! Definitely coming back 🙂" —Shermaine Willis, Google Reviews
2. Black Tap Craft Burgers & Shakes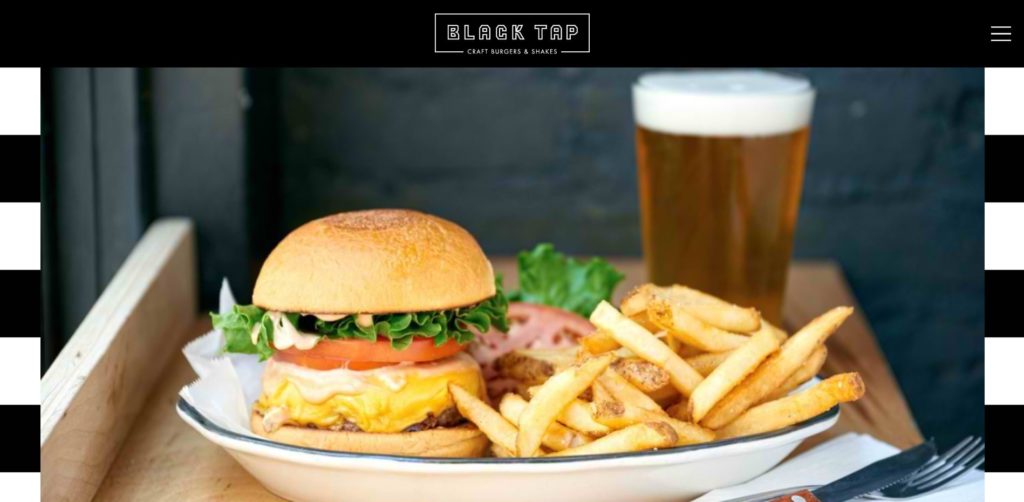 Test
Info
WEBSITE
http://blacktapme.com/
ADDRESS
Dubai Mall, Lower Ground Floor, Fountain Entrance, Dubai, UAE

Has 2 other locations in the city

CONTACT DETAILS
+971 4 3305103
OPERATING HOURS
Every day: 12 PM–1 AM
| | |
| --- | --- |
| Criteria | Ratings |
| Quality of Burger & Ingredients | ★★★★☆ (4/5) |
| Range of Add-ons and Sides | ★★★★☆ (4/5) |
| Uniqueness | ★★★★★ (5/5) |
Tracing its roots way back to SoHo in the '80s and '90s, Black Tap preserves the beauty of New York hip hop its own way — burgers with patties cooked on a griddle, never on a grill.
Its award-winning burgers are made not without the freshest and highest quality ingredients.
Although some burgers do require imported ingredients, like its award-winning Greg Normal burger, which uses wagyu beef and arugula.
The burger still tastes amazing, though. But for those particular about the freshness of the ingredients, then Black Tap isn't the best burger joint for that.
Besides its burgers, we love pairing these up with its large selection of craft hops — on tap or by the bottle.
Its internet-viral milkshakes can also help round up the outrageousness of its burgers. The gigantic and wildly decorated milkshakes are both visually and tastefully amazing.
As for Black Taps' uniqueness, it's incomparable. Its New York nature to overdeliver is what pushes it to keep showing up with these award-winning one-of-a-kind burgers.
Our personal favorite is the Pear Bacon Burger, which consists of pear and bacon jam, crispy kale, and truffle aioli. It is simply a rich combination of sweet, savory, and fatty.
All in all, Black Tap Craft Burgers & Shakes is the best option for when you're feeling wild and adventurous.
Its outrageous multi-award-winning menu has some of the best burgers we've ever tried.
Offers award-winning burgers
Offers crafted beer and milkshakes
Great New York hip-hop retro vibes
Some ingredients are imported and not fresh
Not much customizability for the add-ons
Customer Reviews
Great halal burger option!
"Nicely juicy halal burger, loved it to the most. Wonderful hospitality and service. The person who talked might be a chef or the owner of the place. He was pleasant and took care of us. Shared the best dish and gave us the best view of water fountain presentation at the Dubai mall. Overall great place to be"—Mushir Ahmed Basheer, Google Reviews
Great American burgers served here
"Black Tap the New York import to UAE is a great spot for American comfort food especially the burgers and shakes. The interiors are cool and funky and their outdoor seating area has amazing views. Love their burgers, truffle fries, onion rings, teriyaki broccoli and crazy shakes. The service is impressive." —Meghana Rao, Google Reviews
3. B2B Burgers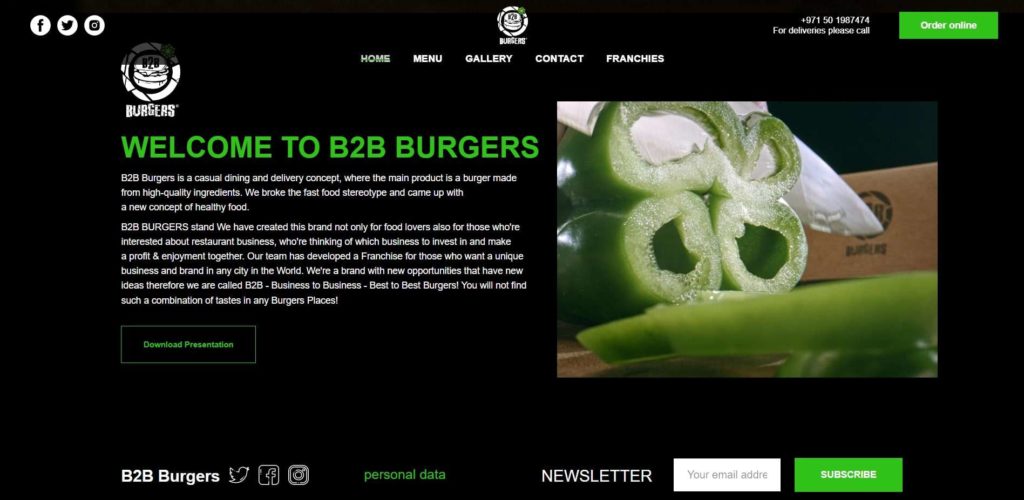 Test
Info
WEBSITE
https://www.dryp.ae/
ADDRESS
Lower Ground Floor, Next to Grand Parking Tourist Bus Pick Up, Dubai Mall Dubai Downtown Financial Center Street The Dubai Mall - Dubai - United Arab Emirates

Has 2 other locations in the city

CONTACT DETAILS
+971 50 198 7474

E-mail: [email protected]

OPERATING HOURS
Sunday to Wednesday: 9 AM–12 AM

Thursday to Saturday: 9 AM–1 AM
| | |
| --- | --- |
| Criteria | Ratings |
| Quality of Burger & Ingredients | ★★★★★ (5/5) |
| Range of Add-ons and Sides | ★★★★☆ (4/5) |
| Uniqueness | ★★★★★ (5/5) |
Determined to break the stigma of fast food burgers, B2B has dedicated itself to being a casual dining and delivery concept focused on making high-quality burgers that are healthy and fast.
With the idea of serving healthy and well-balanced burgers, B2B only uses organic ingredients.
And we love that it's not just its patties and greens that are fresh and high-quality. Its special sauces are self-made using the best Japanese ingredients to give it that unique Asian twist.
It's just sad that it offers little to no customization and add-ons to its burgers, which makes sense since it heavily focuses on delivering.
B2B has potato buns, vegan buns, gluten-free buns, lettuce, avocado, and rice buns. For its patties, it cooks them 100% halal and also offers chicken and vegan patties as a substitute.
With B2B, no burger is not unique when it comes to its menu. We personally love the Monalisa Burger, which has two different kinds of buns (brioche and black buns) that give it a unique flavor.
We also love its rice wagyu burger, which is such a filling option for when you have a long day ahead of you. It filled us right up and the rice worked well with the Japanese sauces.
All in all, if you're looking for a healthy option that refuses to compromise on taste, then B2B is dedicated to giving you that burger experience.
Healthy and organic burgers
Offers different kinds of buns
Unique burgers on the menu
Lacks customizability and add-ons for the burgers
Customer Reviews
Possibly even better than American burgers!
"AMAZING!
After being in India for a month with a long overlay in Dubai. As an American I was in dire need for a good burger. The lady working there saw me looking at their menu from a distance and drew me in. This burger has been the BEST burger I've had in a very long time. Even better than most burgers I've had in the USA!! I definitely recommend this place if you're craving for a burger or if you want to try one for the first time!" —Chris Martin, Google Reviews
Great organic and healthy burgers
"Located in the lower ground level near grand parking of the Dubai Mall, this fast food point is almost new and good if you're interested in organic food. B2B burger has brought some interesting ideas to put forward their version of unique burgers. You can have black colored burgers to red colored, from normal bun to lettuce bun. Chicken and beef burgers and much more. They have an extensive menu for hot beverages like coffees and tea but very restricted menu for cold beverages like only packed organic juices to soft drinks. They offer different types of salads too and ceasar salad was my favorite. I ordered chicken avacado burger and it was really yummy. Their fries are different from other fast food chain in that they have a little spicy fries and very yummy. From hygiene point of view they offer black gloves to their guests to make sure they're eating healthy and hygienically. Their service was a bit slow than what I was expecting from a fast food restaurant and since they had an outdoor sitting arrangement so it was a little hot too. Else food was really good and you should give it a try." —Wardah Syed, Google Reviews
4. GT Burger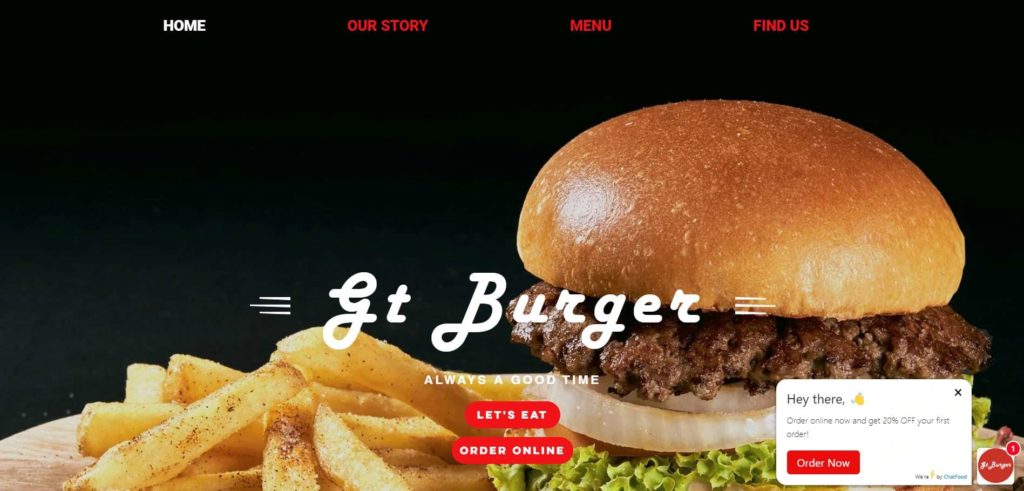 | | |
| --- | --- |
| Criteria | Ratings |
| Quality of Burger & Ingredients | ★★★★☆ (4/5) |
| Range of Add-ons and Sides | ★★★☆☆ (3/5) |
| Uniqueness | ★★★★☆ (4/5) |
A family-owned business, GT Burger aims to bring back the ultimate diner experience with burgers made out of passion and dedication to serving customers high-quality ingredients.
It specially imports Angus beef for the majority of its burgers, so these are most likely frozen rather than ground fresh daily.
However, based on the flavors and the crispness of the tomatoes and the lettuce, its other ingredients are definitely fresh.
We also love that GT Burger crafts gourmet burgers without the gourmet price. Compare to our other entries, it serves great quality handmade burgers for less than the usual cost.
However, when it comes to add-ons and sides, the options are very limited.
While technically, it does have other menu items like hotdogs and appetizers, none of these are created specifically to be partners with the burger, thus kind of downplaying the specialness of it all.
Its menu is comprised of mostly well-loved classic burgers, prepared and served the way everyone knows.
There are not a lot of twists or unique creations to it, but we do have to give it to this joint for doubling down on the classic diner experience because its burgers are definitely a part of that.
All in all, if you're looking for the classic diner burgers, GT Burgers delivers on that end very well and for less cost, too.
Affordable gourmet burgers
Veggies are fresh and crisp
Offers other items like hotdogs and appetizers
Doesn't offer any customizability
Only offers classic burgers
Customer Reviews
Definitely worth the money
"This place is definitely worth the money you pay. It's not expensive at all considering the place they're at and the food that they serve.
Ordered Loaded Nachos, and you get what you asked for. They're Nachos, sure you've had the better, but for the price, you can't get them this good anywhere else.
Ordered the original GT, my wife wanted cheese in it and the guys were more than happy to oblige.(NO COST)
The ambiance is chill, and almost deserted, because of COVID, but it is what it is.
Definitely try it, if you're in the area."—Wameed Rafique, Google Reviews
Would definitely recommend
"Everything was good. Nice burger, not too big with good toppings and bread (had the spicy one). Onion rings were crispy and tasty if a little structurally unsound, and the korean wing sauce was perfect. Would recommend if you're in the area." —Murtaza M. Javaid, Google Reviews
5. Pickl Burgers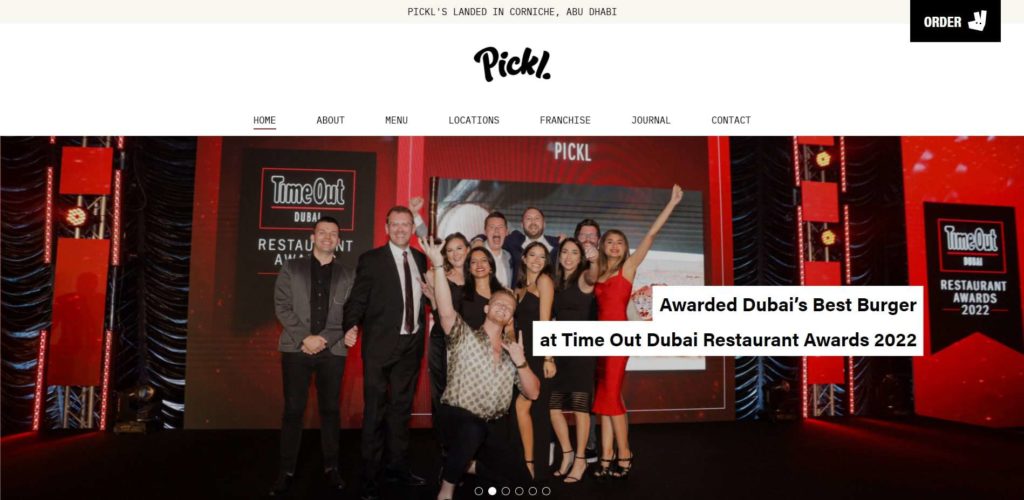 Test
Info
WEBSITE
https://eatpickl.com/
ADDRESS
One JLT, Dubai, UAE

Has 5 other locations in the city

CONTACT DETAILS
+971 04 584 6859
OPERATING HOURS
Sunday to Thursday: 11 AM–2 AM

Friday to Saturday: 11 AM–4 AM
| | |
| --- | --- |
| Criteria | Ratings |
| Quality of Burger & Ingredients | ★★★☆☆ (3/5) |
| Range of Add-ons and Sides | ★★★★★ (5/5) |
| Uniqueness | ★★★☆☆ (3/5) |
The fresh fast food joint Pickl was created in pursuit of making simple straightforward good burgers.
With all of its sauces, spice blends, and pickles prepared freshly every day, and its beef and chicken all sourced ethically, Pickl is set on serving up the freshest of burgers in Dubai.
Its add-ons include adding more patties to its burgers, and its different choice of pickles such as dill, onion, and jalapeno pickles.
While there isn't much customization to its burgers, we love the option to choose the pickles, which are all great and go on any of the burgers, by the way.
It also has lots of sides that you can partner up with your burgers. From fries to chicken tenders, to its amazing sauces like the comeback sauce and secret sauce.
It also has milkshakes to go with the burgers that can be customized with its blends, sauces, and toppings.
We personally recommend the vanilla shake with Lotus blend, topped with strawberry sauce — the perfect sweet ender to the amazing burgers.
As for uniqueness, Pickl is dedicated to mastering the beauty of simple burgers. Nothing outrageous here, only high-quality, made-to-order burgers.
You can expect cheeseburgers of any kind, from the ones with bacon to those that have double the number of patties.
It also has a plant-based variation of its burgers for the vegans, but nothing crazy or unique.
Despite that, Pickl knows the secret to an amazing burger experience and that's serving up a simple straightforward burger.
It knows it needs no gimmicks because, for the restaurant, perfection is finally attained not when there is no longer anything to add, but when there is no longer anything to take away.
Fresh healthy fast burgers
All of its sauces, blends, and pickles are prepared fresh every day
Wide range of sides and customizable shakes
Lacks customizability for burgers
Only offers classic burgers
Customer Reviews
A great burger joint
"The pickl sandwich and chicken is very delicious. I definitely recommend you to go there one day . I love the big chicken they put in the sandwich it taste so delicious. And I also like the decor they put in the restaurant too . To be honest pickl is one of my favorite fast food place . 😋"—Fatima AF, Google Reviews
Would definitely recommend
"Great burgers done by local restaurant. Tried both the beef and chicken burgers. For the former, it consists of a smashed beef patty sandwiched in a soft potato roll including homemade sauce, pickles and onions. The burger itself was very reminiscent of a classic shake shack burger minus the lettuce and tomato. The chicken burger in Nashville style (hottest available) did not disappoint. Very thick and moist piece of chicken breast breaded just right with a little bit of salad and sauce to complement. The sandwich reminded me of a Popeyes chicken burger in some ways. Both burgers are effectively on par or better than some of the current leaders in fast casual dining – a great achievement.
If I had any gripe, having both pickles and picked onions put the burger a little too much on the sour side for my taste. I also wonder if a little salad or tomato in the beef burger would enhance it further giving it a touch of crunch and freshness. Or maybe swapping pickled for grilled onions (which is an option on order) would have hit the spot.
For those interested, we ordered the burgers to deliver which was very swift. The packaging is sturdy and kept the burgers warm without ending up soggy. No issues here.
Bottom line, this is a great burger joint which will leave you satisfied and should please both beef and chicken burger aficionados." —Yannick Rohrbasser, Google Reviews
FAQs about Burgers in Dubai
---
We hope this helped you in finding a restaurant that serves burgers to reward yourself. Also, if you're looking for other ways to celebrate moments or reward yourself, then check out these articles: