The 5 Best Car Inspection Stations in Dubai
Cars are vital transportation tools. It is important for owners to maintain and check them for any inconsistencies or damages as years pass by.
Aside from individuals, authorities can also require car owners to have their vehicles tested to prevent road accidents.

If you're on the lookout for car inspection stations, we've got you covered– here are our top picks for the best stations in Dubai!
How Much Does Getting A Car Inspection Cost
Costs are usually dependent on the type of car or vehicle you will be bringing to a station. The following table displays the estimated fees for an inspection:
| Testing Type | Light Vehicles (in AED) | Heavy Vehicles (in AED) |
| --- | --- | --- |
| Periodic | 150 | 150 |
| New, For Registration | 120 | 150 |
| Re-Test | 35 | 50 |
| For Export | 25 | 25 |
We'd also like to note that some companies charge based on whether or not your vehicle is a luxury car. This is because they have to call specialists that deal with these special automobiles.
The Best Car Inspection Stations in Dubai
The following are the criteria we've considered in assessing the companies on this list:
1. Tasjeel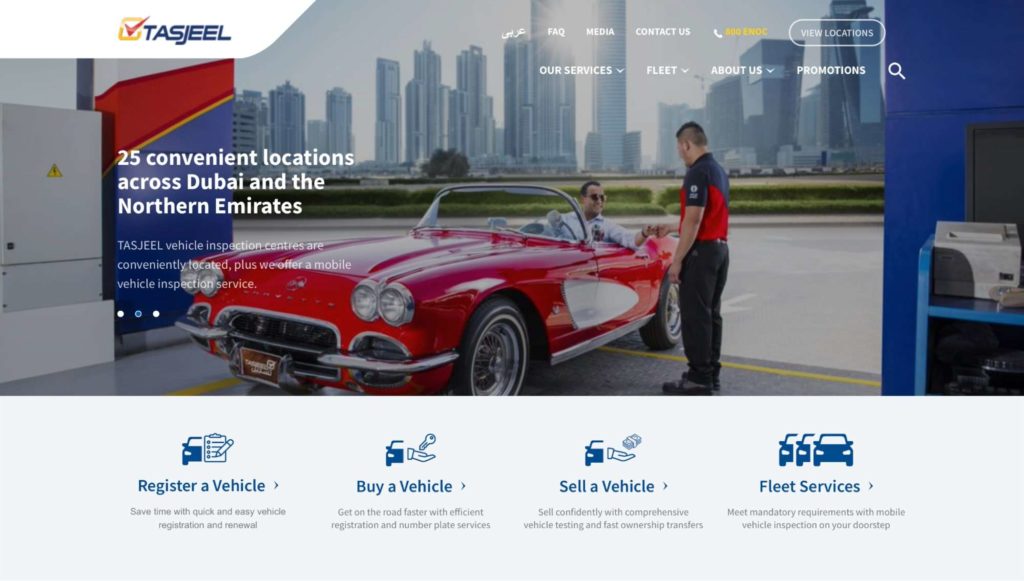 Test
Info
SERVICES
Vehicle Registration

Vehicle Inspection

Fleet Services

Car Selling

and more!

WEBSITE
https://enoctasjeel.com
ADDRESS
Dubai - United Arab Emirates
CONTACT DETAILS
Phone: +971 800 3662
OPERATING HOURS
7:00 AM - 9:30 PM (Sunday - Thursday)

4:00 PM - 9:30 PM (Friday)
| | |
| --- | --- |
| Criteria | Ratings |
| Service | ★★★★★ (5/5) |
| Expertise | ★★★★★ (5/5) |
| Customer Support | ★★★★☆ (4/5) |
| Facilities | ★★★★★ (5/5) |
Tasjeel is a company that specializes in vehicle testing and registration. Found in 1999, the establishment has spent years racking up the experience and expertise needed.
In fact, they partnered up with Dubai's Road and Transport Authority to deliver their services with more authority– which makes them a very good candidate to have your car inspected.
Tasjeel offers various vehicle-related services. What's great about their testing programs is that they offer different types for various vehicles.
For example, they have separate testing or inspecting procedures for heavy and light vehicles. Also, they inspect motorbikes differently.
Another unique thing about this station is that they offer a mobile inspection service. This means they can bring the test to you, which is very convenient.
They do require you to have at least a minimum of five vehicles for inspection before they head over to your location.
Should you choose to visit their location instead, you will be greeted by quite a large testing area. There are parking spaces outside in case their testing lanes are all full, so no need to worry about where you will be waiting for your turn.
In addition, the interior of their facilities seem to look spacious enough to allow both the car and the staff member to freely move around and properly inspect vehicles with their gear and equipment.
Moving on to Tasjeel's staff, we've observed that they are quite helpful and efficient. In fact, this company is notable for their fast vehicular inspections.
According to some of the customers we've conversed with, testing usually wraps up after 15-20 minutes.
However, since Tasjeel does have a lot of branches around Dubai and the UAE, we would like to note that customer service and support may vary in terms of quality.
Some have told us other branches have slow or unhelpful staff on hand. Heads up on that one!
Overall, regardless of some of the shortcomings in other locations, we still recommend Tasjeel for their variety of services available.
In addition, they are also RTA-certified, so the verification of your registration and inspection will come from a company with the support of the government as well!
RTA-certified inspection service
Variety of tests available
Fast services
Multiple branches in Dubai
Requires contact for more information
Customer service vary on location
Customer Reviews:
Good Customer Service
"This centre is really good at customer service. I had been for renewal & found it quite convenient. You leave your car at the entrance to the testing bay. The inspector takes it through the required tests, while you wait in the comfort inside the centre waiting area. Within minutes you get the testing done. Complete the payment formalities in the counter and you are done to proceed with your online renewal process." – Mohamed Adil
2. Wasel Vehicles Testing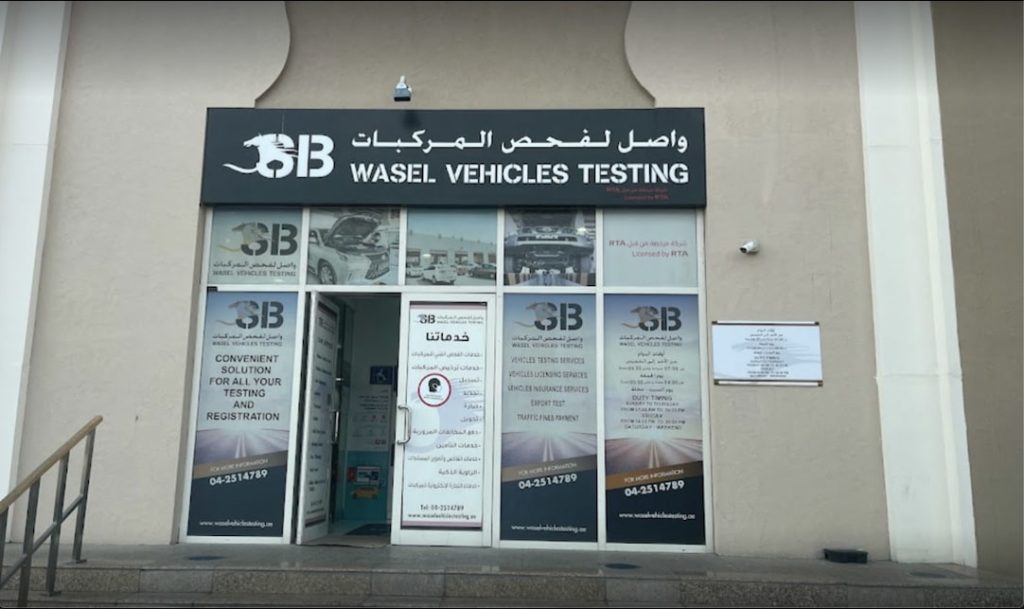 Test
Info
SERVICES
Vehicles Testing

Vehicle Registration and Renewal

Insurance

ADDRESS
6CMP+CPG - Al Mizhar - Al Mizhar 1 - Dubai - United Arab Emirates
CONTACT DETAILS
Phone: +971 4 324 5524

E-mail: [email protected]

OPERATING HOURS
7:00 AM - 9:30 PM (Sunday - Thursday)

4:00 PM - 9:30 PM (Friday)
| | |
| --- | --- |
| Criteria | Ratings |
| Service | ★★★★★ (5/5) |
| Expertise | ★★★★☆ (4/5) |
| Customer Support | ★★★☆☆ (3/5) |
| Facilties | ★★★★☆ (4/5) |
Wasel vehicles testing is a company that does simple checks for vehicles. In addition to the regular maintenance inspections, they also provide their expertise in registration for Dubai's RTA.

The company is actually another partner of that branch of government to provide licensing and registration services. This also means that their inspection services, by extension, are certified by authorities.

The company does allow you to come in without any appointments, so that's nice. According to some customers that we've talked to, it's best to come here during the weekdays as more people flock in during the weekends.

Looking at their facilities, we noticed that it's pretty satisfactory: they have wide, open spaces for vehicular inspections. There are waiting rooms inside that are okay– not that aesthetically pleasing, but they have comfortable furniture available (and air-con to beat the heat).

Their services, on the other hand, cover the basic inspection and registration services for an RTA-certified establishment. They do not have specific or separate procedures on the type of vehicle submitted for a test.

We believe that overall, while there are other establishments that seem to be the better option, Wasel Vehicles Testing is a good second option. We recommend them for the RTA certification on their belt, and their big, spacious facilities.
RTA-certified
Spacious facilities
Gets busy during the weekends
Limited customer support
Customer Reviews:
Good Facilities, Convenient Location
"A place to check vehicles licensed by the Roads and Transport Authority is open until after 9 pm, there is an air-conditioned waiting room, insurance office and payment of violations. You can leave your car with parking and head to the nearby Arab Mall, less than 20 meters away on foot." – Jaasim Saeed
3. AG Cars Vehicle Testing Center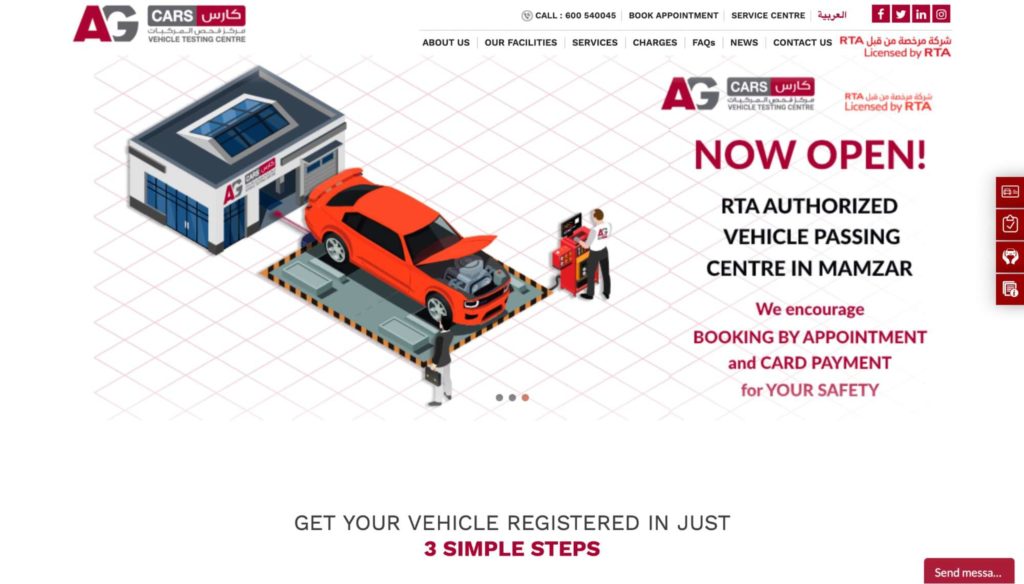 Test
Info
SERVICES
Registration

Insurance

Repairs

Testing

Evaluation

and more!

WEBSITE
https://agcarsvtc.ae
ADDRESS
Behind Commercial Bank of Dubai, Opp. Hamarain Centre

8th St, Al Khaibisi - Deira - Dubai - United Arab Emirates

CONTACT DETAILS
Phone: +971 600 540045
OPERATING HOURS
7:00 AM - 9:30 PM (Sunday - Thursday)

4:00 PM - 9:30 PM (Friday)
| | |
| --- | --- |
| Criteria | Ratings |
| Service | ★★★★★ (5/5) |
| Expertise | ★★★★☆ (4/5) |
| Customer Support | ★★★★★ (5/5) |
| Facilities | ★★★★★ (5/5) |
AG Cars Vehicle Testing is an RTA-approved center that has multiple branches around the UAE. Established in 2012, this establishment has been in the business for nearly a decade.
The company caters to motorbikes, and light to heavy vehicles. What's unique about them is that they also do inspections on buses, so corporations can run their big vehicles here for inspection.
Another great thing about them that we've observed is their location. AG Cars is located near commercial areas, such as banks and malls which makes reaching them much easier.
This testing area is near Hamarain Center, customers can shop for a while their car is being inspected.
Aside from their location, their facilities are also good. They have waiting areas that are pretty comfortable to stay around in.
In terms of their inspection or testing bays, they have separate areas depending on the type of vehicles being brought in. This also means that the staff dedicated to these areas are solely focused on handling one type only, which can make the inspection process faster.
Speaking of a faster service, the average time it takes for them to look over a vehicle is around seven to 20 minutes. There are cases where they can make you wait longer, especially during busy days.
Overall, we recommend AG Cars for their convenient location and their average fast inspection service. Definitely check them out when you need to have your car tested or looked at!
Well-designed, functional facilities
Handles official car registration and licensing
Convenient, easily-accessible location
Requires contact for more information
Testing can take longer
Customer Reviews:
Quick Service
"I came today for the renewal of vehicle and the service was fast. I did not stay 30minutes even. Only the missed point only is that they put my ticket pending because they did not see my triangular emergence light. But fortunately I showed to them and immediately they changed the status to 'PASSED.' Overall, I am very satisfied for the very quick service!" – Eve, via Google Reviews
4. Axle Inspect
Test
Info
SERVICES
Vehicle Inspection
WEBSITE
https://axleinspect.com
ADDRESS
3101 Indigo Icon - Cluster F - Jumeirah Lakes Towers - Dubai - United Arab Emirates
CONTACT DETAILS
WhatsApp: +971 55 384 8467

E-mail: [email protected]

OPERATING HOURS
7:00 AM - 6:00 PM (Sunday - Thursday)
| | |
| --- | --- |
| Criteria | Ratings |
| Service | ★★★★★ (5/5) |
| Expertise | ★★★★☆ (4/5) |
| Customer Support | ★★★★☆ (4/5) |
| Facilities | ★★★★☆ (4/5) |
Here's our first impression of this company: high-end. Honestly speaking, they do cater to the more opulent side of society.
This doesn't mean they avoid providing inspection services to regular car owners, though. It's just that we've observed that they do cater to more luxury cars.
They even have a separate service for them. This is one of the things that actually make them different compared to their competitors.
We do recommend running your luxury cars to them for an inspection– that is if you don't mind them not having a partnership with Dubai's RTA.
Another great thing about them is their attention to detail. Customers who avail their services can get a comprehensive report of the inner workings and current status of their cars.
This report can be sent through emails or messages.
In terms of customer support, the company provides convenient means of retrieval or delivery of cars if their customers cannot bring them to their inspection station. One of the alternatives is to request for a mobile team to go to your home for a personalized examination.
They can also just pick up your car and bring it over to their location, should you request to have them do so.
We do have to point out that all of their services and additional perks (the detailed reports and more) evenly reasons out their prices. Compared to the average we've seen on the market, their rates can go as high as 1000 AED (without tax).
Axle Inspect is a station you can send your car in if you don't mind the lack of the RTA certification, and if you have the extra budget to spend!
Special software to deliver detailed information
Separate inspections based on vehicle type
Mobile inspection available
Can collect your car for you
Not RTA certified
Expensive
Customer Reviews:
Attention to Detail, Great Service
"I found Axle Inspect online and they were simply amazing. Matthew was extremely helpful, professional and very responsive. They inspected the vehicle I was looking to purchase quickly, gave a detailed report and helped me understand the report. I'd highly recommend them." – Mike Alnaji
5. Shamil Adhed Vehicle Testing and Registration Center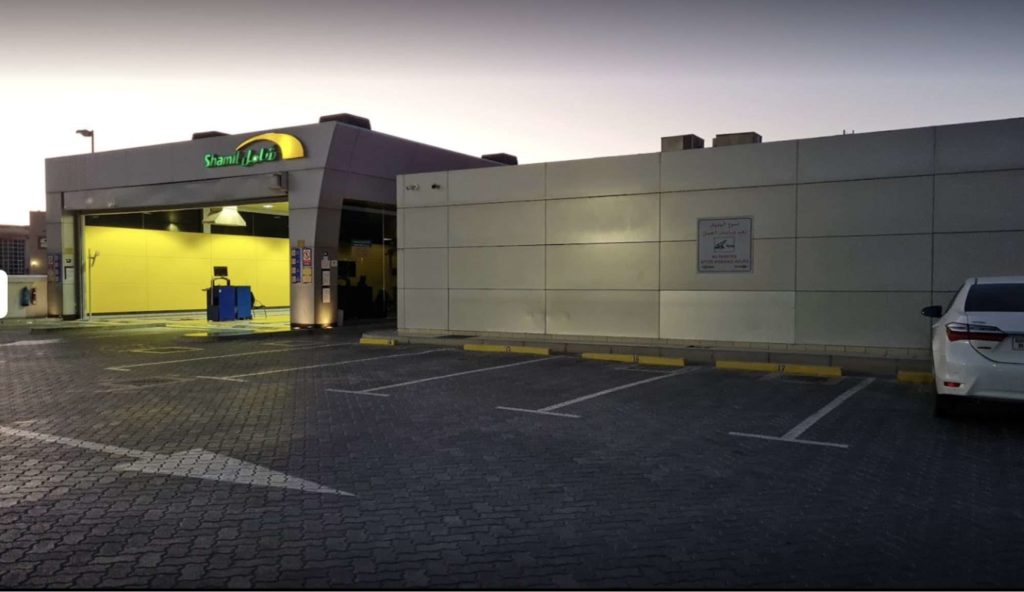 Test
Info
SERVICES
Vehicle Inspection

Vehicle Repair

Vehicle Registration

ADDRESS
Opp International Modern Hospital - 30 Sheikh Rashid Rd - Al Hudaiba - Dubai - United Arab Emirates
CONTACT DETAILS
Phone: +971 4 398 6006
OPERATING HOURS
7:00 AM - 10:00 PM (Sunday - Thursday)

4:00 PM - 10:00 PM (Friday)
| | |
| --- | --- |
| Criteria | Ratings |
| Service | ★★★★★ (5/5) |
| Expertise | ★★★★☆ (4/5) |
| Customer Support | ★★★★☆ (4/5) |
| Facilities | ★★★★☆ (4/5) |
If you're on the market for a station that can inspect and then repair any damages on your car in one place, this company is a must consider.
Shamil Ahmed is a vehicle testing and registration center licensed by the RTA.
This is another location that has partnered up with the government to help car owners easily obtain their licenses and the required examinations needed.
This station examines light vehicles only. Better look for other options if you don't have an automobile that belongs in that category.
In terms of examination, aside from the RTA-certified one, they also check cars that will be exported to other locations.
Looking at their facilities, we've noticed that they actually have a big working area for inspections. They also have a good parking space allotted for their customers.
Moving on to their staff is where this company tends to fall off a little bit. Customer service is usually a mixed bag, based on what previous customers have told us.
Some were found to be unhelpful and a bit rude, really. We recommend asking staff outside of their reception area (which is where the customers mostly noticed the misbehavior coming from) during your visit here.
Regardless of that, this company still comes as a recommendation for people who are looking for another place that is certified by the government. In addition, they are noteworthy of the certification services and the export tests that they offer.
Wide car inspection areas
Fast service
Inspects light vehicles only
Limited customer service
Customer Reviews:
Prompt Staff and Service
"I have visited location today morning, as it was early I didn't find any rush at all and my vehicle renewal along with vehicle test completed in half hour. Staff was supportive and prompt too." – Suresh Lakum
FAQs About Car Inspections in Dubai