The 4 Best Campsites in Dubai
Life can get overwhelming and difficult. There are ways for us to take a step back and just relax to not succumb to the full stress and pain of our everyday lives.
Camping is one of the ways we can take a breather. Venturing away from bustling city scapes and into the quietness of nature can be relaxing.
Here are our top picks for the best campsites in Dubai where you can take yourself, a car, some supplies, and just crash in for a night or a few days.
How Much Does Camping Cost
Now, pricing usually depends on how a campground would offer their areas or services. Some establishments would already have set up tents and accommodations and you'll just have to rent those.
Other campsites on the other hand would just charge you an entry fee for the location you'll be camping in. The following table lists the average costs for camping depending on the type of establishment it is:
| Camping Services Offered | Fees (in AED) |
| --- | --- |
| Set Up Tents and Accommodations | 2,000 - 3,500 / night |
| No Set Up Tents, Entry Fee Only | 350 - 550 / person |
The Best Campsites in Dubai
Here are the factors we've looked into while assessing the campsites in this article:
1. Starlight Camp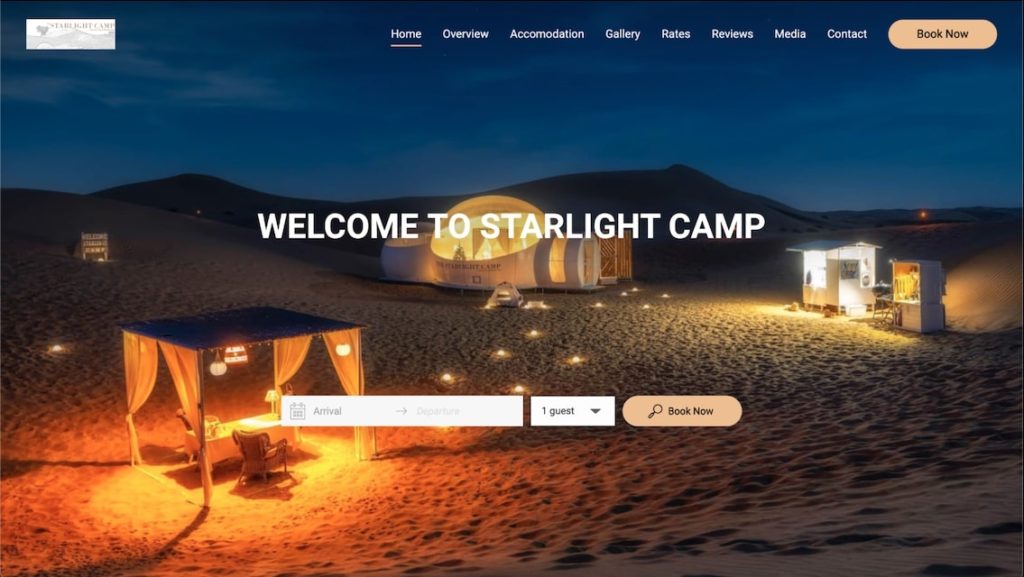 | | |
| --- | --- |
| Criteria | Ratings |
| Size | ★★★★★ (5/5) |
| Terrain | ★★★★☆ (4/5) |
| Privacy | ★★★★★ (5/5) |
| Amenities | ★★★★★ (5/5) |
Now this is full-on glam camping. Get the luxurious feel of staying in a five-star hotel room outdoors with Starlight Camp!
The first thing we noticed about this location is its accommodations. This campsite, instead of allowing clients to perch their own tents, offers their own.
Starlight Camps has multiple crystal roof tents that are equipped with king-sized beds, curtains, duvets, wash basins, airconditioning and heaters. These are private camps for people who wish to take a break and watch the stars without the hassle of preparing their own temporary shelters.
In terms of amenities, they offer family rooms for clients who will bring their kids along. In addition, they offer activities for the young campers such as a treasure hunt activity.
Aside from a dedicated service for kids, they also offer free breakfast and snacks. They also have their own barbeque facility, so customers don't need to bring their own equipment.
Looking at their campsite, we noticed that it's very spacious. Each tent they offer has a huge area for families or partners who would want to just spend time together and enjoy the luxury tent and their surroundings.
We do have to point out that since Starlight Camp is situated in a desert area, there's not much to see here aside from their beautiful accommodations.
Interested parties can book their services through their website or via reaching out to their official channels. However, do take note that the exact location of the campsite is only revealed before arrival.
This is great as they can protect the privacy of their guests. Just to be more on the safer side, we do recommend telling somebody else your location in case of any emergencies.
Free parking
Privacy
Pets allowed
Free breakfast and snacks
Requires 100% payment during booking
Four tents available only
Customer Reviews:
Friendly Staff, Amazing Accommodations
"Everything was perfect. The setting, comfort and offer are fantastic and it's an experience that is memorable. The team is super friendly and super available. The comment of the sound of the generator didn't bother me whatsoever, as I read in one of the reviews, which I believe was somehow exaggerated. Had a perfect night sleep. I'll be doing this more often and was completely hooked to the place. You'll see me soon again. Kids and animal friendly. Perfect for a romantic getaway." – Claudio Gartoso
2. Al Quadra Lakes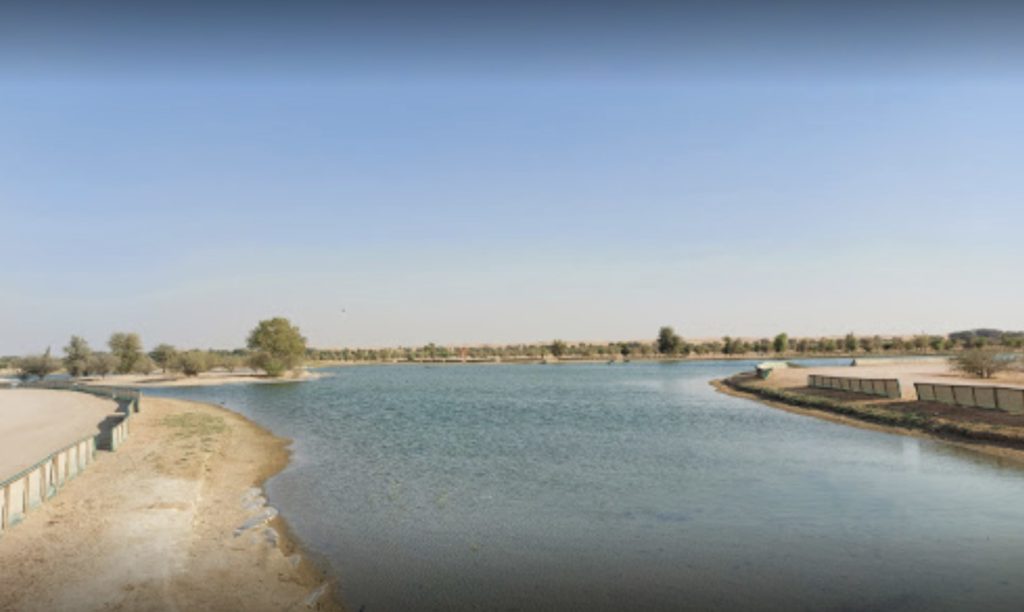 Test
Info
SERVICES
Tourist Attractions

Camping

ADDRESS
R9V2+XMJ - Al Qudra Rd - Dubai - United Arab Emirates
OPERATING HOURS
Open 24 hours. (Monday - Sunday)
| | |
| --- | --- |
| Criteria | Ratings |
| Size | ★★★★★ (5/5) |
| Terrain | ★★★★☆ (4/5) |
| Privacy | ★★★☆☆ (3/5) |
| Amenities | ★★★☆☆ (3/5) |
Al Quadra Lakes is a camping area and a public park. It is actually a man-made lake in the middle of a desert in Dubai.
With over ten hectares of land, campers can enjoy the scenery of the lake and the birds that come and go in the area. The campsite is mostly frequented by families, especially those with children.
This is because of the animals that often pass by the area, which gives children a chance to gawk at the birds and try to feed them.
In terms of camping, the lake is safe to stay for a night in. Even if the location seems isolated because of the animals and its picturesque nature, friendly police patrols do their rounds to make sure everybody is safe.
We must point out that when it comes to amenities, this is where this camp falls a little bit short. This is more of a public park than a luxurious nature-themed campsite.
Get ready to struggle or look for washrooms though, especially during public holidays, as it can get crowded. This camp merely offers the space for campers to pitch their tents in and have fun, so expect not a lot of convenient service for you and your family.
Overall, we recommend going to this campsite for its beautiful views. Not to mention you can also just camp here for free at any time of the day!
Scenic locations
Free entry
No campfires on the ground
Minimal customer support
Customer Reviews:
Beautiful Location
"Visited for many times in winter to have a fresh air and go on a drive. Nice experience to camp and watch sunrise and sunset with the ducks, Birds and flamingo.
A place that must visit with your friends and family in Winter in Dubai away from the city and crowded places and cars." – Omar Bilal Al Tamimi
3. Banan Beach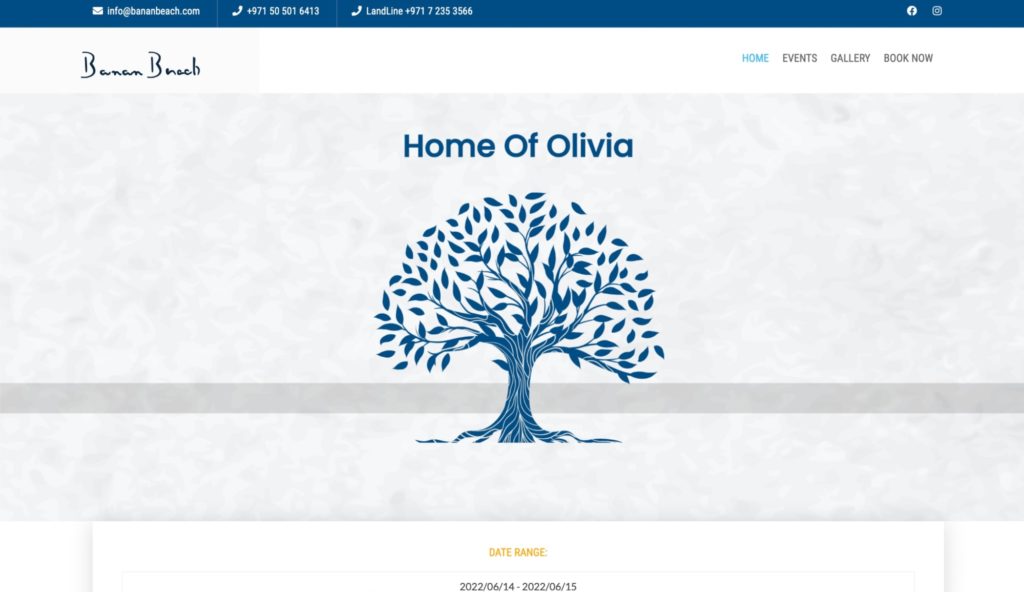 Test
Info
SERVICES
Chalet

Loft Tents

Small Tents

WEBSITE
https://www.bananbeach.com
ADDRESS
Near Jebal Ali – Dubai – United Arab Emirates
CONTACT DETAILS
Phone: +971-50-501-6413

+971-7-235-3566

E-mail: [email protected]

OPERATING HOURS
24 hours. (Monday - Friday)
| | |
| --- | --- |
| Criteria | Ratings |
| Size | ★★★★★ (5/5) |
| Terrain | ★★★★☆ (4/5) |
| Privacy | ★★★★☆ (4/5) |
| Amenities | ★★★★☆ (4/5) |
This campsite is also a beach resort in the UAE. This establishment specializes in providing services and managing or hosting parties and events for individuals, families, and corporations.
In terms of camping, the resort offers multiple tent accommodations to choose from. So it's basically like glam camping at the beach.
They offer different variations of tents– they have small tents, which look like a more expensive and glamorous version of the ones we set up ourselves. In addition, they also offer loft tents, which are spacious, two-bedroom areas.
Both of these options offer privacy to guests and good amenities, such as washrooms, barbeque facilities, and communal sitting areas.

We do have to point out that if you are planning to bring pets along on your trip, you will have to book a separate accommodation that is catered for people with their furry companions.
The campsite is near a beach, so we noticed that in terms of navigation, there would not be a lot of struggle during your stay. We advise you to check out weather forecasts beforehand to avoid any undesirable events on your time in the resort.
Overall, if you're looking for a chance to camp at the beach in style, we recommend checking out Banan Beach Resort for their tent variety and amenities!
Free parking
Multiple tent accommodations to choose from
Market nearby
Can get busy during holidays
Only select tents allow pets
Customer Reviews:
Clean and Comfortable Accomodations
"From start to finish, Banan Beach was fantastic. We hired a Chalet for my Husbands Birthday, The Chalet was clean and comfortable and offered privacy for our event, with ample BBQ space, Jacuzzi, seating areas and a day bed. The beach was intimate yet offered a peaceful experience. The communal seating, BBQ areas were a wonderful change to the norm. Communal Washrooms were spacious and clean. Staff were all very friendly and offered assistance wherever required. The tents were the best part. If you are looking for an authentic beach camping experience, this is the place to go. Will surely go back soon" – Louise B, via TripAdvisor
4. Half Desert Dubai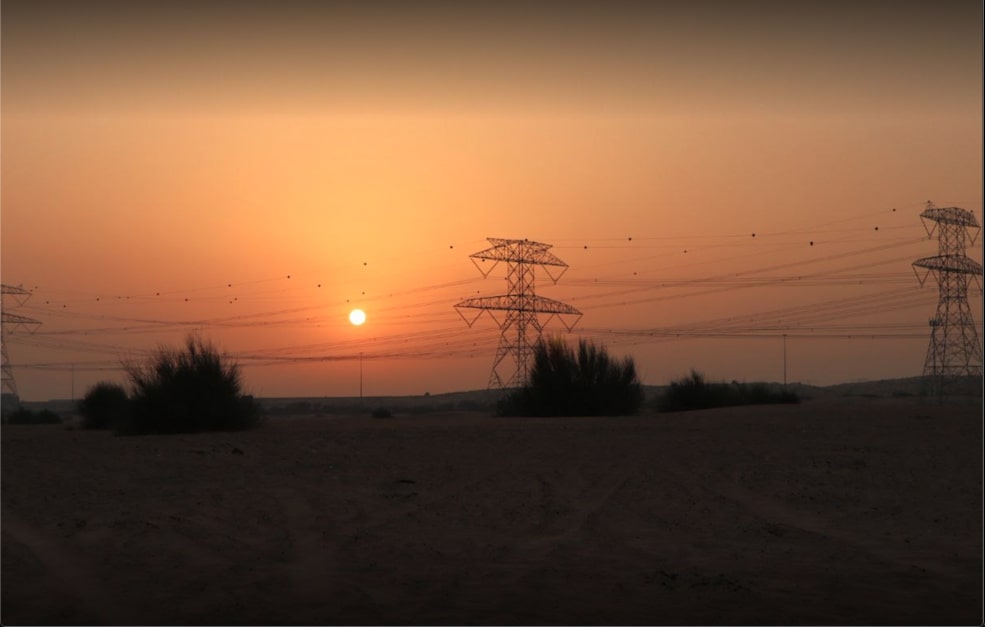 | Test | Info |
| --- | --- |
| SERVICES | Camping Ground |
| ADDRESS | 4FJ6+4VP - Dubai - United Arab Emirates |
| OPERATING HOURS | Open 24 hours. (Monday - Sunday) |
| | |
| --- | --- |
| Criteria | Ratings |
| Size | ★★★★★ (5/5) |
| Terrain | ★★★☆☆ (3/5) |
| Privacy | ★★★☆☆ (3/5) |
| Amenities | ★★★☆☆ (3/5) |
If you're looking for a more secluded yet public camping ground, Half Desert is the site for you.
This particular location gives travelers the experience of being isolated and away from the noisy, busy city life. We noticed that it's merely a wide expanse of desert, but what attracts its visitors is the scenery, especially during sunrise and sunset.
Here's the thing though; it's really just a campsite. Don't expect the extra amenities such as barbeque areas or washrooms to support you during your stay.
You are very much on your own here. Make sure to bring the necessary camping equipment and cooking utensils you need.
In terms of privacy, the grounds are wide enough to allow a lot of people the right amount of space they need for their own retreats. There is also a lack of lights in the area, so people can't take a peek in their own place.
We recommend bringing lights and other equipment that can safeguard your items and your companions.
The campground does try to lessen the risk of running into off-road drivers by allowing only families to come in, especially during weekends and public holidays.
Overall, we believe that giving this location a try if you're looking for a vast, open, desert space that you can camp in for free!
Free entry
A scenic location
Not a lot of amenities
Limited customer support
Customer Reviews:
Great Camping Site, Scenic Location
"Absolutely love this place. Near for folks who stay in silicon Oasis/nearby areas. Pack some snacks/drinks and head right away! Not crowded on weekdays. If you are not in a 4×4 DO NOT GO ON THE SAND/off-road. The sand is very soft and you will get stuck very easily and will need help. Good for camping and spending time provided the weather is cool and not dusty/hazy. Highly recommended if you want to do some sun/moon rise/set photography peacefully." – Ash, via Google Reviews
FAQs About Camping Areas in Dubai