The 5 Best Breast Lift Specialists in Dubai
There's no harm in wishing to improve on your features. Sometimes, people visit a doctor to make their current appearance more youthful.
One of the aesthetic surgeries that can be done is mastopexy. This procedure, also known as a breast lift, is where a surgeon lifts or repositions the chest area.
Here are our top picks for the best breast lift specialists in Dubai, in no particular order.
How Much Does A Breast Lift Procedure Cost?
This kind of surgery is expensive. Mastopexy involves a series of examinations and procedures to determine if you will not be at risk after the procedure.
There are various factors that determine the cost of a full breast lift surgery. These include the medicine needed, such as anesthesia, the equipment that will be used, and the surgeon's expertise.
The table below displays the average rates offered depending on the type of breast lift procedure a client will avail. Note that other practitioners can go above these average rates.
| Camping Services Offered | Fees (in AED) |
| --- | --- |
| Regular Breast Lift | 9,000 - 30,000 |
| Breast Lift With Join Augmentation | 30,000 - 35,000 |
The Best Breast Lift Specialists in Dubai
Here is the criteria we've used in assessing these specialists:
1. Dr. Allen Rezai of Elite Cosmetic Surgery Clinic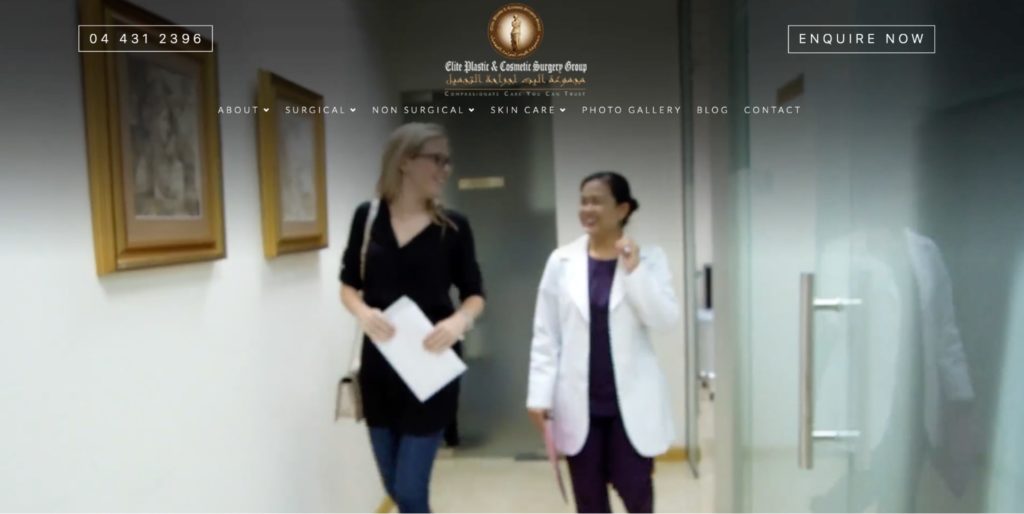 Test
Info
SERVICES
Breast Uplift

Breast Uplift With Implants

Breast Augmentation

and more!

WEBSITE
https://elitecosmeticsurgery.ae
ADDRESS
Building 64 - Unit 4012, 4th Floor, Block C - Oud Metha Rd - Dubai - United Arab Emirates
CONTACT DETAILS
Phone: +971 4 431 2396

E-mail: [email protected]

OPERATING HOURS
10:00 AM - 7:00 PM (Monday - Saturday)
| | |
| --- | --- |
| Criteria | Ratings |
| Expertise | ★★★★★ (5/5) |
| Pricing | ★★★★☆ (4/5) |
| Customer Service | ★★★★☆ (4/5) |
| Facilities | ★★★★☆ (4/5) |
Elite cosmetic surgery and clinic is a healthcare establishment that provides a very wide range of aesthetic plastic surgery procedures. Part of what they offer are breast augmentations and breast lifts.
One of their experts on board for mastopexies is Dr. Allen Rezai. This particular surgeon is a plastic, aesthetic, and reconstructive surgeon in the UAE and UK.
Dr. Rezai completed his education and training in Sweden. He has also worked in various hospitals around the UK before heading over to Dubai to share his expertise.
The surgeon's expertise is more of a "jack-of-all-trades" meaning he can do most of the procedures the clinic offers. Mostly though, he tends to work more on breast-related surgeries such as augmentations and lifting procedures.
Moving away from the expert on hand, we noticed that the clinic has a pretty wide space. They don't have an entire building for their operations, but an entire floor instead.
Heading inside, one can notice the very simplistic take on the interior design. The clinic opted for more functionality and an organized look.
Staying there would be comfortable, we believe. In terms of their operating rooms, they are clean and well-equipped.
One thing we would note about their location is a small parking space. Especially since the clinic is also with other establishments in one area, get ready to find an alternative parking space during busy days or hours.
Overall, we recommend Dr. Rezai for his knowledge and expertise in doing different kinds of surgical operations!
Expertise in various cosmetic procedures
Specializes in breast surgeries
Offers two methods of breast lifting
A bit expensive
Small parking space
Customer Reviews:
Professional Service
"I highly appreciate the care and professional service of elite Plastic & Cosmetic Surgery. Especially Ms. Maria for her qualified treatment and answers for all my queries. I went for laser hair reduction on back. Start from first day, the consultation and batch test by Ms. Maria was outstanding. I started my treatment only on back and continued for more than 2 years with various areas of body bacause of the satisfied work. I am now absolutely satisfied with the service and professional accomplishment of each session. I appreciate Ms. Maria and Ms. Rose for their work and knowledge. They are genuine and promise only what is possible. Trustworthy and friendly professionals. I also appreciate receptionist Ms. Cora for reminding me each appointment with same pleasant manner. Thank you for your good work." – Shankar Vadivel
2. Adnan Tahir of Valiant Clinic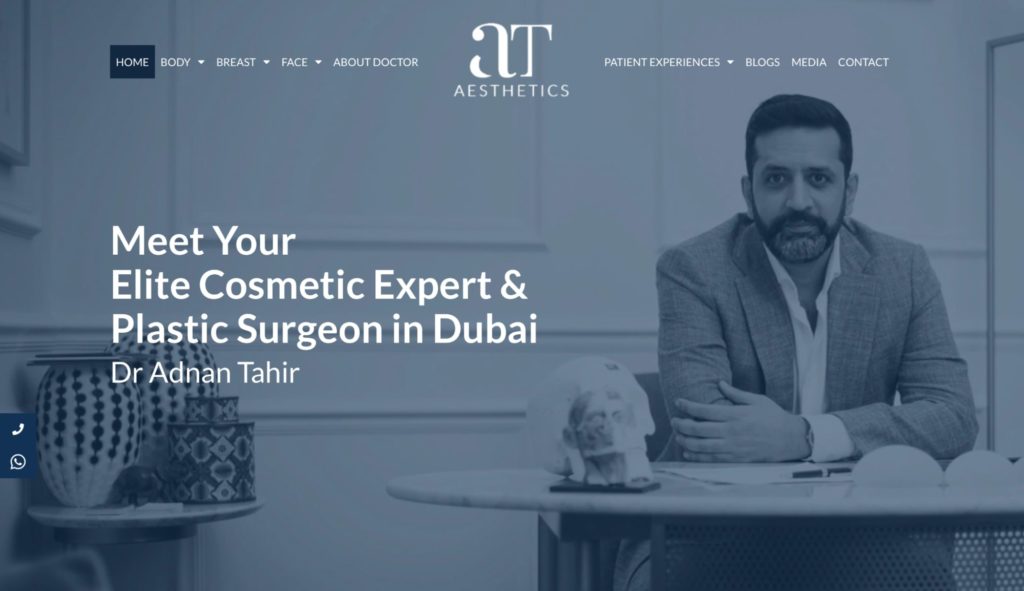 Test
Info
SERVICES
Tummy Tuck

Liposuction

Breast Augmentation

Facelift

Rhinoplasty

and more!

WEBSITE
https://adnan-tahir.com
ADDRESS
Valiant Clinic & Hospital - Dubai - United Arab Emirates City Walk 13th Street BOX 414296
CONTACT DETAILS
Phone: +971 50 567 4770
OPERATING HOURS
10:00 AM - 6:00 PM (Saturday - Thursday)
| | |
| --- | --- |
| Criteria | Ratings |
| Expertise | ★★★★★ (5/5) |
| Pricing | ★★★☆☆ (3/5) |
| Customer Service | ★★★★☆ (4/5) |
| Facilities | ★★★★★ (5/5) |
Valiant Clinic and Hospital is an establishment that leans more on providing luxurious healthcare services for its clients. This means that things will get expensive once you admit yourself to this place.
One of the most notable things about them is the staff and experts they employ. The company makes sure to hire expertly trained and educated professionals, with the doctors, on average, have more than five years of experience in their chosen fields.
Speaking of experts, the resident specialist for their breast lifting procedures is Dr. Adnan Tahir. This doctor has the educational background and experience in spades.
This UK-trained surgeon finished his studies and training at the Royal College of Surgeons in the United Kingdom. After that, he proceeded to work in various hospitals from 2003 to 2012.
He then moved to Dubai as a cosmetic surgeon after spending a long time in Europe. Overall, his 19 years of experience is not something to dismiss at all!
Aside from their staff, clients will feel the luxury oozing out of the hospital's actual facilities. Their actual building is filled with open-layout floors and rooms.
A great thing about them is that they have allotted wide parking spaces for their clients, so there's no need to worry about your car when you drive here.
We would like to note how much effort they exert in hiring the best professionals and equipping their facilities with the right devices. That said, you can expect high fees.
We observed that even without the tax, their rates are higher than the average. So we recommend grabbing Dr. Tahir's expert opinion and services only if you have the extra budget to spare.
19 years of experience
Large facilities
Ample parking space
Appointment required
A bit expensive
Customer Reviews:
"Dr Adnan was so amazing , what I loved most is the fact that he listened to every issue/doubt of mine and made sure he worked towards it , my result is beautiful and healing well, Also he's nurse Janine was so helpful and still helpful , Sarah is another beautiful soul, always smiling and keeping me on the positive side of the surgery . It was an amazing experience." – Chinaza Mmaduakor
3. Yasser Khattab of Aesthetics by Kings College Hospital London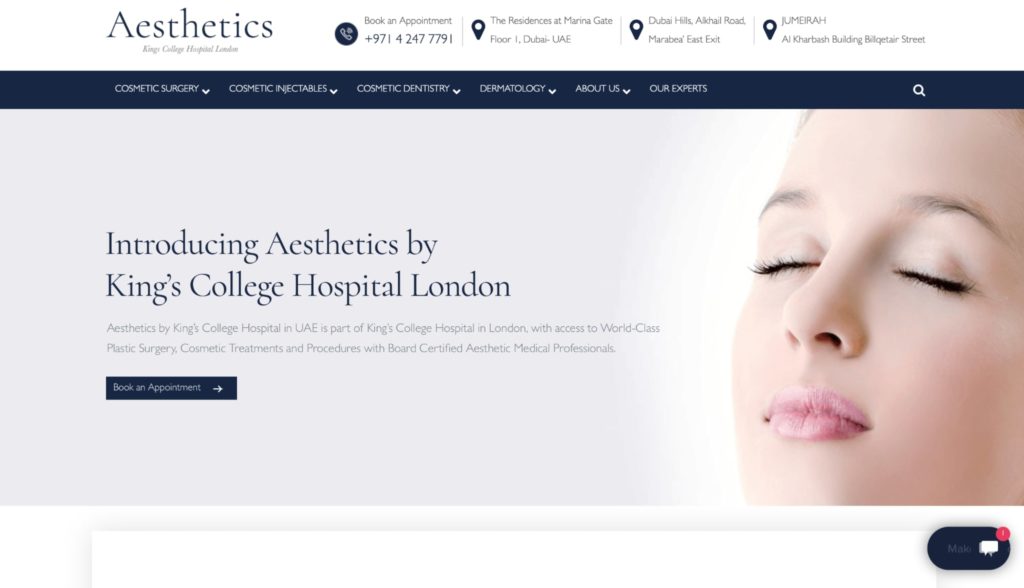 Test
Info
SERVICES
Breast Augmentation

Breast Lift

Breast Reduction

Browlift Surgery

and more!

WEBSITE
https://aesthetics.kingscollegehospitaldubai.com
ADDRESS
Dubai Marina:

The Residences at Marina Gate Floor 1, Dubai- UAE

Dubai Hills:

Alkhail Road, Marabea' East Exit

CONTACT DETAILS
Phone: +971 4 247 7791
OPERATING HOURS
8:00 AM - 6:00 PM (Tuesday - Sunday)

8:00 AM - 8:00 PM (Monday)

(Closed on Fridays.)
| | |
| --- | --- |
| Criteria | Ratings |
| Expertise | ★★★★★ (5/5) |
| Pricing | ★★★★☆ (4/5) |
| Customer Service | ★★★☆☆ (3/5) |
| Facilities | ★★★★★ (5/5) |
Aesthetics Plastic Surgery Clinic is a Dubai-based center established by London's Kings College Hospital. The clinic specializes, true to its name, in providing aesthetic surgical services for its clients.
The first thing we noticed about this company is their facilities. Certainly not the most luxuriously-designed spaces, but the aesthetic is truly pleasing to the eye.
The waiting lounges are filled with comfortable furniture and their operating rooms are equipped with the necessary devices needed. Also, everything is kept clean and orderly.
In addition, this place has a large parking space for its customers. Private vehicle owners will have one thing off their minds as they visit here!
In terms of services, the clinic offers regular breast lifting procedures with the best experts available on their team. One of them is Dr. Yasser Khattab.
Dr. Katthab is a board-certified plastic, reconstructive and aesthetic surgeon and consultant. Looking at his educational background, this doctor graduated and obtained his master's degree in plastic surgery in Egypt.
He then proceeded to continue honing his craft in university hospitals around Egypt, Saudi Arabia, and Ireland. With over two decades of experience, rest assured that this doctor knows what he's doing.
Overall, regardless of some limitations, we recommend Aesthetics for their expert surgeons and medical team. A clinic worth checking out!
Multiple branches
Expertise and experience
Large parking space
Appointment required
Limited customer service
4. Dr. Hasan Ali of Hasan Surgery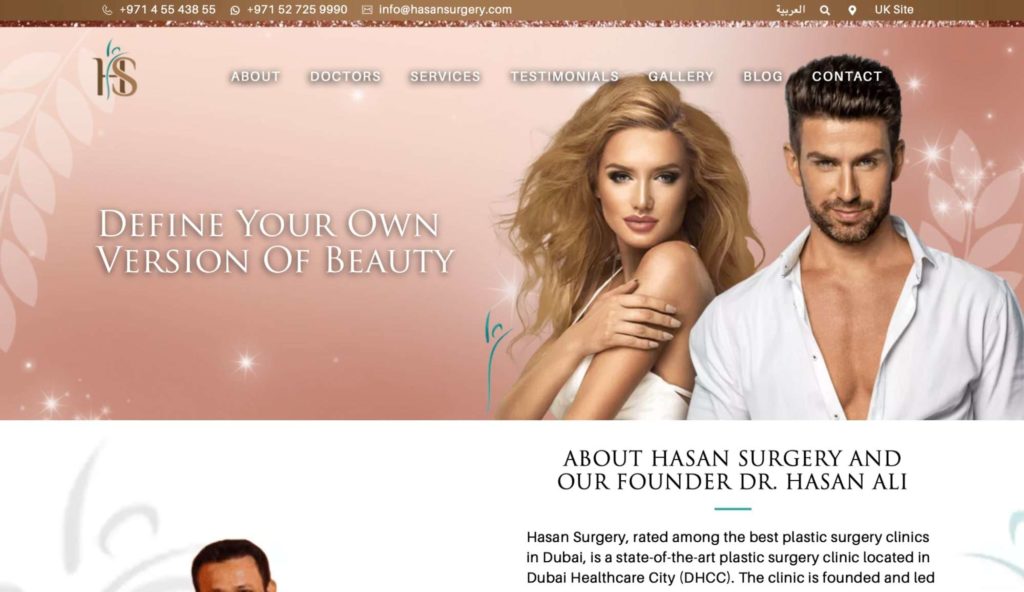 Test
Info
SERVICES
Body Lift

Breast Augmentation

Breast Lift

Liposuction

Facelift

and more!

WEBSITE
https://hasansurgery.com/dr-hasan-ali-plastic-surgeon/
ADDRESS
Unit 408, Building 64 - Oud Metha Road - Block C 4th Floor - Dubai Healthcare City - Dubai - United Arab Emirates
CONTACT DETAILS
Phone: +971 4 554 1355

E-mail: [email protected]

OPERATING HOURS
9:00 AM - 6:00 PM (Monday - Saturday)
| | |
| --- | --- |
| Criteria | Ratings |
| Expertise | ★★★★★ (5/5) |
| Pricing | ★★★★☆ (4/5) |
| Customer Service | ★★★★☆ (4/5) |
| Facilities | ★★★★☆ (4/5) |
Dr. Hasan Ali is a resident surgeon and founder of Hasan Surgery, a company that offers various cosmetic procedures for Dubai-based clients.
As one of the doctors on the roster, this surgeon is well-awarded and educated. Dr. Ali obtained a medical degree in surgery and finished his post-graduate training at the Royal College of Physicians and Surgeons in Glasgow, U.K.
With two decades of experience in the industry, this doctor has served in various hospitals in Pakistan and Saudi Arabia. He has also worked as a Clinical Assistant Professor in plastic surgery at Baqai Medical University Hospital.
If his experience has not impressed you yet, we'd like to note that this person has been awarded by organizations such as the Asia Pacific Academy of Cosmetic Surgery.
Dr. Ali specializes in various procedures relating to reconstruction and aesthetics. While breast lifting is not his main focus, he has delivered good and successful surgeries.
Looking at the facilities of his clinic, we've noted that they are well-designed and organized. It's not a big space, though– so if you're a bit selective on the size of a clinic, you might want to look at other options.
We advise checking out Dr.Ali and his clinic for his years of experience as a surgeon (and his very colorful educational background)!
20 years of experience
Clean and well-designed facilities
Appointment required
Breast lift is not the main focus
Customer Reviews:
Professional and Friendly Staff
"Dr. Hasan is one of the best doctors I have ever met, the center is very professional and the staff are friendly. The center is well known in Dubai, I received a very good review from my friend who had a long experience with the center and her feed back was really true. I have done breast surgery and the result was great, when I admitted to center at surgery day I was confused and afraid, dr Hasan was really supportive and he explained to me all of the steps that we will go thorough he was very confident and his words made me calm down. I wish him and the center all the best." – Fatima Omar
5. Dr. Dragana Spica of MEDICLINIC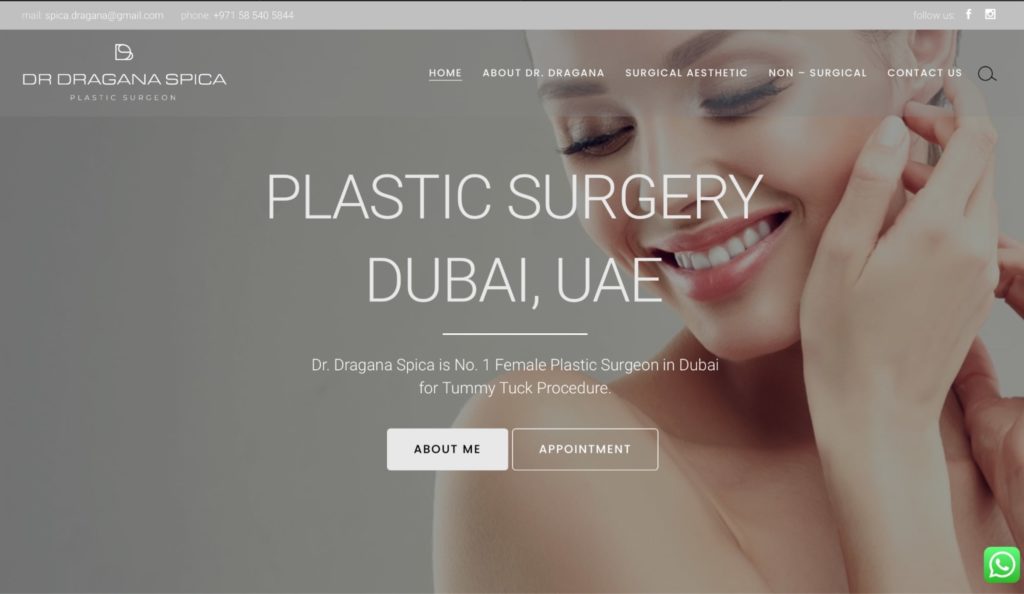 Test
Info
SERVICES
Breast Augmentation

Breast Lift Brazilian Butt Lift (BBL)

Eyelid Surgery

Fat Transfer Surgery

Liposuction

and more!

WEBSITE
https://drspicadragana.com
ADDRESS
LEVEL 7, Fashion Parking - Dubai Mall - MEDICLINIC, DUBAI MALL - Dubai - United Arab Emirates
CONTACT DETAILS
Phone: +971 58 540 5844

E-mail: [email protected]

OPERATING HOURS
8:00 AM - 8:00 PM (Monday - Sunday)
| | |
| --- | --- |
| Criteria | Ratings |
| Expertise | ★★★★★ (5/5) |
| Pricing | ★★★★☆ (4/5) |
| Customer Service | ★★★★★ (5/5) |
| Facilities | ★★★☆☆ (3/5) |
First thing's first: out of all of the places we've looked at, this clinic has the least amount of space for its operations.
If not-so-spacious areas aren't your thing, we recommend looking elsewhere.
However, if you're not that picky, we recommend heading to MEDICLINIC's Dubai Mall branch for Dr. Dragana Spica.
Dr. Spica is well-known in the plastic surgery industry for her skill and attitude towards patients. Also, if you're more comfortable interacting with a female specialist, she's definitely the one you need to look for.
In terms of experience, she is a certified plastic, aesthetic, and reconstructive surgeon. Working for over a decade, she has served in various hospitals in Serbia and Dubai.
Education-wise, Dr. Spica graduated from the University of Belgrade in Serbia and has obtained her Master's degree in Surgical Anatomy.
As a medical professional, this surgeon is helpful and nice to her patients. We've noted that she makes sure to properly explain the procedures her clients will be undertaking before they actually begin.
The staff surrounding her are also efficient at their jobs. We've observed them to be prompt and polite.
In addition, they are also good at guiding their patients in the different procedures happening in their clinic.
Should you seek Dr. Dragana Spica for her expertise and reputation, rest assured that you will be in good (and knowledgable) hands!
Open seven days a week
Certified in multiple fields of surgery
Kind and professional staff
Small facility
Appointment required
Customer Reviews:
Great Experience, Professional Work
"My experience with Dr Dragana was excellent!! She is very professional. I'm very happy about my result and definitely will come again." – Galina Heibel
FAQs About Breast Lifts in Dubai