The 5 Best Photography Studios in Dubai
Marking milestones in life are important, and the best way to immortalize those moments is by having your photo taken at a photography studio.
So we scoured the city to look for the best photography studios in Dubai. We included the factors we considered in choosing them and answered some FAQs about photography studios.
How much does it cost to have your photos taken at a photography studio in Dubai?
The cost of getting your photos taken depends on what type of photos you require. Most studios also make it easier on the pocket by offering packages.
To give you a starting point, we made a table of the range of rates of the most commonly availed packages in photography studios.
| Package | Rates |
| --- | --- |
| Headshots | AED299 - AED699 |
| Family | AED350 - AED1500 |
| Couple | AED550 - AED1850 |
| Maternity | AED450 - AED1850 |
| Newborn & Kids | AED350 - AED1200 |
The Best Photography Studios in Dubai
Before we get right into our top picks for photography studios in Dubai, here are the factors we considered for our entries on this list:
1. You + Baby Studio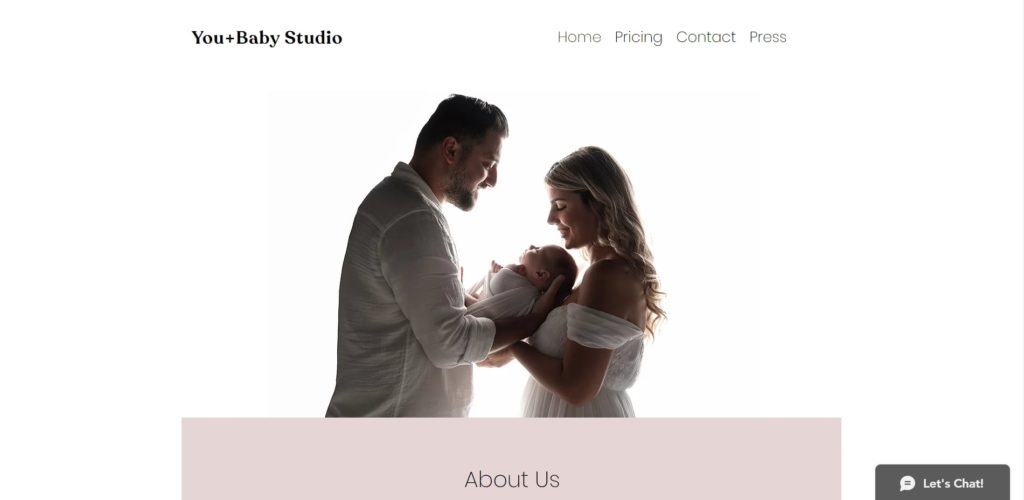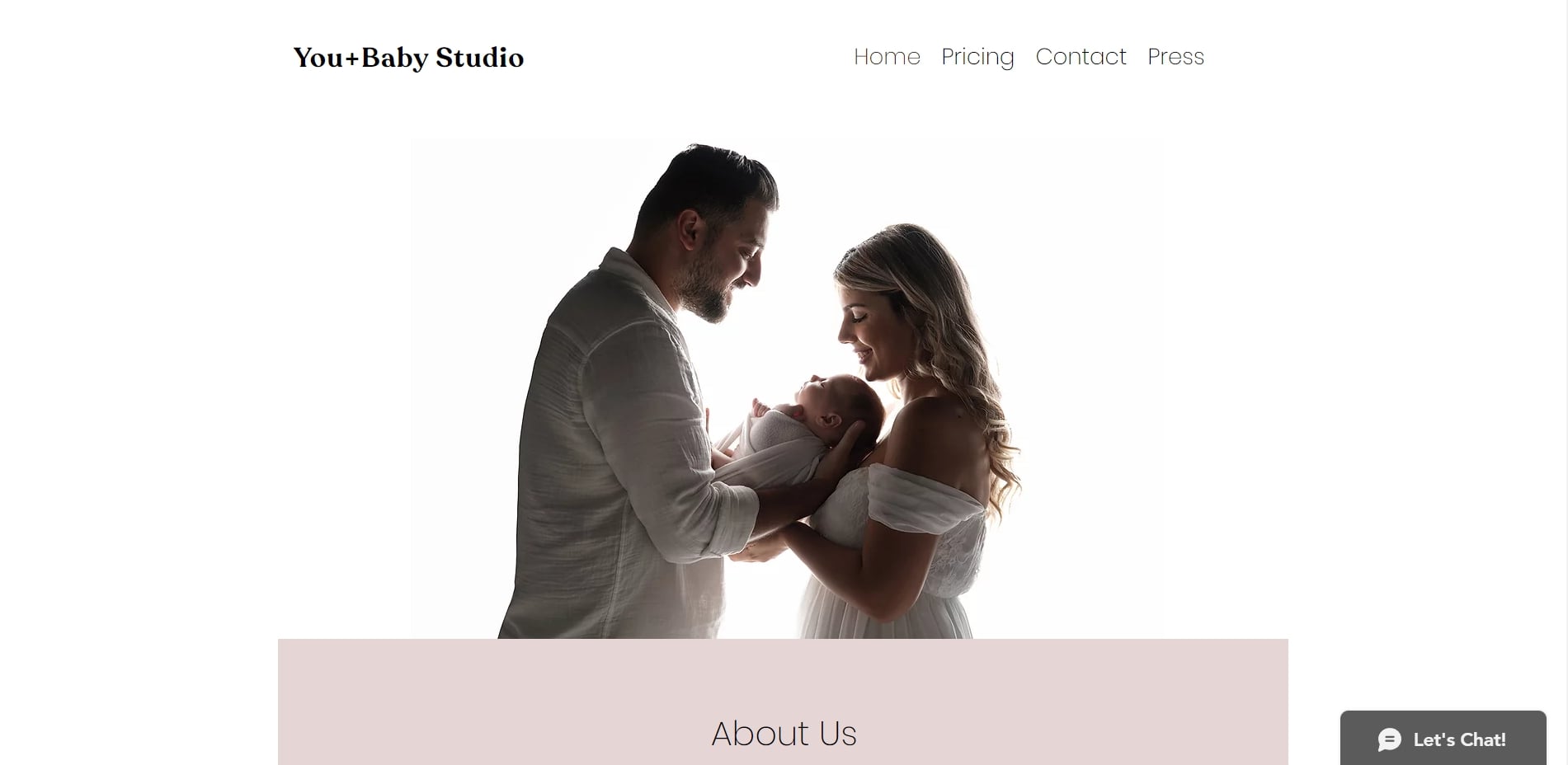 Test
Info
WEBSITE
https://www.youbabystudio.com/
ADDRESS
Al Safa 1, MSM 2 Building, Office 201, Dubai, United Arab Emirates
CONTACT DETAILS
+971 58 518 0036

E-mail: [email protected]

OPERATING HOURS
Monday: 8:30 AM - 8 PMTuesday

Thursday & Saturday: 8 AM - 7:30 PM

Wednesday: 7:30 AM - 7:30 PM

Friday: 7 AM - 7:30 PM

Sunday: 8 AM - 7 PM
| | |
| --- | --- |
| Criteria | Rating |
| Technical Proficiency | ★★★★★ (5/5) |
| Creativity | ★★★★☆ (4/5) |
| Professionalism | ★★★★★ (5/5) |
| Range | ★★★★☆ (4/5) |
Composed of an all-female team of photographers, You + Baby Studio handles each photography session with love, care, and passion, resulting in photos to be cherished forever.
We love that it is noticeable in its portfolio that it puts a special focus on the contrast of the highlights and shadows.
It's especially important as it creates depth in the photos that have nothing but a plain background.
By paying attention to the contrast, we can see the details in the expressions of the people and there is a sense of elegance in the photos.
When it comes to the uniqueness of the photographers' style, there really isn't much to say. It's a lot of ideas that have been tread on multiple times.
It's apparent that a lot of their inspiration comes from trendy Instagram photos, which is not necessarily a bad thing, in fact, it makes this studio a safe choice.
But it does mean that if you're looking for something that is unique to your own, they might be not able to capture that.
We think that their strength is in their trademark professionalism and how they handle clients.
Working with families, mothers, babies, and children, they are experienced in directing and effectively communicating with different familial dynamics.
As for the studio's packages, well, it is really focused on taking personal photos. Maternity shoots, newborn photos, family photos, and trendy cake smash photoshoots are its specialty.
However, we can definitely see it being successful in taking up corporate photoshoots, and maybe even product shoots. So we think that it's missing opportunities here.
Specializes in personal and intimate photoshoots
Masterfully proficient in studio lighting
Directs and communicates effectively with subjects
Only focuses on personal portraits
Creativity is lacking and focuses too much on trends
Customer Reviews
We had such a great experience with them
"We had a great experience at You+Baby Studio! They have a very nice, clean and cozy studio, staff are very accommodating and friendly. Special thanks to Katerina who did a very great job in capturing our little one's tiny feet and ears. She was sweet and very patient and spent more time making sure that she'd be able to capture more precious moments with our little one. Highly recommended! More powers to you! 💕" —Angela Tago, Google Reviews
The best decision we made was having them for our photoshoot
"We had our maternity and newborn photoshoot with You+Baby Studio. I must say this is the best decision we've made. My experience with the team has been absolutely pleasant. Thanks to our photographers Nataly and Alina for capturing wonderful shots of me and my baby. The photos came out really great. Can't wait to work with you again.
Amazing service and highly recommended." —Abby Averia, Google Reviews
2. 800 Photos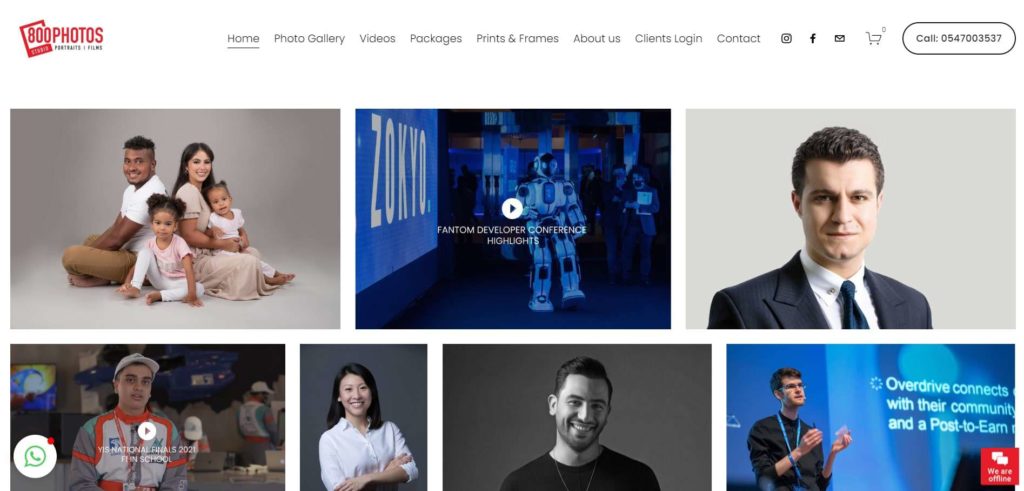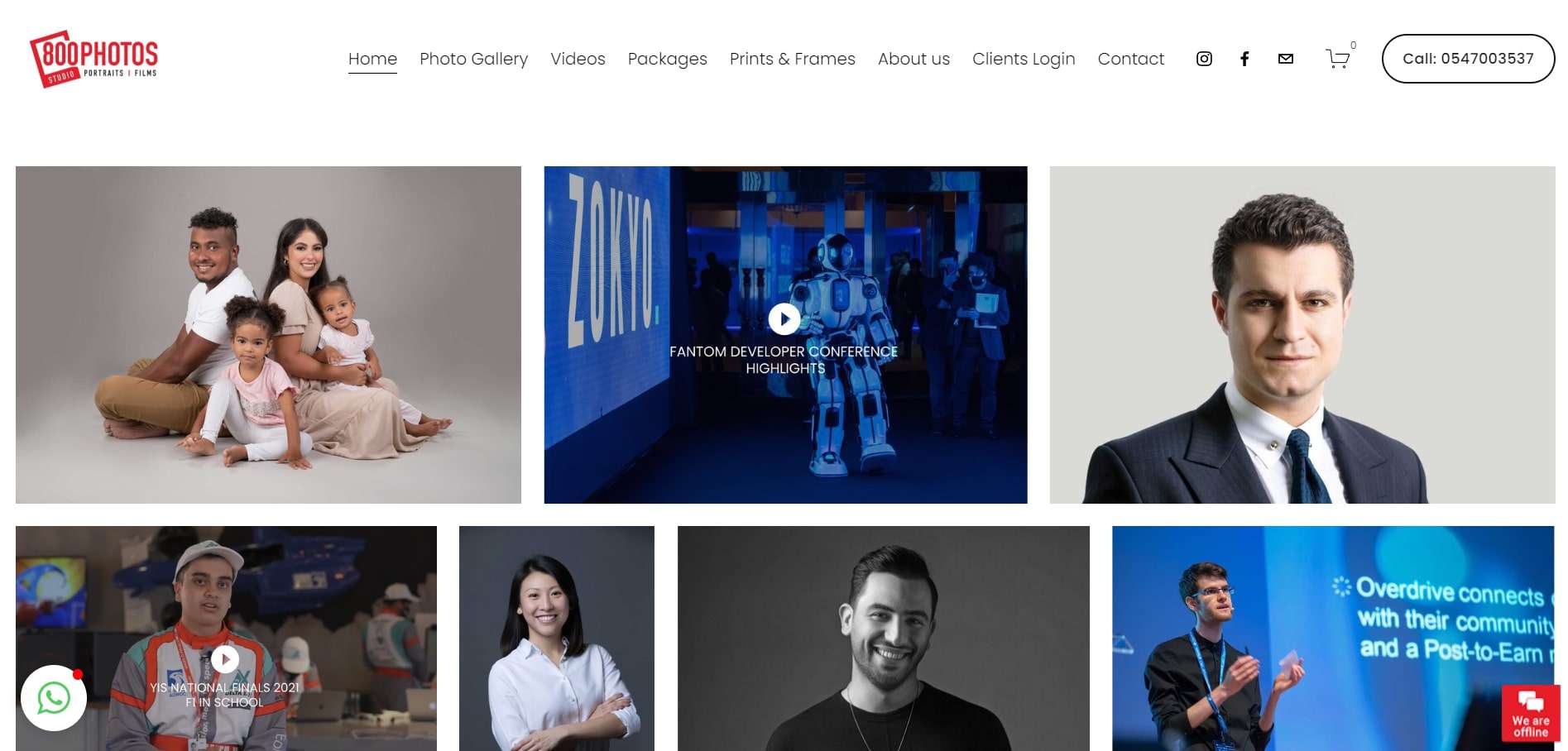 | Test | Info |
| --- | --- |
| WEBSITE | https://www.800photos.ae/ |
| ADDRESS | Al Maktab Building Al Barsha 1 Ground Floor Lobby, shop 1 - Dubai - United Arab Emirates |
| CONTACT DETAILS | +971 56 312 5111 |
| OPERATING HOURS | Every day: 9 AM - 10 PM |
| | |
| --- | --- |
| Criteria | Rating |
| Technical Proficiency | ★★★★★ (5/5) |
| Creativity | ★★★☆☆ (3/5) |
| Professionalism | ★★★★★ (5/5) |
| Range | ★★★★★ (5/5) |
With a 1,200 square feet studio and portraits specialist in its team, 800 Photos offers versatility that answers to any kind of prompts from clients.
It has mastered the art of studio photography and pushed the boundaries with its mastery of the craft. And while its technical proficiency is something that is arguably incomparable, its creativity is lacking.
Its studio shots have nothing really interesting going on in terms of lighting and concepts. And while technically masterfully crafted, there is no sense of uniqueness to the photos.
Its photographers' professionalism is on another level, though. They will do everything from start to finish. From consultations to editing and printing photos, they will do it with efficiency.
We love that our headshots were given to us in 2 days despite other photography studios taking at least a week to fully edit photos.
And when it comes to range, this studio is one of the most versatile picks we have on this list.
From editorials and corporates to maternities and family photoshoots, it can do it all masterfully. Its mastery allows it to understand what each kind of photoshoot needs to create technically amazing photos.
And while it may not be the best in conceptual and creative photoshoots, it immensely delivers when it comes to giving you technically proficient photos.
Has portrait specialists on the team
Efficient and timely service
Has the most range in terms of packages
Style is too generic; lacks uniqueness
Customer Reviews
The results were just as great as the process
"I just did a professional headshot at 800 photos studio and it was a great and pleasant experience from the initial call and appointment booking to the final great results of the photos.
The staff are really professional and responsive.
The photographer "Mark" is great and has an eye for great poses and most importantly very patient with some one like me who has never taken a professional photo.
highly recommended !" —Anas Hawari, Google Reviews
Helpful and accommodating service
"800 Photos Studio worked well for me. I was in need for a last minute head shot. I got an appointment right away. The photographer was very helpful and took a great shot. For a small fee he even sent the retouched picture the same night." —Parham Sarablou, Google Reviews
3. Qomrah Photography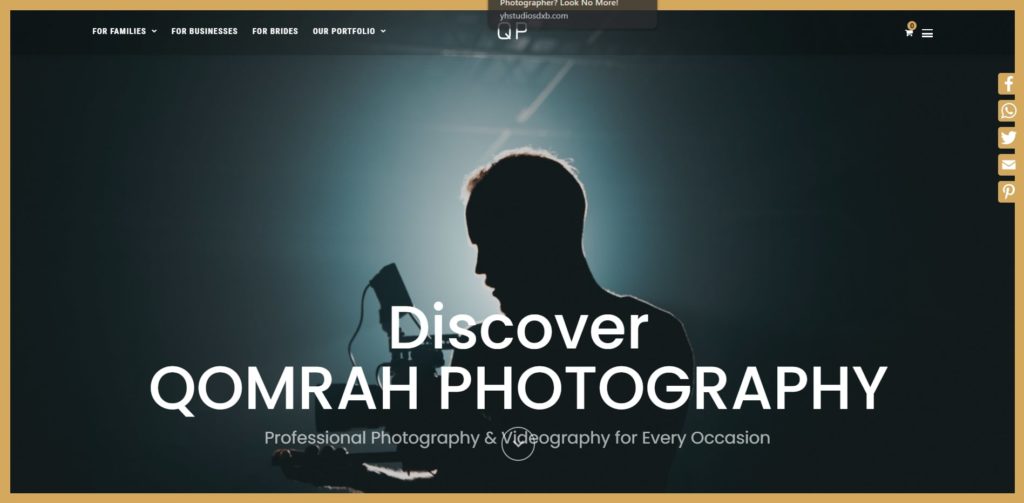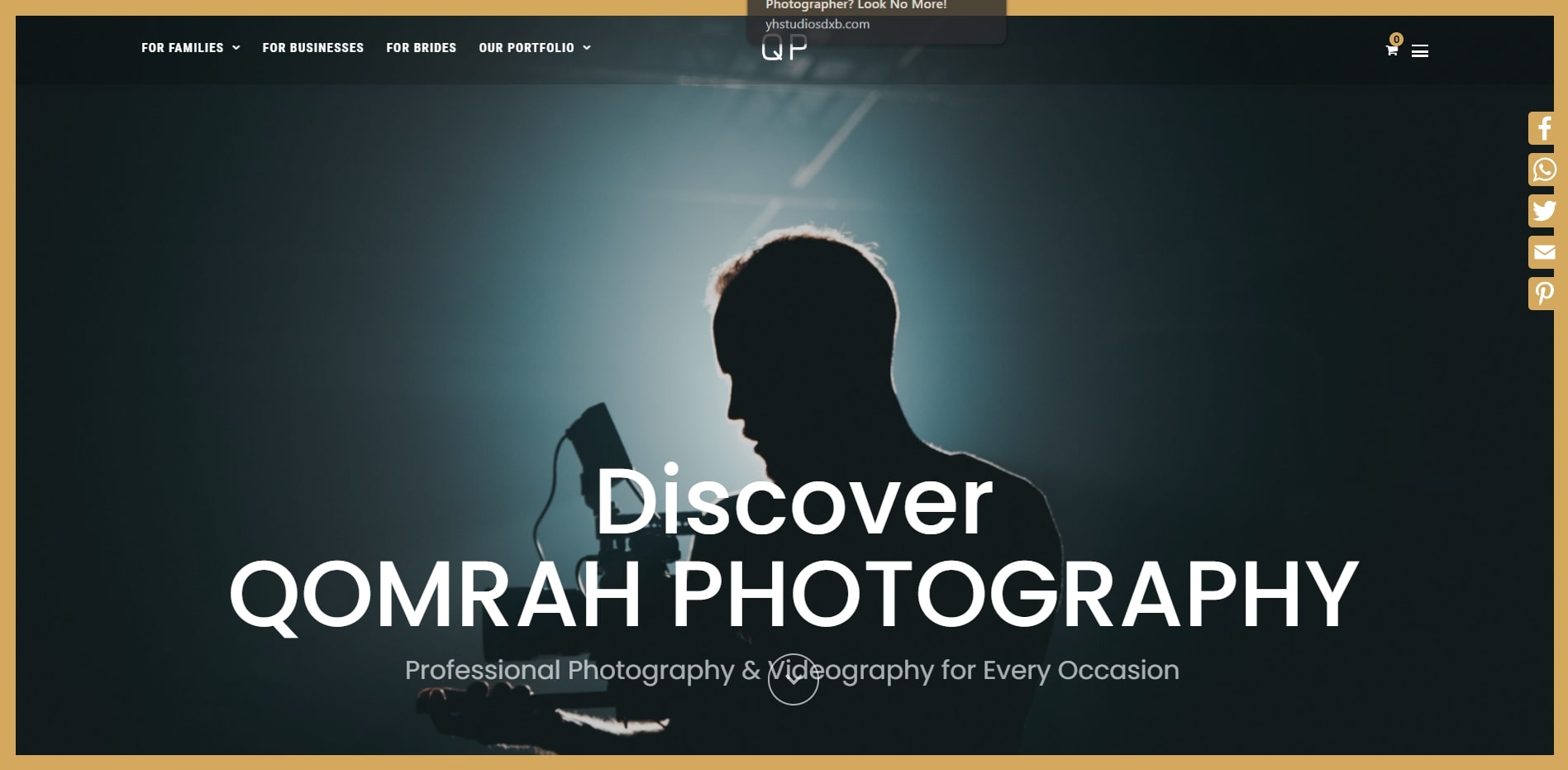 Test
Info
WEBSITE
https://qomrahphotography.com/
ADDRESS
Qomrah Photography, Dubai, Business Bay, The Prism, Office# 3306
CONTACT DETAILS
+97143235030

+971506608085

OPERATING HOURS
Saturday to Thursday: 11 AM - 8 PM

Friday: 1:30 PM - 8 PM
| | |
| --- | --- |
| Criteria | Rating |
| Technical Proficiency | ★★★★★ (5/5) |
| Creativity | ★★★★☆ (4/5) |
| Professionalism | ★★★★★ (5/5) |
| Range | ★★★★★ (5/5) |
Offering a wide range of photography services in and out of the studio, Qomrah Photography does every kind of shoot with creative collaborations amongst its team and its clients.
What we love about it is that it never loses its creative edge even when it comes to newborn photoshoots.
It understands that timing when taking photos of babies. Since you can't direct a baby, you have to wait for precious moments to come up to preserve those seconds of cherished innocence and peace.
This kind of understanding is also apparent in its corporate photos. Its photographers know how to pinpoint the beauty and uniqueness of each business and capture that.
And their creativity is accompanied by their mastery of studio shoots. Unlike other photography studios, they're not afraid to push past best practices in the industry.
They take creative liberty if the shoot calls for it, and these are all done with a master's control, making sure that even though the results are often unconventional, it's still technically beautiful.
Another great thing about the photographers is that their professionalism stems from their year's worth of experience.
Handling all kinds of subjects and clients is easy for them because they've been through it all.
They make the photoshoot experience easy and fun, and they shine when it comes to big groups as it allows them to collaborate and interact with the subjects easier.
All in all, Qomrah Photography is more than ready to answer any kind of photography services that are asked of it.
And while some of its unconventional approaches may not always be for everyone, its mastery of the craft always ensures that the results will always be works of art.
Has a uniquely creative approach to client's asks
Experts in all kinds of studio shoots
Experienced in handling all kinds of clients and subjects
Wide range of packages
Unusual creativity may not be for everyone
Customer Reviews
Fun photoshoot experience
"Fun experience with excellent results. We came for a family photo shooting, a bit extraordinary because are all already grownups and our photographer really made us enjoy and have fun with it. They had lot's of elements to decorate the session and she was patient while taking the pictures and then while picking the best. The edition time was also adequate (2 weeks as promised). I only missed the possibility to print our pictures in the house, the service wasn't offered at the time." —Andres Felipe Betancourt Payan, Google Reviews
We did everything I asked for!
"This was my first time ever doing a professional shoot and I loved the experience. The Photographer Kate is very accommodating and guides through the process. I was looking for some specific shots and backgrounds and they absolutely had all necessary props/ set-up for the shoot. And with the offer they had at the time, also made it very easy on my pocket :). Over all a happy customer and would like to recommend Al Qomrah photograophy service over all." —Deepa Chablani, Google Reviews
4. Photo Point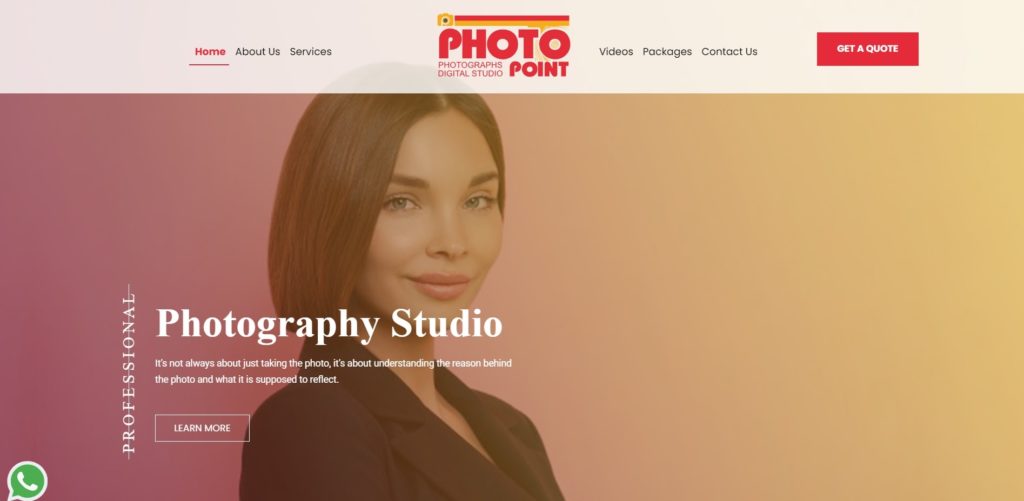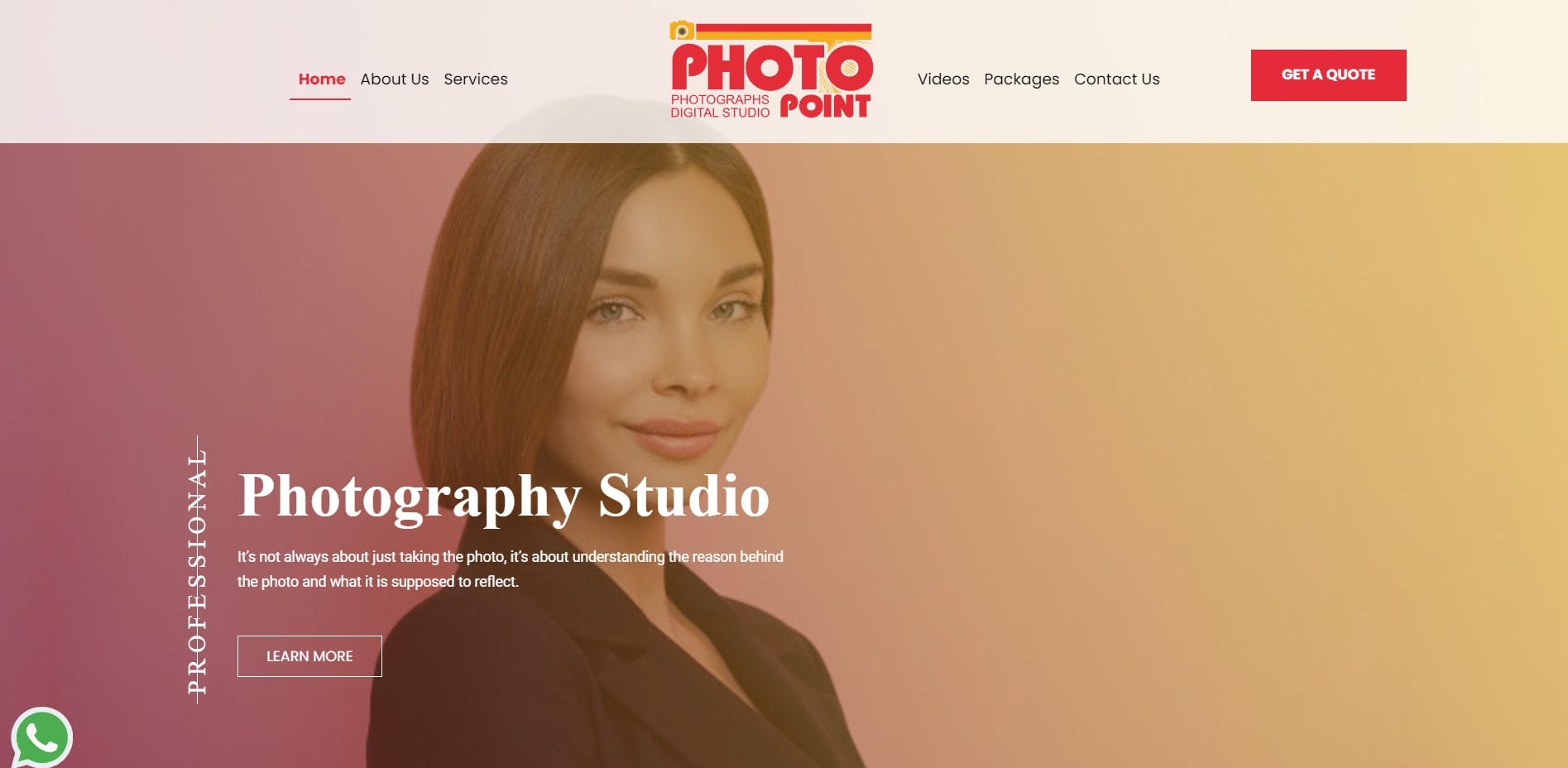 Test
Info
WEBSITE
https://www.photopointdubai.com/
ADDRESS
Photo Point Photographs Digital Studio, Al Barsha - 1 Sheikha Noura Building Beside Centro Rotana Hotel, Dubai - UAE
CONTACT DETAILS
(+971) 552325684

(+971) 42639967

OPERATING HOURS
Saturday to Thursday: 10 AM - 10 PM

Friday: 1 AM - 10 PM
| | |
| --- | --- |
| Criteria | Rating |
| Technical Proficiency | ★★★★★ (5/5) |
| Creativity | ★★★★★ (5/5) |
| Professionalism | ★★★★☆ (4/5) |
| Range | ★★★★★ (5/5) |
With more than 20 years of experience, Photo Point knows its way around portrait photography, commercial photography, food photography, portrait pictures, events, or any other occasion.
What makes it special, in our opinion, is its masterful handling of editing photos after photo shoots.
And while the shoots themselves are great, there is something about its post-processing that gives its images another layer of meaning and story to the photos.
This is where its creativity shines through, as well. Its post-processing and proficiency in creating designs to enhance the photos are what make every shoot unique.
We also like that its studios are always ready to go for different approaches to each photo shoot, however, this does get in the way of its deadlines.
Since the studio doesn't follow a formula for how it shoots and edits photos, it's common for photos to be released later than expected. So if you're in quite a rush, then you might want to look elsewhere.
Despite that, you can always expect to get something entirely unique from here. Photo Point always makes sure there's another layer of depth to its photos.
In essence, it's not giving you photos, it's giving you artworks. And this level of creativity makes offsets its slow turnaround times — for us, at least.
Great post-processing creativity
Wide range of photography services
Fun and easygoing photoshoots

Customer Reviews
Process and results were great
"Got my passport picture here today and quite happy with the process and result. The owner knows his stuff and has a whole studio setup that guarantees quality deliverables (compared to some of the typing centers which also provide passport picture services, usually with a camera only. I know but l want my passport picture to look nice). Hes also very accommodating and patient with my request after the shooting (again even though it's just for passport picture) Unexpectedly the price is the most affordable I've found in Dubai. It's an one-man show by the owner. Love to support small business!!" —AJ, Google Reviews
Customer-oriented service
"This shop is so nice yesterday we went for my friend passport size photo they took very fast and finished everything.
Shop employees are nice customer oriented.
Price is very affordable we got only digital copy they charged only 25 AED .
Compared to others it's so good." —Harshith Sundaram, Google Reviews
5. The Studio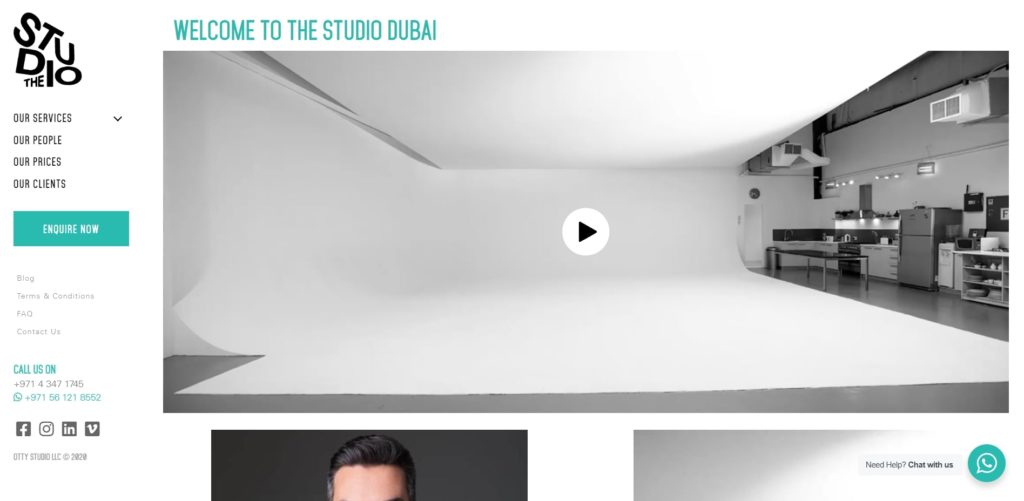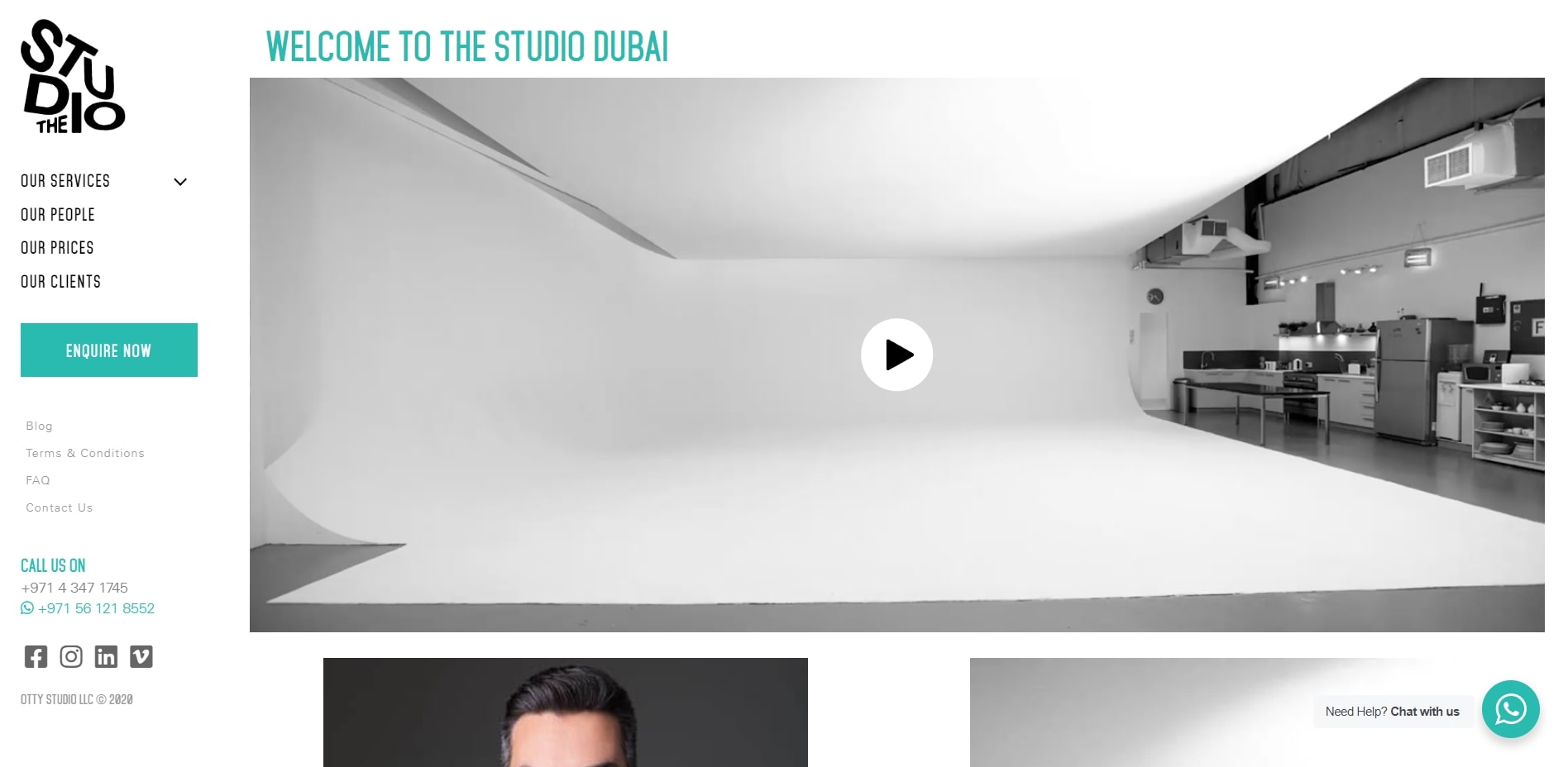 Test
Info
WEBSITE
https://thestudiodubai.com/
ADDRESS
Ind 1 - Courtyard Building - 4 B St - Al Quoz - Dubai
CONTACT DETAILS
+971 4 347 1745

+971 56 121 8552

OPERATING HOURS
Monday to Friday: 9 AM - 5 PM
| | |
| --- | --- |
| Criteria | Rating |
| Technical Proficiency | ★★★★☆ (4/5) |
| Creativity | ★★★★★ (5/5) |
| Professionalism | ★★★★★ (5/5) |
| Range | ★★★☆☆ (3/5) |
With 2 studios built for photo shoots and video shoots, The Studio offers studio photography and content creation with its studios for hire services.
Specializing in corporate photography and portraits, The Studio's photographers can do gritty editorial portraits for campaigns, and sophisticated portraits for corporations.
We love that while it specializes in corporate photography, which can be generic in style, The Studio is able to pinpoint aspects of photoshoots where it exercises creative liberty to give its photos that certain creative edge.
But its technical proficiency truly shines in its product and food photography services. With its mastery of studio photography, it is able to execute unique prompts with style.
However, we do recommend following up and double-checking your email when you've booked it for a shoot as its booking system can be faulty and has resulted in missed and canceled appointments.
When it comes to its range, it's pretty limited to corporate photoshoots and portraiture, unfortunately.
With its beautifully curated studio and creative approach to client prompts, we think it's missing opportunities by not offering personal photoshoots to clients.
All in all, despite some instances where its service faltered, The Studio is still one of the best picks for photography services for businesses.
With its dedication to taking creative liberties to give the photos that edge, they push past clients' expectations.
Specializes in corporate photography and portraits
Approaches client prompts creatively
Has a wide range of creative capabilities
Booking system is faulty
Doesn't offer shoots beyond corporate and portraits
Customer Reviews
Highly recommend their services
"I highly recommend The Studio Dubai. I was referred to their photography services by a trusted colleague & they did not disappoint. Their facility/studio is very impressive. The photographer went above & beyond for me on the shoot, delivering the highest quality images, giving me options that far exceeded my expectations. I highly recommend them & will use them again." —Eilidh MacQueen, Google Reviews
The experience was relaxing and comfortable
"Our family photo shoot at The Studio was a fantastic experience. Photographer Ian made us feel instantly relaxed and comfortable in front of the camera. He had our two boys in absolute stitches which made for some brilliantly candid photos.
The images we received were really high quality. There were a couple where the boys had managed to pull my top, but rather than interrupting the flow and fun we were all having the editing team very cleverly retouched the picture to perfection afterwards. This is definitely the best photo shoot we have had and would recommend it to anyone looking to create wonderful, natural memories of their family." —Amber Van Poppel, Google Reviews
FAQs about Photography Studios in Dubai
Is street photography legal in Dubai?
---
We hope this helped you in finding a photography studio that's for you. Also, if you're looking for other services to help you produce a photo shoot, then check out these articles: