The 5 Best Restaurants in La Mer Dubai
Nestled between Pearl Jumeira and Jumeira Bay is our favorite beach in the entire city. La Mer's beautiful shoreline is beautiful during the day, and we just love it when it lights up as the nightlife comes alive after sunset.
It is also home to some of our most beloved restaurants that are perfect for intimate gatherings with friends, family, and partners.
To find out which ones are truly amazing, we went and asked around the area to give you La Mer Dubai's best restaurants.
How We Picked La Mer Dubai's Best Restaurants
Before we get right into our list of La Mer Dubai's best restaurants, here are the factors we considered for our entries on this list:
1. Slab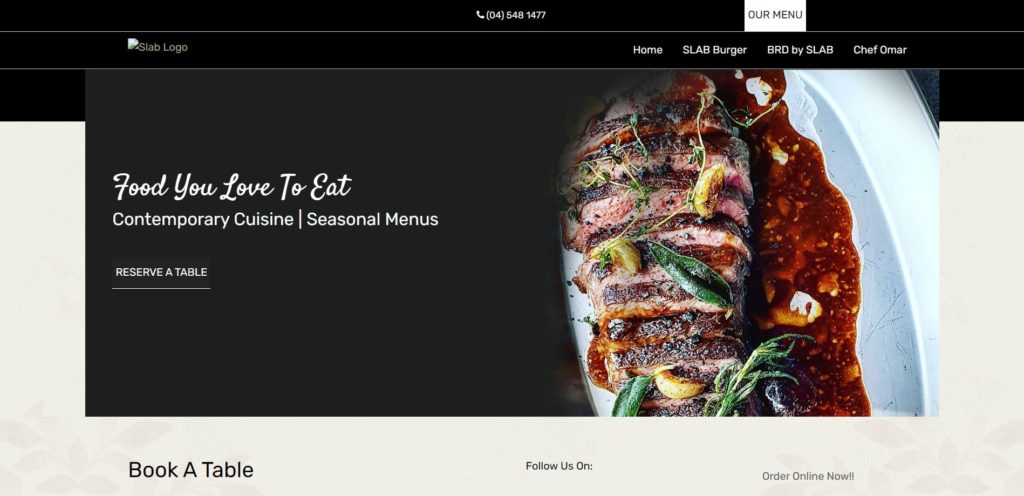 | Test | Info |
| --- | --- |
| MENU | Burgers, steak, salads, seafood |
| WEBSITE | https://www.weareslab.com/ |
| CONTACT DETAILS | +971 4 548 1477 | +971 4 423 7742 |
| OPERATING HOURS | Sunday to Saturday: 10 AM–3 AM |
| | |
| --- | --- |
| Criteria | Rating |
| Menu | ★★★★★ (5/5) |
| Service Quality | ★★★☆☆ (3/5) |
| Ambiance | ★★★★★ (5/5) |
| Acclaim | ★★★★☆ (4/5) |
Casual and contemporary with a seasonal menu that changes throughout the year, Slab continues to be one of the most successful restaurants in La Mer.
Its seasonal menu is chock-full of creative dishes that make the collective quite unique. But what we love about it the most is that the creative direction does not compromise on diet limitations because it has both meat and veggie options.
However, we thought that its service was too slow for a well-established restaurant and we know exactly why. There are not enough waiters on the ground.
We found it difficult to call for a waiter's attention because there was no one around, and whenever there would be one, they were immediately overwhelmed by fellow customers' requests as well.
But we do love the ambiance of the restaurant, and how it mixes casual dining with unique style to make the place feel transportive without feeling too rigid for casual lunch.
We love the stark black and white color palette that is made interesting with wooden textures and finishings to give it that rustic feel.
And what the restaurant lacks in awards makes up for it in its local reputation and Chef Omar's experience, the founder and owner of Slab.
We love that he has worked in world-renowned restaurants such as Alain Ducasse at Essex House, Eleven Madison, Momofuku, and BLT before devoting his talents to Peruvian cuisine. 
Creative and unique seasonal menu
The head chef has experience working in the world's best kitchens
Casual yet stylish ambiance
Lacks awards for the restaurant
Service is too slow because of few waiters
Customer Reviews
The steak and salad were absolutely delicious!
"I had the pleasure of dining at this restaurant, and I must say, the steak and salad were absolutely delicious! The flavors were exceptional, and it's clear they take great care in preparing their dishes. If you're a fan of mouthwatering food, this place is a must-visit! 🤤🤤🤤"—Sarah Sharaf, Google Reviews
Exceptional food, top quality ingredients cooked to perfection
"I believe this is the most underrated restaurant I've tried in Dubai so far. Exceptional food, top quality ingredients cooked to perfection. I genuinely think this place deserves far more awareness and recognition for the true genius that lies behind its seasonal menus. Make sure to order the Tuna Tostada, Spicy Tuna toast, Salmon Crispy Rice, Steak Frites, any Ceviche they have, and the Caviar Fish and chips." —Ziad Ramadan, Google Reviews
2. Sugar Factory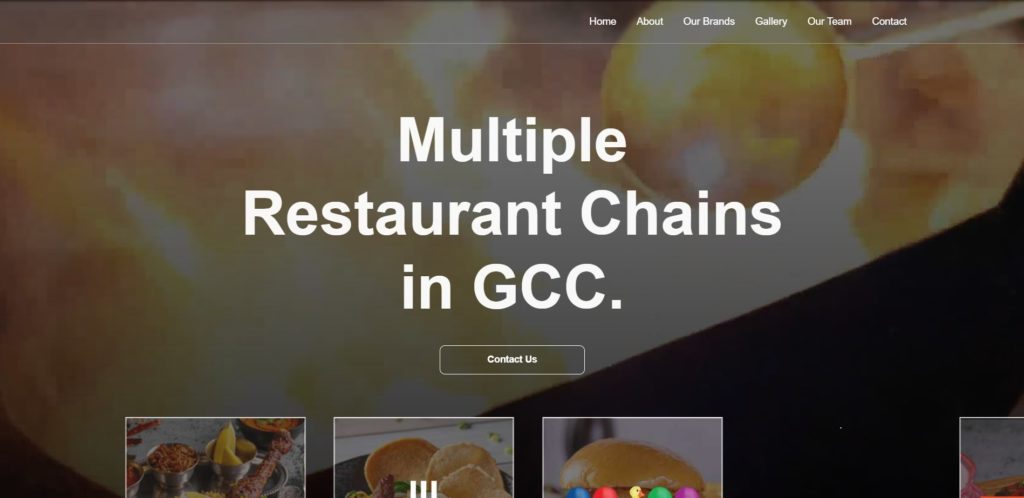 | Test | Info |
| --- | --- |
| MENU | Burgers, pasta, soup, salad, sandwich, pizza, desserts |
| WEBSITE | https://snowbel.com/ |
| ADDRESS | Opp: Toys & Runs - Festival City Mall - 1st Floor - Dubai - United Arab Emirates |
| CONTACT DETAILS | +971 4 591 5123 |
| OPERATING HOURS | Every day: 11 am - 11 pm |
| | |
| --- | --- |
| Criteria | Rating |
| Menu | ★★★★☆ (4/5) |
| Service Quality | ★★★★☆ (4/5) |
| Ambiance | ★★★★★ (5/5) |
| Acclaim | ★★★★☆ (4/5) |
Sugar Factory is an American-style brasserie that has quickly become a local favorite for its Instagrammable sweet treats that are the perfect ending for a hearty meal.
The menu is a collection of American favorites that are good for breakfast, lunch, and dinner, however, we found the overall quality of the food to be average, with style seemingly overriding the substances of its flavors.
Do not get us wrong, the food is good, but it is quite average-tasting when compared to the restaurants next door that have chefs turning out unique dishes every single day.
Despite that, the desserts are truly the star of the show here. Indulgent, rich, and will undeniably satisfy your sweet tooth, Sugar Factory lives up to its name in this aspect.
However, the service is bogged down by the amount of customers that come and go every mealtime. It was difficult to have a service that had our full attention because the staff was simply overwhelmed by the crowd.
It is made up by the fact that Sugar Factory spares no expense when it comes to the decor and atmosphere of the place.
It is colorful and playful, with rainbows of colors peeking out just enough for us to have fun with it without being overwhelming or distracting.
And what it lacks in accolades and critical acclaim, it makes up for in the popularity of its locations that have been endorsed by the likes of Kendall Jenner, Britney Spears, and Drake.
Diverse American-style menu
Colorful and playful ambiance
Globally-popular restaurant
Instagrammable desserts
Food is average-tasting
Slow service
No critical-acclaim
Customer Reviews
I love this place
"I love this place. Went for iftar. They were offering 289 for 4 ppl. It was such a value-for-money deal. They served dates, lentil soup, fattoush salad, a slice of flatbread, falafel with humus, and later 4 choices of Main items with soft beverages. Everything was great served warm on the table and on time. Their service is amazing." – Shumail Ahmad, Google Reviews
What a nice place to dine in
"What a nice place to dine in with the magnificent view of the fountain giving a beautiful view while having dinner. It was decorated with a hundred photos of celebrities eating sweet food, a big LED screen, a candy shop, and an inspiring seating area.
The staff was so courteous and on their feet to serve us with a smile. They were sanitizing the entire table so well after every customer left.
The food was delicious with significant portions! What keeps us hooked, More than the food is the amazing service from everyone -From the moment we arrive till the time we leave we always feel very welcome and taken care of!" -Travel seedx, Google Reviews
3. Masti Lounge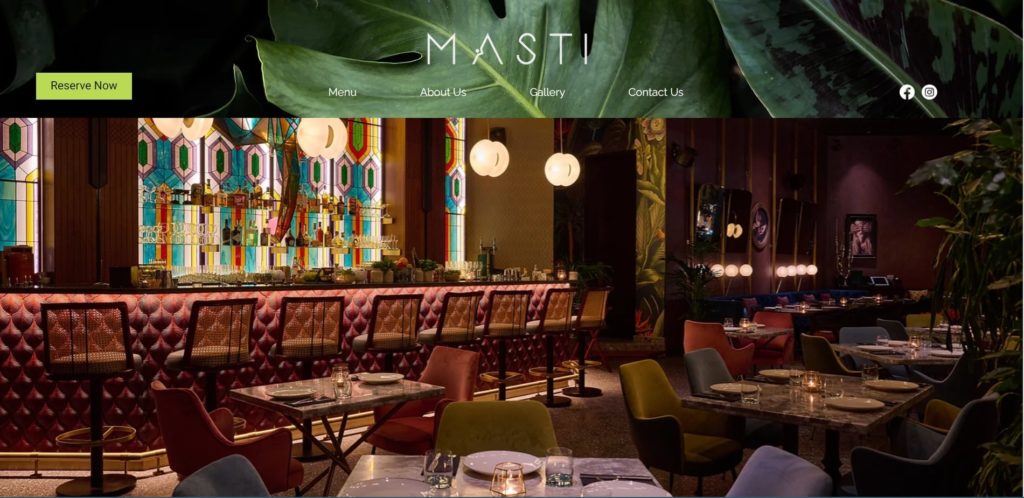 Test
Info
MENU
Kebabs, butter chicken, curry, tandoori, lamb, steak
WEBSITE
https://www.mastidubai.com/
ADDRESS
The Dubai Edition Hotel, Downtown, Dubai
CONTACT DETAILS
800-MASTI (62784)
OPERATING HOURS
Tuesday to Thursday and Sunday: 12:30 pm - 1 am

Friday to Saturday: 12:30 pm - 2 am
| | |
| --- | --- |
| Criteria | Rating |
| Menu | ★★★★☆ (4/5) |
| Service Quality | ★★★★★ (5/5) |
| Ambiance | ★★★★★ (5/5) |
| Acclaim | ★★★★★ (5/5) |
There are quite a few Indian restaurants around La Mer if you are looking for something spicy for dinner, but none quite like our favorite, Masti Lounge.
Headed by internationally renowned chef and food writer Hari Nayak, this restaurant is known for its modern iterations of Indian dishes that have us feeling like we're in an Indian neighborhood.
However, some people may find the food a bit too spicy as it is quite unabashed and uncompromising in delivering an authentic Indian experience.
Our go-to orders here are its amazing plate of mixed bean chaat and butter chicken pizza that goes great with a cocktail made and served fresh from its bar.
Its service is excellent, always efficient and friendly. We love how they operate like a well-oiled machine, staying in rhythm with a strong flow throughout the entire service.
On top of that, we love its ambiance and its take on an upscale Indian restaurant with modern sensibilities. The colorful tiled wall that frames its open kitchen is absolutely breathtaking, and the upholstered chairs simply ooze sophistication.
Because of all of these, it is no surprise that Masti Lounge is a multi-award-winning restaurant that has also been listed on the Michelin Guide.
Michelin Guide-listed award-winning restaurant
Features Indian dishes with modern innovations
Beautifully-decorated space
Excellent service
Food may be too spicy for some
Customer Reviews
Exceptional restaurant
"Exceptional restaurant. From the reviews, my expectations were already high but truly the food is way up there. Taking a base of Indian food and making it a true journey of complex taste and great presentation is an art. The chef has achieved something quite remarkable.
Great ambiance, decor, and service. The cocktail list is a journey of discovery. The staff were great with a nice touch for our anniversary. My Indian wife was completely in her element as was her Western husband!" – Gary Dugan, Google Reviews
the fusion is excellent and the flavors are mind-blowing
"Masti Dubai is Dubai's award-winning Michelin guide
Indian-inspired global restaurant @mastidubai has re-opened at the edition, downtown! It's one of the most beautiful restaurants with gorgeous interiors and the vibe is so good, awarded by @whatsondubai @timeoutdubai @factmagazines @zomatouae
Tucked away on the first floor of downtown's @editionhotels, a mirrored corridor bursting with color leads into a small dining room with an open kitchen that is surrounded by floor-to-ceiling mosaic orange lights. Innovative Indian dishes with a playful twist, their food is parred excellence, the fusion is excellent and the flavors are mind-blowing.
I can't tell you all in work how delicious their food is!!" -Aisha Omair (Aishaaknowsdubai), Google Reviews
4. Zou Zou Restaurant
Test
Info
MENU
Sini breakfast, halloumi, falafel, salads, soups, hummus, kibbeh, sambousek
WEBSITE
https://www.zouzoudubai.com/
ADDRESS
Jumeirah 1, Jumeirah Rd - 47A St - Dubai - United Arab Emirates

Has 3 more branches throughout the city

CONTACT DETAILS
+04 343 0093
OPERATING HOURS
Every day: 9 am - 1 am
| | |
| --- | --- |
| Criteria | Rating |
| Menu | ★★★★☆ (4/5) |
| Service Quality | ★★★★★ (5/5) |
| Ambiance | ★★★★★ (5/5) |
| Acclaim | ★★☆☆☆ (2/5) |
Balancing the traditional with innovation can be a hard thing to do with food, but Zou Zou does it with finesse.
The menu is a diverse offering of Lebanese and Turkish dishes that have classic favorites that would induce nostalgia in anyone who grew up on this food.
It also has a lot of unique and innovative dishes for the adventurous customer.
However, with a menu that is 20 to 25 pages long, it is hard not to feel overwhelmed by the amount of options. We think that if it really tuned into what it wanted to do and edited it down, then the customers would appreciate the food even more.
The service, on the other hand, is excellent. The staff was extremely friendly and attentive to our needs, especially when we had requests for our dietary limitations.
We also love how the place was designed. With a color palette dominated by beige and white, and then accented by bright light blues, it's hard not to feel like we were at the Mediterranean.
We also loved the outdoor seating overlooking the promenade, which is perfect for sunny yet cool lunch dates with friends.
However, it is surprisingly lacking in critical acclaim and awards. But with its trajectory, we think it's only a matter of time.
Serves traditional and innovative Turkish and Lebanese dishes
Excellent service
Beautifully-decorated space with a view of the La Mer promenade
The menu has too many options
No critical-acclaim
Customer Reviews
Amazing food quality and variety
"Amazing food quality and variety with complimentary bread and good service.
If you choose the patio sitting in the evening, you can enjoy the fountain show.
I have visited the place twice, the first time I enjoyed fig salad and beef fetteh, second time I tried alinazik. Both times were just perfect." – Ekaterina Elkourie, Google Reviews
Absolutely amazing experience with my young family
"Absolutely amazing experience with my young family. This place has great food and amazing staff.
The hospitality shown to us by Nasser and Islam was amazing.
The food portions were fantastic.
Honestly, the service was amazing, we felt so special and we were looked after brilliantly.
A definite must-visit.
Thank you, Nasser and Islam.
Kid-friendliness: Big seats and very friendly staff and great kids menu." – Ekaterina Elkourie, Google Reviews
5. Catch 22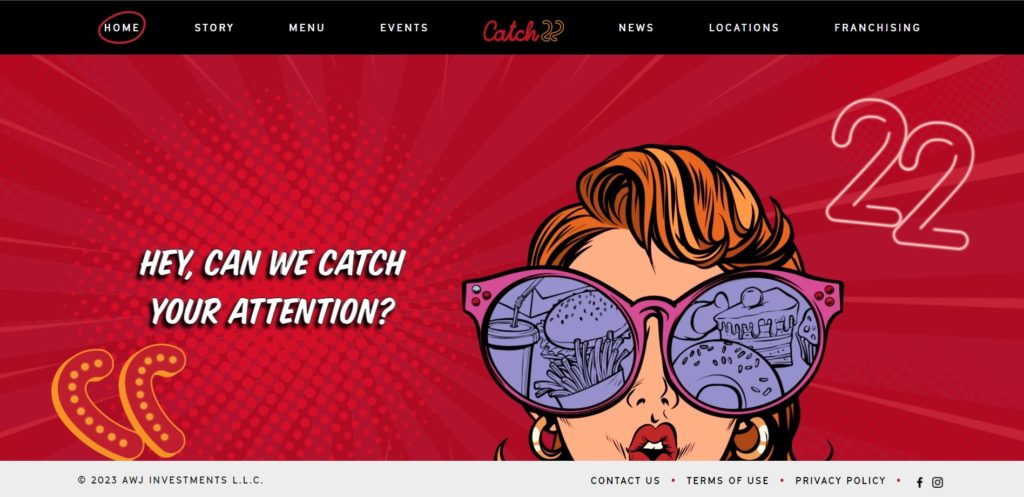 Test
Info
MENU
Soup, salads, small bites, sushi rolls, burgers, sandwiches, pizza, paella, grilled meat, milkshakes, desserts
WEBSITE
https://catch22.ae/en/
ADDRESS
Jumeirah – Jumeirah 1 – Dubai
CONTACT DETAILS
+971 4 424 3057
OPERATING HOURS
Sunday to Thursday: 11 am - 1 am

Friday to Saturday: 11 am - 1:30 am
| | |
| --- | --- |
| Criteria | Rating |
| Menu | ★★★★★ (5/5) |
| Service Quality | ★★★★☆ (4/5) |
| Ambiance | ★★★★★ (5/5) |
| Acclaim | ★★★☆☆ (3/5) |
With its varied menu that is perfect for breakfast, lunch, dinner, and even the times between meals, Catch 22 is representative of Dubai's diversity.
We love how its menu has something for everyone, and we love it even more because each dish manages to be delicious and authentically true to its roots and recipe.
If you wanted to have sushi and a burger for lunch, who's going to stop you? Definitely not Catch 22, because it has both ready to be served to your table.
But our favorites are definitely its appetizers that perfectly fuse different cuisines for some interestingly delicious bites.
The staff was not that special when it came to the service they provided; it felt like they were just going through the routine of taking orders and serving food.
However, it is made up by the playfulness and zaniness of the restaurant. Taking inspiration from comic books, the space is filled with colorful illustrations and dialogue bubbles with witty and funny one-liners.
It really captures the essence of the randomness of its menu that aims to offer one good thing for someone, rather than a strong focused menu.
Sadly, the restaurant has no gourmet reputation and critical acclaim, and we can see why. It's not really the type of restaurant to go after those over offering a fun and casual dining destination.
Has a varied menu that is uncommon in the area
Zany and colorful ambiance
Mediocre service
No critical acclaim
Customer Reviews
The place is perfect for a first not formal date and hangout with friends
"First of all, the service was great. The waitresses were very kind and always close by.
I ordered a classic burger with fries, and it tasted pretty good. I asked for some mayonnaise and they brought me it very fast.
I also got a classic mojito, which was very fresh and delicious.
One of the waitresses came with a baseball glove and asked me to catch it. Inside the glove, there was the bill. I thought it was a very creative and fun way of giving the bill.
The place is perfect for a first not formal date and hangout with friends and family." – Isabela Hiraki, Google Reviews
The menu is rich and has many diverse options
"The menu is rich and has many diverse options, the food is really good, and the service was great (thank you Hanif). It's a great casual dining spot for families in JBR." – Abdul Rahman Alsafadi, Google Reviews
FAQs about Restaurants in La Mer Dubai
---
We hope this helped you find your favorite restaurant in La Mer Dubai. Also, if you're looking for more restaurant recommendations, then check out these articles: