The 6 Best Studios for Dancing Lessons in Dubai
Dancing has loads of benefits. From being an effective mode of exercise to being able to release your artistic voice, dancing is a powerful and popular craft all around the world.
Thankfully, Dubai has some great studios that hold dancing lessons for those that are looking to hone their bodies through the beats and tunes of music.
So, we scoured the city to give you the best studios for dance lessons in Dubai. We're also sharing with you the factors we considered in choosing.
In the end, we answered some FAQs about dance lessons in Dubai.
How much do dance lessons in Dubai cost?
The cost of dance lessons depends on the pricing structure of the studio, the type of dance, and additional fees for equipment if needed.
To help you get started, we made a table of the different types of dances and their average price per session.
| Dance | Average Price Per Session |
| --- | --- |
| Ballet | AED100 per session |
| Salsa | AED75 per session |
| Belly Dance | AED75 per session |
| Hip Hop | AED100 per session |
| Bollywood Dance | AED75 per session |
The Best Studios for Dance Lessons in Dubai
Before we get right into our top picks for the best studios for dance lessons in Dubai, here are the factors we considered for our entries on this list:
1. Tempo Dance Center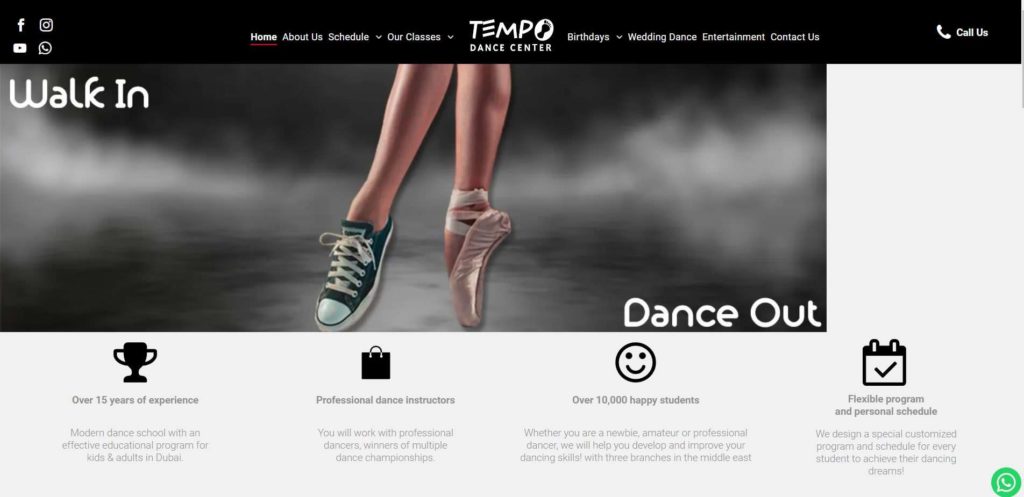 | Test | Info |
| --- | --- |
| SERVICES | Dance Lessons, Studio Rental, Wedding Dance Lessons, Event Entertainment |
| WEBSITE | https://www.tempodubai.com/ |
| ADDRESS | The Dome - Jumeirah Lake Towers - Dubai - United Arab Emirates |
| CONTACT DETAILS | +971 564330322 |
| OPERATING HOURS | Every day: 1 pm - 10 pm |
| | |
| --- | --- |
| Criteria | Rating |
| Range of Classes | ★★★★☆ (4/5) |
| Setup | ★★★★☆ (4/5) |
| Teaching Style | ★★★★★ (5/5) |
| Other Services | ★★★★★ (5/5) |
Tempo Dance Center is a multinational dance company studio that excellently combines discipline and creativity in its dance lessons.
We love how it has a well-rounded set of classes that make up the dance studio. It has Latin dances like the Argentinian tango and salsa, along with Middle Eastern and African dances like belly dancing and Kizomba.
However, we do think that its least flexible dancing lessons are its ballet and hip hop classes as these are the only classes that accept kids and teens.
We do think that these can be adjusted to accommodate adults, as there may be some that have found a passion for it later in life.
All of its classes are group classes, which may not be for everyone, but it does build a community of passionate learners that we think it can do more good if students are open to it.
Only its wedding dance classes are conducted in a one-on-one setup.
Where this studio shines the most is in the diversity of the teachers' teaching styles. While no teachers are the same here, all of them are highly experienced graduates of renowned dance academies.
On top of that, Tempo Dance Centers also offer more than just classes. It rents out its studios for birthdays, which can be a great venue for many activities approved by Tempo.
And besides the wedding dance lessons, it also provides live entertainment for weddings and many other events.
Has a well-rounded set of dance styles they teach
Teachers are graduates from well-renowned dance academies
Has numerous services offered outside of dance lessons
No one-on-one sessions for most classes
Ballet and hip hop are only for kids and teens
Customer Reviews
Best dance school in Dubai
"Best dance school, the instructors are so friendly, professional and honest
the most important that the administration follow up with the students weekly.
the educational program between private and group classes is effective and further on can be individually adjusted to achieve the highest possible progress in a short time, and improve and develop the dancing skills.
Best fun place on Thursdays!" – Elisabeth Abou Samra, Google Reviews
Highly recommend this dance studio
"Great atmosphere, top quality dance instructors, professional and helpful team. I'd recommend Tempo Dance Center to anyone looking to start their dance journey on the right foot." – Zeina Kourki, Google Reviews
2. James & Alex Dance Studio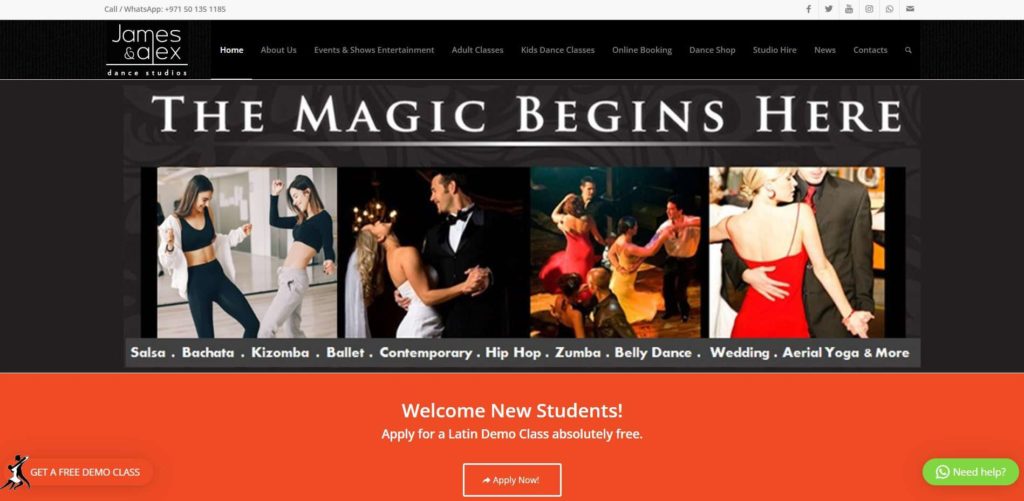 Test
Info
SERVICES
Dance Lessons, Event Entertainment, Studio Rental
WEBSITE
https://jamesandalex.com/
ADDRESS
813 & 814 Concord Tower, Dubai Media City – Dubai (UAE), PO Box 66448
CONTACT DETAILS
+971501351185
OPERATING HOURS
Sunday to Thursday: 2 pm - 10 pm

Friday: 10 am - 2 pm

Saturday: 9 am - 10 pm
| | |
| --- | --- |
| Criteria | Ratings |
| Range of Classes | ★★★★★ (5/5) |
| Setup | ★★★☆☆ (3/5) |
| Teaching Style | ★★★★☆ (4/5) |
| Other Services | ★★★★★ (5/5) |
Founded by two successful salsa dancer, James, and Alex, James & Alex Dance Studio is one of the biggest dance studios in Dubai offering many dance styles within its 3 large dance rooms.
From Latin ballroom dances and contemporary dancing to more workout-oriented dances like pole dancing and Zumba, this dance studio is virtually complete when it comes to the classes it offers.
On top of that, it also offers musical theatre classes for kids, which is a nice addition that expands the studio's capabilities outside of dancing.
However, it sadly doesn't offer any private sessions and one-on-one classes, which is understandable because the studios are probably always full with the number of classes they offer.
And not all the teachers may have graduated from elite dance academies, but all of them have global experience working as teachers and professional dancers in Europe and Asia.
On top of that, James & Alex Dance Studio offers more than just dancing lessons in Dubai. It has dance performances for events and shows, and it also rents its studios out for auditions, events, and shoots.
All in all, James & Alex Dance studio is almost unrivaled when it comes to the number of dancing lessons it offers. On top of that, its teachers have successful careers in the industry, which only makes it an even better choice.
Has one of the widest selections for dancing lessons
Teachers have global experience
Has numerous services outside of dancing lessons
No one-on-one classes
Not all teachers are graduates of dancing academies
Customer Reviews
Picked up the basics really quickly
"Very nice school. I learned the basics of salsa very fast and now came back to learn belly dancing. They have very good and friendly teachers who can explain very well. The social nights are always full of good dancers." – Liubov Shchurkova, Google Reviews
Felt really welcome at this dance studio
"I started to join a little over a year ago the ballet classes at James and Alex. From the first class with Elena, I felt really welcome. Since day one I am looking forward to joining the ballet classes every week. Elena is a very professional and good ballet teacher. I definitely recommend taking classes with her." – Jennifer Hofmans, Google Reviews
3. Dance Studios Dubai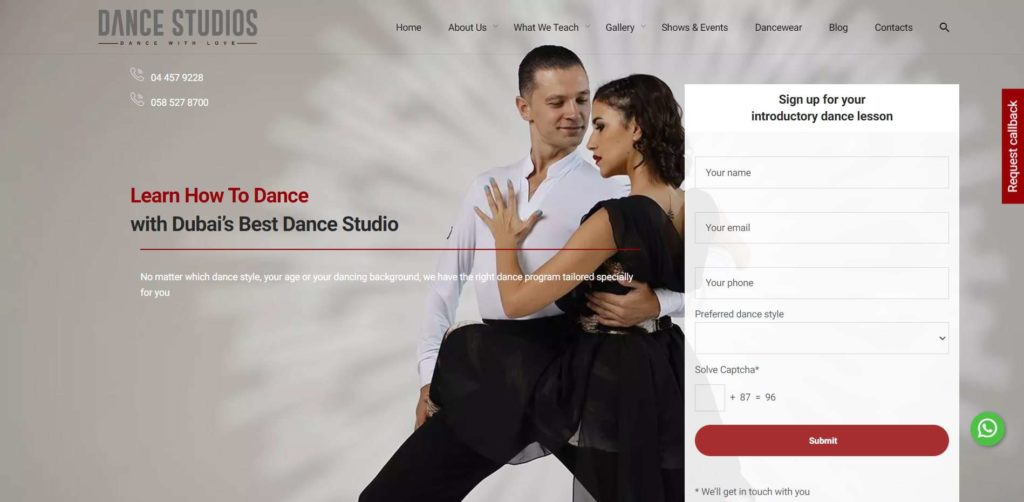 Test
Info
SERVICES
Dance Lessons, Wedding Dance Lessons
WEBSITE
https://dancestudiosdubai.com/
ADDRESS
Studio 1204 — HDS Tower, Cluster F, Jumeirah Lakes Towers, Dubai
CONTACT DETAILS
04 457 9228
OPERATING HOURS
Monday to Friday: 1 pm - 10 pm

Saturday to Sunday: 10 am - 7 pm
| | |
| --- | --- |
| Criteria | Rating |
| Range of Classes | ★★★★★ (5/5) |
| Setup | ★★★★☆ (4/5) |
| Teaching Style | ★★★★★ (5/5) |
| Other Services | ★★★★★ (5/5) |
One of the few dance studios that specialize in teaching ballroom dancing and social dancing, Dance Studios Dubai has taught over 3000 students over the course of 11 years.
Since it specializes in certain types of dances, it is needless to say that the options for dancing lessons here are limited.
But it does cover all kinds of social dances, from foxtrots and waltz to salsa and cha-cha. However, if you're looking for individual dancing like hip hop and contemporary dancing, you won't find it here.
Unlike others, their private sessions is good for those inclined to have a more dedicated and focused approach to their learning.
Its teachers have a lot to show, as well. It has the top teachers from around Dubai with many years of teaching dance on many levels.
The teachers' styles are flexible and able to accommodate all kinds of dancers, from beginners to professional dancers.
Specializes in ballroom dancing and social dances
Teachers have many years of experience teaching dance on all levels
Offers wedding dance lessons
Have other 13 dance lessons aside from wedding dance
Rates are unavaialble on their website
Customer Reviews
The best palace for making your dance dreams come true!
"Dance Studios Dubai is truly the best place for making all your dreams and goals regarding your dance aspirations come true. Incredibly talented, friendly, patient, and dedicated teachers always share their genuine passion and enthusiasm for dancing, which is extremely encouraging! The most polite and kind staff I've ever met! The entire Dance Studios team is working hard on creating an unbelievable, personalized, and unique experience for every student; identifying their needs and providing an individual learning approach, which is not only productive but so much fun! My outstanding teacher – Dmitriy, has paved the way for my new dance journey, sharing his extensive knowledge and genuine faith in me. This enabled me to grow both personally and professionally. I am very grateful to the Dance Studios community for their constant support and positive vibes! If you've ever thought about learning to dance, I would highly recommend signing up for classes and becoming a part of our dance family! :)" – Valeria Malinovskaya, Google Reviews
This is the best thing I've done
"I have had private lessons at Dance Studios Dubai for 5 months now, and can honestly say that it's the best thing I've ever done. The staff is all so lovely and kind, and the dance instructors are extremely talented. As someone who has never danced before, I was very nervous to start and was unsure what to expect, but it's done wonders for my mental and physical health. I cannot recommend it enough!" – Emily Wilkinson, Google Reviews
4. Heart of Dance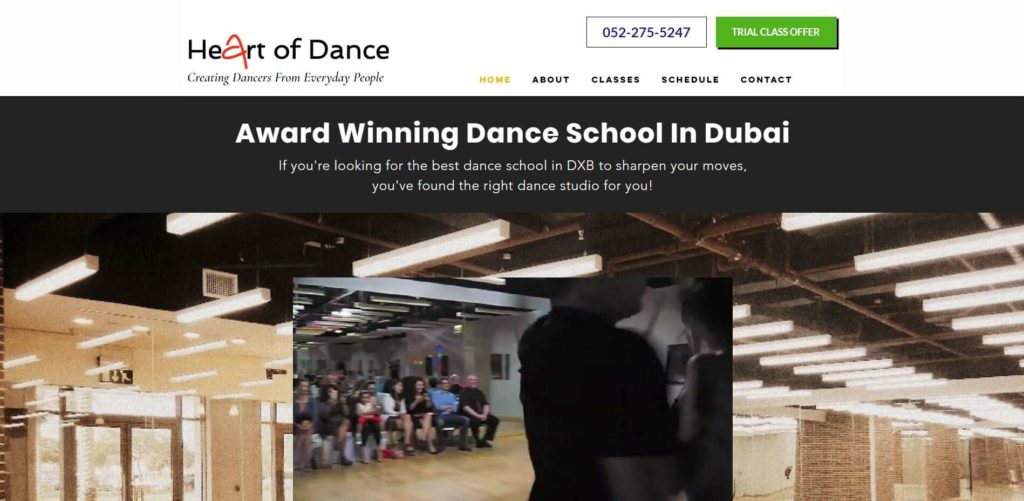 Test
Info
SERVICES
Dance Lessons, Wedding Dance Lessons
WEBSITE
https://www.dancedowntowndubai.com/home
ADDRESS
Ontario Tower, Level P1, Unit 2, Business Bay, Dubai, United Arab Emirates
CONTACT DETAILS
(+971) 052-275-5247
OPERATING HOURS
Sunday to Thursday: 1 pm - 10 pm

Friday to Saturday: 11 am - 7 pm
| | |
| --- | --- |
| Criteria | Rating |
| Range of Classes | ★★★☆☆ (3/5) |
| Setup | ★★★★☆ (4/5) |
| Teaching Style | ★★★★☆ (4/5) |
| Other Services | ☆☆☆☆☆ (0/5) |
Heart of Dance is an award-winning dance studio in Dubai that has produced students and have teachers who are successfully competitive professional dancers in the city.
Being that this studio focuses on competitive ballroom dancing, it is unfortunate that it only offers those kinds of dances.
Your usual swing and salsa dances, along with bachata Zumba, comprise the studio's selection of dancing lessons.
While we think this is a setback, we do appreciate that keeping its offerings limited and focused allows the teachers to really zero in on the fundamentals of each dance, which is completely critical in the competitive ballroom dancing scene.
That being said, the teaching style also complements the competitive nature of the dances it teaches.
It doesn't really have any other services either. Heart of Dance heavily utilizes its studios for dancing and dancing alone.
Lessons here are more serious, focused, and emphasize discipline. So for those looking to dance for fun or as an activity you can do with friends or partners, this studio may not be for you.
But what we like about the Heart of Dance studio is that it is flexible in its teaching setup, depending on your skill level.
Heart of Dance does one-on-one sessions and group sessions, although the latter is more common in the studio.
Specializes in ballroom dances and competitive dance sport
Flexible teaching setup depending on the student's skill level
No other dancing lessons besides its specialty
Teaching is more rigorous
No other services
Customer Reviews
Experience was professional and passionate
"What a place from its infrastructure, location, parking always available to more importantly an outstanding quality of experience of the classes they offer.
And the experience they offer is created by a highly professional and passionate Team; they are positive and patient and with the experience, they have they see you as the individual and they approach your classes tailoring the curriculum to your preferences and capabilities.
I had never tried Salsa before and I had never really had experience in dancing till the time I went for my very first class I was truly fortunate to meet Amalia Baroyan, my instructor.
After my only first 5 classes, Amalia did so well that I was able to do my basic Salsa enjoying the experience so much, so I signed up for far more to enjoy. It is such a joy having classes with her.
It is an amazing place of such qualities, which I rush to go, to, again and again, every time my class is scheduled.
Please enjoy the experience !" – Jacek Plewa, Google Reviews
I fully recommend them
"Really friendly team and a great place.
I joined heart of dance almost 12 months ago now, I'd been looking for highly accredited schools for a while and these guys were one of the few I found and tried. I've never danced ballroom before and had a trial lesson which went great since then I've continued regularly. Everyone is so patient, and enthusiastic and it's a whole lot of fun I look forward to when I get time in between work. (I travel from Abu Dhabi to see these guys!)
Super understanding when I need to reschedule, they cater to so many different individuals and overall have made my dance experience greater than I'd thought possible when I first joined.
Whether it's for something fun in your spare time or you want to advance with competitions and professionally, these guys are the ones to visit. Amazing team ❤️" – Lyndsey Broxton, Google Reviews
5. ABCD Studio
Test
Info
SERVICES
Dance Lessons, Fitness Dance Classes, Gymnastics Classes, Yoga Lessons
WEBSITE
http://www.abcddance.com/index.php
ADDRESS
2 18 A St - Dubai - Dubai - United Arab Emirates
CONTACT DETAILS
055 545 3892

0525933773

OPERATING HOURS
Every day: 8 am - 9 pm
| | |
| --- | --- |
| Criteria | Rating |
| Range of Classes | ★★★★★ (5/5) |
| Setup | ★★★☆☆ (3/5) |
| Teaching Style | ★★★★★ (5/5) |
| Other Services | ☆☆☆☆☆ (0/5) |
ABCD Studio is one of the few premier Indian dance companies in Dubai. Its authentic choreographies have become its specialization and have made it one of the most sought-after companies in the city.
While the studio is very well-known for its Bollywood dancing classes, we love that it doesn't limit itself to that.
Other modern dance styles comprise the rest of its classes, like Hip-Hop, Jazz, Contemporary, B-Boying, and Freestyle.
The dance company also teaches some folk dances such as the Bhangra, and the Gujarati folk dance.
The classes are usually done in groups, and it is only under special conditions does the company accept private sessions.
And while this may be limiting for others, we cannot imagine learning Bollywood dancing on our own would be much more fun than enjoying the high energy with others.
Led by Rithesh Penha and Silvy Penha, two of the most well-known Indian choreographers around, the studio has no shortage of creative routines to be taught.
The result is sessions that are beautifully energetic and fun, making learning Indian dances more enjoyable than one would usually think.
However, it is brought down by the fact that it really doesn't have anything else to offer other than its dancing lessons.
Specializes in Bollywood dancing and other Indian folk dances
Has other dance classes
Lead by well-known Indian choreographers
No one-on-one sessions
No other services
Customer Reviews
Highly recommend them!
"Amazing institute for newcomers and advance well. My daughter joined at age of 4, she is so confident and dances with such joy. Highly recommended!!" – Nisha Noronha, Google Reviews
Supportive and helpful staff
"Totally loved my experience in this dance studio. Helpful staff, amazing dance trainers, and a fun-filled environment that makes your full day!" – Ammy Mendy, Google Reviews
6. Soul Dance Studio
SERVICES
Zouk Level 1 (Course for Absolute Beginners)
Salsa Beginners
Bachata Beginners
Wedding Dance (Private Lessons)
Brazilian Zouk
WEBSITE
souldance.studio
ADDRESS
2nd Floor (Nook)
ONE JLT Tower, JLT
Dubai, UAE
CONTACT DETAILS
[email protected]
+971553244784
OPERATING HOURS
Monday – Sunday, 10:00 AM – 10 PM
| | |
| --- | --- |
| Criteria | Rating |
| Range of Classes | ★★★★★ (5/5) |
| Setup | ★★★★☆ (4/5) |
| Teaching Style | ★★★★☆ (4/5) |
| Other Services | ★★★★☆ (4/5) |
Soul Dance Studio by Liubiana is a fantastic place for adults to learn Latin Social dances in Dubai, UAE. Whether you're a complete beginner or an experienced dancer, they offer a range of courses tailored to different skill levels. The studio specializes in teaching dances like Zouk, Bachata, Salsa, Wedding Dance, and Lambada.
What sets Soul Dance Studio apart is their emphasis on couple dances. They believe that dance is an exchange of energy and a manifestation of true male and female qualities. By focusing on partner dancing, they create a dynamic and engaging learning environment. Dance becomes a means of expressing emotions through the body, and it also provides physical benefits such as improved blood circulation, strengthened muscles, and enhanced mobility of joints and ligaments. Additionally, dancing at Soul Dance Studio can help improve posture and overall health.
If you're unsure about which dance style suits you, the studio offers trial lessons where the instructor can help you make the right choice. And don't worry if you don't have a dance partner because during classes, partners are switched to promote social interaction.
The studio provides both group and private lessons, allowing students to choose the learning format that suits them best. Whether you're interested in mastering the intricate moves of Salsa, the sensual rhythms of Bachata, or the beautiful Brazilian Zouk, Soul Dance Studio has you covered.
Tailored courses for adults
Emphasis on couple dances
Trial lessons and flexible options
No one-on-one sessions
Expensive rates
Customer Reviews
Her classes are lot of fun and she's extremely knowledgeable
"I've been attending Liubiana's classes for close to a year now (on and off). Her classes are lot of fun and she's extremely knowledgeable in different dance forms. Needless to say she's an excellent dancer and teacher. Highly recommend soul dance if you're looking to learn a new dance or if you're looking to meet awesome people!" – Vivek Shankar
It's the best place to learn Brazilian Zouk
"I have been learning at Soul Dance Studio for over a year now. It's the best place to learn Brazilian Zouk and now I feel that the people I dance with there are a part of my family. So, Thanks Liubiana" – Vignesh Nandakumar
FAQs about Dance Lessons in Dubai
---
We hope this helped you in finding a suitable studio for dance lessons in Dubai. Also, if you're looking for other classes for your passion, then check out these articles: