The 5 Best Swimming Schools in Dubai
Learning a new sport is not bad! Aside from being a new hobby, knowing one can also improve your body's constitution.
Swimming is one of these exercises. If you're in the market to find a good school that can help you learn how to swim, we got you covered!
Here are our top choices for the best swimming school in Dubai!
How Much Do Swimming Lessons Cost
Swimming lessons are differentiated by various means and one example is via swimming level.
These levels determine a swimmer's expertise, although the actual labels can vary depending on the area or country they are in.
Another method is via the number of people in a class. Sessions can be classified into one of the following categories: Public (8-10 people), semi-private (4-5 people), and private (1-2).
The following table lists the average estimated cost that you can incur if you're availing any swimming lessons depending on the number of people in each class:
| Class Type | Duration | Cost |
| --- | --- | --- |
| Public (8-10 people) | 8 classes/month | AED 350  - AED 500 |
| Semi-private | 45 minutes | AED 250 - AED 350 |
| Private | 45 minutes | AED 400  - AED 500 |
The Best Swimming Schools in Dubai
Here are the following factors we considered in assessing the schools in this list:
1. Swim 4 Life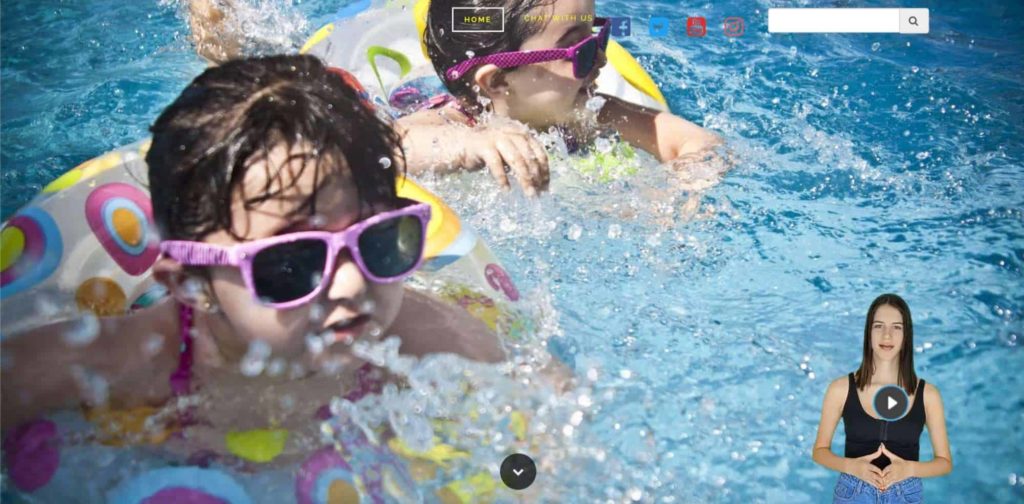 Test
Info
SERVICES
Private Swimming Classes, Beach Swimming Classes, Pool Swimming Classes
WEBSITE
https://www.swimmingclassesindubai.com/
ADDRESS
19th St - Al Mankhool - Dubai - United Arab Emirates
CONTACT DETAILS
Phone: +971 55 132 9787
OPERATING HOURS
5:00 AM - 10:00 PM (Sunday - Thursday)

5:00 AM - 9:00 PM (Friday - Saturday)
| | |
| --- | --- |
| Criteria | Ratings |
| Price | ★★★★★ (5/5) |
| Facilities | ★★★★★ (5/5) |
| Faculty | ★★★★☆ (4/5) |
| Requirements | ★★★★☆ (4/5) |
Swim 4 Life is a Dubai-based aquatic education and swimming services company teaching both kids and adults. They have different branches in India, Sri Lanka, South Africa and of course, Dubai.
Looking at the available programs they have, we've noticed that they focus more on private swimming lessons. But they do also offer semi-private sessions with a limited number of people.
What sets them apart from other swimming schools is that they actually take their students outside of the typical facilities. By that, we mean that this institution offers lessons on the beach as well as in pools.
In terms of levels or class size, they only have a limited variety offered. But if you're very particular about swimming with other people and prefer privacy, then this school is perfect for you.
Swim 4 Life has a dedicated set of American and Australian qualified coaches. Some of them were also national swimmers, so you know they're very experienced in the sport that they teach.
Overall we recommend this school for their private lessons as well as the privacy they offer. If you'd like to learn on the beach, then enrolling here would be the best option for you!
Offers pool and swimming classes
Caters to kids and adults
Quotation required
Not much variety in their swimming classes
Customer Reviews:
"Me and my husband knew how to swim but not very well and not at all in deep waters. Especially with a little fear of water we had, there were many water activities and experience which we couldn't enjoy. Chris took us from a couple of amateurs to relatively confident swimmers. Now we don't struggle with water anymore, in fact can enjoy the swim. No fear of deep waters anymore. Chris worked so hard on correcting our technique. It's two things to be a great swimmer and a great teacher and Chris is both. A big thanks to Chris as now we can experience so much more at the sea and enjoy it. We'll be back for more session to keep improving." – Pragya Gupta
"I would rate my swimming learning experience with Chris and Timothy as profound and close to my heart, as in the past I had drowned in water and was hydrophobic since then. Chris and his masterful team (including Timothy and Anitha) took earnest effort in not just helping me learn swimming but also to perfect the strokes. If one wants to learn to swim the right way, would recommend you to come here by the beach and learn to swim from them. Cheers and Happy Swimming!" – Srinevasan Ranga
2. SWIM TIME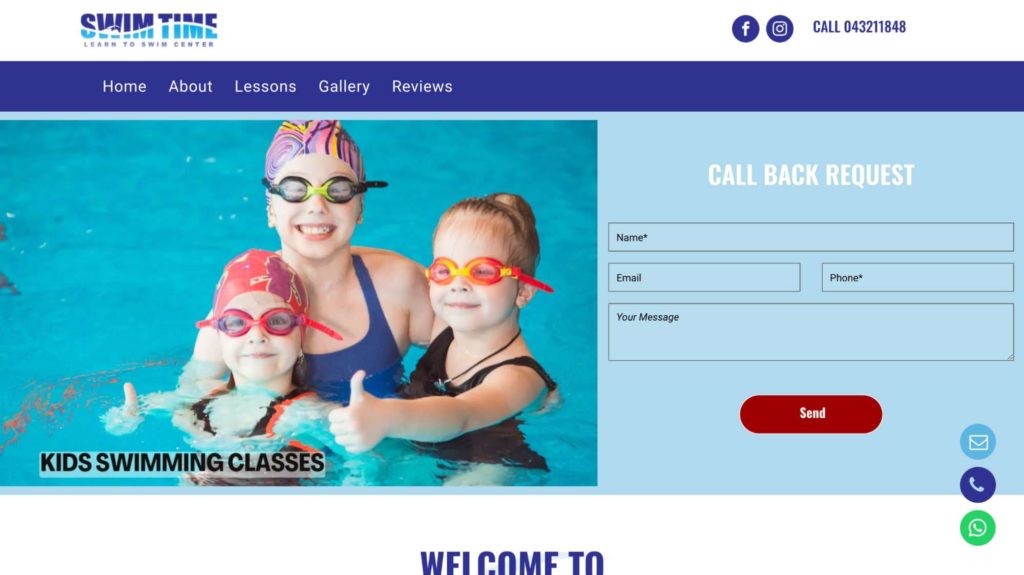 Test
Info
SERVICES
Swimming Lessons For Kids, Swimming Lessons For Adults, Aqua Fitness, and more!
WEBSITE
https://www.swimtime.ae/
ADDRESS
Opp to Bounce - 4th St - Al Quoz - Al Quoz 1 - Dubai - United Arab Emirates
CONTACT DETAILS
Phone: +971 4 321 1848
OPERATING HOURS
9:00 AM - 8:00 PM (Monday - Thursday)

9:00 AM - 6:00 PM (Friday - Sunday)
| | |
| --- | --- |
| Criteria | Ratings |
| Price | ★★★★★ (5/5) |
| Facilities | ★★★★☆ (4/5) |
| Faculty | ★★★★☆ (4/5) |
| Requirements | ★★★★☆ (4/5) |
If you're looking for class variety, then this school might be of interest to you. Swim time is a learn-to-swim center based in Dubai.
Looking at what they offer, the most noteworthy are their disability-friendly facilities and classes. We believe that this is what sets them apart from other aquatic educational institutions.
These special needs lessons are closely supervised classes with teachers that specialize in teaching people with disabilities.
Aside from these special classes they also offer dedicated classes for women and children. These range from child-only, women-only, and mother and child classes.
Moreover, potential students are also given the option of customizing the classes they will enroll in.
We do have to note in terms of facilities that there are only indoor pools. However, there are various types of pools and a purpose-built disability-friendly pool.
Lastly, students can avail classes that are held on different days. This is because the school is open seven days a week.
For their inclusive programs, class customization offered for students, as well as their indoor facilities, swim time errands are a spot on our list!
Offers dedicated classes for women and children
Big variety of classes offered
Clients can customize their classes
Offers classes for people with disabilities
Open all days of the week
Indoor swimming only
Requires contact for more information
Customer Reviews:
"Highly recommended swimming lessons. My son has greatly improved his confidence in the water and now he can be in a pool alone. Coach Debi has a lot of patience with the children and is very kind; she sees opportunities in them and gives them a lot of confidence. Her way of treating my son is clearly affecting very positively in his interest and love for swimming!" -Diana Tovar
"I am very happy to have Ms. Debi Petersen as my daughter's coach.
She is an excellent, disciplined, very consistant and hard worker.
Being parents of special needs, we fully understand the challenges as a trainer. However, she is very kind, patient, and well trained coach to handle kids with special needs.
We couldn't find better place than SwimTime for our daughter.
The trainer and the staff are all very supportive and caring.
Definitely recommend her and this centre." – Sonali Pande
3. Dolphin Sports Academy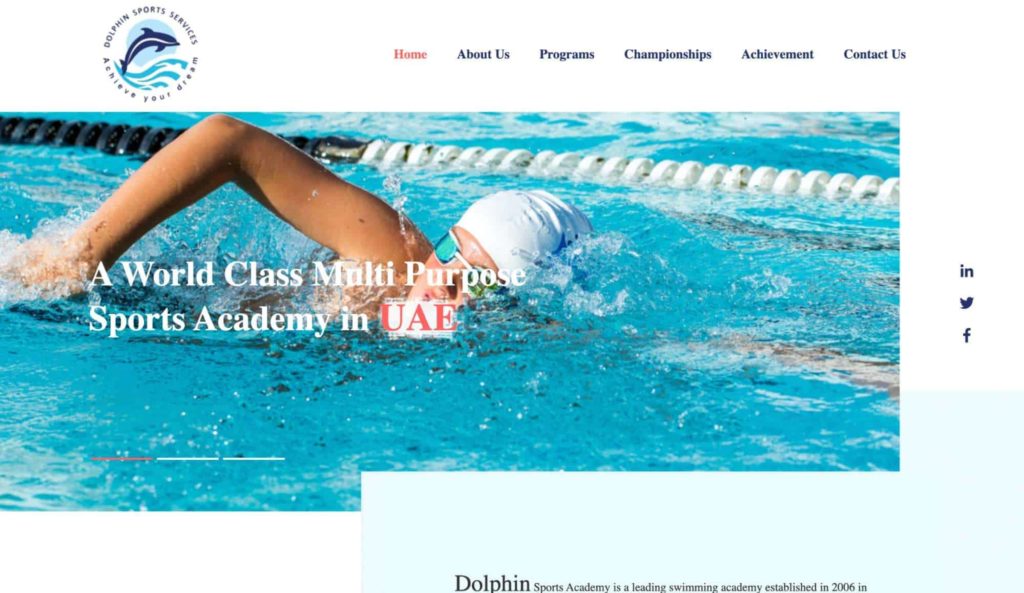 Test
Info
SERVICES
Swimming Lessons, Karate Lessons of Kids, Football Training for Kids
WEBSITE
https://www.dolphinsportsacademy.com/en
ADDRESS
10 5th St - Al Qusais - Al Qusais 1 - Dubai - United Arab Emirates
CONTACT DETAILS
Phone: +971 52 440 6474

E-mail: [email protected]

OPERATING HOURS
9:00 AM - 9:00 PM (Monday - Sunday)
| | |
| --- | --- |
| Criteria | Ratings |
| Price | ★★★★★ (5/5) |
| Facilities | ★★★★☆ (4/5) |
| Faculty | ★★★★☆ (4/5) |
| Requirements | ★★★★☆ (4/5) |
Dolphin Sports Academy is a multi-sport center for training and teaching sports. They offer programs in swimming, football, basketball, karate, and gymnastics.
Do take note though, that the school only offers swimming programs to kids and women.
While Dolphin Sports Academy only has an indoor facility the most interesting aspect of the school is its teachers. The trainers have decades of experience in handling athletes and students in the programs they offer.
This is shown via the awards and recognitions that their students have received during their time in Dolphins Sports Academy. For example, some of their students are reigning champions and winners of swimming competitions.
This includes the Emirates Cup Series and the swimming federation Dubai International Aquatics tournament.
However, Dolphin Sports Academy is a good choice for beginners who would want to learn basic swimming techniques. Keep in mind though, that their sessions can be very expensive in the long run, priced at AED 400 each.
Overall, we think that this is a good option if you're looking for a school that has a good indoor pool facility, as well as a wide range of faculty members that can teach students.
Has multiple teachers available
Company has 11 years of experience
Great indoor facilities
Caters to kids and women only
Indoor pools only
Customer Reviews:
Good and Friendly Coaches
"If you are looking for a place to learn proper swimming techniques this is the best around specially for kids. Highly recommend Coach Ahmed Ayman he trained my 6 year old. All the coaches there are very good and friendly at handling kids." – Dipti Alva
Easy Registration, Great Coaches
"Coach is really good and professional. Easy documentation process. Recommended for initial swimming classes." -Rajesh Nair
4. Modern Swim Academy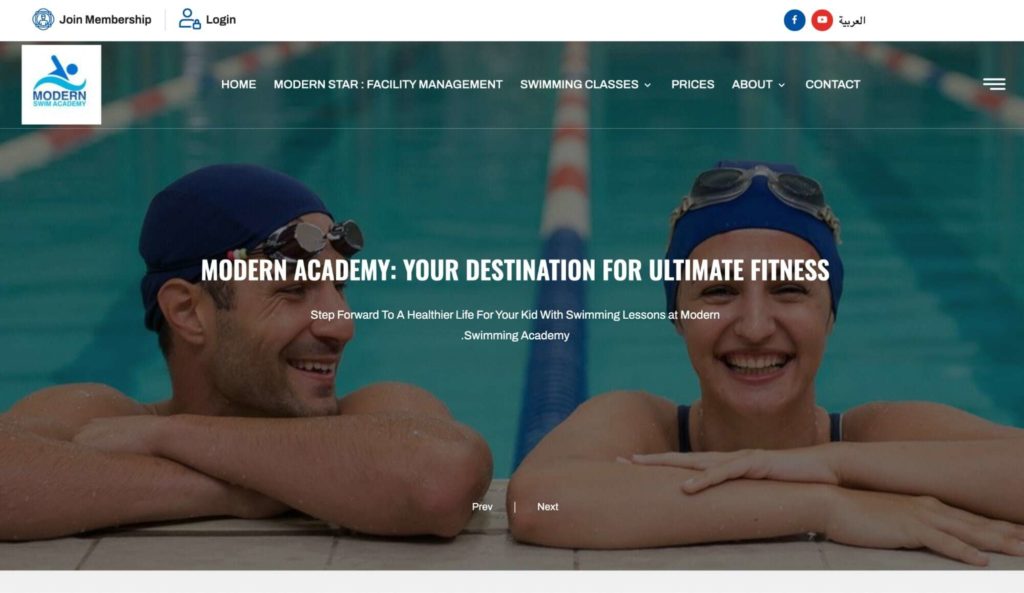 Test
Info
SERVICES
Swimming Lessons
WEBSITE
https://www.msa4fun.com/
ADDRESS
Inside German International School - Academic City - Dubai - United Arab Emirates
CONTACT DETAILS
Phone: +971 56 475 9499
OPERATING HOURS
4:30 PM - 9:00 PM (Monday - Thursday)

3:00 PM - 9:00 PM (Friday)

9:00 AM - 6:00 PM (Saturday - Sunday)
| | |
| --- | --- |
| Criteria | Ratings |
| Price | ★★★★★ (5/5) |
| Facilities | ★★★★☆ (4/5) |
| Faculty | ★★★★☆ (4/5) |
| Requirements | ★★★★☆ (4/5) |
Modern Swim Academy is an educational establishment that caters to kids and adults in Dubai and Abu Dhabi. However, they tend to focus more on teaching younger students.
Regardless, this academy provides a wide range of programs for its students. What's interesting is that they actually offer classes in two different categories: by age and by swimming level.
For the first variation, they offer special classes for parent and their babies or toddlers. For the second, they have classes for beginners, intermediate and advanced level swim classes.
These lessons are available for any gender and any age! But we do have to note that these classes are only available for groups of people.
Speaking of which, Modern Swim Academy offers group, semi-private, and private lessons. It's up to the student what kind of session they would like to take but all trainers are affiliated with the UAE Swimming Federation.
Overall, we recommend modern swim academy if you're looking for various packages available for parents and their children. In addition, the establishment also offers varying levels of classes dependent on the expertise of the students.
Offers various packages for classes
Great indoor facilities
Offers group, semi-private, and private lessons
Appointment required
Focuses on teaching children
Customer Reviews:
Approachable and Helpful Staff, Great Coaches
"Loved it since the pre pandemic times till date ..Ms Jenna admin.. approachable and regularly updated me in all aspects…thanks .,Coach olie thanks for giving my daughter the extra push and gaining confidence in swimming.. and Capt belal amazing and always lovely having conversations with you 😊 ..highly recommend to all..for kids and adults they got you covered…" -Mike Wachira
5. Urban Swim Academy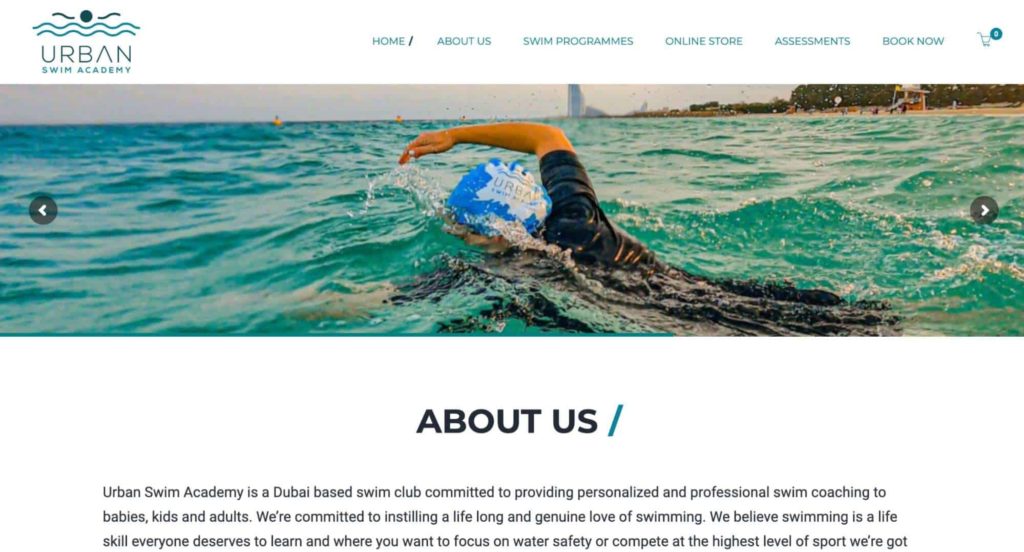 Test
Info
SERVICES
Swimming Lessons
WEBSITE
https://urbanswimacademy.com/
ADDRESS
Diamond Business Centre - Head Office- no pool at this address) Office 306, Building C - Dubai - United Arab Emirates
CONTACT DETAILS
Phone: +971 58 554 8130
OPERATING HOURS
7:00 AM - 8:00 PM (Sunday - Thursday)

8:00 AM - 1:00 PM (Friday - Saturday)
| | |
| --- | --- |
| Criteria | Ratings |
| Price | ★★★★★ (5/5) |
| Facilities | ★★★★☆ (4/5) |
| Faculty | ★★★★★ (5/5) |
| Requirements | ★★★★☆ (⅘) |
Urban Swim Academy is a club dedicated to providing customized and professional swimming coaching services. They offer their services for babies, kids, and adults.
This is one of the schools that offer a variety of programs depending on a person's swim level. They make sure to assess the incoming students that will be under their tutelage.
The school offers various classes. These include lessons based on a student's age, such as the Little Penguins baby and toddler program and the Kids program.
For adults, the school has special performance squad programs and fundamental swimming lessons available via their Learn to Swim and Masters programs.
Moving forward, we believe that the most notable aspect of the school lies in the faculty that they employ. Their teachers come from various countries and different backgrounds.
Some of them have diplomas in sport science, while others were national coaches of their respective countries of origin. Most of the teachers in Urban Swim Academy have a certification from the American Swimming Coaches Association as well.
Now, this particular school offers different types of facilities. These range from indoor pools to resorts, so students have some options to choose from.
If you wish to use a sunlounger and stay for the day at Jumeirah Islands Club there is a day pass fee of AED50 per adult. However if you use the couch seating and/or only come for your lesson and do no use the sunlounger for the day then there is no additional fees to our swim lesson fees. Guests are welcome to come for swim lessons with no additional fees.
We believe that with the wide variety of class options and experienced trainers, Urban Swim Academy definitely earns to spot on this list of recommendations.
Offers classes for all ages
School offers private lessons
Experienced trainers
Appointment required
Some locations require students to purchase an extra day pass
Customer Reviews:
Expert Teachers, Great Service
"Absolutely 5 star – Excellent swimming technique and endurance training at Urban Academy. A swim school that offers a huge motivation boost and encouragement to succeed at all levels, from beginners to masters with very clear progression steps. A very professional and supportive outfit with consistently new and improved ways to encourage us to excel in the pool. Clear succinct communication which enables ease of training, and personal safety of clients is always taken into account. Lots of encouragement to convert swimming pool drills and fitness into racing opportunities for all distances and all aged family members. Plenty of positive support from experienced team members at swim squads. Lots of sharing ideas and tips to become more efficient in the pool. The sessions are mixed up in a way that makes each class fun and exciting. Each group class offers a different new challenge with well-thought through warms ups "Main Sets" and cool downs, with clear personal targets to beat the clock. Private training sessions give specific tips on how to personally excel in squad training and dial in accurate swim paces. Highly recommend this elite Academy to get you to the next stage of your aquatic fitness. Inclusive approach for young family members to progress to the next Tadpole or Starfish level, for intermediates to meet personal goals, and for race competitors to reach the very top spot on the podium. A terrific team of coaches with a real passion for success! Well done Urban Academy your team rocks!" -Laura Richardson
Qualified Teachers, Friendly and Welcoming Environment
"We love Urban! All the swim coaches are excellent and highly qualified. The environment is friendly and welcoming. The coaches also know how to motivate and push all students to reach their fullest potential." -Susan-Mari Germishuys
FAQs About Swimming Lessons
---
Swim your way to a new sport or a hobby with the schools we've recommended! If you're interested in other schools or tutors, here's our list of the best guitar tutors in Dubai.