The 5 Best Clinics for Cataract Surgery in Dubai
When your vision starts to get cloudy, chances are, you are developing cataracts in your eyes.
Most age-related cataracts develop gradually, but other causes of this condition can develop much quicker and will need to be addressed as soon as possible.
So we scoured the city to give you the best clinic for cataract surgery in Dubai. We also included the factors we considered in choosing.
Ultimately, we answered some FAQs about cataract surgeries in Dubai.
How much does cataract surgery in Dubai cost?
The cost of getting cataract surgery in Dubai varies on the clinic and the doctor's fee. Most of the time, this is covered by your health insurance, too.
To give you a starting point, cataract surgeries range from AED3000 to AED10000 per eye.
The Best Clinics for Cataract Surgery in Dubai
Before we get right into our top picks for the best clinics for cataract surgery in Dubai, here are the factors we considered for our entries on this list:
1. New Vision Eye Center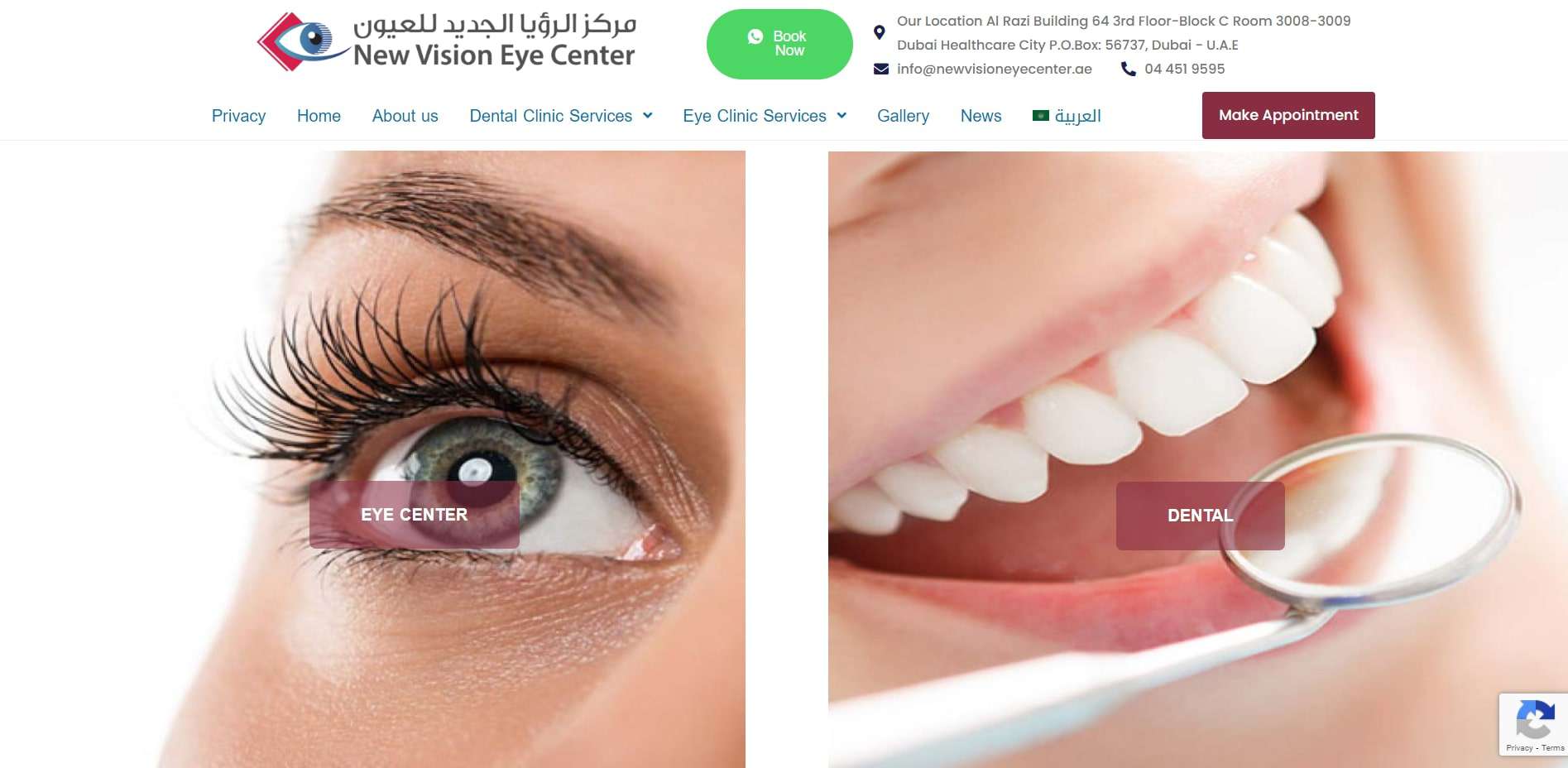 | Test | Info |
| --- | --- |
| SERVICES | Cataract surgery, dental services, LASIK treatment |
| WEBSITE | https://newvisioneyecenter.ae/ |
| ADDRESS | Al Razi Building 64 3rd Floor-Block C Room 3008-3009 - Dubai Healthcare City - Dubai - United Arab Emirates |
| CONTACT DETAILS | +971 4 451 9595 |
| OPERATING HOURS | Sunday to Thursday 9 am - 6:30 pm |
| | |
| --- | --- |
| Criteria | Rating |
| Credibility | ★★★☆☆ (3/5) |
| Competence | ★★★★☆ (4/5) |
| Procedures | ★★★★★ (5/5) |
| Equipment | ★★★★★ (5/5) |
Lead by the revered Dr. Safwan Al Bayati, New Vision Eye Center has state-of-the-art equipment and the latest technical procedures done by an expert team of ophthalmologists and optometrists.
Its ophthalmologists have done more than a thousand eye cataract surgeries, just in this clinic alone. Its results are considered to be one of the best in Dubai.
Dr. Al Bayati directs the team to continuously deliver excellent eye care he has been learning and understanding since 1998.
The clinic is accredited by Dubai's biggest medical organizations, and it has an excellent track record of eye cataract surgeries.
However, we're surprised that despite its experience and great track record, the clinic lacks affiliations with prestigious organizations and awards.
While it's not the end all be all when it comes to proof that a clinic is excellent, it's just we expected a more accomplished team.
Despite that, the clinic has only one butt seriously powerful cataract treatment. Designed to make quick work of the buildup and cut downtime.
Its cataract treatment is the most advanced cataract surgery procedure currently out there, shows immediate results within 15 minutes, and is more accurate than conventional methods.
We absolutely love how efficient and quick its treatment for cataracts is. It definitely takes away the hassle of being temporarily blind and having to go through multiple sessions.
State-of-the-art equipment
Uses the most advanced procedure for cataract surgery
Led by a world-renowned doctor
Doesn't have any awards
The clinic is not affiliated with big organizations
Customer Reviews
Accommodating team
"Their team has been very accommodating from the day of consultation until the operation. Dr. Safwan did the new ReLex Smile operation for my eyes. He is very good at what he does. Thank you to the whole team for accommodating me and for doing my operation smoothly." – Benedict Keizie Ilao, Google Reviews
Super doctor
"Completed 9 months after my LASIK surgery. The best place in UAE to get LASIK surgery. Superb doctor and team. Highly recommend. I had more than 5 follow-up sessions in 9 months with them which was included in the initial payment. I am completely satisfied with their service." – Prijin Anu, Google Reviews
2. Vasan Eye & Multispecialty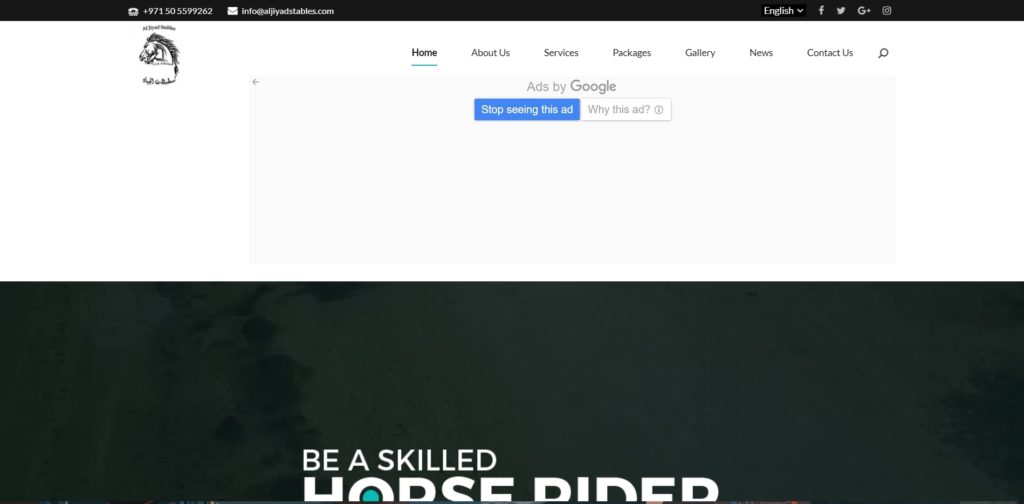 Test
Info
SERVICES
Cataract surgery, refractive surgery, Ocuplasty, contact lenses
WEBSITE
http://www.vasaneye.ae/
ADDRESS
Zabeel Plaza, Zabeel Road, Al Karama, P.O.Box 115868, Dubai, UAE
CONTACT DETAILS
+971 4 3579 444

+971 4 3579 600

OPERATING HOURS
Monday to Saturday: 9 am - 8 pm
| | |
| --- | --- |
| Criteria | Rating |
| Credibility | ★★★★★ (5/5) |
| Competence | ★★★★★ (5/5) |
| Procedures | ★★★★☆ (4/5) |
| Equipment | ★★★★★ (5/5) |
Vasan Eye & Multispecialty Hospital utilizes advanced diagnostic techniques and treatments to push its patient care and cure beyond its competitors.
One of its ophthalmologists, Dr. Caroline Paulson, completed her Master in Surgery (MS) in Ophthalmology from St. Johns Medical College Bangalore — a top-ranking medical college in India.
Dr. Rouksana Edappagath, on the other hand, received the Mr. K.S.V. Sivaram Gold Medal for best PG student in the subject of Ophthalmology from JIPMER.
Meanwhile, Dr. Umesh is the most experienced among them. He worked as the Chief Consultant Surgeon in Calicut and Kannur, Kerala, India for 12 years before moving to Dubai.
These are just a couple of the many achievements that its five ophthalmologists have under their belts, and we love that this clinic has such competent and credible doctors.
Vasan Eye & Multispecialty currently has three treatments for cataracts, all of which involve cutting an incision into the eye to inject IOL to stop cataracts from coming back.
The three treatments vary depending on the patient's needs, which will be decided by the surgeon after consulting with the patient.
And while it has multiple treatments for cataracts, it all involves the same principle and virtually does the same exact thing in different degrees.
The clinic also has some equipment for its surgeries, such as Zeiss-operating microscopes from Germany and a world-class operation theatre.
Credible and highly experienced doctors
Excellent and complete equipment
Its procedures are derived from the same principle just in different degrees
Customer Reviews
Can't praise this facility enough!
"I can't praise this great facility enough!! Everything is wonderful ✨️. The staff is so nice. I'm so grateful to have found such an awesome eye doctor Dr.Umesh tells you everything step by step, he is so patient and makes sure he explains everything. Absolutely amazing place !" -Jannat Panda, Google Reviews
Very accommodating
"Very caring and professional team, they were almost closing and when they knew there is an emergency case for a child, they call the dr. Back and kept the hospital opened, highly recommended, we are very thankful to all of them and especially to Dr. Rouksana Edappagath she was patient, caring and extremely lovely with our child ." -Mirna Mogharbel, Google Reviews
3. Eye Consultants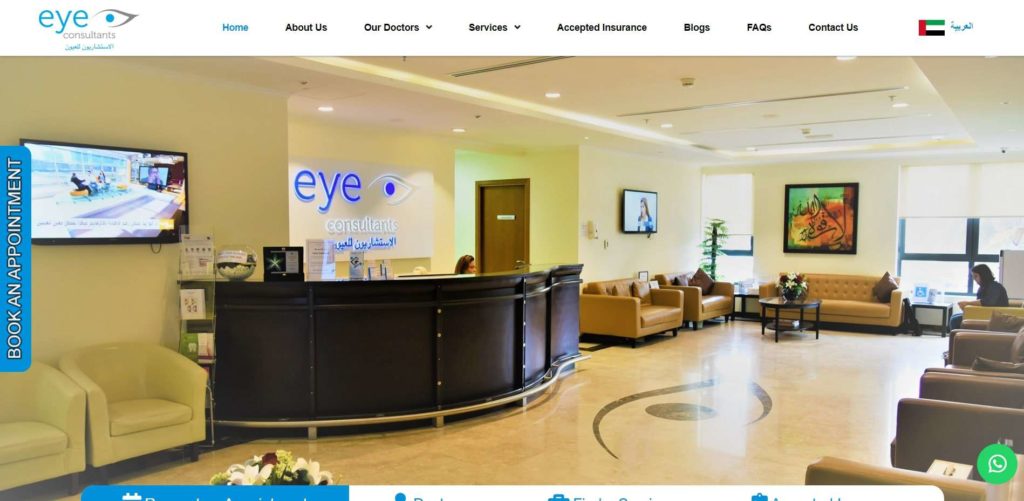 Test
Info
SERVICES
Cataract surgery, Glaucoma treatment, LASIK treatment, Ocuplasty
WEBSITE
https://eyeconsultants.ae/
ADDRESS
Al Razi Building No. 64, Block C, 1st Floor, Unit 1017, Dubai Healthcare City, Dubai
CONTACT DETAILS
+971 4 4211 299

+971 501235979

OPERATING HOURS
Monday to Thursday and Saturday: 8 am - 8 pm

Sunday: 9 am - 8 pm
| | |
| --- | --- |
| Criteria | Rating |
| Credibility | ★★★★★ (5/5) |
| Competence | ★★★★★ (5/5) |
| Procedures | ★★★★☆ (4/5) |
| Equipment | ★★★★★ (5/5) |
Combining the expertise of different highly experienced ophthalmologists to address eye conditions, Eye Consultants delivers excellently optimized patient care.
Its team of eye doctors is experienced and trained to perform the most advanced techniques and follow the latest recommendations in order to treat different conditions.
Its in-house surgeon for cornea and refractive operations, Dr. Sherif Emerah, got into research and clinical fellowship in cornea, cataract, and external eye diseases at Louisiana State University, USA.
While Dr. Nadire Erdogan Dib is a European board-certified consultant ophthalmologist and surgeon with loads of experience in cataract surgery.
Needless to say, we love that this facility has a team of doctors with global training and is more than ready to continuously execute the latest techniques for cataract surgery.
Eye Consultants is one of the best cataract surgery centers in Dubai because of its facilities and its team's specialization in Phacoemulsification and a variety of IOL implantation techniques.
With these, cataracts are successfully managed and even prevented from growing back through IOL implants.
However, as an overall range of treatments, nothing especially stands out for us. The techniques it uses for cataract surgery can also be found in other eye centers.
But what makes its treatments shine is in its equipment and facilities because its team has access to specialized equipment that is only used for cataract surgeries.
Doctors have global training and years of experience
It specializes in cataract surgery and management
Excellent equipment and facilities
Nothing special in their treatments
Customer Reviews
I feel so happy!
"I had my Ultra Lasik Surgery Two weeks ago and I feel so ecstatic. This is one of the best decisions I have ever made. The procedure was so quick (10mins) and painless. Now I get to wake up every day with a perfect vision. Now after 2weeks I don't even feel a need to apply drops as I don't feel any dryness. It's a life-changing beautiful experience as I'm back to 20/20 vision. Thanks to Dr. Sherif Hassan and the amazing team. I would definitely recommend the clinic to anyone thinking of getting LASIK done"- Smita Anand, Google Reviews
Displayed the highest level of professionalism!
"Decided to correct my eyesight here after doing lots of research as well as references from people, I chose to do it with Dr. Sharif and the procedure selected was femto SMILE, the operation for both eyes was simple and fast (not more than 3 to 5 minutes per eye), the only negative feedback was that the anesthesia for my left eye was less so I felt some pain during the procedure, however, the right eye was painless and perfect. Dr. Sharif displayed the highest level of professionalism and I was very satisfied and will be forever grateful for my eye operation success. My eyes are now both OK and after a week, things went back to a normal and daily regular routine. Recommending anyone to correct their eyes here." – Shammes Al Shamsi, Google Reviews
4. Ebsaar Eye Surgery Center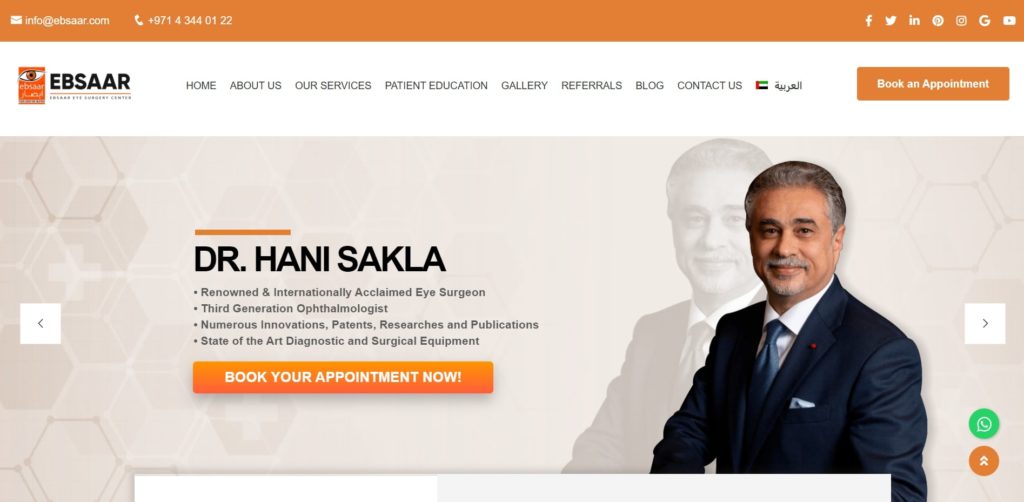 Test
Info
SERVICES
Cataract surgery, glaucoma treatment, LASIK treatment, corneal transplant
WEBSITE
https://ebsaar.com/
ADDRESS
Villa 32 A, Jumeirah Beach Road, Behind The Village Mall - 4 A St - Dubai
CONTACT DETAILS
+971 4 344 01 22

+971 55 600 3662

OPERATING HOURS
Sunday to Friday: 9 am to 5 pm
| | |
| --- | --- |
| Criteria | Rating |
| Credibility | ★★★★★ (5/5) |
| Competence | ★★★★★ (5/5) |
| Procedures | ★★★★☆ (4/5) |
| Equipment | ★★★★★ (5/5) |
With doctors that have over 30 years of experience and led by an acclaimed eye surgeon, Dr. Hani Sakla, Ebsaar Eye Surgery Center has been at the forefront of bringing technical innovation for cataract surgery into the UAE.
Dr. Sakla, the founder, obtained the Doctorate Degree from the University of Miguel Hernandez in Alicante with the highest note of Apto Cum Laude.
On top of that, he patented a new bioadhesive that can be used in some eye surgeries instead of sutures.
We love the fact that he's not just a surgeon, but also an innovator seeking to continuously introduce new techniques and technology to the eye surgery field in the UAE.
Not only is the clinic led by someone who is internationally credible and acclaimed in his own field, but its team of doctors with so much experience really gives them an edge.
And the clinic's innovative nature extends into its cataract surgery. While it only has three treatments for the eye condition, these are also quick, painless, and excellently effective.
All of this only takes 15-30 minutes and involves replacing the eyes' defective lens and replacing it with an IOL.
On top of that, being the pioneer of new techniques in eye surgery in the UAE means that this clinic also has access to the latest technology.
Team of doctors has over 30 years of experience
Lead by a highly acclaimed eye doctor
Excellent latest technology and equipment
Has a limited range of treatments that have been adapted by many other clinics
Customer Reviews
Highly recommend!
"Dr. Wassim is one the best ophthalmologists without a doubt. I had an issue with my eye after LASIK surgery and went to more than 10 doctors. The only Doctor that understood me and my problem was Dr. Wassim.. Highly recommended for anyone looking for an honest and caring Doctor."- Nour Rustom, Google Reviews
Hand down the best clinic ever
"Hands down the best clinic ever
I highly recommend Dr. Hani, he's the best at what he does
I had a PRK correction surgery, and I didn't know what to expect but he went with me through every detail the procedure itself took 10-15 minutes max he was supportive throughout the procedure time and for the follow up too
The staff clinic is amazing and respectful" – Rayan Mohamed, Google Reviews
5. Moorfields Eye Hospital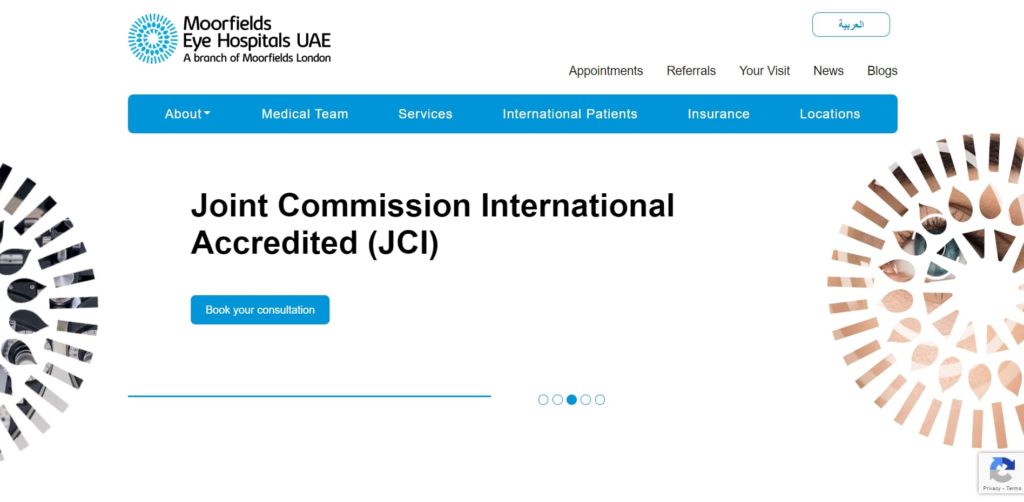 Test
Info
SERVICES
Cataract surgery, glaucoma treatment, LASIK treatment, general eye treatment
WEBSITE
https://www.moorfields.ae/
ADDRESS
Moorfields Eye Hospital Dubai, Dubai Healthcare City,P.O. Box 505054, Dubai, United Arab Emirates
CONTACT DETAILS
(+971) 4 429 7888

(+971) 4 363 5339

OPERATING HOURS
Sunday to Thursday: 8:30 am - 5 pm

Friday to Saturday: 8:30 am - 5:30 pm
| | |
| --- | --- |
| Criteria | Rating |
| Credibility | ★★★★☆ (4/5) |
| Competence | ★★★★★ (5/5) |
| Procedures | ★★★★☆ (4/5) |
| Equipment | ★★★★☆ (4/5) |
An international-renowned UK eye hospital, Moorfields Eye Hospital, is one of the world's largest sites for eye care, education, and research.
Its Dubai team is its first overseas branch and comprises consultants, doctors, and surgeons who have all trained at Moorfields Eye Hospital London.
And while its experience and training are incomparable, what really gives its team the edge is its personal links and full access to over 200 specialist staff at Moorfields London.
Just being a part of a network that gives doctors access to multidisciplinary second opinions from different ophthalmologists, optometrists, orthoptists, and pharmacists is invaluable.
However, because of its exclusivity, the doctors of the hospital don't have many opportunities of achieving individual accomplishments, and they fall behind in this department compared to other eye centers.
And when it comes to its cataract treatments, we truly appreciate the fact that it can accommodate both adults and children who are suffering from eye conditions.
However, we were disappointed to learn that its treatments cannot address the early onset of cataracts.
The eye hospital can only treat patients whose cataracts have heavily affected their eyesight. We think that it's disappointing especially since prevention is always better than cure.
And when it comes to its equipment and facilities, we don't have any complaints except that there is nothing special about any of it.
Its team has received exclusive training in London
Has access to a network of experts in Dubai and the UK
Accommodates both adults and children with cataracts
No awards and individual achievements
Nothing special with its equipment and facilities
Customer Reviews
Very pleased!
"Since the renovations and the new glasses section, this is our first visit back. It looked superb. All the staff is so amazing like Dr. Zach, Dr. DK, Umar, and Ahmad. Samar was brilliant with my son helping him choose his new adult-style glasses. We had an appointment at 930am with both Dr. Zach and Dr. DK and then we paid and then chose glasses and paid and we were finished by 10.40 am. Fabulous service. The glasses are even being delivered. Thank you Moorfields Team for the fantastic service yet again." – Sonya Coates, Google Reviews
Grateful for them
"We are forever grateful to God to put in our path Dr. Miguel Morcillo, his nurse Andrea, Dr. Georges Elias, and the entire team at Moorfields Eye Hospital. I was referred by a colleague to take my mother for cataract surgery with Dr. Miguel: he was very caring and attentive from the first day we met him and also very reassuring throughout the entire process from pre-surgery, the surgery, and his extra care post-procedure. We thank you from the bottom of our hearts!" -Johnny Gomes, Google Reviews
FAQs about Cataract Surgery in Dubai
---
We hope this helped you in finding the right clinic for cataract surgery in Dubai. Also, if you're looking for similar articles, check these out: