If you're planning a bucket list for the places you want to travel to, Dubai is a great choice to consider! It's a modern hub full of cultural wonders that makes it a dream destination for any traveller.
What is Dubai famous for?
Dubai is popular for its historic and picturesque landmarks which include the Burj Khalifa, Dubai Mall, the Palm, and historical neighbourhoods such as the Al Fahidi Quarter.
Additionally, the city is also known for its vast markets and souqs, which are also teeming with delicious culinary delicacies.
We think the easiest way to take in all the sights is via bus tours, because it helps you visit the most attractions within a limited time.

With that said, let's take a look at what Dubai is known for.
Modern Tourist Attractions
Tourists mostly head to the city to check out all the different attractions in Dubai. There are various kinds available to travelers, ranging from architectural marvels, aquariums, and man-made islands.
The Burj Khalifa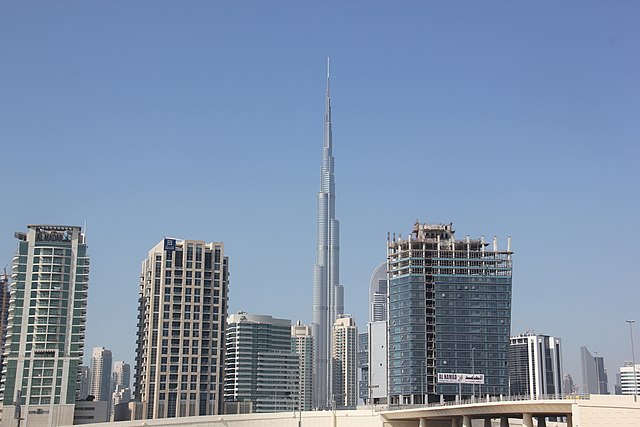 image credit: wikimedia commons
Now this glorious building is a sight to behold. The Burj Khalifa holds quite a number of world records that helped boost it to its current fame.
The popular tourist destination is currently the highest skyscraper, the tallest freestanding building, and the structure with the most floors in the world!
While seeing it from the outside is enough to entertain most guests, people flock here to visit the building's observation deck. This is located on the Burj Khalifa's 124th floor.
From there you can get a view across the city skyline, which is utterly mesmerising! We recommend visiting an hour before sunset to get a glimpse of the transition of day to night from the view on the deck.
Additionally, you may want to stay a bit for the night-time view as the city lights illuminate the darkness, which is quite the experience.
The Dubai Fountain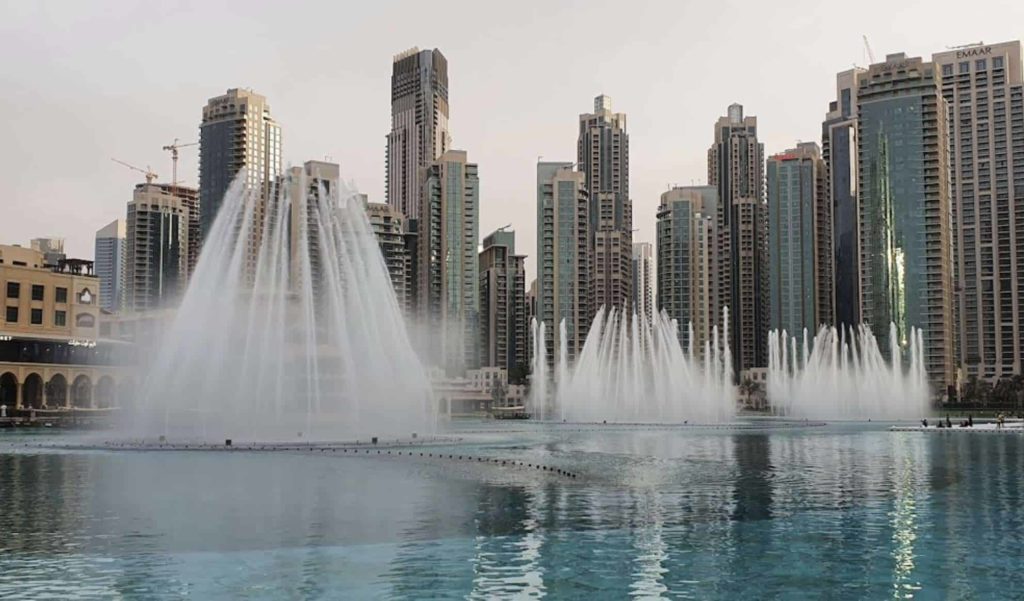 Image credit: Shaun Coppard 
The Dubai Fountain may sound basic, but this architectural marvel is definitely worth a visit.
The fountain is a system that spans 30 acres around the Burj Khalifa lake. People usually come here to witness the daily water and light shows that are held every few hours.
During the day, you can see performances at around 1:00 PM, 1:30 PM, and 2:00 PM. At night, it happens for 30 minutes from 6:00 PM to 11:00 PM.
Aside from being entertaining, visiting the Dubai Fountain is one of the budget-friendly activities that you can do while in the city. There's no entrance fee, and all you have to do is find a good spot to watch.
Dubai Aquarium & Underwater Zoo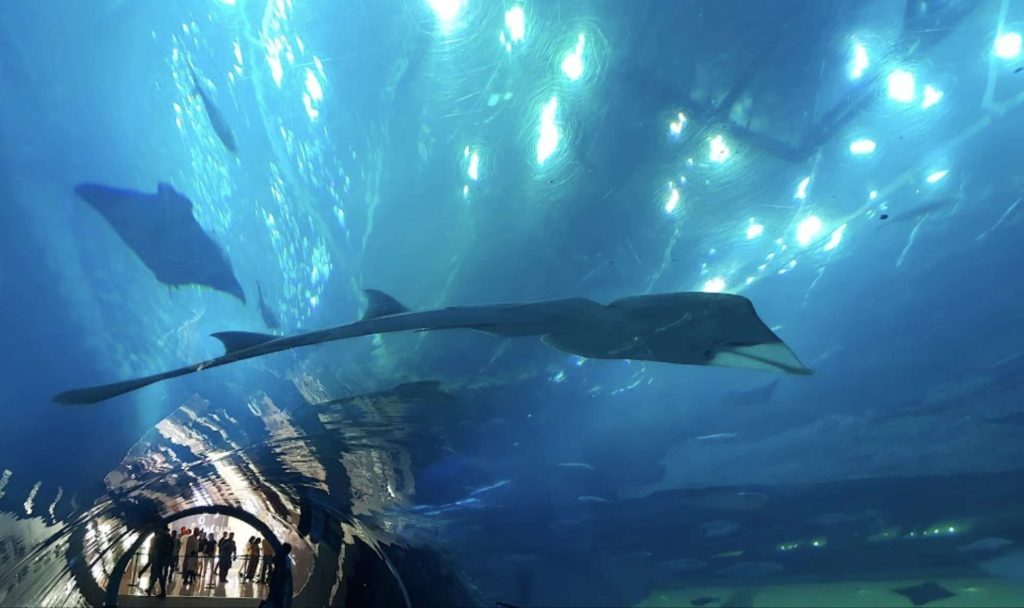 Image credit: Ahmer Afzal
ADDRESS
Unit SF - 115 - شارع المركز المالي، - Downtown Dubai - Dubai - United Arab Emirates
OPERATING HOURS
10:00 AM - 10:00 PM (Sunday - Wednesday)

10:00 AM - 12:00 AM (Thursday - Saturday)

WEBSITE
https://www.thedubaiaquarium.com/
The Dubai Aquarium and Underwater Zoo is one of the renowned locations for marine life. The area actually hosts the largest collection of sand tiger sharks!
Aside from that, this attraction has over 140 species that live in it. Visitors can spot over 400 sharks and rays, and a multitude of other aquatic animals.
Tourists can come here to just look at the animals in the Zoo's 10-million-liter tank. However, there are other activities available such as specialty dives and cage snorkeling, to name a few.
The ticket prices range from AED 169 on weekdays and AED 179 on weekends. Children under 2 years old can enter the facility for free!
Palm Jumeirah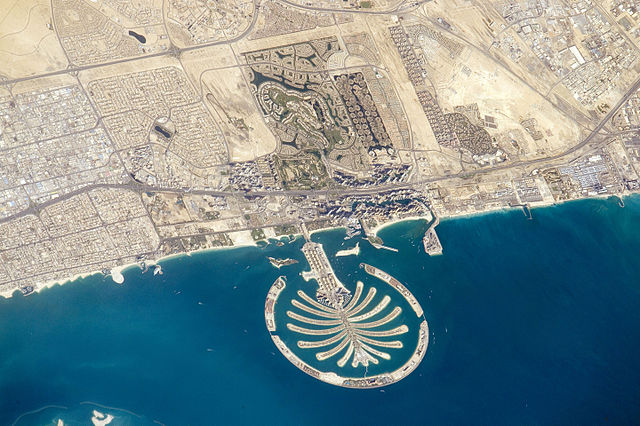 Image credit: NASA/Tim Kopra via Wikimedia Commons
True to its name, the Palm Jumeirah is actually a tree-shaped man-made island. It's mostly known for its luxurious vibe and people come here to experience what it's like to live in high society.
You can find hotels, posh apartment towers, international restaurants, beach clubs, and more!

A must-visit for tourists on this island is its five-star resorts and spas, which include the Atlantis Hotel, The Palm, Jumeirah Zabeel Saray, and One&Only The Palm.
Historical Sites
The city is also known for its vast history and architectural marvels that display the evolution of both culture and technology in the area. Continue scrolling below to learn more about some of the well-known and must-visit historical sites in Dubai.
Al Fahidi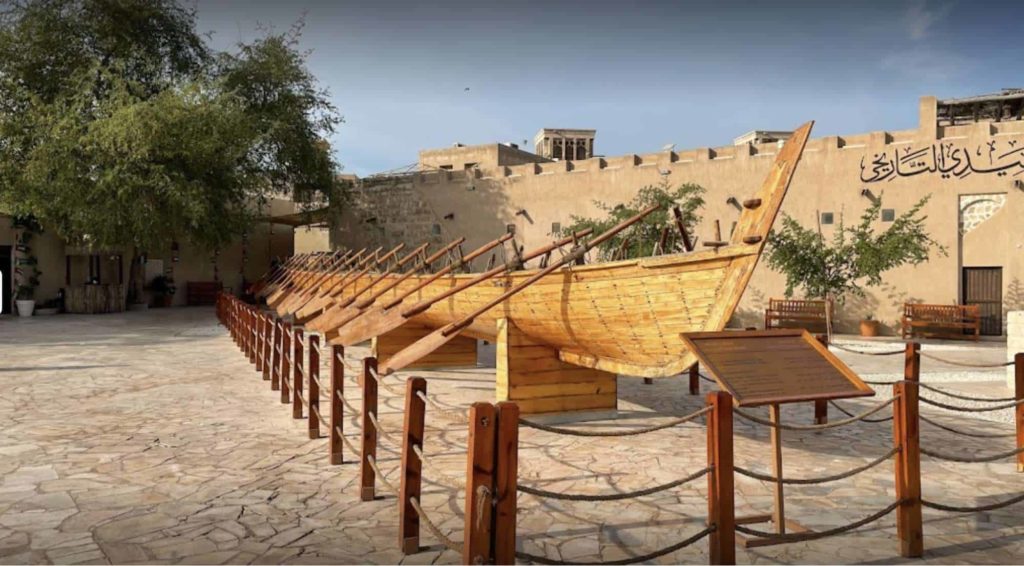 Image credit: Abhilash VG/Google Reviews
The Al Fahidi is a historical neighborhood known for the different museums and sights that show the city's rich history. These include the Al Fahidi Fort and the Dubai Museum, which can be found inside it.
Visitors can enjoy and learn more about the history of the city through exhibits and dioramas. Aside from that, the neighborhood also has some restaurants and stores that you can visit!
Even without going inside any establishment, visitors can already be amazed at the location by just walking around and immersing themselves in the culture and life of the neighborhood.
Coffee Museum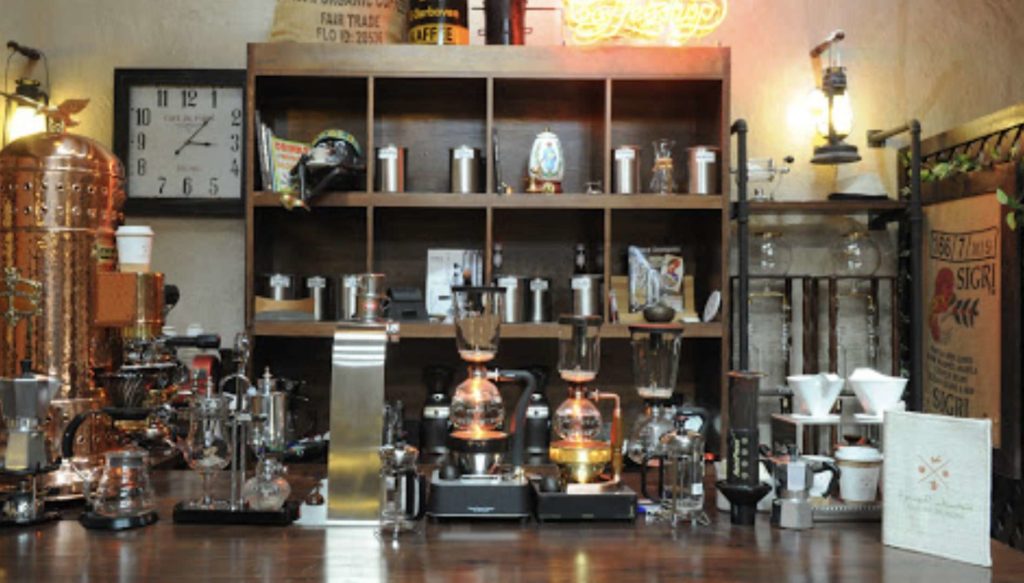 Image credit: Dubai Coffee Museum
| | |
| --- | --- |
| ADDRESS | Historical Neighborhood, Bastakiya, Villa 44 - Al Hisn St - Al Fahidi - Dubai - United Arab Emirates |
| OPERATING HOURS | 9:00 AM - 5:00 PM (Saturday - Thursday) |
| WEBSITE | https://www.coffeemuseum.ae/ |
This place is perfect for the coffee lovers out there. What makes it even better is that it's a museum and is actually one of the historical sites found in Al Fahidi.
The Coffee Museum showcases the evolution of coffee, from how it was discovered to the moment it was brought to different tables around the world for consumption.
Aside from history, the establishment also will educate visitors on how different cultures integrate the beverage into their own.
The location serves as a melting pot of different coffee varieties, from Arabic to Ethiopian to Japanese style and more! Tourists can also get a tour explaining the history of coffee, and how different coffee-making practices changed over the years.
Etihad Museum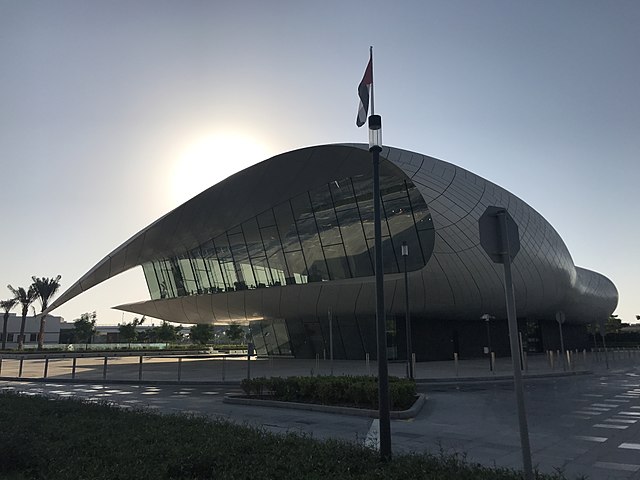 Image via Wikimedia Commons
Also known as the Union House, the Etihad Museum is a location that collects, preserves and displays the vast history of the Emirates.
The museum has a lot of content to go through. For history buffs and people who just like marveling at a lot of exhibits and dioramas, this place is perfect for you.
The Museum hosts its vast collection in a 25,000-square meter facility. From interactive pavilions to photos, films, and archival documents, visitors can spend hours moving around this area.
Tickets for this place cost around AED 25 per person. If you come in a group of 10 people or more, you'll get an AED 5 discount per person, which is great!
The museum also offers a discount for students aged 5 to 24 years old. They will only have to pay AED 10 per person.
Markets and Souqs
Part of a good traveling experience is buying souvenirs. Additionally, some people are attracted to visiting a place if they know they can buy something unique in that location.
If you'd like to know more about potential areas that you can visit to buy some quality goods and items while you're in Dubai, check out the list below!
The Dubai Mall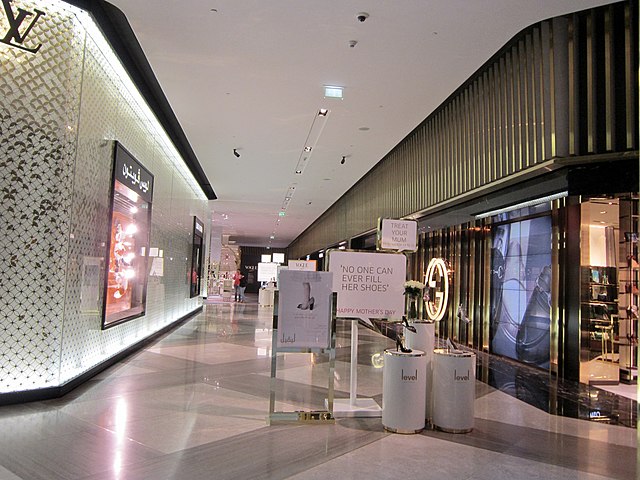 Image credit: Ank Kumar via Wikimedia Commons
ADDRESS
Financial Center Street, Along Sheikh Zayed Road, Next to Burj Khalifa - Dubai - United Arab Emirates
OPERATING HOURS
8:00 AM - 12:00 AM (Sunday - Thursday)

8:00 AM - 1:00 AM (Friday - Saturday)

WEBSITE
https://thedubaimall.com/
The Dubai Mall is one of the popular shopping areas in the city. It is one of the largest malls in the world, spanning 3.77 million square feet.
With such a big area, the mall hosts over 1,200 stores. They can also visit the establishment to head over to an Olympic-size ice skating rink, visit the Dubai Aquarium, or experience a wide range of restaurants available in the city.
The Dubai Mall is also the perfect place to shop for gifts, souvenirs, or just new items for yourself for its wide variety of establishments to shop around in.
Dubai Gold Souk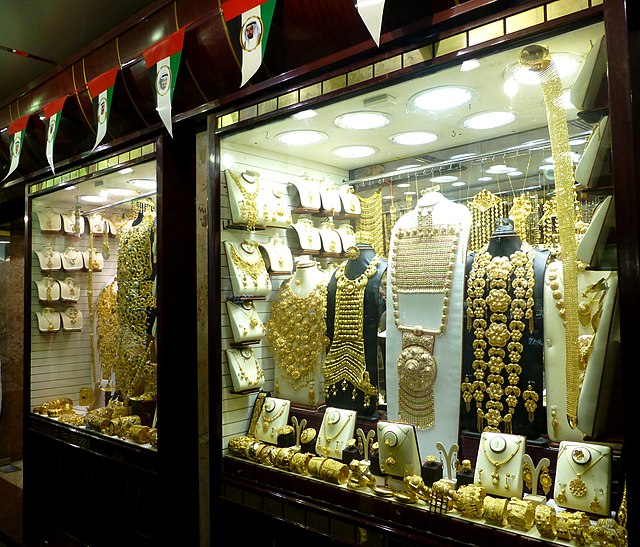 Image credit: giggel via Wikimedia Commons
ADDRESS
Gold Corner Building, 3rd Floor - Gold Souq - Deira - Dubai - United Arab Emirates
OPERATING HOURS
9:30 AM - 9:30 PM (Saturday - Thursday)

4:00 PM - 9:30 PM (Friday)
One of the most commonly associated things with Dubai is gold – not just for its abundance and quality but for its prices. Now, it's even less expensive to buy in souks!
This is because tax policies implemented in the city pull the rates lower. The Dubai Gold Souk has over 380 stores selling different variations of gold jewelry.
Dubai Spice Souk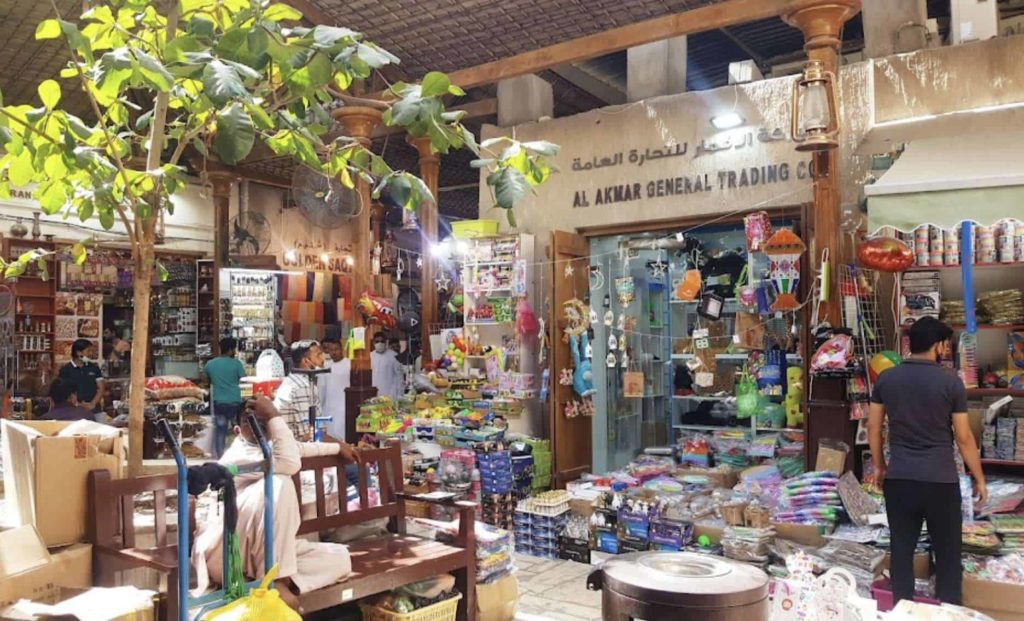 Image credit: Stefania Tomasini
ADDRESS
41 34th St - Deira - Al Ras - Dubai - United Arab Emirates
OPERATING HOURS
7:30 AM - 11:00 PM (Saturday - Sunday)

7:30 AM - 9:55 PM (Monday - Friday)
This place is a haven for those who love to cook and those who are fond of spices!
The Dubai Spice Souk is a market that offers a wide variety of ingredients. These include saffron, rose water, vanilla pods, and cinnamon sticks.
Aside from those, you can also grab some tea here such as hibiscus, rosebud, and lavender teas. This place is perfect if you want to give somebody a good gift on a budget!
Unique Delicacies
The city is also known for some unique delicacies that are a must-taste and a must-have during one's visit to Dubai. Some of the items we've included in this section are also perfect as gifts for friends and loved ones!
Camel Milk Chocolate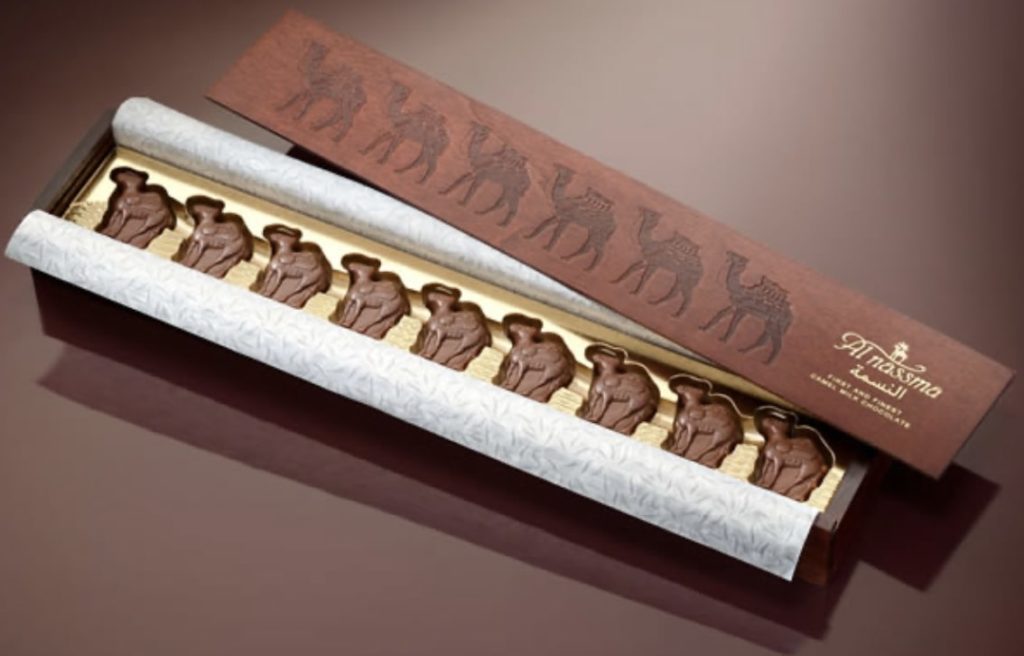 Image credit: Al Nassma
Dubai has their own confectionery companies that create a unique delicacy that is sought after by tourists and residents. Camel milk chocolate is one of these confectionery must-haves. It is made by only one company, called Al Nassma.
These chocolates are made from camel milk, which provides the sweetness. However, it has more vitamin C and less fat content than regular chocolate.
Tourists can get them from Al Nassma kiosks scattered around Dubai. These places include Burj Al Arab, Burj Khalifa, and Duty-free shops in and outside the Dubai Airport.
Baklava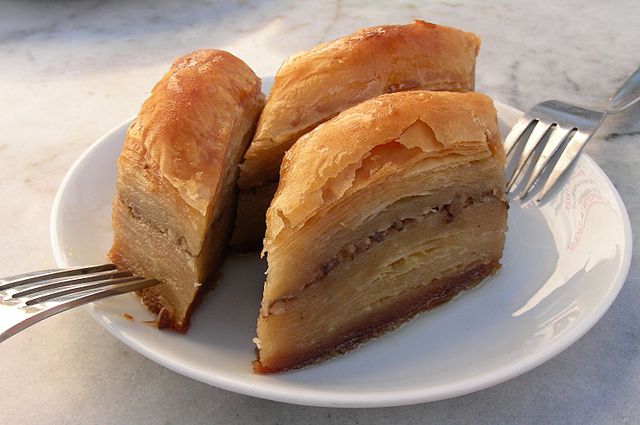 Image credit: Kultigin via Wikimedia Commons
Now, while this treat isn't exactly Dubai-exclusive – you can find it in other parts of the Middle East. However, it's also a popular dish in the city.
The baklava is a layered pastry composed of nuts and sweetened with syrup or honey. Its origins come from the Ottoman empire, and you can actually find it in two variations: Turkish and Arabic.
For people who visit Dubai, they can find the Arabic baklava in stores. This is smaller, and drier, but delicious nonetheless!
Gahwa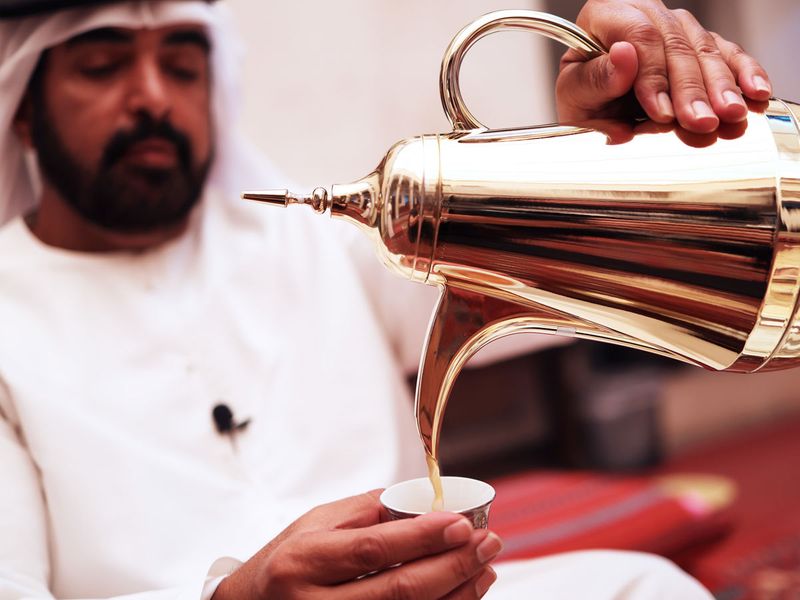 image credit: Clint Egbert/GN
Also known as Arabic coffee, the Gahwa is generally considered the welcoming drink not just in Dubai, but in the UAE.
Every household in the Emirates would prepare this for their guests. The drink is unique because it is usually prepared with cardamom, saffron, and rose water.
It is also usually served with sweets, such as chocolates or dates. This is because the coffee has a bitter and spicy taste.
---
Dubai is an amazing city full of culture, history and modern wonders. We hope that through our list, you found a reason (or two ) to travel to the city!
If you want to know more, check out some of our other articles below.
Related Articles