The 5 Best Van Rentals in Dubai
Whether you're transferring a group of passengers or stock of frozen goods, vans are a great solution because they're not too big and expensive, but also have more space than your usual 4-wheeler cars.
That's why we're giving you our top picks for van rentals in Dubai. We included our criteria in choosing our entries, as well as answered some FAQs about van rentals in Dubai.
How much does renting a van cost in Dubai?
The cost of renting a van can vary depending on what type of van you need, the size of the van, and how long you need to rent it out.
To give you a starting point, the average cost of renting a van is AED390 per day, but it can go as low as AED300 per day.
The Best Van Rentals in Dubai
Before we get right into our list of the best van rentals in Dubai, here are the criteria we considered in choosing them:
1. Chiller Vans Dubai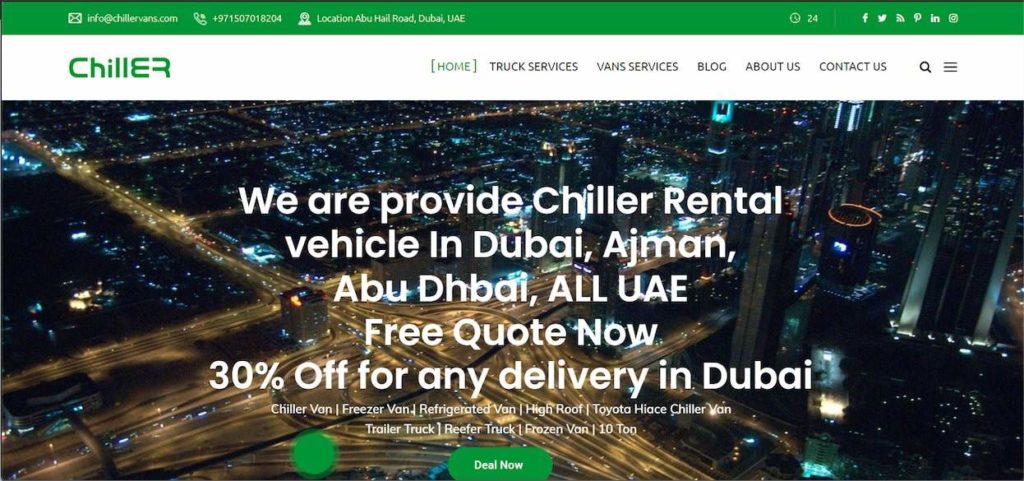 | | |
| --- | --- |
| Criteria | Ratings |
| Range of Vans | ★★★★☆ (4/5) |
| Quality of Vans | ★★★★☆ (4/5) |
| Customer Service | ★★★★★ (5/5) |
Differentiating itself from the competition and targeting a niche that is often overlooked, Chiller Vans Dubai has been building itself a promising name as the city's premium chiller van provider.
Kevin, a restaurant owner, has been working with Chiller Vans to transport frozen meats from his sources to his restaurant on a weekly basis.
He shared with us that having a small restaurant doesn't really need a truck to transport the amount of frozen food he needs for cooking, so he gets Chiller Vans' freezer vans to transport these.
We love that the provider has refrigerator vans, freezer vans, and chiller vans to accommodate the different degrees of coldness needed to transport specific goods.
And while it is limited to just chiller vans, it is a niche that has a lot of demand and definitely our top pick for businesses needing transportation for their frozen/chilled goods
Kevin also shared with us the reason why he picked this provider out of the other chiller vans in Dubai is because of how amazing it maintains its vans.
Having a restaurant means he needs the meat to be clean and be transported on a well-sanitized vehicle, and that's exactly what Chiller Vans Dubai provides.
We also love that it is aware of how critical its services are when it comes to businesses, and how often it is hired to transport frozen goods.
To help and maintain a partnership with its clients, Chiller Vans Dubai often has discounts and deals that help business owners cut back on overhead costs.
All in all, Chiller Vans Dubai doesn't have a lot of competition and fills in a niche that is not regularly needed by many.
But it excellently provides top-notch chiller vans and forges partnerships with its clients with great deals and discounts.
Offers a variety of chiller vans
Clean and well-maintained vans
Has regular offers and discounts
Does not offer any other vans
2. Cargo Van Rental Dubai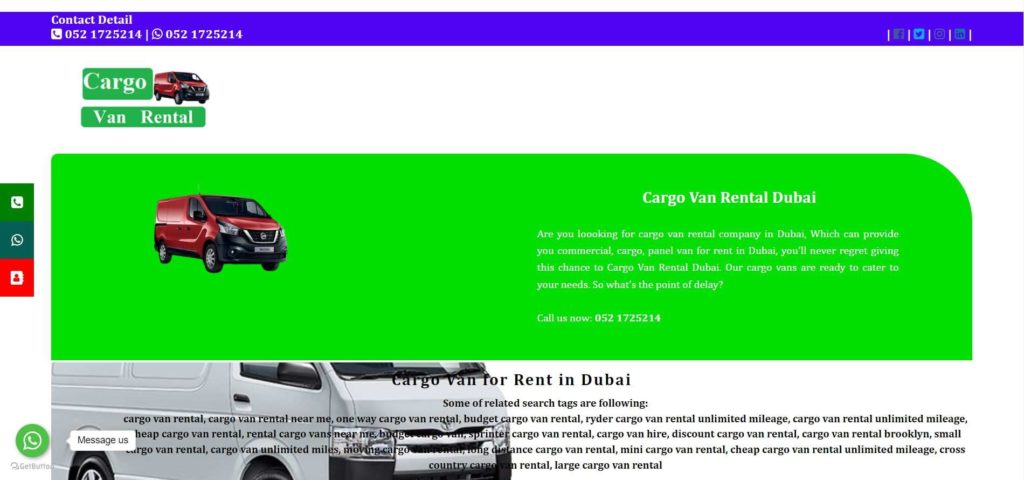 Test
Info
WEBSITE
https://cargovanrentaldubai.com/
ADDRESS
BBC building #10 Ground floor, Dubai Media City, Dubai, UA

Has 2 other locations in the city

CONTACT DETAILS
052 1725214

+971521725214

OPERATING HOURS
Every day: 9 AM–7 PM
| | |
| --- | --- |
| Criteria | Ratings |
| Range of Vans | ★★★★★ (5/5) |
| Quality of Vans | ★★★★★ (5/5) |
| Customer Service | ★★★☆☆ (3/5) |
Willing to provide the best service it can with its versatile and wide range of vans, Cargo Van Rental Dubai has been a go-to option for when anyone needs a van for anything.
From Mini Vans, Toyota Hiaces, and Nissan Urvans to Hyundai H1s and Peugeot Partner vans, this van rental service company picks up and delivers packages no matter the situation.
Clement took up its offer when he needed to transfer the furniture from his old apartment to a new one last year.
He shared with us that he was skeptical at first because he needed to transfer some fragile pieces, but was pleasantly surprised at how smooth the driver controlled the van.
We also love that its vans are regularly maintained and retro-fitted to have shelves and drawers in the back so that customers can safely put in small and loose pieces.
However, we were surprised and disappointed that the provider doesn't offer passenger transportation despite some vans having actual seats for people to sit in.
We thought this was such a missed opportunity because, with excellently trained drivers, passengers would have a smooth trip when renting out the vans.
And speaking of the drivers, we appreciate the quality of driving they provide for clients, but we didn't like the fact that they don't let customers rent the van just by itself.
Despite that, Cargo Van Rental Dubai remains to be one of our favorites just for the sheer fact that its wide variety of well-maintained vans provides so much versatility for business and regular delivery services.
And the fact that its drivers handle vans so well is just the cherry on top.
Offers a wide range of delivery vans
Drivers are excellently trained
Vans are well-maintained
Does not offer passenger transport
Does not offer self-drive van rental
3. Frost Fleet Van Rental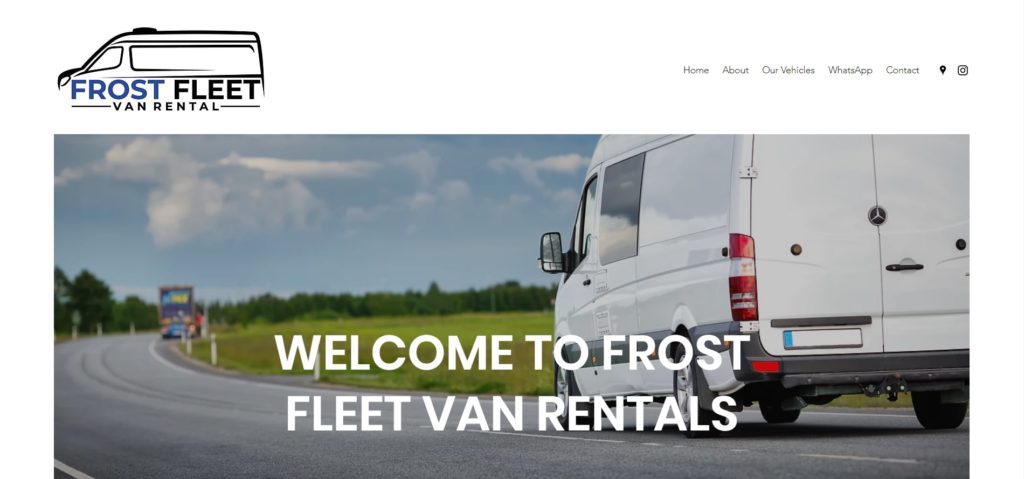 Test
Info
WEBSITE
https://www.frostfleet.com/
ADDRESS
Al Quoz - Al Quoz Industrial Area 4 - Dubai - United Arab Emirates
CONTACT DETAILS
+971 50 584 5840

E-mail: [email protected]

OPERATING HOURS
Saturday to Thursday: 8 AM–6 PM
| | |
| --- | --- |
| Criteria | Ratings |
| Range of Vans | ★★★☆☆ (3/5) |
| Quality of Vans | ★★★★★ (5/5) |
| Customer Service | ★★★★☆ (4/5) |
One of the newcomers to the chiller van rentals market in Dubai, Frost Fleet has quickly become a new popular choice amongst business owners because of its brand new vans.
Chris, a small butcher shop owner, has partnered with Frost Fleet for a year as his main service for picking up and delivering the meat that he will carve and put on display for sale.
He shared with us that he chose Frost Fleet, because they were both newcomers in their respective businesses and that the brand new vans were sure to be devoid of issues and malfunctions.
And we agree. Frost Fleet's chiller and freezer vans are a great choice because of how new they are, ensuring you that deliveries will be made with no problem.
However, the range of vans it has is quite disappointing, because there isn't any range at all. It only has the Hiace Chiller Van for rent.
And while the van's thermostat is adjustable to freeze or just chill the contents, it's still not up to par compared to our other freezer van rental services on this list.
Despite that, newcomer Frost Fleet has been making up for the lack of choice with its great customer service.
For a company that's only been operating for a year, Frost Fleet has really ironed out its kinks when it comes to being punctual and dependable for its steadily growing client base.
And while there aren't any extra services for convenience yet, Frost Fleet's trajectory is definitely headed there.
All in all, Frost Fleet Van Rental has a strong argument as to why it's one of the best freezer van rentals in the city, and it's mostly because of its brand new vans.
Offers brand new chiller vans
Punctual and dependable service
Chiller vans' thermostat is adjustable
Only has one chiller van model
No extra services for convenience
4. Emirates Bus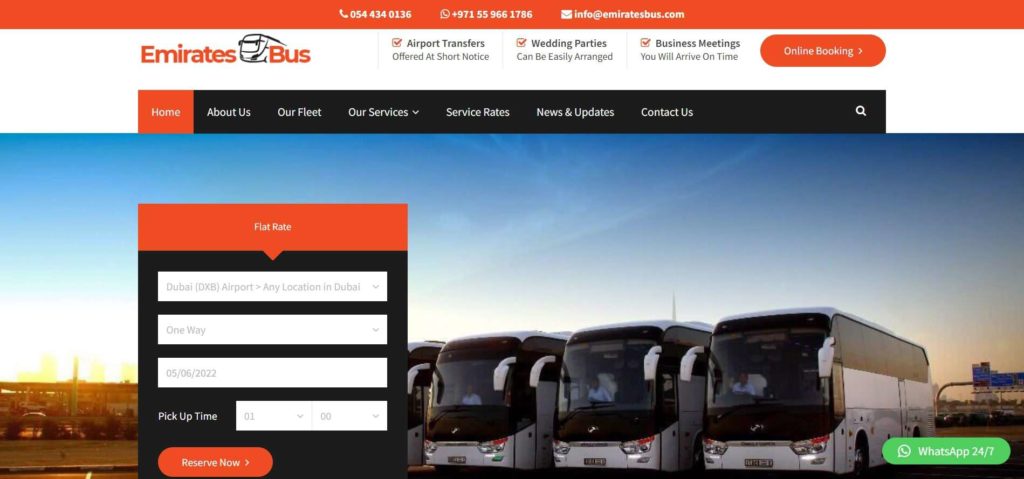 | | |
| --- | --- |
| Criteria | Ratings |
| Range of Vans | ★★★★★ (5/5) |
| Quality of Vans | ★★★★★ (5/5) |
| Customer Service | ★★★★☆ (4/5) |
Emirates Bus has been one of the best vehicular rental services in Dubai in the recent years, and that is because it offers passenger transport services with its luxury vehicles.
While it does have 50-seat luxury buses alongside Lexuses and Volvos, the stars of the show, for us, are its coasters and luxury vans.
It has Mercedes Sprinters and V Classes, and Hyundai H1s — all of which can seat different numbers of passengers allowing Emirates Bus to pair up its customers with a specific van for their needs.
Its professionally-trained drivers have these vehicles cleaned on a regular basis so the luxurious riding experience never gets overshadowed by a dirty interior.
We also love that its rates already include the cost of fuel, tolls, taxes, and other charges — although this means that its rates are higher than other van rental services in the metro.
It also accepts online payments for security and convenience, which is something we really appreciate because we didn't need to find an ATM to withdraw cash for our payment.
All in all, if you're looking for a luxurious ride around or outside of Dubai, Emirates Bus probably has a van suited for you and your group.
Wide range of vans, buses, and other vehicle types
Offers passenger transport
Accepts online payments
Higher rates than usual
Does not offer anything other than passenger transport
Customer Reviews
Great driver and excellent service
"Excellent service. I had requested chauffeur service from Abu Dhabi to Dubai. Mr. Jamal, the chauffeur, is not only a very courteous man, he is also an excellent driver. Also I had made a request to provide with a GMC Yukon XL."—Samia Aslam, Google Reviews
Will definitely get them again
"Booked an MPV for a day driving around Dubai city with my client. Beautiful Mercedes viano with professional driver. Will use again." —Shahjahan Qaisrani, Google Reviews
5. Pilot & Car Transport Service Dubai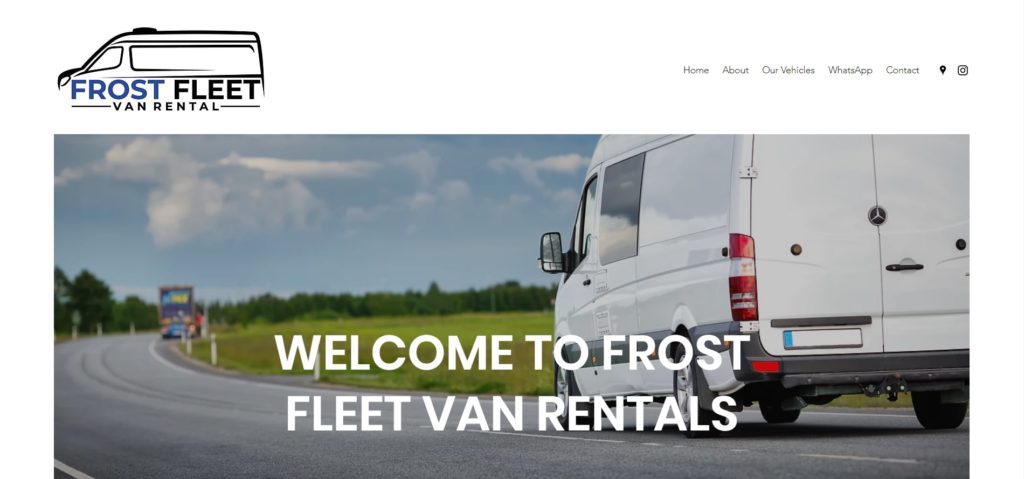 | | |
| --- | --- |
| Criteria | Ratings |
| Range of Vans | ★★★★☆ (4/5) |
| Quality of Vans | ★★★☆☆ (3/5) |
| Customer Service | ★★★★☆ (4/5) |
With 13 years of experience, Pilot & Car Transport Service Dubai is a master in offering luxury transport to its customers coming and going from Dubai.
Its fleet consists of luxury sedans, stretch limos, and luxury vans. And on top of that, we also love that it ties in services with its vehicles.
So alongside its van rental, we can also get a chauffeur alongside it, as well as a Dubai city tour and airport transfer as well.
We love this because it gives so much variety to every customer's experience, and lets them customize how they want to be serviced.
Another great thing about this van rental company is that majority of its car fleet is less than 2 years old, which means each van operates and feels like it's brand new — which just adds to the whole luxurious transport experience.
Its drivers have years of experience driving luxury cars, and servicing high-class clients, and it was noticeable when we hired them.
They made great conversation but nothing too overbearing or too intrusive. They were very accommodating with our requests and gave us such a great experience.
It was definitely worth the expensive rates that the company charged us, understandably so because of the quality of the van and the experience of the driver.
That being said, we would have also liked to have been able to pay online so that it's secure and convenient for us, but it wasn't such a big deal.
All in all, Pilot & Car Transport Service Dubai definitely takes its luxurious branding in stride and makes sure that the client feels that all throughout their riding experience.
Professionally-trained and experienced drivers
Almost brand new cars
Vans are from luxury brands
Offers other services and experiences
Customer Reviews
A great service for when you're touring Dubai
"Excellent service for large groups in Dubai, especially during Covid-19, where the largest group possible per taxi is 2 people. We managed to get a car for 8 people, and always at last minute, at a reasonable price! The drivers were always very friendly, and willing to stay to pick you up again. Would definitely recommend Pilot & Car Transport service Dubai, we used it a couple times in a day whilst we were in Dubai."—Lili He, Google Reviews
Will definitely recommend them to my friends
"We used this company and the service was outstanding and very reasonable. Talat was our driver. I just wanted to say thank you very nice your driver was very helpful and very nice
I will be recommending you to all my friends and family to use you when they come to Dubai
Once again thank you" —Farzana Khan, Google Reviews
FAQs about Van Rentals in Dubai
---
We hope this helped you in picking out van rentals in Dubai. If you're looking for car-related services, then check out these articles: