The 5 Best Restaurant Buffets in Dubai
Buffet restaurants are a popular pick for big groups or for when people want to celebrate a special occasion. The great thing about it is that it completely eliminates the need for catering, and customers can eat all they want at a fixed price.
This is exactly why we're sharing with you our favorite restaurant buffets in Dubai. We included our criteria in choosing them and also answered some FAQs about buffets in Dubai.
How much does going to a restaurant buffet in Dubai cost?
Having a feast at a buffet restaurant can be costly, mostly because customers get both quality and quantity with the food.
To give you a starting point, we've compiled the price ranges of our favorite restaurant buffets in Dubai. Check them out below.
Restaurant
Price Range
Texas de Brazil
Monday-Thursday: AED80 - AED255

Friday-Sunday: AED110 - AED255

Absolute Barbecues
Lunch: AED54-AED64

Dinner: AE64-AED69

Sumibiya
AED89-AED288
Little Lahore
AED65
Giardino Palazzo
For Adults: AED190-AED715

For Children: AED95-AED157
The Best Restaurant Buffets in Dubai
Before we get right into our list of the best restaurant buffets in Dubai, here are the criteria we considered in choosing them:
1. Texas De Brazil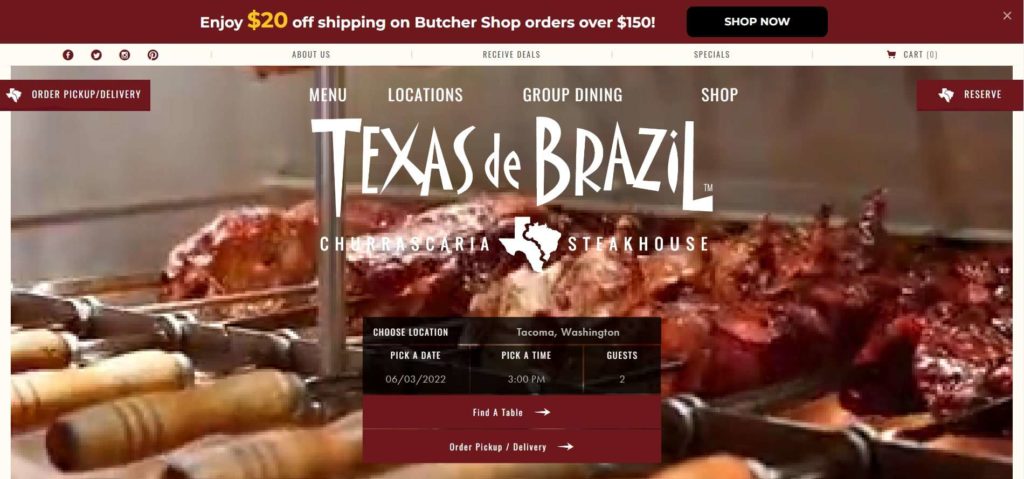 Test
Info
WEBSITE
https://texasdebrazil.com/
ADDRESS
Dubai Mall - Sheikh Mohammed bin Rashid Blvd - Downtown Dubai

Dubai Has 1 more location in the city

CONTACT DETAILS
+971.4339.9099
OPERATING HOURS
Sunday to Wednesday: 11:30 AM–11 PM

Thursday to Saturday: 11:30 AM–12 AM
| | |
| --- | --- |
| Criteria | Ratings |
| Variety | ★★★★☆ (4/5) |
| Quality of Service | ★★★★★ (5/5) |
| Atmosphere | ★★★★★ (5/5) |
Combining the iconic savoriness of Brazilian churrasco and the Texan hospitality, Texas de Brazil brings the true cowboy dining experience to around the world.
Buffets at Texas de Brazil are all about slow-roasted meals over open flames, seasonal greens, vegetable dishes, and sprinkled with some Arabic delicacies to keep things a bit local.
While we can definitely see that food choice here is limited to steaks, roasts, and greens on the sides, we do appreciate the range of meat dishes it has.
All cooked the gaucho way, we especially love its herb-marinated pork loins, braised beef ribs, and lamb picanha.
It also has a salad area where we thoroughly enjoyed building our favorite versions that helped undercut the richness of the meats.
As for its service, everything was cooked to order and to our preference, so we were sure of the freshness of the meat, and they all came in juicy and perfectly roasted.
We also love that our table gets a card that we flip to green if we want the chefs to keep sizzling our meats and we can flip it over to red if we want to take a break from feasting.
We also love how its atmosphere is the authentic cowboy dining experience twisted to bring in a sense of sophistication — complementing the essence of these luxurious meat cuts and cocktails.
From the white table sheets to the waiters approaching our table to carve our slices of meat at our pleasure, Texas de Brazil combines outback cooking with metropolitan service.
All in all, Texas de Brazil successfully brings traditional meat dishes to the present by accompanying it with amazing service and a wide variety of options to eat alongside it.
Wide range of meats and side dishes to choose from
Sophisticated yet casual atmosphere
Serves and keeps the food fresh
Main dishes are all meats
Customer Reviews
Best value for your money
"One of the best value for money Brazilian Resturant's in dubai! The soup and salad bar is amazing, great varieties and options, you should definitely try the lobster soup! The meat selection is great as well, and the staff are extremely friendly and professional! I think it is better to visit while not crowded to get the best attention to your table, but for sure if you are a meat lover then this is a good place for you!" —Jalal Hindieh, Google Reviews
Non-stop freshly grilled beef makes it a winner for me
"Best food experience ever!! Overlooking the dancing fountain, we had a variety of soup, salads, appetizers as well as a non-stop freshly grilled beef, shrimps, chicken, sausage of best quality of all times.. special thanks to Marylin and Joel for their friendly welcome and high level service."—Nevine Hedayat, Google Reviews
2. Absolute Barbecues
Test
Info
WEBSITE
https://www.absolutebarbecues.com/index
ADDRESS
Mezzanine Floor, Block A, Centurion Star Tower, Deira City Centre Area
CONTACT DETAILS
+971 600 577776
OPERATING HOURS
Monday to Thursday: 12 PM–3:30 PM & 6:30 PM–10:30 PM

Friday to Sunday: 12 PM–3:30 PM & 6:30 PM–11:30 PM
| | |
| --- | --- |
| Criteria | Ratings |
| Variety | ★★★★★ (5/5) |
| Quality of Service | ★★★★★ (5/5) |
| Atmosphere | ★★★☆☆ (3/5) |
A staple in Dubai, Absolute Barbecues has earned its colloquial name AB. This affordable buffet restaurant has won the hearts of people, including us.
This DIY grilling experience lets us grill our own meats, seafood, and vegetables on skewers. And to up the ante, the central live grill dishes out an exotic variety of veggies and game birds.
For a buffet experience below AED100, we were delightfully amazed by the range of meats, seafood, and veggies it had to offer.
We especially enjoyed the qual and Peking duck that we got from the central grill, as well as the Peri peri prawns, and the Chicken Dum Biryani.
It also has a selection of pizza, but it was mediocre at the best and not really the focal point of the restaurant.
Speaking of which, we actually thought it had too many items that didn't really help elevate its menu, but the items that embody AB's brand shine when it needs to.
The staff was courteous and we love that they put the effort to make us comfortable and always asked us our preferences on how we wanted our meat cooked.
However, being a low-cost buffet restaurant means that everyone else also eats there. The atmosphere was overwhelming, to say the least.
The restaurant was crowded, the acoustics worked against the volume of conversations buzzing around us, and the only thing we could really do was hyperfocus on our table so that we zone out the noise and activity around us.
Despite that, Absolute Barbecues shines because it chooses to give customers the most at such an affordable price.
For less than AED100, we enjoyed dining on exotic game meats and uncommon vegetables that we usually wouldn't find in other buffets.
Cheap prices
Serves exotic meats and veggies
Staff puts in the effort and was courteous
The restaurant was noisy and crowded
The menu had too many extra things that weren't that good
Customer Reviews
My go-to place for celebrating
"Visited this outlet many times for various occasions from birthdays to anniversaries, office dinners, business lunches. Every time you would have a relishing dining experience with lovely atmosphere and great service. They Make make sure that your time is well spent and you go will happy memories and always feel like coming again." —Varun Handa, Google Reviews
Authentic Indian buffet
"This place is one of my favorite eat out spots. The service is superb, staff are extremely professional and courteous. The choice of food for veg or non veg will leave you confused ( in a good way) and the taste is authentic! The cuisine is primarily indian and spice levels can be adjusted to one's looking. The crispy corn starter, pineapple barbeque and panshot ice cream are among my favorite.
We were served by a gentleman named Mahabat Ali, who was proactive and caring about everyone around the table. He checked on everyone from time to time and ensured we had a great time." —Stephen Cherian, Google Reviews
3. Sumibiya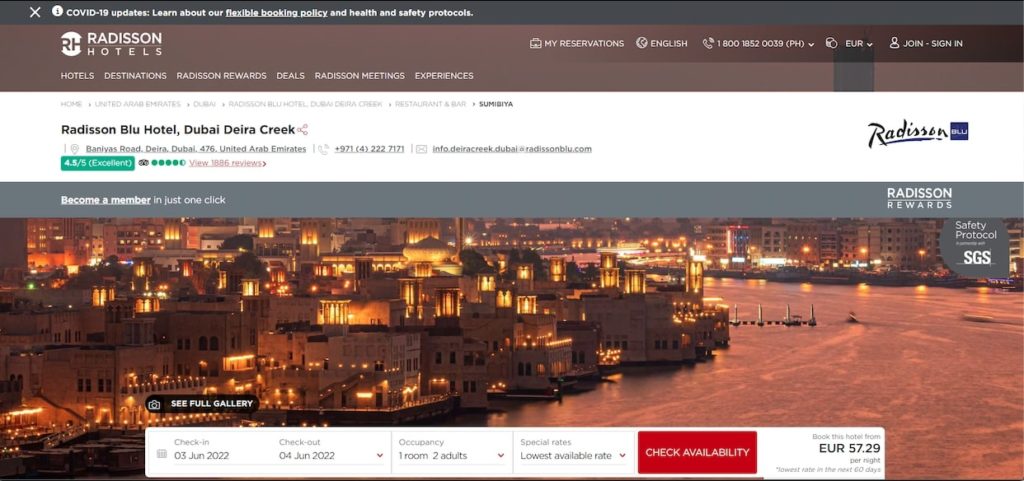 | | |
| --- | --- |
| Criteria | Ratings |
| Variety | ★★★★☆ (4/5) |
| Quality of Service | ★★★★★ (5/5) |
| Atmosphere | ★★★☆☆ (3/5) |
Before Korean barbecue restaurants got popular, Sumibiya has already been offering this dining experience to customers.
Blending Korean food with yakiniku-style restaurants, we enjoyed our dinner sitting in a semi-private booth while we grilled our own seafood, meat, and vegetables.
While the marinades and the selection of meats are mediocre, we think what shines at Sumibiya are its sauces, appetizers, and sides.
The kimchi was great, and the oriental sauces went along nicely with the meats — which came in big portions that almost redeemed the blandness of its marinades.
We found the service to be the opposite of that. The manager and staff were friendly and accommodating.
When they greeted us, we immediately felt at ease and knew we wouldn't have to worry about anything for the rest of the night. We really appreciated that, especially from the staff of a busy restaurant.
As for the atmosphere, we were not sure what to make of it. On one side, it felt upscale with contemporary and minimalistic finishes that added to the whole look that people connect with Radisson Blu hotels.
However, there was no trace of any Korean and Japanese influences on anything. It simply felt like Radisson Blu just happens to serve Korean-Japanese-style barbecue in one of its restaurants.
Serves Korean-Japanese style barbecue
The sauces and sides are excellent
Friendly and accommodating staff
Marinades for meats were bland
Atmosphere is disconnected from the food it serves
Customer Reviews
Great Korean Barbecue spot
"One of the best fine Korean dining experience. If you love Korean cuisine then must try. Located in Radisson Blu Hotel Deira Creek. You can give your car to Valet parking and make sure to validate it. Ambiance is not that much wow but the food it self and experience give you a different pleasure and you will enjoy it specially with kids. However if you like Korean food then go for it." —Arsalan Usmani, Google Reviews
One of a kind dining experience
"One of a kind experience in Dubai – Korean BBQ unlimited. Went for my son's 15th bday and they gave us a complimentary cake for his birthday. Amazing and caring staff. They were very friendly. The quantity of the food was overwhelming even for people who eat a lot. The taste of the food was on point. As you were the one cooking you could make it your perfect piece of meat. The variety is also very good. There is unlimited beverage along with it. Finally the dessert completed the whole experience and made it worth the time. Best to go with the entertainer offer." —Sakeer Pv, Google Reviews
4. Little Lahore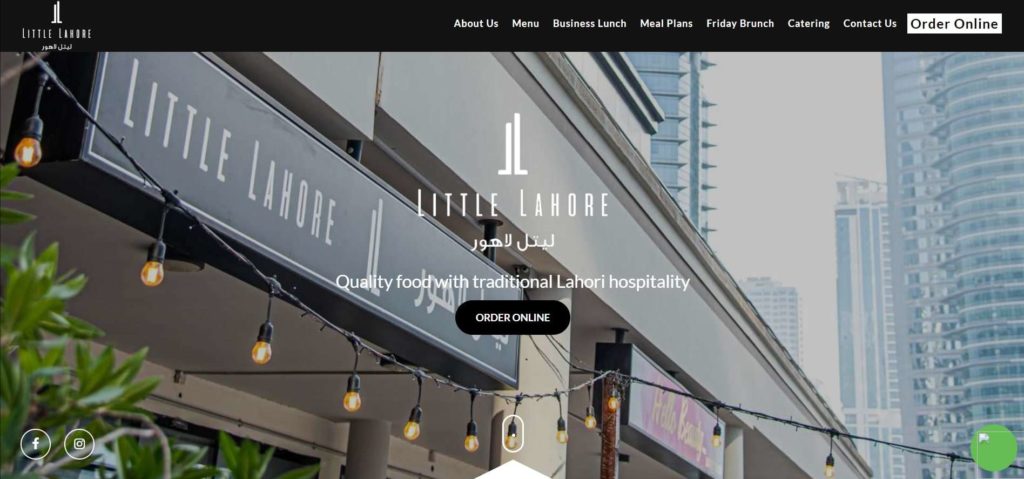 Test
Info
WEBSITE
https://little-lahore.com/
ADDRESS
UB-10, JBC1, Cluster G, Jumeirah Lakes Towers, P.O. Box 336504, Dubai, UAE
CONTACT DETAILS
+971 4 441 4270

+971 4 441 4280

E-mail: [email protected]

OPERATING HOURS
Every day: 10 AM–12 AM
| | |
| --- | --- |
| Criteria | Ratings |
| Variety | ★★★★☆ (4/5) |
| Quality of Service | ★★★★★ (5/5) |
| Atmosphere | ★★★★★ (5/5) |
This little and soulful Lahori restaurant has been making the rounds and has won several awards throughout the years for serving authentic Pakistani cuisine in Dubai.
We love that it has brunch buffets, lunch buffets, and high tea buffets — all of these come with their own menu.
We went to the Saturday Brunch and found ourselves falling in love with Lahori cuisine at the first taste.
The chicken biryani, Lahori fish, and sweet lassi were all winners in our books. It also had a kid's menu that revises some dishes to appeal to the tastes of children.
Be sure to come in with an open mind, because most of these dishes, we have never heard of before, and we completely loved every single one we tasted.
The service was great, and not just in the usual ways. The waiters weren't just friendly and accommodating, but most importantly, they kept every single dish piping hot.
There was never an empty tray as well. They made sure that everything was going smoothly and that the customers were well-fed and happy with timely service.
The atmosphere was just as excellent. We enjoyed the view of the Amas East Lake because it really transported us away.
The chic and carefully styled alfresco dining area made the whole place quaint and cozy — the perfect mood for brunches.
All in all, while some people may find it hard to pick Little Lahore as a buffet option because of the unfamiliarity surrounding Lahori cuisine, Little Lahore pushes past that and makes you fall in love with Pakistani food.
Offers uncommon Pakistani dishes
Rotating buffets menus
Has a kid's menu
Timely service
Cozy atmosphere with a view of the lake
Unfamilair cuisine may turn off some customers
Customer Reviews
Great buffet, affordable price
"We visited Little Lahore for Sunday brunch yesterday. The venue is small and cozy with indoor and outdoor seating area. The brunch was a buffet that was reasonably priced at AED 49 per person including a cold beverage and tea. The food was tasty with well balanced flavors and the service was good." —Meghana Rao, Google Reviews
"We tried their Iftar buffet. And it was amazing. We enjoyed the food so much. One of the best Pakistani Iftar buffet we had. But one more thing I love this place is the staff, they have very good service, specially Tess, she's so lovely and so sweet." —Ashlie Ash, Google Reviews
They won me over!
5. Giardino Dubai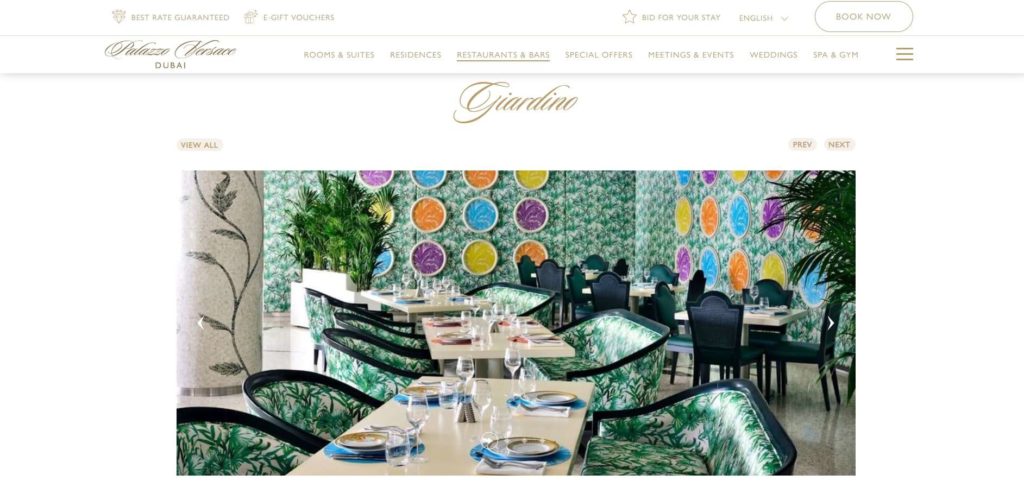 | | |
| --- | --- |
| Criteria | Ratings |
| Variety | ★★★★☆ (4/5) |
| Quality of Service | ★★★☆☆ (3/5) |
| Atmosphere | ★★★★☆ (4/5) |
Located inside the world-renowned Palazzo Versace Dubai Hotel, Giardino Dubai offers a buffet experience of utmost luxury.
With rotating menu themes, we actually had a hard time picking a time and day because all of the menus sounded great.
It has 'Into the Jungle' Brunch that featured DJs, magicians, and activities for kids — perfect for family time.
We ended up choosing the Ocean Feast that happens every Friday. It features a curated menu for seafood lovers.
From shucked oysters to unlimited sushi and sashimi options, it wasn't hard to say yes to this and we didn't regret it at all.
The Ocean Feast included some roasts and Asian and Indian dishes that really helped round out the menu, as well as provide some variety to the options.
The service was great. The staff was very friendly, but nothing to be excited about.
And while, after some time it got too visually noisy, the initial impact of it when we got in left a great impression on us.
To top it all off, the buffets feature DJs and saxophonists that accompany the vibrance of the food and the interior design.
All in all, while some may find it gaudy, Giardino Dubai knows that it does exceedingly well and will continue to do buffets that way.
Has rotating menus for variety
Atmosphere was luxurious
Great customer service
The interior styling can be gaudy and visually noisy
Can get overcrowded
Customer Reviews
Top-notch quality all around!
"On friday evening they have a great seafood buffet. The seafood selection is impressive including oysters, lobster, shrimps, mussels and all types of seafood. The ambiance is amazing with a dj and a saxophonist. They have plenty of other options too such as sushi, roasts, indian and asian cuisine. The desserts are really delicious too. One of my favorite seafood evening brunches. The staff is extremely nice. Special thank you to Rakesh for looking after us."—Laura Ghiban, Google Reviews
The only buffet I like
"I'm not a big fan of buffet normally, because of the food quality. But here Giardino changed my mind. Each of the food has good quality, and there are so many kinds of food from Asian to Mediterranean. They literally have everything!
I highly recommend here if you're a buffet lover. I liked sushi section, just a little bit of tips, you can ask for seaweed and mayo+ wasabi sauce. Miso soup apparently can be picked up from the noodle section which is located the very right partition from the sushi section. And you can customize your own noodle too.
In the grill section, you can request how you want to cook your meat." —Jin Ju Kim, Google Reviews
FAQs about Buffets in Dubai
---
We hope this helped you pick out a restaurant buffet in Dubai for your next celebration. Also, if you're looking for other ways to celebrate milestones in your life, then check out these articles: