The 5 Best Breast Implants Specialists in Dubai
Breast implants are used to alter the appearance of a person's chest. This kind of prosthesis can be used for aesthetic or reconstructive purposes.
To be more specific, this kind of implant is used in breast augmentation surgeries. It takes a lot of time, effort, and education to know how to properly put these items inside a human body.
With that being said, we've taken a look at the best breast implant specialists in Dubai that can handle surgeries with ease and expertise.
This list is in no particular order, by the way.
How Much Do Breast Implants Cost?
Generally, the cost of a breast implant would be dependent on a few factors: the implant, the doctor, the location, and other operation-related expenses.
The table below lists the type of implants that can be used for a breast augmentation surgery, and their corresponding starting price:
| Implant Type | Starting Price |
| --- | --- |
| Fat transfer | AED 27,000 |
| Synthetic | AED 15,000 - 30,000 |
The Best Breast Implants Specialists in Dubai
The doctors we've looked at belong in different clinics around Dubai. Here are the following factors we've considered in assessing their services:
1. Dr. Matteo Vigo of Amwaj Polyclinic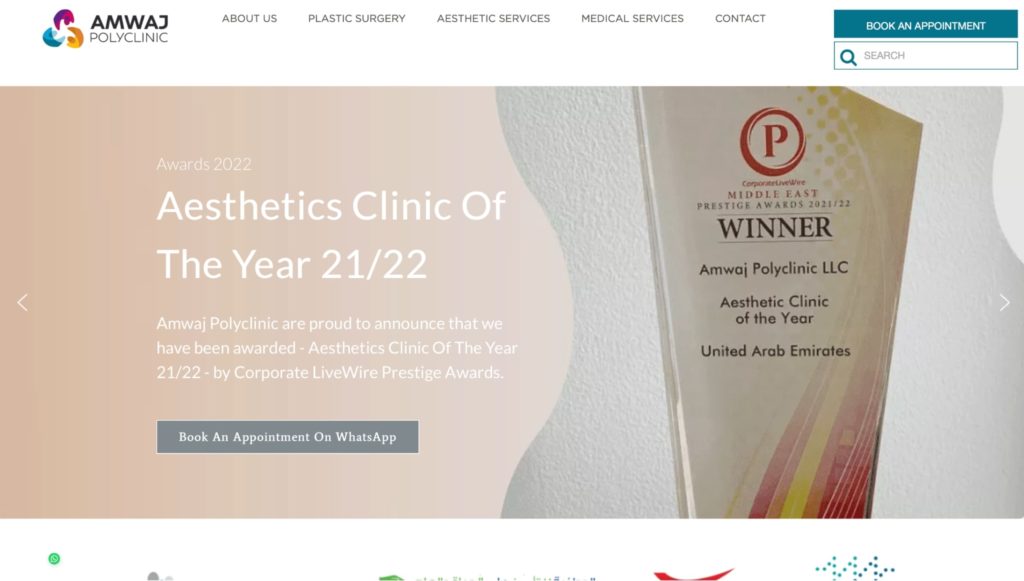 Test
Info
SERVICES
Plastic Surgery

Medical Services

Aesthetic Services

WEBSITE
https://amwajpolyclinic.com
ADDRESS
Amwaj 2, P11 - King Salman Bin Abdulaziz Al Saud St - Jumeirah Beach Residence - Dubai - United Arab Emirates
CONTACT DETAILS
Phone: +971 4 422 1331

E-mail: [email protected]

OPERATING HOURS
Monday to Thursday: 6:30 AM–7:30 PM

Friday: 9 AM–2 PM

Saturday: 10 AM–7 PM

Sunday: 6:30 AM–8 PM
| | |
| --- | --- |
| Criteria | Ratings |
| Expertise | ★★★★★ (5/5) |
| Pricing | ★★★★☆ (4/5) |
| Customer Service | ★★★★★ (5/5) |
| Facilities | ★★★★★ (5/5) |
Dr. Matteo Vigo is a plastic surgeon working for Amwaj Polyclinic. This establishment as a whole specializes in cosmetic surgery for the different parts of the body.
We've observed that their facilities are quite wide. The clinic utilizes white as the main color of their waiting lounges and treatment units to give a clean, elegant feel.
When it comes to their equipment for medical procedures, the clinic aims to get the latest technology to add more quality to their assistance.
The doctors on their roster have more than ten years of experience in their respective specializations. Some of them are graduates from notable universities outside the UAE.
Take, for example, Dr. Matteo Vigo. This medical professional has over a decade of experience in aesthetic reconstructive surgery. He graduated from the University of Milan in 2004 and then proceeded to start working in plastic surgery in Italy.
Dr. Vigo specializes in breast-related treatments, including breast augmentation. He is currently the medical director of the clinic as well!
We observed that both the staff and the doctors in this clinic are professional and efficient at their respective duties. In addition, they make sure to pay close attention to the wants and needs of their clients.
We would like to note that this clinic charges very high for late cancellations, which is 50% of the total fee for your operation or consultation. So you might want to make sure that you've schedulled your appointment well.
Overall, we would recommend Dr. Vigo and this clinic for their expert services and wonderful facilities!
Pristine facilities
Well-experienced
Professional Staff
Fee for late cancellations
Appointment required
Customer Reviews:
Professional Staff, Good Equipment
"I'm a regular client of Amwaj for the last several years. I have done multiple treatments..from facials, laser, LPG, RF.. Amwaj always has the latest equipment and treatment. The staff right from the reception, clinic manager and all therapist are very professional! Exceptionally polite! friendly and super accommodation. Amwaj is bright, clean, fresh and has an excellent environment that makes you comfortable. I would rate it as ONE OF THE BEST Polyclinic's I have visited." – Tanya Lobo
2. Dr. Dragana Spica of MEDICLINIC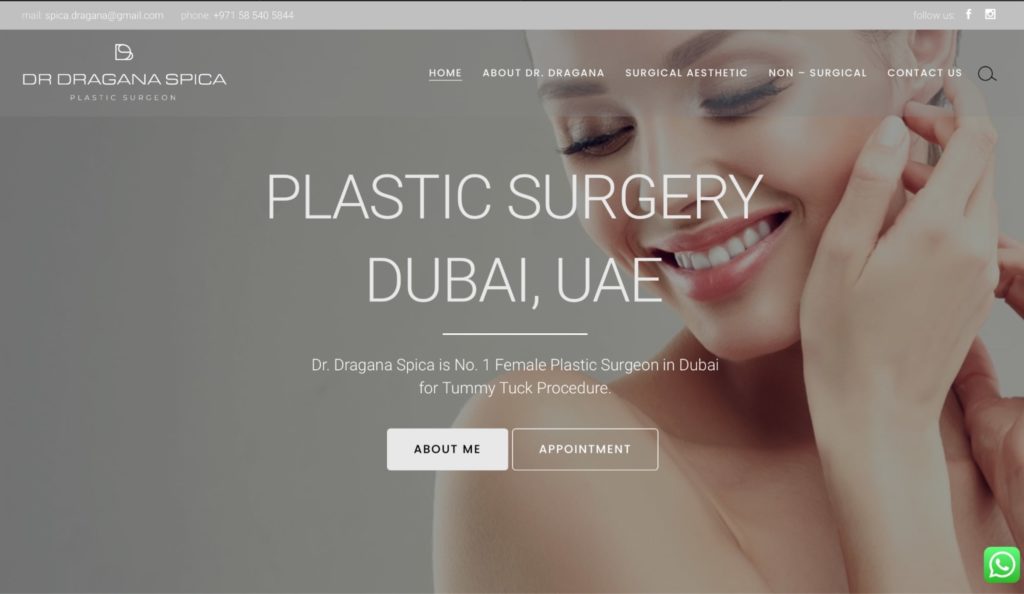 Test
Info
SERVICES
Breast Augmentaion

Brazilian Butt Lift (BBL)

Eyelid Surgery

Fat Transfer Surgery

Liposuction

and more!

WEBSITE
https://drspicadragana.com
ADDRESS
LEVEL 7, Fashion Parking - Dubai Mall - MEDICLINIC , DUBAI MALL - Dubai - United Arab Emirates
CONTACT DETAILS
Phone: +971 58 540 5844

E-mail: [email protected]

OPERATING HOURS
8:00 AM - 8:00 PM (Monday - Sunday)
| | |
| --- | --- |
| Criteria | Ratings |
| Expertise | ★★★★★ (5/5) |
| Pricing | ★★★★☆ (4/5) |
| Customer Service | ★★★★★ (5/5) |
| Facilities | ★★★☆☆ (3/5) |
If you're looking for a female surgeon that can skillfully apply or handle breast implants, Dr. Dragana Spica is someone you should look into.
This plastic surgeon is currently working for MEDICLINC, an international healthcare company that has multiple branches around the world. The establishment specializes in multiple fields of healthcare, including cosmetic and plastic surgery.
Their facilities are quite… small, actually. Compared to the other places we've taken a glance at, we noticed that their space (specifically Dr. Spica's area), is less spacious than the others.
Regardless of the size of the space, in terms of aesthetics and functionality, it serves its purpose in both providing a waiting room for the patients and having enough treatment spaces for operations.
Moving on to hired experts, Dr. Spica is a certified plastic, aesthetic, and reconstructive surgeon. She has spent 15 years working in her chosen fields in hospitals in Serbia and in Dubai.
In terms of education, this surgeon graduated from the University of Belgrade in Serbia and has obtained her Master's degree in Surgical Anatomy.
When it comes to interacting with her patients, Dr. Spica is kind, and helpful, and makes sure that her patients will understand the procedures they would be going through.
In addition to her kind and expert care, her staff is also good at fielding concerns and guiding patients during their stay in the clinic. So rest assured that if you will seek Dr. Dragan Spica's aid, you will be in good hands!
Open seven days a week
Certified in multiple fields of surgery
Kind and professional staff
Small facility
Appointment required
Customer Reviews:
Amazing Service
"I can't thank Dr. Dragana enough for what she did. She made me feel comfortable every step of the way, and so much more confident as a result of her fantastic work. Post-op, she has been absolutely amazing in keeping contact, answering every question and wanting to check-in on my progress. She is part of an amazing team at Mediclinic, but an absolute star in her own way! Couldn't recommend her highly enough!" – Davide Sartori
3. Adnan Tahir of Valiant Clinic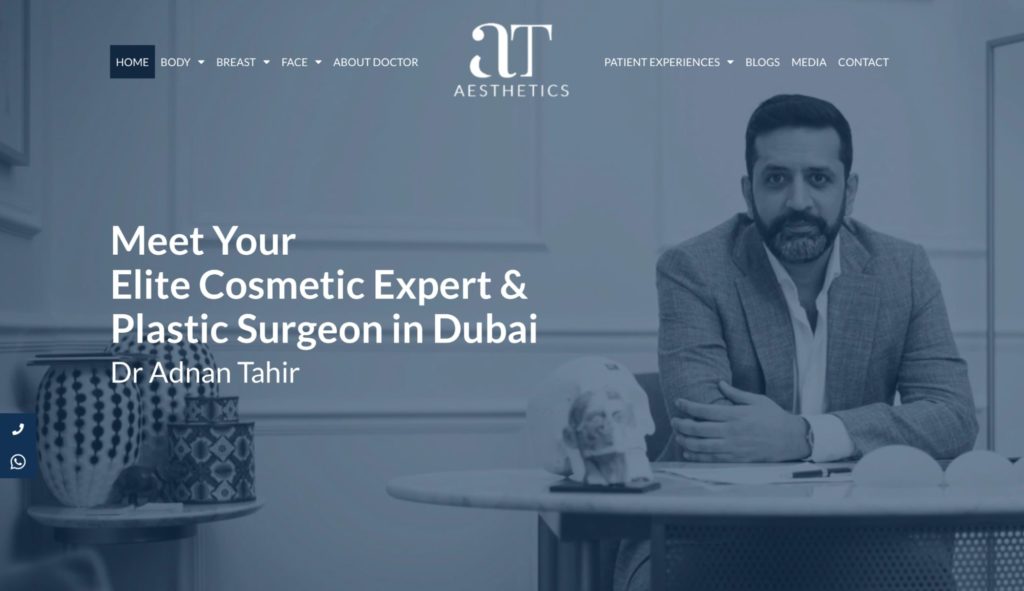 Test
Info
SERVICES
Tummy Tuck

Liposuction

Breast Augmentation

Facelift

Rhinoplasty

and 
more!

WEBSITE
https://adnan-tahir.com
ADDRESS
Valiant Clinic & Hospital - Dubai - United Arab Emirates City Walk 13th Street BOX 414296
CONTACT DETAILS
Phone: +971 50 567 4770
OPERATING HOURS
Phone: +971 50 567 4770
| | |
| --- | --- |
| Criteria | Ratings |
| Expertise | ★★★★★ (5/5) |
| Pricing | ★★★☆☆ (3/5) |
| Customer Service | ★★★★☆ (4/5) |
| Facilities | ★★★★★ (5/5) |
Dr. Adnan Tahir is a UK-trained surgeon currently employed in Valiant Clinic and Hospital. Valiant Clinic and Hospital is a luxury healthcare establishment that has a wide range of services available for patients.
Speaking of luxury, one of the first things we've noticed about this clinic is its actual location. The building is tall and spacious, with open-layout floors and rooms.
They also have a wide parking space outside for customers, which is always a plus. In terms of aesthetics, the establishment definitely follows its 'luxury' label with elegant (and quite expensive-looking) decor and furniture.
The next thing we've observed is their price range. Their rates are quite expensive, even without tax, in our opinion.
When it comes to their doctors, the clinic employs a wide roster of expertly trained and educated professionals. Dr. Tahir is one of them.
This surgeon completed his training at the Royal College of Surgeons in the United Kingdom. He then moved to work in hospitals across the country from 2003 until 2012.
After his adventure in Europe, Dr. Tahir started practicing aesthetic surgery, which lead to his move to Dubai as a cosmetic surgeon. With his colorful educational journey, Dr. Tahir's 19 years of experience are reflected in his services to his patients.
Overall, we would recommend inquiring and heading for Dr. Tahir's aid if you have the extra budget for a breast implant.
19 years of experience
Large facilities
Ample parking space
Appointment required
A bit expensive
Customer Reviews:
Attention to Detail, Quality Service
"I had a breast augmentation done with Dr. Adnan. Best decision I've ever made! He was incredibly detailed, and answered just about every question I had before I even asked. After going to several surgeons in Dubai, I thought I knew pretty much everything I should know -I was wrong! He suggested things to help make them last, to get the best shape, and even on how to know the right size for me. I was amazed at how fast the recovery was as well. I'm at the 2 month mark now, and besides the small scar left behind, you wouldn't have even known they were done (and the fact that they now look amazing). I would definitely recommend him to anyone and everyone." – Makenzie Lateros
4. Dr. Kevin Brenner of the American British Surgical and Medical Center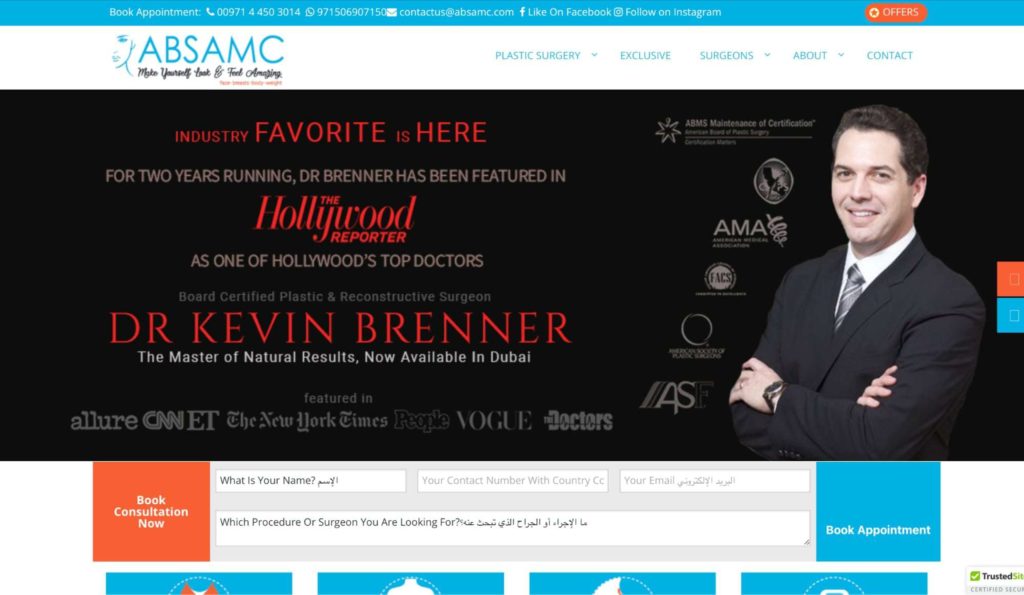 Test
Info
SERVICES
Breast Augmentation

Face Lift

Rhinoplasty

Tummy Tuck

WEBSITE
https://www.absamc.com
ADDRESS
102, Building 72 Dubai - Dubai Healthcare City - Dubai - United Arab Emirates
CONTACT DETAILS
Phone: +971 4 450 3014

E-mail: [email protected]

OPERATING HOURS
9:00 AM - 9:00 PM (Saturday - Thursday)
| | |
| --- | --- |
| Criteria | Ratings |
| Expertise | ★★★★★ (5/5) |
| Pricing | ★★★☆☆ (3/5) |
| Customer Service | ★★★★☆ (4/5) |
| Facilities | ★★★★☆ (4/5) |
The American British Surgical and Medical Center is a healthcare establishment that focuses on plastic surgery. This particular company picks the top surgeons from the USA to come and work for their clinic.
One of them is Dr. Kevin Brenner, a certified plastic and reconstructive surgeon. He specializes in reconstructive surgeries in the breast and abdomen areas.
Dr. Brenner graduated from the University of Wisconsin and got his medical degree from Loyola University in Chicago.
He spent eight years of surgical residencies in various hospitals around California before opening a private practice in Beverly Hills. Aside from working on clients, he also publishes journals and textbooks on a regular basis.
With over twenty years of experience, Dr. Brenner is now part of the clinic's roster of specialists and brings quality surgical aid to patients.
Moving on to their staff, we observed that they are professional and knowledgeable about the inner workings of their medical center. However, there are some cases where they tend to respond to inquiries and concerns after a long period of time.
Their facilities are pretty decent, both size-wise and in terms of aesthetics. Not the prettiest or most note-worthy we've seen, though.
The last thing of note from them is that their prices are a bit on the expensive side. Expect charges above the estimated rates we've given in an earlier part of this article.
Overall, we recommend Dr. Brenner for his insanely great medical portfolio and experience. Definitely try inquiring or booking an appointment if you have the chance (and the extra funds)!
Expertise
Professional staff
A bit expensive
Appointment required
5. Dr. Sanjay Parashar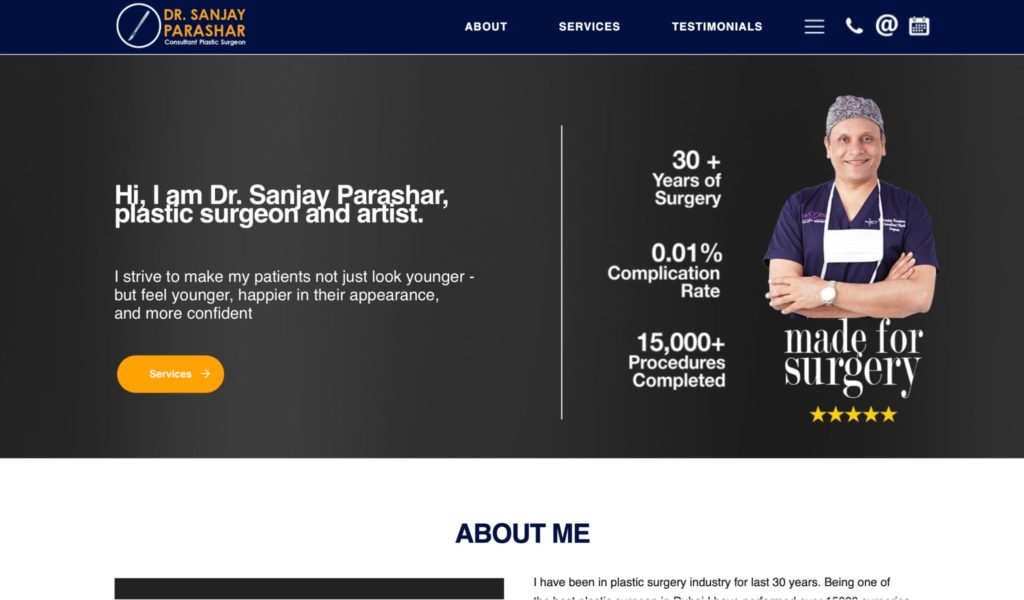 Test
Info
SERVICES
Breast Surgeries

Breast Augmentation

Facial Aesthetic Surgery

Facelift

and more!

WEBSITE
https://drsanjayparashar.com
ADDRESS
896 Al Wasl Rd - Umm Suqeim - Umm Suqeim 1 - Dubai - United Arab Emirates
CONTACT DETAILS
Phone: +971 4 3884589

E-mail: [email protected]

OPERATING HOURS
10:00 AM - 8:00 PM (Monday - Saturday)
| | |
| --- | --- |
| Criteria | Ratings |
| Expertise | ★★★★★ (5/5) |
| Pricing | ★★★★☆ (4/5) |
| Customer Service | ★★★★☆ (4/5) |
| Facilities | ★★★★☆ (4/5) |
Dr. Sanjay Parashar is a plastic surgeon that has been in the industry for over three decades. Out of everybody we've looked at, this guy's the most experienced of them all!
This doctor graduated from Mumbai University in 1995. He then proceeded to take his master's degree in general surgery from the same university.
His long years of practice was spent working in hospitals in India, Australia, USA, Bahrain, South Korea, and now in Dubai. Dr. Parashar specializes in procedures such as liposuction, breast surgeries, and other aesthetic surgical services.
Aside from his actual medical work, this surgeon is also doing a lot of other things, such as publishing academic books and journals. He is also managing his own clinic in Dubai.
With his busy schedule, you might find it difficult to book an appointment for his services, so get ready to wait for the right opportunity to grab a consultation from him!
We noticed that his clinic is quite spacious, clean and well-maintained. In addition, the interior is quite comfortable to wait around in during surgeries or consultations.
Moving on to his staff,, we've observed that they are kind and very professional. They are capable of guiding and handling questions from patients quite well.
Overall, we recommend going to Dr. Sanjay Parashar mostly for his years of experience and expertise in breast implant surgery and more!
Expertise
Kind and professional
Appointment required
Can get busy
Customer Reviews:
Great Service
"Just want to start of by saying that after spending almost 200 thousand dirhams on surgeries in Dubai at reputed organizations with almost no results and serious disappointments I decided to look for a really awesome surgeon whose reputation preceded him and that is where I discovered Dr Sanjay Parashar!!!! 2 months ago in 2018 I decided to get Liposuction and a Mastopexy done and OMG am blown away by the immediate results that I can already see even though its only been a couple of months!! Dr Sanjay and Team are not only professional but are thorough with their work and their bedside manners and none to any other I have seen here in Dubai. I would suggest if there is anyone looking for a miraculous transformation to please visit Dr Sanjay Parashar at Cocoona clinic and let him work his magic and make your cosmetic dreams come true cause he certainly did mine 😀 Am so appreciative and thankful of his work and would go back to him in a heart beat for any other procedures if and when needed!!!! Love you Dr Sanjay you are truly the very very best, God bless you always and please do not leave Dubai!!!!!!! <3" – Cinnamon Queen, via Google Reviews
FAQs About Breast Implants in Dubai