The 5 Best Truck Rental Companies in Dubai
Moving to a new house and having items delivered for your business can be a difficult task without the proper vehicle to carry your things. That's why it's important to know which are the best truck rental companies in Dubai.
To ensure that your valuables get to your destination safely and timely, we searched the city for the best truck rental companies it can offer. We'll also explain the factors that we took into consideration and answer some FAQs about truck rental services.
How much do truck services cost in Dubai?
The cost of renting out trucks for moving items can vary depending on the distance from your location to your destination, the type of truck you need, other extra services, and the duration of the move.
Truck rental companies don't offer fixed prices. Rather, they always give custom quotes to their clients.
However, we have made a table showing the estimated cost of a one-time truck rental for moving items and furniture from a residential building.
| TYPE OF RESIDENCE | PRICE |
| --- | --- |
| Studio Apartment | AED900-2000 |
| Villa | AED5,000-6,000 |
The Best Truck Rental Companies in Dubai
Before we get into the entries in our list, take a look at the criteria we used to find them:
1. Tamam Movers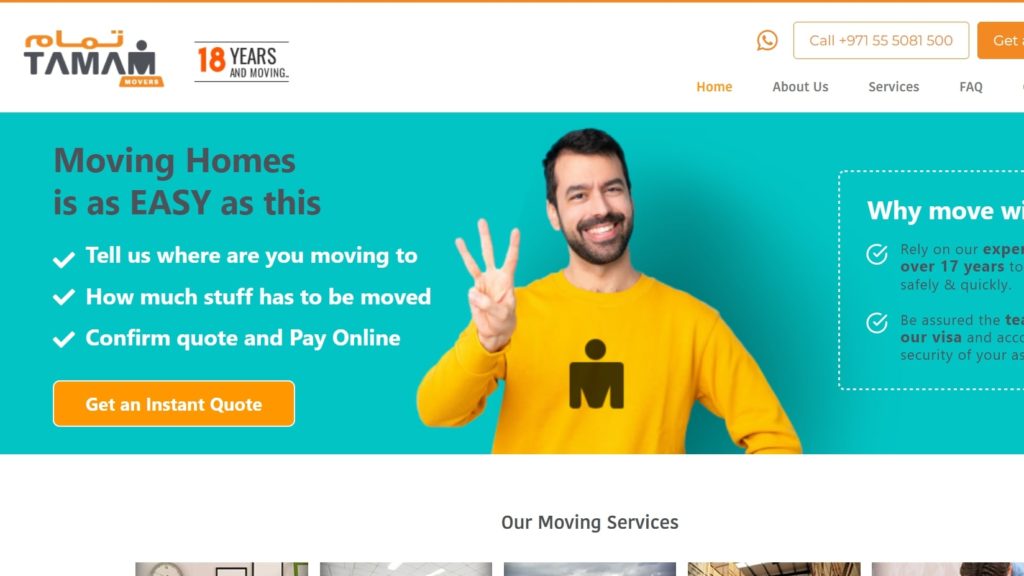 | Test | Info |
| --- | --- |
| SERVICES | Home Relocations |
| WEBSITE | https://tamammovers.com/ |
| ADDRESS | Warehouse No.14, Sharjah Industrial Area No.11, Near National Paints, Sharjah. |
| CONTACT DETAILS | +971 55 5081 500 |
| OPERATING HOURS | 9 am-6 pm, Saturdays to Thursdays |
| | |
| --- | --- |
| Criteria | Ratings |
| Types of Trucks | ★★★★☆ (4/5) |
| Cost | ★★★★★ (5/5) |
| Extra Services | ★★★★★ (5/5) |
| Customer Service | ★★★★★ (5/5) |
Starting off our list is Tamam Movers from Dubai Sharjah. Young professional Fatima claims having her home furniture relocated was nothing short of a carefree experience.
With 18 years of experience and time-tested methods at their disposal, Tamam Movers proved that packing and moving things require resourcefulness as much as strength.
Besides this, they also have an array of trucks ready to be rented at any given time. According to Fatima, the 1-ton pickup truck she got was in tip-top shape and easily fit in boxes of items and furniture from her 2-bedroom villa.
And this isn't even their biggest model, because they have larger ones used for office relocations.
However, we noticed that their trucks are not for loading heavy equipment, such as stage fixtures and professional gear, limiting their services to home and office relocation.
We are big fans of their competitive and budget-friendly prices. Landing at just a little more than AED5,000, the quote they gave Fatima sounds like such a steal.
Not only that, but they also use a fixed price point scheme to easily and quickly formulate a quote based on the details their clients provided.
We also loved that more than just truck rental and packing and moving services, they also offer storage and handyman services.
We especially found the storage services very handy because we realized that movers may have a lot of items they wouldn't have space for at their new place while packing up.
Fatima also shared that Tamam Movers asked her if she needed their handyman services on the day of moving to work with the fixtures that needed some dismantling and assembling. She didn't need it, but it showed great initiative on their part.
As for their customer service, we were blown away by the sense of responsibility of their team. Fatima saw that when they knew that she had already started to pack some of her stuff, they checked each box before putting it in the truck.
And whenever they found a box that wasn't securely packed, they took the initiative to repack it again.
They also took the time to reorganize items inside her boxes so they can be securely fastened and even bought extra tools to fix some parts of her furniture that will allow them to secure it properly.
All in all, Tamam Movers shines in the services they offer at very competitive prices. They are our top pick for truck rental services in Dubai.
Trucks are great for home/office relocations
Budget-friendly cost
Offers storage and handyman services
The team takes initiative and are very responsible
Trucks are limited to home/office relocations only
2. Pickup Rental Dubai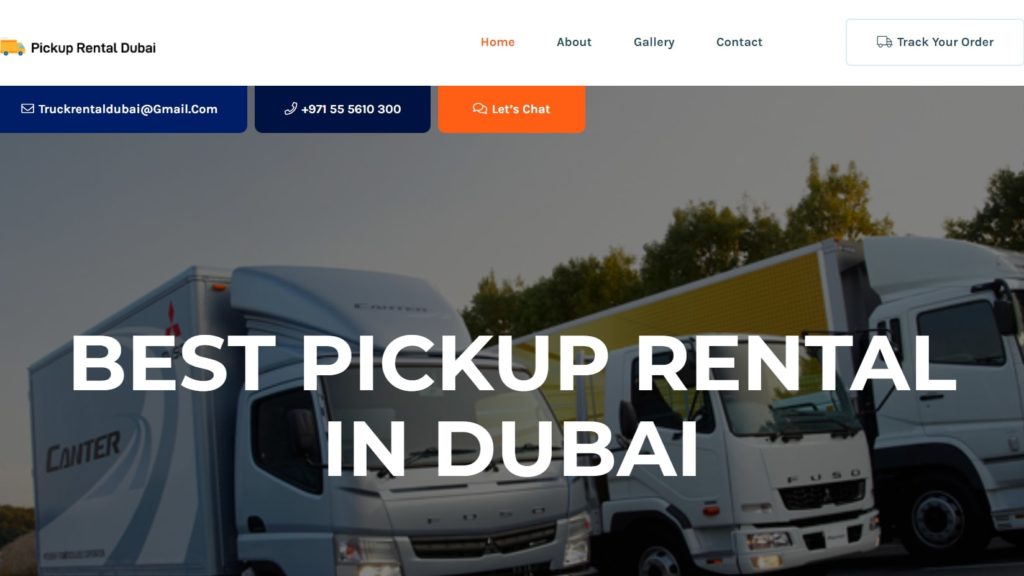 Test
Info
SERVICES
Truck Rental
WEBSITE
https://pickuprentaldubai.ae/
ADDRESS
5722+H87 - Al Quoz - Al Quoz 4 - Dubai - United Arab Emirates
CONTACT DETAILS
+971 555 610 300
OPERATING HOURS
7 am-5 pm, Monday to Friday

7 am-12 nn, Saturday

8 am-10 am, Holidays
| | |
| --- | --- |
| Criteria | Ratings |
| Types of Trucks | ★★★★★ (5/5) |
| Cost | ★★★☆☆ (3/5) |
| Extra Services | ★★★★★ (5/5) |
| Customer Service | ★★★★☆ (4/5) |
If you're looking for a truck rental company for office relocations, then Pickup Rental Dubai is the one for you.
Specializing in local, interstate, and international office relocations, Pickup Rental Dubai ensures that everything in your old office arrives at your new one safely and securely.
When HR manager Rashid tried them out for small-scale local office relocation, we were impressed by the wide range of trucks they had to offer him.
Their trucks for rent ranged from 1-ton pickup trucks to 7-ton pickup trucks, which are enough for offices with around 30 employees. All of these trucks come with a professionally trained driver.
And specializing in office relocations means that their teams are equipped to handle and secure sensitive business documents.
They really took the time to ask him about the different confidential items that he needed to get transported and walked him through how they pack it and make sure it gets to their new office without problems.
However, this niche service means that they charge more than the usual truck rental company for the security and professional handling of business items.
If your office relocation doesn't involve transporting important business documents, or if you can assign someone to do the transporting for you, we suggest you take a look at our other entries on this list to save yourself some money.
Another notable aspect of Pickup Rental Dubai is the other services they can offer to their clients.
Besides the usual home relocation services, they can also have your things transported via ship or plane with their air and ship freight services.
We are also big fans of their warehousing services that we found to be invaluable as Rashid relocated his company's office.
Their warehouses provided a much-needed temporary space to store some products he hasn't found a place for at the new office yet.
But our favorite service that they offer is their Man with a Van. This offering includes an expert driver and their van to provide you with a quick transportation solution for small-scale moving.
Rashid shared with us that this came in handy a few days after the main office relocation, as he and other employees found that they had left some items in the old office and needed a quick solution to have this delivered to them.
The Man with a Van service covered everything, from packing to delivering their missing items, in less than half a day. It was a pretty affordable service too!
The whole office relocation experience with them was excellent. Rashid noticed how they packed and secured everything meticulously.
Their experience in handling confidential items bleeds onto handling day-to-day office furniture. Although Rashid said they did take a lot more time than your usual office relocation service.
Their meticulousness doesn't end in the packing because they also took note of every request and detail that Rashid's company provided them before the move.
At the end of the day, Pickup Rental Dubai is your best choice for office relocations. They handled all of Rashid's items carefully and made sure that no problems would arise before, during, and after the move.
Despite them costing more than our other entries on the list, Pickup Rental Dubai is the most secure choice out of all of them.
Specializes in office relocations
Trained to handle sensitive business documents
Offers budget-friendly Man with a Van service
Offers air and ship freight services
Offers warehousing services
Meticulous in packing items
Costs more than the truck rental service
Meticulousness leads to taking up more time for packing
3. Dubai Pickup Rentals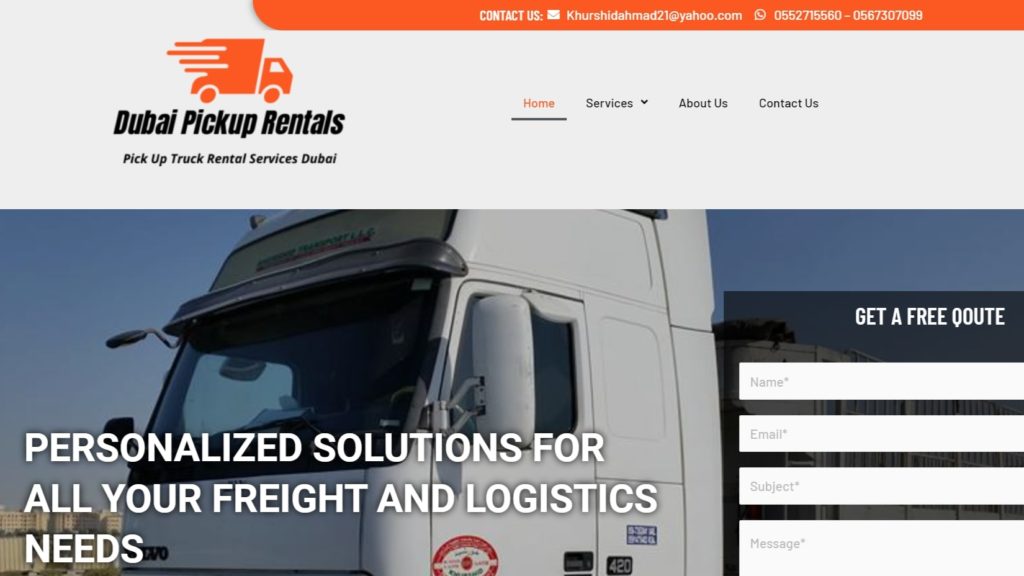 | Test | Info |
| --- | --- |
| SERVICES | Pickup Truck Rentals |
| WEBSITE | https://dubaipickuprentals.com/ |
| ADDRESS | Office # 306, Al Rostamani Area, Al Qouz 3rd, Near Al Khail Mall, P.O.Box 391335, Dubai – United Arab Emirates |
| CONTACT DETAILS | 0552715560 – 0567307099 |
| OPERATING HOURS | Open 24/7 |
| | |
| --- | --- |
| Criteria | Ratings |
| Type of Trucks | ★★★★☆ (4/5) |
| Cost | ★★★★☆ (4/5) |
| Extra Services | ★★★☆☆ (3/5) |
| Customer Service | ★★★★★ (5/5) |
When it comes to heavy lifting and transporting huge cargo, then Dubai Pickup Rentals has your back.
Besides your usual trucks for home relocations, Dubai Pickup Rentals also has trucks that can carry up to 7 tons of cargo.
This makes them the top choice for warehouse relocations, event deliveries, and cargo transportation.
Their specialization in heavy loads allowed Matthew to transport stage and light fixtures for a company event he was organizing with no problem at all.
They are a better option for businesses in the events, storage, and construction industries, especially because they also offer rental contracts to their clients.
As for home relocations, we think that you'll find other entries on this list more suitable. Dubai Pickup Rentals' cargo transportation services are more cost-efficient than their home relocation services.
One drawback for us is that they are lacking in other services that they offer. Besides packing and unpacking as part of their home relocating services, there really isn't much else to say.
This is why we have to say their home relocation services are mediocre, especially compared to their other truck rental services.
What we really like about Dubai Pickup Rentals is their customer service. Being in the business of transporting cargo during different times of the day, they can accept requests and answer your questions 24/7.
Their teams are professionally trained, and Matthew saw this firsthand when he was there for the loading and unloading of the stage and light fixtures for his event.
All in all, Dubai Pickup Rentals shines in working with businesses in transporting huge structures and large shipments.
What they lack in other services and home relocations, they make up in their niche service of handling large amounts of cargo with no problem.
Trucks can carry up to 7 tons
Customer service is available 24/7
Trained to load and unload huge amounts of cargo
Specializes in transporting large fixtures and equipment
Mediocre home relocation service
Lacks other services to offer
4. RM Movers and Packers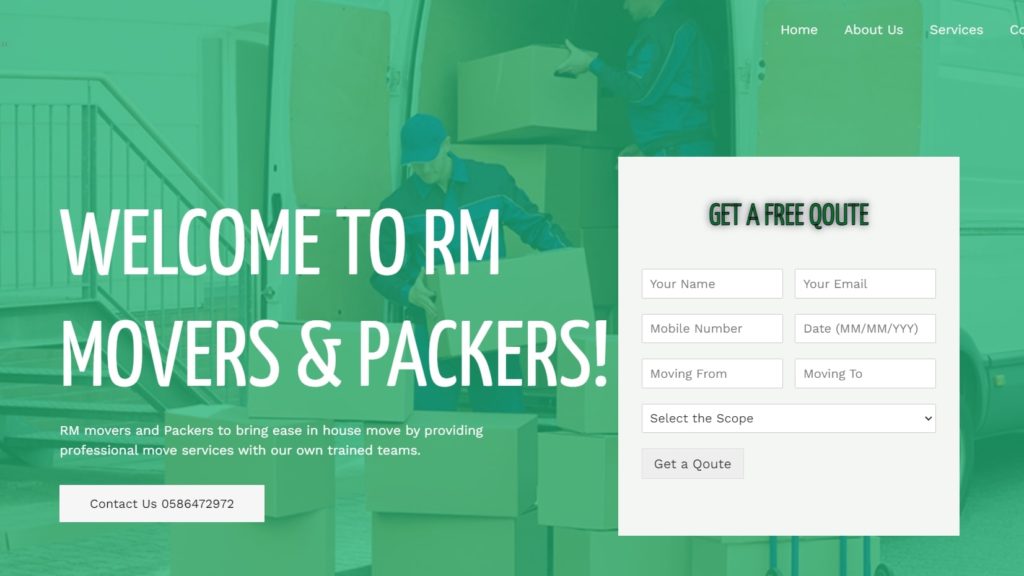 | | |
| --- | --- |
| Criteria | Ratings |
| Types of Trucks | ★★★☆☆ (3/5) |
| Cost | ★★★★☆ (4/5) |
| Extra Services | ★★★★☆ (4/5) |
| Customer Service | ★★★★★ (5/5) |
RM Movers and Packers is your one-stop shop for everything you need for your home relocation.
From packing to moving to storing old furniture, they make sure this potentially stressful time in everyone's life can go smoothly and quickly.
Sarah and Marcus tried out RM Movers and Packers to move out of a 2-bedroom villa and into a studio apartment in the center of Dubai.
The couple appreciated that their trucks were sufficient—more than enough, even—to carry a load of their belongings without a problem.
This being said, they really are just a home relocating truck rental service. If you're looking for a company that can help you move your products or large fixtures, then check out our other entries on this list.
They are limited to small-scale one-time moves, and while they may not be as versatile as the other entries, they are great at what they offer.
We appreciate that they have competitive pricing. They charged Sarah and Marcus almost AED6,000 for their 2-bedroom villa, and this included the storage they decided to rent out.
A delightful surprise they had with RM Movers and Packers was them sending in an extra team to help with the packing to make things more efficient. This was great considering that they didn't even charge them extra.
Besides home relocations, they also have storage and handyman services. These were invaluable additions to their offerings when it came to dismantling fixtures and storing furniture.
Their handyman came with the team, and all Sarah and Marcus had to do was notify them that they had some lighting fixtures that needed to be taken off the walls.
But do be aware that both of these services are charged separately and will add to your quote if you decide to avail these along with their main relocating team.
And speaking of their team, the couple received nothing but excellent service! They arrived on time and finished packing and loading up everything in a little more in a day.
According to them, the whole move was very easy and quick. Challenges, such as coordinating with the apartment building's landlord were addressed immediately and professionally.
All in all, if you are just looking for a well-rounded truck rental service that can help you move to a new house, then RM Movers and Packers is the best answer.
Offers competitive pricing
Specializes in home relocation
Offers storage and handyman services
Excellent customer service
Offers nothing else besides home relocation
Other services are charged separately
Customer Review:
Very professional!
"All I can say is that RM Movers are very professional. They have a professional team of packers and re-fixers. Their quote is very reasonable compared to other service providers.
I moved from a 3-bed to a 4-bed apartment and they did a tremendous job. They had 3 teams with additional helpers for each of the rooms plus movers from the apartment to their vehicles.
They arrived on time and completed their job on time. Mr. Ali was great at coordinating things among the team. I even had a small issue with furniture after the job was completed. They revisited my apartment the next day and fixed the issue.
The after-sales customer service was excellent. I would highly recommend RM Movers for relocating services." – Pradeep Mendonca, Google Reviews
Timely service
"RM mover is a very professional and very good team. I started the 3 bedrooms moving at 9 am and finished before 4 pm. The handyman is also very skillful. And the price is very competitive than others." -오승현, Google Reviews
5. Pickup Truck Rental in Dubai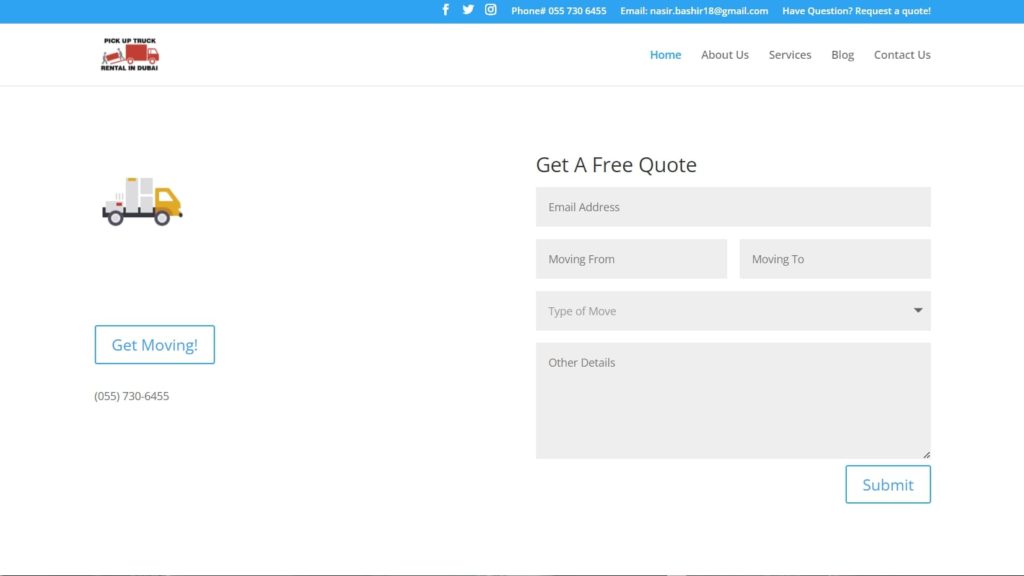 | | |
| --- | --- |
| Criteria | Ratings |
| Types of Trucks | ★★★★☆ (4/5) |
| Cost | ★★★★☆ (4/5) |
| Extra Services | ★★★★☆ (4/5) |
| Customer Service | ★★★★☆ (4/5) |
Pickup Truck Rental in Dubai is the perfect option for small-scale quick truck rental for your relocation needs.
With a wide array of services that revolve around packing, moving, and unpacking your things from one point to another, their trucks are meant for efficiency.
However, to achieve this level of efficiency, they compromised their rental trucks' capacity.
Each is only capable of carrying up to 3 tons. This means they are only for packing and moving furniture and boxed items.
They also have Man with a Van service, which let small business owner Nadya transfer some of her excess furniture that didn't fit into the 1-ton truck she rented.
This service was also very budget-friendly and cost a fraction of the average 1-ton truck. We think that this service is more versatile and can be availed for other than just having excess boxes of things left at the old house.
Pickup Truck Rental in Dubai really shines in the variety of services they are willing to offer.
They offer office relocation, commercial moves for delivering and ordering goods, valuable moves, long-distance moves on land, and international moves via air travel.
However, its teams can only do so much to be efficient when it comes to a client availing multiple services.
And we can definitely see how this can also affect the timeline of other clients when it comes to their appointments and moving schedules.
But with their various services comes their knowledge of logistical challenges. With their experience in different kinds of transportation services, they can present to clients a detailed moving plan.
Nadya also saw this kind of meticulousness on the day of her move. She said that they packed everything neatly and securely. Nothing was left, and everything arrived in one piece.
And during the transit, she decided to join them in the truck and noticed how experienced the driver was in maneuvering a big truck on the highways of Dubai.
All in all, Pickup Truck in Dubai is a great option for when you're looking at a quick and cheap truck rental service, or if you're about to move and you need someone to plan out the logistics for you.
Has a wide array of services to offer
Man with a Van is a convenient and versatile offering
Knowledgeable in long-distance moves and logistics
Meticulous in packing and loading
Fully focused on home and office relocations only
Multi-service appointments may hinder teams' efficiency
Customer Review:
Working with them was a relief!
"If you're looking for a new twist to an old and stressful dance, Pick up truck rental in Dubai aims to provide relief by offering stellar customer service, convenient logistics, and user-friendly technology with the latest vehicles and professional and trained drivers" – Rocky White, Pickup Truck Rental in Dubai
Professional team
"Thank you! I highly recommend this team and company. They were on time, organized, super-efficient, and very careful with all of our stuff. Not one thing was broken. Call these guys for your next move! Thank you so much to all of the team!" -Heather Tucker, Pickup Truck Rental in Dubai
Things to Consider When Picking a Truck Rental Service Company in Dubai
Having your personal effects and furniture arrive at your new place in one piece can save you the stress of having it fixed after moving.
That's exactly why it's important to consider the factors that we have listed below before choosing a truck rental service company.
Get recommendations
Excellent service travels fast, but a horrible experience with a truck rental travels faster. Make sure to ask friends and family for company recommendations so you can narrow down options.
Or, you can refer to our list above because they've been tried and tested by Dubai residents.
Research online
Look for company reviews online. See if there are complaints against them, and check if they have addressed these issues correctly.
Call truck rental companies
If you're still not convinced about which truck rental is for you, try calling them or sending an email. They'll be happy to assist you during your move and introduce you to the services they can offer.
Companies also usually provide you with a free quote once you give them the details needed for your relocation. So consider the cost when choosing.
Get a binding quote
When you've actually decided the company for you, ask for a binding quote. This type of quote legally binds them to the price they have given you and stops them from increasing it.
Not only does it give you peace of mind, but it also saves you the trouble of having to get it corrected on the day of your move.
FAQs about Truck Rental in Dubai
---
Do you have a favorite truck rental service company that we didn't include in the list? Hit us up so we can also review them!
Also, if you are a pet owner that's getting ready for a home relocation, make sure that your furry family members have the most comfortable and secure trip by checking out the best pet relocation places in Dubai.