The 5 Best Makeup Artists in Dubai
Looking your best for a special event is a must. Some might opt to not use makeup to get more glamorous, which is totally fine by the way.
On the other hand, people, such as celebrities and public figures opt to hire a make-up artist to help them get ready for events. Here's our top recommendations for the best make-up artists in Dubai for your next special affair!
Much Does Hiring a Makeup Artist Cost?
Professionals actually charge depending on what kind of makeup a customer would want to be applied on them. Their fees cover their skill and labor, the products they use, and as well as the tools they utilize.
Please note that these are just the base artist costs. Some professionals charge extra for their travel costs.
| Service | Average Cost (in AED) |
| --- | --- |
| Eye Makeup | 150 - 300 |
| Natural Look Makeup | 250 - 500 |
| Evening Glam | 350 - 500 |
| Bridal Look | 1200 - 5000 |
| European Glam | 700 - 1000 |
| Asian Glam | 1000 - 1250 |
| Arabic Party Look | 1500 - 1800 |
Other artists would also charge extra for adding more features in your makeup. The corresponding table for said add-ons is below:
| Add-Ons | Cost (in AED) |
| --- | --- |
| Eyelashes | 50 - 70 |
| Rhinestone | 70 - 80 |
| Airbrushing | 90 - 100 |
| Hand makeup | 70 - 80 |
The Best Makeup Artists in Dubai
The following criteria were used to assess the following artists in this article:
1. Nina Ubhi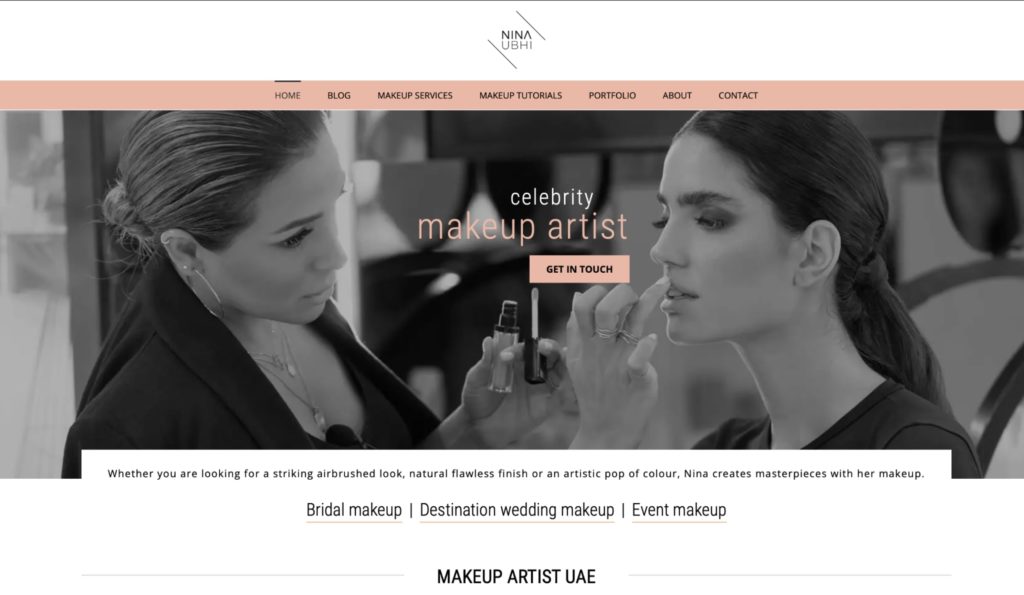 Test
Info
SERVICES
Bridal Makeup

Destination Wedding Makeup

Event Makeup

WEBSITE
https://ninaubhi.com
ADDRESS
OneSpace Business Centre Office Building no 3 Green Community - Dubai - United Arab Emirates
CONTACT DETAILS
Phone: +971 50 687 3123

E-mail:[email protected]

OPERATING HOURS
9:00 AM - 5:00 PM (Monday - Thursday)

9:00 AM - 12:30 PM (Friday)
| | |
| --- | --- |
| Criteria | Ratings |
| Expertise | ★★★★★ (5/5) |
| Services | ★★★★☆ (4/5) |
| Hygiene | ★★★★★ (5/5) |
| Pricing | ★★★★☆ (4/5) |
Nina Ubhi is a Dubai-based make-up artist with over ten years of experience in the industry. She is mostly notable for her "destination wedding" services, where she travels to other parts of the world to meet with her clients.
Ubhi performs her magic for brides, celebrities, and individuals who would want to look extra glamorous at the events they need to go to. Looking at her portfolio, we noticed that she is capable of doing a wide range of looks, from full glam to simple makeup.
She is also capable of hairstyling, although it is not her main focus. For more intricate hairstyles, she would recommend hiring a different hair stylist.
This make-up artist is very transparent on the protocols she utilizes for maintaining good hygiene. Her makeup products and tools are constantly cleaned up after dealing with a customer.
Moreover, disposable applicators are also used along with steel spatulas to handle, mix, and blend lipsticks and liquid products.
Interested parties who wish to hire her are encouraged to actually book months before their big event. Ubhi recommends setting an appointment with her at least eighteen months before the wedding for brides.
Last-minute reservations do have a small chance to actually book the make-up artist, but we also advice to book way in advance for her expertise.
We recommend reaching out to Ubhi for her makeup prowess and experience that can turn you into a very beautiful version of yourself on your special day!
Over 10 years of experience
Can fly to your location for her services
Can do different makeup styles
Also does simple hairstyling
Requires 25% non-refundable deposit
Encourages to be booked 18 months before weddings
Customer Reviews:
Punctual, Talented, Flawless Service
"I had the pleasure of booking Nina to do our makeup for my sisters wedding in all of the 5 events and I am so glad we decided to go with her. Not only was she super organized and punctual (which is so rare), she's extremely talented and her makeup is absolutely flawless, she's also an incredible person to have at your events when everything is so chaotic as she's extremely patient and down to earth. Would always recommend her without any hesitation! :)" – Sanjog Mago
2. Laure Sejean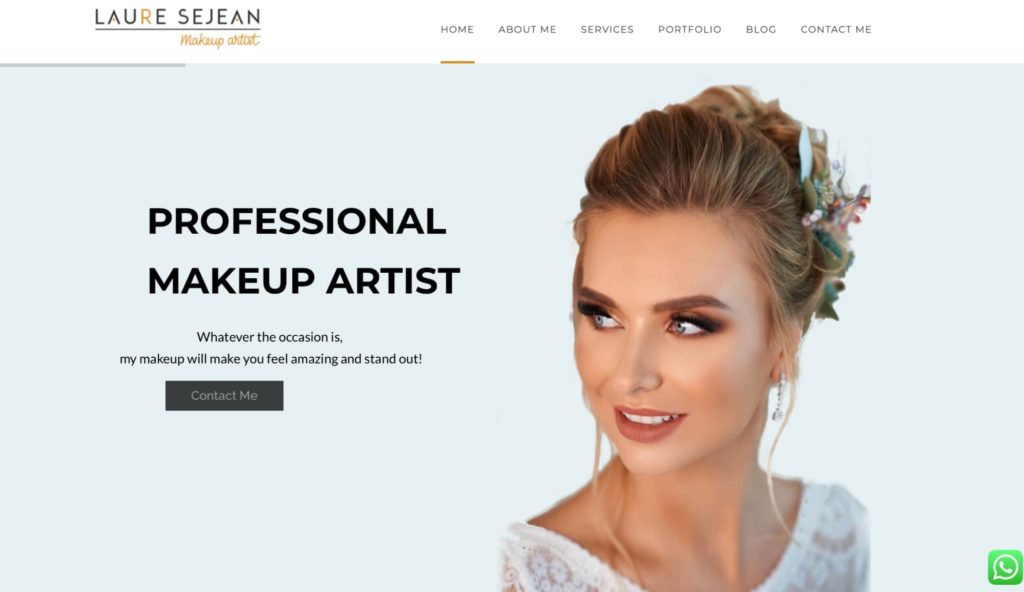 Test
Info
SERVICES
Bridal Makeup

Special Occassion Makeup

Makeup for Photoshoots

Classes

Personal Shopping

WEBSITE
https://lauresejean.com
ADDRESS
Mira 3, Reem Dubai - United Arab Emirates
CONTACT DETAILS
Phone: +971 50 341 8482

E-mail:[email protected]

OPERATING HOURS
8:00 AM - 8:00 PM (Monday - Sunday)
| | |
| --- | --- |
| Criteria | Ratings |
| Expertise | ★★★★★ (5/5) |
| Services | ★★★★★ (5/5) |
| Hygiene | ★★★★☆ (4/5) |
| Pricing | ★★★★☆ (4/5) |
While being the youngest in terms of experience in the makeup industry, Laure Sejean has shared her talent towards various clients around Dubai.
A great thing about Sejean is that she actually sought and went through a certification process for her profession. She got her certification from Makeup Atelier, a professional makeup training school in Dubai.
In terms of makeup services she offers, Sejean can do looks for weddings, photoshoots, and special occasions. We have noticed her focus on taking more bridal makeup commissions through her portfolio.
We recommend reaching out to her if you want a full-on, bold, and dazzling look for your wedding or event!
A great thing about her is that she is willing to travel anywhere, from Dubai to international locations, to reach you and do her magic on your face. We do have to point out that should you fly her out, you will have to pay extra for her travel costs.
If you're impressed with the work she has done, we advise that you give her a call or send her an email to get more information about her services. In addition, she actually requires potential clients to ask for a quotation before laying down her fees.
Make sure to call her days or months in advance before your big event to be sure that you can avail her aid!
Certified make-up artist
Five years of experience
Focuses more on bridal makeup
Quotation required
Customer Reviews:
Expertise, Skill
"Laure did my photoshoot make up and my wedding day make up. Believe me when I say she is just amazing with her delicate hands, make up and brushes.. flawless lost lasting natural looking makeup. I was not one bit worried about how I looked on my wedding day I didn't even check in the mirror because I trusted her work. Laure pays attention to your expectations and makes sure you are happy with the outcome. And she is just the sweetest soul to be around… she was just so helpful and so flexible around the clock and amongst other things on my big busy day. I am so grateful 🙂 I would blindly trust her again." – Sulata Ahmed
3. Mariam Naz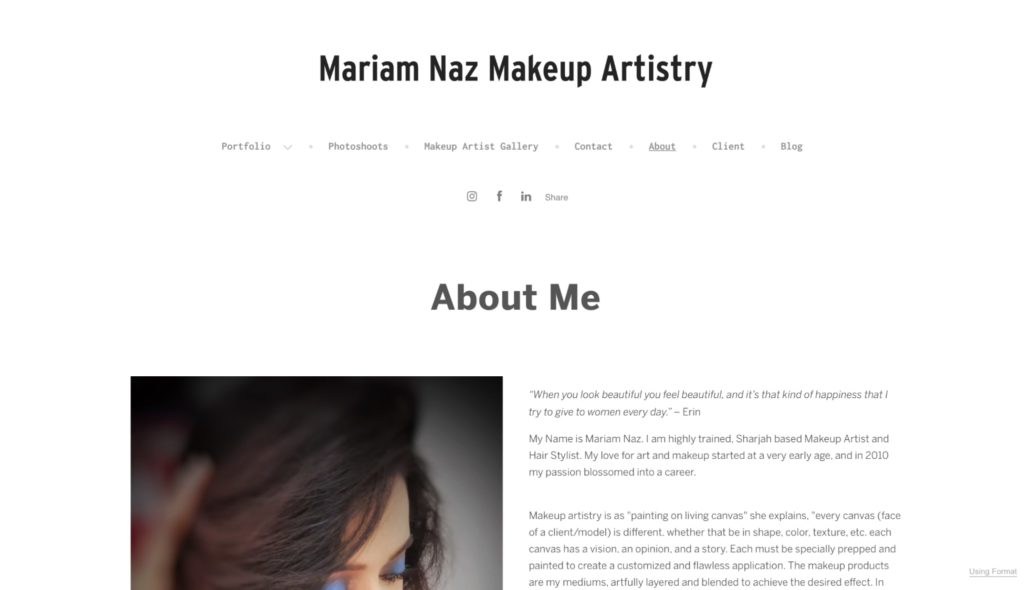 | | |
| --- | --- |
| Criteria | Ratings |
| Expertise | ★★★★★ (5/5) |
| Services | ★★★★★ (5/5) |
| Hygiene | ★★★★☆ (4/5) |
| Pricing | ★★★★☆ (4/5) |
Mariam Naz started providing professional makeup services for models in 2010. With over a decade of experience in the industry, she has worked with big companies such as Indus Jewelers and Lulu Exchange.
Her specialty is definitely on editorial and bridal makeup looks. Her style shines with people requesting her to add her own spin to the traditional makeup needed for weddings.
Even though she is based in Sharjah, Naz mostly moves around Dubai and the UAE for interested parties. Aside from doing makeup, she can also fix up elaborate and simple hairstyles upon request.
She's basically an all-in-one face glam team, so there's no need to hire an additional hairstylist when you hire her!
We've noticed that Mariam Naz is very meticulous and clean with her work. She makes sure to use disposable applicators to avoid contamination.

In addition, she makes sure to sanitize and clean her tools and her products after and before working on her next client.

If you're impressed with her portfolio and would love to work with her for a special event, we recommend reaching out to her official channels to know more about the specifics of her services.
Overall, we recommend Mariam Naz for her hair styling and makeup services. Also, her over ten years of experience is a big factor in our recommendation.
Also does hairstyling
Over 10 years of experience
Requires further contact for more details
Specializes more in bold makeup looks
Customer Reviews:
Professional, Amazing Service
"I loved her makeup and all the services. I am very satisfied with her work and would like to thank her for adding so much shine to my big days! Great work. She is very professional,i really like the makeup.and I could not be happier Thanks again Maryam!!" – ala waseem
4. Abeeha Mamoon
Test
Info
SERVICES
Bridal Makeup

Party Makeup

Hairstyling

WEBSITE
http://abeehamamoon.com
ADDRESS
Al Warqa - Al Warqa 1 - Dubai - United Arab Emirates
CONTACT DETAILS
Phone: +971 56 351 1604

E-mail:[email protected]

OPERATING HOURS
9:00 AM - 7:00 PM (Sunday - Thursday)

8:00 AM - 7:00 PM (Friday - Saturday)
| | |
| --- | --- |
| Criteria | Ratings |
| Expertise | ★★★★★ (5/5) |
| Services | ★★★★★ (5/5) |
| Hygiene | ★★★★☆ (4/5) |
| Pricing | ★★★★☆ (4/5) |
Pakistani make-up artist Abeeha Mamoon has experience in spades. She initially started working in Bollywood, where she learned the tools and skills of her trade before proceeding to do freelance work in Dubai.
She has teamed up with companies for advertisements, photoshoots, music videos, and special events. Aside from that, she has worked with various celebrities suchs as Anil Kapoor, Urvashi Rautela, and more.
Looking at her portfolio, Mamoon tends to give the full star look (bold eye makeup, glowy, smooth skin) treatment for her clients. We particularly like that she works on both men and women, which makes her quite versatile.
This particular make-up artist can also serve as your hairstylist upon your request. Although do take note, that it comes as a separate fee from her makeup services.
Now, Mamoon offers party and bridal makeup packages for regular individuals. However, we've observed that she prioritizes working with celebrities more.
When it comes to non-celebrities though, she focuses more on brides. This is undoubtedly her specialty though, as she has won awards for her wedding looks!
With that being said, we advise to book for her in advance because of her schedule. While she doesn't say anything about her availability, try asking months in advance, at least.
Abeeha Mamoon is an experienced make-up artist and hairstylist that is versatile and very skilled. We recommend checking her out at least, for her expertise and experience in the makeup industry.
Won awards for bridal makeup
Experience with working on different clients
Works on men and women
Appointment required
Mostly works with celebrities
Customer Reviews:
Professional, Amazing Service
"Abeeha has always been amazing at taking care of me for my events right from my big day to even another's now, she never fails to leave others gasping at my looks that she gives me. She handles things so personally with the love she puts into her work and so professionally with the care she gives to her client. However for me she is more then all this now. Connected through her talent, love you Abeeha! Thank you always! Highly recommend book her and don't think just let her do her thing :)" – Vikas Shukla
5. Neelam Kinger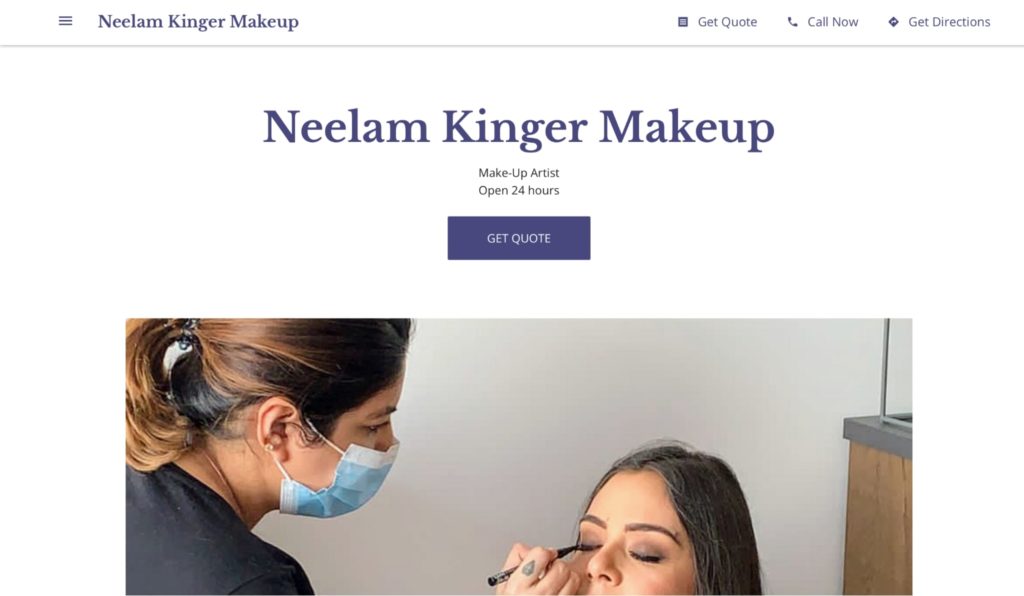 | | |
| --- | --- |
| Criteria | Ratings |
| Expertise | ★★★★☆ (4/5) |
| Services | ★★★☆☆ (3/5) |
| Hygiene | ★★★★☆ (4/5) |
| Pricing | ★★★★☆ (4/5) |
Dubai-based Neelam Kinger is a make-up artist and hair stylist with a main specialization in bridal make-up.
She has trained and attended workshops of professional makeup veterans such as Mario Dedivanovic and Allesandro Alcantara to further hone her skills.
In terms of services, just as we've mentioned earlier, we noticed that she takes more wedding bookings. This doesn't mean that she only works on brides exclusively though.
She also accepts bookings for fashion shoots and editorials. Upon looking at her portfolio, we observed that she mostly works with subtle, timeless, and classy looks.
We're talking about very earth tones, with different shades of brown. Occasionally, she also incorporates pinks and purples when it comes to her color palette of choice.
If you're looking for a makeup artist that handles and produces pretty good-looking nude to subtle glam looks, Kinger is definitely the artist to go to.
Aside from applying products, she is also capable of pulling off simple and elaborate hairstyles. Just make sure to ask if she's also available to do your hair during your appointment with her.
Neelam Kinger, compared to the rest of her competitors, tends to focus on a very specific genre of looks (bridal makeup). The offers she might be available to do for her clients may be limited but her specialization in one makes her a great candidate to be a bride's makeup artist on her special day.
Open 24/7
Attended master classes and workshops
Experienced with handling brides and editorial shoots
Limited services offered
Focuses more on bridal makeup
Customer Reviews:
Friendly and Professional
"Neelam came across very friendly and professional. She listened to my requests of natural glam for my pre wedding photo shoots and my hair and make up stayed perfect for the whole day. I will definitely be in touch for any of my future events! " – Simran Kaur Singh
FAQs About Makeup Artists in Dubai
---
We hope that our recommendations can help you look your very best at the event you will be attending. If you're interested in more beauty guides, check out our piece on the best salons in Dubai!