The 5 Best Restaurants for a Steak in Dubai
Nothing is more luxurious than a big piece of juicy steak cooked perfectly the way you want it. A city steeped in sophistication and luxury is no stranger to this, and actually has some great spots for steak.
So we scoured the whole city to give you the best restaurants for a steak in Dubai. We also included the factors we considered in choosing them and answered some FAQs about steaks in Dubai.
How much does it cost to eat steak in a restaurant in Dubai?
The cost of eating steak at a restaurant may vary depending on the restaurant, the type of cut you want, and the sides you want to go along with it.
To give you a starting point, we've made a table of the average amount of money a pair of customers spend at our chosen restaurants.
| Restaurant | Average Amount Spent |
| --- | --- |
| Prime68 Steakhouse | AED990 for 2 people |
| Nusr-et Steakhouse | AED1030 for 2 people |
| STK | AED400 for 2 people |
| Baba | AED340 for 2 people |
| Fogo de Chao | AED490 for 2 people |
The Best Restaurants for a Steak in Dubai
Before we get right into our top picks of restaurants for a steak in Dubai, here are the factors we considered for our entries on this list:
1. Prime68 Steakhouse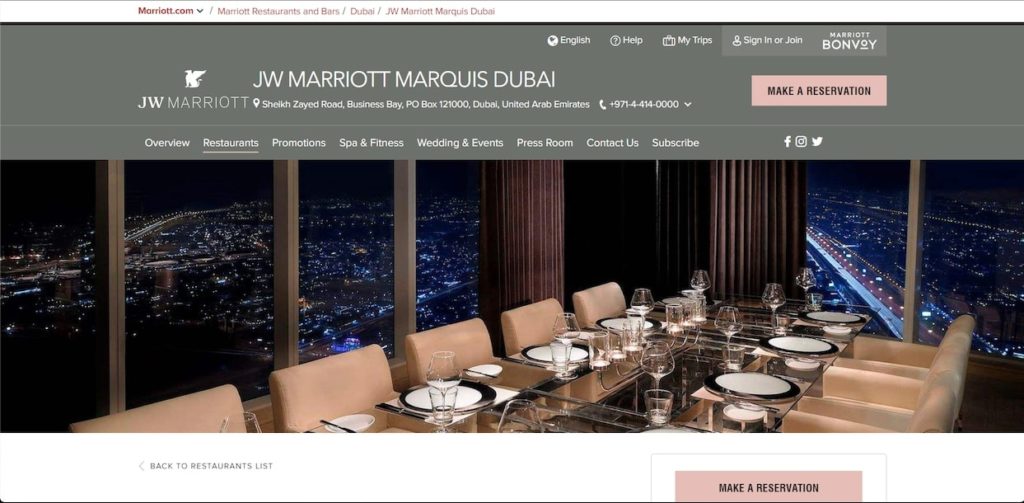 | | |
| --- | --- |
| Criteria | Rating |
| Menu | ★★★★☆ (4/5) |
| Customer Service | ★★★★★ (5/5) |
| Ambiance | ★★★★★ (5/5) |
Located on the 68th floor of JW Marriot Marquis Dubai, Prime68 serves steaks in an elegantly modern restaurant with views of the Dubai city skyline.
We love that its menu has an obvious focal point with the steaks, but doesn't limit itself to just that. It has a nice range of appetizers to start the dining experience and a few main dishes that are there just in case you aren't in the mood for steak.
Its signature cuts cover the most luxurious meats that we had a hard time choosing.
From the classic "meaty" Australian Black Angus to the rich fatty Wagyu cuts, Prime 68 believes that supreme quality ingredients and meats make the dream work.
What's even better is that all its meats are sourced from heritage-breed beef from farms around the globe.
But what took us by surprise was the notably underseasoned steak we got. We're not sure if it was on purpose to let the flavor of the meat shine, but the steak was bland and got carried by the sauces.
Despite that, the customer service was amazing. The staff was very friendly and accommodating, they even made some adjustments to make sure that we get a table by the windows.
They also took the time to explain to us the flavor profiles of the different steaks the restaurant serves, which helped us narrow down which one to order.
And the ambiance was just as great if not better. For us, this is the true selling point of Prime68 Steakhouse.
68 floors above the ground, having dinner here was just an extraordinary experience. We wined and dined on our Merlots and Tomahawks while we absorbed the view of the city from our table.
All in all, Prime68 serves nothing but the best and the most luxurious cuts with a view that goes with it as greatly as the bottle of wine we had.
Serves luxurious meats from around the world
Friendly and knowledgable staff
Has a view of the city skyline
The steak was underseasoned
Customer Reviews
Unreal steaks from cloudrPrime68
"Easily the best meal I had in Dubai.
Seafood Sampler seemed like the perfect starter because it comes with a little bit of everything. The oysters were so fresh that I could literally taste the sea. Can't get oysters like that where I'm from. The lobster and crab were delicious as well. The Sampler is meant for two but I devoured everything without much help (no regrets tho).
The star of the show was the Tomahawk. It was perfectly medium-rare, which is apparently hard to find in most restaurants. I'd try to describe the taste but I wouldn't do it justice. Instead, I'll just say that I *highly* recommend this and hope that you take my word for it.
Reservations are needed in advance most nights as it's packed! We slipped in by calling ahead and taking a 23:00 table one night but weren't able to snag a spot again for the rest of my trip.
If there's one place you must dine at in Dubai, it is here. Especially if you are a steak-enthusiast. The things I'd do for another bite here!" —Callie M., Google Reviews
Everything they serve is perfection
"At the 68 floor of JW Marriott, with a spectacular view, you can really enjoy great quality food, drinks, and ambiance. I really enjoyed my time at this place, if you want steak this is the place, romantic dinner is also one of the good choices!" —Jalal Hindieh, Google Reviews
2. Baba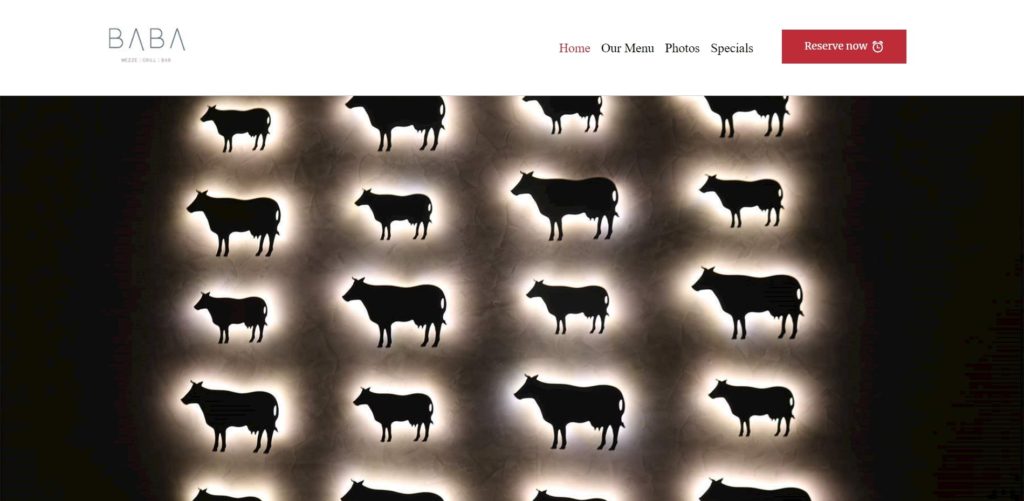 Test
Info
WEBSITE
https://www.baba-dubai.com/
ADDRESS
The Westin Dubai Mina Seyahi Beach Resort & Marina, Dubai Marina, P.O. Box 213084, Dubai, 213084
CONTACT DETAILS
+971 4 511 7373

+971 56 501 0507

E-mail: [email protected]

OPERATING HOURS
Sunday to Thursday: 6 pm - 11 pm

Friday: 6:30 pm - 10 pm

Saturday: 1 pm - 4 pm & 7 pm - 12 am
| | |
| --- | --- |
| Criteria | Rating |
| Menu | ★★★★☆ (4/5) |
| Customer Service | ★★★★★ (5/5) |
| Ambiance | ★★★★★ (5/5) |
For those who are enthusiastic about steaks know that the Turks know how to cook it, and Baba proves that time and time again as it has been in the scene for some time now.
It serves the most popular cuts like rib eyes, striploin, and bone-in porterhouse, with a couple of different meats like the Black Angus and Wagyu.
And with the number of starters and appetizers it has, as well as its nice range of desserts, we would have liked it if it stopped there.
The presence of kebabs on the menu felt like it was competing for attention with the steaks and kind of pulled focus away from the whole point of the menu.
However, we do understand that it is, first and foremost, a Turkish restaurant and that kebabs are the cuisine's most famous dish — but it would have been a great opportunity to introduce an equally great Turkish dish to the customers instead.
Another problem we had with Baba is the relatively slow service that we got during our dining experience.
Not only did the staff take too long preparing our table for us, but we also had to keep asking for everything we needed. The lack of attention was frustrating and haunted us for the rest of the night.
The alfresco dining was such redemption for the restaurant, though. The Turkish lamps that hung overhead, the weaved rattan chairs, and food that presented to look like a feast uplifted the energy of our table.
All in all, despite the shortcomings of the service, Baba presents such an uncommon take on steaks — interpreted by Turkish cooking and presented alongside classic Turkish dishes.
Offers steaks prepared the Turkish way
Al fresco dining
Beautifully decorated space
Big portions
The menu lacks focus and clear direction
Slow service
Customer Reviews
Had the most amazing meal here
"We had the most amazing meal here. The food was absolutely delicious, Radha took good care of us and was so engaging with my two young boys. The service was top-notch!
I highly recommend the Saturday Baba evening 4-course menu. The portions were massive.
The lamb Adana was literally melting in your mouth!
Oh and the rice pudding at the end was lush!!!" —Danielle Owens, Google Reviews
Unexpectedly amazing steak from a Turkish restaurant
"The entire experience was great at this restaurant from the service to the food quality.
I loved the steak 🥩 and never expected a Turkish restaurant could be able to serve me a steakhouse-quality steak. Definitely worth the try.
I also loved the appetizers and in general, i can say that the food quality was super high" —Faezeh Jafarian, Google Reviews
3. Fogo de Chao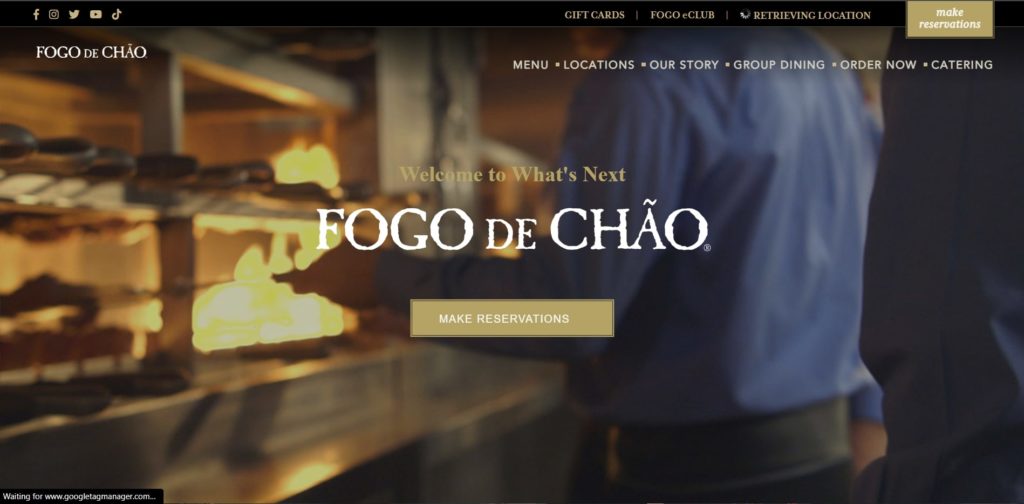 | Test | Info |
| --- | --- |
| WEBSITE | https://fogodechao.com/ |
| ADDRESS | Central Park Towers, DIFC Dubai, Dubai, UAE |
| CONTACT DETAILS | +971 4 343 8867 |
| OPERATING HOURS | Every day: 12 pm - 11 pm |
| | |
| --- | --- |
| Criteria | Rating |
| Menu | ★★★★★ (5/5) |
| Customer Service | ★★★★★ (5/5) |
| Ambiance | ★★★★☆ (4/5) |
Versed in the art of churrasco, the Portuguese art of grilling meat that is especially featured in Brazilian cuisine, Fogo de Chao introduces traditional Brazilian cooking to the people of Dubai.
Its signature steak, Picanha, is representative of churrasco cooking and is the obvious star of the menu. It is tender but robust, salted just enough to accentuate the richness and meatiness of the cut.
We also love its Fraldinha, a distinctive cut from Southern Brazil that is known for its strong marbling characteristics that give it its tender and fatty flavor.
But another part of the menu that is arguably just as great as the steaks and amazingly concocted not to compete against but rather work with the meats, is the Market Table.
Inspired by the markets of Brazil, Market Table is a feast curated by chefs.
This consists of seasonal fresh and flavorful ingredients inspired by Brazilian farmlands and recipes that are traditional and natural staples of Southern Brazilian cuisine.
The customer service was very warm and accommodating. We were greeted with smiles and were served with efficiency and great attentiveness.
The staff even explained to us their different culinary concepts including their Market Table, and managed to convince us to try it — that's how we knew they were good at their job.
Located in DIFC in downtown Dubai, the space opens up to an alfresco space that gives an amazing view of the city skyline, which is sadly cut halfway through by the building next door.
And while we appreciate the luxury of dining with a view like this, not only does it get uncomfortable on hot nights, the lighting isn't designed well so the space is slightly too dim.
All in all, Fogo de Chao serves up some unique culinary experiences that complement its Brazilian steaks beautifully.
Serves traditional Brazilian steaks
Offers unique culinary experiences
Service is friendly and paid attention to detail
Located in downtown Dubai
The view is obstructed by the building next door
The outdoor seating can get uncomfortable on hot days
Customer Reviews
One of the best steakhouses out there
"Amazing food, Great staff!
I've been dining in this beautiful restaurant for the last 14 months.
This place has a beautiful view, great ambiance, and the best FOOD!
Steaks are excellent, and they will feed you the best steaks in town until you have no more room to eat.
You always will receive a warm welcome from the front door to your table, and then the great service begins with very well-trained and organized waiters like Ismael and Justin and beautiful waters like Ivy.
The Manager, Mr.Prado, is doing a fantastic job coordinating this friendly but professional place for you to have a unique and wonderful experience there.
I will recommend this place to everyone from Family to love birds.
Keep up the great work!" —Babak Hojjat, Google Reviews
Amazing service, amazing food
"Really attentive staff. Absolutely delicious food – I could have happily just eaten from the sides and salads buffet; they were all so well presented and tasty. But the meat was amazing – high quality and they give you options of how you want it cooked which I haven't experienced in another rodizio restaurant." —K. Stevens, Google Reviews
4. STK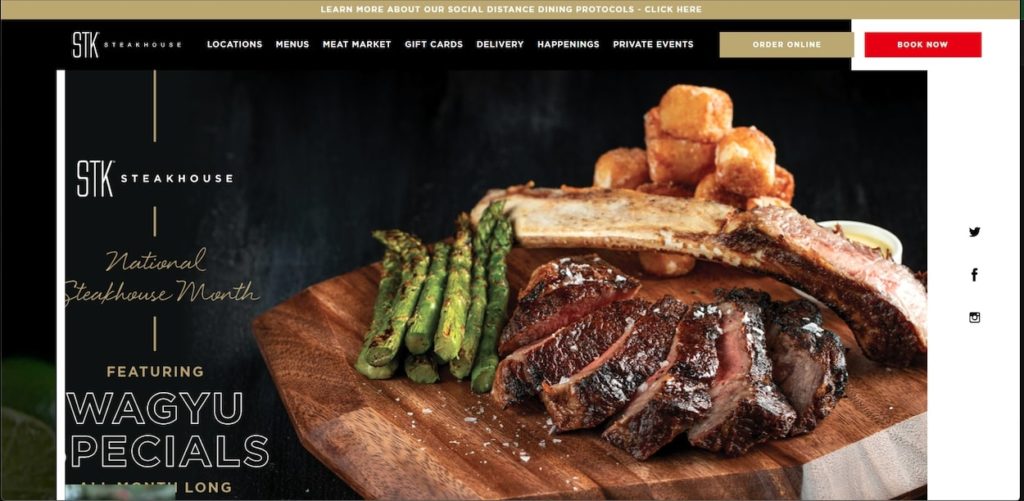 Test
Info
WEBSITE
https://stksteakhouse.com/
ADDRESS
Rixos Premium Dubai, B1 - The Walk - Jumeirah Beach Residence - Dubai - United Arab Emirates
CONTACT DETAILS
+971 4 423 8304

+971 58 591 7315

OPERATING HOURS
Monday to Friday: 6 pm - 1 am

Saturday: 12 am - 5 pm & 8 pm - 1 am

Sunday: 4 pm - 1 am
| | |
| --- | --- |
| Criteria | Rating |
| Menu | ★★★★★ (5/5) |
| Customer Service | ★★★★☆ (4/5) |
| Ambiance | ★★★★☆ (4/5) |
This trendy steakhouse that has been rising in popularity over the world makes it its business to serve perfectly seared steaks and amazingly unforgettable sides.
The steaks here are USDA Prime Beef and Premium Canadian Beef, all cut by its in-house butcher.
Another unique spin it has that separates the restaurant from other steakhouses in Dubai is that it broils its meat. The result is a beautiful brown crust and a tender and juicy meat inside.
We love that it serves steak cuts from both ends of the spectrum. From cheap cuts like the flat iron to the more luxurious ones like the Chateaubriand, STK answers all steak cravings of any budget.
However, we got a rib eye, and our medium rare was served slightly overcooked. But that was quickly covered up by the heavenly mac & cheese — one of the best we've ever tasted.
As for its service, we like that there's live entertainment during dinner times and brunches.
It was almost entertaining enough to distract us from its weird food-to-sauce ratio. We ended up having to ask for additional sauce thrice because the staff kept giving us such small portions for such a large cut of steak.
As for its ambiance, we like that there is a relaxed chicness to its intimately lighted space.
The soft warm overhead lighting gives it enough coziness that is undercut by the neon wall piece that gives the space a sense of fun and energy.
And we're glad that it incorporated live entertainment on some nights of the week because it gives the customer something to enjoy other than the food because the restaurant does lack a view, unlike our other entries.
Serves premium American and Canadian steaks
Amazing side dishes
Ambiance is relaxed and chic
Has live entertainment
Overcooked our steak
Weird food-to-sauce ratio
Customer Reviews
A must-visit for anyone in Dubai
"Had Saturday Brunch at STK, was absolutely brilliant and a MUST for anyone staying in Dubai. Everything from the service to the food was outstanding, along with the entertainment made for a fantastic afternoon. Only downside I'd say was the toilet was very dark with no lights in the cubical, but otherwise outstanding." —Matthew Gentles, Google Reviews
Our favorite spot for a girl's night out
"Did the Saturday brunch (House package at AED 375) from 8-11pm and it was just such a great night out. There were 10 ladies and we loved the food, the service, the entertainment and the tunes! It felt a bit warm at times but we would definitely go back." —Annah Jacob, Google Reviews
5. Nusr-Et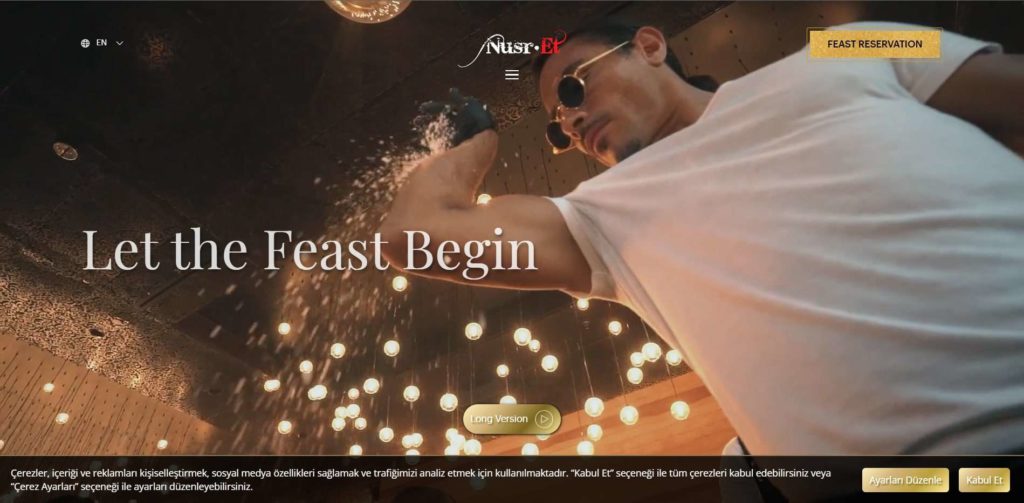 | Test | Info |
| --- | --- |
| WEBSITE | https://www.nusr-et.com.tr/ |
| ADDRESS | Restaurant Village Four Seasons Resort شارع شاطئ - Jumeirah - Jumeirah 2 - Dubai - United Arab Emirates |
| CONTACT DETAILS | +971 4 407 4100 |
| OPERATING HOURS | Every day: 12 pm - 12 am |
| | |
| --- | --- |
| Criteria | Rating |
| Menu | ★★★☆☆ (3/5) |
| Customer Service | ★★★★★ (5/5) |
| Ambiance | ★★★★☆ (4/5) |
Nusr-Et is a feast for the senses with beautiful steaks at the centerpiece of every table, sprinkled with salt by internet-famous Salt Bae himself.
Its menu is, suffice to say, outrageous. With a section called Golden Feast, Nusr-et serves steaks clad in edible gold, easily putting the story of Midas to shame.
And while the concept of it is out of the world (and so are the prices), the flavor isn't so much.
We think the steak could do without the edible gold wrapping, and the salt was slightly overpowering the beauty of the cut.
The sides were perfectly adequate, but nothing special about it, at all. In short, while the experience is one of a kind, we can say that there are better steaks out there for the fraction of the prices.
Despite that, the service was amazing. It was obvious that the staff is used to working with a full house every opening because they move so fast and so efficiently.
And what's great about it is that they will get what you need quickly but you will never feel like they are in a rush when they're talking to you.
As for the ambiance, well it's incomparable. Being able to eat steak that's been salted by Salt Bae himself was truly an unforgettable experience.
On top of that, the food concept matches the whole vibe of the restaurant — opulent feasting.
All in all, whether Nusr-Et is overrated or not is arguable. But what we're sure of is that we're never going find an outrageous menu such as the one it has.
Unique and luxurious menu
Fast and efficient service
Opulent and warm ambiance
Steaks were mediocre
Too expensive for its taste
Customer Reviews
This steakhouse is on another level
"The quality of meat is another level. The taste will leave your tongue craving for more. The meat over here is like no other. Perfectly cooked and presented attractively. Must recommend the meat Spaghetti and sirloin. Don't miss the burger too. Mocktails are normal. The seating and ambiance were also very good." —Faiaz Mohamed, Google Reviews
Amazing restaurant!
"The experience is truly what expected. Good atmosphere, amazing people, serving was amazing exactly. The food…no words about the food. Truly deserves all my congratulations, chef Nusr did a great job with the brand and all waiters know to do the signature moves exactly like Salt Bae. Totally recommend at least once in a lifetime!" —Rusu Alex, Google Reviews
FAQs about Steaks in Dubai
---
We hope this helped you in finding a restaurant for a steak in Dubai. If you're looking for other ways to celebrate moments or reward yourself, then check out these articles: