The Top 5 Courier Services in Dubai
Have you ever found yourself in a situation where you need to mail hard copies of an important document? Choosing the right courier service provider can be an intimidating task, especially when your needs are urgent.
Luckily for you, we've already looked into the best courier services in Dubai. With these companies, you can count on the safe and timely arrival of your package.
How much do courier services cost in Dubai?
There are a few factors that influence the price of the best courier services in Dubai. Same-day delivery definitely costs more and in most cases only covers the metropolitan area.
Express delivery services also get more expensive the further your desired destination. The size and weight of your package can also affect prices.
In the table below, we've listed the average costs of courier services in Dubai.
| Mode of Service | Time | Cost |
| --- | --- | --- |
| Standard | 10-15 days | AED65-100 |
| Express | 2-8 days | AED130-200 |
| Premium | 1-3 days | AED300-400 |
The Best Courier Services in Dubai
Aside from getting your package to its destination on time, there are a few more factors that may make a courier company stand out from the rest.
We evaluated the best courier services in Dubai using the following metrics:
1. Emirates SkyCargo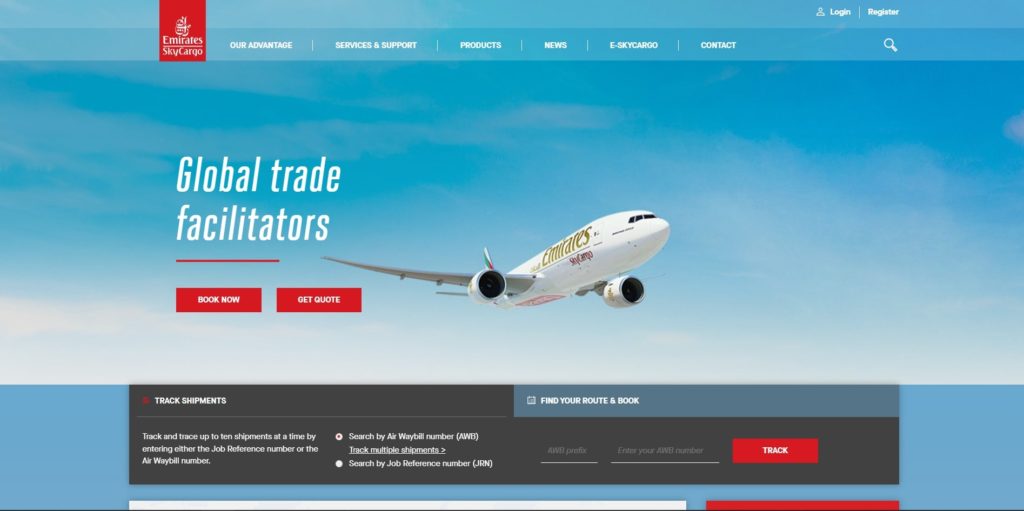 Test
Info
SERVICES
General Cargo and Courier Services

Post Office Mail

Delivery of Valuables and Vulnerables

Specialised and Customised Solutions

WEBSITE
http://www.skycargo.com/
ADDRESS
Airport Road, Cargo Mega Terminal, Dubai Cargo Village, Dubai, United Arab Emirates
CONTACT DETAILS
+971 600 566661
OPERATING HOURS
Open 24 hours
| | |
| --- | --- |
| QUALITY OF SERVICE | ★★★★★ |
| POLICIES | ★★★★★ |
| FEES | ★★★★☆ |
| CUSTOMER SERVICE | ★★★★★ |
Ever since its foundation in 1985, Emirates SkyCargo has received numerous awards for its superior performance in the industry. Needless to say, it has a lot to offer that makes it worthy of being called one of the best courier services in Dubai.
Perhaps one of the things we love the most about them is that they accept delivery of sensitive items. Be it precious metals, technological equipment, or other luxury goods, you can count on Emirates SkyCargo to get the job done.
And if you're curious as to how they can confidently manage all of that, then you'll be amazed at their comprehensive 360° CCTV surveillance.
If that isn't enough for you, then you can even request for tamper-proof security seals prioritised handling of your goods. They got all bases covered, so you can rest assured that your package will reach its destination.
However, with all those premium benefits, it comes as no surprise that their rates are on the more expensive end. If you're also planning on cutting costs by personally dropping off your package, then we advise you to brace yourself for some long queues.
But for all that it's worth, we think that Emirates SkyCargo simply has it all.
They have all the facilities to accommodate a wide array of package types, and they even have a Good Distribution Practices (GDP) certification to back their great reputation. Amazing, right?
Open 24 hours
Handles delivery of precious items
Extensive logistics networks and facilities
Accredited with a GDP certification
Rates are more expensive
Few complaints about long queues for in-person parcel drop-off
Customer Reviews
Work was done easily
"A whole different world of world logistics. Work was done easily and Emirates sky cargo staff was very cooperative" – Mohammad Hamza
Quick service
"I went today for the 1st time to Sky cargo village, I was very happy with the service, from the gentlemen at the entrance, security staffs, cargo staff, Custom clearance, and sky cargo staff, everyone was very nice friendly and professional. Quick service. Thank you everyone!" – Geraldine Picq
2. Time Express Parcels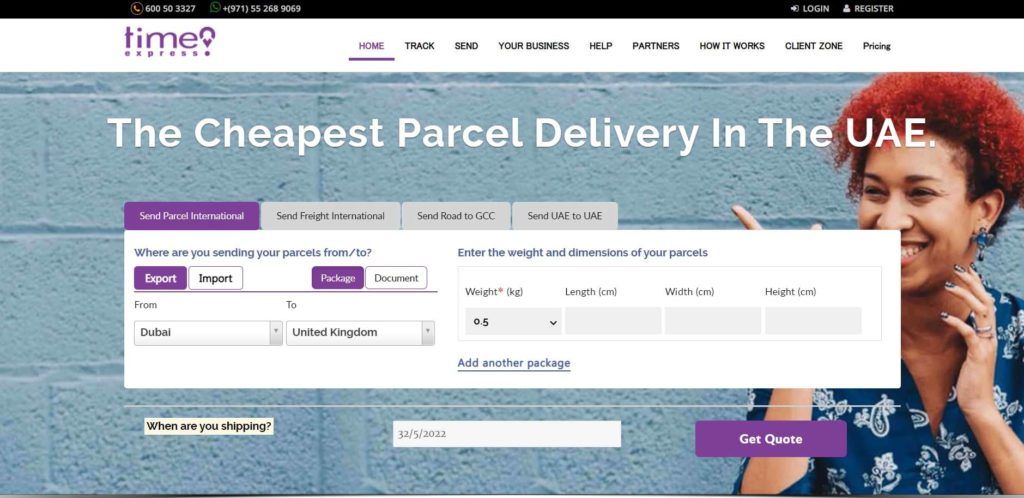 Test
Info
SERVICES
Local and International Delivery

Same Day Delivery

Pick-Up and Delivery Time

Scheduling

Parcel Tracking

WEBSITE
https://www.timexpress.ae
ADDRESS
25 61A Street, Garhoud, Dubai, United Arab Emirates
CONTACT DETAILS
+971 600 503327
OPERATING HOURS
Monday - Friday, 8 AM - 6 PM

Saturday, 8 AM - 4 PM
| | |
| --- | --- |
| QUALITY OF SERVICE | ★★★★☆ |
| POLICIES | ★★★★★ |
| FEES | ★★★★★ |
| CUSTOMER SERVICE | ★★★★★ |
As part of the Al Rais Enterprises Group, Time Express Parcels has a lot of connections in the logistics and transport industries. Thus, it comes as no surprise that they've grown to be one of the best courier services in Dubai.
If you're someone who regularly sends or receives parcels, they have subscription packages that you can avail to help you cut costs.
With their premium subscription, for only AED176 per package, you can import or export up to 25 packages per month. We think it's a pretty great deal, although they can still improve it by accommodating deliveries to PO Box addresses.
We'd also advise you to prepare the exact amount if you plan on paying via cash on delivery, since their personnel don't always have change for large bills.
Other than that, we're really amazed with the speed of their service.
One previous client managed to ship a 28 kg box to Europe using Time Express Parcels, and the recipient got the package in 4 days. All that, for less than half the price of the next cheapest quote. Pretty impressive, right?
We also loved the responsiveness of their customer service staff in Whatsapp. From delivery to tracking to additional concerns, they got you all covered and you won't regret trusting in Time Express Parcels.
Offers subscription packages for regular senders and receivers
Responsive customer support
Fast delivery service
Same day delivery available
PO Box addresses excluded from service
Delivery personnel sometimes don't have change
Customer Reviews
Affordable fast shipping
"For an affordable fast shipping, I definitely recommend to avail their courier services. I sent my documents to the Philippine Embassy in Turkey for attestation and was sent back to me here in Dubai hassle free and in no time. 👌 Their staff is reliable, and I will not think twice of asking for their services again in the future." – Jhon Kaven Bajar
Professional and fast
"They keep sending WhatsApp messages of where the item is , professional and fast for international shipping" – Rami El-Hadi
3. DHL Dubai Hub Service Point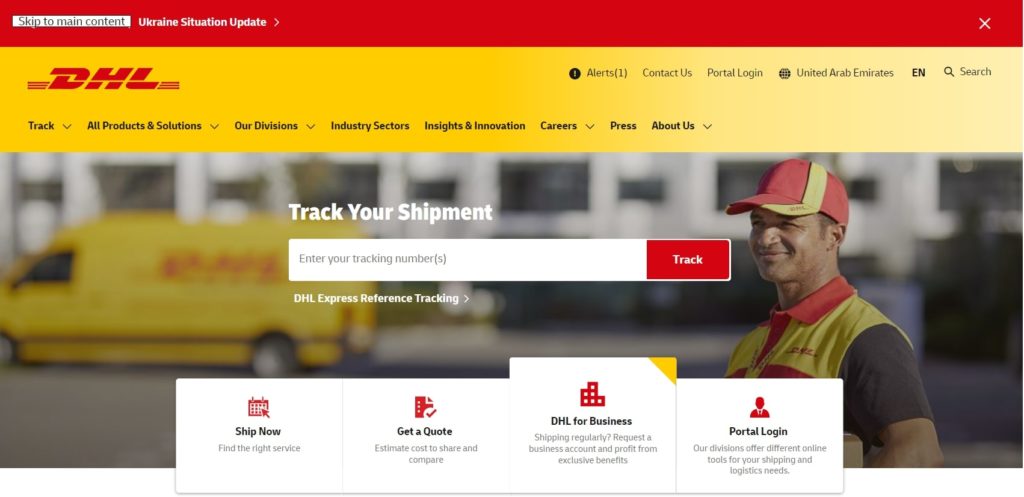 Test
Info
SERVICES
International Document and Package Shipping

Retailer or Volume Shipping

Road, Rail, Ocean, and Air Freight

Flexible Import/Export Solutions

WEBSITE
https://www.dhl.com/ae-en/home.html
ADDRESS
Al Twar Area, Next To Terminal 2, Dubai, United Arab Emirates
CONTACT DETAILS
+971 600 567567
OPERATING HOURS
Sunday - Saturday, 8 AM - 9 PM
| | |
| --- | --- |
| QUALITY OF SERVICE | ★★★★★ |
| POLICIES | ★★★★★ |
| FEES | ★★★★☆ |
| CUSTOMER SERVICE | ★★★★☆ |
With its global reach extending to more than 220 countries and territories, DHL's great courier services in Dubai exemplifies how the shipping giant achieved its international success.
One of the things that we really loved about DHL is their reasonable and straightforward policies. You see, doing business with courier service providers can be quite intimidating and confusing sometimes.
With DHL however, you can see that they really put a lot of thought into their FAQs section, as it covers a lot of situations. Even their terms and conditions have been structured to be more digestible compared to most other companies.
We'd also like to commend their customer service representatives. Based on our experience with them, we can vouch that their expertise is truly befitting one of the best courier services in Dubai.
The in-person drop-off experience with DHL may not be as great though, especially during the weekends. Aside from the long queues, we've also received reports about the poor air-conditioning at their office.
But on the other hand, if you're concerned about the carbon footprint of your international express deliveries, then DHL is definitely the courier service provider for you.
Why? Because they make a lot of investments towards renewable energy sources for their vehicles.
So even if you can't ship by rail, you can trust that they're shifting more and more towards sustainable maritime and aviation fuel. Hooray for Mother Earth!
Great customer service
Comprehensive policies
Utilises green logistic solutions
Accommodates shipping insurance
Occasional long queues during weekends for in-person parcel drop-off
Waiting area has poor air-conditioning
Customer Reviews
Simple, easy, and fast
"DHL service is really excellent. Location is easy to find and nearby Dubai airport terminal 2. Collection of shipments/ documents are simple, easy and fast. Staffs were friendly and willing to help." – Baby Jhane Clameno – Baque
Very efficient and quick
"Very very helpful staff. Quick and efficient. Especially the Filipino service executive in Corporate / account shipping Mr. Ryan Tadeo. He is always very efficient and quick. Keep up the good work Ryan" – Hamid Abdul Hakim
4. Prime Express International Couriers LLC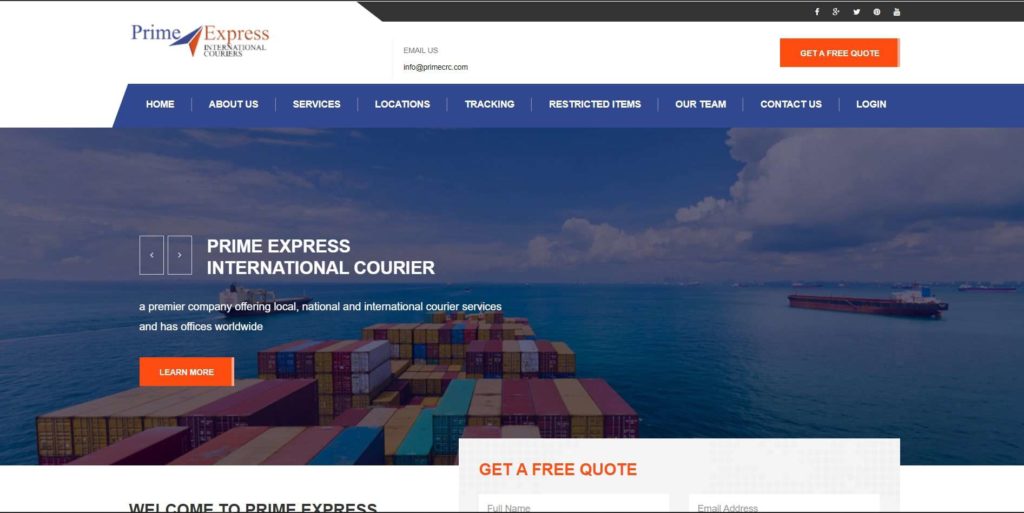 Test
Info
SERVICES
International Express Delivery Service

Sea and Air Cargo

Flexible Shipping Options

Packing Services

WEBSITE
http://www.primecrc.com
ADDRESS
Park-Shop No.7, Ascana Building, 16th St. near Karama, Al Karama, Dubai, United Arab Emirates
CONTACT DETAILS
+971 55 971 5501
OPERATING HOURS
Saturday - Thursday, 9 AM - 9 PM

Friday, 9 AM - 12 PM; 4 PM - 9 PM
| | |
| --- | --- |
| QUALITY OF SERVICE | ★★★☆☆ |
| POLICIES | ★★★★★ |
| FEES | ★★★★★ |
| CUSTOMER SERVICE | ★★★★☆ |
Prime Express International Couriers provides local, national, and international courier services. It has main offices located in more than 10 countries and continues to expand in the industry.
The first thing that we really liked about this company is their flexible shipping options. You can choose between door to door, door to airport, airport to airport, and airport to door.
They also offer international moving services, and you can trust their personnel to handle everything, from physical surveying of the items to transportation to the destination.
If you also need help with packing your parcel, Prime Express International Couriers can help you with that. In fact, we're pretty impressed with how well they can do this task.
Although we can see some areas that offer plenty of room for improvement.
For starters, we think they can work on their handling of fragile cargo, as we have received a few complaints regarding broken goods. They can also work on optimising their logistics lines to avoid delays in delivery.
Nonetheless, Prime Express International Couriers offer some of the most competitive rates in the market. They also maintain cargo liability insurance in the event of damages covered by their fairly reasonable policies, so you know that you're in good hands.
Packing services available
Flexible shipping options
Maintains cargo liability insurance
Poor handling of fragile items
Few reports about delivery delays
Customer Reviews
Received my cargo package in good condition
"Thank you Asmita Ji, I have received my cargo package in good condition and before the timeline. I am very happy and will suggest to all my colleagues to use Prime Crago as it is very safe and quick delivery. Thank you again for making it very smooth." – Dinesh Khati
Shipments always delivered on schedule
"Glad to deal with this cargo company. Shipments always delivered on schedule. Lomya is very professional and helpful. Booking order and pick up are done as per time allocated. And follow up queries are also answered immediately with an update/ status." – Jenia Rodrigues
5. JMBR Courier Services LLC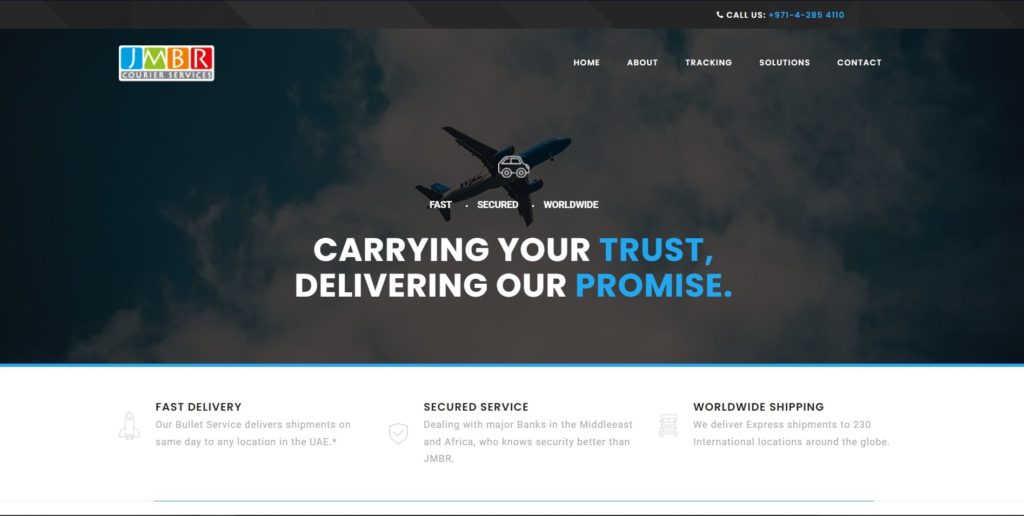 Test
Info
SERVICES
Global Shipping

Shipment Tracking

Secure Courier

Services for Bank Documents

WEBSITE
https://www.jmbrcourier.com
ADDRESS
Street 13, Al Ramool, near to Dubai International Airport, Dubai, United Arab Emirates
CONTACT DETAILS
+971 4 285 4110
OPERATING HOURS
Monday - Saturday, 9 AM - 6 PM
| | |
| --- | --- |
| QUALITY OF SERVICE | ★★★★☆ |
| POLICIES | ★★★★☆ |
| FEES | ★★★★★ |
| CUSTOMER SERVICE | ★★★☆☆ |
JMBR Courier Services's reputation as the trusted courier of banks for important documents tells you a lot about its reliable and secure services.
Perhaps the most noteworthy thing about this company is their exceptional speed. This actually makes a lot of sense, because bank-related documents tend to be urgent deliveries.
But the way they've built their delivery network is pretty impressive, not to mention the fact that they also serve approximately 230 international locations.
Although we would greatly appreciate it if JMBR Courier Services could work on their unresponsive customer service lines.
Even though they've already proven their reliability, we'd be happier if we're still given opportunities to follow up on our shipments.
We also think that they need to update their website so that potential customers can know about their policies in advance. This move will also save a lot of time for their customer service representatives, shooting two birds with one stone.
Other than that, we also commend JMBR Courier Services for their dedication to deliver their packages on time.
We even found out that they deliver during public holidays, which is great since it also increases the chances that you'd be home when they deliver your package.
You also have access to narrow appointment schedules so you don't have to wait the whole day during regular days, and we think that's really convenient.
Delivers to 230 international locations
Trusted by banks
Fast delivery
Complaints about unresponsive customer service
Service policies unavailable on their website
Customer Reviews
Punctual and regular in their service
"This is the third time since year 2021 that I had received my couriers via JMBR, and I must say they have been punctual and regular in their service and the driver was polite as well! " – Pratap Sharma
Very fast service
"On time delivery. Service is very good by abrar. It was very fast service. Guy called me and asked and delivered as per my comfort. Thanks" – Akshat Sethi
FAQs about Courier Service
---
That's all for now, and we hope that we helped you choose the best courier service for your needs. If there are any couriers that we missed, don't hesitate to drop us a message so we can check them out!
Since we're on the topic of delivery, you may also want to check out our article on the best stores for gift delivery in Dubai.