The 5 Best Restaurants for Breakfast in Dubai
Whoever said that breakfast is the most important meal of the day wasn't necessarily correct, but it is arguably the tastiest, and that's what's important.
That's why we're sharing with you our favorite restaurants for breakfast in Dubai. We also included the factors we considered in choosing and answered some FAQs about breakfast in Dubai.
How much does it cost to eat in a restaurant for breakfast in Dubai?
The cost of eating breakfast at a restaurant varies depending on the restaurant and the dishes you will be ordering.
To give you a starting point, we've made a table of the average amount of money a pair of customers spend at our chosen restaurants.
| Restaurant | Average Amount Spent |
| --- | --- |
| Nightjar Coffee | AED170 for 2 people |
| Carine | AED530 for 2 people |
| Clinton St. Baking Company | AED220 for 2 people |
| Bistro des Arts | AED455 for 2 people |
| Eggspectation | AED200 for 2 people |
The Best Restaurants for Breakfast in Dubai
Before we get right into our top picks of restaurants for breakfast in Dubai, here are the factors we considered for our entries on this list:
1. Nightjar Coffee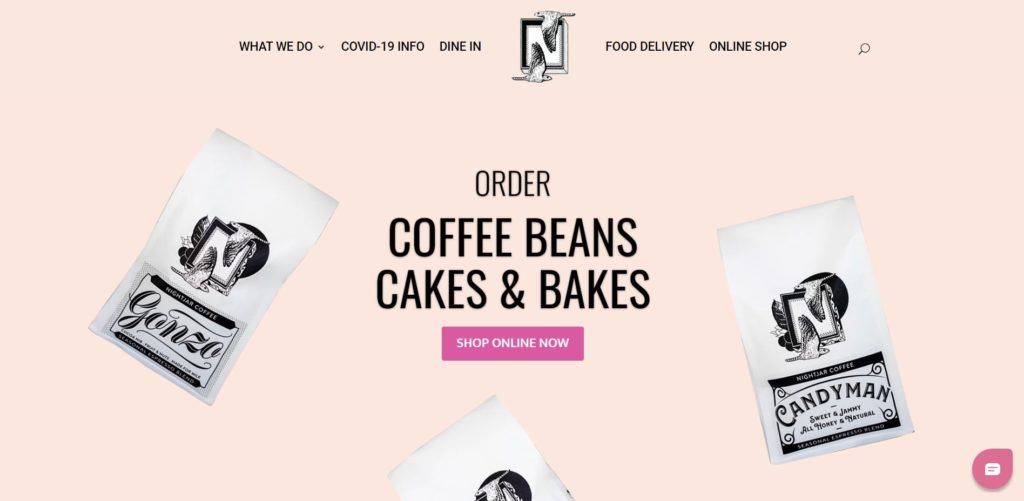 | | |
| --- | --- |
| Criteria | Rating |
| Food | ★★★★☆ (4/5) |
| Beverages | ★★★★★ (5/5) |
| Ambiance | ★★★★☆ (4/5) |
Tucked away in the lanes of Alserkal Avenue, like everyone's favorite secret, Nightjar is home to one of our favorite coffee brews to have in the mornings.
With quirky hits on its menus like our personal picks the fluffy ricotta pancake stack and the pulled ox cheek Benedict, Nightjar manages to almost match the excellence of its cold brew and nitro coffee.
But we really come here for the coffee, which is a staple. This group of eclectic coffee lovers serves up a cup of joe that is simple, straightforward, and perfected.
Sourced directly from single-origin farms, Nightjar maintains a consistent level of quality that both tastes great and is sustainable.
As for its ambiance, we are in love with the trendy hipster interior styling comprised of dark interiors, neon lights, and pieces of vinyl adorning the walls.
We love how it completely transports us from the stark sunshine of Dubai to the chilled-out cafes of New York and London.
Although the closed space, which is critical to keeping this intimate and secretive energy, does lend itself to getting noisy when it is crowded because of the acoustics.
All in all, Nightjar Coffee is the best place to grab breakfast for local coffee enthusiasts. Pair it up with one of its tasty dishes, and you've got yourself a great start to the day.
Creative and quirky dishes
Sustainably sourced coffee
Serves cold brew and nitro coffee
The ambiance is trendy, chic, and cozy
The acoustics of the place add to the noise
Customer Reviews
Excellent playlist
"NightJar will always be a fav! Great staff, it's great seeing inclusive hiring. Wonderful atmosphere, with the dim lighting and sparkle lights. Excellent music! Their coffee is grand, but the best thing on the menu has to be their chicken in gravy dish 👅 💦" —Sam Mo, Google Reviews
Trust me that I will be back for more
"Heard so many good things about NightJar, that when I found myself passing by, I had to stop and see what all the hype is about.
The fact I managed to grab the last table shows the popularity of the place – and once I'd enjoyed the coffee, breakfast, and service I can understand why.
It's busy for a reason. The coffee is top-notch – and with so many options available, multiple visits are needed!
The food was super tasty – I had scrambled eggs on buttered sourdough, potato salad, and chili broccolini. Great way to start my day. I will be back!" — Bloggsy Malone, Google Reviews
2. Carine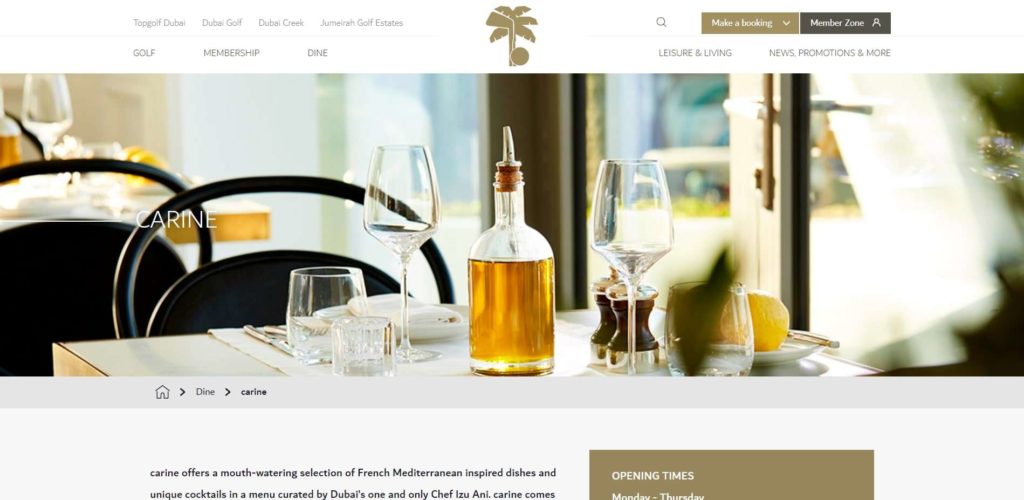 Test
Info
WEBSITE
https://www.dubaigolf.com/emirates-golf-club/dine/carine/
ADDRESS
Emirates Golf Club - Emirates Hills 2 - Dubai - United Arab Emirates
CONTACT DETAILS
+97144179885
OPERATING HOURS
Monday to Friday: 12 PM - 3 PM & 7 PM - 10:30 PM

Saturday to Sunday: 9 AM - 3 PM & 7 PM to 11:30 PM
| | |
| --- | --- |
| Criteria | Rating |
| Food | ★★★★★ (5/5) |
| Beverages | ★★★★☆ (4/5) |
| Ambiance | ★★★★★ (5/5) |
We can't think of a better way to start off a weekend than having a leisurely breakfast while looking over the Emirates Golf Club, and that is exactly what Carine offers.
With a white pavilion that houses a terrace, it wasn't hard to enjoy its French-Mediterranean menu.
The French toast and homemade granola made the perfect coffee mates to our cafe latte — making the whole meal a real Southern French experience on a sunny Saturday Dubai morning.
And besides the coffee — which we found to be just okay, nothing too special — it also has region-specific cocktails that seemed fancy at first glance, but we're happy that these were unpretentious and didn't do too much to distract us from our great meal and the view.
As for its ambiance, well it's unlike any other. The subtle mixture of quaintness and European luxury against the backdrop of the Dubai sky is something to behold.
It's easy to feel like royalty while eating your breakfast as you look over the rolling hills of the golf course. Couple that with great service, and you'll feel like a king.
All in all, Carine is the ultimate Southern French dining experience that Dubai can provide, and makes for a perfect quick weekend getaway.
Serves French-Mediterranean dishes
Overlooking the Emirates Golf Club
Serves region-specific cocktails
Southern European vibes
Customer Reviews
110% excellence!
"The best French Toast I've had in Dubai. Crisp bite, cinammon sugar, and cake like texture inside. Jam a little sharp for me, but the cream was a wonderful balance.
Service was exemplary, despite us arriving for brunch on Eid. Lovely staff and decor, a really nice spot" —Moazeem Hossain, Google Reviews
Superb dining experience
"SI absolutely love Carine. The food, service, and ambience never disappoint. I particularly enjoy their onion tart, burrata and fried calamari. They are famous for a dessert that takes 45 mins (I forgot the name) but my favorite is the marshmallow brownie, so delicious! It might be expensive, but it's worth every cent." —Maya Osseiran, Google Reviews
3. Clinton Street Baking Company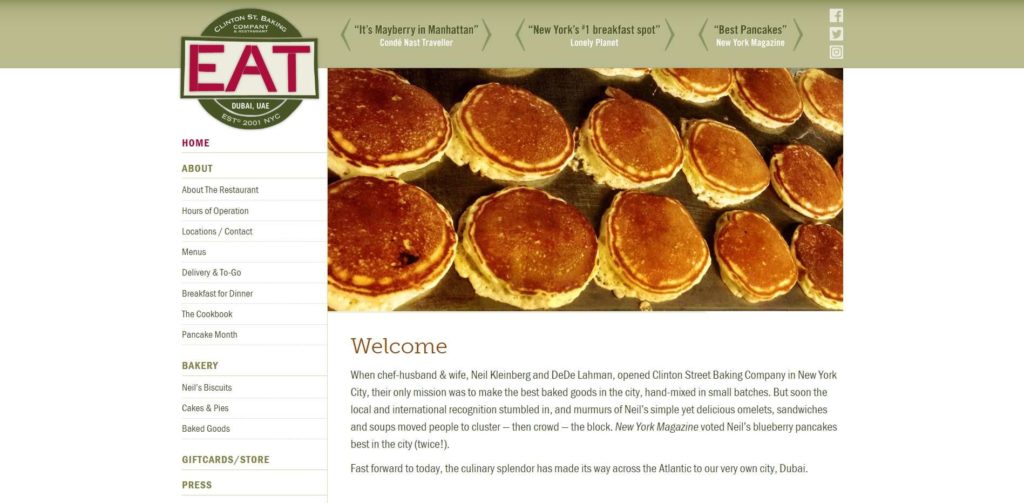 | | |
| --- | --- |
| Criteria | Rating |
| Food | ★★★★★ (5/5) |
| Beverages | ★★★★☆ (4/5) |
| Ambiance | ★★★★★ (5/5) |
If you're craving for Southern American comfort breakfast food, then Clinton Street Baking Company has got you covered.
Located in the middle of downtown Dubai, this internationally acclaimed bakery is a perfect stopover on your way to work for that pick-me-up stack of pancakes.
Besides its world-renowned pancakes, its fried chicken and waffles are pretty hard to beat — probably the best we've ever had!
It goes perfect with brewed coffee too, which is kind of divisive. It's prepared like how Americans do it, brewed and a bit watered down.
It's what some look for in their first cup of coffee for the day, but for us, the coffee could have been better, stronger.
And of course, the restaurant has famous pastries which we filled ourselves with. From freshly-baked muffins to cookies and brownies, it's not hard to see why it found its first success as a wholesale baking company.
And another great thing about Clinton Street Baking Company is the undeniable New Yorkness of the whole place.
Located in the bustling downtown Dubai, the space is filled to the brim with the sound of traffic and Latin blues and jazz music — creating the perfect concoction to simulate New York coffee shops.
The smell of freshly baked goods and ground coffee also hits us right in the soul and the perfect scents to jumpstart our appetite before we sat down.
All in all, Clinton Street Baking Company offers New York comfort on a plate. From American classics that are loved around the world to its famous pastries, we never run out of things to love here.
Serves American comfort breakfast food
World-renowned pancakes and pastries
Perfect New York coffee shop vibes
Customer Reviews
One of the best breakfasts out there
"The BEST BREAKFAST I've ever had. This is quality over the top. Everybody needs to at least once go and eat breakfast at Clinton Street Baking Company. I was blown away by the amazing food that we got served here and every bite was a delight. You get more than what you pay for here and the portion sizes are big as well.
The service was really good and friendly. We got our food in a good order and could enjoy it in the best possible way.
Every plate was cleaned properly.
Till this day, it is still my favorite breakfast spot and I can't wait to return there.
The spot where the restaurant is situated is perfect. City Walk is a really beautiful place and you can either sit inside or outside and enjoy the view.
I have no complaints, I only have praises for this place. Keep up the awesome work you guys are doing!❤" —Doux Eats, Google Reviews
Amazing service, amazing food
"Environment was lovely so as the decor, great place to go and have breakfast.
Staff are very friendly and attentive toward their tables.
Breakfast tasted great, everything felt fresh quality ingredients.
Coffee was great also.
My only complaint is that the table is abit sticky maybe from cleaning supplies.
Overall definitely recommend the place." —Mohamed Al Ali, Google Reviews
4. Bistro Des Arts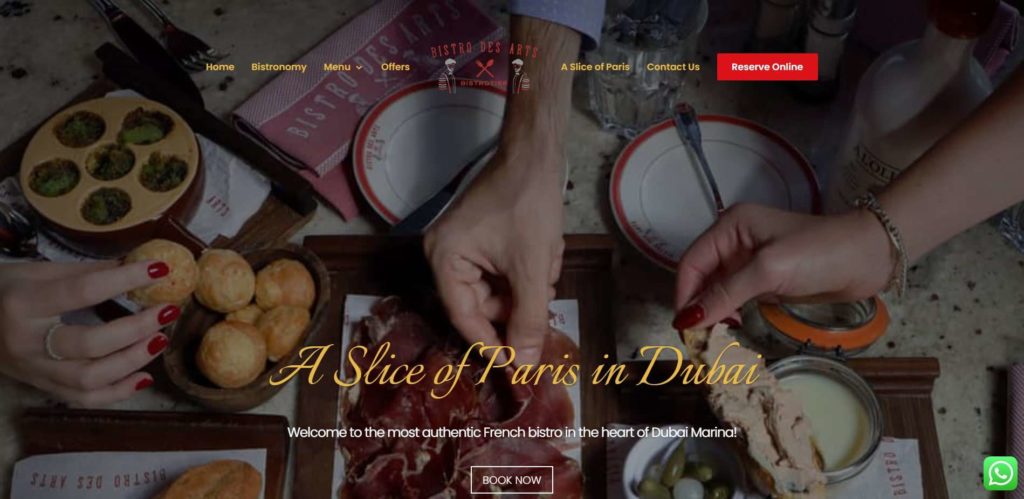 | | |
| --- | --- |
| Criteria | Rating |
| Food | ★★★★★ (5/5) |
| Beverages | ★★★★☆ (4/5) |
| Ambiance | ★★★★★ (5/5) |
A quintessential Parisian bistro located right next to the waters of Dubai Marina is Bistro Des Arts, serving authentic French breakfast since the 1970s.
Harkening to the beauty of small towns in the countryside of France, this bistro serves "Terroir" French home-style food that is rustic, unpretentious, and comforting.
Its weekend brunches are what we keep coming back for. For only AED99, we got access to a buffet of croissants, cold cuts, fresh bakes, and many more.
And when we talk about these pastries and meats that we ate, we are talking about authentically made French food with ingredients imported from France.
The difference and authenticity are undeniable. There is something about the richness of the butter that we can taste in the croissants that just hits differently.
The fruit juices could have been better if they were freshly squeezed, but it was obvious that it was possibly just boxed fruit juice imported from France.
The coffee was great, though. Just the right amount of bitterness and subtle notes that differentiated itself from the usual generic brewed coffee.
The ambiance was the best thing about this place. With a water-facing terrace and rustic French decor, it was easy to get lost in the moment and start feeling the fantasy of having a vacation in the French countryside.
All in all, Bistro Des Arts serves undeniable authentic and delicious French comfort breakfast food. So, we recommend coming over with a book and in your best leisurely summer outfit and immersing in the experience.
Serves authentic French breakfast food
Has weekend brunches
Rustic French-style ambiance
Overlooking waters of Dubai Marina
Fruit juices are not fresh
Customer Reviews
They deserve all the praises in the world
"If you don't already know where it is, do your best and explore the Marina mall. Because when you discover it, this will become your favorite get away place. French cuisine with distinctive dishes but each sequence has some surprise. The staff deserves extra praise. Warm, cheerful, they give this bistro a special charm. Sorry I didn't take more pictures but…you know how it is " —Tamara Horvat, Google Reviews
Always something to come back for
"A very nice place with a very French bistro atmosphere. The food is good, the menu is regularly updated.
You'll find a good choice of French dishes (I recommend the steak Tartare for meat lovers) and drinks.
Paul the restaurant manager is super friendly and the staff will make sure you are spending a great time.
If you are looking for a typical Parisian restaurant in Dubai, Bistro des Art is definitely the place you shall consider for a romantic diner, or a festive hang out with friends." —Eric Koulourath (Eric Koulourath), Google Reviews
5. Eggspectation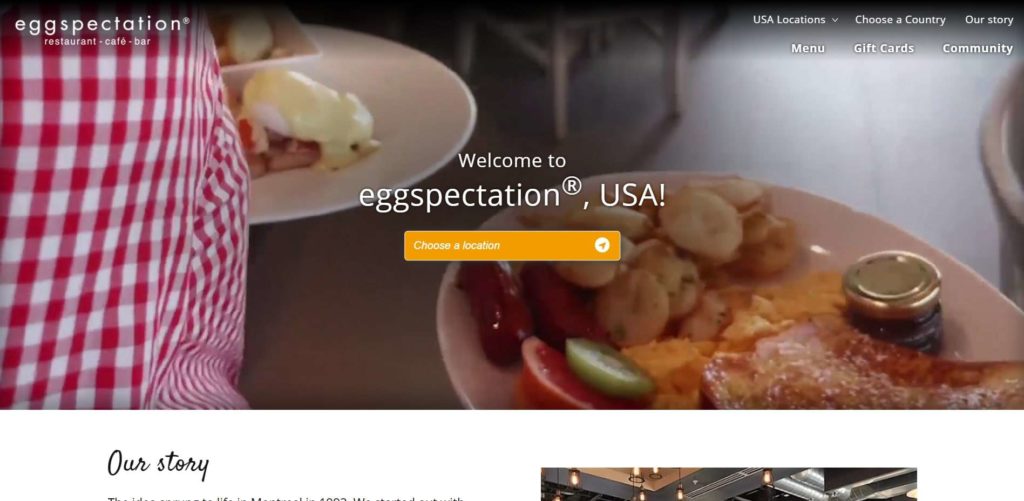 | | |
| --- | --- |
| Criteria | Rating |
| Food | ★★★★★ (5/5) |
| Beverages | ★★★★☆ (4/5) |
| Ambiance | ★★★★☆ (4/5) |
Eggs are a natural part of the breakfast repertoire of many restaurants, but Canadian cafes take the concept of all-day breakfast to a whole new level with it.
Its egg-centric menu lends itself to some fun takes on this breakfast staple, pairing it with successfully delicious dishes like the Lobster Benny which has two poached eggs on an English muffin.
It also serves a number of pancake options, French toast, and Belgian Waffles.
In other words, expect a filling breakfast when you're at Eggspectation because whatever it is you order, it will fill you right up and get you ready for the day ahead.
Another thing we love about this cafe is its freshly squeezed orange, grapefruit, apple, and carrot juices — great options for those looking for a healthier twist to their breakfast.
These freshly squeezed juices are also found in the smoothies that are not only nutritious but often are favorites over the coffee, which was fine.
As for its ambiance, it was energetic, warm, and welcoming. Stepping right in, we immediately felt like were going to have breakfast at our friend's house.
However, it was hard to pinpoint a specific theme or style the restaurant was going for. Everything felt like a generic Western cafe, that is thankfully uplifted by the upbeat music and the conversations of the crowd.
All in all, Eggspectation really doubles down on its identity and blasted us away with its egg-centric dishes and freshly squeezed fruit juices — the ultimate combination for a great Western breakfast.
Unique egg-centric dishes
Freshly squeezed juices and smoothies
Warm and bright ambiance
Big portions
Coffee was just ok
Styling felt generic
Customer Reviews
Great atmosphere and excellent dishes
"Really nice place, yesterday was quite sandy but the atmosphere of the restaurant is really aesthetic. The staff are super friendly… we had forgotten to order one of our dishes and the staff happily gave it in less than 10 mins which was great because I was quite hungry 😊.
Preferably a better place to have a nice brunch rather than a breakfast because even the portion sizes of the breakfast were quite filling but the taste was very good." —Priyanjana Kumar, Google Reviews
The view really completed the whole dining experience
"Overlooking a beautiful view and has amazing food.. we ordered egg Benedict with smoked salmon and French toast and they were both beyond tasty and healthy.. I consider it a must-go restaurant for breakfast whenever I am in Dubai.." —Nevine Hedayat, Google Reviews
FAQs about Breakfast in Dubai
---
We hope this helped you in finding a restaurant for breakfast in Dubai. Also, if you're looking for other ways to celebrate moments or reward yourself, then check out these articles: