The 5 Best Seafood Restaurants in Dubai
Nothing beats the fatty umami taste of salmon belly or the exquisite briny delicateness of the sea urchin. In fact, seafood restaurants are in a league of their own as they serve up the sea's greatest treasures on a plate.
Being a city located on the coast, Dubai has its own fair share of great seafood restaurants, but which ones are they?
Don't fret because we're sharing with you our favorites as well as the factors we considered in choosing, and we also answered some FAQs about seafood restaurants in Dubai.
How much does it cost to eat in a seafood restaurant in Dubai?
The cost of eating at a seafood restaurant may vary depending on the restaurant and the dishes you will be ordering.
To give you a starting point, we've made a table of the average amount of money a pair of customers spend at our chosen restaurants.
| Seafood Restaurant | Average Amount of Money Spent |
| --- | --- |
| Alici | AED520 for two people |
| Hook & Cook | AED255 for two people |
| Ibn AlBahr | AED295 for two people |
| Marea | AED565 for two people |
| Pierchic | AED1200 for two people |
The Best Seafood Restaurants in Dubai
Before we get right into our favorite seafood restaurants in Dubai, here are the factors we considered for our entries on this list:
1. Iban Albahr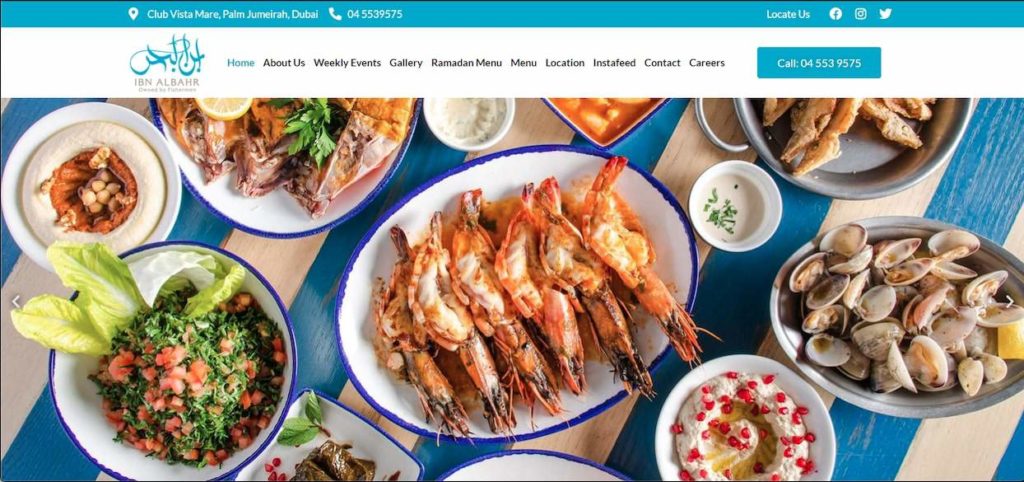 Test
Info
WEBSITE
https://www.ibnalbahr.me/
ADDRESS
Club Vista Mare (Palm Jumeriah - Dubai - United Arab Emirates)
CONTACT DETAILS
+971 4 553 9575

04-5539575

OPERATING HOURS
Daily: 8:30 PM - 12 AM
| | |
| --- | --- |
| Criteria | Rating |
| Location | ★★★★☆ (4/5) |
| Customer Service | ★★★★★ (5/5) |
| Freshness of the Ingredients | ★★★★★ (5/5) |
| Ambiance | ★★★★☆ (4/5) |
This Lebanese-seafood culinary destination is known for serving up freshly caught seafood done by the fishermen who run the restaurant themselves.
Situated on a small private beach on the shores of the Palm Jumeirah, Ibn AlBahr makes it feel like you are stumbling upon a hidden gem that only you know.
And despite its secrecy, this favorite seafood joint still finds a way to give you a view of Dubai's exquisite coastline and glitzy city skyline.
However, we have to note that getting there requires a bit of walking, so if you're not prepared for it, you might struggle walking with inappropriate shoewear on the beach—which was basically us in our favorite dress shoes and stilettos.
Another thing that needs pointing out is that it was easy to miss the sign that leads the customers to the restaurant, especially in the dim light of the evening.
But once we got there, we were greeted with such friendliness from the staff. And the one thing that stood out the most to us that night was the service's responsibility and honesty.
The customers at the next table complained that their plate of scallops didn't taste right and instead of insisting that the scallops were okay, the chef immediately took accountability, took it off their bill, and gave them a new plate of fresh scallops.
And this was something that rarely happens for a restaurant that serves the fresh catch that their team themselves caught.
Another aspect of this restaurant that really separates itself from the others and why they keep their food fresh is because customers get to pick the fish they want to be cooked in the traditional Lebanese style of cooking.
And we love how apparent this is because the menu doesn't try to mask the natural taste of the seafood but rather takes it in stride—brine and all—and elevates it to these complex yet understated flavors.
Those subtle flavor profiles perfectly match the ambiance of the restaurant as a whole.
Their alfresco dining overlooks the waters and gives off this sense of holidays spent abroad.
The interior styling is bright and airy, and the sand on our feet completed our beachside dining experience with them.
All in all, Ibn Albahr does what restaurants rarely do, and that is having the suppliers of the ingredients themselves have the biggest stakes in the dining experience.
Led by fishermen, this restaurant shines in every seafood restaurant's essence—to serve excellent quality dishes made out of the freshest ingredients.
Private and intimate location
Friendly and honest staff
Excellent and fresh quality ingredients
Offers views of the coast and the city
The venue is difficult to locate
Requires a bit of walking to get there
Customer Reviews
No complaints, just a great experience
"Nice restaurant, the setting is very good and comfortable, the place is a bit loud with customers on weekends but all and all it's very good, the staff is nice and helpful.
The food is very good! The salads are very good, appetizers as well. The fish is always fresh and cooked to perfection!
It's highly recommended.
PS: keep your bill in order to use it as a parking token when exiting the venue." —Mahmoud Doughlas, Google Reviews
Best place for fresh seafood
"Amazing location with great service. It's also a nice experience to pick your own fish inside the restaurant and get informed about the different ways of preparation. I visit this place at least once every 2 months. Highly recommend it if you love fresh fish!" —Julia S., Google Reviews
2. Alici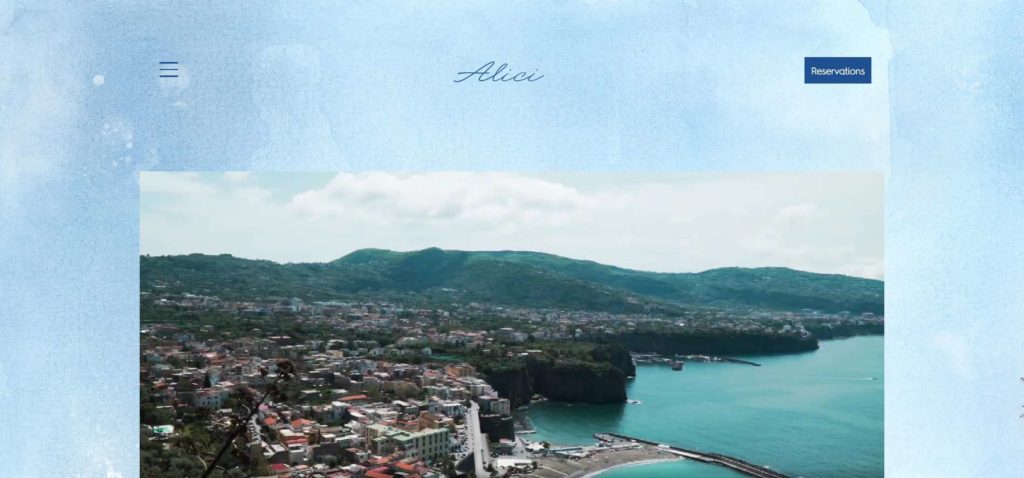 | Test | Info |
| --- | --- |
| WEBSITE | http://alici.com/ |
| ADDRESS | Bluewaters Island - Dubai - United Arab Emirates |
| CONTACT DETAILS | +971 4 275 2577 |
| OPERATING HOURS | Daily: 12 PM - 4 PM and 7 PM - 11:30 PM |
| | |
| --- | --- |
| Criteria | Rating |
| Location | ★★★★★ (5/5) |
| Customer Service | ★★★★★ (5/5) |
| Freshness of the Ingredients | ★★★★☆ (4/5) |
| Ambiance | ★★★★☆ (4/5) |
Bringing in the Amalfi Coast dining experience, Alici is a Southern Italian seafood restaurant that excellently brings the beauty and authenticity of this region to Dubai.
The location only elevates this theme for the restaurant, as it is located in Marina Dubai. With a view of the yachts parked there, customers can enjoy this through their windows and their alfresco area located on their terrace upstairs.
We also love the quality of service we got there. The staff both in the dining room and the kitchen work so efficiently.
Our appetizers came in so quickly that we were worried that it was undercooked, but to our surprise, it was perfectly done and was served to us in no time at all.
However, Alici's pursuit of an authentic South Italian dining experience comes at a price.
The freshness of some of their seafood ingredients can vary, as these are imported straight from Italy, a choice consciously made over substituting it for some local Dubai seafood readily available to them.
And we understand this pursuit of authenticity because Alici does it so beautifully. They have perfectly encapsulated summers by the South Italian coast and brought these to the coasts of Dubai.
From anchovy-themed ceramic, which harkens back to the restaurant's name, to a hyper-realistic painting of the Amalfi Coast being the centerpiece of the dining room, Alici does this with such respect for the beauty of the region.
However, the place does often get noisy due to the restaurant's acoustics indoors.
But it's almost forgivable, in our opinion, because it reminds us of the typical rambunctious noise of families coming together to break bread.
All in all, Alici is willing to sacrifice the freshness of its dishes in the name of an authentic South Italian dining experience, and they shine immensely because of this.
The views, the service, and the interior all come together to give customers a meal that is worth sharing and remembering.
Located in Dubai Marina
Efficient service
Serves authentic Southern Italian dishes
Beautifully decorated space
The place can get noisy
Freshness of ingredients may vary
Customer Reviews
Beautiful lunch and even more beautiful restaurant
"We had the most beautiful lunch at Alici. we were seated on the terrace upstairs and had the most incredible view. We had a few appetizers which were all phenomenal and then for our main course we had the lobster linguine. The presentation was outstanding and the taste of the food was everything. We weren't going to have dessert but our server recommended the pineapple carpaccio. it was such a great recommendation! The sommelier was fantastic selection of wines was available.
Overall there was a great ambiance, the staff and service were excellent and the food was absolutely incredible. I would highly recommend and I can't wait to come back again!" —Sam T., Google Reviews
Great choice for all occasions!
"Great ambiance, excellent food, and service, very nice views. We had the branzino seabass, lobster linguine, spaghetti arrabbiata, and a side of asparagus. Everything was delicious. We ended it with pineapple carpaccio which was also yummy. Same owner as el burro at Naseem hotel, which is also a wonderful restaurant" —Dara Dajani, Google Reviews
3. Pierchic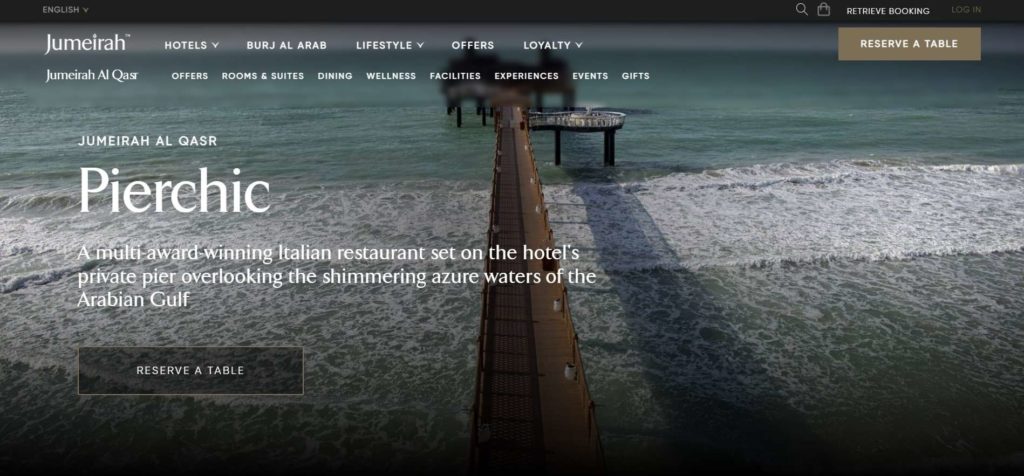 | | |
| --- | --- |
| Criteria | Rating |
| Location | ★★★★☆ (4/5) |
| Customer Service | ★★★★☆ (4/5) |
| Freshness of the Ingredients | ★★★★★ (5/5) |
| Ambiance | ★★★★★ (5/5) |
Pierchic is a multi-award winning restaurant and has quickly become one of the most romantic dining experiences in Dubai.
Their title is mostly thanks to its over-water venue that has its own pier and an amazing view of the Burj Al Arab as seen through their alfresco dining area and their oversized glass windows.
Dates and celebrations are always accompanied by excellent Italian seafood dishes that have ingredients served and prepared fresh.
And in some dishes, the freshness shines, and we really tasted that amazing briny sea salt flavor in the raw fish and oysters that we ordered.
We also love how the whole experience just exudes romance from start to finish. The walk from and to the restaurant along the pier was enchanting, to say the least.
Our dining experience was set on a candlelit alfresco table with the sunset sky and the Burj Al Arab shooting up against the city skyline.
The food was plated beautifully and matched our expectations of how a gourmet Italian restaurant would present its work—with grace and sophistication.
Where it starts to fall apart for us was the fact that we had to go through the Jumeirah Al Qasr resort before getting to the restaurant.
It presented some challenges like having to walk longer than we were comfortable with, considering that we were wearing the required dress code, which is smart elegant.
We also had to go through the resort's pool and beach, which was troublesome because we ended up looking out of place in a crowd enjoying a cocktail in their swimwear.
And when we got there, the hostess didn't help. We felt like she was just going through her script and didn't exactly exude friendliness nor the kind of hospitality we'd expect from a critically acclaimed restaurant.
Despite that, the level of beauty in its location, its ambiance, and the quality of food they serve is undeniably excellent.
Pierchic blew us away with such a uniquely romantic dining experience that we dreamt about for weeks after.
An over-water venue with its own pier
Has a view of the Burj Al Arab
Serves fresh seafood
Romantic and intimate ambiance
Requires some walking through the resort pool and beach
The hostess was cold and unattentive
Customer Reviews
The perfect choice for a perfect date
"One of the most spectacular places I've been to. The ambiance, the view, the food, and the service was totally top-notch. The food was really good and cannolo dessert was the apt ending to the meal. The most perfect date night ever!!♥️" —Udai Duqeh, Google Reviews
Definitely a must-visit restaurant
"Pierchic located at Jumeirah Al Qasr is one of the most romantic restaurants in Dubai. The location, the venue, and the atmosphere are enchanting. The Italian food served at the restaurant is super delicious. You can expect efficient service. A must-visit restaurant for special occasions" —Meghana Rao, Google Reviews
4. Marea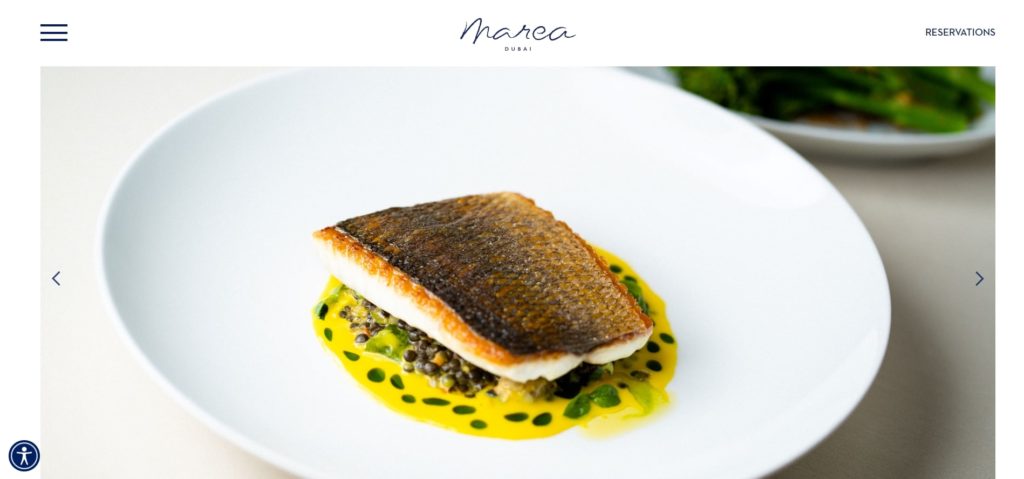 | Test | Info |
| --- | --- |
| WEBSITE | https://www.marearestaurant.com/dubai |
| ADDRESS | DIFC Gate Village 7 - Dubai - United Arab Emirates |
| CONTACT DETAILS | +971 4 583 6366 |
| OPERATING HOURS | Daily: 12 PM - 4 PM and 7 AM - 3 AM |
| | |
| --- | --- |
| Criteria | Rating |
| Location | ★★★★☆ (4/5) |
| Customer Service | ★★★★★ (5/5) |
| Freshness of the Ingredients | ★★★★★ (5/5) |
| Ambiance | ★★★☆☆ (3/5) |
A DIFC-staple, Marea has become the setting to great business deals, after-work celebrations, and countless power lunches.
Being a part of the DIFC neighborhood means that Marea is one of the top choices of workers in Dubai's famous financial and corporate hubs, and rightfully so because they are one of the few that serves seafood in the middle of downtown Dubai.
However, the lack of an oceanic view and the absence of anything pertaining to the sea in the styling of the restaurant felt disappointing and an opportunity sorely missed.
This two-Michelin restaurant offers nothing but the freshest ingredients only despite its landlocked location.
And while its freshness may go unnoticed to the untrained palette because of how beautifully concocted their recipes are, the freshness peaks through to those who know how to look for it
The service perfectly matches the quality of their food too. The waiter we had were very attentive and gave recommendations not based on the best sellers but on what he thought would suit our taste.
As for its ambiance, the clean and crisp white table sheets and the simple and elegant cutleries that gleam because of the artfully placed warm lighting evoke a sense of quiet luxury.
The art deco leather chairs give it a sense of warmth that evokes a sense of casualness that can be hard to find in luxury restaurants.
But while many appreciate the quietness of the whole restaurant, we actually found it somewhat unnerving, as we heard nothing but whispered conversations and clinking glasses and cutleries
It was hard to relax and enjoy the moment when you're being conscious of the volume of your voice.
All in all, Marea is a great choice for seafood on a whim.
Its simple elegance and understated menu shine without doing too much, and the interior styling is timeless and perfectly encapsulates the marriage of this neighborhood and the kind of food they serve.
Located in the central financial hub of the city
Staff were attentive and prepared
High-quality fresh seafood ingredients
Elegant and luxurious interior
Does not offer a unique view or setting
The restaurant lacked ambient sound

Customer Reviews
A great upscale restaurant in Dubai
"Amazing upscale restaurant in a very beautiful area of Dubai. Food is absolutely delicious with many choices to choose from. We got 4 amazing pasta dishes.
(The best one was the one filled with veal) the service was beyond compare and for sure will make a revisit!!
The restaurant is quite expensive but I do agree the price and the experience is well worth it. See" —Eli Hafif Chen, Google Reviews
A restaurant with an amazing dining experience
"What an exceptional experience, I went to the restaurant on my own, and I got a welcome from everyone, especially from "Damiel" he was very attentive and gave me many recommendations that were all wonderful, and after dinner, I also got this chocolate as hospitality from the restaurant, and I advise everyone to visit the place not only because The restaurant staff and management are friendly, but also because inside the kitchen there are professional hands who cook the food very professionally. Greetings to the skilled chef, happy to dine in this great restaurant." —Salah Ali, Google Reviews
5. Hook & Cook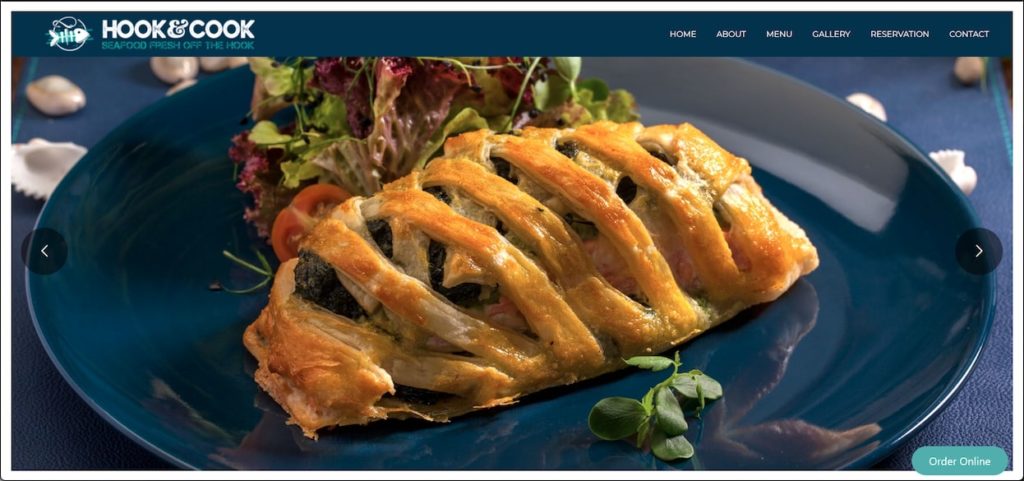 | Test | Info |
| --- | --- |
| WEBSITE | https://hookncook.ae/ |
| ADDRESS | The Pointe-Palm Jumeirah, West Zone-First Floor-FA 23, Dubai, UAE |
| CONTACT DETAILS | +971 4 244 3214 |
| OPERATING HOURS | Daily: 11:30 AM - 12 AM |
| | |
| --- | --- |
| Criteria | Rating |
| Location | ★★★☆☆ (3/5) |
| Customer Service | ★★★★★ (5/5) |
| Freshness of the Ingredients | ★★★★★ (5/5) |
| Ambiance | ★★★☆☆ (3/5) |
Brimming with personality, as seen on its nautical-themed decor and deep blue walls facing the sunset horizon, Hook & Cook provides an indulgent dining experience that can only be traced back to the sea's bountiful treasures.
Located at the Palm Jumeirah's The Pointe, this restaurant is one of the many situated there that has access to the view of the outer ring of the Palm.
And while we found the view to be quite mundane compared to the others, as it didn't really offer any groundbreaking angles of anything, it was enough to complement our quaint dinner.
We also needed a bit more signages at the Pointe to point us to this restaurant's location, as we ended up wandering more than we should around the area because we got lost multiple times.
But when we did get there, we enjoyed how the staff was so considerate and meticulous with how they served us.
They regularly changed our plates and cutlery, keeping the table clean and fresh from the odor of seafood. It really shows their great attention to detail.
We also love that the families that dine there get coloring paper and crayons for the children to keep them busy, and they were overall friendly.
As for the freshness of its ingredients, this is where they shine the most. They serve really fresh seafood with such care and personality that is noticeable from a glance at their menu.
We can tell that they show so much respect for the labor that was put into getting this fresh seafood onto the plates of their customers by adapting their menu to the fresh daily catch.
The result is that we never get the same dining experience with them, always great but never the same.
And we just love the fact that despite their ever-changing menu, the dishes are always sophisticated and well-balanced, indulgent without being overly rich.
The same respect and care can be seen on the walls, as they are lined with nautical photos and wall decor.
However, the more we spent time looking at these, the more it felt inauthentic like it was trying too hard to sell us the fact that they're a seafood restaurant.
Windows were also disturbingly lacking, with all of it placed on just one side of the restaurant so the other three walls were just a desert of deep blue paint, photos, and cluttered decor.
The rope chandeliers didn't help either. It made the whole space feel overcrowded, as it was hanging too low. The black chairs and tables also made the space feel confined.
Despite this, we strongly recommend Hook & Cook for their seafood dishes that are full of personality and creativity while they are prepared and cooked with care.
The proportions are also big enough for sharing, which is definitely great for those who want to dine with a big group.
Located at tourist hotspot
The staff was attentive and paid great attention to detail
Serves fresh and creative seafood dishes
The restaurant is difficult to find
The view from the alfresco isn't great
Poorly decorated dining room

Customer Reviews
An underrated gem
"This place is underrated, for the quality of food and friendliness of the staff, I expected it to be crowded.
Usually, restaurants that serve seafood would have an odor, this place was very clean, the staff was changing the plates and cutlery for us keeping the table nice and clean.
The food was amazing, and all the dishes were great. Unfortunately, we were too full to try out the desserts. Hopefully, next time." —Farah Al-Khawaldeh, Google Reviews
A great family restaurant
"My family and I love the place. The staff was very kind and attentive, they even brought coloring paper and crayons for my son to play with until his food arrived.
Lobsters tasted amazing, their Mojito was really good, however, their best was fried shrimp and calamari both cooked to perfection, I just wanted to order more.
Definitely recommend the place if you ever want to eat seafood this is it." —Mohamed Al Ali, Google Reviews
FAQs about Seafood Restaurants in Dubai
---
We hope this helped you in finding a seafood restaurant to try out. Also, if you're looking for other ways to celebrate moments or reward yourself, then check out these articles: