The 5 Best Japanese Restaurants in Dubai
Japanese cuisine is the epitome of calculated perfection and understated luxury. Japanese chefs take years to perfect their craft, and that is the reason why the way they cook is held in such high regard.
Dubai is home to some of the most renowned Japanese restaurants that garner acclaim and pushes the boundaries of Japanese cooking.
That is why we're sharing with you our favorites as well as the factors we considered in choosing, and we also answered some FAQs about Japanese restaurants in Dubai.
How much does it cost to eat in a Japanese restaurant in Dubai?
The cost of eating at a Japanese restaurant may vary depending on the restaurant and the dishes you will be ordering.
To give you a starting point, we've made a table of the average amount of money a pair of customers spend at our chosen restaurants.
| Japanese Restaurant | Average Amount of Money Spent |
| --- | --- |
| Akira Back | AED500 for two people |
| Fujiya Dubai | AED399 for two people |
| Kiku Dubai | AED300 for two people |
| Nobu | AED600 for two people |
| Zuma | AED800 for two people |
The Best Japanese Restaurants in Dubai
Before we get right into our favorite Japanese Restaurants in Dubai, here are the factors we considered for our entries on this list:
1. Akira Back Dubai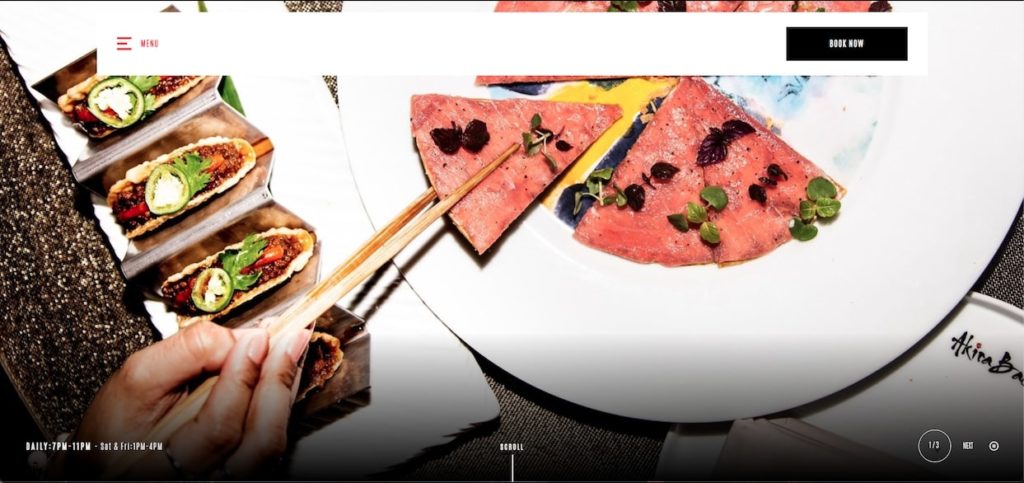 Test
Info
WEBSITE
https://www.akirabackdubai.com/
ADDRESS
Fifth Floor, W Dubai – The Palm West Crescent, Palm JumeirahDubai
CONTACT DETAILS
971-4245-5570
OPERATING HOURS
Dinner daily: 7 PM - 11:30 PM

Saturday brunch: 1 PM - 4:30 PM

Social Sunday: 1 PM - 4 PM
| | |
| --- | --- |
| Criteria | Rating |
| Authenticity | ★★★★☆ (4/5) |
| Customer Service | ★★★★★ (5/5) |
| Ambiance | ★★★★★ (5/5) |
| Location | ★★★★☆ (4/5) |
This self-titled restaurant of the professional snowboarder-turned-Michelin starred-chef, Akira Back, serves Japanese food the way Akira cooks it.
Infusing her rebellious and carefree spirit into the restrained and calculated art of Japanese cuisine, Akira presents a menu that is found to be sophisticated, slick, and effortlessly refined.
And while it's not the traditional Japanese food that most people look for, it's authentically and unapologetically Akira's cooking and interpretation of Japanese food.
Besides this alternative contemporary Japanese menu, they also have a dedicated vegan menu that we just love because vegan options are something that is often overlooked in restaurants.
And this attentiveness to a customer's needs also bleeds into their service. We're big fans of how attentive the host was and always checked on us and how our experience was going.
We also love that the service was very efficient and quick. Everything felt smooth during the service, and the waiters were always on point with their answers whenever we asked them about the menu.
As for the restaurant's ambiance, we love the sense of poshness and sophistication that is usually found in modern Japanese restaurants, but Akira Back Dubai takes it to a hundred.
It's only made better by the amazing view of the Dubai skyline, and it was such a treat enjoying it from our leather-clad booth.
Another notable feature of the restaurant's interior is the hallway that you enter. It's uniquely designed to evoke a sense of excitement and anticipation as we entered.
Akira Back Dubai is located at The Palm Jumeirah, on the fifth floor of W Dubai. This place offers stunning views of the city and the coastline.
However, the area is some ways away from the actual parts of the city, so getting there requires some effort that is rightfully rewarded.
Dedicated vegan menu
Attentive and efficient staff
Has a view of the Dubai cityscape
Beautifully decorated space
Only has one location in the city
Separated from the main part of Dubai city
Not traditional Japanese food
Customer Reviews
A modern take on Japanese favorites
"Superb dining experience. The cuisine is amazing as well as it has a modern twist on classic Japanese dishes. Every time we have a special occasion, my wife and I go there with friends or just for date nights. The views from the restaurant are gorgeous especially on a clear night. The staff and service is always exceptional. We had Minnie as our waiter and she was very professional and helpful with whatever we required. The host always comes and asks us how the dining experience is going as well. Overall a proper 5 Star experience." —Zane Dubash, Google Reviews
Everything they serve is perfection
"I love this restaurant. It's one of my favourite places to visit at the W Palm for Asian food. The food is Japanese with Korean flavours and ingredients. They also have a full vegan menu which is great if you need to accommodate different dietary requirements. Always consistent and delicious. It's not cheap, but they sometimes have nights with different promotions. It's an excellent choice for a special occasion. When the weather is nice, book a table on the terrace which is stunning. A lovely place for lounging and has peaceful views over the pool. Highly recommended!" —Jen Sahi, Google Reviews
2. Fujiya Dubai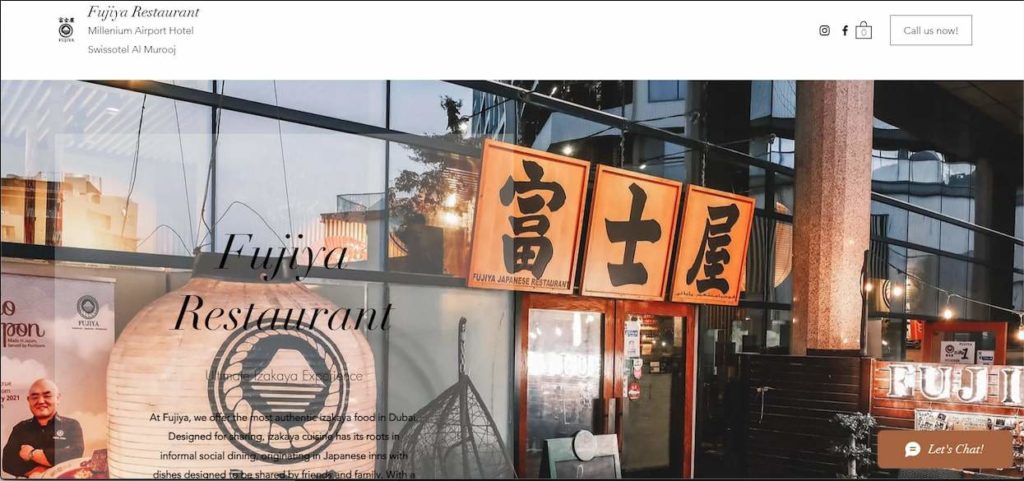 Test
Info
WEBSITE
https://www.fujiyarestaurantdubai.com/x
ADDRESS

Millennium Airport Hotel Airport Road - Casablanca St - Garhoud - Dubai - United Arab Emirates


Has 1 more branch in the city

CONTACT DETAILS
04 702 8846
OPERATING HOURS
Daily: 12 pm - 1 am
| | |
| --- | --- |
| Criteria | Rating |
| Authenticity | ★★★★★ (5/5) |
| Customer Service | ★★★★★ (5/5) |
| Ambiance | ★★★★☆ (4/5) |
| Location | ★★★★☆ (4/5) |
Our most authentically Japanese pick for this list, Fujiya Dubai brings great izakaya food that is usually meant for sharing informal meals with friends, family, and coworkers.
Our favorites from their menu that we simply just can't forget are their famous karaage fried chicken, their amazing hotpot buffet, and the yakitori skewers that transported us to Japan.
On top of that, we love that despite this the izakaya-style food and dining, Fujiya Dubai brings in some sophistication and luxury by including dishes like Wagyu beef, shiso leaf tempura, and grilled mentaiko.
And even though deciding may get confusing with their ala carte menu, hotpot buffet items, and the yakitori barbecue choice, we love that their waiters explained their offerings very well.
We also appreciated their honesty and gave us what they think the best dishes for our table were instead of opting to tell us their bestsellers.
Other things that we really like about the restaurant are the tall glass windows and tall ceilings because they gave the space a feeling of openness.
And this was such good foresight from the designers of Fujiya Dubai because, at some point, it does get overcrowded and it gets hard to ignore.
When it does get overcrowded, we love to sit at their alfresco area and complete our dining experience by grilling some yakitori skewers over shots of sake.
Where the restaurant struggles a bit is in its location. Its main branch is awkwardly placed too near the airport while not being within the vicinity of the airport itself.
However, it is located in a hotel, and they collect customers that come and go from the airport.
So, we like that it becomes somewhat a good pit stop for travelers, and it's such a great hotspot for after-work gatherings.
All in all, Fujiya serves some of the most authentically traditional Japanese meals in Dubai. The best part about this is that we didn't even need to purchase plane tickets, we just got a cab to drop us near the airport.
Serves authentic izakaya food
Honest and knowledgable staff
Beautifully decorated space
Has alfresco dining
Can get overcrowded
Awkward location in the city
Customer Reviews
Great authentic Japanese food
"Probably one of the most authentic restaurants/izakaya in Dubai for a variety of Japanese food. The prices won't eat you alive like in most of the Dubai good eateries. Affordable and yum!
Apart from the nice Japanese hotpot restaurant has a great selection of dishes to fit your liking. It's prepared fresh and with care.
The staff is extremely helpful and attentive.
Alcoholic drink availability is a great advantage.
If you are a Japanese food 🍱 foodie it's a must-visit!" —Leszek Moniuszko, Google Reviews
I keep coming back with them
"Amazing! Home-cooked style, extensive menu, everything is delicious. Mouthwatering wagyu, shrimps and chicken, amazing salads, what a treat! The staff is super attentive and friendly. I have been more than 20 times already in the last 8 months! Recommended." —Antonio Torres, Google Reviews
3. Kiku Dubai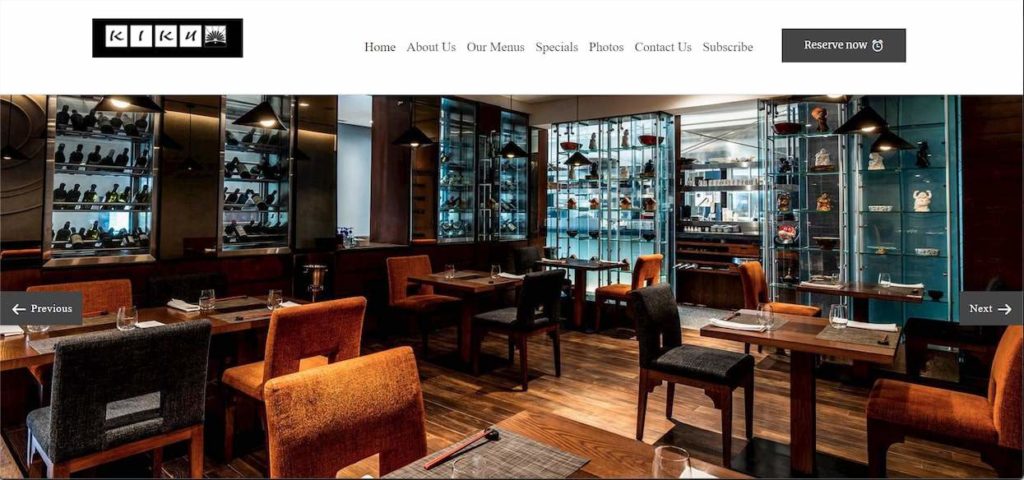 WEBSITE
https://www.kiku-dubai.com/
ADDRESS
Le Méridien Dubai Hotel & Conference Centre, Airport Road, PO Box 10001, Dubai
CONTACT DETAILS
+971 4 702 2455
[email protected]
OPERATING HOURS
Daily: 12:30 pm – 3 pm and 6:30 pm – 11 Ωpm
| Test | Info |
| --- | --- |
| WEBSITE | https://www.kiku-dubai.com/ |
| ADDRESS | Le Méridien Dubai Hotel & Conference Centre, Airport Road, PO Box 10001, Dubai |
| CONTACT DETAILS | +971 4 702 2455 |
| OPERATING HOURS | Daily: 12:30 pm - 3 pm and 6:30 pm - 11 pm |
| | |
| --- | --- |
| Criteria | Rating |
| Authenticity | ★★★★★ (5/5) |
| Customer Service | ★★★★★ (5/5) |
| Ambiance | ★★★★☆ (4/5) |
| Location | ★★★★☆ (4/5) |
This longstanding Dubai Japanese restaurant has been around for a long time, and that's because Kiku Dubai brings in authenticity to the world of glitz and glamor in Dubai.
We love the ingredients they use to cook are flown in straight from Hokkaido, Kansai, Nagano, and the markets of Tsukiji. All of these are brought together to compose a menu that offers the typical and authentic Japanese food you can't find anywhere else in Dubai.
We're big fans of the purity and conviction to continuously serve Japanese food the way it's meant to be prepared and served, in a sea of restaurants trying to put twists on Japanese food.
As for their customer service, we love that it felt personal and local. The staff's service made us feel like we were eating at a small Japanese restaurant somewhere in Kyoto.
They were on top of everything throughout our dining experience, and they did everything we asked for efficiently while being very friendly as well.
Another part about this restaurant that we love is the way it is designed. The whole space feels small and intimate like we were dining at a hidden upscale Japanese restaurant in Japan.
The shelves are lined with wine, sake, spirits, and Japanese statuettes, which made the restaurant feel exquisite and sophisticated.
The subtle and warm lighting complements the softness of the wooden floor and the beautiful upholstery on the chairs. The combination felt intimate and cozy without feeling casual.
Just like Fujiya, Kiku Dubai is located by the airport in Le Meridien hotel. And just like many other restaurants in the vicinity, it draws in both locals and tourists that are coming and going.
Because of this, it's such a great choice for a first or last dining experience in Dubai for anyone. However, being located by the airport means it's less accessible for everyone else in the city
Ingredients are imported straight from Japan
Authentic Japanese food
Staff service is friendly and efficient
Luxurious and intimate space
The space can feel a little too small at times
Not as accessible to the people living in the city
Customer Reviews
Great food and excellent service!
"An authentic experience. Tasty food great ambiance and the service is amazing. The food takes to Japan, the freshness of the food will make you dive into a well-balanced sea of tastes.
I highly recommend the rolls and the kimchi pork belly." —Milad Issa, Google Reviews
Felt like I was eating in Japan
"You can tell that the owner and head chef is Japanese. I feel like I was transported to one of the small shops in Ebisu, drinking and eating yakitori. The menu is very large for Japanese restaurant. I will visit again. It was great to see so many Japanese people as well in the restaurant." —Krissy B., Google Reviews
4. Zuma Dubai
Test
Info
WEBSITE
https://zumarestaurant.com/
ADDRESS
Gate Village 06, DIFC, P.O. Box 506620, Dubai, United Arab Emirates
CONTACT DETAILS
+971 4 425 5660
OPERATING HOURS
Sunday to Wednesday: 12 pm - 3:30 pm and 7 pm - 12 am

Thursday to Friday: 12 pm - 3:30 pm and 7 pm - 1 am

Saturday: 1:30 pm - 6 pm and 7 pm - 1 am
| | |
| --- | --- |
| Criteria | Rating |
| Authenticity | ★★★★☆ (4/5) |
| Customer Service | ★★★★★ (5/5) |
| Ambiance | ★★★★★ (5/5) |
| Location | ★★★★☆ (4/5) |
This world-renowned international Japanese restaurant, Zuma, introduces a menu to customers that is sincerely authentic but not traditional.
We love that it's authentic in the sense that the ingredients used are imported from Japan and are authentically conceptualized and cooked by actual Japanese-trained chefs.
And with that, they take these beloved recipes and put a twist on them that elevates and differentiates them from their ancestors. We especially love their famous black cod.
We love that their service quality is all about attention to detail, from the table preparation to waiters describing and recommending dishes, to the beautifully plated dishes.
We also love the consistency in their service, too. During the many times we've eaten here, we always get the same excellent service that we've come to expect.
And we think that their service matches the beauty of the restaurant's ambiance. We love how despite it earning such a well-deserved sophisticated reputation, it maintains its roots of being an izakaya.
And the ambiance reflects that very well. The music is lively and becomes such a complementary aspect to conversations around our table
These are all elevated by the dramatic architecture of the restaurant like their grand staircase that becomes a point of interest for customers.
And the location adds to the ambiance of the whole place. Zuma is located in the DIFC building—one of the most recognized financial hubs in the city.
Because of this, Zuma becomes a perfect setting for business lunches and meetings. And the izakaya-inspired setting serves that very purpose, so the symbiotic relationship between the location and the ambiance is well-thought-out.
That being said, the location also brings down the ambiance in some way because it's hard to feel a casual atmosphere during lunches when you are surrounded by business conversations
Serves contemporary Japanese food
Staff is detail-oriented and consistent
Casual yet sophisticated ambiance
Located in a central part of the city
Does not serve traditional Japanese food
The businesslike energy of the location holds the ambiance back

Customer Reviews
The best in the whole city
"Top place, top quality, and standard. One of the best in the region with great consistency and amazing vibes. The one to go place if you want to party and enjoy a good night out. Well done to the team with a food that is on point and great service." —Cláudio Cardoso, Google Reviews
So much to do here for a night out!
"Great place for a very Dubai-style night out.
If you book for dinner, expect to spend AED 600+ for food and drinks per person.
The dishes are excellently prepared and the menu offers exciting choices of Japanese fusion for all eaters.
My ultimate favorite is the miso cod.
If you go to the bar you can do a walk-in and generally do not need to wait too long to enter. The cocktail menu is lengthy and the drinks are often served in a very impressive way – it's a show on its own.
The music is great and they usually have some great DJs playing if you want to stretch out a few dance moves." —Getter Moor, Google Reviews
5. Nobu Dubai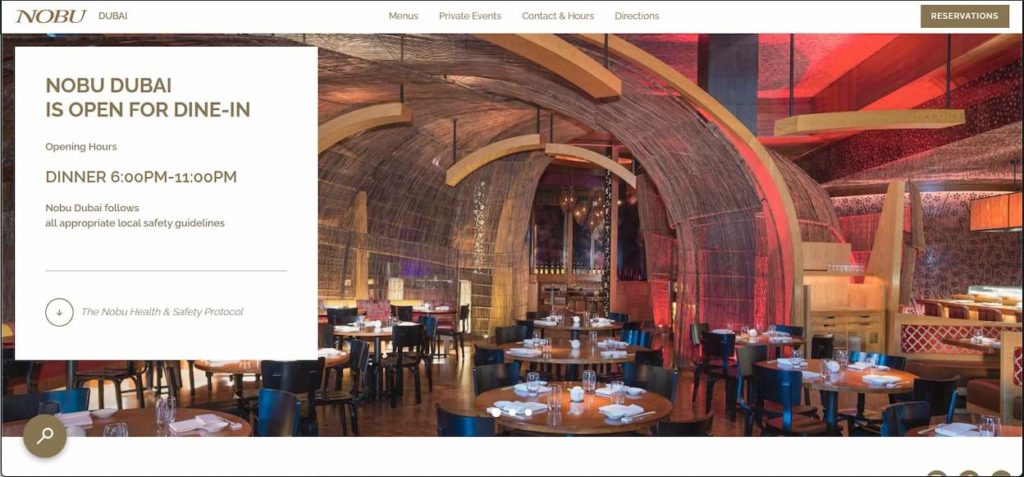 | | |
| --- | --- |
| Criteria | Rating |
| Authenticity | ★★★☆☆ (3/5) |
| Customer Service | ★★★★★ (5/5) |
| Ambiance | ★★★★☆ (4/5) |
| Location | ★★★★☆ (4/5) |
Known for fusing Japanese dishes with Peruvian ingredients, Nobu has become one of the most recognizable restaurants in the world.
And while it is the most famous entry on our list, the dishes they serve have veered away from traditional Japanese cooking to serve contemporary dishes that go beyond ethnic roots.
That being said, their sashimi is still prepared and served in traditional Japanese style.
Their name isn't the only thing that's world-class about them. The quality of their service is the same, and it is standardized and consistent all throughout our dining experience with them.
The staff accommodates guests' needs, and we even saw them celebrating birthdays with other customers to make their experience even more unforgettable.
As for its ambiance, we love the sense of sleekness that you can see and feel from its interior.
The subtle lighting and curved wicker panels create a minimalistic yet intimate space that naturally welcomes romantic moments but can also be dressed up to accommodate parties for groups.
However, the upscale fantasy that the interior offers is downplayed by the surprising amount of little children crying or running around. At some point, the restaurant felt like a noisy canteen because of this.
We also found its location to be too physically separated from the main island of Dubai which can sometimes appear inconvenient especially when other upscale Japanese restaurants are located within the main parts of Dubai.
All in all, while it may have some setbacks and doesn't exactly serve everyone's typical imaginings of Japanese food, Nobu still makes strong arguments as to why they're one of the best.
Serves the best sashimi in the city
World-class quality service
Interior is sleek and intimate
Location garners both locals and tourists
Does not serve traditional Japanese food
The restaurant can get too noisy
Location is physically separated from the city proper
Customer Reviews
Excellent food and service
Best Japanese food ever and worth the price with the excellent service by all the staffs. Dubai and Signature Tasting Menu is simply the best😍. My partner and I enjoyed every bite of all they served us. Keep up your good service! The main dining is noisy but the outdoor is good for couple or who wants a romantic spot" —Ma. Vebeth Tolarba, Google Reviews
Memorable birthday dinner with them!
"Celebrated my birthday here and they did everything to make it memorable! We had a tasting menu and all the food was amazing. Cocktails were also very good. The staff was very kind and they even gave me a small cake for my birthday! Will definitely visit again in the future!" —Bo Beljaars, Google Reviews
FAQs about Japanese Restaurants in Dubai
---
We hope this helped you in finding a Japanese restaurant to try out. Also, if you're looking for other ways to celebrate moments or reward yourself then check out these articles: