The 5 Best Oncologists in Dubai
Cancer is a life-threatening disease that involves the uncontrollable growth of cells in any part of the body. If left improperly diagnosed, it can cause terrible medical conditions, and at the worst, death.
This is where oncologists come into play. These highly trained and educated professionals can investigate, diagnose, and treat a patient with cancer or is suspected to have one.
In no particular order, here are our top recommendations for the best oncologists in Dubai!
How Much Do Oncologists Charge?
There are different types of oncologists, each with a specific specialization. They can be a radiation oncologist or a medical oncologist.
The difference between these two types of cancer specialists lie in what kind of treatments they provide. For example, a radiation oncologist will utilize radiation therapy, using high-energy X-rays.
On the other hand, a medical oncologist will lean towards chemotherapy, hormone therapy, targeted therapy, or immunotherapy.
With that being said, the table below lists the fees you can expect from consulting any of the two types of oncologists:
Practitioner
Consultation
Estimated Fee (in AED)
Radiation Oncologist

Initial Consultation




Review Consultation




Phone Consultation


Radiation Management

1,200




400 - 500




400 - 500


1,800
Medical Oncologist

Initial Consultation (simple)




Initial Consultation (comprehensive)




Review (simple)




Review (comprehensive)




Phone Consultation

1,250 - 1,300




1,600 - 1,700




560




700 - 750




180 - 200
The Best Oncologists in Dubai
Here is the criteria we've utilized in assessing the various doctors (and their respective medical clinics or hospitals) included in this article:
1. Dr. Tarek Alkhouri of Advanced Care Oncology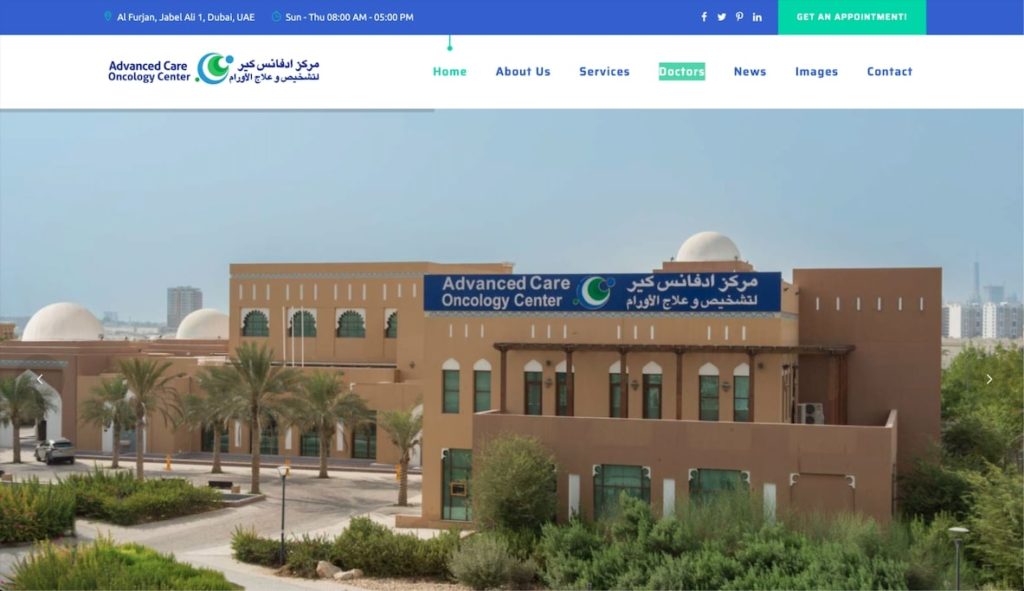 Test
Info
SERVICES
PET/CT Scan

Radiology

Chemotherapy

WEBSITE
https://www.acocdubai.com/
ADDRESS
Jebel Ali Village - Al Furjan - Dubai - United Arab Emirates
CONTACT DETAILS
E-mail:

[email protected]

Phone:

+971 4 565 6300

+971 543 12345 1

+971 543 12345 4

OPERATING HOURS
8:00 AM - 5:00 PM (Sunday - Thursday)
| | |
| --- | --- |
| Criteria | Ratings |
| Expertise | ★★★★★ (5/5) |
| Price | ★★★★☆ (4/5) |
| Facilities | ★★★★☆ (4/5) |
| Support | ★★★★★ (5/5) |
Advanced Care Oncology is a specialized medical center that deals with different cases of cancer in patients of all genders and ages. Founded in 2017, the center is fairly young in terms of years of establishment.
To be honest, the first thing we noticed is their direct focus on cancer studies and treatment only. Usually, we see the oncology department as a small part of a bigger, multi-specialty hospital.
So if you're looking for undivided attention and resources poured into your treatment, we recommend heading here for expert advice. The center has hired oncology experts that provide both medical and radiation oncologists.
We noticed that their doctors have at least ten years of experience. Dr. Tarek Alkhouri, our featured professional from their hospital, is one of them.
This medical oncologist specializes in providing treatment and diagnosis of solid tumors and other malignancies in patients. In terms of procedures, Dr. Alkhouri offers immunotherapy, and biological therapy.
We did notice that he mostly works on treating young adults and teenagers. Aside from that, he also leans more towards blood cancers and leukemia.
Overall, we recommend going to Dr. Tarek Alkhouri if a patient is at risk or has any type of blood cancer or colorectal cancer. His years of experience in practice is a reassurance, as you will definitely be in capable hands.
Over 10 years of experience
Obtained a master's degree
Wide, spacious facilties
Appointment required
Specializes more in treating young adults
Customer Reviews:
Attention to Detail, Amazing Service
"The care and attention I receive from Dr Tarek is first class. I was given NO hope from another hospital with my terminal diagnosis but Dr Tarek got me on the best medical regime and I'm doing really well. I get treatment every 28 days and I feel safe, relaxed and extremely well cared for. My nurse Jennifer is an angel from above. So caring and gentle I trust her completely whilst she gives me huge life saving injections. Cannot recommend this place enough if you are unfortunate to get a cancer diagnosis. They only treat cancer and are the best and most advanced cancer care facility." – Julie Cope
2. Dr. Shabeeha Rana of Haem Cares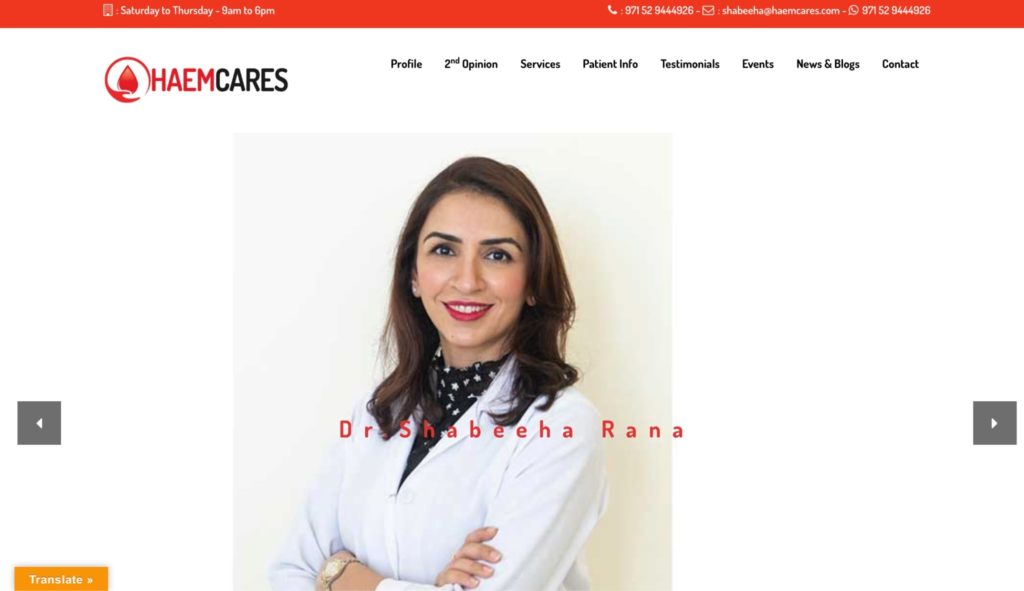 Test
Info
SERVICES
Consultation

Blood Cancer

Treatment

WEBSITE
https://www.haemcares.com
ADDRESS
19th St - Oud Metha - Dubai - United Arab Emirates
CONTACT DETAILS
E-mail:

[email protected]

Phone: +971 52 9444926

OPERATING HOURS
9:00 AM - 6:00 PM (Saturday - Thursday)
| | |
| --- | --- |
| Criteria | Ratings |
| Expertise | ★★★★★ (5/5) |
| Price | ★★★★☆ (4/5) |
| Facilities | ★★★★☆ (4/5) |
| Support | ★★★★☆ (4/5) |
Dr. Shabeeha K. Rana is a hematologist and oncologist that has worked on treating the blood ailments of patients for over 16 years.
She obtained her medical degree from Aga Khan University in Karachi, Pakistan. She then moved to the United Kingdom to finish her specialization training in hematology and hematology-oncology from the Royal College of Physicians.
Aside from her educational background, another great thing about Dr. Rana is that she is registered and licensed to practice on two different registers: the General Medical Council in the UK, and the Dubai Health Authority (DHA).
This means that she met the requirements in terms of education in training for both organizations– and solidifies her authenticity and capabilities as a practicing hematologist and oncologist.
Dr. Raha specializes in diagnosing and treating blood disorders, obstetric hematology, and blood cancers such as leukemia and lymphoma. She can also provide procedures for bone marrow transplantation.
We recommend heading to her clinic if you would like to be treated for a blood disorder or blood cancer. If it's a different kind of cancer, we advise looking for other doctors.
Now, Dr. Raha is currently praticing in her clinic, Haem Cares. This clinic, following her specialization, also only accepts patients suffering from any hematological disorder or blood cancer.
Looking at their facilities, we noticed that they have fairly well-decorated and organized rooms. One of the center's main aims is to provide a stress-free environment, and they manage to do this through the look and feel of their clinic.
In addition, they have the standard equipment needed to treat the ailments they focus on!
16 years of experience
Dubai Health Authority (DHA) registered and licensed
Spacious, well-organized facilities
Specializes more in blood cancer
Appointment required
Customer Reviews:
Expertise and Supportive Treatment
"I've been consulting with Dr Rana for my Leukemia treatment for the past 8 months, and she has been thoroughly supportive. The maintenance therapy of my treatment has been guided perfectly, and she has personally looked into the protocols. She's not just a positive source for my medical treatment, but also takes a special interest into making sure me and my family's well being is looked into. Will forever be grateful for her kindness and her medical expertise." – Vikrant Goyal
3. Dr. Soha Mohammed Ahmed Abdelbaky of Zulekha Hospital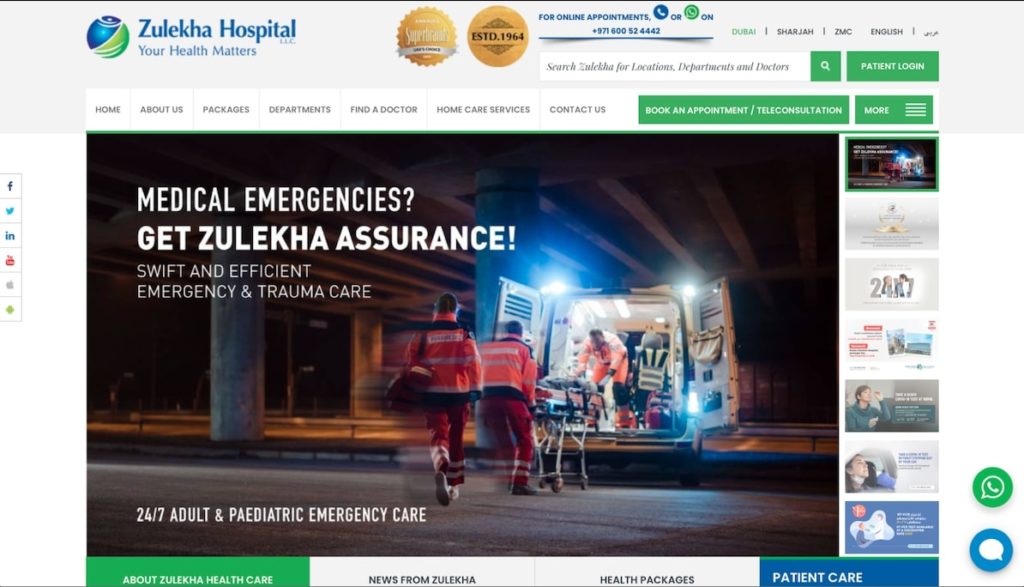 Test
Info
SERVICES
Anesthesiology

Audiology

Bariatric Surgery

Gynecology

Hematology

and more!

WEBSITE
https://www.zulekhahospitals.com
ADDRESS
Opp Al Nahda Park - 204th Rd - Al Nahda - Al Nahda 2 - Dubai - United Arab Emirates
CONTACT DETAILS
Phone: +971 600 524442
OPERATING HOURS
Open 24 hours. (Monday - Friday)
| | |
| --- | --- |
| Criteria | Ratings |
| Expertise | ★★★★★ (5/5) |
| Price | ★★★☆☆ (3/5) |
| Facilities | ★★★★★ (5/5) |
| Support | ★★★★☆ (4/5) |
Dr. Soha Mohammed Ahmed Abdelbaky is a professor of medical oncology working for Zulekha Hospital. She has over 20 years of experience in her chosen field.
In terms of education, she obtained both a medical degree and a PhD in Medical Oncology. To further hone her skills and expertise, Dr. Soha worked in Egypt's Kasr Alainy Medical School, Faculty of Medicine for eighteen years.
Her specialty lies in treating both adults and children with cancer via chemotherapy, targeted therapy and immunotherapy. We would like to note that she can also do radiation treatment if necessary.
We noticed that Dr. Soha has a wide range of ailments she can treat. She can take care of breast cancer, tumors (including thoracic and hematological ones), and also tends to treat pediatric cases.
Another great thing about this doctor is that aside from practicing her profession, she also tries to expand her knowledge through research. She has been part of various conferences such as the 6th Pan Arab Cancer Congress Oral Presentation to share her works and thoughts.
Interested parties can seek Dr. Soha's aid in Zulekha Hospital, a large, luxurious-looking multi-specialty hospital. Patients can expect spacious waiting areas, well-equipped and clean operating and testing rooms.
We do recommend to have insurance ready to help you cover medical fees, as we've observed that this hospital charges really high rates.
Overall, we believe that Dr. Soha is a fully educated and experienced medical oncologist that is capable of providing various types of treatment for cancer patients. With her years of experience in the field of oncology, her counsel is definitely something you could seek!
18 years of experience
Won awards for her work and publications
A professor of medical oncology
Spacious facilities
Appointment required
Can get expensive
No free parking
Customer Reviews:
Great Doctors, Helpful Staff
"Zulekha hospital is one of the best hospital in the locality. I've been to this hospital since 2016 and never been disappointed. A list of good no great doctors from which you can choose and get treated. Kind and helpful staff." -Shalabh Saraf
4. Dr. Fathi Azribi Of American Hospital Dubai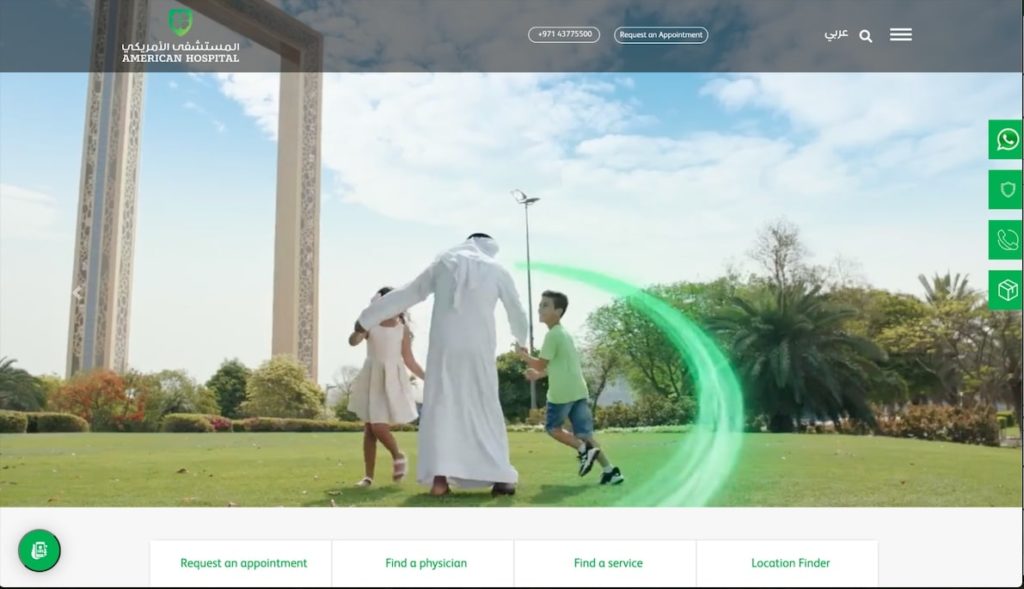 Test
Info
SERVICES
Oncology

ENT

General Surgery

Pediatrics

and more!

WEBSITE
https://www.ahdubai.com/
ADDRESS
Business Central Towers - Dubai Media City - Dubai - United Arab Emirates
CONTACT DETAILS
Phone: +971 4 377 5500
OPERATING HOURS
8:00 AM - 8:00 PM (Monday - Sunday)
| | |
| --- | --- |
| Criteria | Ratings |
| Expertise | ★★★★★ (5/5) |
| Price | ★★★★☆ (4/5) |
| Facilities | ★★★★☆ (4/5) |
| Support | ★★★☆☆ (3/5) |
American Hospital Dubai is a private healthcare center founded in 1996. In the present, the 254-bed establishment hosts over forty different medical and surgical departments.
Looking at the hospital's interior, it's noticeable that the company decided on a very simple aesthetic design. White walls, minimalistic benches and chairs that are there to serve their purpose.
We noticed that the American Hospital hires doctors that have ten years or more of experience (at minimum) in their chosen fields. Aside from that, they all have obtained their education in various universities in and out of the UAE.
Speaking of doctors and their multiple specialties, one of the available departments in the hospital is oncology. Dr. Fathi Azribi is a medical oncologist with over ten years of experience.
He specializes in providing treatments including chemotherapy, immunotherapy, hormonal and targeted therapy. He mostly leans on taking on patients with thoracic, breast, gynecological or gastrointestinal malignancies.
Looking at his educational background, Dr. Azribi obtained his medical degree from Al-Fateh University in Libya. He then moved to the UK to finish his specialty training in oncology.
After finishing his training, he has worked as a medical oncologist for various hospitals in the UK, Libya, and the UAE.
We recommend going to Dr. Azribi for his experience in handling malignancies and if you're looking for an expert in providing medical treatment for cancer, such as chemotherapy!
Education obtained from various universities
Worked for various hospitals around the world
Over ten years of experience
Paperwork processes for a long time
Appointment required
5. Dr. Arun Karanwal Of Prime Health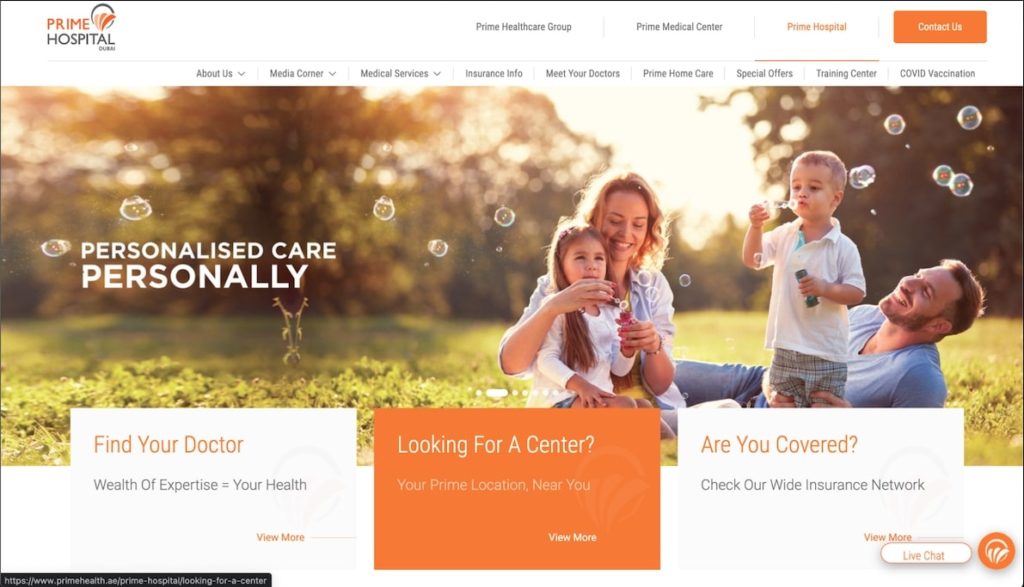 Test
Info
SERVICES
Ophthalmology

Radiology

Oncology

Hematology

and more!

WEBSITE
https://www.primehealth.ae/
ADDRESS
Airport Road Al Garhoud Next to Le Meridian Hotel - Dubai - United Arab Emirates
CONTACT DETAILS
Phone: +971 4 292 9777
OPERATING HOURS
Open 24 hours. (Monday - Sunday)
| | |
| --- | --- |
| Criteria | Ratings |
| Expertise | ★★★★★ (5/5) |
| Price | ★★★★☆ (4/5) |
| Facilities | ★★★★★ (5/5) |
| Support | ★★★★☆ (4/5) |
PRIME Hospital is a private medical facility founded in 1999. The establishment is known for the personalized care and treatment of their patients.
Their more solution-based and custom approach is done by the expert doctors they employ in their roster. They are all very well-educated with five to ten years of practicing their chosen specialities.
One of the departments in this hospital is hematology and oncology where you'll find Dr. Arun Karanwal.
Dr. Karanwal is a medical oncologist and hematologist with over ten years of experience in treating various blood disorders and cancers. He also provides cancer treatments such as hemotherapy drugs, targeted therapies, monoclonal anti-bodies, and immunotherapies.
He obtained his bachelor's degree in medicine and a doctorate in medical oncology in India. Shortly after graduating, he worked in various private hospitals for around four to six years.
We advise heading towards Dr. Karanwal's expert help if you or a loved one is at risk with a type of blood cancer, as he is more inclined in dealing with those. He is also capable of treating more common types of cancers such as thoracic cancer and breast cancer.
Over ten years of experience
Obtained doctorate in medical oncology
Hospital has 24/7 emergency services
Appointment required
Has more focus on hematology
Customer Reviews:
Good Customer Service, Informative Doctor
"Highly recommended, Doctor Arun Kharanwal Oncology/Hematology are informative and friendly. The customer service are good, the facilities are excellent…" – Ryan Chua
FAQs About Oncologists in Dubai
---
We hope that this can help you in seeking the right oncologist that will be of the most service to you. If you're interested in reading more information about other specialists in Dubai, check out our piece on the top eye specialists in the city!