Whether you're looking to have a beer and enjoy the current football match, or have a booth for a night out with friends, a pub is a great place just unwind with a drink or two.
So we scoured the city to give you the best pubs in Dubai. We're also sharing with you the factors we considered in choosing, and answering some FAQs about pubs.
How much does going to a pub in Dubai cost?
The cost of going to pubs can vary depending on the kind of drinks and food they serve.
To give you a starting point, we made a table of the price range of the pubs we have put on this list.
| Pub | Price Range |
| --- | --- |
| Fibber Magees | AED300 for two people |
| McCafferty's Irish Pub | AED330 for two people |
| Crown & Lion  | AED355 for two people |
| McGettigan's | AED430 for two people |
| Phileas Fogg's | AED320 for two people |
The Best Pubs in Dubai
Before we get right into our top picks for the best pubs in Dubai, here are the factors we considered for our entries on this list:
1. Fibber Magee's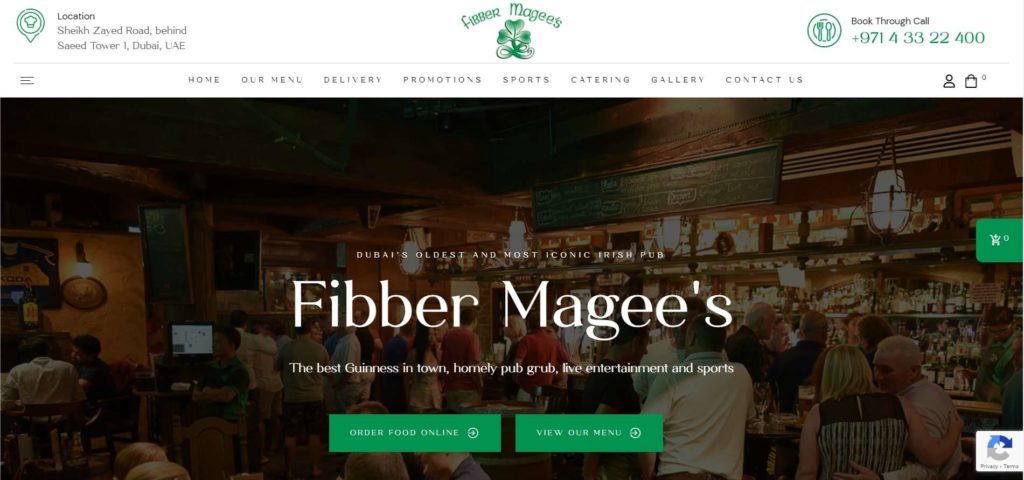 | Test | Info |
| --- | --- |
| WEBSITE | https://fibbersdubai.com/ |
| ADDRESS | Sheikh Zayed Road, behind Saeed Tower 1, Dubai, UAE |
| CONTACT DETAILS | +971 4 33 22 400 |
| OPERATING HOURS | Every day: 8 am - 3 pm |
| | |
| --- | --- |
| Criteria | Rating |
| Drinks | ★★★★★ (5/5) |
| Food | ★★★★☆ (4/5) |
| Ambiance | ★★★★★ (5/5) |
| Entertainment | ★★★★☆ (4/5) |
One of Dubai's oldest Irish pubs, Fibber Magee's reimagines its homely iconic status on the ground floor of a five-star hotel, elevating the pub experience for all.
Known for its iconic authentic Guinness, the pub also features a varied selection of hops from the milder and sweeter side to the stronger, darker ones. Whether it's to your taste or not, the authenticity is undeniable.
And when it comes to its dishes, we love the wide range of Irish and English food selection it has.
From all-day breakfasts to the iconic fish and chips, Fibber Magee's brings the iconic dishes of Western Europe to Dubai.
That being said, the foreign menu may not speak to everyone's taste buds, save for European ex-pats.
Another great thing about Fibber Magee's is the distinct industrial aesthetic of wood, metal, and brass, juxtaposed against the hotel's sleek and luxurious interior styling.
We love the old-school masculine energy the pub gives off that just speaks volumes about the kind of people who enjoy going here, us included!
And while the entertainment amenities are limited to the huge LCD screens that show off live games, plus an area dedicated to pool tables and virtual golf, something about the lack of frills to it feels apropos.
Authentic Guinness
A variety of hops selections
Authentic Irish-English food
No-frills ambiance
Lacks entertainment amenities
Customer Reviews
Feels like I'm in Ireland
"Fibber Magee – One of the best Irish pubs in Dubai. You would be transported to Ireland once you enter the🚪door- great ambiance and crowd! It's a small pub but quite cozy and I just loved its interiors! Walkable distance from the World Trade Centre Metro.
The service is good as well. And, Happy hour is just wow! 🤩 Yes, you can grab a chilled GUINNESS pint for only 36AED during happy hours. GUINNESS is the Irish dry stout beer and well the healthiest beer! 🍺 😉" – Mighty Mak, Google Reviews
Great Irish pub!
"Great Irish-themed pub with a lively ex-pat clientele.
A good selection of food is available on the menu at decent prices.
All the usual draft beers are available along with A huge selection of spirits.
Toilets were fresh and clean." – Donald MacLeod, Google Reviews
2. McCafferty's Irish Pub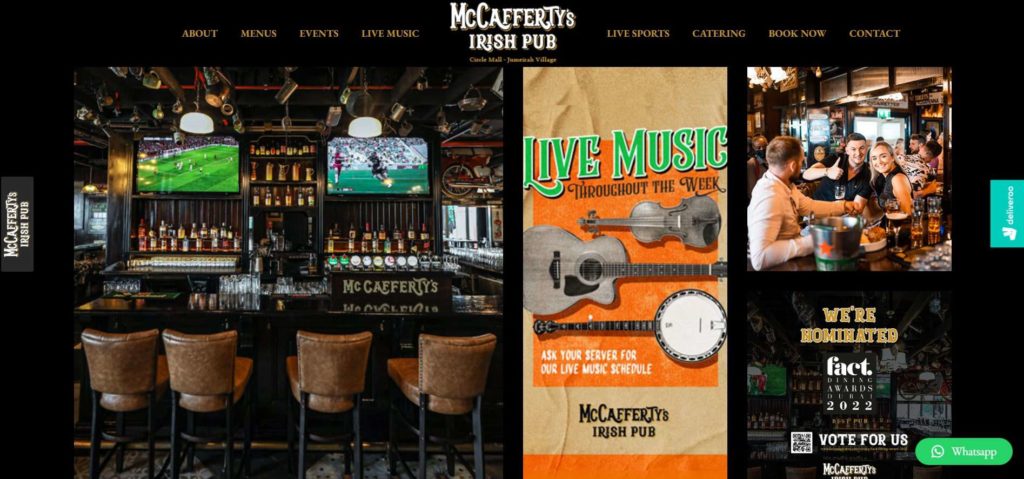 Test
Info
WEBSITE
https://mccaffertysjvc.com/
ADDRESS
JVC - Jumeirah Village - Dubai - United Arab Emirates
CONTACT DETAILS
+971557849220
OPERATING HOURS
Sunday to Thursday: 12 pm - 2 am

Friday to Saturday: 11 am - 2 am
| | |
| --- | --- |
| Criteria | Rating |
| Drinks | ★★★★☆ (4/5) |
| Food | ★★★★☆ (4/5) |
| Ambiance | ★★★★★ (5/5) |
| Entertainment | ★★★★☆ (4/5) |
Nowadays, people tend to forget that pubs functioned as a social entertainment hub long ago and often confuse it for a bar or restaurant.
McCafferty's Irish Pub is doing the extra work to bring that charm that old pubs once had. With live music, live sports viewing parties, and happy hours, this charming pub undoubtedly charmed us.
With a great selection of imported draughts and cider, on top of everyone's favorite spirits and cocktails, McCafferty's drinks only served as an accessory to the fun night we had here.
And for a place supposedly for drinking, the fact that it was sidelined by the entertainment we experienced says something about how dedicated this pub is to bringing back the fun.
Despite that, the drinks were still great. The imported selection is carefully curated and complemented our time there very well.
The ambiance is completely unrivaled. The space feels like how every lively pub should be — boisterous and brimming with great live music.
The space is well-lit by a combination of natural daylight and warm ambient lighting from the wall lamps, and chandeliers.
The knickknacks that are basically everywhere in the pubs make the space full of sentiment rather than feeling cluttered.
The ambiance is lively
Has great live music
Has a great selection of food and drinks
Food and drinks are a bit of a sideline
Lively ambiance may not be for those looking for a quiet night
Customer Reviews
One of the best pubs in Dubai
"One of the best Irish bars in Dubai. Excellent food and live music, a great place to watch sport. Indoor seating is a little limited so not ideal on busy days in summer, but the rooftop terrace is lovely in winter." – Larry C., Google Reviews
The place is worth visiting multiple times
"My wife and I love the vibe here. Was our second time, and will definitely come back again with our friends. We live nearby. We had the Irish chicken curry, curry chips, and chicken pie along with some bevies. Finished it off with a proper Irish coffee.
The decor is excellent, and best of all, the music is not obnoxious, or obnoxiously loud which is, unfortunately, an ailment in Dubai haha. Just loved the ability to actually talk to my wife over the music." – Rohan Davis, Google Reviews
3. Crown & Lion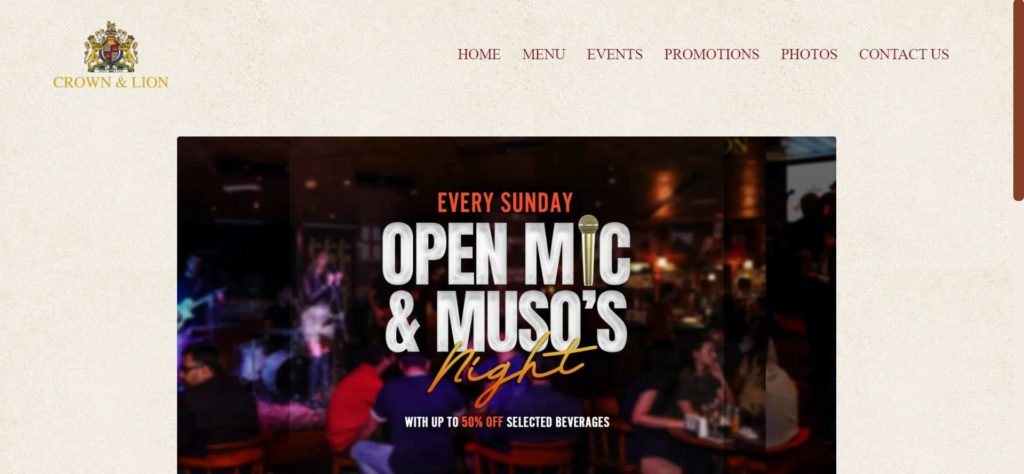 | | |
| --- | --- |
| Criteria | Rating |
| Drinks | ★★★★★ (5/5) |
| Food | ★★★★☆ (4/5) |
| Ambiance | ★★★★★ (5/5) |
| Entertainment | ★★★☆☆ (3/5) |
Crown & Lion is a humble English bar in Dubai known for its unpretentious and friendly service and ambiance.
Featuring actual real hops as opposed to your usual synthetic ones, Crown & Lion prides itself on budget-friendly draughts that had us wondering how they managed to pull off such low prices for drinks made from natural-made hops.
And while its lunch menu is seemingly limited compared to the other pubs, its British dishes are enough to be a great hotspot for ex-pats of the aforementioned country.
Its bangers and mash and British roasts are great pick-me-up options for the weekday blues, along with a pint.
The ambiance is simple, homely, and sets itself up for the perfect space to lean back and savor the draught in our hands.
It is only brought down by one of its entertainment aspects that can go either way, in our opinion.
The Open Mic nights, while a great addition to the sense that everyone is comfortable enough to perform in front of everyone, often distracted us from the simpleness of the pub.
If the one on stage is great, then it's great, but when someone is mediocre or worse, then it either turns funny or just ruins the whole mood.
This made us feel like the nights we spend here are a risk, which isn't something we're looking for in a pub.
Uses real hops for its draughts
Serves British comfort food
Simple and homely ambiance
The open mic makes or breaks the experience
Customer Reviews
A super pub
"Superb Sunday Lunch. Excellent value for money. Nice atmosphere, super friendly efficient caring waitresses. Could not fault anything here, the music, sports TV, toilets, and beer quality were excellent too. I hear live music every night from 22:30 as well." – Martin Haynes, Google Reviews
My go-to sports pub
"I'd forgotten about this place but when trying to find somewhere that was showing the rugby we wanted to watch, I remembered and booked a table. I was very glad I did, not because booking was essential (an afternoon game and the pub was fairly quiet) but the place deserves 5 stars for everything. Very good food. Comfortable and decent furnishing. Very nice waitresses. Very attentive, professional, competent, and diligent manager. Plenty of good large screens. Nothing not to like. You'll need to pay for street parking but it's available directly outside. I will make this my first choice for sports watching in a nice environment." – Solly B, Google Reviews
4. McGettigan's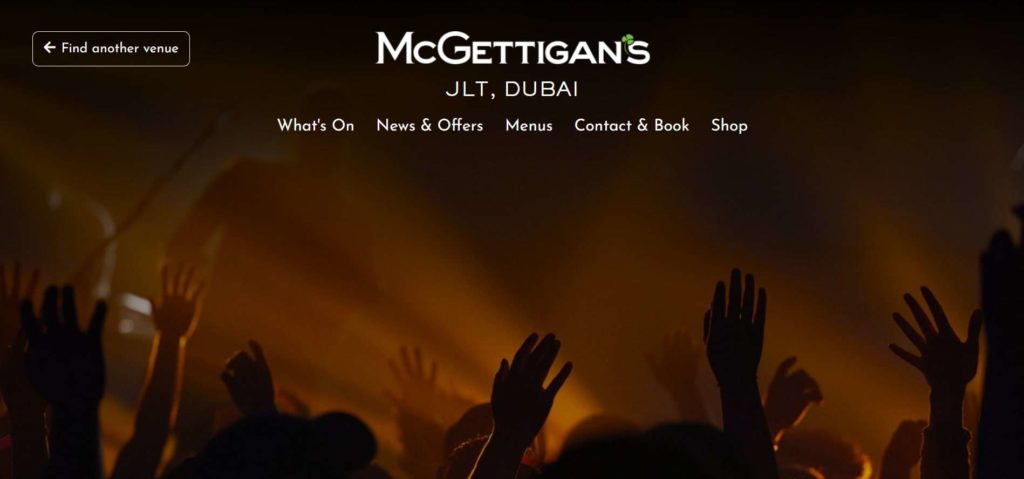 Test
Info
WEBSITE
https://www.mcgettigans.com/jlt-dubai.htm
ADDRESS
Cluster J, Jumeirah Lakes Towers, Dubai
CONTACT DETAILS
+971 4 356 0470
OPERATING HOURS
Monday to Friday: 12 pm - 3 am

Saturday to Sunday: 10 am - 3 am
| | |
| --- | --- |
| Criteria | Rating |
| Drinks | ★★★★★ (5/5) |
| Food | ★★★★★ (5/5) |
| Ambiance | ★★★☆☆ (3/5) |
| Entertainment | ★★★★★ (5/5) |
Part of McGettigan's global pub chain, McGettigan's offers a more worldly pub experience that goes beyond the origins of it in the UK.
The food and drinks, which we think are its strong suit and unique selling point, are a combination of dishes inspired from Ireland and America, Asia, and beyond.
But what makes it even better is that most ingredients are sourced locally, adding depth to the selections while also importing ingredients straight from Ireland to fuse some authenticity into it.
And the menu certainly has withstood the test of time as this pub is one of the oldest in Dubai.
The ambiance is great, too. With a spacious drinking area, a hops garden, — a rare sight in Dubai — and live Irish music, McGettigan's certainly perfects the typical Irish pub atmosphere.
However, the empty spaces of the pub, while it could prove to be relaxing, do take away some of the liveliness and jolliness that we'd come to expect from this kind of pub.
Besides that, the lack of dedicated smoking areas tends to fill up the interior with the strong scent of smoke, which was kind of upsetting
But that's okay because it is completely offset by the numerous entertainment features the pub has. Brunches, stand-up sets, live music, and sports viewing parties fill up the nights.
We love how McGettigan's gets it. It understands what people expect from pubs, and gives it to them while also featuring the local talent pool best.
Has an international food and drinks menu
Authentic lively Irish pub ambiance
Numerous entertainment features including live acts
The big spaces in the pub make it feel empty
The pub often smells of cigarettes
Customer Reviews
Will always be my favorite pub
"I've been here 4 years ago last time and when I came 2 days ago nothing seemed familiar!! All is new and it became much bigger and more comfortable! Awesome place to eat, drink, dance, play billiard even! The food was delicious 😋 live music was great 👍 people were drunk and happy 😊 really nice place! I recommend!" – Natalia Barabanova, Google Reviews
One of the best places in the area
"One of the best places in JLT and Marina neighborhood to bring your friends to watch sports events. Huge place comprising several seating areas under one roof.
The best part, there are many pool tables available to have fun with your friends. Rates are not so high and food quality is good.
It's busier on weekends so if you're planning to go there on weekends, better book a table in advance." – Mohammad Khan, Google Reviews
5. Phileas Fogg's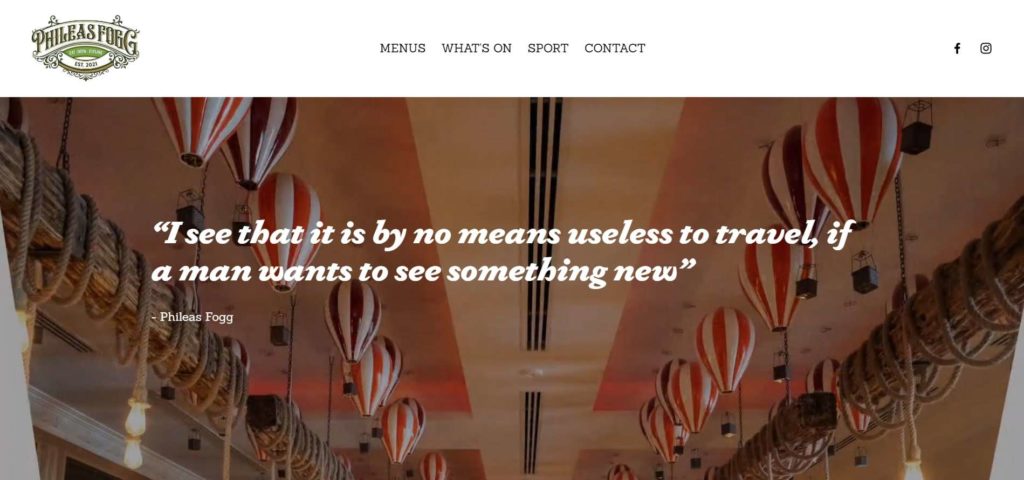 | Test | Info |
| --- | --- |
| WEBSITE | https://www.foggs.xyz/ |
| ADDRESS | Montgomerie Golf Academy, Al Thanayah Fourth - 10 7th St - Emirates Hills - Dubai - United Arab Emirates |
| CONTACT DETAILS | +971 4 572 4477 |
| OPERATING HOURS | Sunday to Thursday: 8 am - 1:30 am; Friday to Saturday: 8 am - 2:30 am |
| | |
| --- | --- |
| Criteria | Rating |
| Drinks | ★★★☆☆ (3/5) |
| Food | ★★★★★ (5/5) |
| Ambiance | ★★★★☆ (4/5) |
| Entertainment | ★★★★☆ (4/5) |
With more than 33,000 square feet of space, Phileas Fogg's is one of the biggest pubs in Dubai, offering both drinking and entertaining space in one place.
With its pub and the Orangery restaurant literally right next to each other, it has endless options for both drinks and food.
The menu is a collection of its own version of the best pub grubs from all over the world. Our favorites would be the hoisin duck pizza and its fish and chips burger.
The drinks, however, aren't the best in the whole city. Imported draughts made from synthesized draughts are just enough, but we can definitely get something better elsewhere.
The ambiance is also a weak point for us. Outdated rather than timeless, the interior styling is a mish-mash of retro styling that just looks untouched rather than modernized.
However, the entertainment amenities are great. The events arena holds all kinds of live acts every night, and the kid's club lets you bring the children to the party without being a disturbance to you.
And while the place can get overwhelming and loud, Phileas Fogg's pulls off a one-stop spot for a night of drinking and enjoying food and live entertainment.
One of the biggest pubs in Dubai
Has a restaurant right next to it
Wide variety of entertainment amenities
Drinks are mediocre
The ambiance is outdated and can get overwhelmingly noisy
Customer Reviews
Great spot for unwinding
"Great spot to unwind, listen to some music from the live band and enjoy some good food and drink. Weekly happy hours are amazing. The indoor tent can be pretty loud with a crowd of people and bands. There is an outside "smoking" area that overlooks the driving range and Marina (our favorite spot to sit) service is good considering how busy they usually are. The food options are decent, need to try the Vegan option the next time we go back. Definitely recommended but if you're not into loud scenes then this might be a bit much for you, otherwise cheers!" -Kesh Malli, Google Reviews
Menu is loaded with choices
"Amazing restaurant at the Montgomerie Golf Club, great outdoor place and indoors too. The food is fantastic and a lot of choices on the menu. Portions are huge, the staff is wonderful and very accommodating. Loved it! Will come back again for sure!" – Seema Dhall, Google Reviews
FAQs about Pubs in Dubai
---
We hope this helped you in finding your favorite pub in Dubai. Also, if you're looking for other places to drink in Dubai, then check out these articles: