The 6 Best Korean Restaurants in Dubai
Have been binge-watching too much K-drama, and now you're craving some tteok-bokki, or maybe you're a Korean expat missing food from back home?
Don't worry, we scoured the city to give you the best Korean restaurants in Dubai.
We're also sharing with you the factors we considered in choosing, and answering some FAQs about Korean restaurants.
How much does eating at a Korean restaurant in Dubai cost?
The cost of going to Korean restaurants can vary depending on the kind of meals they serve. Some restaurants also have Korean barbecue buffets that let you eat unlimited meat for a separate fee.
To give you a starting point, we made a table of the price range of the restaurants we have put on this list.
| Korean Restaurant | Price Range |
| --- | --- |
| Dubai Seoul Garden | AED170 for two people |
| Sumibiya | AED360 for two people |
| Manna Land | AED190 for two people |
| Sobahn | AED170 for two people |
| Kimpo | AED320 for two people |
The Best Korean Restaurants in Dubai
Before we get right into our top picks for the best Korean restaurants in Dubai, here are the factors we considered for our entries on this list:
1. Dubai Seoul Garden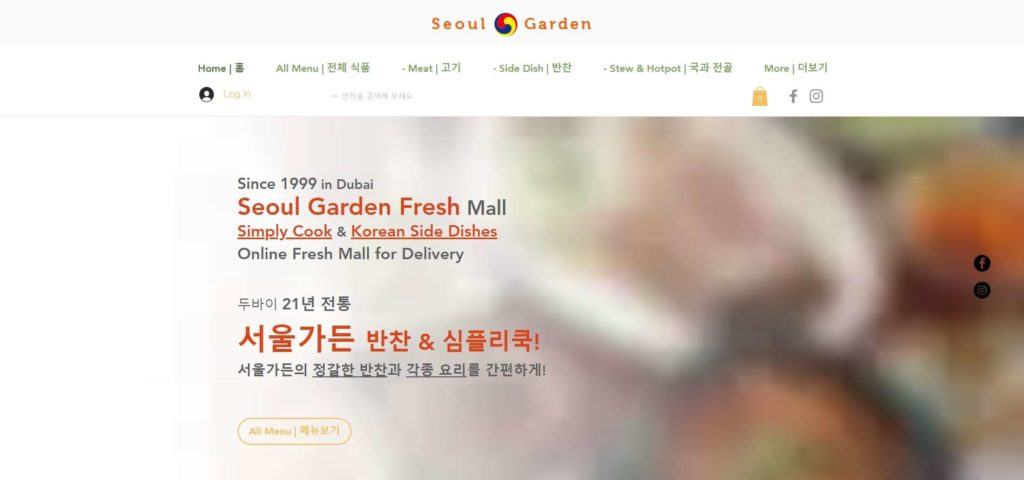 Test
Info
WEBSITE
https://www.dubaiseoulgarden.com/
ADDRESS
Zabeel Road Al Karama 27th St, Zomorodah bldg, G Floor - United Arab Emirates
CONTACT DETAILS
+971 4 337 7876
OPERATING HOURS
Monday to Friday: 11 am - 11:30 pm

Saturday to Sunday: 12 pm - 11:30 pm
| | |
| --- | --- |
| Criteria | Rating |
| Menu | ★★★★★ (5/5) |
| Customer Service | ★★★★★ (5/5) |
| Atmosphere | ★★★☆☆ (3/5) |
| Side Dishes | ★★★★☆ (4/5) |
Dubai Seoul Garden is a humble Korean restaurant in the middle of Dubai known for serving authentic Korean food for quite some time now.
Replacing the famous Korean barbecue dining style for hotpots and Korean comfort food such as Japchae and Bulgogi, Seoul Garden reminds us of eating over at a friend's house.
That being said, while we appreciate the big portions, we would have liked to see some options for solo diners, because each item is good for at least two people.
The side dishes were great, too, albeit rather limited to around 5 dishes. However, we did enjoy the various versions of Kimchi it had available.
The service is just okay. Nothing too special about it, but we do appreciate the hospitality and friendliness of the staff.
They refilled the ingredients for our hotpots in a timely manner, but other than that, the service is what we typically would expect for a small restaurant.
As for the atmosphere of the restaurant, we think this is its weakest point. The stark minimalistic styling felt sparse and soulless rather than curated and thought out.
The space felt mundane and nothing really jumped out at us besides the other customers who enjoyed drinking their soju and engaged in boisterous conversation.
Serves authentic Korean comfort food
Serves hotpots
Serves various Kimchis
Mediocre service
Atmosphere is bland and sparse
Customer Reviews
Big portions and delicious flavors
"First time Dining here, With my husband, we thought at first that the serving is good for 2 people and was quite surprised with the prices, it was a bit expensive than other Korean restaurants, but when food was served to us the serving portion was reasonable, it's good for 3 people I guess for me😂, We ordered seafood Hot pot, black bean noodles, and beef samgyupsal, 😂😂😂 everything was delicious, especially their side dishes, but the serving was huge hence we weren't able to polish it and just decided to bring it home😬 will surely come back for more.
Staffs were all kind and nice" – Elaine Salvador, Google Reviews
Deliciously incredible food
"The best of Korean restaurants in Dubai !👌🏻 Abundant menu with amazing prices. One of my favorite food there is steak and rice with mushrooms. That dish is really delicious and has a very special way of cooking 💛 100% recommended" – Aguilera Bella, Google Reviews
2. Sumibiya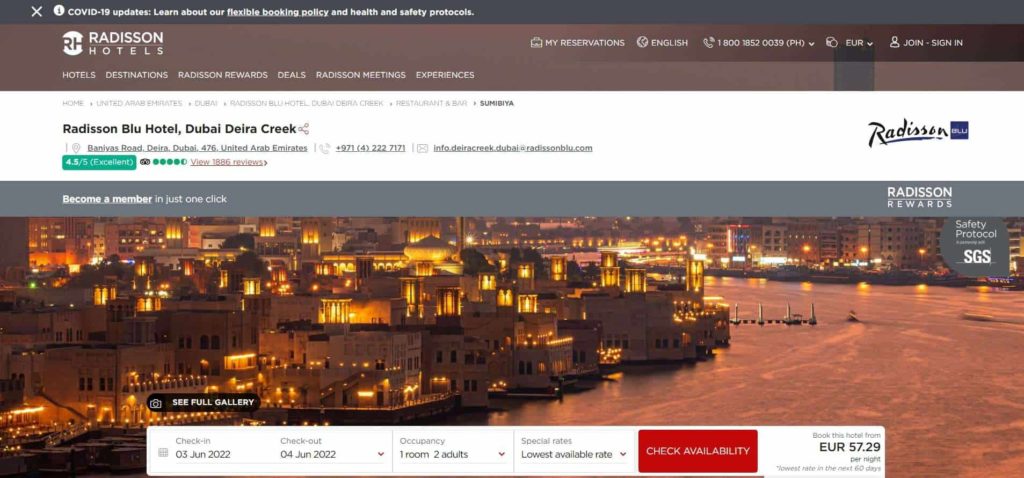 | | |
| --- | --- |
| Criteria | Ratings |
| Menu | ★★★☆☆ (3/5) |
| Customer Service | ★★★★★ (5/5) |
| Atmosphere | ★★★☆☆ (3/5) |
| Side Dishes | ★★★★★ (5/5) |
Before Korean barbecue restaurants got popular, Sumibiya has already been offering this dining experience to customers.
Blending Korean food with yakiniku-style restaurants, we enjoyed our dinner sitting in a semi-private booth while we grilled our own seafood, meat, and vegetables.
While the marinades and the selection of meats are mediocre, we think what shines at Sumibiya are its sauces, appetizers, and side dishes.
The kimchi was great, and the oriental sauces went along nicely with the meats — which came in big portions that almost redeemed the blandness of its marinades.
We found the service to be the opposite of that. The manager and staff were friendly and accommodating.
When they greeted us, we immediately felt at ease and knew we wouldn't have to worry about anything for the rest of the night. We really appreciated that, especially from the staff of a busy restaurant.
As for the atmosphere, we were not sure what to make of it. On one side, it felt upscale with contemporary and minimalistic finishes that added to the whole look that people connect with Radisson Blu hotels.
However, there was no trace of any Korean and Japanese influences on anything. It simply felt like Radisson Blu just happens to serve Korean-Japanese-style barbecue in one of its restaurants.
Serves Korean-Japanese style barbecue
The sauces and sides are excellent
Friendly and accommodating staff
Marinades for meats were bland
Atmosphere is disconnected from the food it serves
Customer Reviews
Great Korean Barbecue spot
"One of the best fine Korean dining experience. If you love Korean cuisine then must try. Located in Radisson Blu Hotel Deira Creek. You can give your car to Valet parking and make sure to validate it. The ambiance is not that much, wow but the food itself and experience give you a different pleasure and you will enjoy it, especially with kids. However if you like Korean food then go for it." —Arsalan Usmani, Google Reviews
One of a kind dining experience
"One of a kind experience in Dubai – Korean BBQ unlimited. Went for my son's 15th bday and they gave us a complimentary cake for his birthday. Amazing and caring staff. They were very friendly. The quantity of the food was overwhelming even for people who eat a lot. The taste of the food was on point. As you were the one cooking you could make it your perfect piece of meat. The variety is also very good. There is unlimited beverage along with it. Finally the dessert completed the whole experience and made it worth the time. Best to go with the entertainer offer." —Sakeer Pv, Google Reviews
3. Manna Land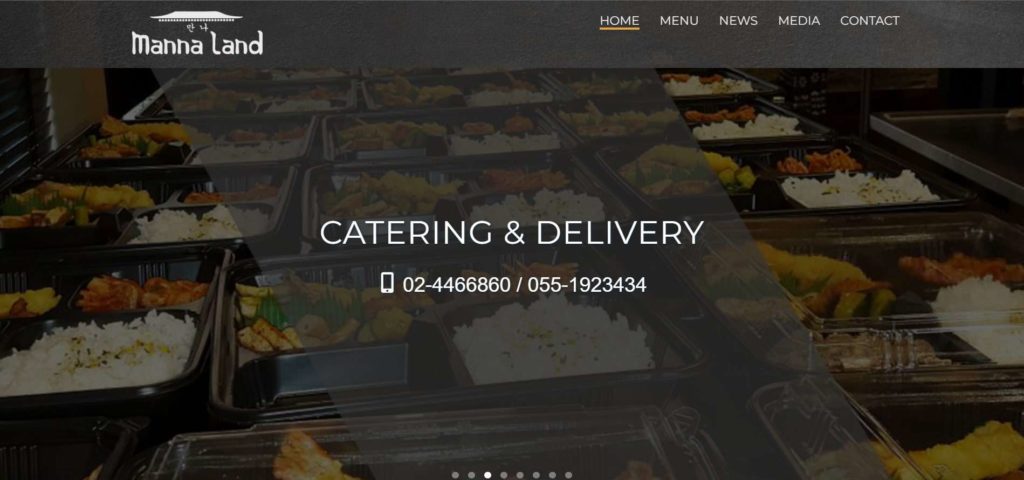 | Test | Info |
| --- | --- |
| WEBSITE | https://www.mannalandkorean.com/ |
| ADDRESS | Shop # 5, Al Ketbi Building, Al Mina Road, Al Hudaiba - Dubai - United Arab Emirates |
| CONTACT DETAILS | +971 4 345 3200 |
| OPERATING HOURS | Everyday: 11 am - 11 pm |
| | |
| --- | --- |
| Criteria | Rating |
| Menu | ★★★★★ (5/5) |
| Customer Service | ★★★★☆ (4/5) |
| Atmosphere | ★★★☆☆ (3/5) |
| Side Dishes | ★★★★★ (5/5) |
Offering interactive cook-your-own Korean barbecue meats and ala carte menu, Manna Land always impresses with its casual dining experience that's appropriate at any time.
We love cooking and eating its popular tender yachae bulgogi marinated beef, its kimchi ljigae stew with its signature spicy tanginess, and its japchae on the side.
Its Korean shabu-shabu consists of various mushrooms and fresh vegetables, along with some high-quality thinly sliced beef pieces, which was the strongest menu item in our opinion.
The Kimbap made for some great accompaniment to its saucy dishes like the dukbokki, because the rice in the Kimbap was a great vehicle for the spicy sauce.
The service we got was friendly and attentive. The waitress made us choose if we wanted to sit at the table or sit on the floor, the traditional way Koreans do it.
The staff was very attentive to what we wanted and recommended appropriate menu items, including the vegan options.
The interior styling wasn't really that great, though. The furniture and decor — including the mural on its walls — felt like cheap knockoffs of a Korean restaurant.
Despite that, the lighting was cozy, and the restaurant was generally clean and well-kept. The pseudo-wooden floors gave it that homey feeling, and the smell of grilled meat when we entered the restaurant was a great touch.
Serves authentic Korean food and Korean barbecue
Attentive service
Clean and well-kept restaurant
The interior styling is weak
Customer Reviews
Worth the drive and back
"Went there to grab some Korean lunch with my colleague, 30 minutes across the town. And it was worth the long drive back and forth. We ordered my fav – teokkbokki, spring onion pancake, fried oysters, and one portion of grilled beef. It was grilled right on the table, with egg on the sides.
What's more – we sat on the floor – the traditional style. We had to reserve this table though.
Many vegetarian options as well on the menu. The music is Korean and so is the vibe. I am visiting again soon!" – Astha Batra, Google Reviews
A restaurant I will always happily go to
"Genuine and delectable Korean menu. A place where you will be happy to have come.
The hosts are very pleasing and will offer all advice at hand to make the experience be fabulous.
If you are trying the cuisine, in that case, the advice of the hosts will make the experience worthwhile.
The whole is wholesome and light and it's a wonderful experience.
Would recommend trying the traditional low-ground wooden seatings.
Chicken, Beef, and Seafood are all served.
Korean "Sake" known as Soju also served here if you ask for it." -Juzer Gandhi, Google Reviews
4. Sobahn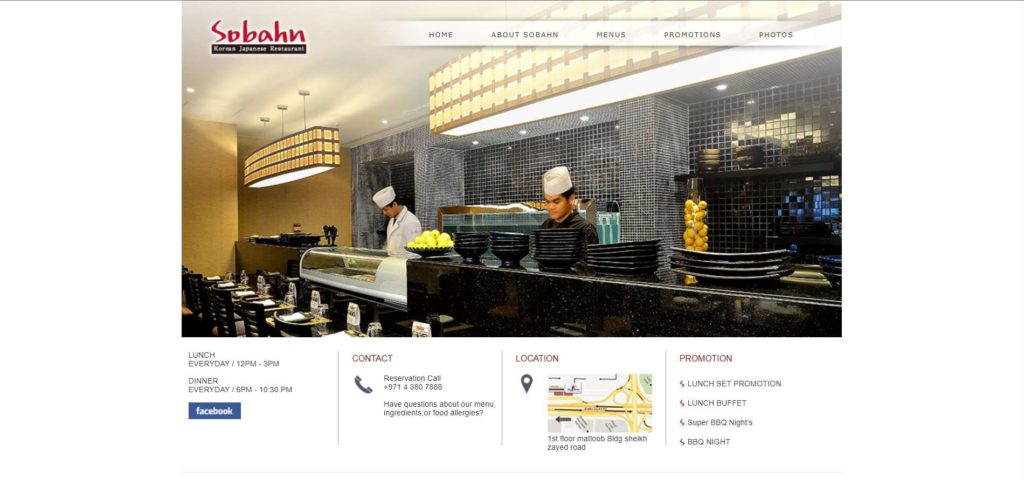 | Test | Info |
| --- | --- |
| WEBSITE | http://www.sobahndubai.com/ |
| ADDRESS | 1st floor, Matloob Bldg - Sheikh Zayed Rd - Dubai - United Arab Emirates |
| CONTACT DETAILS | +971 4 380 7888 |
| OPERATING HOURS | Every day: 12:00 pm - 10:30 pm |
| | |
| --- | --- |
| Criteria | Rating |
| Menu | ★★★★☆ (4/5) |
| Customer Service | ★★★★★ (5/5) |
| Atmosphere | ★★★★★ (5/5) |
| Side Dishes | ★★★★★ (5/5) |
This Korean-Japanese restaurant offers the fusion of two cooking cultures on a grill in buffet form with 99 dishes to choose from.
The Korean side of its barbecue buffet menu has a great range of meats from marinated beef slices and ribeyes to luxurious wagyu.
And what we love about this restaurant is that not everyone in the group has to like Korean food because it has popular Japanese dishes and Thai food on some nights of the week, too.
That being said, the menu definitely lacks focus and feels like a bunch of dishes that the chefs know are just thrown in together. Its menu lacks vision and a clear concept.
The side dishes offer a great variety that crosses different cuisines, so we definitely had fun mixing and matching those with our grilled meats.
The staff was very accommodating, and the owner was so kind to step in and wait for us himself when the restaurant got quite busy.
We also love the styling of the space and how the restaurant combined this contemporary architecture with traditional decor.
The warm lights made the space cozy, which is great because contemporary minimalist architecture often makes restaurants feel cold.
However, with all the grilling, and badly-designed acoustics causing all kinds of noise to bounce around, the restaurant can get really noisy and overwhelming.
Serves Korean, Japanese, and Thai food
Accommodating staff
Great interior styling and decor
Menu lacks focus and a clear concept
Customer Reviews
Strongly recommend this restaurant
"Had dinner with my bros. It's the no. 1 Korean Restaurant in Dubai that I'd visit ever. Kimchi soup was so great and dessert was so good, too.
Hope to enjoy beef next time. Strongly recommended." – Lea Issa, Google Reviews
Worth the hype
"If you want to try or enjoy real Korean food in Dubai, Sobahn is the best choice. It follows the traditional Korean recipe. In Seoul, it's not easy to find this kind of quality. How to make a deeper flavor in beef soup, how to ferment kimchi tasty, even without an artificial way -so it might feel a little flat- but it is more hardworking and high appreciated in Korea.
As a Korean, I give it two thumbs up!" – J.E Park, Google Reviews
5. Kimpo at Conrad Dubai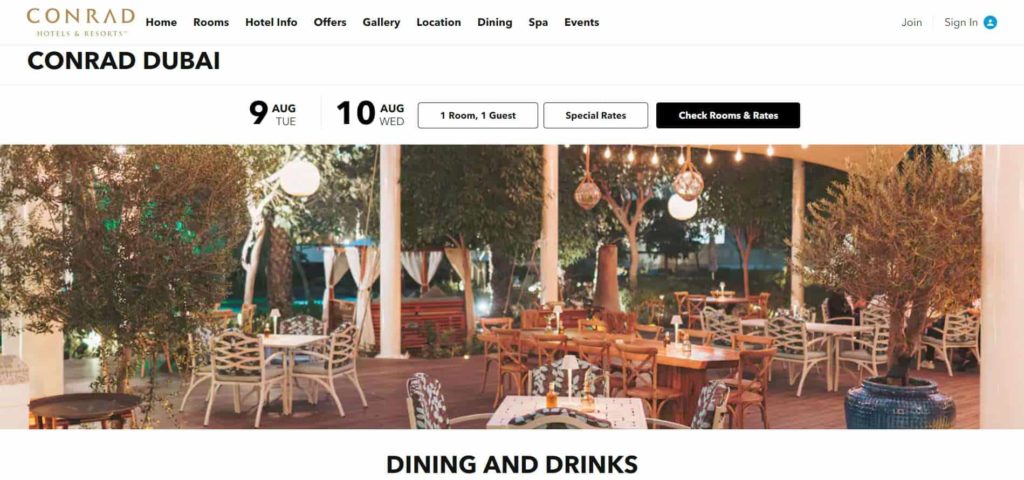 | | |
| --- | --- |
| Criteria | Rating |
| Menu | ★★★★★ (5/5) |
| Customer Service | ★★★★★ (5/5) |
| Atmosphere | ★★★★★ (5/5) |
| Side Dishes | ★★★☆☆ (3/5) |
Bringing in the energy of K-Pop to the culinary world, Conrad Hotel's Kimpo brings in world-famous Korean fried chicken, Korean street food, hops, and live DJ together.
Offering the authentic chimaek experience – a pairing of fried chicken and hops, a popular food pairing in Korea – is an absolute rarity in Dubai.
Besides its fried chickens and beer, Kimpo also serves bulgogi sloppy joes, Asian-fusion tacos, kimchi mayonnaise, and a pizza topped with salmon, among many other amazing dishes.
Having said that, Kimpo definitely adopts a Westernized version of Korean dining, so there are not a lot of side dishes to choose from, and the ones that are available don't really match our food that well.
The staff was very friendly and matched the whole energetic vibe of the place. They really stepped in and made the place feel a lot better, especially since stepping into the space for the first time can be quite overwhelming.
The atmosphere was this club-party energy with the live DJ playing every night, the neon lights, and bright colorful murals.
The presentation of the dishes was so beautiful and felt like a party for the eyes, the lighting signages definitely added a welcome edginess to the space.
Offers authentic chimaek experience
Korean-Western fusion dishes
Energetic and friendly staff
Great lively ambiance
Side dishes are mediocre and limited
Customer Reviews
Great place for night outs
"Great service! Recommended for a night out with friends. The ambiance, food, drinks, and music were amazing. The staff was super friendly and attentive, especially thanks to Franchelle, Don, and Yves. Highly recommended and I would be happy to visit again. 10/10" – Jaze Santos, Google Reviews
This Korean restaurant is amazing!
"This was amazing. I don't know where to start other than, I stay at the Conrad or the Fairmont and rotate, haven't been back to Dubai since the pandemic. This used to be years ago the Little Black Door. Kimpo has taken over since then. The hostess was super friendly. The waitress was amazing she understood what I wanted and was in the mood and selected the perfect dish. The DJ was killing it, perfect music to set the mood and not too loud where you could not talk.
Okay, the food and drink. I had the special drink not sure of the name but it was fantastic. The food was out of this world. I have eaten it all over the world and can honestly say it was savory and spicy and the flavors just exploded. It was chicken Kimpo, it comes with rice, shaved carrots, chicken katsu, avocado, and mangos. AMAZING!!!!! I will probably ditch a work dinner just to have it again before I leave. Wow. Do not pass this place up." – Andrew Malakoff, Google Reviews
6. The Korean Restaurant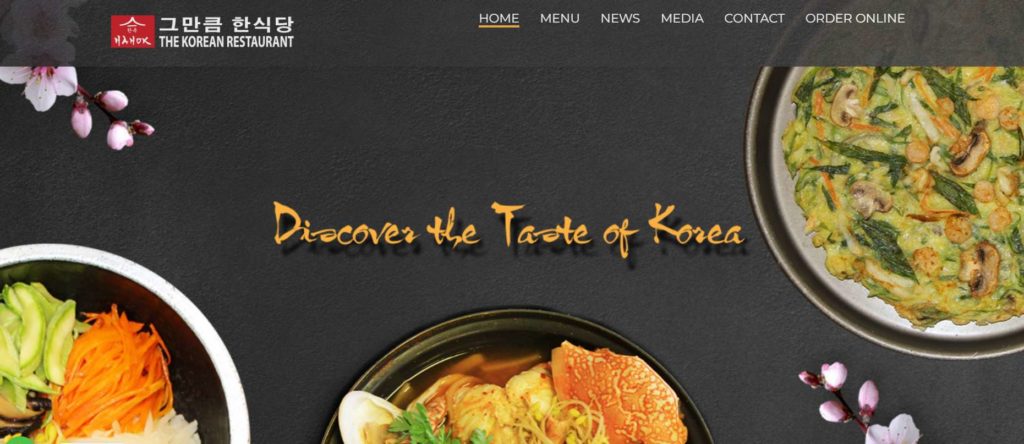 Test
Info
WEBSITE
https://www.koreandxb.com/
ADDRESS
Indigo Spectrum 1 building, Central Business District, International City Dubai, United Arab Emirates
CONTACT DETAILS
+971 4 558 8962
OPERATING HOURS
Monday: 11:00 AM - 12:30 AM

Tuesday: 11:00 AM - 12:30 AM

Wednesday: 11:00 AM - 12:30 AM

Thursday: 11:00 AM - 12:30 AM

Friday: 11:00 AM - 12:00 AM

Saturday:11:00 AM - 12:30 AM

Sunday: 11:00 AM - 12:30 AM
| | |
| --- | --- |
| Criteria | Rating |
| Menu | ★★★★★ (5/5) |
| Customer Service | ★★★★☆ (4/5) |
| Atmosphere | ★★★★★ (4/5) |
| Side Dishes | ★★★★☆ (4/5) |
The Korean Restaurant is a place where customers can satisfy their Asian cuisine cravings since they offer a unique and delectable combination of Korean, Japanese, and Chinese dishes that prove to be timeless and consistent with every visit.
We like that they employ chefs who specialize in the cuisines that they offer so that customers can have only the best and most authentic dishes served to them with quality ingredients.
Aside from this, customer has consistently commended their place to be very atmospheric along with a highly accommodating staff that is both polite and knowledgeable of the menu items that they offer.
Though note their menu doesn't feature that many group packages so clients may need to order more servings of a particular dish should they want to accommodate more people.
Nonetheless, with their quality ingredients and dishes, prompt customer service, and excellent restaurant interior, we highly recommend them to clients in the area looking for a place to try an excellent Asian fusion.
Commendable atmosphere
Unique dish fusions
Prompt and knowledgeable customer service
Group packages are limited
Some menu items are only available online
Customer Reviews
Here are some reviews from their customers:
"Favorite restaurant, very tasty, atmospheric.  everyone is always friendly and courteous.  good service.  the staff remembers that I don't eat avocado and it needs to be replaced with cucumber, that's cool.  I wish them more customers and prosperity.  Love."
"I have been to this restaurant more than dozen times in the past 2 years, love the atmosphere, service, tasty healthy dishes, especially the newly introduced dish.. The triple GGG (ginseng, ginger, & garlic) Korean Chicken Soup (Sam Gye Tang)"
FAQs about Korean Restaurants in Dubai
---
We hope this helped you in finding the perfect Korean restaurants in Dubai. Also, if you're looking to try other cuisines, then check out these articles: