The 5 Best Romantic Restaurants for Dinner in Dubai
Romantic candlelight dinners can be done at home, or you can save the stress and have one at some of the best restaurants in the city.
With Dubai being one of the most competitive dining scenes in the world, it's needless to say that restaurants here are some of the most romantic and extravagant.
So we scoured the city to give you the best romantic restaurants for dinner in Dubai. We're also sharing with you the factors we considered in choosing, and answering some FAQs about restaurants in Dubai.
How much does having a romantic dinner in Dubai cost?
The cost of going to restaurants can vary depending on the kind of meals they serve.
To give you a starting point, we made a table of the price range of the restaurants we have put on this list.
| Restaurant | Price Range |
| --- | --- |
| Thiptara | AED520 for two people |
| Ossiano | AED2100 for two people |
| The Beach Bar & Grill | AED450 for two people |
| Kinoya | AED300 for two people |
| Mimi Kakushi | AED400 for two people |
The Best Romantic Restaurants for Dinner in Dubai
Before we get right into our top picks for the best romantic restaurants for dinner in Dubai, here are the factors we considered for our entries on this list:
1. Thiptara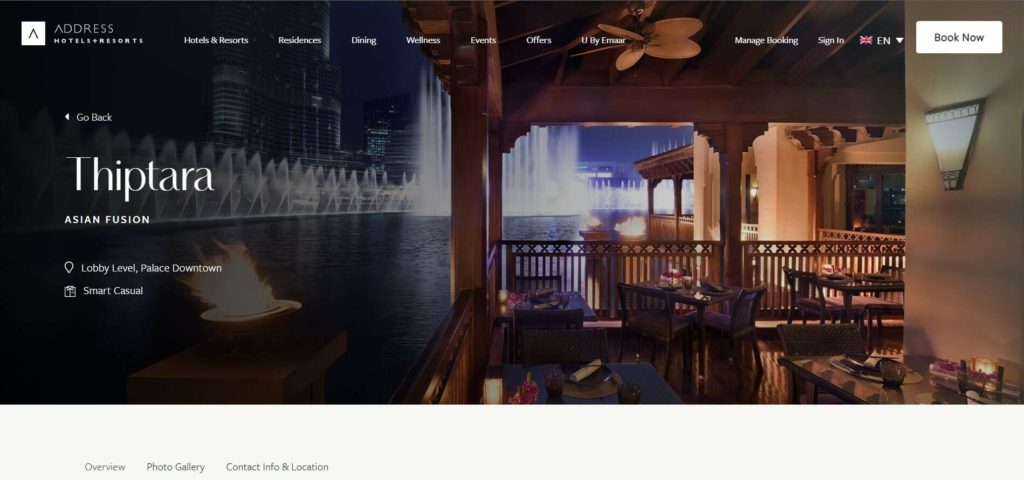 Test
Info
WEBSITE
https://www.addresshotels.com/en/restaurant/thiptara
ADDRESS
Ground Level, Palace Downtown 9770 - Sheikh Mohammed bin Rashid Blvd - Dubai - United Arab Emirates
CONTACT DETAILS
+971 4 428 7961
OPERATING HOURS
Saturday to Thursday: 6 pm - 11:30 pm

Friday: 12:30 pm - 11:30 pm
| | |
| --- | --- |
| Criteria | Rating |
| Menu | ★★★★★ (5/5) |
| Customer Service | ★★★★★ (5/5) |
| Ambiance | ★★★★☆ (4/5) |
| Location | ★★★★★ (5/5) |
Intimacy comes in the form of beauty and grace seen from the waterfront view of Thiptara's tables.
This restaurant at Palace Downtown Dubai perches along the Dubai Fountain, offering a view of the landmark from an intimate angle.
The menu evokes the mystery and intrigue of Bangkok-style seafood, the kind of cuisine that implies rather than dictates — subtle yet complex in the depth of its flavors.
Its signatures like the Satay and the Goong Mung Kurn introduce spicy and fresh flavors to famous proteins that lighten instead of enriching their flavors.
The result is filling yet intriguing on the palate — the right kind of combination to excite and entice a date on a romantic night of getting to know each other.
The tuned-in service — where we got assigned by a dedicated waiter when we arrived — allowed for some really focused and attentive service.
The sound of the fountain water falling in on itself and the view that comes along with it more than takes the cake, but the restaurant doesn't stop there.
The intimate lighting accompanied by the dark flooring made for a cozy atmosphere, but we were disappointed by the fake-looking woven chairs and tables.
We felt like the furniture did not fit the luxury of the view and the restaurant's location.
And speaking of location, Thiptara is right across the Burj Khalifa. And if that's too far of a walk, we also love that The Palace Downtown makes for a great leisurely stroll, too.
Menu offers Thai cuisine
The restaurant has a view of the Dubai Fountain
Tuned-in service
Intimate ambiance
Located right across Burj Khalifa
The furniture seems cheap compared to the luxurious area and food
Customer Reviews
It's always a great experience coming here
"I have been here a few times and every time it's been a great experience. The staff are very courteous and go out of their way to make your dining experience a wonderful one. The outdoor seating is right next to the Dubai Mall fountain and every half hour you're able to watch the beautiful fountain light and sound show. It serves Thai food and the ingredients and taste are top-notch. It's located inside the palace Downtown hotel and valet parking is available. Try the Laughing Buddha cocktail 🍸 and end with a nice dessert. It's pricy and so best to go there for a special occasion" – Gurudutt Nayak, Google Reviews
Deliciously incredible food
"Delicious. Definitely not cheap but everything we ate was incredible. We took the CHEF'S PREFERRED SPECIAL SET MENU which included nearly all our favorites. I especially enjoyed the Thai green curry and the chicken skewer. Can highly recommend coming here. Definitely not cheap but very good." – Miroda Otto, Google Reviews
2. Ossiano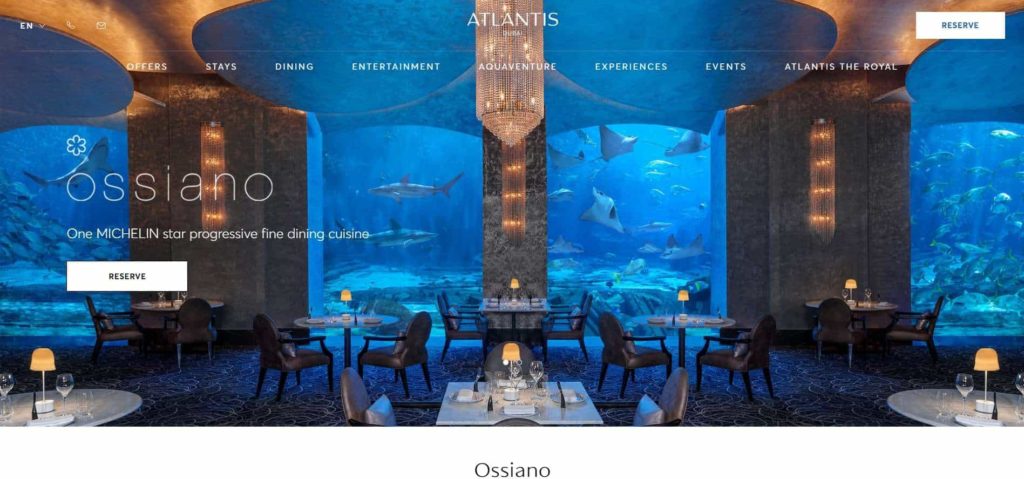 | | |
| --- | --- |
| Criteria | Rating |
| Menu | ★★★★☆ (4/5) |
| Customer Service | ★★★★☆ (4/5) |
| Ambiance | ★★★★★ (5/5) |
| Location | ★★★★☆ (4/5) |
When we think of romantic dinners, we think of tables by the beach on a sunset or a 5-star meal at the top of a skyscraper, but rarely do we expect a luxurious meal with floor-to-ceiling views of Atlantis Dubai's gigantic aquarium.
The freshest seafood prepared by Michelin-starred chef Grégoire Berger, Ossiano takes the sea's bounty and shares his gourmet conceptualizations with us.
Each dish has a uniquely extravagant presentation, and the taste, while often unconventional, is undeniably an experience.
The service is on par with the dishes it serves. Going more than what has been expected, the host and waiters did everything to accommodate us, ensuring that this unique experience reaches its maximum potential.
And the ambiance is unrivaled. We mean, where else can you dine while watching sharks and magnificent stingrays swim past you and your date?
The grandness of the aquarium is matched by the restaurant itself, with extravagant floral centerpieces, grand chandeliers, and beautiful carpeting.
And while its location may be some ways away from the central parts of the city, the Atlantis is big enough to host some local destinations that are perfect for walks pre or post-dinner.
All in all, we love that Ossiano provides one of the most beautiful and rarest dining experiences out there — the perfect setting for marking relationship milestones.
Serves Michelin quality gourmet seafood dishes
Has a view of the Atlantis aquarium
Ambiance is lavish and luxurious
Service is excellent
Location is somewhat far away from the central parts of the city
Customer Reviews
An amazing dining experience
"Had wedding anniversary there. What a great restaurant. The waiter was nice but a little inexperienced (this was two years ago) food was amazing and was presented and explained course by course, pairing wine was delightful too. Desert was to die for. An amazing treat from my husband." – Ana Stumpf, Google Reviews
The perfect restaurant for a perfect night
"My husband and I had an amazing night.
The food was delicious, the staff and service were outstanding and the fishes were super friendly and photogenic, especially the stingray. I highly recommend this restaurant for a special night out." – Lama Khalifa, Google Reviews
3. The Beach Bar & Grill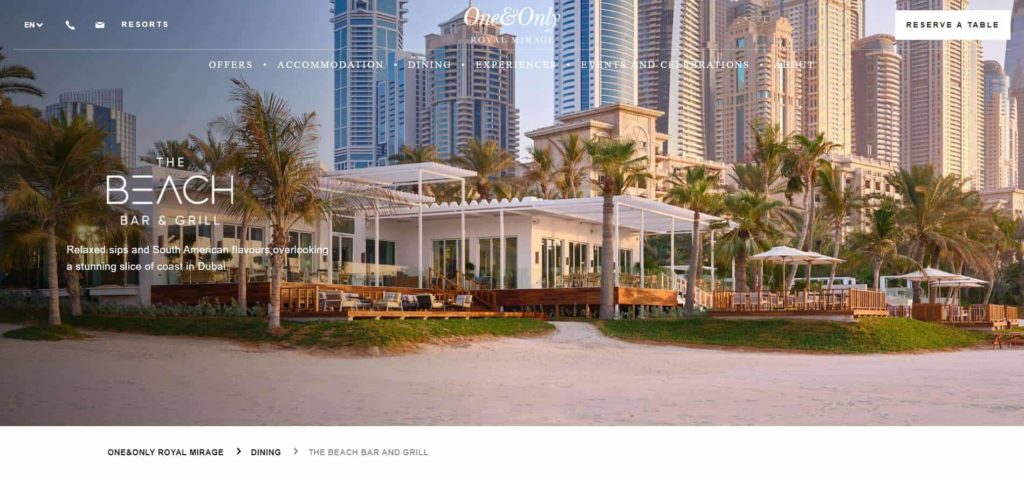 | Test | Info |
| --- | --- |
| WEBSITE | https://www.oneandonlyresorts.com/ |
| ADDRESS | One&Only Royal Mirage - King Salman Bin Abdulaziz Al Saud St - Dubai Marina - Dubai - United Arab Emirates |
| CONTACT DETAILS | +97143999999 |
| OPERATING HOURS | Every day: 12 pm - 10:30 pm |
| | |
| --- | --- |
| Criteria | Rating |
| Menu | ★★★★☆ (4/5) |
| Customer Service | ★★★★★ (5/5) |
| Ambiance | ★★★★★ (5/5) |
| Location | ★★★★★ (5/5) |
Sometimes, the simplest solution is the best solution, and in this case, that's a romantic dinner by the beach while the sun sets behind us.
In partnership with chef Mauro Colafreco, The Beach Bar & Grill has recently upped the ante with a new menu that consists of South American delicacies.
We love how the food was served to us. Made for sharing, the menu asks guests to get closer and enjoy large plates of ceviches, empanadas, and freshly caught seafood over intimate conversations.
However, some dishes can get too heavy for just 2 people, so it's advisable to wear loose-fitting clothes for some bloat after dinner.
The service was impeccable. For a place this large, we were amazed at how the staff moved so efficiently. Every need we asked for, and every order we got came in perfectly.
Another thing we love about this place is its casualness of it. No need to dress up, to a certain limit.
The breeziness of the alfresco beachside and the flickering of the lights coming from our table's candles and from afar set the mood for beautiful conversations and carefree laughter.
And for a restaurant that's located by the beach, we didn't even have to travel that far to get there.
Surrounded by numerous hotspots for work, The Beach Bar and Grill is a stone's throw away from many pre or post-dinner activities.
Has a view of the beach and the sunset
Alfresco dining is intimate and comfortable
Food is mainly for sharing
Casual ambiance
Some dishes can be too heavy for date night
Customer Reviews
A fantastic dining experience
"We had a fantastic (almost) fine dining experience. So many flavors are combined in special, creative ways. The location must be one of the most beautiful ones I've seen in Dubai! Big recommendation." – Isabeau Ayoubi, Google Reviews
A relaxing spot for dinner
"We had an amazing dinner at the Beach grill.
Sea views and along the beach, quiet surroundings in the amazing hotel resort One&Only. All to relax. Thank you to Sevan the restaurant manager and his staff for helping us select the best selection of dishes and get a taste of all the fine gourmet specialties on their menu: meat, fish, octopus, empanadas, and delicious fresh desserts.
The staff is very kind and looking after all details for our dinner.
We will be back!" – Stephanie Rollet, Google Reviews
4. Kinoya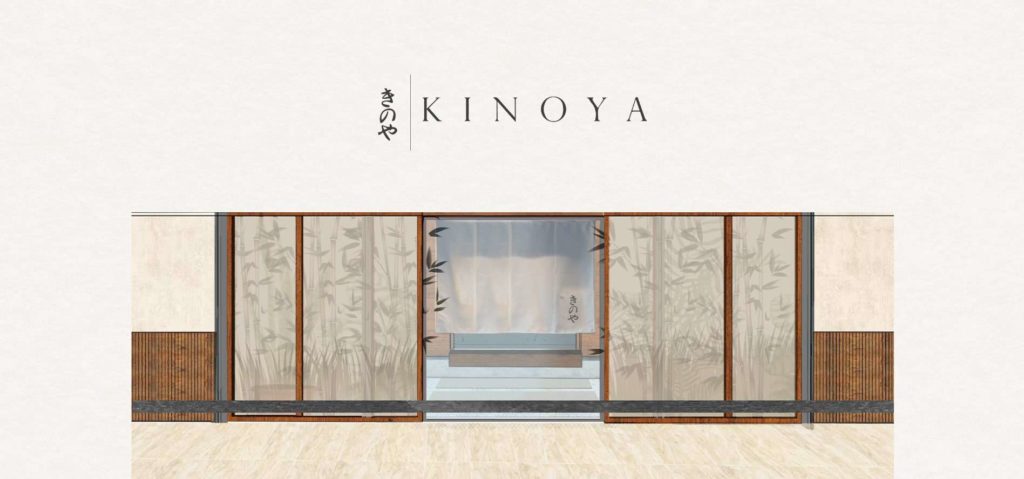 | Test | Info |
| --- | --- |
| WEBSITE | https://kinoya.ae/# |
| ADDRESS | The Onyx Tower 2, Sheikh Zayed Road, near ADIB Bank, Dubai |
| CONTACT DETAILS | +971 4 220 2920 |
| OPERATING HOURS | Tuesday to Sunday: 12:00 pm - 1:00 am |
| | |
| --- | --- |
| Criteria | Rating |
| Menu | ★★★★★ (5/5) |
| Customer Service | ★★★☆☆ (3/5) |
| Ambiance | ★★★★★ (5/5) |
| Location | ★★★★☆ (4/5) |
Kinoya is inspired by two aspects of traditional Japanese dining, izakaya — informal Japanese dining where people gather after work to enjoy snacks and beverages — and ramen.
Steeped in history and traditions, Kinoya offers an educational and enjoyable Japanese dining experience we think is perfect for those struggling to find the right conversation during dates.
The menu is casual and authentic, a sincere attempt at introducing the beauty of everyday food to the customers.
Its ramen is hearty and full of depth and complexity in its broth, just dissecting it is already an impressive conversation starter.
The service, however, we found to be too quiet for a typical Japanese restaurant. We expected loud greetings and voices coming from its open kitchen, but the lack of sound felt awkward.
Despite that, the overall service was good, but nothing to write home about.
However, we do love the casual traditional Japanese setup of the restaurant. The ramen counter gives it an authentic feel while the carefully thought out lighting makes it intimate and modern.
We love the subtle nods to everyday ramen restaurants in Japan, like the banners with the restaurant's name on them and the handcrafted chairs and tables.
The restaurant is centrally located next to Sheikh Zayed road. However, the area is surrounded by condominiums and hotels, so there isn't much to do before or after.
But it is a good choice for on-the-spot dates and mid-week dinners since the location is convenient and highly accessible.
Serves izakaya and ramen
Offers a traditional everyday Japanese dining experience
Authentic Japanese setup
Mediocre service
No relevant landmarks around
Customer Reviews
The best ramen in Dubai
"The BEST ramen in Dubai! I couldn't wait to try this place after the super club hype & it was definitely worth the wait! Fresh ingredients, the most flavorful broth (you'll be slurping till the last drop!) some rap music in the background & a guaranteed delicious dinner!" – Lea Issa, Google Reviews
Worth the hype
"Finally visited this place after all the hype about their famous ramen's and trust me it was worth every minute.
Loved their chef's special ramen and it was perfect from the broth right until the tender chicken and noodles😍
Apart from the ramen I was amazed of the miso butter eggplant and trust me I never like eggplant, and it was extraordinary 👌
Had to get spicy edamame and chicken wings and relished it until the last very last bite.
The best experience is to book one of their private rooms as we had a group of 10 and make sure Leonard is your server cause he just made everything fall perfectly in place right from the service and even suggested what we should try and gave us honest opinions about the food which is a must need if you're visiting it for the first time.
I would like to recommend him if you do visit there as he would make your evening memorable and you wouldn't regret it." – Craig Creado, Google Reviews
5. Mimi Kakushi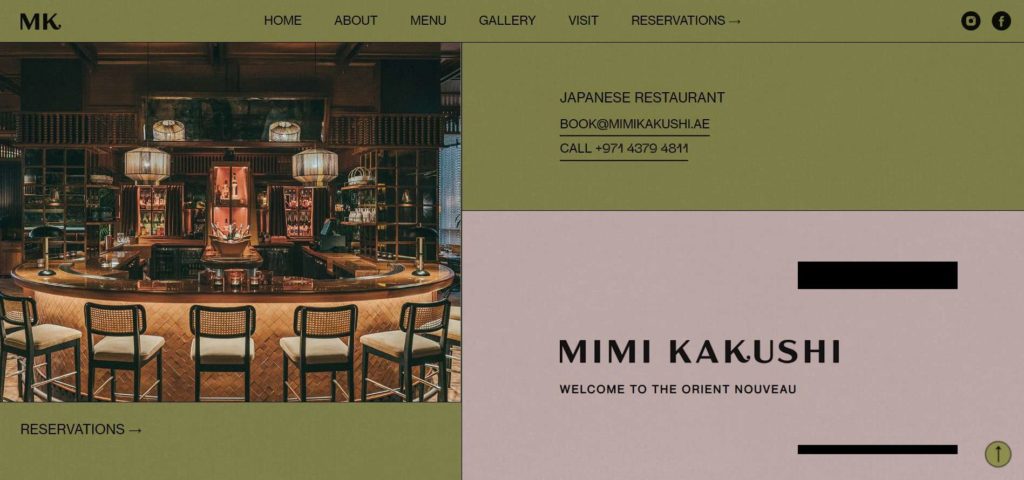 Test
Info
WEBSITE
https://mimikakushi.ae/
ADDRESS
Restaurant Village, Four Seasons Resort, Jumeirah Beach Road, Dubai – U.A.E.
CONTACT DETAILS

[email protected]

+971 4379 4811

OPERATING HOURS
Every day: 12 pm - 2 am
| | |
| --- | --- |
| Criteria | Rating |
| Menu | ★★★★☆ (4/5) |
| Customer Service | ★★★★★ (5/5) |
| Ambiance | ★★★★★ (5/5) |
| Location | ★★★★★ (5/5) |
Mimi Kakushi has as much flavor on its dishes as it has in its decor.
Inspired by the art deco of the Orient, turn of the century jazz music, and the lavishness and rebellious nature of the 1920s, Mimi Kakushi clashes traditions with brave and bold innovations.
The menu adds twists and surprises to Japanese classics and contains an extensive range of drinks and an eclectic collection of desserts.
The result is a playful and exciting dining experience that's sure to set up the date night for success or at least give it a strong start.
However, some dishes are a hit or miss. Not every item is spectacular, but it's still within the standards the restaurant has established for itself.
The service is excellent. Well-trained and holds high regard for diet restrictions, as well as highly knowledgable of the menu.
As for the atmosphere, it is bombastic as it is suave, colorful yet curated, and contained. The Oriental 1920s aesthetic style drapes the restaurant in old classic luxury that is unlike any other.
It also has a nice balance of cold and sharp metallic finishings and soft and warm woven furniture. We love the Mimi Kakusha perfectly encapsulates the liveliness of the era it follows.
It is also near the beach, a perfect nightcap that we decided to do while basking in the afterglow of its Wagyu steak and complex and calculated cocktails.
Serve Japanese classics with a twist
Lavish ambiance
Has a 1920s aesthetic
Near the beach
The menu is a hit or miss
Customer Reviews
Great first time!
"Food and service are excellent! Came here to celebrate my friend's birthday and the experience was unforgettable. Waiters were so attentive despite the heavy crowd, booking in advance is recommended as the place is in high demand. The quality of ingredients and dishes options were great! Literally, everything we had tasted so good it's my first time and definitely not the last 😍❤️❤️❤️" -Aisha Al Harmoodi, Google Reviews
I'm glad I tried them out
"I was hesitant about visiting Mimi Kakushi and approached the restaurant with some trepidation but I'm pleased to say that I am glad that I went.
The ambiance is wonderful and the entire restaurant vibes with beautiful lights and amazing decor that nods to all its Asian influences without being over the top.
The service is impeccable and well trained with regards to all the dishes and ingredients and they were able to accommodate requests and allergies or at least forewarn of them.
I tried the brunch, which is pricey to be fair, but the prices reflect the quality of the ingredients and each item put forward was delicious. A super special shout-out goes out to the Black Cod that was on point as was the lovely steak." – Malek Mroueh, Google Reviews
FAQs about Dinner in Dubai
---
We hope this helped you in finding the perfect romantic restaurant for dinner in Dubai. Also, if you're looking for other ways to celebrate moments or reward yourself, then check out these articles: