The 5 Best Art Galleries in Dubai
Art is definitely a cornerstone in the culture of a city, a country, and society, as a whole. So it goes to show that metropolises, especially Dubai, are brimming with world-class art galleries.
So whether it's for date nights or you traveled thousands of miles away to appreciate masterpieces, we share with you the best art galleries in Dubai.
We're also sharing with you the factors we considered in choosing, and also answered some FAQs about art galleries.
How much does going to an art gallery in Dubai cost?
Art galleries are also spaces that function as a store, and these are usually funded by the owner, the artist, or a corporation. So, entering art galleries is usually free!
However, there are some galleries that function as immersive art itself and are not for sale. Entering these galleries usually costs around AED90 to AED150 per person.
The Best Art Galleries in Dubai
Before we get right into our top picks for the best art galleries in Dubai, here are the factors we considered for our entries on this list:
1. XVA Gallery Dubai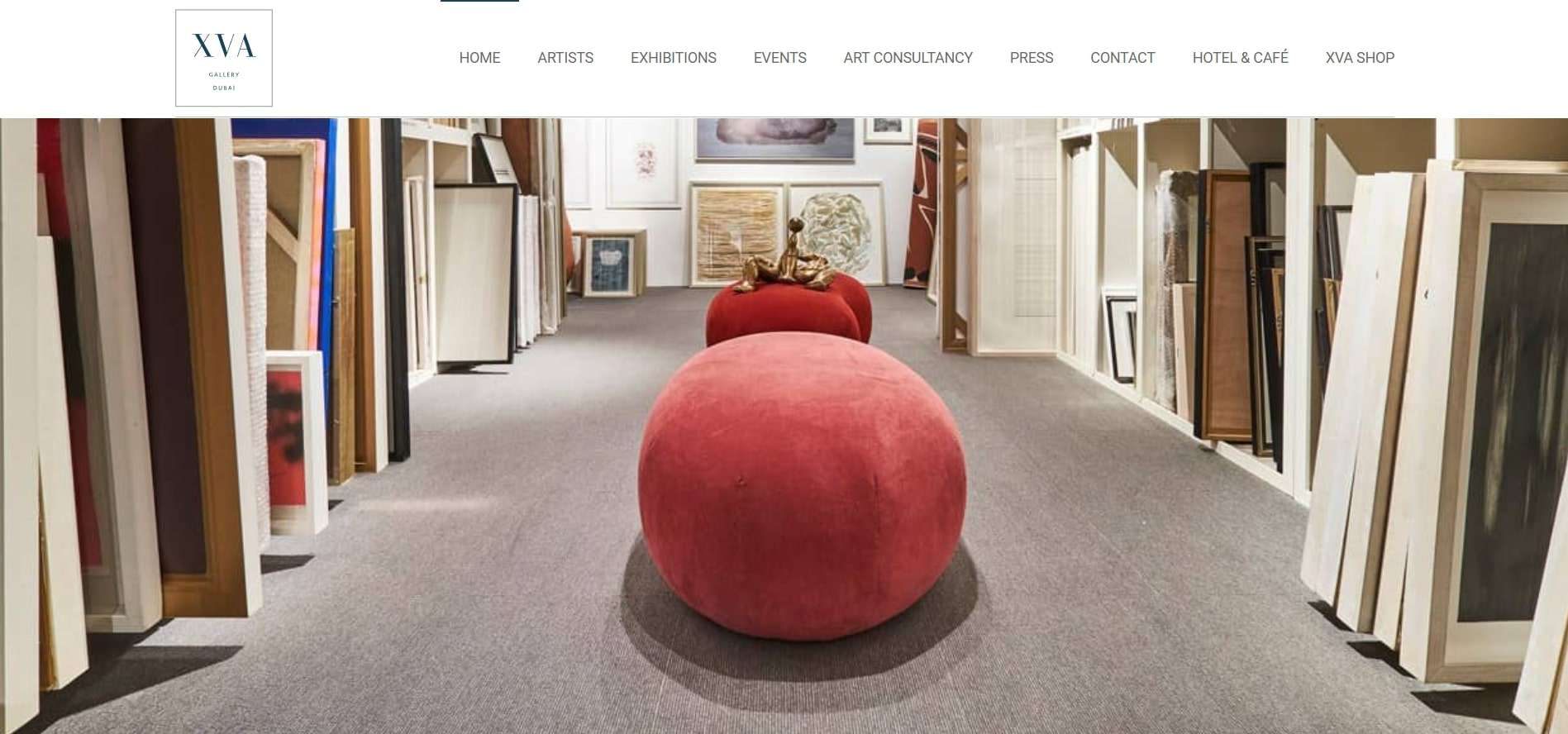 | Test | Info |
| --- | --- |
| PRODUCTS | Fire Extinguisher Supply and Refilling Service, Safety Equipment, FM 200 Systems, Annual Maintenance, Emergency Systems |
| WEBSITE | https://www.xvagallery.com/ |
| ADDRESS | P.O. Box: 231578 17 12 A St., Al Qusais Industrial Area 1, Dubai |
| CONTACT DETAILS | +9714 3535383 |
| OPERATING HOURS | Every day: 10 am - 6 pm |
| | |
| --- | --- |
| Criteria | Rating |
| Pieces | ★★★★★ (5/5) |
| Variety | ★★★★★ (5/5) |
| Uniqueness | ★★★★☆ (4/5) |
| Programs | ★★★☆☆ (3/5) |
XVA is one of the leading contemporary art galleries in the Middle East with exhibitions focused on works by the region's foremost artists as well as those emerging onto the scene.
We personally love contemporary interpretations of different cultural perspectives being shared in a premiere space like this because it works to break down the stereotypes that are portrayed in Western media.
And this gallery is proof that there are voices waiting to be heard because the gallery gets new exhibitions almost multiple times a year.
And when it comes to its uniqueness, all the up-and-coming artists around the region usually get the chance to show their works here.
And with a good eye and a little bit of foresight, art collectors just happen upon the early works of a budding world-renowned artist.
The best thing about it is that these works have not been seen by the majority of the world yet. So the degree of uniqueness and rarity is very high.
However, when it comes to its programming, we're finding it lackluster. It only currently has one lecture happening at the gallery, so there's really not much any choice.
And while we understand that the gallery also functions as an art consultancy agency, we think it could do with some self-sustaining programs for more engagement.
Exhibits region's foremost and emerging artists
Exhibits change multiple times a year
Some works appear for the first time here
Customer Reviews
Amazing contemporary art exhibit
"Really neat rotating exhibits of contemporary art. The cafe is nice and friendly folks!
The gift shop has some unique items you just won't find in the rest of Dubai.
The place would be a nice Atlas Obscura listing 🙂
The surrounding area is also fantastic for photographers. A welcome respite from most of the flashiness Dubai is notorious for." – Luke Davis, Google Reviews
Great place for art and nature lovers
"XVA Cafe and gallery is a hidden gem in the middle of Al Fahidi Neighborhood. A good venue for art lovers and nature lovers at the same time. Thank you Chandresh for accommodating us and for granting all our requests. Highly recommended!!!" – Glaiza Lopena, Google Reviews
2. Infinity Des Lumieres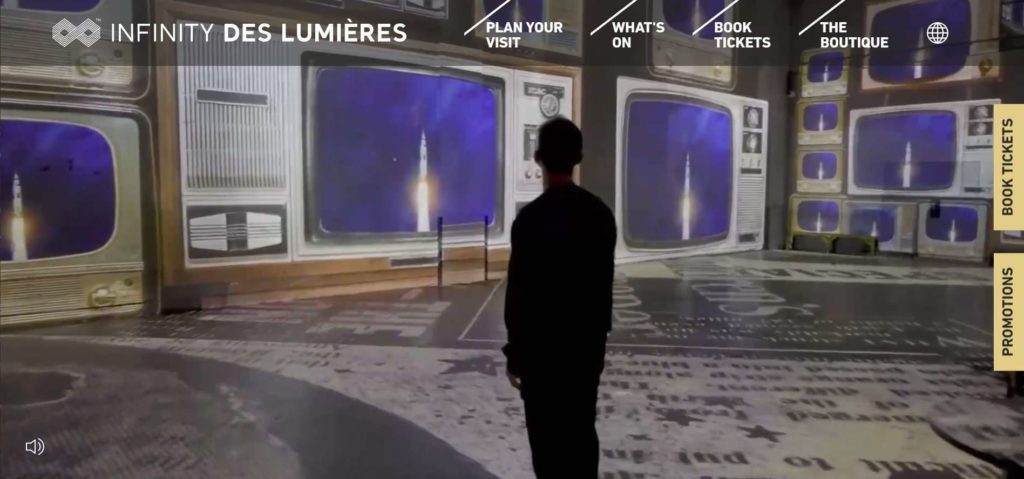 | | |
| --- | --- |
| Criteria | Rating |
| Pieces | ★★★★☆ (4/5) |
| Variety | ★★★★☆ (4/5) |
| Uniqueness | ★★★★★ (5/5) |
| Programs | ★★★★☆ (4/5) |
Bringing the future into the present, Infinity Des Lumieres is an immersive digital art space that combines cutting-edge technology with art.
The gallery's pieces are all about expressing views about the future, and while we think utilizing tech and digital art to discuss this seems redundant, we do love the different ways the pieces approach this.
From abstract animations to surrealistic commentaries on space exploration and the climate crisis, Infinity Des Lumieres takes on the future from so many different angles that feel refreshing each time a new exhibit comes up.
However, the gallery only does exhibit digital art, so those looking for a more grounded and tangible art experience might not find this rewarding.
As for its uniqueness, well, it's unrivaled. Some pieces in this gallery are some of the first of their kind, given that it uses cutting-edge technology for immersive spaces.
On top of that, these pieces only work in specific conditions, and thus cannot be replicated nor exhibited anywhere else, so the experience is entirely rare.
We also love the programs the gallery has, being able to host private, corporate, and cultural events in the space, and using the exhibits to enhance the whole experience.
We also love how it aims to educate children about the potential of digital technology by hosting school tours, as well.
However, it does lack the common programs that most art and tech lovers would look forward to attending, such as workshops, lectures, and talks.
Combines digital technology with art to make immersive spaces
Exhibits discuss the future in various ways
Experience is entirely rare and unique
Has numerous programs
Pieces only focus on the future
Only exhibits digital art
Lacks workshops, lectures, and talks
Customer Service
The most beautiful exhibition!
"The most beautiful exhibition!
It's an extremely organized, very high-end exhibition.
The music is on point! The projections were on point! And the staff are amazing, friendly, professional, and helpful!
The tickets are worthy of the experience, just don't forget the last part of the exhibition "verse" a short visual film that's pure magic and relaxation!
I am most certainly coming back, and will recommend it to everyone in Dubai!" – Sabine Nader, Google Reviews
The place is worth visiting multiple times
"This art museum is one of the most beautiful creations, in which technology is used and mixed with global innovations. The place is worth visiting several times. Visitors can meditate and enjoy Japanese arts and lines mixed with Japanese heritage. You can also enjoy the most beautiful paintings drawn by Van Gogh, which turn into a dancing symphony within reality. It's worth a visit" – Sawsan Alrahma, Google Reviews
3. Gallery 27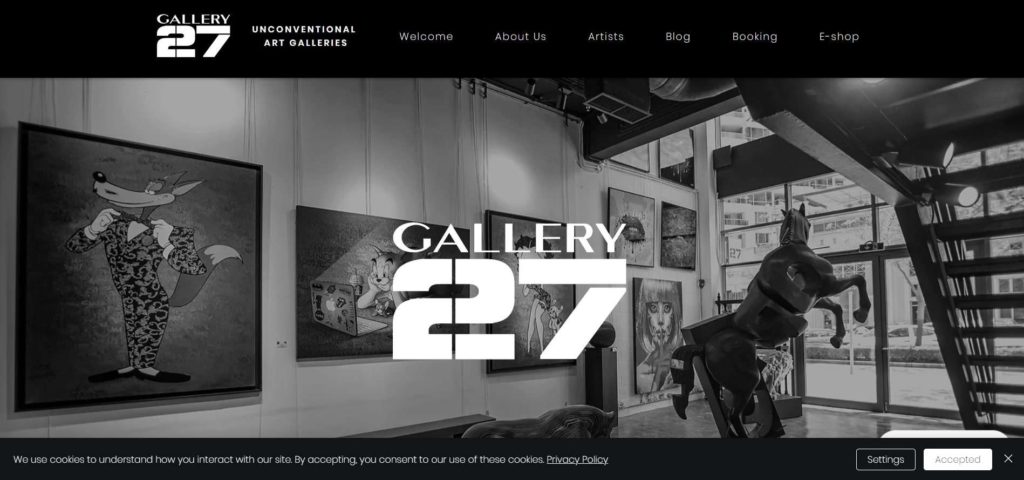 Test
Info
WEBSITE
https://www.gallery27dubai.com/
ADDRESS

Marina Gate 1, retail store 102 - Dubai - United Arab Emirates




Has 3 more galleries in the city

CONTACT DETAILS
+971 (0) 4 514 5362
OPERATING HOURS
Every day: 2:30 pm - 10:30 pm
| | |
| --- | --- |
| Criteria | Rating |
| Pieces | ★★★★★ (5/5) |
| Variety | ★★★★★ (5/5) |
| Uniqueness | ★★★☆☆ (3/5) |
| Programs | ★★★★☆ (4/5) |
Gallery 27 is a cultural puzzle piece to Dubai's cosmopolitan landscape with galleries located in world-class malls, next to ultra-luxury brands, and a stone's throw away global cultural centerpieces of the city.
With its own resident artists and the occasional new ones, Gallery 27 curates its galleries with pop-art pieces in vibrant New York-style warehouse spaces.
Always looking towards the future, this gallery focuses on up-and-coming young artists whose colorful and avant-garde pieces present strong first impressions on us.
On top of that, nothing says variety and uniqueness more than Gallery 27 providing customized services for the artwork that you buy.
With the principle of letting art inspire and providing a new dimension to your living space, this gallery lets its buyers ask the artists to customize pieces however they wish, to a certain extent.
However, it can also be argued that the alteration of finished pieces lowers the artistic value and the credibility of these artists, so we're on the fence about it, as well.
But when it comes to its programs, it organizes art classes and private viewings. And while it may not have lectures and workshops, the gallery makes the most of the space it has, and we appreciate that.
Has pop-art pieces from resident artists and upcoming artists
Provides customizations to the artworks sold
Has numerous programs including art classes
Customization lowers the art value and artist's credibility
Doesn't host talks and lectures
Customer Service
A must-visit
"Great Ambience, Great Set up, Great People, Beautiful Art! Must visit if you're in Marina walk or are looking for a new piece for your home! Also a special thank you to Marine for explaining the pieces and taking me through the gallery." – Yuvraj Pahuja, Google Reviews
Full of vibrant art
"Apart from the beautiful luring fragrance of the gallery, the real pull is the fantastically vibrant art and the explosion of colors that almost enables you to forget you are within a bustling urban landscape. I love this Gallery for the way it leverages artists and for the way it both literally & figuratively puts them in a new light. The lighting is fabulous. Lastly, a visit without Astrid almost does not count as a visit to Gallery 27. Her knowledge, perception, and kindness are unmatched. Looking forward to my next visit!" – Lynne Khodr, Google Reviews
4. Green Art Gallery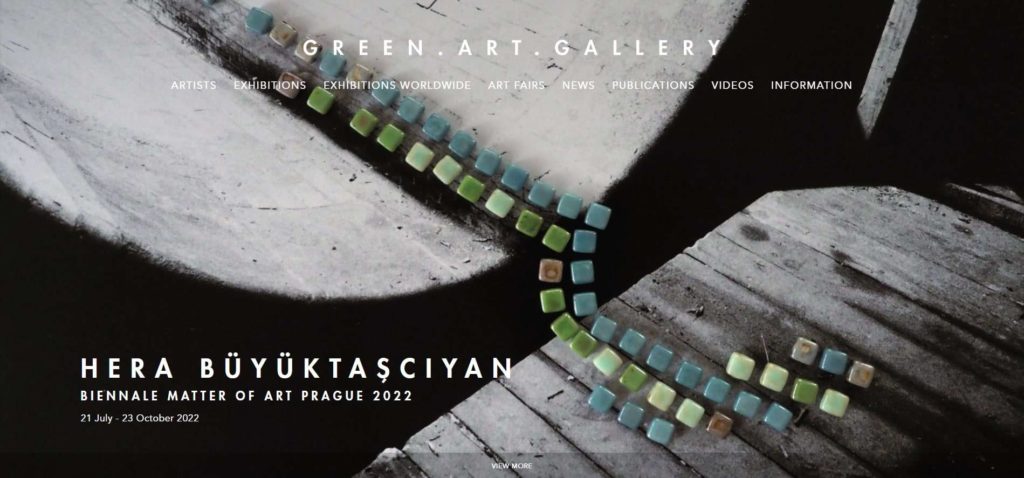 Test
Info
WEBSITE
https://www.gagallery.com/
ADDRESS
Green Art Gallery, Al Quoz 1, Street 8, Alserkal Avenue, Unit 28, P.O. Box 25711 Dubai, UAE
CONTACT DETAILS
+971 4 346 9305
OPERATING HOURS
Monday to Friday: 11 am - 7 pm

Saturday: 10 am - 7 pm
| | |
| --- | --- |
| Criteria | Rating |
| Pieces | ★★★★★ (5/5) |
| Variety | ★★★☆☆ (3/5) |
| Uniqueness | ★★★★★ (5/5) |
| Programs | ★★★★★ (5/5) |
Started all the way back in 1987 as Ornina, Green Art Gallery is one of the longstanding galleries in the Middle East and has been a witness to the transformation of the regional art scene.
Now in its second reincarnation as the Green Art Gallery, the space hosts contemporary pieces and features artists working across diverse media.
And what we love about these artists is that they share one common thing: their practices are researched, idea-led, and representative of the current times.
The gallery is pretty much a curator of the current cultural zeitgeist of the Middle East, North Africa, South Asia, and beyond.
Thus, the variety is endless, and the ethnically diverse exhibits reflect Dubai's position as a cosmopolitan — as well as artistic — cornerstone.
However, when it comes to uniqueness, its internationally diverse experienced artists don't always make way for the rarest and most unique pieces as these works have already gone through galleries in many different countries.
Green Art Gallery's programs extend outside of its physical space, which is pretty rare for a gallery.
It organizes exhibitions and fairs outside of the gallery and outside of the country. Its reach transcends the four walls of its space and gives its resident artists the stage they need to tell their stories to a global audience.
One of the longstanding galleries in the Middle East
Artists work with various mediums and make thoughtful pieces
Curates pieces from several Eurasian regions
Programs extend outside of the gallery
Customer Service
Lovely place
"Lovely place. Very dynamic art" – Rajaa Shakir, Google Reviews
A must-visit
"Beautiful place and territory. You will not regret if you come once" – Nikita Pushkarev, Google Reviews
5. The Third Line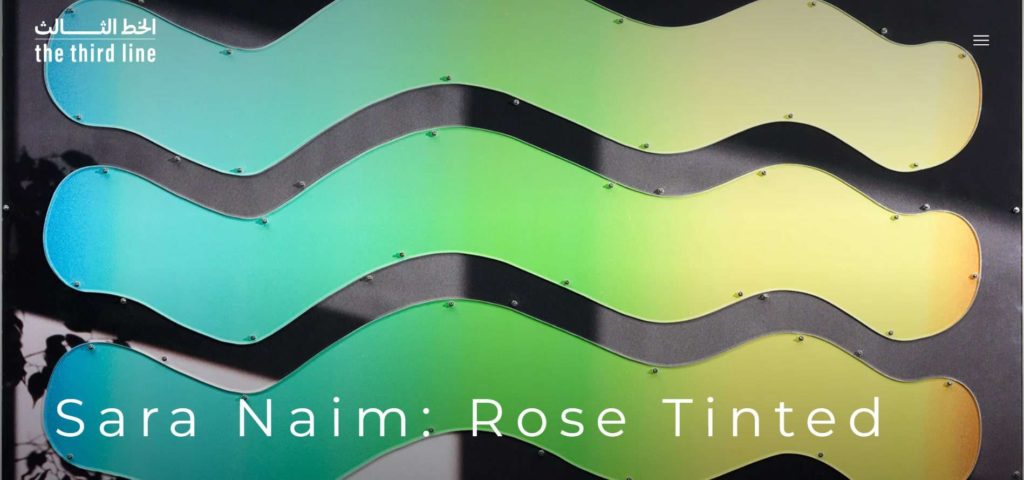 | | |
| --- | --- |
| Criteria | Rating |
| Pieces | ★★★★★ (5/5) |
| Variety | ★★★★☆ (4/5) |
| Uniqueness | ★★★★★ (5/5) |
| Programs | ★★★★★ (5/5) |
Representing contemporary Middle Eastern artists in Dubai and from around the world, The Third Line is a pioneer in establishing a platform for established talent and emerging voices from the region and its diaspora.
We love how the pieces transcend cultural borders and show the perspective and voices of Middle Eastern artists in the context of their struggles, experiences, and transformations.
That being said, the variety of the pieces is weak, as the gallery only currently hosts a number of represented artists and exhibits works from them exclusively.
But that also proves that the pieces shown here are rarely seen anywhere else. Thematically, these pieces are also a certain niche that speaks strongly about certain sets of people around the world.
And when it comes to programs, besides the occasional art fairs for its artists, The Third Line also engages in art publications, an art that is rarely touched upon by other galleries and curators.
All of these, and non-profit alternative events, help spur discourse on art, film, music, and literature in the region.
We love how The Third Line actively participates in initiatives to continue the relevance of art spaces and artists in a world that is becoming so focused on everything digital.
Represents Middle Eastern artists from the region and its diaspora
Pieces show niche perspectives not widely covered by Western media
Pieces are rare in a sense that these are not often shown anywhere else
Actively organizes art publications
The exclusive set of artists stifles variety
Customer Service
A budding art scene to watch out for
"I wish I had known about this place years ago. A budding art scene with a strong community. I plan on frequenting this area much more often." – Cedrick Pruitt, Google Reviews
Thoughtfully created art space
"The intimate atmosphere in the upper gallery and the cavernous space for exploring works downstairs encourages an experience of art that is purposeful and dialogue defining." – Sonia Brewin, Google Reviews
FAQs about Art Galleries in Dubai
---
We hope this helped you in finding your favorite art gallery. Also, if you're looking for other things to do in Dubai, then check out these articles: