6 Best POS System Providers in Dubai
A reliable POS (Point-of-Sale) system can help you centralize business operations. Basically, this tool aids business owners in combining payment processing, inventory, payroll, and accounting into one system.
If you're looking into a POS hardware and software package tailored to your industry, read on because we reviewed some of the best POS system providers in Dubai. This can help you figure out which one to get for your business!
Cost of POS Systems in Dubai
To give you a view as to how much money you need to invest in a POS system, here are some of its most common types together with its usual costs.
Bear in mind that these are just estimates, so it's still best to get in touch with your chosen provider before you make the purchase.
| POS SYSTEM | ESTIMATED COST |
| --- | --- |
| POS Bundle (Hardware Only) | 3,058 AED |
| POS Bundle for Restaurant (Hardware and Software) | 5,460 AED |
| Touchscreen POS System | 5,400 AED |
| Tablet-Based POS System | 1,990 AED |
| Cloud-Based POS System | 9,656 AED |
The Top POS System Service Providers in Dubai
Before you check out our picks of the best POS system providers in the city, let's look over the key factors we considered when making this list.
1. Pro Dynamics Technology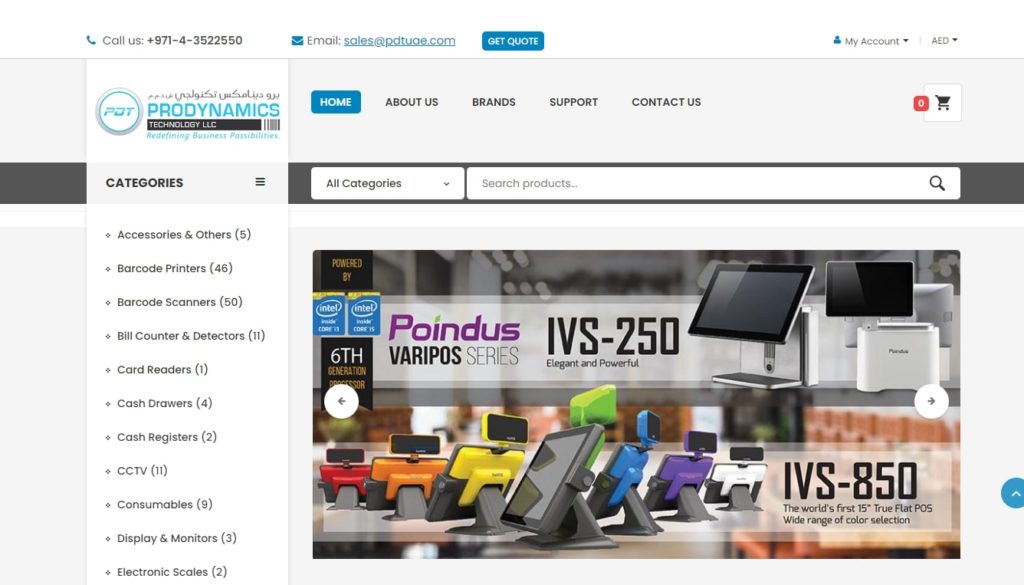 Test
Info
SERVICES
• POS System

• POS Software

• POS Printers

• POS Keyboards

• Barcode printers

• Barcode Scanners

• Bill Counter & Detectors

• Card Readers

• Cash Drawers

• Cash Registers

• CCTV

• Portable Printers

• Mobile Computers

• ID Card Printers

• Electronic Scales

• Display & Monitors

WEBSITE
https://www.posdubai.ae/
ADDRESS
1st Floor, Al Khaleej Center Suite#108/107 & Mezzanine floor - 117 Al Mankhool Rd - Dubai - United Arab Emirates
CONTACT DETAILS
+971 4 352 2550
OPERATING HOURS
Monday - Saturday 9 AM - 6:30 PM
| | |
| --- | --- |
| SERVICES | ★★★★★ |
| FEATURES | ★★★★☆ |
| EASE OF USE | ★★★★☆ |
| SUPPORTED DEVICES | ★★★★★ |
First on our list is Pro Dynamics Technology. Their main goal is to provide one point of contact for all their customers' technical needs.
That may be why aside from POS systems and software, they also offer a range of products and services such as POS keyboards and printers, barcode scanners, card readers, office networks, structured cabling, and more.
What we like about this firm is that they offer a range of POS systems. From basic cash registers and resistive touch screen POS terminals to premium high-end computing POS touch panels – they have it all.
On top of that, they also offer portable and compact devices that are an excellent pick for the retail, service, and hospital industry.
To name a few, they have a touchscreen POS that can be easily integrated into Android and Windows devices and a handheld enterprise tablet, which is a good option for specialty stores and restaurants.
In addition to that, their strong background in technological and operational requirements needed for POS systems lets them help their customers more efficiently.
Their workforce also consists of people with extensive experience in point-of-sale hardware in hospitality and retail applications not just in the UAE but also internationally.
This is a good thing because it means that they have a pretty good understanding of these industries both here and abroad.
We'd just like to note that they listed POS software on their offered products, but it seems that they are not selling it at the moment, so customers might find it quite confusing.
It also seems like they are not providing training for the POS system setup, so you have to be fine at figuring things out on your own, or at least efficient at using the manual.
Nonetheless, if you really want to check out all their offers, you can visit their retail showroom at Al Ain Center Building. Just make sure to schedule an appointment online ahead of time so you can secure a slot.
Features a range of POS systems and hardware
Offers various products and services for businesses
Has a retail showroom
Prices of products are listed on the website
Some POS hardware often sells out
POS software isn't always available
Doesn't offer training for POS system setup and live chat support
2. iPOS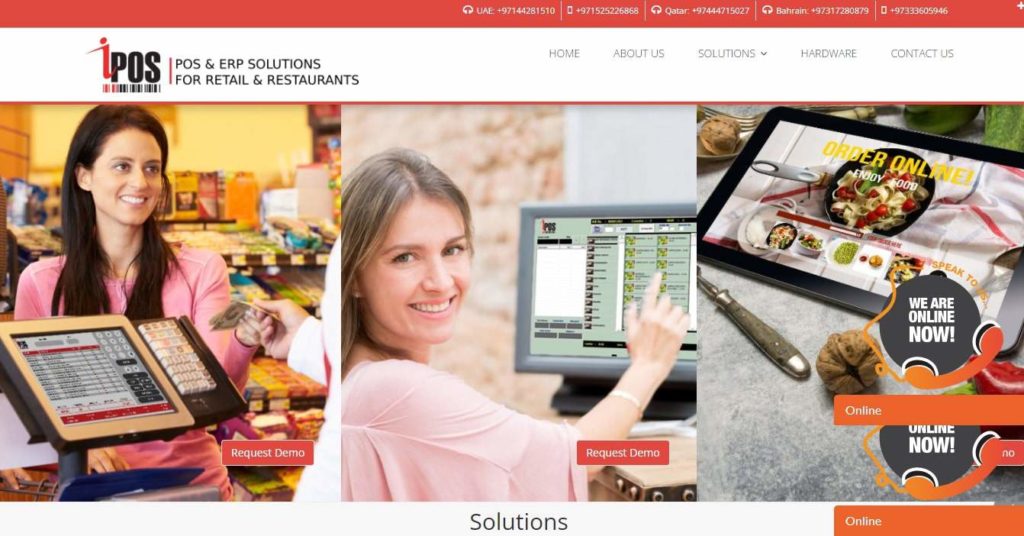 Source: iPOS
Test
Info
SERVICES

•iPOS Retail

•iPOS Cafe

•iPOS Cafe Android

•iPOS Mobility

•POS Hardware

WEBSITE
https://www.ipossoft.com/index.html
ADDRESS
Tower A, Empire Heights - Dubai Fountain St - Business Bay - Dubai - United Arab Emirates
CONTACT DETAILS
+971 4 428 1510

+971 525226868

OPERATING HOURS
Saturday - Thursday 9:30 AM - 6:30 PM
| | |
| --- | --- |
| SERVICES | ★★★★☆ |
| FEATURES | ★★★★★ |
| EASE OF USE | ★★★★★ |
| SUPPORTED DEVICES | ★★★★★ |
Another dependable POS software and hardware solution provider we recommend is iPOS. It was established in 2007, and since then, it has expanded its reach across the Gulf Cooperation Council (GCC).
They offer retail solutions to supermarkets, department stores, hypermarkets, and other retail outlets and specialty stores. Moreover, their POS software and hardware can also be tailored to cater to other businesses such as restaurants, spas, and salons.
What's great about their offers is that you can request a demo to see if the product or service you plan to avail of will suit your business.
On top of that, according to the reviews of their clients, their iPOS Retail offerings are equipped with a user-friendly interface so you can reduce your staff's training duration.
Among other things, we recommend iPOS for multi-store retail organizations because their experts can tailor a POS system based on your company's hierarchy and structure.
For example, if you are running a conglomerate, their team will not just provide POS solutions for the parent group but also to the companies, branches, and divisions under it.
The only downside we'd like to point out is that the cost of their products and services is not clearly stated on their website. This can be a bit inconvenient because you still have to email them to gauge how much you will have to invest.
Offers a range of POS-related services and products
Features easy-to-use interface
Can cater to a range of businesses
Has corporate and regional offices across GCC
Prices of products and services are not stated on the website
Services are focused on POS systems only
3. Alpha Byte Computers LLC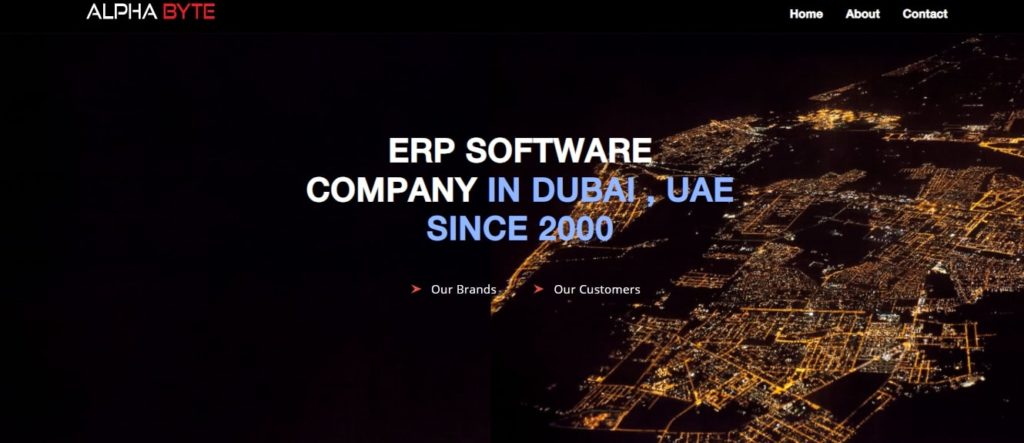 Test
Info
SERVICES

• ALPHA POSALPHA

• RestoALPHA-FXDALPHA-Max ERPALPHA-PRO (Accounting Software)

• ALPHA-PRO (Inventory Management Software)

• ALPHA-HRMSALPHA_CRMALPHA_WMS

WEBSITE
https://www.alphauae.com/
ADDRESS
Business Bay Office Tower - #746, Tamani Arts - Al Asayel St - Business Bay - Dubai - United Arab Emirates
CONTACT DETAILS
+971 54 464 0055
OPERATING HOURS
Saturday - Thursday 9 AM - 7 PM
| | |
| --- | --- |
| SERVICES | ★★★★★ |
| FEATURES | ★★★★★ |
| EASE OF USE | ★★★★☆ |
| SUPPORTED DEVICES | ★★★★★ |
Alpha Byte Computers LLC ventured into the world of consultancy and software development in 2000. If you want to attain a more personalized POS system for your retail business, we suggest that you check out their ALPHA POS.
This is because aside from offering assistance to business operations, their customized solutions are also geared toward managing retail processes, generating sales, and monitoring business performance.
Among its features, we like that its POS solutions are available in two different types. If you don't mind handling the maintenance and updates needed for the POS software, you can save more with their on-premise POS systems.
On the other hand, if you need a Software-as-a-Service (SaaS) POS solution that is automatically backed up and updated, their cloud-based POS systems are definitely a better choice for you.
Bear in mind that their systems can also be easily integrated into your business's inventory module.
This is a great component, especially if you plan to expand your company in the future. Through this, you will be able to manage the supply chain, financial reporting, and stock levels and manage the automation of your business' data and forecasting with ease.
All told, whether you are a small, midsized, or large retailer, you can definitely benefit from their POS retail management and billing software. However, with over 80 built-in functions included in each system, this might not be as accessible and user-friendly as other POS systems in this list.
Nevertheless, if a couple of training hours is not a big deal for you and your staff, you can consider this a good investment.
Features customizable POS systems
Offers on-premise and cloud-based POS systems
Can be integrated into inventory modules
Offers a range of services
System functions and features can be complicated
Prices for products and services not listed on the website
Might require more training hours
4. POSOne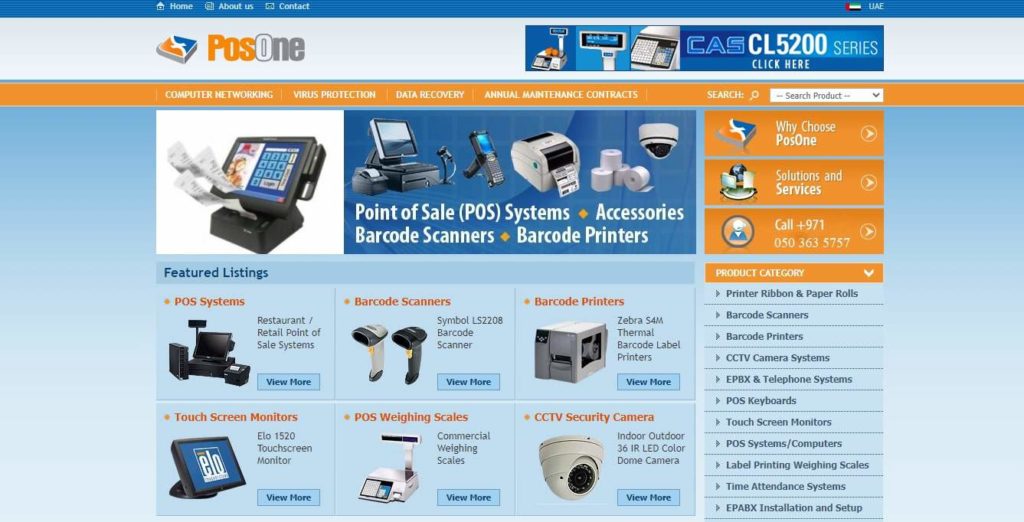 Test
Info
SERVICES

• POS Systems/Computers

• POS Keyboards

• Label Printing

• Weighing Scales

• Time Attendance Systems

• EPABX Installation and Setup

• Asset Tracking Systems

• Mobile Apps for Business

• Barcode Scanners

• Barcode Printers

• CCTV Camera Systems

•  EPBX & Telephone Systems

WEBSITE
https://www.posone.ae/index.html
ADDRESS
IT Center Building - Al Fahidi - Dubai - United Arab Emirates
CONTACT DETAILS
+971 800 7671800 7671
OPERATING HOURS
Monday - 10 AM - 2:30 AM

Tuesday - Thursday 9 AM - 2:30 AM

Friday - Saturday 9 AM - 5 PM
| | |
| --- | --- |
| SERVICES | ★★★★★ |
| FEATURES | ★★★☆☆ |
| EASE OF USE | ★★★★★ |
| SUPPORTED DEVICES | ★★★★☆ |
Next on our list is POSOne. They are also one of the leading POS hardware and software providers in the retail and hospitality industry in Dubai.
Most of their POS solutions are designed to meet the needs of restaurants, supermarkets, department stores, and grocery stores. They also offer a range of POS system accessories such as barcode scanners, barcode printers, and POS keyboards.
What retail owners seem to like about their offers is that it's all straightforward and user-friendly. For example, if you're running a restaurant, you can avail yourself of their Restaurant POS System.
With this choice, you'll be able to get basic but helpful features, including order taking, bar tabs, inventory and ingredient tracking, as well as a time clock, employee security, and kitchen printer functionality.
Well, in our opinion, their services and products are ideal for small to mid-sized businesses because they feature more of the one-size-fits-all solutions rather than specifically tailored ones. That is why if you think your company will expand for the next months or so, we don't highly recommend this firm.
In addition to that, we should also warn you that they don't have live chat support, which is pretty inconvenient, especially because they also don't have an email stated on their website.
Has simple and easy to use features
Offers various POS system accessories
Features other services for businesses
Doesn't have email support and live chat support
Website needs a bit of an upgrade
Erratic operating hours
5. Pitonsoft Technologies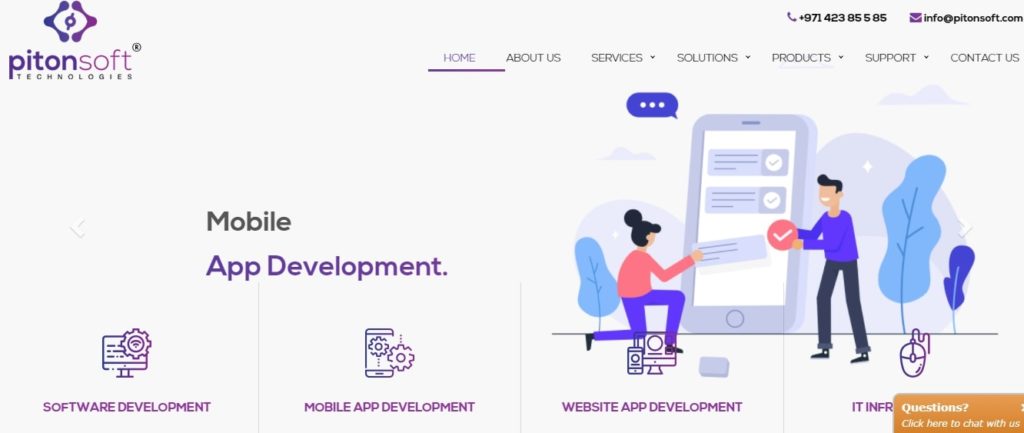 Test
Info
SERVICES

•POS and Retail Solutions

•General Trading Software

•Real Estate Management System

•ERP Solutions

•Clinic Management System

•Software Development

•Mobile Application Development

•Website and Application Development

•IT Infrastructure

•Maintenance Contracts

WEBSITE
https://www.pitonsoft.com/index.html
ADDRESS
#102, Juma Al Majid Technic Bldg - Salah Al-Din St - Deira - Dubai - United Arab Emirates
CONTACT DETAILS
+971 4 238 5585
OPERATING HOURS
Monday - Thursday 9 AM - 6 PM

Friday 9 M - 12 PM, 2 PM - 6 PM
| | |
| --- | --- |
| SERVICES | ★★★★★ |
| FEATURES | ★★★★★ |
| EASE OF USE | ★★★★★ |
| SUPPORTED DEVICES | ★★★★★ |
Another well-established POS system provider we can recommend is Pitonsoft Technologies. This company was founded in 2013, and its main headquarter is in Dubai, but it has branches in Saudi Arabia, Oman, and India.
What we like about their POS retail and solution is that it only requires a one-time configuration for it to be activated.
What's more, with their vast service offerings, we believe they can be an excellent one-stop shop for a range of business needs.
You see, aside from POS and retail solutions, they also specialize in a diverse variety of services, including software development, consultancy, mobile and web application development, hardware supplies, and installations, as well as system support.
Other notable features that set Pitonsoft apart from other entries on this list are their onsite product testing and demo, consultation and installation services, live chat support, and onsite support services.
We believe that these features are necessary, especially if the client is a total beginner in the POS system world.
Aside from that, we also like that they have a team of trained and mobile technicians that can offer remote assistance services in case clients experience problems with their products and services.
Sadly though, they are only open during weekdays, and scheduling a consultation with them can take some due to their high volume of clients. Of course, if you book an online appointment ahead of time, you can avoid this.
Can be easily integrated into other devices
Features a wide range of technical and operational services
Offers live chat support and remote assistance
Has user-friendly interface
POS systems are only geared towards the retail industry
Not open on weekends
6. Modern Development Systems
SERVICES
Mobile App Development
SOLUTIONS
Restaurant POS
Xtra Accounting
Hospitality and smart signage
WEBSITE
https://www.mdsoft.ae/
ADDRESS
Al Serkal Building, Office #13Dubai – U.A.E
CONTACT DETAILS
[email protected]
OPERATING HOURS
Monday – Saturday, 9:30 AM – 7:30 PM
| | |
| --- | --- |
| SERVICES | ★★★★★ |
| FEATURES | ★★★★★ |
| EASE OF USE | ★★★★★ |
| SUPPORTED DEVICES | ★★★★★ |
Established in 2006, Modern Development Systems is one of the trusted IT companies in UAE. They are always striving to enhance the performance of their operations and achieve their goal of assisting their partners in maximizing their return by expanding their product and brand portfolio.
Their staff includes some of the industry's greatest IT professionals who have a solid grasp of what the world's leading software solutions can accomplish to assist organizations like yours in reaching their full potential and improving their competitive edge. Their personnel are their most valuable asset, thus they invest in expanding their knowledge and abilities, as well as keeping up with current technology breakthroughs.
They provide a variety of services and solutions including their excellent POS system that takes the entire control of your business and makes sure you are on the right track to a much more progressive level of performance.
They have the restaurant POS which is capable of handling multiple orders in the shortest time frame available and the SPOT POS that helps you deal with the day-to-day operational problems of your dry cleaning business.
Provides excellent POS systems
Great attention to detail
Experienced staff
Customer Reviews
It's above our expectation
"It's above our expectation they have done very good software for our salon and CCTV system since almost 3 years, we really recommend you to work with modern development computer systems Al Tatweer Al Hadith" -Seham M.
How to Pick the Best POS System for My Business
With all the POS systems offered out there, finding the right one or looking for a great upgrade can be a tedious process, especially if you don't know what you're looking for in the first place.
With that in mind, we included this simple guide to walk you through the key factors you have to keep in mind when choosing a POS system for your biz.
Figure out what POS system features your business requires.
Since this tool can be used in a wide range of businesses, we suggest that you first do some internal research to learn the POS system features that you need.
For example, if you only require credit and debit card acceptance and inventory management, you can go for a basic POS system.
On the other hand, if you need additional features such as delivery tracking, age verification, integrated appointment or class calendars, or more, you can opt for a custom POS system.
Consider the setup cost and compatibility of your current hardware.
Aside from features, another factor you have to consider when choosing a POS system is its initial setup cost. In addition to that, you also have to determine if the software is compatible with your current hardware.
You see, not all systems are equipped with software-specific hardware such as card readers, barcode scanners, or terminals to match your existing setup. For this reason, you may have to invest a significant amount of money to keep it running.
Nonetheless, what we can recommend with this one is to invest in a cloud-based POS system. Since these varieties can function as a web-based system, they can efficiently work on Android, Windows, and Apple devices.
Choose a user-friendly system.
When running a business, time is crucial, so it's best to choose a POS system that can be easily accessed and operated without the constant need to look at its manual.
This factor is essential, especially for those in fast-paced industries or businesses. An excellent and user-friendly system can help your staff better retain how it works so they can provide customers with a better shopping experience.
Look for a system that can accommodate business expansion.
Although basic systems are more affordable, you can't really tell how well they can accommodate your business in the long run.
Some POS systems only allow a limited number of outlets and registers. That means that if your business grows in a short span of time, you may need to invest again in a brand new system that will best suit your business's needs.
For this reason, we recommend that you look for the one that supports many or unlimited outlets and registers from the very beginning. Aside from skipping the hassle of installing another POS system, you can also save more money since you'll just have to take care of one setup cost.
FAQ About POS Systems in Dubai
---
Have other reputable POS system providers in mind? Get in touch with us, and we'll look over your suggestions.
Nonetheless, if you are just starting to put up your own business in Dubai, here are other resources that may help you.
More Resources for Business Owners in Dubai