6 Best Videographers in Dubai
Some sights are just too good to remain undocumented. If you're looking for the best videographers to capture your special moments for events or shoot videos for campaigns, read on.
In this article, we've identified our top picks for videographers in Dubai. We also answer common questions like the cost of a videographer's services, as well as some tips for picking the best videographer for your needs.
How much does hiring a videographer cost in Dubai?
There is no set cost for hiring a videographer because it will depend on a myriad of factors, such as the following:
Expertise of videographer
The kind of project
Complexity of project
Duration of video needed
Number of crew members needed (Labor costs)
Equipment needed
Other production costs
Still to give you an overview of the prices, here is a ballpark number. For a junior videographer, the typical day rate is 700 AED-1100 AED; for a more experienced one, the rate will be 1800 AED-3600 AED for a day's work.
Still, these numbers are just guides. It will still primarily depend on your agreement with the production house you'll choose.
The Top Videographers in Dubai
We assessed the following production houses based on these criteria:
1. Imprint Photo Studio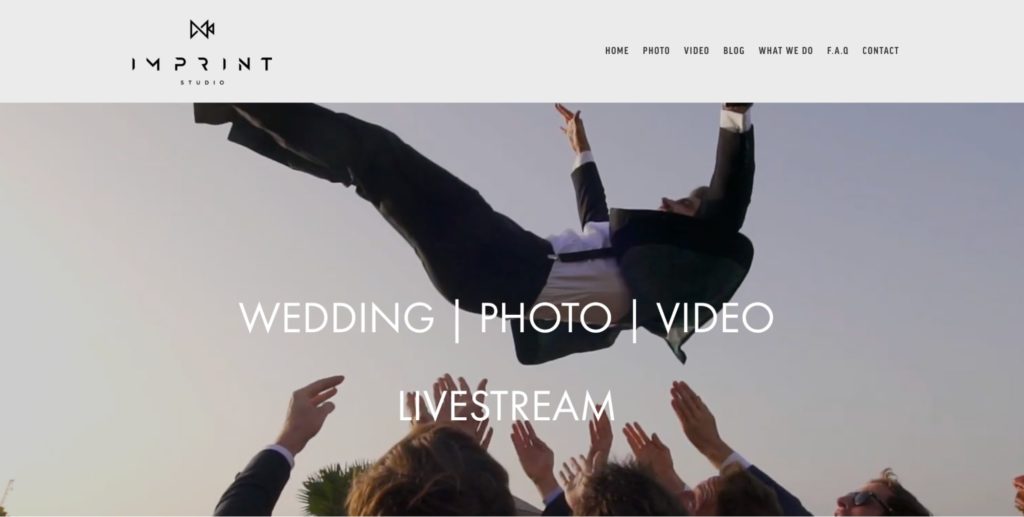 Test
Info
WEBSITE
https://www.imprintwedding.com/
ADDRESS
JLT - Cluster T, 1 Lake Plaza, Ground Floor, Shop 9 - Dubai - United Arab Emirates
CONTACT DETAILS
+971 50 774 4167
HOURS
Monday-Saturday (10 AM-9 PM)

Closed on Sundays
| | |
| --- | --- |
| 1. EXPERTISE | ★★★★★ (5/5) |
| 1.1 Level of experience | ★★★★★ (5/5) |
| 1.2 Production quality | ★★★★★ (5/5) |
| 2. PROFESSIONALISM | ★★★★★ (5/5) |
| 2.1 Helpfulness | ★★★★★ (5/5) |
| 2.2 Efficiency | ★★★★★ (5/5) |
| 3. ACCESSIBILITY | ★★★★☆ (4/5) |
| 4. CLIENT SATISFACTION | ★★★☆☆ (3/5) |
Imprint Photo Studio was established in 2012, so they've been in the industry for almost a decade now. Their level of expertise in videography and crisp video editing has given them a strong reputation as a production house especially for live events like weddings.
Since they started, they have covered over 180 weddings in total. They can handle livestream, photography, videography, pre-wedding film, same-day-edits, and drone videography.
Aside from videography, they offer wedding, pre-wedding, engagement, and candid photoshoots as well. Although they are able to cover more than weddings such as corporate events, their main specialty is really working with weddings.
So that's something to consider with this production house. You might consider looking for another videographer if you think you will be needing something different for your project.
Based on our experience and other clients' feedback, they're very friendly and understanding, making them easy to work with. They also deliver their required output on time at an amazing level of service; with coverage that captures the nuances and subtleties of natural moments in a live event.
As for pricing, you have to provide them specific details for your production for them to give an accurate quotation of their services. They'll ask you for the following:
Scope of work (Is it a product video or an event?)
Number of videos
Duration of videos
Editing needed (Is it coverage + edits or just edits?)
They can be reached via phone call, email, or through their website. They reply promptly, from what we experienced.
Experienced
Wide range of services offered for weddings
Delivers work on time
Easy to work with
Mostly focused on weddings
Closed on Sundays
Opens late in the morning compared to competitors
Client Reviews:
My experience is completely satisfactory and awesome
We hired video & photography services of IMPRINT for our corporate gala dinner. Right from sending the request for their quote until the receipt of final processed data (video and pictures), my experience is completely satisfactory and awesome. The owner (Anish) himself is a nice, responsive and cooperative gentleman who does his best to understand the requirements of clients and propose best possible solutions. The team arrived well-in-time at the event with no last minute chases, follow ups etc! They knew their job fully and followed all plans from the beginning until the end.Then they shared complete data in less than 2-3 business days and to be honest the guys did an amazing job. Being a corporate event, we had to do a few revisions/amendments in the video which Anish and his team happily did for us. If you really want to have a memorable event, a complete VALUE FOR MONEY and a PROFESSIONAL team handling your event, then don't look here and there, just go ahead and book the services with IMPRINT. Trust me – you won't regret it. Thank you Anish, Jherico and all the team members. -Rameez Anwar
I would definitely use their services again without a doubt
Amazing service! Very professional! Everything from handling clients to providing the best service and living upto the clients expectations! My experience with them has been simply great. No hassle whatsoever. I would definitely use their services again without a doubt. I would recommend them to anyone who is looking for the best, without a doubt they will deliver the best service and live upto your expectations. It has been a great pleasure. Thank you for your kind assistance. -Miss Rasuke
2. MishaalsRaw | Premium Photography & Videography Services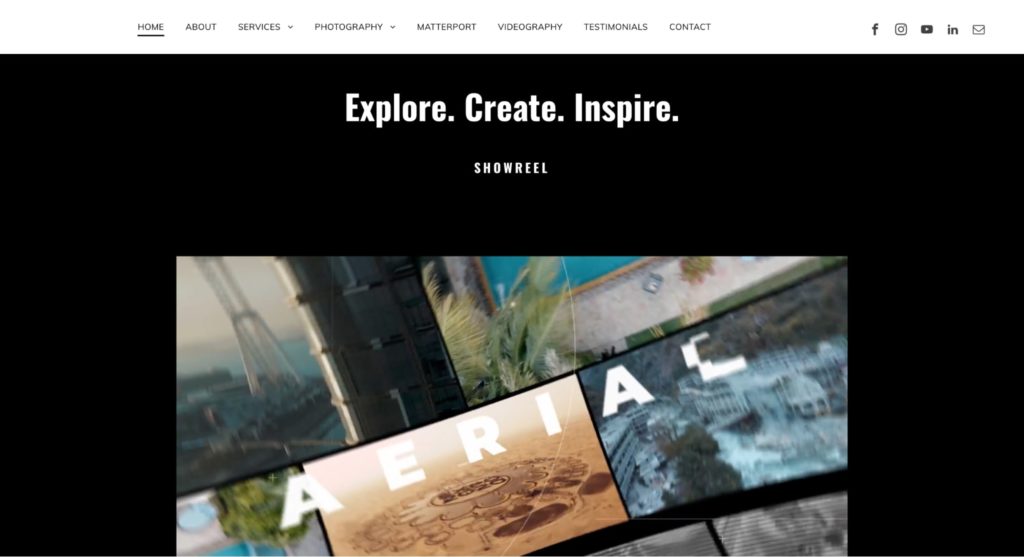 | Test | Info |
| --- | --- |
| WEBSITE | https://www.mishaalsraw.com/ |
| ADDRESS | Al Sufouh - Al Sufouh 2 - Dubai - United Arab Emirates |
| CONTACT DETAILS | +971 55 523 3695 |
| HOURS | Open 24/7 |
| | |
| --- | --- |
| 1. EXPERTISE | ★★★★★ (5/5) |
| 1.1 Level of experience | ★★★★★ (5/5) |
| 1.2 Production quality | ★★★★★ (5/5) |
| 2. PROFESSIONALISM | ★★★★★ (5/5) |
| 2.1 Helpfulness | ★★★★★ (5/5) |
| 2.2 Efficiency | ★★★★★ (5/5) |
| 3. ACCESSIBILITY | ★★★☆☆ (3/5) |
| 4. CLIENT SATISFACTION | ★★★★★ (5/5) |
MishaalsRaw is a production house established by Mishaal Ashok, a portrait, landscape, and events videographer and photographer. What we like most about their work are the quality of the shots and clear-cut editing.
The production house has experience in product videography, events coverage, and wedding videography. They also have 360-degree virtual tours of properties for real estate videos.
They're very versatile with their work, so they are a great option for more complex projects that have intricate and varied production requirements. Their versatility and professionalism are probably what landed them projects with renowned brands such as Hugo Boss as well as various government and corporate events coverages and videos.
Based on our experience, they're very easy to coordinate with regarding project briefs and are very professional. Mishaal, in particular, cultivated a light and pleasant work atmosphere.
Not only are the shots of good quality, but they communicate very well, making it a good working experience for everyone involved. They're very dedicated and enthusiastic; their passion shows in their work, which we love.
They're also available 24 hours, 7 days. So they're perfect for long shoots when necessary.
A downside, however, is there are not many available communication channels to reach them. They're also not active on social media, which is unfortunate since it can be a good platform to showcase their reels.
We think it might be best to go to their office directly or give them a call to inquire.
Enthusiastic
Wide range of services
Very versatile
Good communication
Open 24/7
Not many available communication channels
Inactive on social media
Client Reviews:
I can vouch for his fantastic work and delivery timelines
Worked with Mishaal on various projects, including films and photography for the government and key industry leaders and I can vouch for his fantastic work and delivery timelines. Mishaal makes sure to deliver the high quality and well edited images and videos at all times, even when the deadlines are tight. Definitely recommend MishaalsRaw Photography if you're looking for a well experienced photographer and team. -Karen Lobo
Went out of his way to deliver incredible films that exceeded client expectations
Having Mishaal on our team made the entire production during a two-day intense schedule absolutely effortless. Not only did he instantly grasp the brief, Mishaal was quick to adapt to changes in the programme, and went out of his way to deliver incredible films that exceeded client expectations.Mishaal approaches every project with a high level of confidence, backed by years of experience, and is a reliable teammate who can manage tense situations with ease. He created a pleasant work atmosphere for all throughout the project, and was quick to become a valuable member of our crew.I highly recommend working with Mishaal, whose people management skills are at par with his filming prowess. -Elma Bartholomew
3. Resonate Media House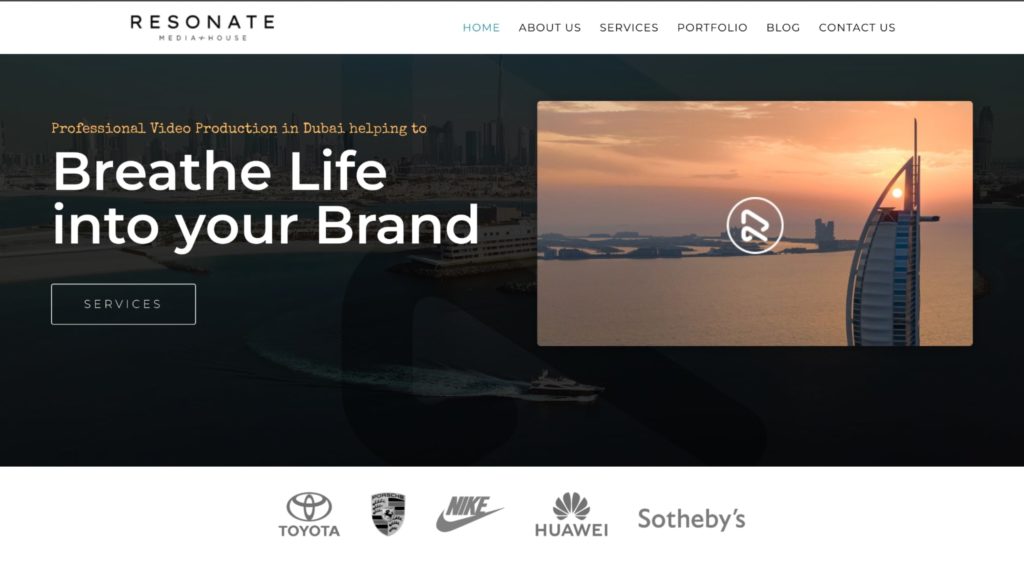 Resonate Media House is made up of a team of professional freelance videographers headquartered in Dubai.
From what we can see, they are very well-versed in creating content that tells a story. So they're perfect for projects that aim to build brand identity and raise awareness about your brand.
They even have an in-house marketing and SEO specialist, so they can also guide you in boosting engagement and delivering successful campaigns.
Based on our experience, they're very detail-oriented, professional, and creative. They're very easy to work with.
They have a wide range of experience when it comes to projects. They can handle real estate, product, sports, events, and corporate videography.
They have varied clients, working with huge brands like Toyota, Huawei, Sotheby's, and Nike. However, if your project is at a smaller scale and you want the services at a video company on a budget, it might be best to check out other production houses.
What we like about them is that they're very transparent with their process as well as their equipment. They use industry standard filming equipment, and up to date software for post production.
We also saw that they have a collection of drones if needed, so that's fantastic for action shots and real estate videography.
They're very hands on and accessible, being open 24 hours, 7 days a week, which we like. They're also fairly active on social media, so you can reach them there as well.
Open 24/7
Good with building brand identity
Hands on
Accessible on social media
Industry standard filming equipment and software
Rates are unavailable on their website
Client Reviews:
They went the extra mile to provide the best content
I had a 3 day huge car shoot with Lewis Laci, & Kirill from Resonate Media House and these guys proved to be the most amazing people to work with. They were spot on, always on time, available whenever requested, very professional and creative. They went the extra mile to provide the best content with immaculate quality of work. I was happy, the client was happy, and everybody who was involved in this shoot loved these guys and their work. Not only that, what's worthy to note is that they are fun on set, easy to work with, and have kept a great attitude throughout the shoot despite all the stress that everybody was going through and contributed to the success of this project. Finally, it was quite a great experience working with these amazing guys, and I won't hesitate to work with them again on my future projects. -Sana Kassab
Awesome experience from start to finish
I worked on a project last year with Resonate and it was an awesome experience from start to finish. Very professional organization and really inspirational to see the amount of effort the owner puts in to ensure the success of a shared vision. Would definitely recommend them !-Mark H.
4. Dreambox Videography & Photography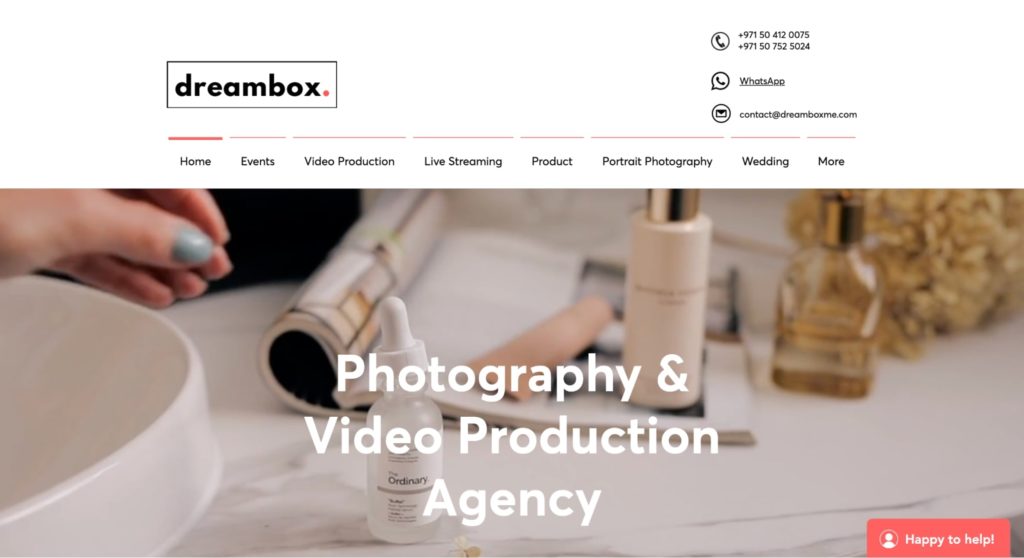 Test
Info
WEBSITE
https://www.dreamboxme.com/
ADDRESS
in5 Media - Dubai Production City - Dubai - United Arab Emirates
CONTACT DETAILS
+971 50 752 5024
HOURS
Monday-Sunday (8AM-6PM)

Closed on Saturdays
Dreambox Videography and Photography is a video production company in Dubai. They have a lot of work experience with different government projects, brands, and agencies; so they're very versatile.
We love how talented they are to tell a story through videos clearly. Their years of experience and unique understanding of clients' needs show in their work.
So whether it's for the hospitality, education, retail, real estate, or banking industry, they can create top-notch content for you. We saw their reel and were impressed at their level of expertise and quality production value.
They have big name clients like H&M, Redbull, Coca Cola, Accenture, Starbucks, Nissan, Rolls Royce, Cisco, and others. Despite this, they have the ability to adjust whether for a big scale or small scale project.
They can handle single-cam setups and full blown commercial shoots and brand video productions.
They not only do videography, they also offer consultancy in promotions. They're very professional as well, handing in the work on time and efficiently at all times.
Another thing we love about them is their wide range of available services for your different production needs. They even have the ability to do stop-motion videos, which is something unique to them based on what we see.
Check out the breadth of their available services below:
Exhibitions, Conference & Trade Show Filming
Corporate Films
Event Filming
Executive Interviews
Teaser/Trailers Videos
Event AV setup with Live Feed
Behind the scene videos
Wedding Videos
Save the Date
Fashion Shows
Graduation Videos
Infomercials
Stop-motion Videos
Promotional Videos for product & brand
YouTube/Facebook/Instagram Short Ads
Real Estate Product Demo
360/VR Videos
Aerial/Drone/Chopper Cinematography
They're also widely accessible via Whatsapp and social media. So you can contact them through those channels.
Wide range of services for different production needs
Has lots of big name clients
Quality production value
Can adjust for large scale or small scale productions
Accessible on social media
Closed on Saturdays
Closes early
Client Reviews:
Not only did they deliver a great output, but they were an absolute pleasure to work with
My company hired Dreambox to produce a commercial for a Kids Product and we are THRILLED with their work! Not only did they deliver a great output, but they were an absolute pleasure to work with. Their communication skills are amazing and their response time is unbelievably quick – any time I had a question they replied literally within moments. And the director Ilya was just the greatest: Super talented, personable, creative, with awesome people skills. He was never afraid to put his ideas and creative thoughts, yet always willing to compromise in order to make us happy and deliver the highest quality commercial. We have already hired them to produce a second commercial. THANK YOU Dreambox Productions!- Hana Hafees
Professional, competent, timely and creative
It was a pleasure working with Athul and the entire team at Dreambox. Athul did an amazing job creating our music video! He is very professional, competent, timely and creative. We would not hesitate to use Dreambox again for another project. We definitely recommend that you use Dreambox Productions for any project you have! -Karate & Fitness World
5. Goldfish Photography & Video FZ LLC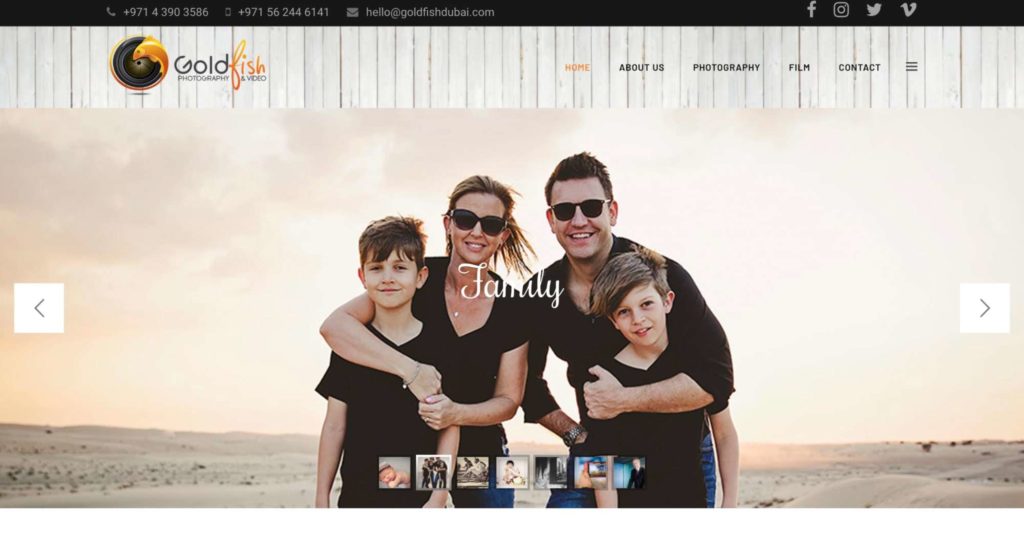 Test
Info
WEBSITE
https://goldfishdubai.com/
ADDRESS
Boutique Studio 4, Office 101 - Dubai Studio City - Dubai - United Arab Emirates
CONTACT DETAILS
+971 56 244 6141
HOURS
Monday-Sunday (10AM-6PM)

Closed on Saturdays
Goldfish Photography & Video FZ LLC is a boutique photography and videography production company that has more than 25 years of experience, so they've been around for quite some time.
They have branches both in Dubai and the UK, making them experienced in two very different markets. Their years of experience and impressive reel of wedding and events coverage must be why they have a solid reputation as a production company.
We noticed however that they're mostly well known for their photography services and are mostly working on weddings and similar events. So their range of services is not as wide as their competitors.
Still we included them for their established clientele and years of experience as a production company. Based on our experience working with them, they're very attentive to details and can give valuable insight on how to make a project appeal more to audiences.
They're also very efficient and have a fantastic work ethic, based on what we've seen. Their years of experience and level of expertise are really evident in their different video projects, especially those for large events.
Experienced
Impressive reel
Attention to detail
Efficient
Closed on Saturdays
Range of services not as wide as competitors
Mostly focused on weddings and events
More well-known for photography
Client Reviews:
Blown away at how efficient they were able to work
They did photography at a wedding I coordinated and I was blown away at how efficient they were able to work. We had a very tight schedule, but they barely stopped moving from 10am-10pm to ensure that we kept everything on time. Great option for wedding photos in Dubai! -Kenoa Gallion
We had a fantastic experience
We had a fantastic experience conceptualizing and shooting a video with Goldfish. We wanted to do a video to raise awareness of food allergies and came to them with lots of ideas, which they managed to understand, organize and advise on what would work best for our social media platform. We were BLOWN AWAY by the video and can't thank them enough for their magic! -Anamaria Castillo
6. Piqué Production FZ LLC
SERVICES
Animation videos, corporate film, documentaries & segments, post-production, service production, sports video production, stills/ photography, TV commercials, and video editing.
WEBSITE
https://www.piqueproduction.com
ADDRESS
Boulevard Plaza Tower 2, 2203, Downtown, Dubai
CONTACT DETAILS
+971 (0) 55 268 9496
[email protected]
OPERATING HOURS
Monday – Friday, 9:00 AM – 6:30 PM
PIQUÉ Production is a renowned film production company in Dubai. They specialize in directly commissioned content and are trusted by customers and key partners across numerous industrial sectors in the larger MENA region (arts, commercial, corporate, medical, education).
Established in 2016, they have had a presence in the larger MENA area, and will create video film/digital material that meets your imaginative and financial goals. PIQUÉ Production links influencers with businesses while also promoting creators and providing production and product development services.
They offer full production services from script to screen for commercials, video production, film, photography and online content wherein their tv commercials and corporate films is among the most requested service they receive because of the amount of quality and time their experts put in.
We particularly like their video editing service wherein they offer a video editing service to produce content from footage you have already, creation of a new video or re-edit, and/ or re-brand of an existing portfolio.
Personalized services
Experienced videographers
High-quality equipment
Experienced photographers
Experienced producers
Customer Reviews
Top Video Production in Dubai.
"Top Video Production in Dubai. Great work… Creative, Energetic and Talented team. Highly recommended." – Hazem Khaddoura
Professional and creative
"Very professional and creative. Methodical approach from beginning to end and always a pleasure working with them" – D. M.
Tips for Choosing the Best Videographer
Check their expertise and level of experience.
First off, consider their level of expertise by watching their reel and sample videos. They usually post those on their website.
From there, you'd see the quality of their shots and get a general feel of their production style, so you'll see if they're the production house for you. Usually the videos speak for themselves, but researching the videographers' credentials and track record won't hurt as well.
Ask for a quotation.
Once you've identified your top picks, you can then tell them your specifications and ask for a quotation. Do take note that the price really depends on the production house.
Once you have the finalized quotations, you can compare the prices to find which one will give you the most bang for your buck.
Read reviews and referrals.
Aside from the production quality of the videos, it's also important for you to assess their manner and friendliness since you'll be working closely together throughout the duration of the project. Reading reviews and asking for referrals can be game changers.
These reviews will give you a preview of how it is to work with these videographers. Most reviews highlight factors like efficiency, attitude, and ease of service.
FAQs About Videographers in Dubai
---
Videography is an art form that's important in capturing and preserving memories and moments. We hope we were able to help you find the videographer that will cater to your production needs.
Did we miss any good videographers in Dubai? Let us know in the comments.
By the way, here are some related articles for you to check out: