The 5 Best Hot Pot Restaurants in Dubai
Hot pots have become rapidly popular and we can see why. We simply love the intimacy that comes with huddling over a big bowl of broth and enjoying different combinations of making an amazing serving of soup.
Thankfully, Dubai has caught up on this food trend and the city has a few numerous spots that the locals have been enjoying.
So we went and tried out some of the most recommended spots in the city to give you Dubai's best hot spot restaurants.
How We Picked Dubai's Best Hot Spot Restaurants
Before we get right into our list of Dubai's best hot pot restaurants, here are the factors we considered for our entries on this list:
1. Little Lamb Hotpot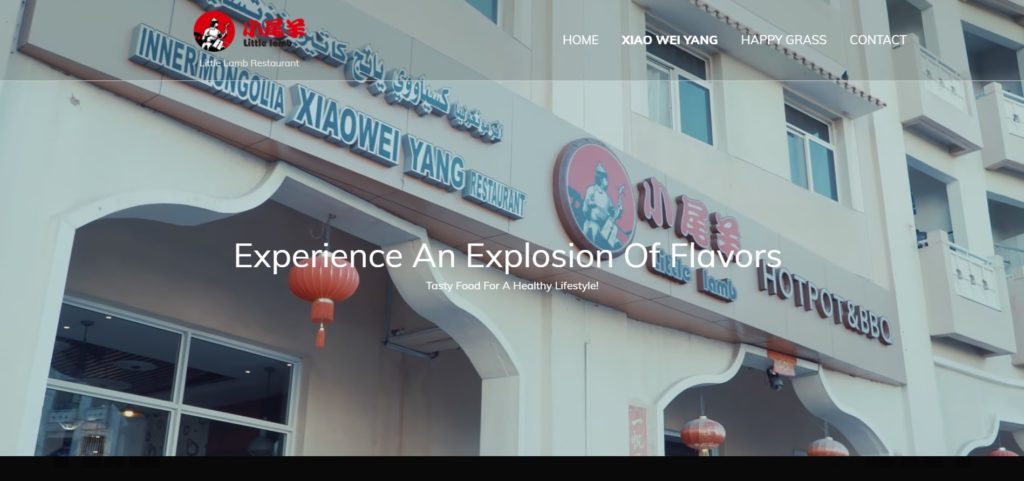 | | |
| --- | --- |
| Criteria | Rating |
| Quality of the Ingredients | ★★★★☆ (4/5) |
| Adjustability | ★★★★★ (5/5) |
| Variety | ★★★★★ (5/5) |
| Customer Service | ★★★☆☆ (3/5) |
Hailed by many as one of the best hot pot destinations in the city, Little Lamb Hotpot specializes in hotpot preparations done with Chinese and Mongolian cooking techniques.
Just like many classic hot pot restaurants, we love that Little Lamb Hotpot lets us choose our spice levels and flavor, which range from the basic Mongolian hot pot to the more exotic ones such as lamb spine hot pot.
When it comes to the variety of what we can dunk and cook in our hot pot, we were filled to the brim with choices.
From premium-grade meat and seafood to vegetables and processed meat, we enjoyed tasting the different combinations.
However, we wish it would cut out the processed meat just for variety's sake. It already has so much to offer, and these kinds of ingredients do not speak for its dedication to providing excellent quality ingredients.
When it comes to its customer service, it is sadly bogged down by the fact that it is very popular.
The lines are always long, and the staff, no matter how efficient, struggles to keep up with the demand. It is honestly quite impressive to see how they can remain functional despite the busyness every mealtime.
Premium-grade ingredients
Amazing range of ingredients
Broth prepped through Chinese and Mongolian cooking techniques
Processed meat brings down the overall quality of ingredients
Service is brought down by a large number of customers
Customer Reviews
Such an amazing experience that will be repeated for sure
"At first it looks to me as an old place, which it is, I was hesitant to get in and eat.
But once I decided to try, I didn't regret it at all, actually, I added it to my favorite list of restaurants, and for sure I'll go back.
I like the way I'll barbecue the chosen raw food I pick from there, so many things I can choose, and almost all types of meat and veggies.
And the huge variety of different types of spicy sauces is mind-blowing 🤯 and super tasty.
Chicken ducks beef lamb and seafood are amazing.
The way you can cook your food and eat it directly is superb, love it.
Such an amazing experience that will be repeated for sure.
Price wise is affordable and not expensive, 69 dhs in my case eat as much as you can." – Mahdi Bourini, Google Reviews
Please don't hesitate to give it a shot
"We had lunch for a party of 17 individuals, and the meal was excellent. We had a great time and paid AED 69 per person for the buffet. The staff is quite pleasant and helpful. I definitely recommend it; please don't hesitate to give it a shot. 👌😍" – Shamsa AL-Mehairi, Google Reviews
2. Fiery Hot Spot Restaurant
| | |
| --- | --- |
| WEBSITE | https://www.fieryrestaurant.com/ |
| ADDRESS | 27 Sheikh Khalifa Bin Zayed St - Umm Hurair 1 - Dubai - United Arab Emirates |
| CONTACT DETAILS | PHONE: 0585959088 |
| OPERATING HOURS | Every day: 1 pm - 12 am |
| | |
| --- | --- |
| Criteria | Rating |
| Quality of the Ingredients | ★★★☆☆ (3/5) |
| Adjustability | ★★★★☆ (4/5) |
| Variety | ★★★★★ (5/5) |
| Customer Service | ★★★★★ (5/5) |
Perfect for big groups because of its hot pot buffet style for only AED69, Fiery Hot Spot Restaurant is our go-to choice for gatherings because of its affordable yet diverse range of choices.
However, since it is buffet style, the quality of ingredients noticeably suffers, with its kitchen opting for quantity over quality to make sure the supply lasts.
Despite that, it is not disgusting or inedible by any means. Its meat, veggies, and fish are still tasty enough for hot pot dining.
When it comes to the adjustability of its broth, the buffet-style dining allows customers to pick and choose their own broth types, but adjusting the spice levels is sadly not allowed.
The variety of the ingredients, however, is the star of the show. We love seeing all of our choices laid out in front of us and get excited by the fact that we can get as much as we want!
On top of all the meat, fish, and veggies, its menu also includes a nice range of drinks and desserts.
We also love its customer service and how organized the restaurant is. The host does most of the servicing, and she was so nice and seemed more than glad to show us to our table.
A buffet-style hot spot dining experience
Wide range of meats, veggies, and fish, along with drinks and desserts
Excellent customer service
The quality of ingredients suffers because of its buffet style
Broth's spice level cannot be adjusted
Customer Reviews
Definitely, the best place to visit when you're super hungry
"In the heart of Dubai is this amazing restaurant if you are into the cook-your-own dish genre. They have everything here; chicken, beef, meat, soups, noodles, and a whole lot of side dishes. Definitely, the best place to visit when you're super hungry. It's all you can eat. We just visited Dubai for a few days but we are already planning our next visit here in UAE and our next visit to this restaurant!" – Antonee Alimuin, Google Reviews
It was a delicious and fun experience
"This was my first hot pot experience believe it or not 😄. It was delicious; and a fun experience. It helped that I was with a Chinese friend who made me change my cutlery twice because I couldn't use the same fork that put out the raw chicken onto the grill to eat my boiled in chilly water fish. Hot pot is a whole experience.
Fiery hot pot restaurant has really friendly staff happy to explain and assist repeatedly. I also liked that any leftover food was considered wasted and therefore fined 56dhs per table lol. How's that for teaching people to dish what they can finish?" – Zim Girl Travels, Google Reviews
3. Er Dang Jia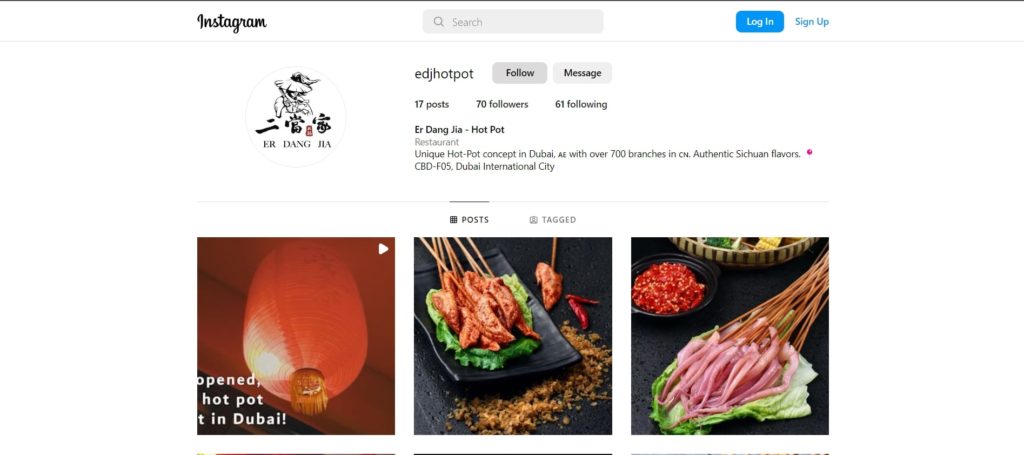 | | |
| --- | --- |
| Criteria | Rating |
| Quality of the Ingredients | ★★★★☆ (4/5) |
| Adjustability | ★★★★☆ (4/5) |
| Variety | ★★★★★ (5/5) |
| Customer Service | ★★★★★ (5/5) |
If you go to hot pot restaurants for the symphony of spices and flavors, then Er Dang Jia's mastery over its broth and seasoning is the spot for you.
This authentically Szechuan hot pot destination infuses its meat, seafood, and veggies with spice rubs that differentiate itself from the competition.
That being said, it definitely does take away from the quality and the freshness of the ingredients. It's hard to savor the fundamental flavors when it is heavy on spices.
The broth's spice level can be adjusted, but since it is Szechuan cooking, even its mildest level can still be spicy for many. So be sure to have your mind, and taste buds, ready for a challenge.
Er Dang Jia, however, has impressive variety when it comes to what you can cook with its broth.
Priced at 1AED per stick, we enjoyed trying out its menu without breaking the bank and also avoiding any food wastage.
From marinated chicken and beef to varied mushroom offerings, Er Jing Dia covers the bases for what you can dip into your hot pot.
And regarding its customer service, you will not find any complaints from us. The staff was accommodating and got our orders onto our table really quickly.
Serves authentic Szechuan hot pot
Amazing spice rubs and marinades 
Excellent customer service
Great variety of ingredients
May be too spicy for some
The marinades and the spice rubs overshadow the quality of the ingredients
Customer Reviews
Everyone loved it!
"Our first hot pot… and everyone loved it. For soup, we took the basic chicken broth and a spicy one. Both were nice. We loved the range of mushrooms and seaweed.
Loved the experience…
The only downside was the lettuce, which was kind of bitter.
The waitress was also very helpful as this was our first experience…" – Gina Lee, Google Reviews
This one is absolutely good
"I dined in here today (first time being here) and all ingredients are surprisingly fresh. We went to a few skewer hot pot restaurants and I would say this one is absolutely good too. Strangely there were no other customers when we were eating (probably because of Ramadan?), but it doesn't matter, we enjoyed everything more without anyone around us lol" – RUI SUN, Google Reviews
4. Nine Squares Restaurant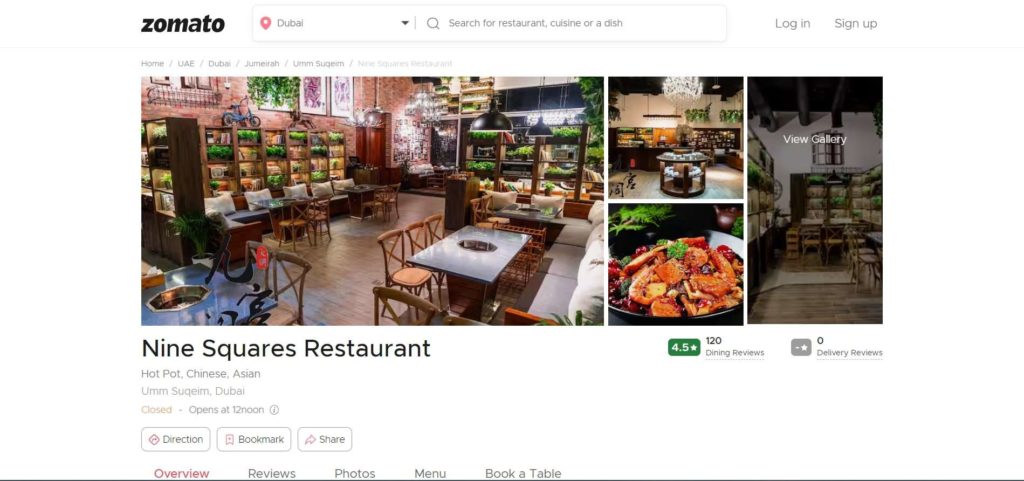 WEBSITE
https://www.instagram.com/ninesquaresrestaurant/
ADDRESS
Building R 14, France Cluster, International City | Near ENOC Petrol Station, Jumeirah Road, Umm Suqeim

Has 1 other branch in the city

CONTACT DETAILS

PHONE: +97148846479

OPERATING HOURS
Every day: 12 pm - 1 am
| | |
| --- | --- |
| Criteria | Rating |
| Quality of the Ingredients | ★★★★☆ (4/5) |
| Adjustability | ★★★★★ (5/5) |
| Variety | ★★★★★ (5/5) |
| Customer Service | ★★★☆☆ (3/5) |
The current darling of the hot pot enthusiasts of Dubai, Nine Squares puts out its signature nine-square hot pot that makes organizing and dipping ingredients easier.
When it comes to the quality of the ingredients, it really shines in its meat selection. We love that it has a lot of high-quality imported cuts from the US and Australia.
However, this kind of amazing standard stops there in the context of its menu because the rest are just the usual shipped and packed ingredients.
Despite that, its adjustability makes up for it because we love how customizable its broths are with mushrooms and herbs, several kinds of oils, and it has meats, marinated to varying spice levels.
And the variety of what you can dip into your hotspot is also something that needs to be acknowledged because it has a great balance of veggies, poultry, meat, and even processed offerings.
On top of that, Nine Squares also serves cooked ala carte dishes that we love because it helps round off the entire dining experience and cut the monotonous act of eating and cooking with the hot pot.
The service, however, is held back by the number of people who come here regularly. The lines are always long, and the staff go through so many orders and requests that it gradually backs up too much.
The current locals' favorite hot pot restaurant
Serves premium grade imported beef from USA and Australia
Customizable broth
Great variety of meat and veggies
Service is slowed down by how busy it is
Nothing special about its processed meats
Customer Reviews
Highly recommended
"Passed by this restaurant several times and decided to take the family today.
The restaurant is amazing and we had a wonderful time. The staff is extremely friendly and efficient, especially Lucky, who provided us with extra service. It is a hotpot restaurant but is totally different than other hotpot restaurants in that they provide you with exceptional taste and service. The place is huge and occupies 3 floors building.
As it was our first time, we ordered the mix option under the meat, chicken, seafood, vegetables, and noodles.
Highly recommended" – Ali Mohamed, Google Reviews
I'm glad I finally got to dine here. It's an altogether different experience
"This restaurant has been on my list for a while now. I'm glad I finally got to dine here. It's an altogether different experience. Eating from a hotpot is not your everyday thing, so it's definitely something I would recommend. The staff are friendly and offer suggestions. The ambiance is nicely done. Do try their dumplings and crispy chicken strips with sauces." – In between Roads & Wings, Google Reviews
5. Beef King Chinese Restaurant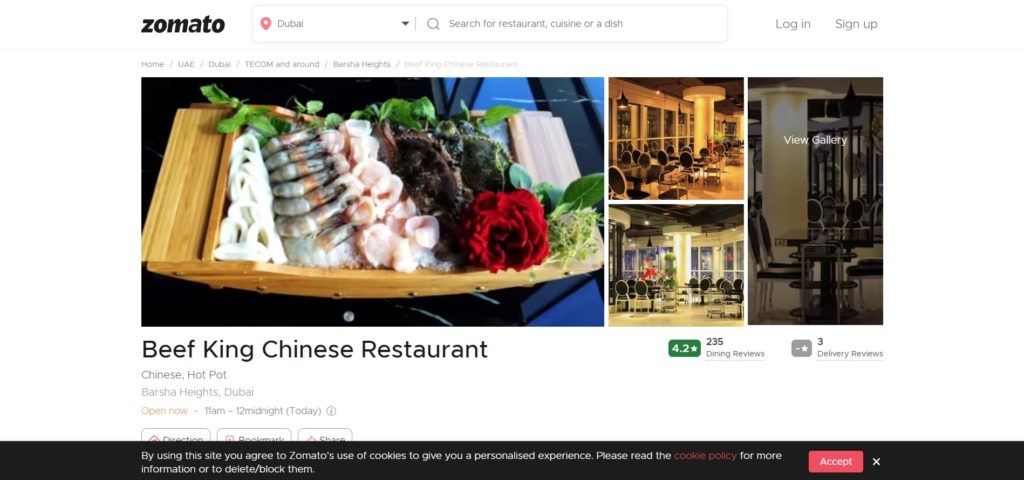 | | |
| --- | --- |
| Criteria | Rating |
| Quality of the Ingredients | ★★★★★ (5/5) |
| Adjustability | ★★★★☆ (4/5) |
| Variety | ★★★★★ (5/5) |
| Customer Service | ★★★☆☆ (3/5) |
Cozy and inviting, Beef King Chinese Restaurant has built a dining destination that feels exactly like how eating a hot pot would be.
What we love about this restaurant is its dedication to using only authentically Chinese and fresh ingredients for both its broths and its ingredients.
The result is an amazingly accurate adaptation of Chinese hot pot broths for the Emirati taste, and the beef has amazing marbling and bright red meat that just tells us that it is fresh and of excellent quality.
However, while it has a great variety in the types of broths it serves, we were disappointed by the fact that it does not adjust its spicy levels according to what the customers ask in order to preserve the integrity of the recipes.
The variety of meat options, condiments, and proteins more than makeup for this though.
We love how we keep coming back mostly because the variety allows us to try so many combinations. On top of that, we also enjoy the more exotic Chinese offerings it has.
When it comes to the service, it was quite a bit slower compared to other hot spot restaurants.
The waiters took quite a while to get our meats and veggies to our table even though these are already prepped and ready to be served.
Serves authentic Chinese-style hot pot
Great variety of broths, proteins, and veggies
Spice levels are not adjustable
Slow customer service
Customer Reviews
Amazing restaurant
"I tried Beef King Chinese hotpot for the first time today with my wife and daughter and it was AMAZING!
The soup was flavorful. The service was GREAT, and the restaurant is less than 2 minutes from the basketball field( go into Carrefour and go left, their stair/lift brings you up to the restaurant straight).
I went there and tell the waiter, this is my first time coming here, what should I do or how this works? He well explained to me how/what to order according to my taste.
I highly recommend this place to anyone looking for a great value, delicious meal. Plus at the end of the meal, they also offer watermelon + more dishes without charge! WOW!
Thank you! Definitely will be back to this place in the future. Wife and daughter very happy." —Rahim M., Google Reviews
I had a good hot pot experience over here
"I had a good hot pot experience over here. I really like how everyone gets their own hot pot to cook in. You also have the sharing pot option if you prefer that. Overall, good food experience with authentic Chinese food. Oh, I also highly recommend their special hotpot dipping sauce it's really delicious. Have a good food experience." — Nadya, Google Reviews
FAQs about Hot Pot Restaurants in Dubai
---
We hope this helped you find your favorite hot pot restaurant in Dubai. Also, if you're looking for more cuisines to try out, then check out these articles: