The 5 Best Pizza Restaurants in Dubai
Who doesn't love pizza, right? From the gooey cheese to the unlimited topping combinations, pizza is a universally loved dish.
It's also the perfect food for sharing, but we love to eat it on our own during the cheat days. Thankfully, Dubai has some of the best pizza restaurants in the world!
We tried some highly recommended pizza spots around the city, and now we give you our top picks for the best pizza restaurants in Dubai.
How We Picked the Best Pizza Restaurants in Dubai
Before we get right into our best places pizza restaurants in Dubai, here are the factors we considered for our entries on this list:
1. 800PIZZA
WEBSITE
https://www.800pizza.com/
ADDRESS
Marina Promenade, Dubai

Has 7 more branches in the city

CONTACT DETAILS

PHONE: 80074992

OPERATING HOURS
Monday to Thursday: 11 AM - 11:30 PM
| | |
| --- | --- |
| Criteria | Rating |
| Menu | ★★★★★ (5/5) |
| Uniqueness | ★★★☆☆ (3/5) |
| Service | ★★★★★ (5/5) |
| Ambiance | ★★★☆☆ (3/5) |
Most of the time, we do not need our pizza to be fancy or exciting, a good calabrese or a well-made Neapolitan pizza is more than enough. 800PIZZA gets this and does it well.
The main reason why it gets a spot here is that it understands the proportions between the toppings, the sauce, and the cheese, making every classic pizza it serves such a comforting thing to have.
However, we do admit, its lack of unique pizza dishes gets a little stale some of the time.
But can you blame us if we keep coming back for that Roman-style thin-crust goodness?
When we're not having its pizzas delivered, dining here can be just as great of an experience because of its excellent service.
And even the delivery is actually great. Our pizzas always arrive on time and come in freshly cooked and still hot enough to burn our tongues if we're being impatient.
However, the ambiance can be a little bit generic, bordering cartoony with its take on the whole Italian restaurant vibe.
It definitely needs to find its own identity that can be married into the Italian restaurant style in order for it to successfully differentiate itself from the others.
Serves great classic Italian pizza
Excellent service and excellent delivery service
Doesn't really serve unique pizzas
The restaurant looks and feels like a generic Italian restaurant
Customer Reviews
Real Italian-style pizza!
"Although the name may sound somewhat generic, this pizza restaurant is the real Italian-style pizza that's always nice to have when there are so many other random pizza places around. They make good authentic pizzas, using traditional toppings and combinations, a thin and crispy base, and good authentic flavors with a comforting wood fire oven taste.
In addition to pizzas, you can also order pasta and there are also some appetizers and desserts to choose from, Italian style.
With the name of 800pizza, you can obviously get their pizza delivered, but also take away as well as dine-in." —Adrian M, Google Reviews
Service, and food were excellent
"The service and the food were both excellent. Wonderful ambiance 1st time there and was not disappointed! Delicious food with a decent wait time. Nice for the family and for a date." —Charlyn Jhoy, Google Reviews
2. Akiba Dori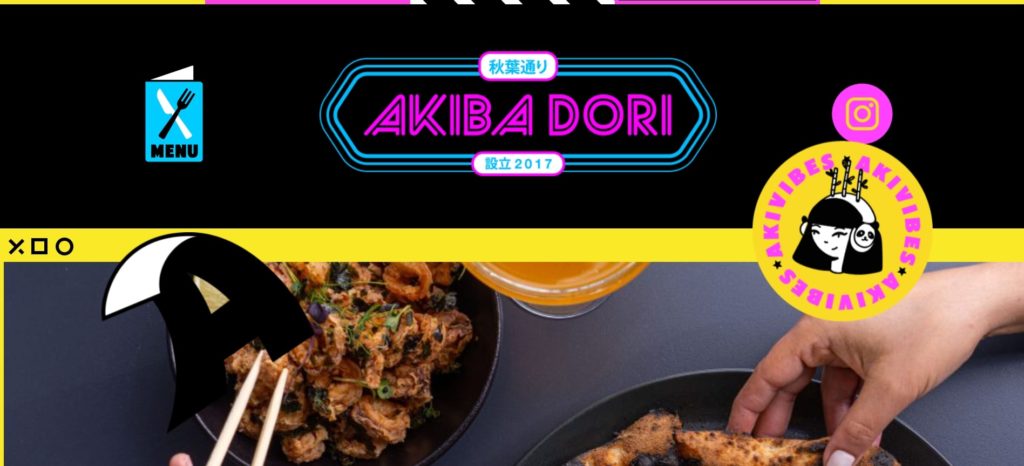 WEBSITE
https://www.akibadori.com/
ADDRESS
Bldg 8, Ground Floor, Unit 5, Opposite To Delight House - Dubai Design District - Dubai - United Arab Emirates

Has 4 more branches in the city

CONTACT DETAILS

PHONE: +971 4 770 7949

OPERATING HOURS
Every day: 12 pm - 12 am
| | |
| --- | --- |
| Criteria | Rating |
| Menu | ★★★★★ (5/5) |
| Uniqueness | ★★★★★ (5/5) |
| Service | ★★★★☆ (4/5) |
| Ambiance | ★★★★☆ (4/5) |
Combining the fun of Tokyo-style street food and the versatility and universal love for pizza, Akiba Dori delivers fresh takes with amazing crispy crusts and high-quality fresh toppings.
Putting its own spin on pizzas, its offerings have crusts that are made out of Japanese flour and baked in a Japanese-style oven.
We love that it maintains a nice balance between offering classics, such as pepperoni and 4 cheese, and fun unique pizza dishes like our favorite Truffle Strata and Kabucha.
The great part about Akiba Dori's unique take on pizzas is that it's made the way how the Japanese may make it, yet the toppings and the flavors largely remain Italian.
Its combination of both cultures has us wiping the marinara sauce and gooey cheese off of our faces every time we eat here.
However, if you're coming here with a lot of friends, be ready to wait for a little bit. We don't know why, but it was disappointing to notice that it really does not have a lot of tables for big groups.
And the atmosphere was fun and colorful, definitely an ode to the neon streets of Tokyo. However, it can get a bit visually overwhelming.
The amount of graphics and signs can often get overstimulating.
Combines Japanese techniques and Italian flavors for its pizza dishes
Has unique pizza dishes that don't stray too far from Italian traditions
Fun and colorful ambiance
The restaurant lacks tables for big groups
The ambiance can get a little bit overwhelming to the eyes
Customer Reviews
Can't wait to come back
"Great atmosphere, cool ambiance. The food is amazing, not over-seasoned and heavy. But wish we had more tummy room for their well-known pizzas! Can't wait to come back." — Jed Benitez, Google Reviews
Perfect for a dinner date
"Perfect for a dinner date.
They have gaming stations for friends and family indoors.
Their outdoors is nice for a candlelight dinner.
A nice place to visit in the winters and summers indoors.
I love the ambiance of the place. It is super cool with an amazing vibe.
Their food especially their pizza is so good and I love how they do not have a too thick crust and how they have a taste of that fire in it.
I loved their noodles as well.
I want to visit again probably once the summer cools down or by the winter." —Sifat Salim (The Bayezeeds), Google Reviews
3. Pitfire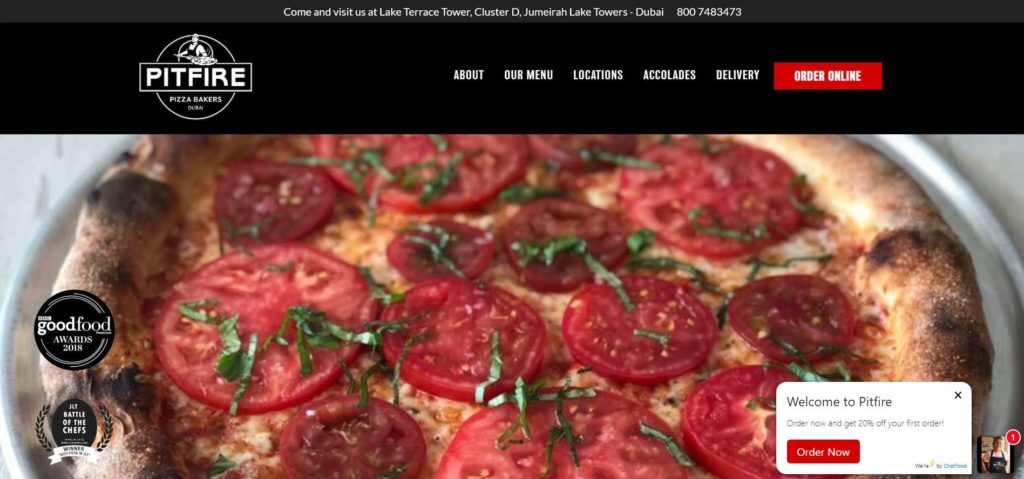 WEBSITE
https://www.pitfiredubai.ae/
ADDRESS
Lake Terrace Tower - Cluster D - Jumeirah Lake Towers - Dubai - United Arab Emirates
CONTACT DETAILS

PHONE: +971 800 7483473

OPERATING HOURS
Sunday to Thursday: 11 am - 11 pm

Friday to Saturday: 11 am - 12 am
| | |
| --- | --- |
| Criteria | Rating |
| Menu | ★★★★☆ (4/5) |
| Uniqueness | ★★★★★ (5/5) |
| Service | ★★★★★ (5/5) |
| Ambiance | ★★★★☆ (4/5) |
We can't make a list of the best pizza restaurants in Dubai without mentioning one that serves New York-style pizza, and we've got the best of the best for that one, Pitfire.
Its menu is a collection of American classic favorites such as Pepperoni and Margherita. But it's also got some left-field combos that just make so much sense, like the Spudnick, and Truff Daddy.
Honestly, we are kind of mad as to why some of these pizza dishes are not more popular like the one called The Hipster.
However, its crust can be a bit divisive. While the perfect amount of puffiness it has is definitely a clear favorite, some of us actually think its sturdy base is a little bit too chewy for our liking.
Despite that, dining here is always great because of its excellent service. The restaurant runs like a true New Yorker, efficient and quick.
We love that it doesn't give up friendliness for it either. The waiters we've had are always warm and accommodating.
However, the decor of the restaurant is heavily inspired by the industrial aesthetic style and sometimes comes off as cold and clanky.
Thankfully, the wooden finishings and accents really warm up the entire space and make for a much cozier dining experience.
Serves great classic and unique New York-style pizza dishes
Excellent service
Wooden accents and finishings help balance the ambiance
The crust's texture can be a bit divisive
The industrial style decor can be cold
Customer Reviews
One of the best pizzas in Dubai
"One of the best pizzas I ever had in Dubai.
Unique topping or I can say the combination of the ingredients.
Great size, fresh, and super tasty.
I've tried the dates, pesto, and margarita pizza, and also amazing Mac and cheese 🧀 😋. Absolutely Mind blowing!!! 🤩
I've been ordering and going to this place for over 3 years and it's always the same and it gets even better.
Great service, fast and clean, friendly staff. Thanks for keeping the quality as it was the first time I tried.
It is located in JLT, cluster D.
Definitely recommend 👌." – Miad Hamidavi, Google Reviews
Amazing pizza!
"They have amazing pizza, we gave complementary garlic bread while waiting for our pizza, and it's so good. The mac and cheese are a bit salty for me but the pizza is amazing! It's a must-try to visit their shop for the pizza lover out there. They have a nice outside view as well" – Joan Conjurado Manalabe, Google Reviews
4. Cipriani Dubai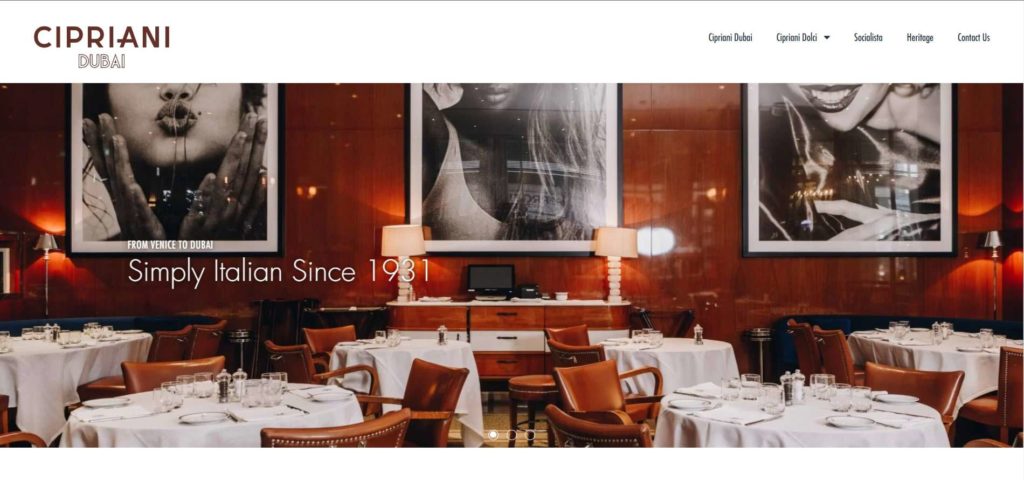 | | |
| --- | --- |
| WEBSITE | https://www.ciprianidubai.com/ |
| ADDRESS | DIFC Gate Village 10 - towards DIFC Parking - DIFC - Dubai - United Arab Emirates |
| CONTACT DETAILS | PHONE: +971 4 347 0003 |
| OPERATING HOURS | Every day: 12 pm - 12 am |
| | |
| --- | --- |
| Criteria | Rating |
| Menu | ★★★☆☆ (3/5) |
| Uniqueness | ★★★★☆ (4/5) |
| Service | ★★★★★ (5/5) |
| Ambiance | ★★★★★ (5/5) |
The best thing about pizza is that it can be a casual bite, but it can also be a luxurious experience, and that's what Cipriani Dubai serves up on a plate.
Uncompromising in its usage of imported Italian cured meats, cheeses, and the char in its crusts, Cipriani Dubai's pizza menu is nothing short of Italian indulgence.
However, the menu literally only has 3 pizza offerings, and a pizza tower (which is basically just a stack of the three pizzas on the menu).
On top of that, while its uniqueness is definitely derived from its rare and expensive ingredients, the flavor combinations and how it is made are really just authentic Italian pizza.
And while that is definitely not a problem for us, it definitely lacks excitement.
However, when it comes to its service, well, it is nothing short of gourmet quality. Rising up to the level of the food it serves, its staff is attentive, knowledgeable, and definitely meticulous.
We love how they definitely know the kind of food it serves, and they definitely know what they are talking about when we asked them what we could pair with the Valtellina pizza with bresaola and rucola.
And the ambiance is definitely something to note because it is understated yet clearly elegant with its perfectly white table sheets and polished cutlery.
The wood panels give it enough warmth for it to be cozy, and the alfresco area is magnificent during sunsets
Serves gourmet Italian pizza
Excellent service
Elegant ambiance
The menu only has 3 pizza offerings
Pizzas are not that unique
Customer Reviews
The food always gets better here
"Outstanding performance. We have been going to this restaurant for the past 8 years and the food always gets better, in fact, the food is so good that I didn't have time to take that many pictures of the restaurant. The service was also very good, with the servers being kind and polite and cracking some jokes here and there. What I can recommend getting is the scaloppini with lemon sauce and the pizza. The only downside is that the food is expensive (but worth eating)" – Ivan Karadanov, Google Reviews
If you want to dive into the Italian atmosphere, then you have to come here
"If you want to dive into the Italian atmosphere, then you have to come here. Once I stepped in I smelled truffle…. starting from the hostess and ending up the food everything is on a high level. The waters are professionals, any dish they explain to you with passion. I really loved zucchini flowers filled with cheese " – Darya Kudimova, Google Reviews
5. L'Antica Pizzeria Da Michele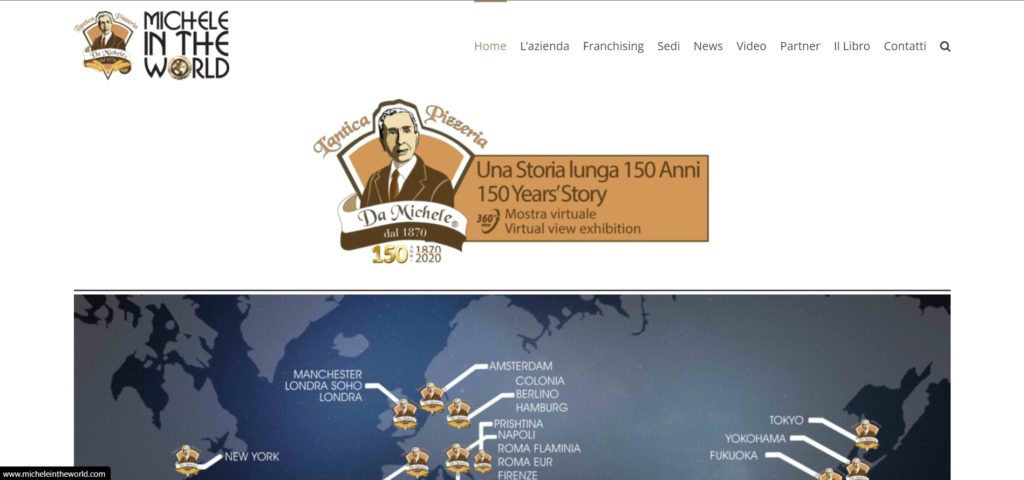 | | |
| --- | --- |
| WEBSITE | http://www.micheleintheworld.com/ |
| ADDRESS | The Walk - Jumeirah Beach Residence - Dubai - Emirati Arabi Uniti |
| CONTACT DETAILS | PHONE: +97145905090 |
| OPERATING HOURS | Every day: 10 am - 10 pm |
| | |
| --- | --- |
| Criteria | Rating |
| Menu | ★★★★★ (5/5) |
| Uniqueness | ★☆☆☆☆ (1/5) |
| Service | ★★★★☆ (4/5) |
| Ambiance | ★★★★☆ (4/5) |
One of the most famous pizza chains in the world, L'Antica Pizzeria Da Michele has withstood the test of time and has been serving world-famous pizzas for over 150 years now.
Hailing from Naples, the star of its menu is definitely the classic Margarita that was lovingly featured in one of our favorite movies of all time: Eat, Pray Love.
And while some may argue you do not need to try anything else other than that very same pizza, well we beg to disagree.
While L'Antica Pizzeria Da Michele has definitely found the perfect marinara-to-cheese ratio for it, we also love its Burrata e Stracciatella.
That being said, please do not expect anything else on its menu besides the traditional Italian pizza classics.
This restaurant definitely devotes its time to honoring classics that have been passed down from one generation to another, and we can't blame it.
However, it definitely gets busy, which is one of the main problems of success. So while the service is definitely excellent, its staff can only do so much with throngs of crowds.
And when it comes to its ambiance, well it really struggles from the fact that it will never live up to the legend of its location in Naples.
While there is definitely no problem with its restaurant here in Dubai, it doesn't hold a candle to how iconic the original is.
Iconic pizza chain
Well-known for its margarita pizzas
Excellent service
Nothing special about the ambiance
It gets really crowded
Doesn't serve any unique pizza dishes
Customer Reviews
Will be coming back soon
"We visited for a quick bite around 21:00 on a Saturday, there was no waiting – we got a nice table upstairs with direct Ain Dubai views. Orders were taken quickly, the two pizzas arrived within 15', and they tasted yummy, with fresh ingredients, and perfect Italian dough, what else could we ask for? It was a surprisingly great experience – and I say that because probably they could have gotten away with offering a lower-quality pizza given the amazing location and lack of real competition in JBR The Beach. Well, done guys, will be coming back soon!"—Mike, Google Reviews
If you are looking for authentic Italian food then this is it!
"If you are looking for authentic Italian food then this is it!
The Maradona Pizza was exceptional and pizza you would go to this place again and again. We also ordered pasta which was a delight too. Good service, good ambiance and good vibes overall." —Shahan Ur Rehman, Google Reviews
FAQs about Pizza in Dubai
---
We hope this helped you in finding your favorite pizza restaurant in Dubai. Also, if you're looking to try other cuisines and expand your palette, then check these out: