The 5 Best Places for a Staycation in Dubai
Nothing beats a good staycation. We just love having everything we need to relax and have anything fun to do within arm's reach, and the best part about it is that you don't have to go far for it!
Dubai is both a travel destination and the perfect city for a staycation. With so many world-class accommodations, a weekend of chilling is the perfect way to recharge.
So we tried a number of popular spots to give you our favorite places for a staycation in Dubai!
Lastly, we answered some frequently asked questions about staycations.
How much does it cost to have a staycation in Dubai?
The cost of having a staycation depends on the rate of your accommodations, plus any additional fees for extra services and access to amenities.
Some hotels and resorts even offer special staycation packages for better deals.
To give you a starting point, we made a table of the rates of each of our favorite staycation spots.
| STAYCATION SPOT | RATES |
| --- | --- |
| Five Palm Jumeirah | AED2160 - AED15250 per night |
| Al Jaddaf Rotana | AED500 - AED650 per night |
| Burj Al Arab | AED5900 - AED35000 per night |
| Caesar's Palace Dubai | AED3250 - AED24150 per night |
| Jumeirah Dar Al Masyaf | AED3930 - AED6400 per night |
How We Picked the Best Places for a Staycation in Dubai
Before we get right into our best places for a staycation in Dubai, here are the factors we considered for our entries on this list:
1. Five Palm Jumeirah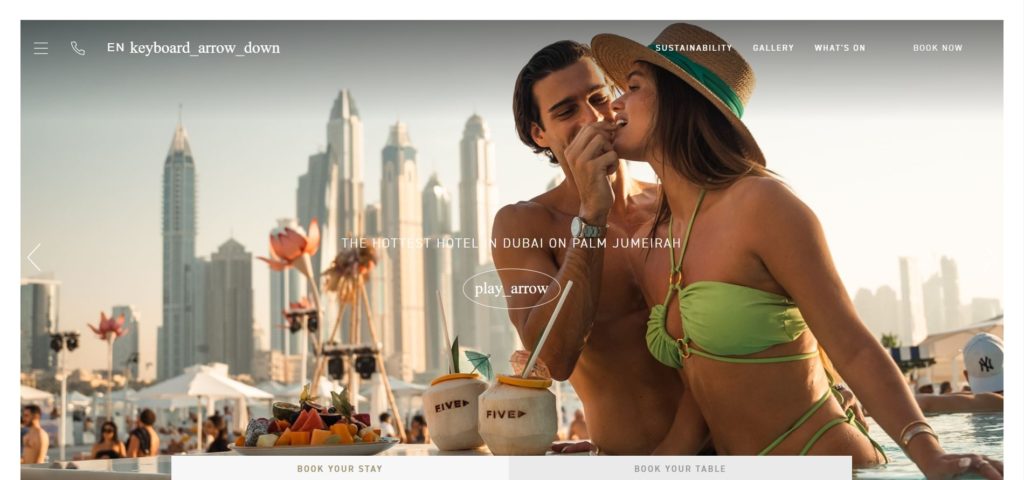 | | |
| --- | --- |
| Criteria | Rating |
| Amenities | ★★★★☆ (4/5) |
| Staycation Packages | ★★★★★ (5/5) |
| Experience | ★★★★☆ (4/5) |
| Location | ★★★★★ (5/5) |
Hailed as the hotspot for all things glamorous and luxurious in Dubai, Five Palm Jumeirah has an all-inclusive deal for all staycationers that promises a daring and jam-packed stay.
The amenities are an elite Instagrammer's dream with access to a 150-meter private beach, rooms that offer a view of either the ocean or the city, award-winning restaurants, and popular bars.
Needless to say, we loved our stay here mostly because we never ran out of things to try, and places to check out.
This is coupled with its great staycation deal that works best with a group of friends. Its "Pay 3 Stay 4 / Pay 6 Stay 8" offers a discounted rate the more people you have staying.
Parties at Five Palm Jumeirah are even made better with your friends around because of this deal.
A staycation here is not the most relaxing or laidback experience, but the amount of things you can do is the right kind of staycation that is definitely one for the books. Just make sure to save a day for recovering after.
The Five Palm Jumeirah also has a nice location, being at the halfway point between accessibility to the city, and far away enough from reality.
We do like that within the Palm, it's still definitely closer to the city, making a quick trip when needed much easier.
Great offerings for groups
Wide range of excellent amenities
Great voice for parties and high-energy activities
Excellent location
The vibe is not as relaxing
Limited amenities for chilling
Customer Reviews
This hotel steals the cake!
"I'm sitting in the beautiful hotel lobby as I write this review waiting for my departure. I've stayed at many 5-star resorts around the world, but this hotel definitely steals the cake. Everything is just so right the hospitality, the ambiance, the sea view suites, the beach bar, and other things. This is an amazing hotel with lots and lots and lots of nice pools and fancy cars. I would recommend this hotel 100 times!! Love the Five Palm and will soon be back, chiming from the Great 👍" —Ziad Alqoubile, Google Reviews
Best hotel I've ever been in
"So far the best hotel I've ever been in. Beautiful, luxurious, and modern. Amazing facilities, room sizes, sparkling clean rooms, and great food/restaurant choices. Stuff members are super nice and polite, the location is perfect and pool parties are super fun. Their All-inclusive package is a must when you go into this hotel since otherwise, it ends up very expensive. Definitely, a good value for money if you love luxurious holidays.
Travel group" —Tako Rukhadze, Google Reviews
2. Al Jaddaf Rotana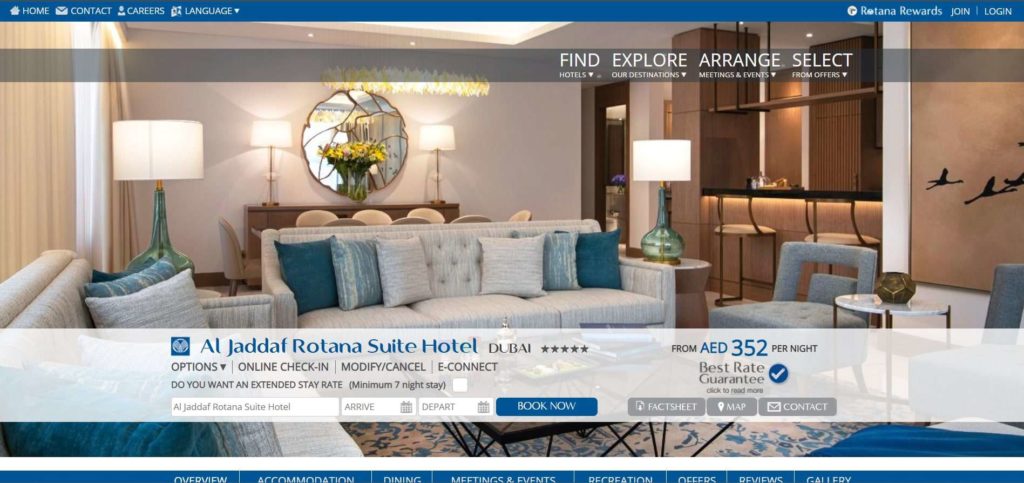 | | |
| --- | --- |
| Criteria | Rating |
| Amenities | ★★★★★ (5/5) |
| Staycation Packages | ★★★★☆ (4/5) |
| Experience | ★★★★★ (5/5) |
| Location | ★★★★☆ (4/5) |
Al Jadaff Rotan takes staycations up a notch with its all-inclusive package that ties in a night's stay, unlimited in-house beverages, and many more that we will get into detail about below.
This hotel is jampacked with amenities that are ripe for staycationers to explore. It has 5 world-class dining venues, a Bodylines fitness club, Aquarius, its poolside bar, and complimentary shuttle buses to La Mer and Dubai Mall.
Its staycation package includes a dining journey perfect for foodies. Staycationers get to have breakfast and a three-course lunch and dinner at Timo, its in-house Italian restaurant.
Or, guests can change out their lunch for access to its popular poolside bar, Aquarius.
However, we would have loved it if its inclusive meals were not just focused on one restaurant.
We didn't need to choose, but we would have liked some diversity in our dining options since it has 5 world-class restaurants, after all.
When it comes to our overall experience, we love that we never ran out of things to do, but we didn't feel forced or in a rush to do it all. The ambiance was very relaxing and luxuriously casual.
Because of its central location and shuttle buses, the accessibility of this hotel is excellent. But since it is located in the middle of the city, getting away from the hustle and bustle can be difficult.
Has a great range of amenities
Great all-inclusive staycation deal
Relaxed ambiance
Centrally located
Dining options for its staycation deal are limited
Located in a busy area in the city
Customer Reviews
Excellent hotel and staff
"Excellent hotel and staff. Housekeeping is very flexible and clean. Shout out to in house tailor and housekeeper Abdul Rahim. Great work with some last-minute alterations.
Stayed with several family members for a wedding. Used the hall for an event. The food was great. After initial issues with the rooms, the management stepped up and made our stay very pleasant." —Omar Qazi, Google Reviews
The best hotel ever
"The best hotel ever from the interiors and amenities to its hospitality service, I will surely recommend it to my friends and families! Special mention to the lady at the reception named Monalyn, she was truly professional, accommodating, and very hospitable! She attended to our needs anytime and provided answers to any of our queries even if it's silly ones :). This hotel is the definition of comfort, luxury, serenity, and awesomeness!" —chaw Regalado, Google Reviews
3. Caesar's Palace Dubai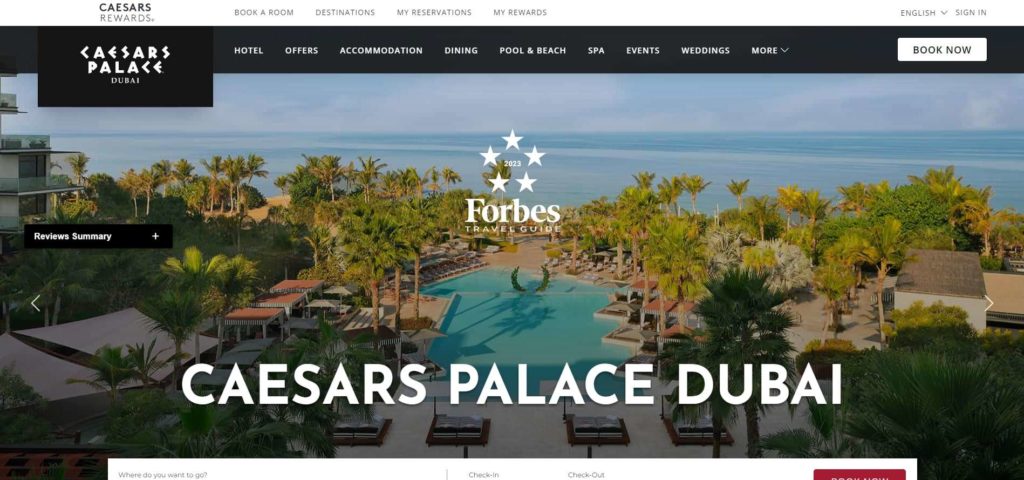 | | |
| --- | --- |
| WEBSITE | https://www.caesars.com/dubai |
| ADDRESS | Caesars Palace - Bluewaters Island - Dubai - United Arab Emirates |
| CONTACT DETAILS | PHONE: +971 (4) 556 6666 |
| OPERATING HOURS | Open 24/7 |
| | |
| --- | --- |
| Criteria | Rating |
| Amenities | ★★★★★ (5/5) |
| Staycation Packages | ★★★☆☆ (3/5) |
| Experience | ★★★★★ (5/5) |
| Location | ★★★★☆ (4/5) |
Built to blow world hotel standards out of the water, Caesar's Palace Dubai has amenities that are on another level, and the world's largest observation wheel for that perfect bird's eye view of the city.
On top of that, it has over 10 exclusive restaurants, multiple pools, and a popular cove beach. And if that's not enough, it also has an award-winning spa facility and service that we will remember until we grow old.
However, its staycation packages are not as strong compared to other hotels and resorts. It's not all-inclusive, but it has a 20% discount for rooms, dining, and spa for GCC national and UAE residents.
We appreciate that it truly incentivizes locals to have their staycation at Caesar's Palace, but the lack of inclusive benefits is a huge step back for us.
Despite that, we do love how relaxing the resort is. It has over 10 pools so we never had to settle for a crowded one, and it has so many restaurants that we managed to never order the same thing twice throughout the whole stay.
It's located on Bluewater's Island. So while it is physically near around great hotspots of the city, it is designed to be separated away from anything outside of the resort.
Luckily, it also has a shuttle service that goes to Dubai Mall and back.
Has a wide range of world-class amenities
Discounted prices for locals
Relaxing ambiance
Has shuttle services for accessibility
Staycation package has no inclusions
Location is too separated from the surrounding area
Customer Reviews
Amazing beach resort
"Amazing beach resort! Have stayed here two times and both times were amazing. Great service and very nice rooms. The beach is amazing, they have various water activities to choose from as well as very luxurious pools. Service was fantastic along with a great buffet breakfast! The room was super comfortable. Amazing variation of high-end restaurants. Really recommend hell's Kitchen!" – Lily Leung, Google Reviews
A fantastic experience
"I recently spent a day at the pool at the Caesar Palace hotel with a friend, and it was a fantastic experience. The pool was clean and well-maintained, with plenty of lounge chairs and umbrellas to provide shade. Moja and Antonio were particularly friendly and attentive, always on hand to bring towels or drinks. The pool was large and had a great deal of space to swim and play. I appreciated the pool bar service, that was a great way to enjoy a drink and relax. The location of the hotel itself is also ideal, close to the main strip and all the action. Overall, I highly recommend the Caesar Palace pool for anyone looking for a great day of relaxation and fun." – Matt Mann, Google Reviews
4. Jumeirah Dar Al Masyaf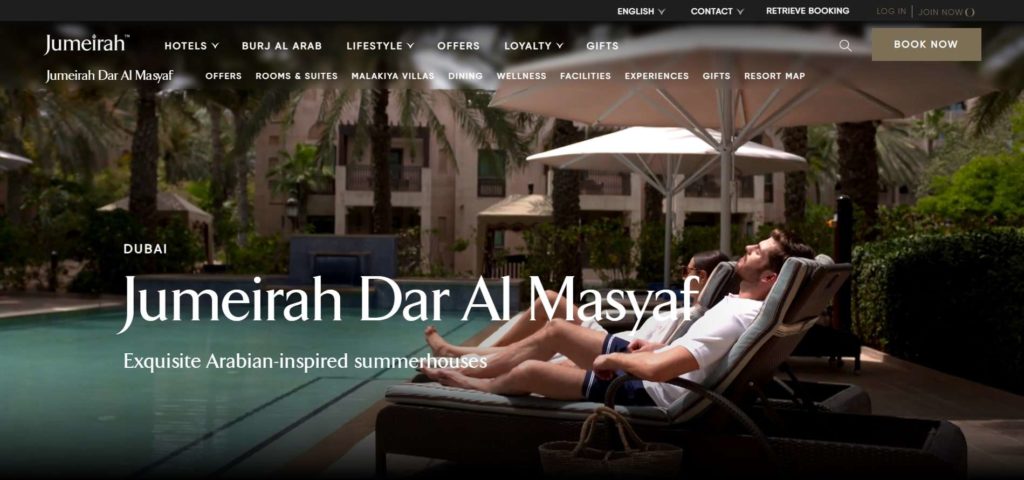 | | |
| --- | --- |
| Criteria | Rating |
| Amenities | ★★★☆☆ (3/5) |
| Staycation Packages | ★★★★☆ (4/5) |
| Experience | ★★★★★ (5/5) |
| Location | ★★★★★ (5/5) |
If you want a staycation that makes you feel like Arabian royalty from the olden days, spending your downtime at your family's summerhouse, then Jumeirah Dar Al Masyaf is for you.
UAE residents get a 35% discount on its flexible rates, so if you play your cards right just like we did, then you might be able to land yourself an amazing deal on its amazing villas.
This package also comes with complimentary daily sundowners, 15 percent off drinks, and even the use of Talise Spa and J Club wellness facilities.
Sadly, besides its bars and restaurant, pools, and wellness facilities, there is not much anything else to the resort.
One of its few redeeming qualities in this aspect is that Jumeirah Dar Al Masyaf does not do rooms, it only does luxury villas, and honestly, it's more than we need for an amazing staycation.
And we also love that the resort is so serene and has a great balance between its facilities and the beautiful landscaping. Staying here made us feel closer to nature in the most luxurious way possible.
Its location is part of a larger complex of Jumeirah resorts, so jumping around to check out the other offerings was a great benefit. The place was also well connected to the rest of the city while also maintaining its seclusion.
Great discounted rates for UAE residents
Relaxing resort
Excellent location
Has luxury villas instead of rooms
Amenities are very limited
No inclusions in the staycation package
Customer Reviews
We will definitely return!
"We had an amazing trip to Jumeirah Dar Al Masyaf in February. The service provided was impeccable- particularly thanks to the Manager on duty, Abbos, who was very helpful and keen to make sure we had the best experience possible. He went out of his way to make our holiday even more special. The butlers we had were also great Brian and Sashi were great company, very helpful, and made our stay incredibly comfortable and enjoyable.
The resort as a whole is fantastic- lots to do, beautiful accommodations, and great food.
We will definitely return!" – Aman, Google Reviews
There is no better place to stay in Dubai
"My experience for a stay two weeks back (Posted also on Al Qasr Jumeirah website). What a stunning hotel with premium-level service. Perfect for luxurious stays especially for Villa 1, 2 & 3 really beachfront. Special thanks to Mary for her perfect organization & amazing team (Nabi, Staysie, Fahima, Mijlana, Aanisa) who made our stay so magical. Fiona & F&B team gave their best for food quality & fast service. Having breakfast on French Riviera with that magic view is speechless. Very quiet beaches & marvelous swimming pool too (Bryan & Ashraf). In short, there is no better place to stay in Dubai as Al Qasr Jumeirah." – Natalia QUEREL, Google Reviews
5. Bur Al Arab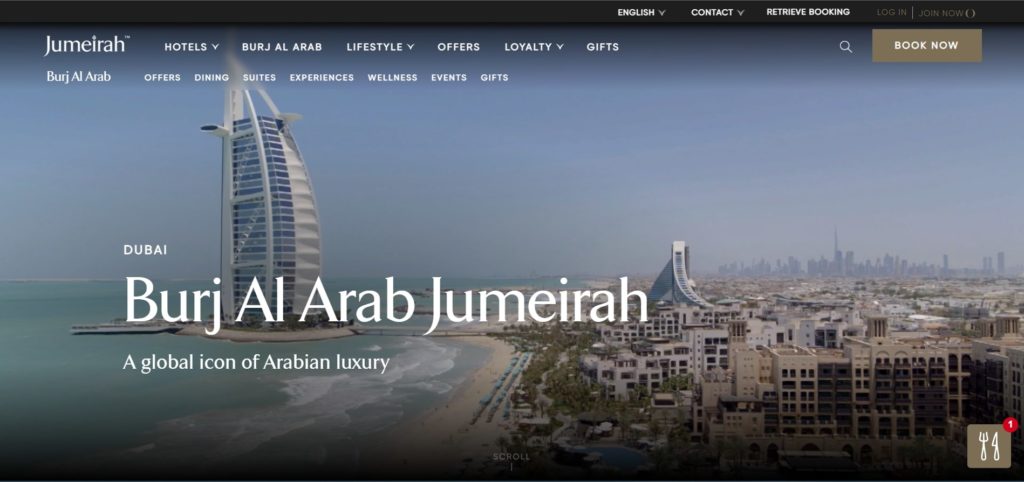 | | |
| --- | --- |
| Criteria | Rating |
| Amenities | ★★★★★ (5/5) |
| Staycation Packages | ★★★★★ (5/5) |
| Experience | ★★★★☆ (4/5) |
| Location | ★★★★☆ (4/5) |
If you're gonna save money by not traveling far, why not use that extra cash so you can stay at Dubai's iconic Burj Al Arab?
This world-renowned hotel has the iconic Burj Al Arab Terrace, a restaurant, pool, beach, and cabana space rolled into one.
This 10,000 sqm outdoor luxury leisure facility stretches 100 meters out into the sea and is home to SAL Restaurant and two stunning pools.
Its staycation package has a 20% discount rate for UAE residents and comes with daily breakfast, a world-class butler service, Hermès amenities, access to the private beach and Summersalt Beach Club at Jumeirah Al Naseem, and unlimited entry to Wild Wadi Waterpark.
Its staycation deal was truly the gateway to a once-in-a-lifetime weekend that we will never forget.
However, with so much to savor, and so much to experience, our overall staycation experience here felt a bit hectic.
So we recommend that you plan out and prioritize the experience that you have to try.
On top of that, don't expect to make a quick trip back to the city to be an easy one. Burj Al Arab's location is an exclusive area that public transport cannot reach.
Iconic hotel with iconic amenities
Amazing discounted rates with access to exclusive amenities
Once-in-a-lifetime experience
Secluded location
First-time stay can be overwhelming and intimidating
Location is not easily accessible
Customer Reviews
Great place to relax after busy days in Dubai
"Great place to relax after busy days in Dubai. The Pool area is very nice and clean with top-class service. We rented a cabana and enjoyed the soccer games. The Salt Restaurant is a great place also by the pool area serving delicious paella with seafood. The server dedicated to us was Nitesh and was 10 stars class making sure all requests were fulfilled including a charger for my phone." — Javier Mestre, Google Reviews
I'll come back!
"For parents, the satisfaction of their children is the most important condition when choosing a hotel. the children here were always smiling at the kindness and friendliness of the staff. And even when the baby was crawling, the soles of his feet and his hands were very clean. I'll come back!" —Mao Mao, Google Reviews
FAQs about Staycations in Dubai
---
We hope this helped you in finding your place for a staycation in Dubai. Also, if you're looking for other things to do on a day off, then check these out: