The 5 Best Beach Restaurants in Dubai
If you love the smell of the sea and the sound of crashing waves while you're feasting on something exquisite, then we have something in common.
From dates to celebrations, beach restaurants are such a great venue for any occasion. We love how relaxing and freeing it is to enjoy the shore before and after eating.
Thankfully, Dubai has great beaches with even better restaurants located right next to these.
So we tried some highly recommended spots to give you our favorite beach restaurants in Dubai!
How We Picked the Best Beach Restaurants in Dubai
Before we get right into our best beach restaurants in Dubai, here are the factors we considered for our entries on this list:
1. Ibn Albahr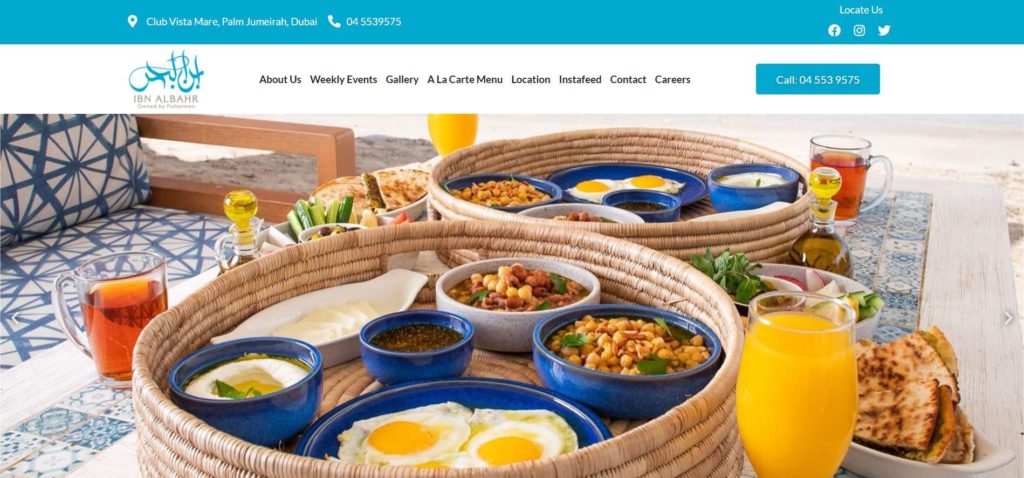 | | |
| --- | --- |
| WEBSITE | https://www.ibnalbahr.me/ |
| ADDRESS | Club Vista Mare (Palm Jumeriah - Dubai - United Arab Emirates) |
| CONTACT DETAILS | PHONE: +971 4 553 9575, 04-5539575 |
| OPERATING HOURS | Every day: 8:30 PM - 12 AM |
| | |
| --- | --- |
| Criteria | Rating |
| Menu | ★★★★☆ (4/5) |
| Service Quality | ★★★★★ (5/5) |
| Ambiance | ★★★★☆ (4/5) |
| Credibility | ★★★★★ (5/5) |
This Lebanese seafood beachside culinary destination is known for serving the freshest seafood caught by the fishermen who run the restaurant themselves.
What separates this restaurant from the others, and why it keeps its food fresh, is it has a somewhat unique menu.
Instead of focusing on menu books, which are also readily available, it opts to put the fresh catch into the spotlight.
Customers get to pick the freshly caught seafood, displayed in aquariums and water tanks, and then the kitchen serves it up in a traditional Lebanese dish of your choosing.
When it came to its service, we were greeted with such friendliness from the staff. It was noticeable that the team really takes pride in the quality of the food they serve.
Situated on a small private beach on the shores of Palm Jumeirah, Ibn Albahr makes it feel like you are stumbling upon a hidden gem that only you know.
However, getting there can be quite the walk especially if you're dressed all fancy, so forego the heels and floor-length dresses, and opt for something relaxed.
But it will always be worth it because it is a Bib Gourmand winner, awarded by the acclaimed Michelin Guide back in 2022.
Award-winning seafood restaurant
Serves seafood caught on the same day
Secluded intimate ambiance with a view of the city
Excellent service
Seafood options are limited to the catch of the day
Getting to the restaurant involves a bit of a walk
Customer Reviews
No complaints, just a great experience
"Nice restaurant, the setting is very good and comfortable, the place is a bit loud with customers on weekends but all and all it's very good, the staff is nice and helpful.
The food is very good! The salads are very good, appetizers as well. The fish is always fresh and cooked to perfection!
It's highly recommended.
PS: keep your bill in order to use it as a parking token when exiting the venue." —Mahmoud Doughlas, Google Reviews
Best place for fresh seafood
"Amazing location with great service. It's also a nice experience to pick your own fish inside the restaurant and get informed about the different ways of preparation. I visit this place at least once every 2 months. Highly recommend it if you love fresh fish!" —Julia S., Google Reviews
2. DRIFT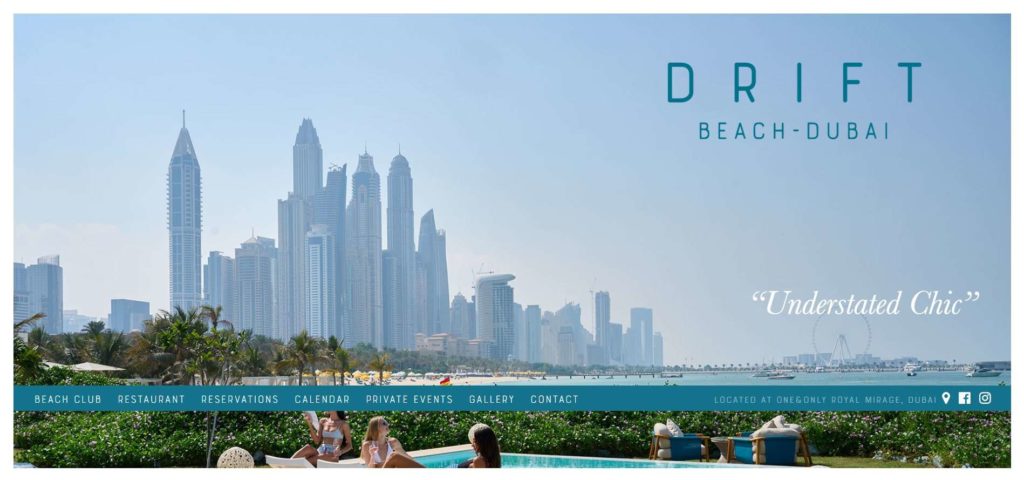 WEBSITE
https://driftbeachdubai.com/
ADDRESS
One&Only Royal Mirage - Dubai - United Arab Emirates
CONTACT DETAILS

PHONE: +971 4 320 0043

OPERATING HOURS
Monday to Thursday: 9 am - 8 pm

Friday to Sunday: 9 am - 9 pm
| | |
| --- | --- |
| Criteria | Rating |
| Menu | ★★★★☆ (4/5) |
| Service Quality | ★★★★★ (5/5) |
| Ambiance | ★★★☆☆ (3/5) |
| Credibility | ★★★★★ (5/5) |
Located at the One & Only Royal Mirage, DRIFT combines effortless luxury with the chic urban vibe of Dubai with a restaurant that perfectly matches this destination.
Led by the highly acclaimed Chef de Cuisine Sylvain Noël, DRIFT Restaurant brings the decadence of Southern France with classic Provençal cuisine.
The menu offers up the best of the freshest and finest organic ingredients the restaurant can get its hands on.
Although not quite 5 Michelin star worthy (which is the price range of the menu here), the dishes are perfect for fulfilling bites without suffering from a bloated tummy after.
Its bar menu is curated and directed by mixologist Ruslan Svezhenko, who has been running this spot with 10 years of experience from traveling and tasting different beverages and spirits.
However, DRIFT's service quality is where we saw why it's an award-winning beach club.
The staff who waited on us were very attentive and had amazing attention to detail. They took great initiative in checking up on us and refilling our glasses with water periodically.
And when it comes it the ambiance of the restaurant, well it really feels like it is playing second fiddle to DRIFT's beach club.
It's located towards the back portion of the place, a bit far away from the shoreline, and most of its view is blocked by the throngs of crowds sunbathing and enjoying the beach.
Serves classic Provençal cuisine
Award-winning restaurant run by a highly acclaimed chef and experienced mixologist
Excellent service
Price range is too high for the quality of the food
Restaurant's view of the beach is blocked by crowds
Customer Reviews
This place took my heart
"This place took my heart, I wish I can stay here forever 🙂 The pool view is the best ever, the service is much more than a 5-star and the food is extremely delicious! I like Wednesday's promotion, having breakfast, and getting access to the pool. They provide towels, shampoo, hair dryer which makes it so convenient and the showers are so clean" —Manal Akl, Google Reviews
Great food and drinks
"Went there on a weekday. The ambiance and the service were absolutely flawless. Great food and drinks. Lots of photo ops. Really nice and relaxing beach with all the possible services." —Saad Salman, Google Reviews
3. Bussola Italian Restaurant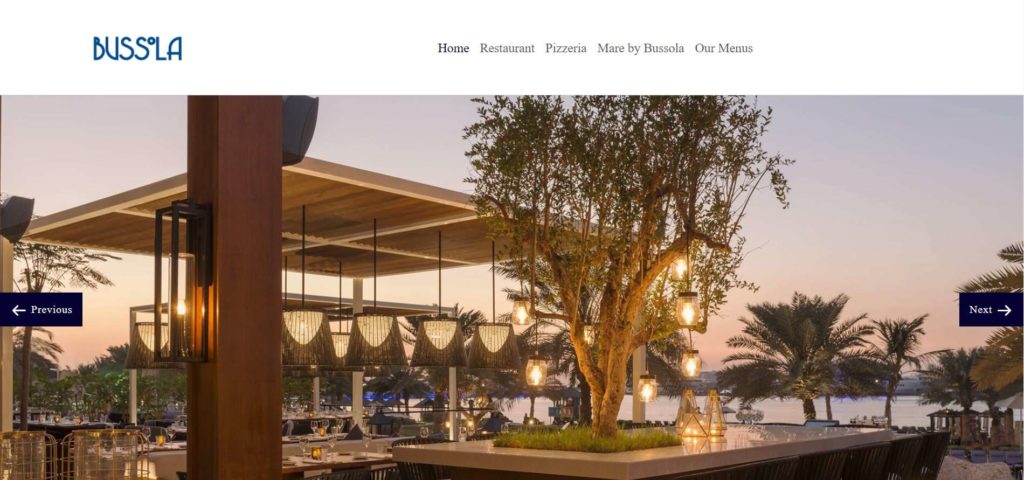 | | |
| --- | --- |
| WEBSITE | https://www.bussoladubai.com/ |
| ADDRESS | The Westin Dubai Mina Seyahi Beach Resort & Marina, Dubai Marina, Dubai |
| CONTACT DETAILS | PHONE: +971 4 511 7373, +971 56 501 0509 |
| OPERATING HOURS | Every day: 12 pm - 11 pm |
| | |
| --- | --- |
| Criteria | Rating |
| Menu | ★★★★★ (5/5) |
| Service Quality | ★★★★☆ (4/5) |
| Ambiance | ★★★★★ (5/5) |
| Credibility | ★★★☆☆ (3/5) |
Nothing says luxury than an indulgent Italian meal by the beach, and Bussola Italian Restaurant knows how this exactly looks and tastes like.
With a pizzeria on its alfresco upper deck and a fine dining restaurant downstairs that leads out to its beachside lounge for a perfect sundowner moment, this restaurant has all the bases covered.
Its menu is a balance of elegance and comfort, like if your grandma's pasta was elevated.
But what we love the most about its menu is that its portions are Italian, in the sense that each dish comes in generous servings, so be sure to wear loose clothing.
When it comes to its service, it can get a bit slow with multiple sections of the restaurant simultaneously going on, so a bit of patience is called for.
Despite that, the staff is attentive and never lets the busyness of the restaurant get to them.
The ambiance helped a lot with our patience too. We loved the view, especially during early dinners.
The alfresco seating really felt cozy because of all the greenery that hugged the restaurant on all three sides. On top of that, we had a clear view of the beach and the sunset, making our dining experience there that much more intimate.
However, we were surprised that this restaurant hasn't gotten its well-deserved accolades yet. But with this kind of service and food, it will only be a matter of time.
Menu has a great balance of elegance and comfort
Professional and attentive service
Cozy and intimate ambiance
No awards yet
The busyness of the restaurant slows down service
Customer Reviews
Bussola never disappoints
"Bussola at the Westin, never disappoints✨ their outdoor view is stunning and during winter they will put heater too. My favorite easy fix will be Truffle Ravioli but today I started with a crunchy kale salad with roasted butternut squash, Bucatini pasta with crispy pork and tomato sauce, lamb with aromatic herbs, pairing it with my favorite Red Wine Kim Crawford, and close it with some hazelnut ice cream. Smooth evening✨" – Arti Soejitno, Google Reviews
Relaxing lunch!
"We had a relaxing lunch and early afternoon session at Bussola. No kids at the pool and a relaxed atmosphere. The food was excellent. Ajin looked after us while we were there and he was excellent. I would say it's more of a mature couples kind of place rather than younger people looking for a beach club. Go there and relax in peaceful surroundings that also have upbeat music. – Mohammad Reza Salamati, Google Reviews
4. Fish Beach Taverna
| | |
| --- | --- |
| WEBSITE | https://www.fish-dubai.com/ |
| ADDRESS | Le Meridien Mina Seyahi Beach Resort & Waterpark, Dubai, 34367 |
| CONTACT DETAILS | PHONE: +971-4511-7373 |
| OPERATING HOURS | Every day: 12 pm - 11 pm |
| | |
| --- | --- |
| Criteria | Rating |
| Menu | ★★★★☆ (4/5) |
| Service Quality | ★★★★★ (5/5) |
| Ambiance | ★★★★★ (5/5) |
| Credibility | ★★★☆☆ (3/5) |
Shimmering fairy lights, whitewashed finishings on the furniture, and the beach right next to you, what more can you ask for when you're at Fish Beach Taverna?
An escapist's dream come true brings the fairy tale of dining in the Mediterranean to Dubai with its Greek and Turkish menu.
With signature sharing plates such as salads, salmon, sea bass, mussels, calamari, and pasta, it's impossible to not feel and taste the sun and the sea at this restaurant.
The strongest parts of its menu are the fish dishes that have been cooked to perfection with it Aegan-inspired flavors that are both rich and healthy.
However, we do wish its menu had more alcoholic offerings because the place just really felt perfect for some day drinking with our friends.
The staff did not waste any time making us feel right at home. They were very welcoming, and their whole demeanor was very casual, which really helped in immersing ourselves in the ambiance of the restaurant.
Speaking of ambiance, it really is perfect. Fish Beach Taverna has built and curated a space that feels like a sanctuary that we wanted to keep all to ourselves.
However, it is disappointing that the restaurant has no accolades to show for it. And while this doesn't heavily affect the quality of the food and the service, we think it really deserves some recognition.
Serves Greek and Turkish food for sharing
Excellent service
Amazing ambiance
Limited alcoholic selections
No accolades
Customer Reviews
Amazing seafood restaurant
"Amazing seafood restaurant. Octopus is delicious. Impressed even by baked potatoes. The view is nice. The choice of seafood is great. Very much recommended. PS. Wish they had a choice of pasta or risotto seafood, which they don't but anyway, it's a great one" – Yevgen Sysoyev, Google Reviews
Had a great dinner with friends here
"Had a great dinner with friends here. The food was good and really brilliant service. The setting is quite spectacular, I have to say. Get there before sunset to fully enjoy the view." – Darren Hayward, Google Reviews
5. Lucky Fish Dubai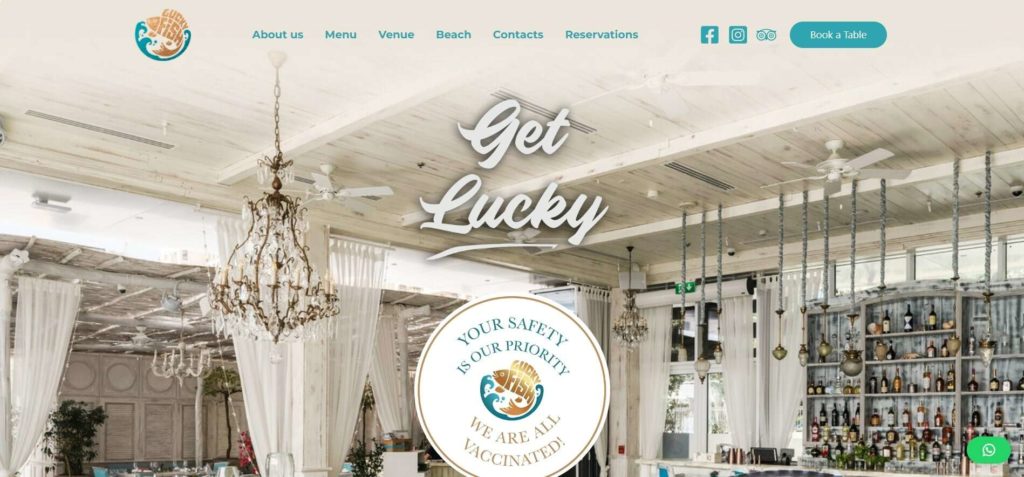 | | |
| --- | --- |
| WEBSITE | https://luckyfishdubai.com/ |
| ADDRESS | Palm Jumeirah - The Palm Jumeirah - Dubai - United Arab Emirates |
| CONTACT DETAILS | PHONE: +971 4 569 34 47 |
| OPERATING HOURS | Every day: 10 am - 3 am |
| | |
| --- | --- |
| Criteria | Rating |
| Menu | ★★★★★ (5/5) |
| Service Quality | ★★★★☆ (4/5) |
| Ambiance | ★★★★★ (5/5) |
| Credibility | ★★★★★ (5/5) |
Earning highly-acclaimed commendations from the Time Out Awards in 2022, Lucky Fish has built a thriving ecosystem consisting of the restaurant's team and fishermen to deliver consistently sensational seafood dishes.
The menu is taken right out of Mediterranean cookbooks, focusing on the flavors and richness of the ocean, while also highlighting Italian and Spanish flavors for that unique twist.
We also love that its menu adapts to seasonal catches because this means we can come to dine at different times of the year to get different dishes.
The fishermen that supply them also have an ice display where customers can buy freshly caught seafood and have the kitchen cook it for them.
However, its service definitely needs some improvement. During our time eating there, we'd overhear nearby tables complaining about mistakes in their orders, which can prove to be dangerous if we're talking about allergies.
Despite that, the staff remained professional and resolved these problems without collateral damage.
The ambiance, on the other hand, is undeniably posh but also with rustic hints. We love how elegant the atmosphere is without feeling restrictive.
It really manages to capture the sense of being on a beach without compromising on the sophistication of the decor.
Serves excellent Mediterranean seafood dishes
Professional service
Sophisticated yet cozy ambiance
Highly commended restaurant
Staff has the tendency to make mistakes with the orders
Reviews
Really enjoyed the vibe of the place
"I really enjoyed the vibe of the place. We took a cabana and had food and drinks. The restaurant has a very nice design. The food was nice for a beach bar. We had seafood salad a bit too much lemon, but fine. The avocado toast was perfect. And also had a burger with black buns, it was really good unfortunately it looked so good and was so good that a picture was not possible in time.. came with fried avocado. Altogether I recommend the place to try. They give you full free parking also." — Dubai Explorer, Google Reviews
Had an amazing dinner with my wife
"Had an amazing dinner date with my wife at the Lucky Fish. The staff was really cordial and helpful and provided top-notch service.
We ordered the famous chicken and the sea bass which was very delicious.
The shisha server Alexander was also very friendly and kept checking if everything was ok.
All in all amazing experience." —Farhan Riaz, Google Reviews
FAQs about Beach Restaurants in Dubai
---
We hope this helped you find your favorite beach restaurant in Dubai. Also, if you're looking for other cuisines to try out, then check out these articles: