The 5 Best Pediatricians in Dubai
Caring for a child is a tough job, whether you're a first-time parent or an experienced carer. Unfortunately, it does not come in a one-size-fits-all package, especially when it comes to health.
Thankfully, there are numerous pediatric clinics in Dubai to attend to your child's health. All you need to do is find one that's near your place and matches your child's unique needs.
We narrowed down the list to the best pediatricians in Dubai, naming their clinics and what they can offer.
How Much Does It Cost to See a Pediatrician in Dubai?
The total cost of your visit largely depends on your child's situation, whether it's just a consultation or requires an extended stay. Additional services such as tests or specialty care affect the charges you will incur from the visit.
However, there will be deductions in your overall fee for areas covered by health insurance, so bear that in mind.
In any case, here's a guide for the costs of common pediatric services in Dubai.
| | |
| --- | --- |
| Service/Procedure | Estimated Cost |
| General Consultation | 100 AED to 1000 AED |
| Nutrition Consultation | 500 AED |
| Vision and Hearing Screening | 750 AED |
The Top Pediatricians and Pediatrician Clinics in Dubai
To make your selection more manageable, we have curated some of the most competent and efficient pediatric clinics in Dubai that may suit the needs of your child.
Please note, however, that this list is in no particular order.
1.   Dr. Medhat Abu-Shaaban — MyPediaClinic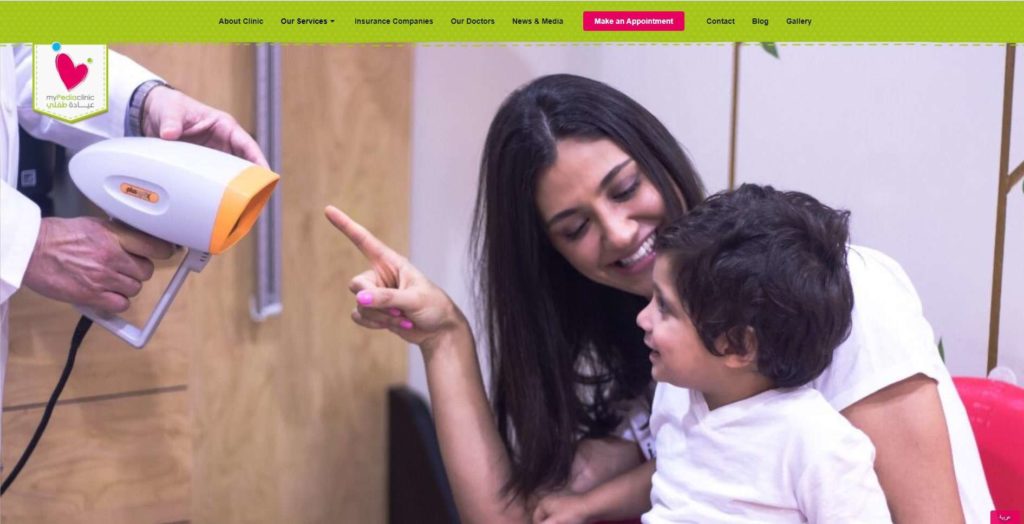 | | |
| --- | --- |
| SERVICES | General pediatric services, routine check-ups, vaccinations, allergy consultations, dermatological consultations, developmental consultations, tongue tie diagnosis, ENT consultations, vision screening, nutrition counseling, dental services |
| WEBSITE | https://mypediaclinic.com/ |
| ADDRESS | Dubai Healthcare City, Al Razi Building, No. 64, Block B, First Floor, Unit No. 1011 |
| CONTACT DETAILS | 04-4305926 or 05-59311752 (phone) ; +971 50 898 5198 (mobile) |
| OPERATING HOURS | Monday, 9 am to 2 pm; Tuesday to Thursday, 9 am to 6 pm; Saturday to Sunday, 9 am to 6 pm |
Dr. Medhat Abu-Shaaban is an award-winning pediatrician with over 30 years of experience in the field. He serves as the medical director of MyPediaClinic, a highly recognized medical facility for children in Dubai.
His passion for bringing children quality healthcare is evident. He employs a team of highly-trained medical professionals to attend to the general pediatric, dentistry, and nutrition concerns of children ages 3 to 16.
He also ensures that the clinic is equipped with advanced technological equipment to provide a holistic diagnosis of the child's condition.
MyPediaClinic uses inBody analyzer for obesity management, tympanometer to detect fluids in the ear, and a vision screener that can provide accurate vision measurements in just two seconds.
Aside from his work at the clinic, Dr. Medhat actively campaigns for a healthier generation. He highlights his advocacy on his numerous appearances in TV networks in the US and the Middle East, including in AlArabiya, MBC, and Fox News.
Offers online and phone consultations
Offers specialized consultations aside from general consultations
Does nutritional counseling for pregnant women
Does a constrained set of surgery procedures
Limited clinic hours
Customer Reviews
Hear about some patients' testaments on Dr. Medhat's services at MyPediaClinic:
I have finally found the one pediatric doctor/clinic. I feel comfortable and safe knowing that my babies are being cared for the way that they should be! Properly checked from their blond little heads down to their tiny toes. This is a lot coming from a hypochondriac, overly paranoid mother. Dr. Medhat does not cut ANY corners and his brand new clinic is state of the art. You will not feel rushed as he is there to answer every last question you have without making you feel like the hypochondriac/paranoid mother that you may or may not be! – Corrine
Dr. Medhat took the time to listen to my concerns and found the lip and tongue tie that had previously been diagnosed as reflux, overactive letdown, colic, and dairy intolerance. The procedure was quick and my son acted as if nothing had happened. The only thing he disliked was the numbing stuff before his stretches. Once we stopped that he was happy to participate in the lip and tongue stretches. I am so happy I didn't give up and found a doctor that would take the time to listen instead of rushing me out to see another patient. Worth the hour drive every visit. – Jen McMillon
2.   Dr. Talal Farha — Somerset Clinic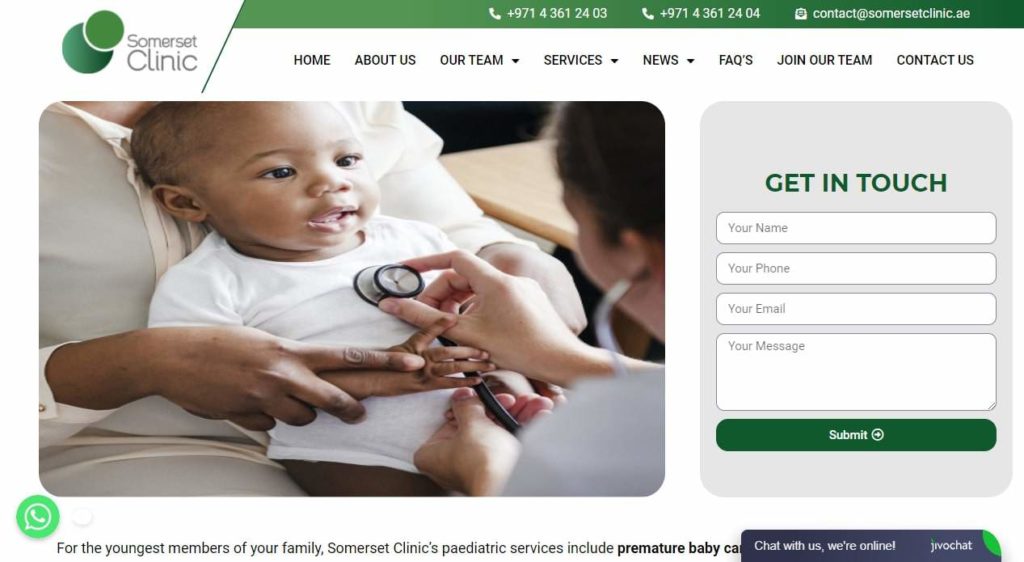 SERVICES
General pediatric services, routine check-ups, premature baby care, neonatal care, vaccinations, developmental assessment, cardiology, endocrinology, respiratory, dental services
WEBSITE
https://www.somersetclinic.ae/paediatric-clinic-dubai/
ADDRESS
G7, Building 47, Ground Floor, Dubai Healthcare City Dubai UAE
CONTACT DETAILS
+971 4 361 24 03 or +971 4 361 24 04 (phone),

[email protected]

OPERATING HOURS
Saturday to Thursday, 8 am to 8 pm
Somerset Clinic is known for bringing special care for children's cardiac concerns. After all, its founder is Dr. Talal Farha, an esteemed doctor specializing in pediatric cardiology.
The clinic is equipped to perform advanced cardiac assessments and management sessions, including echocardiography and electrocardiogram.
With Dr. Farha leading Somerset Clinic's team of physicians, parents can have the reassurance that their child is well-looked-after.
The clinic handles general pediatric cases such as coughs and colds plus more complex conditions like asthma, cystic fibrosis, cerebral palsy, epilepsy, among others. It also offers ancillary services like vaccinations and in-depth health assessments.
You don't have to leave home to give your child proper medical attention. Somerset Clinic hosts teleconsultations and makes home visits for your pediatric concerns.
For in-person routine checkups, you must book at least a week before your desired date. Thankfully, the clinic has a 2-hour window for walk-in patients, while emergency cases are accepted daily.
An advantage of Somerset Clinic is its healthcare network. It is affiliated with Mediclinic City Hospital and Sulaiman Al Habib Hospital, both located in Dubai Healthcare City.
It makes referrals for emergency cases and inpatients of the clinic a more straightforward process.
Offers online consultations
Provides home services
Allows in-person appointments with set protocols
Has links to hospitals for emergency concerns and hospital care
Has a limited list of direct billing with health insurance companies
Customer Reviews
Somerset Clinic has undoubtedly made a mark in some of their patient's minds with how sympathetic they are:
The best clinic in town. My princess simply loves the place, the cheerful staff and the most amazing doctor Talal Farha. The doctor lets the baby feel free and enjoy her time while in the clinic. Doctor listens to all your concerns (first child concerns :)) and helps you grow as better parents. -S. Son
We live in Dubai and had our first baby about 5 months ago in one of the hospitals in Dubai. We saw a few different pediatricians recommended by the hospital – they were nice people but we just werent comfortable. We did some research and ended up making an appointment with Dr. Talal at Somerset. Honestly, I dont have a single negative thing to say about him and everyone who works at the clinic. Hes very knowledgeable, ethical, positive, and really knows what hes doing! Thank you Dr. Talal for everything… we truly consider you part of our family! – Mahmoud
3.   Dr. Syed Mohammed Anees — Medcare Hospital and Medical Center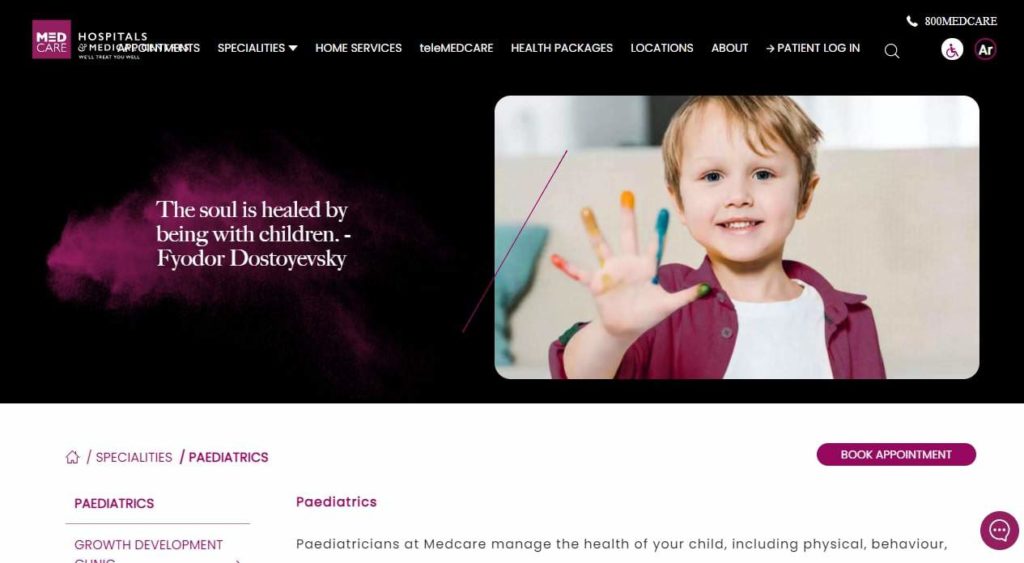 SERVICES
General pediatric services, immunization, and vaccines, lab testings, surgery, type 1 diabetes treatment
WEBSITE
https://www.medcare.ae/en/services/view/paediatrics.html
ADDRESS
Al Safa Matloob Building 6, Ground Floor, Al Safa, Street – 22A Sheikh Zayed Road – Dubai
CONTACT DETAILS
Phone numbers: 800 6332273
Email:

[email protected]

OPERATING HOURS
Saturday to Thursday, 9 am to 9 pm
Specializing in pediatrics and neonatology, Dr. Syed Mohammed Anees is one of the most highly qualified doctors in MedCare. With nearly three decades of experience, he is a revered expert in general pediatric diseases and the care of newborns and preterm babies.
Dr. Syed has co-authored immunization guidelines for the Dubai Health Authority during his stint at the Dubai Hospital. He also teaches undergraduate students at the Dubai Medical College.
At MedCare, he is the go-to doctor for annual pediatric check-ups, growth monitoring and assessment, as well as infant and child nutrition.
It is worth mentioning that Medcare holds a spot on our list because of its extensive range of services. Aside from general pediatrics, the clinic has consultations for Type 1 Diabetes treatments, administers immunizations and vaccines, and conducts necessary surgical procedures.
It also offers home services for lab testing, shots, nurse assistance, doctor's visit, and physiotherapy. There is also an option for you to pre-book a specialist for a virtual consultation.
Teleconsultations are also available for a contact-free, virtual appointment. Its teleMEDCARE option allows you to connect with a doctor right on the spot.
Has teleconsultation (live and pre-book) options
Does various home services
Available for emergencies and surgical procedures
Health insurance approval may differ per MedCare branch
Customers reviews
Some of the patients of Dr. Syed have sung praises about him and MedCare's service:
Highly recommended Pediatric Clinic! All the Nurses and Doctors are very friendly and warm to the kids. I brought my child this morning to the clinic and I appreciate how professional they are from the Reception until seeing the Doctor and until blood extraction. They 100% know how to deal with kids. Best and friendliest clinic I could ever imagine! – Aiessah M.
I highly recommend Dr. Syed Anees. His patience and support in the life of both my kids are remarkable. Especially when comes to my daughter who is asthmatic. He clearly educated us repeatedly how to treat my child at each stage of wheezing. My kids also love him a lot. – Christy S.
4.   Dr. Mohammed Zaheeruddin — Saudi German Hospital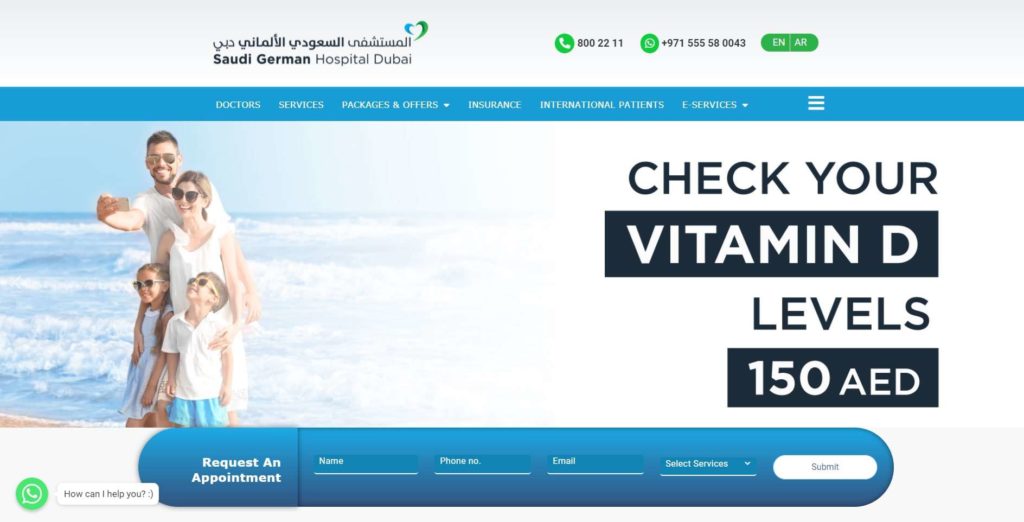 SERVICES
Dental, neurology, nephrology, orthopedic, cardiology, allergist, pulmonology
WEBSITE
https://sghdubai.ae/
ADDRESS
Al-Barsha 3, Hassa Street 391093 Dubai, United Arab Emirates
CONTACT DETAILS
+971 555 58 0043 (WhatsApp), 800 22 11 (phone),

[email protected]

OPERATING HOURS
Open 24 hours
With over 15 years of experience working in various hospitals in Dubai as a pediatric and neonatology specialist, Dr. Mohammed Zaheeruddin has become a fixture in the city's pediatric scene.
Dr. Mohammed focuses on pediatric allergies, childhood asthma, and growth and development disorders. He devotes his time to plotting growth charts, making investigations, and formulating treatment plans to help children get better.
He joins other specialists at the Saudi German Hospital's pediatrics department, where he provides comprehensive diagnosis, evaluation, and care for newborns and children.
Since it is a full-service hospital, the pediatrics department is equipped with facilities and tools to conduct various surgical procedures, including appendectomy, gallbladder surgery, and thyroid surgery. It also houses one of the biggest private pediatric intensive care units (PICU) in Dubai.
It is worth noting that Saudi German Hospital's pediatric department also provides services that pediatric clinics do not usually cover. This includes handling cases of eating disorders and offering educational activities for parents of children with chronic diseases.
Has pediatric surgery facilities and a pediatric intensive care unit
The ward is served by doctors and nurses 24 hours a day
Accepts many insurance providers
Hospital communication channels are often busy
Customer Reviews
The commitment of Dr. Mohammed and Saudi German Hospital's pediatrics team has allowed their patients to appreciate all the hard work they do:
By far the best Pediatrician I have come across, my daughter had HFM disease which two other doctors could not diagnose, it took Dr Zaheer less than 5 minutes to figure out. Also, he accommodates walk-in patients by working extra hours and is always reachable. – daanishmurtaza
I had a wonderful experience under the care of Dr Mohammad Zaheeruddin. He was absolutely amazing taking care of my baby daughter when she was extremely sick, going above and beyond what would be expected of him and visiting her regularly to check on her and see her progress, throughout her hospital stay, including when he wasnt officially working. – natalielmguy1983
5.   Dr. Vivek Mundada — Hope Abilitation Medical Center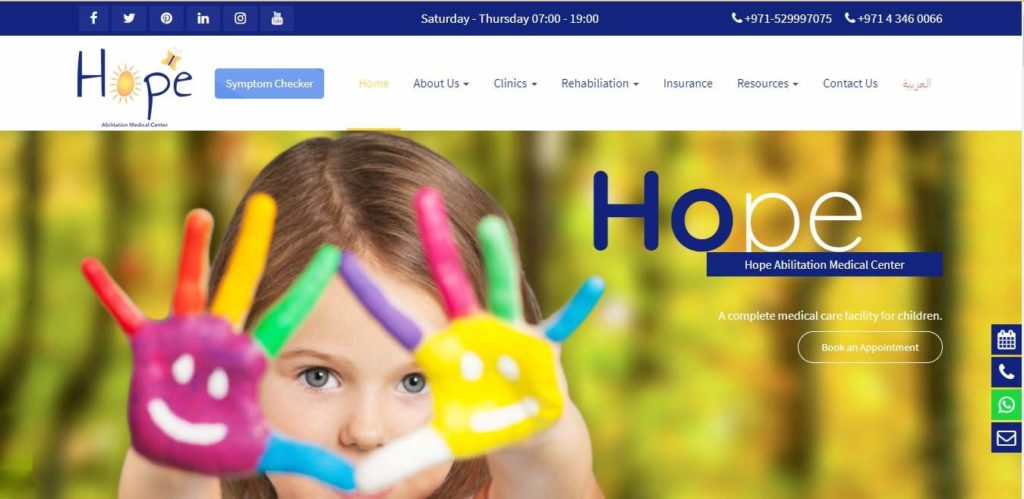 SERVICES
General pediatric services, gastroenterology, orthopedics, clinical genetics, osteopathy, pediatric rehabilitation, physiotherapy, neurological rehabilitation, orthotics and prosthetics
WEBSITE
https://www.hope-amc.com/about-us/
ADDRESS
Jumeirah Road Billqetair St, Kharbash Compound – Villa 3, Umm Suqeim 1, P.O. Box: 77025, Dubai United Arab Emirates
CONTACT DETAILS
Phone numbers: +971-529997075 or +971 4 346 0066
Email:

[email protected]

OPERATING HOURS
7:00 A.M. to 7:00 P.M. on Saturday to Thursday; Closed on Fridays
Dr. Vivek Mundada serves as a consultant pediatric neurologist at Hope Abilitation Medical Center. He provides consultation and services that extend beyond the scope of general pediatric sessions.
His area of interest is in childhood headaches, pediatric movement disorders, and pediatric complex epilepsy. Dr. Vivek is recognized in his field and was even invited to the House of Lords in 2017 to launch the London Project by the Child Brain Injury Trust.
He joins Hope AMC's roster of specialists that screen children with special needs to determine the appropriate treatments and therapy that best suit their condition and personality.
Hope AMC uses different rehabilitation approaches such as intensive therapy, NDT, CME, and spider cage to match the varying needs, demands, and responses of children under their care.
The medical center offers teleconsultations for therapy and overall health, enabling patients to participate and be diagnosed in real-time. Family members can also join the sessions and activities and are also oriented by the specialists.
Currently, Hope AMC only accepts Almadallah as their health insurance partner. This may put a strain on families that are enrolled in a different health insurance provider.
Brings general health care and specialized pediatric care into one place
Explores well-researched models for their rehabilitation approaches
Offers teleconsultations
Accepts only one health insurance provider
Customer reviews
Look at some of the things that parents of Dr. Vivek's patients have said him:
He heard us out patiently. Explained the diagnosis and also how he concluded to it. Visited him twice, on both occasions, child wasn't put on any extreme medication or investigations. We need more doctors like him. – Thomas
Dr. Vivek Mundada is experienced expert in his field of paediatric neurological matters. He listens to the patients, understand the problem and then form his opinion. Very soft speaking, friendly. He builds confidence in the patients. – Ramprasan Rathi
Factors That May Affect Your Choice of Pediatric Clinics
Pediatric clinics can't give you the same set of services. Some operate under a specific objective of provision, while others have several specialties under their system.
Here are some of the factors you might consider before finalizing your decision.
Specialization
Some clinics give general pediatric consultations. This means their focus is on assessing the child's general health and diagnosing conditions and illnesses that may come up during specific tests.
This is probably the most basic and common kind of pediatric practice, but probably not the best option if your child's condition requires further assessment, such as in the case of an existing long-term illness.
Some clinics are more into specialized areas of practice. Doctors here can provide an in-depth diagnosis and treatment to address specific concerns. However, this also means that specialists cannot give you advice and proper treatment for health concerns outside of their forte.
Availability of Equipment or Facilities
With the previous factor, not all clinics contain an emergency room or an operating room. Those are things that you can find in a medical center or a hospital most of the time.
However, every once in a while, you may encounter clinics that do handle small-scale surgical procedures. Consequently, not all clinics have the same equipment with them.
Therefore, if you are looking towards using a certain kind of equipment to address a specific health concern of your child, you may look further in the clinic's sites or contact them to ask.
Pricing or Health Insurance Partners
As with all things, acceptance of health insurance among clinics is not uniform.
For example, there may be clinics that would assist you if your health insurance is not listed on their catalog of partners.
At the same time, there may be clinics that would instead refer or direct you to another clinic where you can use your health insurance.
As for the pricing, the experience and recognition that a particular doctor may have acquired over their years of practice might significantly affect the price of every session.
In addition, the required number of sessions and other services like diagnostic tests will affect the total fee.
Location
Distance from your home to the clinic or medical facility plays a huge role in finalizing your decision.
Consider your travel expenses and mode of transportation when making your visits. You may also want to factor in your child's general wellbeing—whether or not your child is fit for travel—and other travel-related costs.
FAQs about Pediatric Clinics