The 5 Best Furnished Apartments in Dubai
Featured Image Source: Deborah Cortelazzi via Unsplash
In comparison to buying a house or apartment, renting a furnished apartment is cost-saving for many people. It's also a great way to avoid the hassle of decorating and shopping for furniture and appliances.
If you're on the hunt for a furnished apartment in Dubai, we've rounded up the best listings of furnished apartments in Dubai for you!
But before we get to our list, let's talk about how much it costs to rent a furnished apartment in Dubai.
The Cost of Renting Furnished Apartments in Dubai
In the UAE, Dubai is considered as the most expensive city when it comes to the cost of rent. The cost of rent for a furnished apartment depends on factors like its location, developer, size, amenities, and the duration of your stay.
When it comes to location, areas like International City, Dubai Silicon Oasis, and Dubai Production City have the lowest rental rates.
On the other hand, Downtown, the Dubai Marina, and Business Bay are among the most expensive areas to live in.
Here is a guide for the average cost of furnished apartments in Dubai according to their size.
| | |
| --- | --- |
| Size of Apartment | Average Cost Per Year |
| Studio | AED 40,000 to AED 60,000 |
| 1-Bedroom Apartment | AED 60,000 to AED 110,000 |
| 2-Bedroom Apartment | AED 80,000 to AED 150,000 |
| 3-Bedroom Apartment | AED 110,000 to AED 200,000 |
The Best Furnished Apartments in Dubai
Now that you know more about the cost of rent in Dubai, let's jump to our picks of the best furnished apartments in Dubai!
1.   Sama Apartment III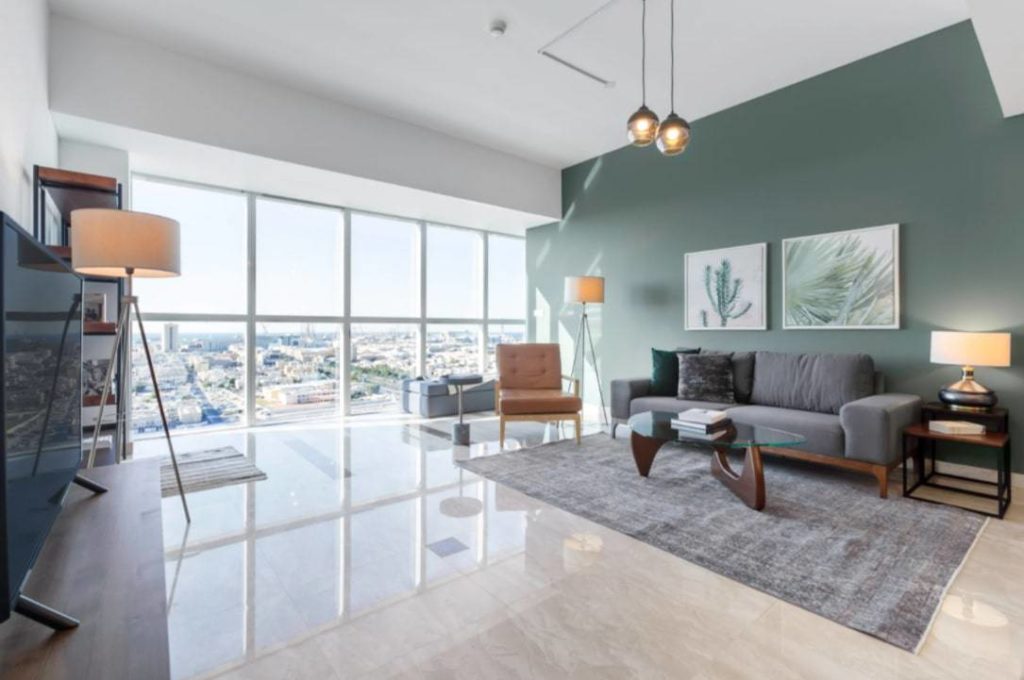 Located along Sheikh Zayed Road, the busiest highway in Dubai, Sama Apartment III is the perfect furnished apartment for working professionals who prefer to live close to work. It's also in close proximity to famous Dubai landmarks like the Dubai World Trade Centre, Dubai Mall, and Burj Khalifa.
The apartment comes fully furnished with 2 bathrooms, a living room with a widescreen smart TV and Marshall wireless speaker, a fully-equipped kitchen with a large counter table, a 4-seater dining area, and WiFi.
Sleek and modern, the apartment is designed with neutral colours and furniture. With its high ceiling, big windows, and multiple lighting fixtures, the space is bright and refreshing.
For a 1-bedroom apartment, we're in awe of how spacious the apartment is! Even with the king-sized bed, chest drawer, and work desk in the bedroom, there's still ample space to move around.
Our favourite feature is the stunning view you get from the apartment. From the 18th floor, you get a good visual of the city and sea!
The apartment building also features a complete set of amenities for leisure too! These include a rooftop swimming pool, indoor swimming pool, gym, sauna, table tennis and billiards area, and racquetball court.
Complete amenities
Pet-friendly
Many nearby restaurants and shops
Offers in-apartment laundry
2.   RP Heights Apartment V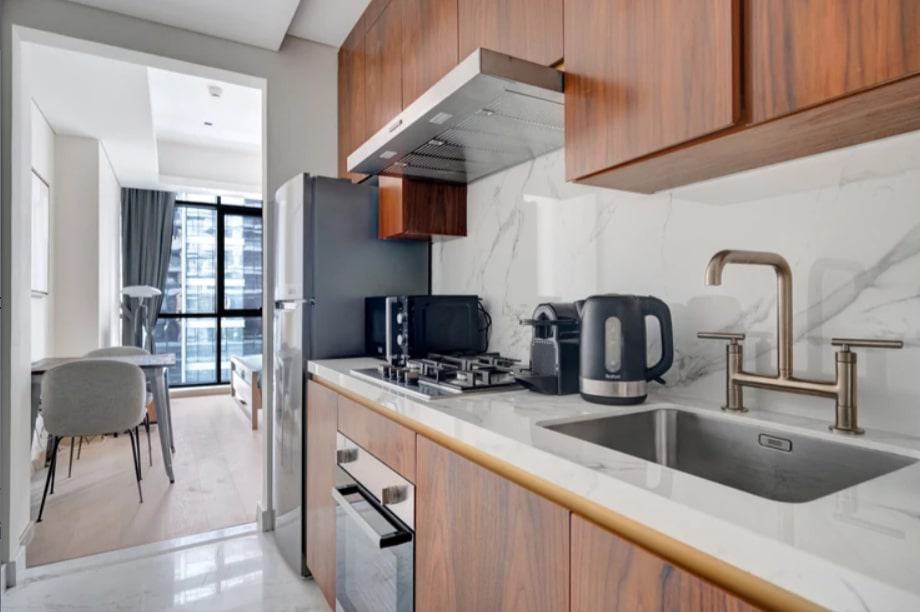 Found in the heart of Downtown, RP Heights Apartment V is perfect for young and independent professionals working in the city. Other than being close to the business district, you'll also find famous attractions like the Souk Al Bahar and the popular restaurant strip, Sheikh Mohammad bin Rashid Boulevard nearby.
The apartment comes with 1 bathroom, a small kitchen, a 2-seater dining table, a laundry area, flat-screen television, a queen-sized bed, and WiFi. We especially like the chic white marble bathroom and the rattan accent chair by the bed.
While only 390 square feet, the apartment is just enough if you're living solo. If you've just moved to Dubai, this is also a great choice for a starting apartment.
However, we wouldn't recommend this if you plan on sharing the studio with other people or have multiple boxes and luggage with you. The studio isn't that spacious to begin with, so adding a lot more would definitely make it feel cramped and uncomfortable.
Although the view isn't as stunning from the studio as it is located on the 6th floor, the apartment building features an outdoor pool with a stunning city view and lounge area.
Swimming pool and gym
Lower rate compared to other studios in the area
Pet-friendly
Small space
No playground/kids area
Lower floor
3.   The Address Residence Fountain Views Luxury Apartment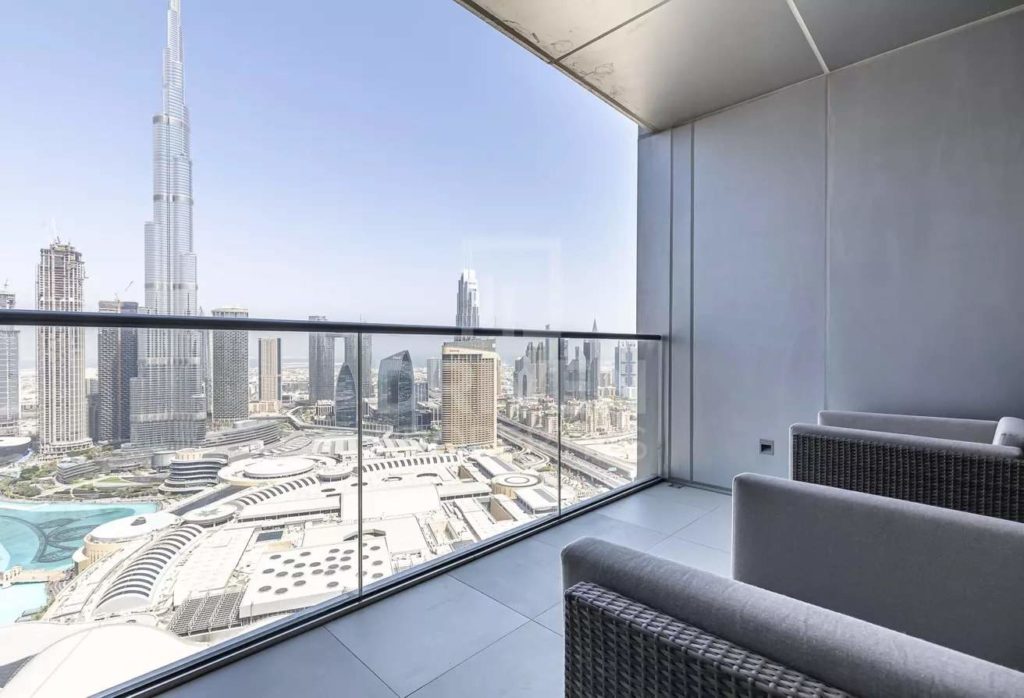 Also located in Downtown Dubai, The Address Apartment is an upscale 2-bedroom oasis in the heart of the city.
Perfect for a couple or sharing with a friend, the apartment comes with 3 bathrooms with tubs, a spacious living room, a fully-fitted kitchen, built-in wardrobes, a 6-seater dining area, and a terrace.
More expensive in comparison to most furnished apartments, the apartment is the epitome of luxury living. The apartment's modern and elegant interiors, designer furniture, and carpeted bedroom floors will make you feel like you're living in a hotel.
Easily one of our favourite parts of the apartment is the terrace. With long and comfy lounge chairs outside, you can feast on the breathtaking view of the Burj Khalifa and the Dubai Fountain with family and friends.
We also liked the apartment's all-white kitchen. It's sophisticated, has ample space, and has an impressive set of state-of-the-art appliances.
Best city view
Swimming pool and gym
Many nearby establishments
Higher rent in comparison to other same-size furnished apartments
10% security deposit
No WiFi included
4.   Muraba Residences Apartment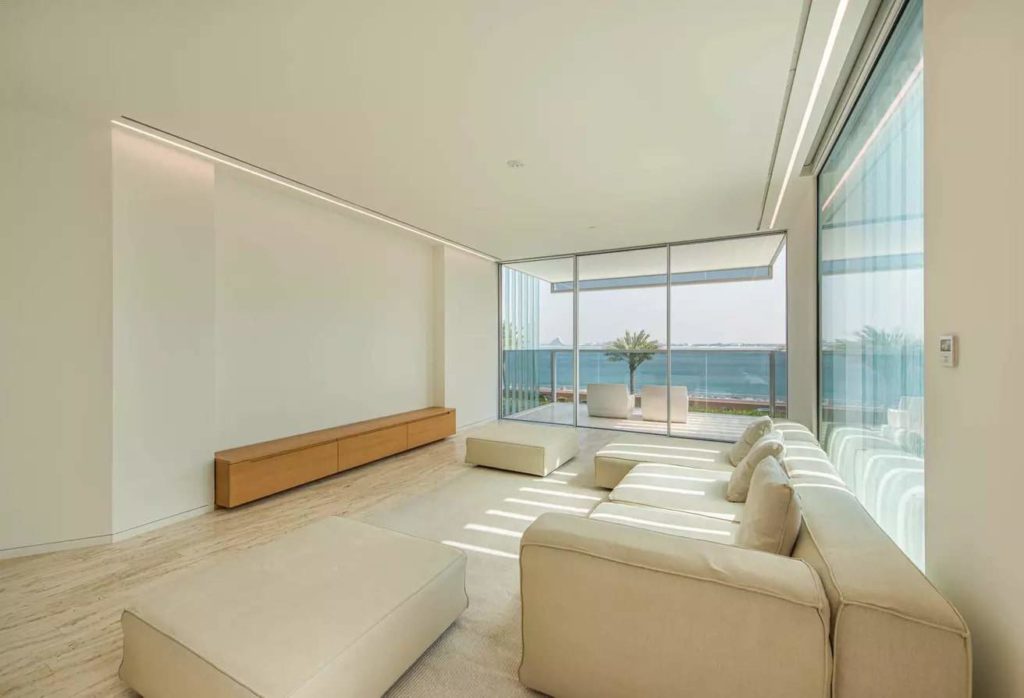 If you've been dreaming of beachfront living but just can't leave the city, this is the next best thing. Located in Palm Jumeirah, this 3-bedroom Muraba Residences Apartment lets you wake up to the view of the sea and palm trees.
Ideal for a family home, the apartment comes with 3 bathrooms, a maid's room, a 6-seater dining set, a kitchen, a balcony, built-in wardrobes, WiFi, and centralized air conditioning.
Mostly in white and muted shades, the apartment is reminiscent of stylish and minimalist 80s interiors. Though a bit lacking in decor, this also gives you an opportunity to turn the space into your own if you decide to rent it out.
We particularly like how the floor-to-ceiling glass windows let in an ample amount of natural light and give you a gorgeous vista of the sea without compromising privacy.
The apartment building also has the best set of amenities and services among the apartments on our list! These include a gym, jacuzzi, sauna and steam room, infinity pool, and a therapeutic vitality pool.
Best sea view
Complete amenities
Pet-friendly
In-house cleaning and laundry services
Lacks decor
Higher rent in comparison to other same-size furnished apartments
5.   The Jewels Apartment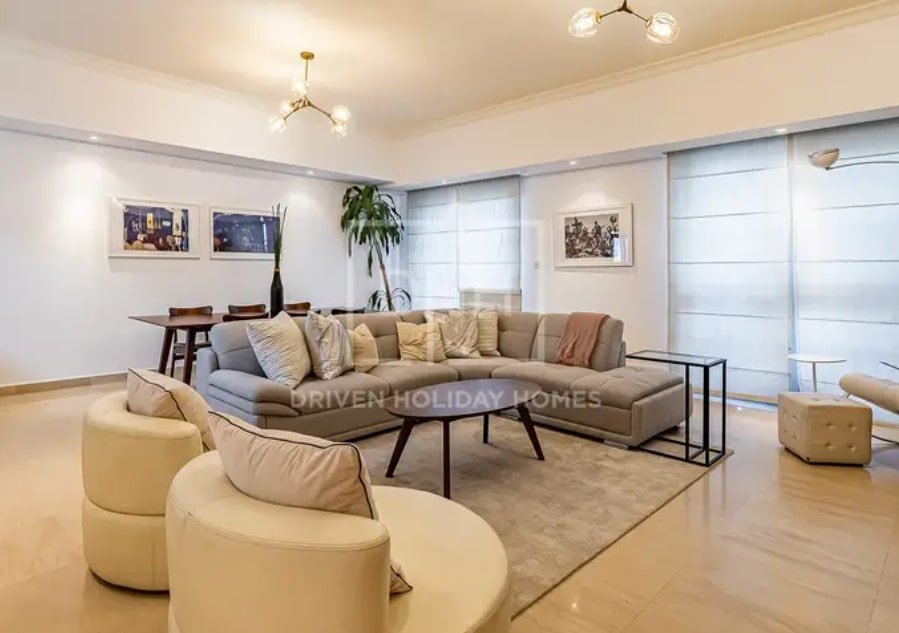 A stone's throw away from the Dubai Marina, the Jewels Apartment is a cosy 2-bedroom apartment fit for a prolonged staycation. Located within an upscale residential neighbourhood and a popular ex-pat area, nearby places of interest include The Beach at JBR and the Dubai Mall.
With 2 bedrooms—one having a king-sized bed and the other having two double beds—the apartment is enough for a small family or a group of friends to share.
The apartment also comes with 4 bathrooms with his and her sinks and toilets, a living room, a 6-seater dining set, a fully-equipped kitchen, and a balcony accessible through both bedrooms.
While some people might be happy with 4 bathrooms, we personally think one of these could have been made into an additional room or maid's quarter instead.
Despite the lack of cohesiveness in the interior design, the apartment is warm and homey. The owners have even decorated it with an Elvis Presley art piece!
If you choose to rent out the apartment, you'll have access to the building's fitness centre, outdoor pool, and kids nursery.
Partial view of the Marina
Pool and fitness centre
Near several retail shops
Easy access to taxis, buses, and tram station
Less amenities compared to others on the list
Tips on Choosing a Furnished Apartment in Dubai
Consider the location.
The location is one of the most important things you'll need to consider because it's pointless to live somewhere if you'll have a long drive or commute to work or school. Think of the places you visit on a regular basis and see if they're easily accessible to your potential apartment.
Survey the safety of the neighbourhood as well. Check on the crime rates, if there are security cameras installed everywhere, and if the building has round the clock security.
Try to negotiate the rent.
If you've decided on a budget but the apartment you want is priced beyond that, see if there's room for negotiating the price. Maybe it would be cheaper if it was semi-furnished instead or if you forego the use of some amenities.
Thoroughly check the paperwork.
Make sure you're dealing with the actual owner or an authorized representative. If you can, ask a lawyer to meet with them and go over the lease contract with you before you sign it.
There have been cases where tenants have been evicted just because they dealt with a person who wasn't authorized to rent out the place or they failed to read the fine print.
FAQs on Furnished Apartments in Dubai
---
Find a furnished apartment that will make you feel right at home! We hope our list helped you in your search for the best furnished apartments in Dubai!
Want to recommend other furnished apartment listings in Dubai? Let us know by sending us a message so we can review it ourselves!
If you're looking to rent out an apartment for a short-term stay, a serviced apartment might also be a good option! Check out our list of the best serviced apartments in Dubai!