The 5 Best Dryer Repair Services in Dubai
Featured Image Source: Oli Woodman via Unsplash
Dryers make all the difference when it comes to doing laundry, especially if you're always on-the-go. But eventually, our trusty dryers inevitably turn into fixer-uppers after years of use.
If your dryer at home is in need of repair and maintenance, we can help you out! We've rounded up the best dryer repair services in Dubai!
But before we get to our list, let's talk about the cost of dryer repair services here so you know what to expect.
The Cost of Dryer Repair Services in Dubai
Just like many other repair services, dryer repair services vary in rates and are based on quotations. This is because some dryers may need a bit more fixing than others.
A simple repair job, just like when your dryer merely has a few loose screws without need for replacing certain parts, will cost around AED 100 to AED 200 per hour or per unit.
If there are any parts or accessories that need replacing, then expect to shell out more on top of the base rate per hour or per unit. The rate will depend on the cost of the parts and how complex your dryer's issues are.
Here's a table of some of the common dryer problems and the estimated cost of having them replaced:
| | |
| --- | --- |
| Dryer Problem | Estimated Replacement Cost |
| Dryer belt | AED 75 |
| Heating element | AED 110 to 700 |
| Dryer motor | AED 200 to 600 |
| Thermal fuse | AED 30 to 45 |
| Thermostat | AED 20 to 75 |
| Bearing | AED 180 to 200 |
| Roller | AED 40 to 120 |
| Timer | AED 180 to 260 |
If you're having multiple appliances fixed, repair service providers sometimes offer package deals too. Be sure to watch out for those so you can save a little on cost!
The Best Dryer Repair Services in Dubai
Now that you know more about the cost of dryer repair services in Dubai, you're ready to pick out a service provider that can get the job done. Here are our picks for it!
1.   Appliance Repair Dubai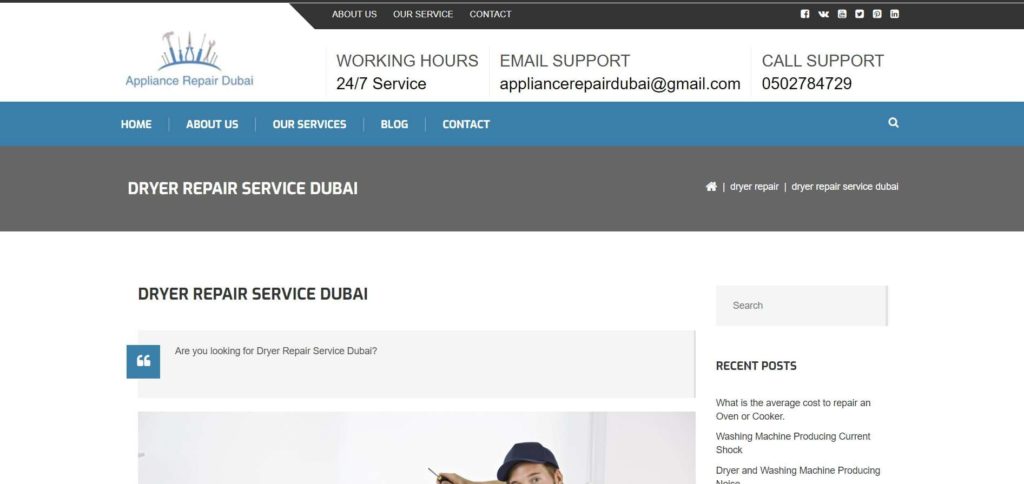 Having been in business for 15 years, Appliance Repair has become one of Dubai's most popular repair service providers. While they can repair almost any kind of appliance, from dishwashers to refrigerators, tumble dryers are one of their specialties.
If you're worried that your dryer might be too old or has parts that are hard to find, Appliance Repair promises solutions for almost any kind of dryer, regardless of the make, model, and brand. Some of the common problems they've encountered in the past include defective motors, broken heating elements, and electrical issues.
From our survey, customers appreciate how Appliance Repair's technicians try their best to fix dryers without having to replace any parts. When purchasing new parts is really a must, they source the parts for you directly from the manufacturer.
To avoid any surprise charges, Appliance Repair also lets you know exactly how much you're going to spend first before starting any work on your dryer. There's also no need to bring your dryer elsewhere because the whole service is done at your place—definitely no hassle and less time consuming!
Free estimate
All repairs come with 1-month warranty
No extra charge for weekend service
Claims 24/7 service but they're only available 6 days a week
No published rates
No website chat support
Customer Reviews
Previous customers think Appliance Repair's services are great and come at a reasonable price.
A customer said: "Thanks for the quick response and good services with a low price. The technician is skilled and very polite. He's been my technician for 2 years and still counting."
Another customer said: "Excellent and guaranteed service. If anyone has some technical fault in any type of appliances, these are your guys. Fully trustworthy and professional team."
2.   RBD Repair Services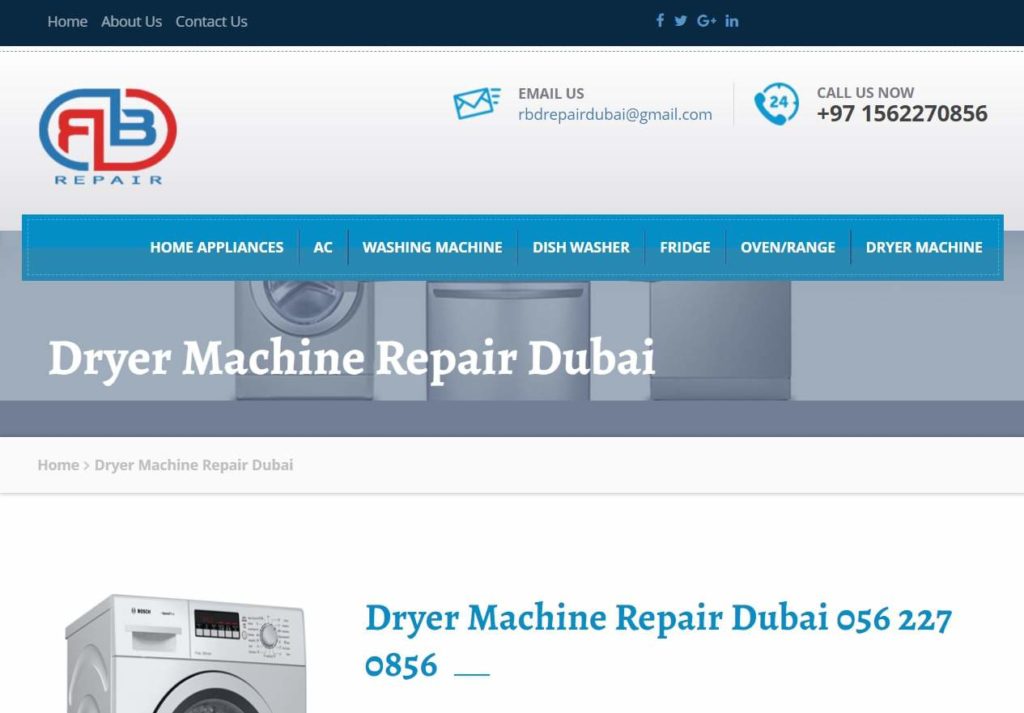 Like Appliance Repair, RBD Repair also has over 15 years of experience and is best known for the work that they do on electronic, electrical, and IT products. On top of dryers, they offer a variety of repair services for appliances like refrigerators, washing machines, dishwashers, and air conditioning.
While other service providers stick to home service repairs, RBD Repair also gives you the option of free pick-up and delivery of your dryer. This is perfect for those who want to avoid the noise and clutter that often comes with repairs done at home.
Promising 24/7 service and support, many customers can attest to.RBD Repair's responsiveness and punctuality. Even on weekends and holidays, RBD Repair answers customer queries and sends technicians on standby for emergency repair needs.
Another thing that's great about RBD Repair is that they cater to just about every part of Dubai! Their service areas include the Dubai Marina, Palm Jumeirah, Burj Al Arab, Dubai Knowledge Park, Umm Al Suqeim, Umm Al Sheif, and everywhere in between.
However, while the majority of reviews have shown that their customers are satisfied with their dryer repair services, there are also a few that complain about overcharging. To be safe, ask for a final quotation or invoice in case you're thinking of hiring them!
All repairs come with 90-day warranty
Option for free pick-up and delivery
24/7 service and support
No published rates
No website chat support
Customer Reviews
Most of their customers commend RBD Repair for their professionalism and the quality of their work.
One customer said: "Very good and quick service all around."
Another customer, Mujaid Awan, said: "These guys are very professional. Very good service. Good work and reasonable charges. They even sent me the invoice via email, which is rare in cases of repair. I really recommend them."
3.   Repair Care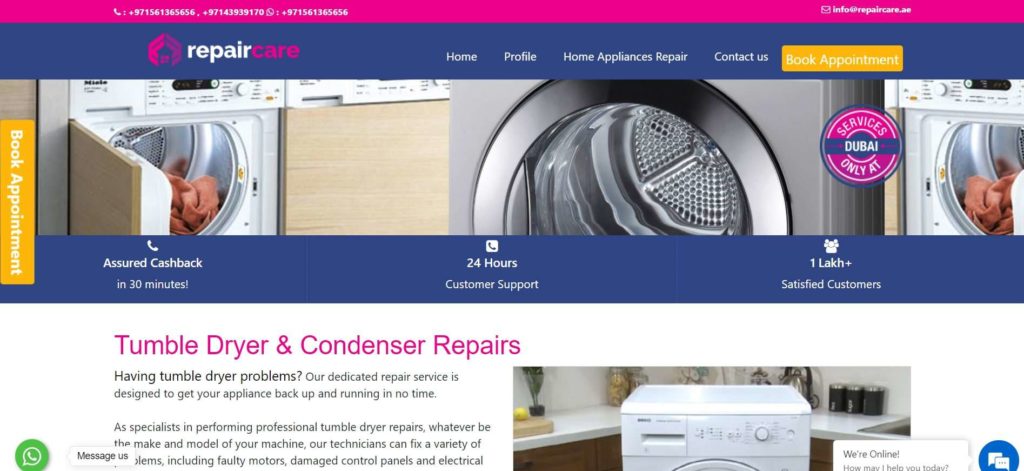 If you're in dire need of repair services and home cleaning, Repair Care is one of the very few service providers in Dubai that provide both. While an engineer is working on your dryer, the agency can also send a team of professional cleaners to your home.
If you're having trouble with the dryer's control panels or if it suddenly won't switch on, Repair Care guarantees they can have it up and running as soon as possible. Proving their efficiency, past customers claim that as soon as they contact the company, a technician already starts diagnosing their dryer's problem.
In case some parts need replacing, Repair Care also sources them for you directly from the manufacturers. They handle all the major brands of dryers, including Panasonic, Samsung, Fisher and Paykel, LG, Whirlpool, and Maytag.
While most dryer repair services provide a guarantee period of up to a month, Repair Care gives you a long 3-month guarantee! That's a pretty huge deal since your dryer's old problems may recur even when it's been months since you had it repaired.
Unfortunately, Repair Care doesn't offer 24/7 service like the other repair services on our list. But unless you need your dryer fixed urgently, this shouldn't hinder you from hiring them if you're convinced they're a good fit!
3-month guarantee for all repairs
24/7 live website chat support
Same-day repair service available
Customer Reviews
Repair Care's past customers have left them good feedback.
One customer said: "Quick service and very reasonable prices. Highly recommended."
When asked about the engineer sent to her home, Rosemarie, a previous customer, said: "He was so knowledgeable, honest, reliable, and friendly. I have already recommended him to my friends."
4.   Just Care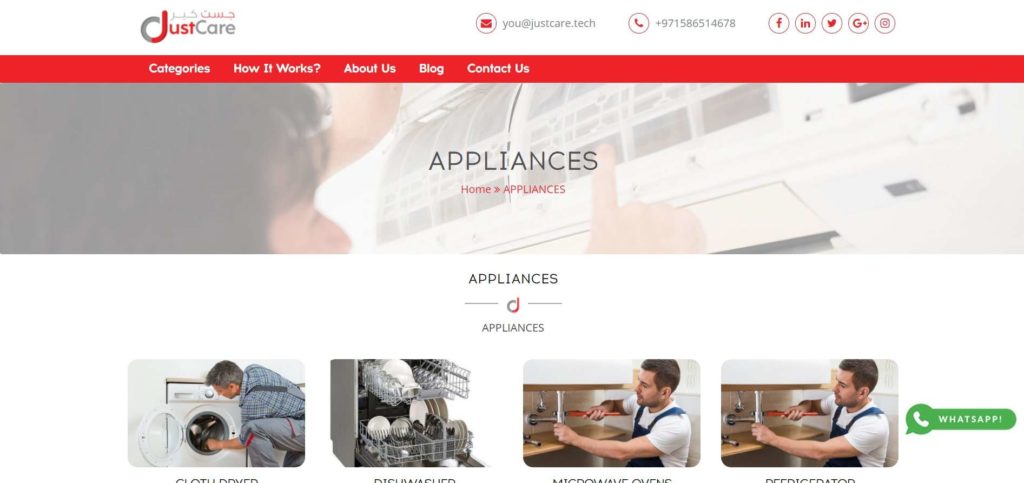 With offices in Dubai, Abu Dhabi, and Sharjah, Just Care is one of the UAE's go-to service providers for any kind of repair, maintenance, and installation work. In addition to dryers, some of the appliances they work on are washing machines, microwave ovens, refrigerators, water heaters, and dishwashers.
Committed to customer satisfaction, Just Care strives to provide speedy and cost-effective services. Previous customers keep returning to Just Care for their repair needs because of their high quality services at affordable budget rates.
Booking their dryer repair services is no hassle either! Instead of calling, you can book through their website by sending them your details and waiting for their email confirmation.
As the base price, Just Care charges AED 120 per unit, which excludes the price of the parts and accessories you might need. If you're scheduling a separate home visit prior to having your dryer repaired, an additional AED 50 will be charged as an inspection fee.
However, despite their numerous 5-star reviews, a huge downside is that they do not provide any warranty for their services. This is something you'll want to take note of if you're considering hiring them as the last thing you'll want is to spend on the same dryer problem again.
24/7 helpline
Service areas go beyond Dubai
Fixed base price
Charges an inspection fee
No warranty
Customer Reviews
Just Care has received stellar reviews from many satisfied clients.
Former customer, Shariq Mahmood, said: "Great professional service. Very reasonably priced. They helped fit in an additional service not originally quoted for a marginal fee. I would recommend them to anybody."
Another customer, Sahand Salehi, commented: "They came on time, did their job quickly without wasting time, and left as soon as they made sure I was satisfied. They had no complaints about me changing my decision multiple times."
5.   Sama Technical Services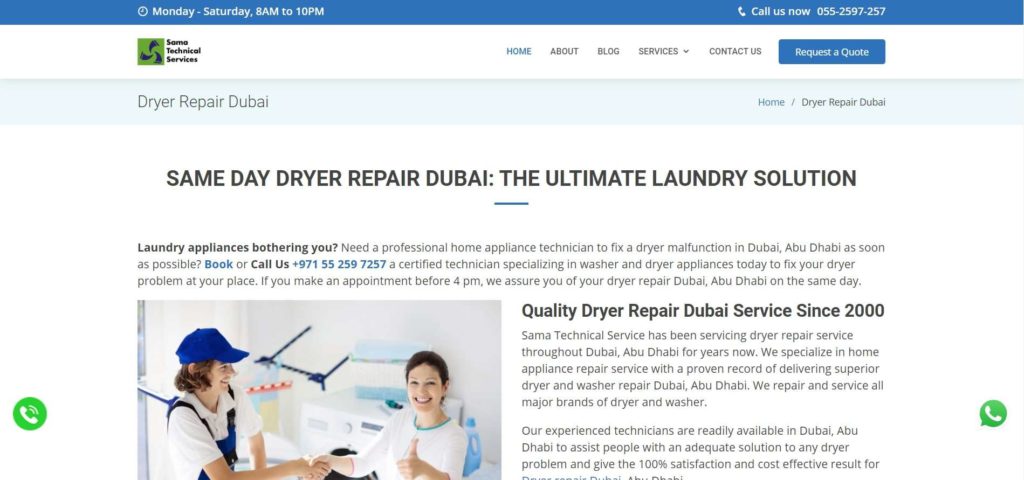 For more than 10 years, Sama Technical Services has been in the business of repairing and installing appliances all over Dubai and Abu Dhabi. Although their list of services may not be as extensive as other service providers, Sama continues to enjoy customer patronage because of the quality of their service.
Proving their skills and expertise, Sama's technicians are all capable of repairing three kinds of modern dryers—vent dryer, gas dryer, and condenser dryer. Some of the major brands of dryers they can work with are LG, Bosch, Samsung, Siemens, Haier, and Ariston.
Because your dryer's problems are likely caused by a part that's malfunctioning, Sama has stocks of genuine spare parts for replacements. In case they don't have what you need, they can also source them for you, though this would come with an additional fee.
While Sama doesn't publish information on their warranty periods, their repair packages come with insurance. Any added damage or aggravation to your dryer's existing problems caused by the technician will be covered.
Same-day dryer repair service
24/7 service
Repair services covered by insurance
Additional transportation fee
Additional fee for sourcing spare parts
Client Reviews
Sama Technical Services' customers are happy with their dryer repair services.
One customer said: "Great service! They came very quickly and fixed the issue right away."
Tips on Choosing Dryer Repair Services in Dubai
Check if the service provider can work on the brand and model of your dryer.
While many dryer repair services are versatile, that doesn't mean they cater to every type of dryer. Some service providers only cater to certain brands or newer models.
When you inquire, let them know the exact specifications of your dryer so they can tell you if their technicians can handle it. This will save you from wasting time and having trouble finding spare parts later on if you need it.
Browse through reviews.
Even when their website says they provide excellent service, it's always good to fact-check with previous customers who can attest to it. If you see a lot of bad reviews, best to move on to the next!
Ask for a final quotation before deciding.
Because repair services aren't based on a fixed price, some service providers are notorious for jacking up their rates with extra charges you don't see coming. Before having technicians work on your dryer, clarify first exactly how much you'll be spending.
FAQs on Dryer Repair Services in Dubai
---
If your dryer's been giving you trouble lately, let expert technicians help you find solutions! We hope you found a good one from our list of the best dryer repair services in Dubai!
Know any awesome dryer repair services we should include on our list? We're always happy to hear your recommendations!
Has your fridge been acting up lately too? Check out our list of the best fridge repair services in Dubai!