The 5 Best Recruiters in Dubai
Featured Image Source: Cytonn Photography via Unsplash
Searching for the perfect job and hiring the best talent can be long and tedious. Recruiters, also commonly called headhuntersorrecruitment agencies, make the whole process of finding jobs and filling vacancies a lot easier.
If you're in between jobs or looking to hire new people for your team, read on to find out everything you need to know about the best recruiters in Dubai!
But before we go to our list, let's talk about how much it costs to hire recruiters in Dubai.
The Cost of Recruiters in Dubai
While both employers and job seekers are in touch with recruiters, job seekers in Dubai don't have to worry about the cost at all. According to UAE labour laws, recruiters are prohibited from charging any type of fee for getting you employed.
On the other hand, employers pay the recruiters to find the best candidates for a certain job description. Generally, there are no fixed rates as recruiters charge based on different fee structures.
What primarily determines the fees are the salary, seniority, and skill level of the role aimed to be filled. On average, the recruiting fee is somewhere around 10%–20% of the starting salary for the position.
If the role is deemed hard-to-fill, the fee will likely be higher. It might be because of the unique expertise the job requires, the safety risks involved or having to relocate to a far-off area.
It also depends on whether you are hiring for a temporary or permanent position.
For temporary positions, recruiters and employers normally agree on an up-front payment prior to hiring. On top of that, the recruiter would get paid a portion of the newly hired employee's salary and an additional fee if the temporary employee becomes a permanent one.
For permanent positions, recruiters may be paid a contingent fee, which depends on whether the candidate accepts the offer or not. If the candidate accepts but immediately quits within a time period agreed upon, then employers are usually entitled to a refund of the contingent fee.
A retainer fee paid based on certain milestones is a common fee structure as well.
In addition to taking care of the whole recruitment process for you, some recruiters also offer you access to a database of candidates for a fee. Companies with their own recruitment departments often avail of this instead.
The Best Recruiters in Dubai
Now that you know more about what you'll need to pay recruiters in Dubai, it's time to choose a recruiter that can get the best people for your team! Here are our picks for the best recruiters in Dubai!
1. Guildhall Agency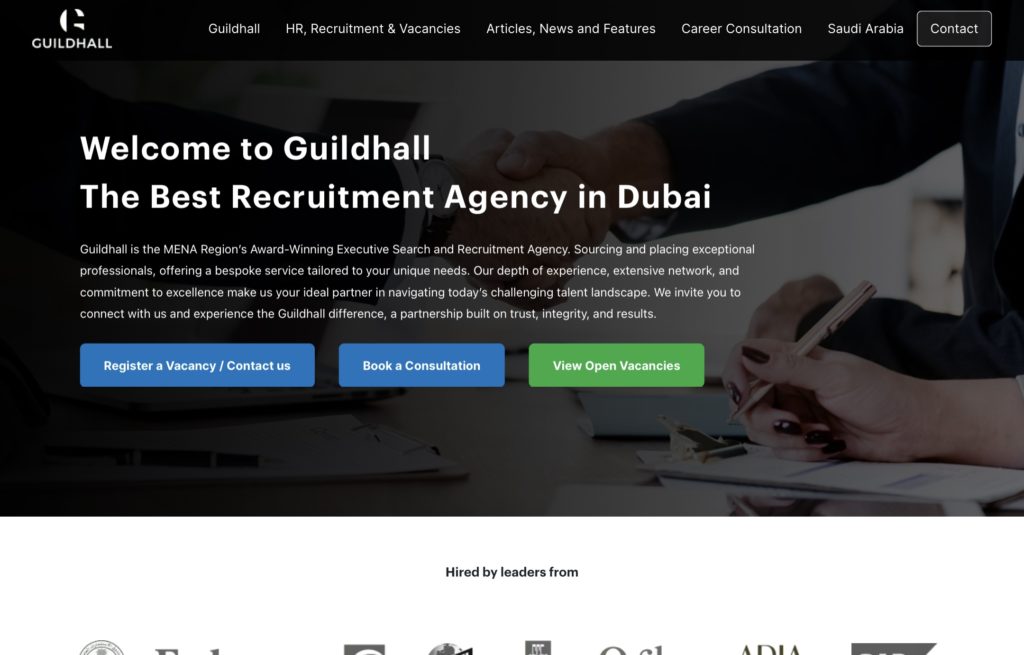 WEBSITE
https://guildhall.agency/
ADDRESS
Guildhall – 8th Floor, Empire Heights, Downtown Dubai, Dubai, UAE
CONTACT DETAILS
[email protected]
+971 (0)45795315 (Phone lines are reserved for business enquiries.)
SERVICES
Diversity strategy
Training
Advertisements
Candidate screening
Detailed candidate interviews
Reference checks
Job description creation
Relocation advice
Visa application assistance
Onboarding
Exit interviews
Assistance with redundancy
Our experience with Guildhall Agency has been nothing short of exceptional. From their impeccable services to their unmatched convenience, Guildhall has proven to be a top-tier recruiter company.
When it comes to services, Guildhall Agency stands head and shoulders above the competition. Their team's expertise in matching candidates with the right positions is truly commendable.
We were particularly impressed with their attention to detail and commitment to finding the perfect fit for our organization. Guildhall's services are nothing less than a game-changer in the world of recruitment.
Convenience is where Guildhall truly shines. Their streamlined processes and user-friendly interface make the entire recruitment journey smooth and hassle-free.
We never had to jump through hoops or endure lengthy procedures. With Guildhall, everything was at our fingertips, making our hiring process efficient and stress-free.
Guildhall Agency's reputation precedes them, and for good reason. Their track record of successful placements and satisfied clients speaks volumes about their dedication to excellence.
We felt reassured knowing we were in the hands of a company with a sterling reputation for delivering results. Guildhall's name is synonymous with trustworthiness in the recruitment industry.
Cost is always a consideration, and Guildhall Agency offers exceptional value for the quality of service they provide. Their transparent pricing structure and competitive rates make them a wise investment.
We were pleasantly surprised to find that partnering with Guildhall didn't break the bank, and the return on investment in terms of quality hires was undeniable.
However, they don't offer promos yet. We suggest checking their website for other affordable deals.
Guildhall Agency boasts industry-leading expertise
Their streamlined processes ensure quick results
Guildhall has a stellar reputation for successful placements
Competitive rates offer great value for clients
Client Reviews
"Guildhall Agency exceeded our expectations. Their dedication to finding the perfect candidates for our team was impressive. Highly recommended!"
"Working with Guildhall was a game-changer for our company. Their seamless process and cost-effective solutions made hiring a breeze. A top-notch recruitment partner!"
2. TASC Outsourcing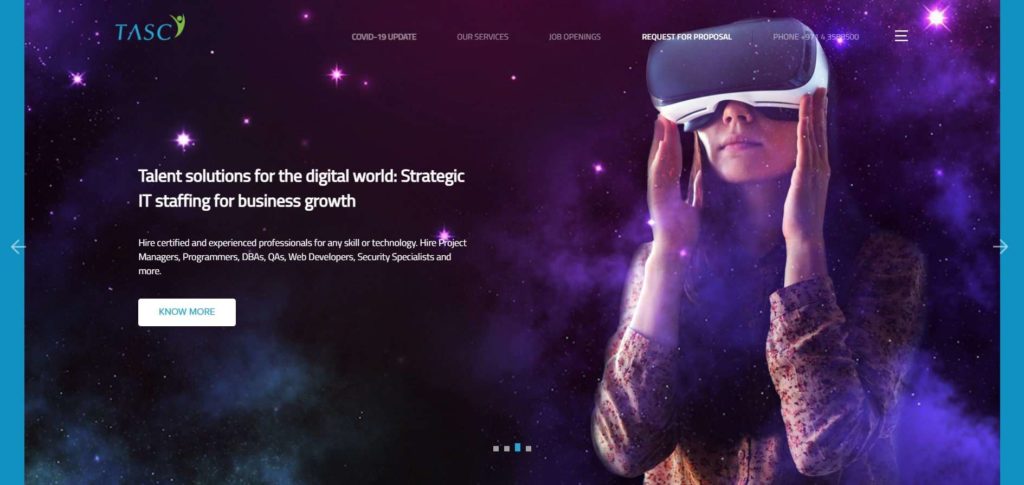 | | |
| --- | --- |
| WEBSITE | https://www.tascoutsourcing.com/ |
| ADDRESS | 2403, Nassima Tower Sheikh Zayed Road Dubai, UAE |
| CONTACT DETAILS | +971 4 3588500 |
| SERVICES | Corporate PRO Services, Remote Worker Solutions, PEO Services, Contract Staffing, Permanent Recruitment, Employee Deployment, Payroll Outsourcing, Promoter Management, On-Demand Staffing, Recruitment Process Outsourcing, Statement of Work, Global Talent Outsourcing |
Founded in 2007, TASC Outsourcing has been helping companies in the Middle East grow through "people solutions" that keep the business running. For over ten years, TASC has developed the workforce of several government institutions and more than 200 businesses.
Although based in Dubai and catering mostly to clients belonging to the GCC, they've assisted thousands of professionals from over 27 countries in building their careers and finding jobs that make ends meet. Potential hires range from mid-management to C-level executive.
In providing end-to-end people solutions, TASC does everything from sourcing to employee management. Among the services that TASC offers are Contract Staffing, Permanent Recruitment, Payroll Management, and On-Demand Staffing.
In the age of globalization, recruitment and outsourcing have expanded across continents. Through the agency's Global Talent Outsourcing service, hiring the best talent from other countries of your choice is possible.
Outsourcing remote workers is also made convenient through TASC's AI-based tools. In addition to the seamless process of selection, TASC also offers online timesheets, 24/7 support via Whatsapp for associates, and remote HR and payroll teams.
Some of the positions TASC can help you fill include engineers, IT and security professionals, consultants, digital professionals, and customer support staff.
Multi-awarded agency
Job openings posted on website
Has CSR initiatives
Mixed reviews
Positions filled are limited to mostly tech-related and marketing positions
Client Reviews
Previous clients have left feedback on their experience working with TASC.
A recruitment executive from a major telecom brand said: "TASC has provided extremely swift support and smooth coordination in CV submissions and reporting. This kind of support also helps us in carrying out our operations successfully. It's good to work with the team!"
On the other hand, another client was not as impressed. He said: "Good recruitment firm, but sometimes you will not get an immediate response."
3. Future Tense Human Resource Solutions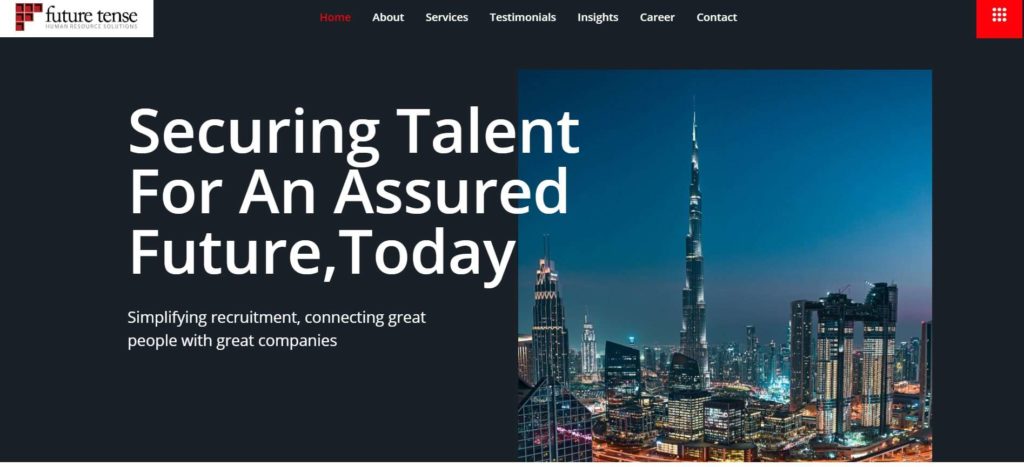 WEBSITE
https://futuretensehr.com/
ADDRESS
Suite 1702, Tower 1, Boulevard Plaza Downtown Dubai, UAE
CONTACT DETAILS
+971 56 836 7787


[email protected]

SERVICES
Recruitment Solutions, Executive Search, Market Intelligence, HR Consultancy and Analytics
With the primary mission of providing recruitment solutions based on trust, timing, and talent, Future Tense has years of experience in catering to clients in the Middle East and India. While they are a boutique agency, they are capable of finding you the right fit across all organizational levels.
Employing an approach different from other agencies, Future Tense targets off-market candidates within and outside the country through their exclusive networks and domain expertise. Through this method, they believe their clients are able to get a full range of choices to fulfil their needs in the company.
With their recruitment solutions, Future Tense takes charge of the whole recruitment cycle, which includes the necessary reference checks and onboarding of successful applicants.
A particular feature that clients like about the agency is their flexible success-fee model. Future Tense will start sourcing the best talent without you having to commit or pay right away.
Another service that sets them apart is the market intelligence that they provide on the pay scale, talent availability, hiring trends, and other relevant aspects of recruitment. They also conduct a thorough competitor analysis to give clients better insights on the kind of candidates that they should hire.
Success-fee model
Multi-disciplinary positions filled
Offers competitor analysis
Job opportunities posted on their website
No remote worker solutions
No website chat support
Client Reviews
Many clients have commended Future Tense for their professionalism and efficiency.
Dr. Ajay Juneja said: "We started a new practice and Future Tense was of great help in recruiting a highly skilled and efficient staff. They heard us, looked into our requirements very keenly, and provided us with a choice from which we interviewed and chose."
Another client, Laura Willing, said: "Karuna (Future Tense's Director) and her team have always been very efficient at finding us a good range of candidates quickly. I highly recommend her services and her professionalism. Future Tense is always my first port of call for recruitment.
4. Parisima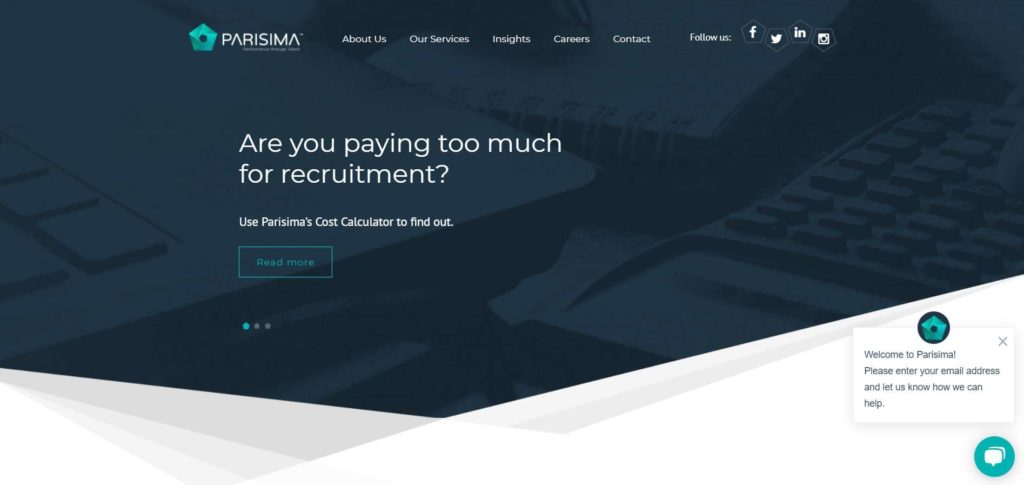 WEBSITE
https://parisima.com/
ADDRESS
Office C405, Level 4 Burj Daman Tower, DIFC Dubai, UAE
CONTACT DETAILS

[email protected]


+971 (0)4 586 7200
SERVICES
Recruitment Process Outsourcing, Recruitment Process Augmentation, Market Intelligence and Market Mapping, Recruitment Diagnostics, Implementation, Sova Assessment Suite, Executive Search, On-Demand Project Hiring, Nationalisation Hiring, Graduate Hiring, HR Consulting, Talent Branding and Social Media, Robotic Process Automation and AI, Engagement Surveys, Applicant Tracking System
With headquarters in the heart of Dubai, Parisima Talent was established mainly because the team believed that recruitment in the Middle East should be done better and optimised for businesses to transform.
Acknowledging that one size does not fit all when it comes to recruitment and outsourcing, each service package they offer is customized per client. Through their Market Intelligence and Market Mapping services, each package is further elevated because costs are reduced and candidates are screened more rigorously.
On top of their recruitment solutions, in case your company already has an in-house team for talent acquisition, you can always avail of their Recruitment Process Augmentation services. Parisma can provide your team with extra support for expanding and mass hiring.
Keeping up with the changing times, Parisima maximizes the latest technology in their end-to-end recruitment solutions. They make use of Intelligent Automation Solutions to increase efficiency, Sova for customized assessment, and E2E for employee engagement and employee rewards.
Offers insights on business and recruitment on website
Provides market intelligence and mapping services
Uses AI and technology like Sova and E2E
No remote work solutions
Limited job opportunities posted on website
5. Adecco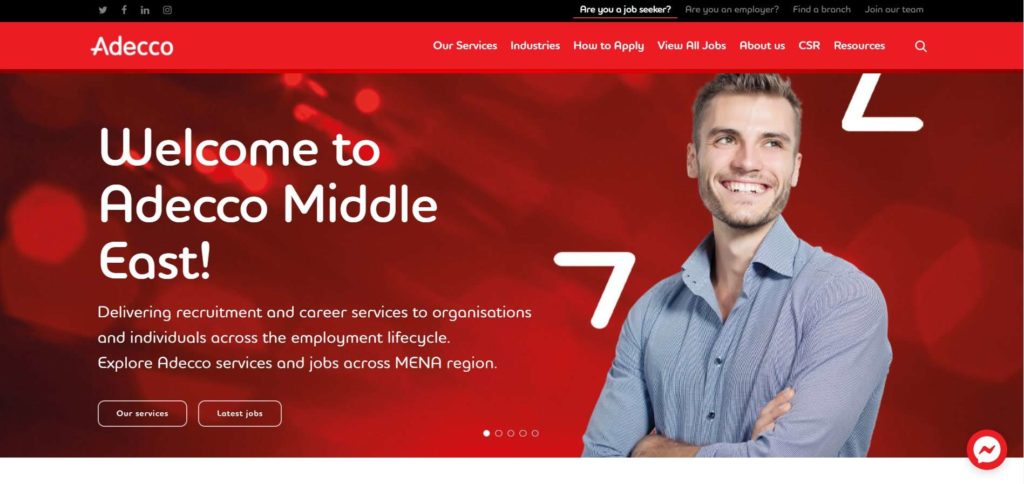 WEBSITE
https://www.adeccome.com/
ADDRESS
Office 1206, Marina Plaza Dubai Marina Road Dubai, UAE
CONTACT DETAILS
+971 (0) 4 368 7900


[email protected]

SERVICES
Temporary Staffing Solutions, Outsourcing Solutions, Payroll and Visa, PRO Solutions, Mass Hiring, Permanent Placement/Direct Hiring, Executive Search, Nationalization, Global Transition Center/Global Mobility, Assessments
With over 50 years of experience in recruitment, Adecco prides itself in providing specialized HR services in the Middle East. Having gained a large network of candidates over the years, Adecco is confident that they can recruit your ideal candidate within a short time span.
While some recruiters mostly tell you the kind of employees you need in your company, Adecco believes in collaborating with their clients. The workforce solution is primarily based on what you want and the agency helps you with the fine-tuning.
Supporting the government's policy on generating more employment opportunities for locals, Adecco has dedicated an entire team of experts to focus solely on local hiring.
The agency also doesn't come short when it comes to global hiring either. With over 5,000 offices worldwide, Adecco is capable of sourcing candidates from various countries.
Adecco makes use of both traditional and progressive recruitment methods. Some of the methods they employ are job fairs and open houses, professional organization partnerships, social media recruiting, and candidate referral programs.
Capable of recruiting from almost any industry, Adecco can fill positions in healthcare, legal and compliance, chemicals, oil and gas, hospitality, banking and finance, manufacturing, aviation, and IT.
Multi-disciplinary positions filled
Has CSR initiatives
Flexible payment models
Offers Nationalization recruitment services
Recruitment offices worldwide
Tips on Choosing Recruiters in Dubai
Hire a recruiter that can source the kind of talent that you really need.
Not all recruiters can hire for every industry and every country. Check out what they specialize in before you sign on.
If you are in need of chefs for your restaurant chain, don't hire a recruiter that specializes in sourcing IT experts. Even when they say they can, they most likely won't have the same network and expertise as other recruiters with more experience in the F&B industry.
Choose one that's within your budget.
It is pointless to choose a good recruiter if you're spending way more than you had intended. It's better to choose one that offers quality service that you can afford.
Many recruiters are flexible and can customize a package according to your budget. If you find a recruiter that fits your standards but find that their rates are too expensive, there's likely room for negotiation.
Research on their track record.
The best way to figure out whether a recruiter can deliver is by surveying the work they have done for other clients. See how much other companies have grown since hiring them.
Find out about the candidates they've recruited in the past and what they've done for the companies that ended up hiring them. If they can get stellar-performing employees and executives for other companies, you can expect them to do the same thing for your company.
FAQs on Recruiters in Dubai
---
Recruit efficiently, hire world-class talent, and save up on cost with the best recruiters in Dubai! We hope our list helped you find the right recruitment agency for your business's needs.
Know any great recruiters we might have missed? Send us a message and we'll check to see if they make it into our list.
Now that you know where to find the best recruiters in Dubai, how about investing in your company's advertising too? Check out our list of the best advertising agencies in Dubai!