The 6 Best Upholstery Shops in Dubai
Featured Image Source: Paul Weaver via Unsplash
A cozy and well-designed home requires the perfect upholstery furniture, but finding a nice couch or some stylish ottomans to match your interiors can be a challenge!
If you've been looking for some furniture for your house or apartment, you're in luck! We've listed down the best upholstery shops in Dubai!
But before we get to our list, let's first talk about the cost of upholstery in Dubai.
The Cost of Upholstery in Dubai
What you'll spend in an upholstery store depends primarily on what you need. While most people think of sofas as upholstery furniture, several other pieces fall under the category as well.
Upholstery furniture are pieces covered with padded materials like leather or textile. Some other popular examples include bed headboards, ottomans, dining chairs, lounge chairs, and office chairs.
The cost also largely depends on which retailer you're buying from and the materials used. Leather is usually the most expensive and also the most high maintenance.
To give you an idea of the starting prices of upholstery furniture, check out our table below:
| | |
| --- | --- |
| Furniture | Average Price |
| Sofa/Couch | Starts at AED 400 |
| Sofa Set | Starts at AED 1,400 |
| Bed Headboard | Starts at AED 1,200 |
| Ottoman | Starts at AED 100/piece |
| Dining Chair | Starts at AED 350/piece |
The above rates are for ready-made upholstery furniture you'll see on display in stores or online, but if you'd like customized upholstery, upholstery stores provide these too.
Most upholstery stores also provide reupholstery services. If you're interested in having your old furniture's springs, padding, or textile cover fixed or changed, you can avail of these as well.
There are no fixed rates for this particular service as the rates depend on the type of furniture that needs to be repaired and the parts and materials required. Upholstery shops will give you a quotation when you inquire.
The Best Upholstery Shops in Dubai
Now that you know more about the cost of upholstery furniture in Dubai, it's time to find out about the best upholstery shops in Dubai!
1. Sofa Master Dubai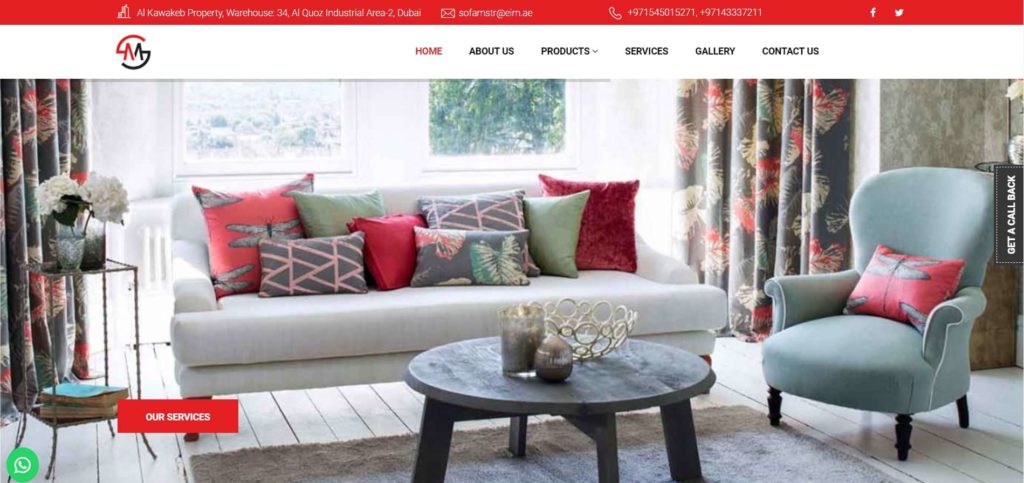 With the goal of providing furniture of superior quality to homeowners in Dubai, Sofa Master is one of the city's most reputable shops when it comes to sofas and curtains. They also provide upholstery for other pieces like beds, headboards, and various types of chairs.
If you haven't worked out your space's interior design yet, the shop also has specialists that can assist you with that. You can sign up for a consultation about customized furniture, restoration work, or other upholstery services you might need for a specific type of furniture.
Sofa Master boasts of a wide selection of ready-made products built by their skilled team of craftsmen. Some of our favorites include their cream-colored leather 2-seater couch and L-shaped rattan sofa topped with a tan textile and chic boho throw pillows, which you can view on their website.
Other than individuals looking to furnish their homes or offices, Sofa Master also caters to corporate clients, specifically hotels. Many clients who source their upholstery furniture from the shop like their products for their style and durability.
Offers both customized and ready-made upholstery
Specializes in sofas
Caters to corporate clients
No website chat support
No 24/7 service
Customer Reviews
Check out the feedback Sofa Master Dubai has received from happy customers:
Chirag Panchal said: "Got my wooden sofa refurbished by Sofamaster Dubai. They have done a really good job and the finished product looks superb. The fabric used and the foam used is top quality. The sofa was delivered in the committed timelines."
Nesrine Belkhodja said: "Very good quality! Great service and very friendly staff! The manager is very professional as well. Highly recommended."
2. AS4 Furniture Factory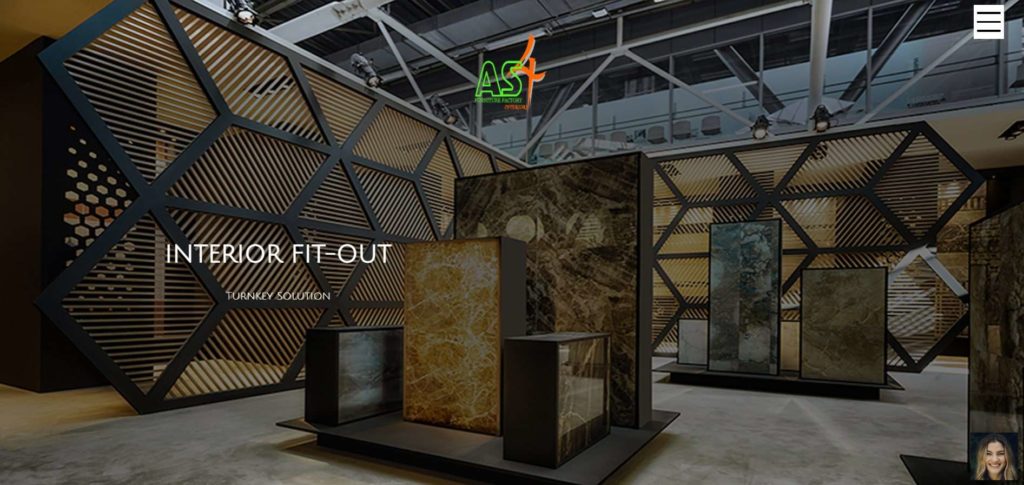 For over 20 years, AS4 Furniture Factory has been providing customers in Dubai and Sharjah with architectural and interior design services. Best known for their upholstery furniture—specifically sofas—the shop strives to deliver innovative designs at reasonable prices.
Finding a chic yet spacious sofa bed can be especially difficult, but AS4 Furniture Factory offers a lot of great choices. Their quilted emerald green sofa bed, which is available on their website, is the ideal statement piece for any art deco-inspired room.
On top of manufacturing sofas, the shop also makes curtains and carpets. If you want your sofa to exactly match your drapes, that's totally doable with AS4.
If you're not really looking to buy new upholstery furniture, AS4 Furniture offers reupholstery services for sofas, dining chairs, and divan beds. Looking at the work they've done for previous clients, we're impressed by how the shop has managed to transform beat-up furniture into fresh-looking pieces that look brand new.
Before you book an appointment, we suggest checking out deals and packages on their website. AS4 Furniture Factory regularly posts discount vouchers that could save you up to 90% off!
Discount vouchers available on website
Sells furniture
Free quote and consultation
Mixed reviews
Less products and services compared to others on the list
Customer Reviews
AS4 Furniture Factory has received mixed reviews from previous customers.
Silmiya Cassim said: "Stress the quality you are expecting and they deliver. Recommended."
Wafa Sheikh said: "Had a wonderful experience with as four furniture and their service.From fabrics to designs and quality everything was done nicely. Just show them a picture or share your ideas and they make it totally customized design as per your choice.Highly recommended!"
3. Dubai Sofa Upholstery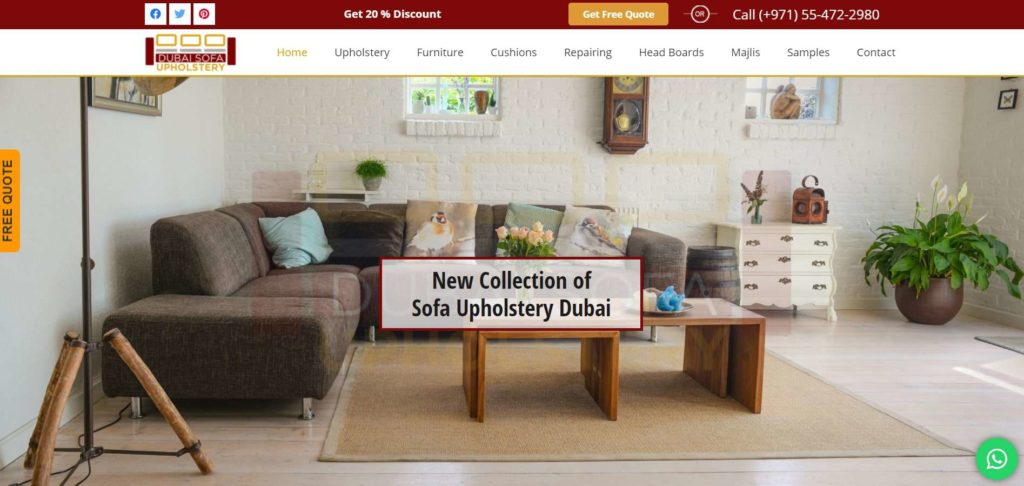 WEBSITE
https://dubaisofaupholstery.com/
ADDRESS
Showroom No. 33 BMW/AGMC 4th Street Sheikh Zayed Road Dubai, UAE
CONTACT DETAILS
+971 55 472 2980


[email protected]

OFFERS
Chair Upholstery, Fabric Sofa Upholstery, Outdoor Upholstery, Sunbrella Fabric, Leather Sofa Upholstery, Bed Upholstery, Furniture Upholstery, Upholstery Repair
As one of the leading upholstery furniture shops in the UAE, Dubai Sofa Upholstery promises functional upholstery furniture with luxury quality. While the shop offers ready-made furniture for customers to choose from, they are more known for their customized furniture.
What's great about a shop that mostly customizes their pieces is that you likely won't find other people with the same pieces that you have. You can also make specific requests as to its dimensions, color, texture, or the other materials used to make your upholstery.
Dubai Sofa Upholstery offers a long list of choices of upholstery fabric, which includes flax linen, chenille, polyester, velvet, and wool.
Although sofas are their top-selling upholstery furniture, you can get your bedroom upholstery from Dubai Sofa Upholstery as well. Their quilted headboards look really elegant and comfortable!
If you're always on the go and don't have the time to visit their shop, you can set an appointment at home with one of their representatives. You get to see their prototypes and choose your upholstery fuss-free!
Free quote
24/7 customer service
Delivery service available
No website chat support
Mostly customized furniture only
4. Modern Look Furnishing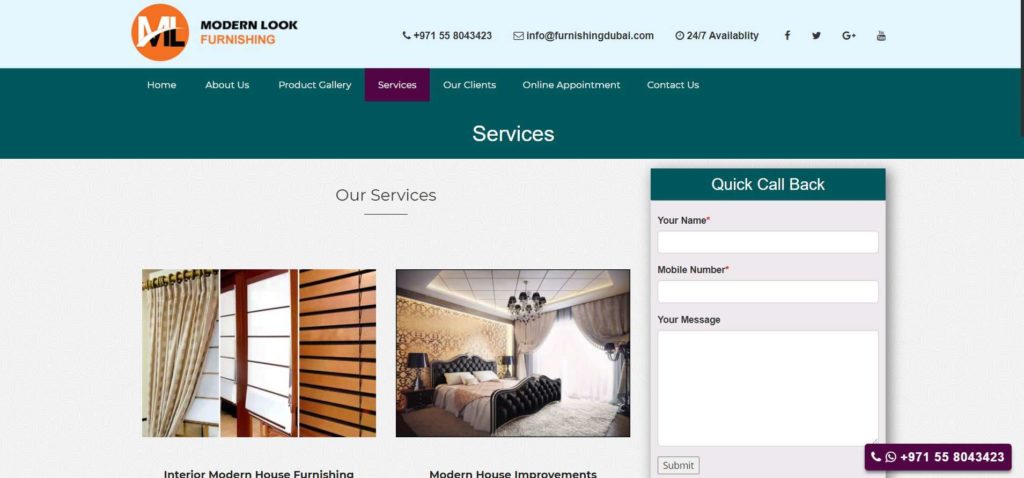 WEBSITE
https://furnishingdubai.com/
ADDRESS
Wasl Hub Building (next to Etisalat) Karama Dubai, UAE
CONTACT DETAILS
+971 55 804 3423


[email protected]

OFFERS
Furniture Upholstery, Cushions Replacement, Upholstery Repair, Fabric Change, Upholstery Cleaning
For many years, Modern Look has been one of the UAE's most reputable shops for furnishing solutions. Other than upholstery, they offer choices for wallpapers, floor covers, and blinds.
With the goal of transforming homes and commercial spaces with unique pieces, Modern Look has caught the attention of customers from around the world. Some of their biggest corporate clients include Samaa Medical Center, the Shalina Group, Pret to Go Restaurants, and the Richmond Hotel Apartment.
While they mainly provide upholstery for homes and businesses, they also provide upholstery for cars, planes, and boats.
What we like about Modern Look is that they give customers various options to choose from when it comes to the style of their upholstery. You can choose Contemporary, English Chester, traditional French, or Victorian.
In comparison to other upholstery shops, Modern Look is one of the few that offers upholstery cleaning. If you don't really need to have your sofa reupholstered and all it needs is a deep cleaning session, then Modern Look can give you exactly that.
24/7 customer service
Online appointment available
Free measurement
No website chat support
Limited samples provided online
Customer Reviews
Previous customers have left positive feedback for Modern Look Furniture.
Josefina Fontana said: "I'm very happy with the result. They were fast and professional."
Gulrez Aazem said: "Loved the new look of my living room sofa. Perfect, neat work and on-time delivery as promised. Mr. Ahmed and his team did a very good job. I recommend them for any of your home or office upholstery jobs."
5. Dubai Upholstery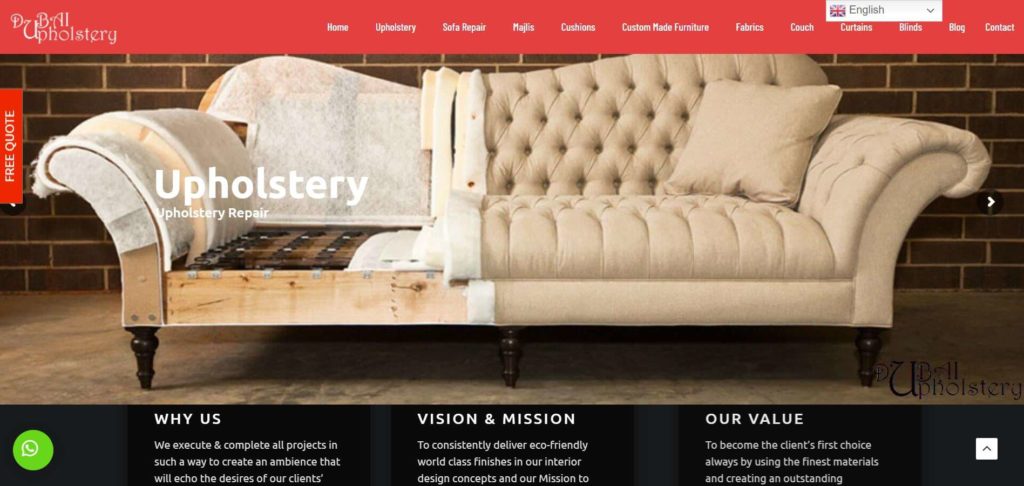 WEBSITE
https://dubaiupholstery.ae/
ADDRESS
Risala Furniture LLC 9 24 A Street Al Quoz 1 Dubai, UAE
CONTACT DETAILS
+971 56 600 9626


[email protected]

ery.ae
SERVICES
Custom-Made Upholstery, Sofa Fabric Change, Leather Upholstery, Outdoor Furniture Upholstery, Sofa Covers, Foam Filling, Floor Cushions, Sofa Refurbishing
A trusted upholstery supplier in Dubai and Abu Dhabi, Dubai Upholstery guarantees "outstanding workmanship and using the finest materials." Unlike the other shops on the list, the shop offers most customized upholstery services.
If you have a specific peg in mind, you can just show them and they'll help you with fine-tuning it according to the size and style that your space needs. We noticed a lot of the fabrics that they use have prints, which we think is refreshing compared to the usual plain leather or textured textiles.
Aside from customized upholstery, they are also popular for their sofa restoration and repair services. If your sofa at home isn't as beautiful as it once was but you just can't seem to let it go, Dubai Upholstery can help you bring back its former glory or elevate it into a better version!
We saw the work they did on a dull stained couch with tears and we were totally blown away by how new and modern it suddenly looked just after a few weeks!
Free appointment
Free quote
24/7 service
No website chat support
Works on mostly sofas
Customer Reviews
Dubai Upholstery has been given excellent reviews by customers.
Noah Johnson said: "They customized the products according to the look of my living room. They provided exactly what I was looking for."
Liam Williams said: "They have different products all under one website and I did not feel the need to go anywhere else in Dubai to look for upholstery. They sent it to my doorstep with just one phone call."
6. Furniture Doctor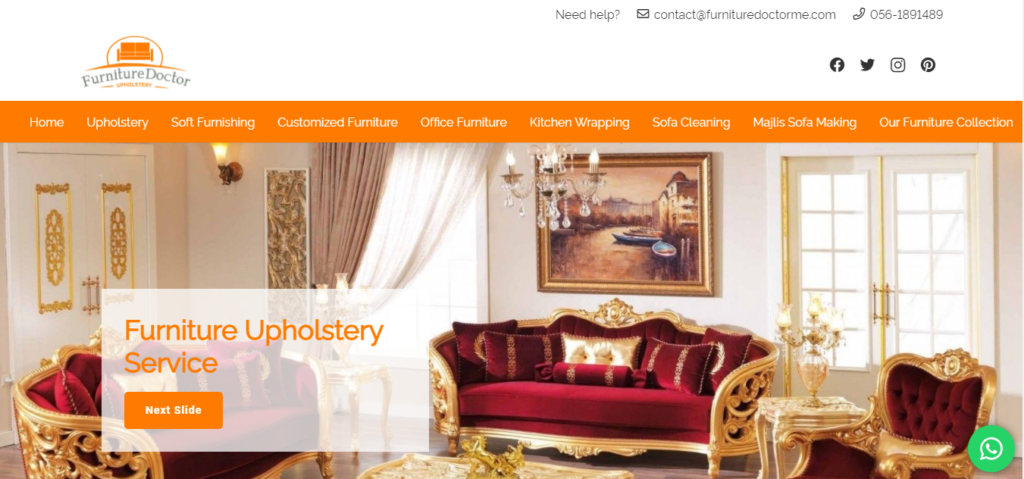 Furniture Doctor's Sofa upholstery store in Dubai is known as one of the top-class stores to provide the best quality Leather Upholstery in Dubai and other fabrics like wool that are in high demand to be used.
What made them stand out is their quality of products and quick services. With their many years of experience, they are now well aware of what every customer needs.
People love to contact them for upholstery services because their experts manufacture a range of interior decor products in the most vibrant colors and latest trending styles that will help enhance the look of your house. Another factor is because they offer customized furniture making services
Furniture Doctor specializes in sofa upholstery therefore they give their utmost attention to your living room area. Unlike other companies, their upholstery collection ranges from a normal to royal sofa set that comes in different fabrics like leather, wool, velvet, and almost all shinning bright colors.
They have a showroom located at Industrial Area 2 Shed 16 Sharjah United Arab Emirates where you can visit and check out their products.
Also offers services Abu Dhabi and India
Customized services
Reasonable prices
Has a showroom
Only does sofa upholstery
Customer Reviews
Here are some reviews from their previous clients:
"Very quick service and reasonable pricing, they will help you to fix your furniture as per your requiremtents…. thnx a lot guys👍"
"My Italian sofa is being done by Furniture Doctor upholstery well cared and neatly I would recommend for professional care guys. Thankew so much guys"
Tips on Choosing Upholstery in Dubai
Pick upholstery that goes well with your interiors.
Before you pick out a sofa or a headboard, imagine how it would look in the space you're buying it for. Explore different options and see what best fits the vibe you're going for.
Don't choose upholstery just because it's cheap or on sale!
Always put quality first! Purchase pieces that are built to last you for many years and can survive the everyday wear and tear.
It will actually cost you a lot more if you'll have to buy a replacement in just a short amount of time. You'll find that spending on well-made furniture is a great investment in the long run.
If you want a more practical buy, stick to classic and low maintenance upholstery.
We love bold and unique statement pieces just as much as the next person but if you want a piece that's versatile, we suggest sticking to upholstery in neutral colors. This makes it easier for you in case you move to a new place or feel like putting the piece in a different space.
Try to find pieces that aren't difficult to clean as well. Some upholstery furniture made with special textiles or leather require special chemicals or tools to clean or wipe out stains.
FAQs on Upholstery in Dubai
---
With the right upholstery shop, you're bound to find the best fit for your space! We hope our list of the best upholstery shops in Dubai helped you decide where to go!
Would you like to recommend other great upholstery shops in Dubai that we should review? Let us know by sending us a message!
Do you need help with moving your new upholstery furniture? Check out our list of the best furniture movers in Dubai!