The 6 Best Limo Services in Dubai
Riding in style is always a good option. Whether you're heading to a party, or would just love to experience being a VIP for at least a day, limousines would do just that for you.
Here are our top recommendations for the best limo services in Dubai for the next time you're planning to cruise in luxury!
How Much Do Limo Services in Dubai Cost
Companies charge depending on the type of vehicle you'll be renting. Prices can rise up with respect to your chosen limousine carrying capacity.
The table below lists the prices for the various types of limos and their corresponding capacity. We would like to note that these are hourly rates.
Some establishments would charge for multiple hours or employ a more contractual arrangement. They could, for example, offer a flat rate for how many days you'd be renting the said luxury car.
| Limo Type  | Passenger Capacity | Cost / Hour (in AED)  |
| --- | --- | --- |
| Luxury Sedan  | 2  | 238.75 - 275.48 |
| Stretch Limos  | 6 - 20  | 367.31 - 1101.93 |
| Executive Shuttles  | 8 - 14  | 348.94 - 514.23 |
| Party Buses  | 15 - 50  | 404.04 - 734.62 |
The Best Limo Services in Dubai
Here's the criteria we've used for the companies in this list:
1. Skye VIP Cars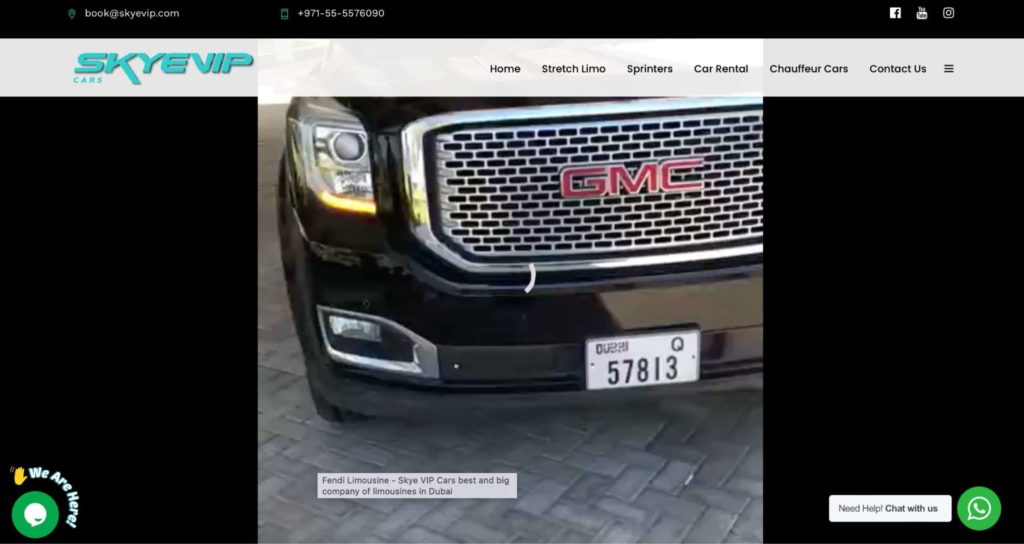 Test
Info
SERVICES
Stretch Limo Rentals, Sprinters, Car Rentals, Chauffeur Cars
WEBSITE
https://www.skyevipcars.com
ADDRESS
Palladium Tower - Cluster C - Jumeirah Lakes Towers - Dubai - United Arab Emirates
CONTACT DETAILS
Phone: +971 55 557 6090

E-mail: [email protected]

OPERATING HOURS
Open 24 hours. (Monday - Sunday)
| | |
| --- | --- |
| Criteria | Ratings |
| Fleet | ★★★★★ (5/5) |
| Packages | ★★★☆☆ (3/5) |
| Precautions | ★★★★☆ (4/5) |
| Payment Methods | ★★★★☆ (4/5) |
Here's the thing about Skye VIP cars: it's definitely for people who want to feel luxurious and important, even for just a few hours.
Founded in 2010, this company offers various chauffeuring and transporting services for various clients and events.
For their rentals, the Skye VIP offers a specific type of limousine: the stretch type. This means that the average number of passengers their vehicles can carry is around six to twenty.
We believe that this amount of passengers makes them viable for occasions such as city tours, parties, weddings, and prom night. Of course, they can be hired for other special events as well.
In addition to this, their fleet is quite big! There are plenty of options to choose from which include vehicles from GMC, Versace, Chrysler, and Cadillac, to name a few.
One thing we noticed about this company is the lack of offers of special services for specific instances. For example, particular amenities, such as drinks for a bachelorette party.
Moving onto chauffeur services, here's a heads up: the establishment doesn't offer a corresponding driver as a standard for your limousine rentals. This basically means you'll have to hire your own driver from somewhere else.
Alternatively, you can also request one, but it's a separate charge for Skye VIP. But, if you have the extra cash for a chauffeur, then we recommend renting in this company for their large fleet and availability.
Open 24 hours 
Large fleet selection 
Friendly and professional drivers and staff 
Appointment required
Limousine chauffeur is extra charge
Requires contact for more info
Customer Reviews:
Professionalism, Excellent Service
"I had the best experience here! I had family trip planned, i rented car from SKYE VIP which matched my requirements. I had an excellent experience and I'll always come back to rent from them. Thank you so much for your professional service!!" – Mahdi Mustafa
Good Vehicle Sound System, Drinks Offered
"The limo ride was great, good bluetooth audio, and there was alot of water and juice for 8 of my friends. Highly recommended to try this every once in a while." -ALI BABA, via Google Reviews
2. Dubai Exotic Limo
Test
Info
SERVICES
Airport Transfer Limo Services, Limo Rental
WEBSITE
https://dubaiexoticlimo.ae
ADDRESS
Bin Khedia Plot # 36 - Dubai - United Arab Emirates
CONTACT DETAILS
Phone: +971 4 286 8635

E-mail: [email protected]

OPERATING HOURS
Open 24 hours. (Monday - Sunday) 
| | |
| --- | --- |
| Criteria | Ratings |
| Fleet | ★★★★★ (5/5) |
| Packages | ★★★☆☆ (3/5) |
| Precautions | ★★★★★ (5/5) |
| Payment Methods | ★★★★☆ (4/5) |
If you're looking for a company that can have limousines ready for up to more than 20 people, then Dubai Exotic Limo is for you!
This company, essentially, offers transporation services such as sedans and limousines for clients.
In fact, what's unique about them is that they offer a specific service solely for travelers wanting a luxurious treatment the moment they touch down from any airport in Dubai!
Looking at their limousine fleet variety, their vehicles can carry around 9 to 28 people, as we've said earlier. That's a lot of passengers!
Aside from that, what makes this company an appealing option for rentals is that they are insured. This can make clients feel safer when travelling with this company's rentals.
We do have to note that they do not have specific offers depending on the occassion. However, they can bring customers to venues of events.
Another aspect to take note of is for airport transfers, interested parties need to pay AED 240 upon pick up. All limo providers are charged this fee by Dubai International Airport upon arrival. The customer can pay this fee directly to the airport. This, in our opinion, can prevent clients from getting scammed.
However, you will have to ready that amount upon arrival.
Overall, we recommend Dubai Exotic Limo for their focus on providing limousine rentals for up to a large group of people and the fact that they have insurance!
Government certified
Has insurance 
Open 24 hours. 
Offers airport transfer limo services 
Customer Reviews:
Good Communication, Prompt Arrival
"Amazing! We booked a limo for our Year 6 class graduation. 18 kids and many nervous and reluctant parents. The communication with the company prior was wonderful, confirmation the night before and information of the driver, plus telephone on the day of the event. The driver, Mr. Tariq was so wonderful and helpful, arriving on time and informing us prior to arrival. Unfortunately, my son dropped his phone in the limo and we were unable to fit our hands to get it. The company was all over it and reassured me that they would get the phone. Every day, they sent a message letting me know that they were working on it. Day 3, we got the phone back delivered. Speechless!! What an amazing company. We highly recommend using Dubai Exotic Limo. Not only for getting the phone back but for the professionalism throughout the booking, payment, arrival process. Thank you so much!" – Jenny Leonstini
Great Hospitality, Professionalism
"Luxurious, budget-friendly, professional, and absolutely spectacular on a great event. Remarkable hospitality and elegance. Absolutely booking them on Christmas and New Year's for my loved ones and I" – Mohamad Faour
3. White Line Limousine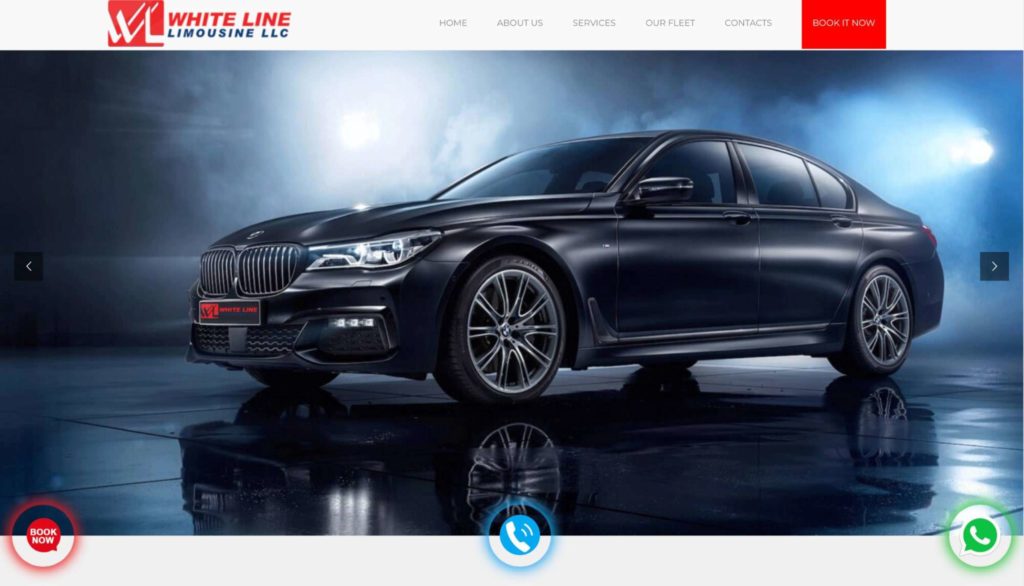 Test
Info
SERVICES
Luxury Transport Service, Chauffeur Services, Airport Transfer, Point to Point, and more!
WEBSITE
https://www.wllimo.com
ADDRESS
Al Rostamani Building (Al Qiyada Building) - Al Ittihad Rd - Deira - International Airport - 22 - Dubai - United Arab Emirates
CONTACT DETAILS
Phone: +971 4 385 8433

E-mail: [email protected]

OPERATING HOURS
Open 24 hours. (Monday - Sunday) 
| | |
| --- | --- |
| Criteria | Ratings |
| Fleet | ★★★☆☆ (3/5) |
| Packages | ★★★☆☆ (3/5) |
| Precautions | ★★★★☆ (4/5) |
| Payment Methods | ★★★★★ (5/5) |
Operating since 2011, White Line Limousine offers chauffeur services for clients that need to travel around Dubai, Abu Dhabi, and Sharjah.
What's interesting about this company is their fleet. For a company that capitalizes on the word "limousine," there's not a lot of options for this type of car.
They do, however, have limousines from well-known brands which include GMC, Mercedes, and BMW. So while you can expect top-of-the-line limousines, you just do not have a lot of options to choose from.
On good points: first, White Line Limousine is always available. You can book a car 24/7, provided that the vehicle you want is not in transit for another customer.
Second, we've observed that the drivers are good at their job. According to the customers we've conversed with, the chauffeurs are polite and can whisk their passengers to their destination with expert, ease, and safety.
Third, this company offers multiple payment methods. From cash to card to applications such as PayPal, it does try to accommodate its customers.
If you're looking for a service that can bring you from Dubai to other areas in the UAE, then we recommend trying to give White Line Limousine a call!
Open 24 hours 
Multiple payment options 
Polite and expert drivers 
Limo services, not the main focus 
Limited fleet range 
Customer Reviews:
Well-Behaved Drivers
"White line limousine is a good service.Also the divers very good behavior over all is a good service.And next time when I go to Dubai definitely I will use this White line Limousine. THANK YOU." – Thalappil Rahman
Great Customer Service
"Excellent service……. Give good care and respect to the customer." -Fajis Faji
4. CCH Limousines and Luxury Car Rental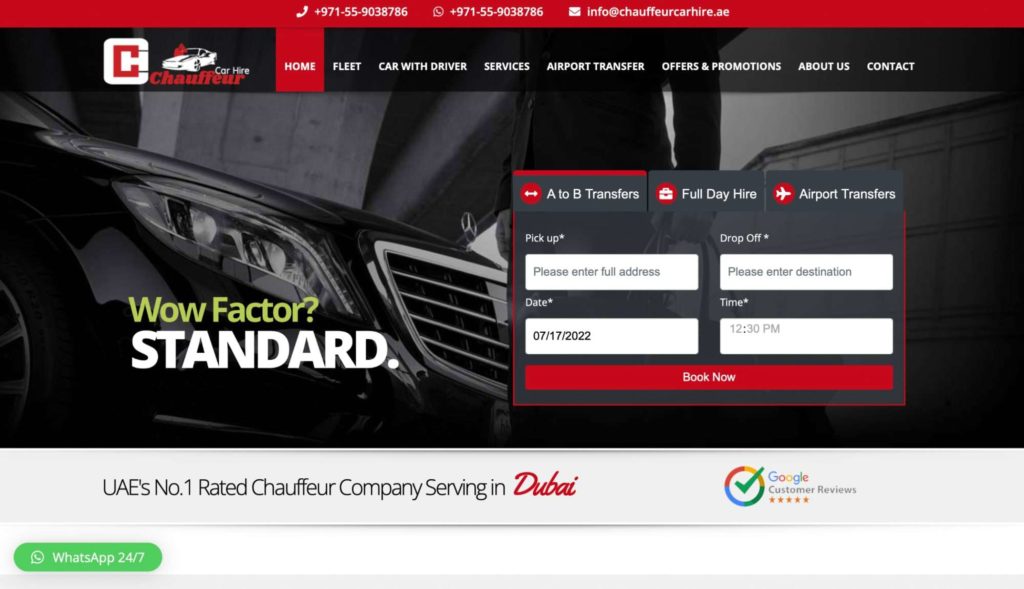 Test
Info
SERVICES
Chauffeur and Car Rentals, Luxury Bus Rental, Airport Transfer Services, Limousine Rentals, and more!
WEBSITE
https://chauffeurcarhire.ae
ADDRESS
Conrad Tower - Sheikh Zayed Rd - Jabal Ali 2 - Dubai - United Arab Emirates
CONTACT DETAILS
Phone: +971 55 903 8786

E-mail: [email protected]

OPERATING HOURS
Open 24 hours. (Monday - Sunday) 
| | |
| --- | --- |
| Criteria | Ratings |
| Fleet | ★★★★★ (5/5) |
| Packages | ★★★★☆ (4/5) |
| Precautions | ★★★★☆ (4/5) |
| Payment Methods | ★★★★★ (5/5) |
Chauffeur Car Hire Dubai, true to its name, provides various chauffeuring and transportation services for customers all throughout the UAE.
The company offers various vehicle types for the customer's convenience. For their limousine rentals, clients are allowed to ride them for simple point-to-point transfers, a whole day, or just for a simple cruise out of the airport.
In terms of fleet, Chauffeur Car Hire has a lot of limousine models to choose from. For example, they have vehicles from Hammer, Chrysler, and Cadillac.
They can accommodate from 9 to 18 passengers, which is great! Not the biggest passenger capacity, but this means the company has options for clients who have more than ten people with them.
Interested parties will need to know that this particular establishment has a flat rate that spans a specific number of hours. Unlike its competitors, the least amount of time you can rent a limousine is for five hours, with a max of ten hours.
So if you're alright with going around or hiring a car for more than the minimum hour, then we recommend heading here. Their payment scheme also is convenient for others who would want to rent a limousine for a long time without needing to extend.
Overall, we recommend booking a limousine with Chauffeur Car Hire Dubai for their fleet availability, and range of services!
Open 24 hours
Occasionally offers special deals 
Good fleet range
Does not charge per hour 
No specific packages for occasions
Customer Reviews:
Professional Service
"Very professional chauffeur service in Dubai. I was extremely happy with the service. I had changed my reservations last minute and responded very quickly and positively. And also driver was very nice and went out of his way in helping me carrying my luggage up to 3rd floor. I would highly recommend to anyone. I have added them to my favourite list speed dial when I need them. Thanks for all your support and making our visit remember one. I will use next time when I will visit there." – Khizar Qaisrani
Great Quality Service
"One of the best chauffeur service. We. Had an amazing full day 10 hrs dubai with brand new Mercedes Benz S class with Mr.Ali. we are very happy use there services. Inshallah in future will use there services again." – Tauqeer Busdar
5. CLC Limousine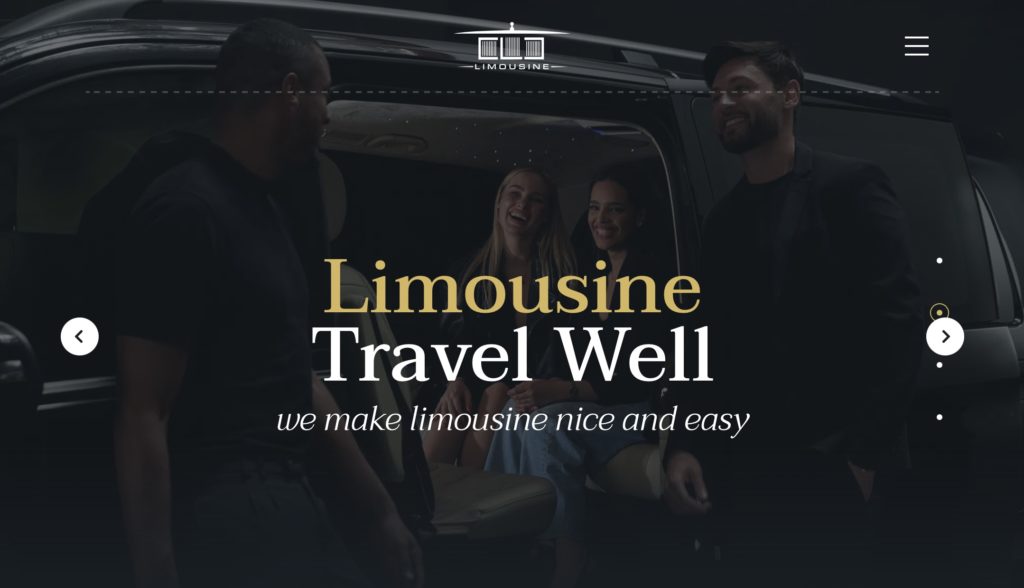 SERVICES
Stretch Limo Rentals, Sprinters, Car Rentals, Chauffeur Cars, and Airport Transfers
WEBSITE
https://clclimousine.com/
ADDRESS
Suite 602, Exchange Tower Business Bay, Dubai, UAE
CONTACT DETAILS
+971509088236
OPERATING HOURS
Monday – Sunday
24/24hrs – 7/7days
| | |
| --- | --- |
| Criteria | Ratings |
| Fleet | ★★★★★ (5/5) |
| Packages | ★★★★☆ (4/5) |
| Precautions | ★★★★☆ (4/5) |
| Payment Methods | ★★★★☆ (4/5) |
Our experience with CLC Limousine was exceptional. The booking process was simple, and we appreciated the prompt and friendly customer service.
The fleet at CLC Limousine is impressive, offering a range of well-maintained vehicles suitable for various occasions. Our limousine was clean, comfortable, and arrived on time for our scheduled event.
We were pleased with the professionalism of CLC Limousine's chauffeurs. They were courteous, skilled, and ensured a smooth and safe ride throughout our journey.
The efficiency of CLC Limousine was evident in their timely pickups and drop-offs. Our chauffeur navigated through traffic with ease, allowing us to reach our destination without any unnecessary delays.
CLC Limousine's commitment to quality was evident in the overall presentation of their vehicles. The interior was well-appointed, and amenities provided enhanced the overall experience for our group.
In terms of cost, CLC Limousine offers competitive pricing for their services. The transparency in their pricing structure and absence of hidden fees contributed to a hassle-free payment process.
Open 24 hours
Occasionally offers special deals 
Good fleet range
6. Private Limousine LLC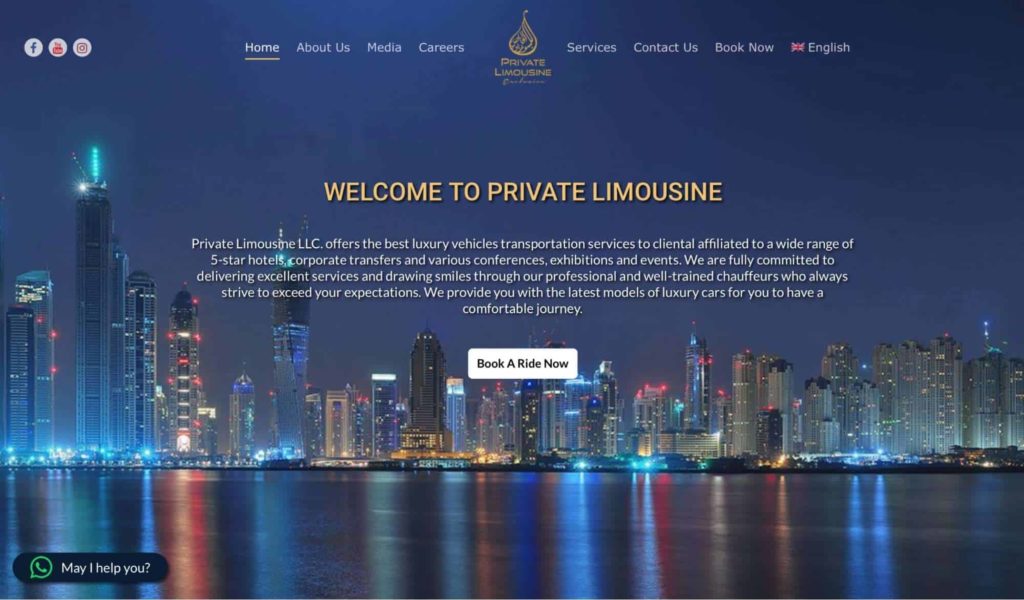 Test
Info
SERVICES
Chauffeur limousine services
WEBSITE
https://www.prvtlimousine.com
ADDRESS
Al Nahda St - Al Qusais - Al Qusais 2 - Dubai - United Arab Emirates
CONTACT DETAILS
Phone: +971 4 257 6111

E-mail: [email protected]

OPERATING HOURS
8:00 AM - 5:00 PM (Monday - Friday) 
| | |
| --- | --- |
| Criteria | Ratings |
| Fleet | ★★★★★ (5/5) |
| Packages | ★★★★☆ (4/5) |
| Precautions | ★★★★☆ (4/5) |
| Payment Methods | ★★★★☆ (4/5) |
Private Limousine LLC, as their name implies, solely provides luxury limousine vehicles for rent. They also provide chauffeur services if so desired.
This company mostly deals with providing transportation to events. They have participated in international events such as the Dubai World Cup and the city's Expo 2020.
What's great about this company is its fleet. Private Limousine houses over 380 of these luxury vehicles.
They have cars from Lexus, Toyota, Chevrolet, and BMW, to name a few! There are definitely a lot of options for clients in this establishment.
For clients who wish to avail their services, they can rent the vehicles with a chauffeur on an hourly, daily, weekly, or monthly basis.
Said flexible payment and renting scheme is more considerate of the clients' needs. We do have to point out that the least amount of hours that you can rent a limousine of theirs is for three hours.
On the other hand, you can rent a limousine for up to ten hours at maximum. After that, you can then extend on an hourly basis if you so wish.
Heads up though, the company will charge you for extra waiting time, for around AED 200 per hour as the chauffeur waits for you.
In conclusion, we advise renting a limousine in this company for their flexible payment and rental options, and for their large range of cars to choose from!
Exclusive limousine services 
Large fleet 
Flexible charging options
No special packages or offers  
Booking required 
Customer Reviews:
Comfortable and Stylish Vehicles
"The luxury limousine car will give you the most comfortable and stylish trip around Dubai, and has chauffeur services that will give you the best travel." – Yleey Mae
Reasonable Rates
"Affordable luxury chauffeured service! Better rates compare to other providers. High-end cars for a lesser rate." – Lyra Mahinay
FAQs About Limousine Services in Dubai
---
We hope that one of these companies has captured your interest for your next trip to Dubai.
Interested in other types of vehicle rentals? Check out our recommendations for the best van rentals in Dubai!