The 5 Best Indian Restaurants in Dubai with a View
One of the best things about eating Indian food is the euphoric high that we get from the mixing and blending of spices to create amazing profiles.
And the dining experience only goes higher from there if the restaurant actually offers an amazing view while you're feasting!
So we went around the city to scout for some amazing spots and give you our favorite Indian restaurants in Dubai with a view.
How We Picked the Best Indian Restaurants in Dubai with a View
Before we get right into our list of the best Indian restaurants in Dubai with a view, here are the factors we considered for our entries on this list:
1. Bombay Brasserie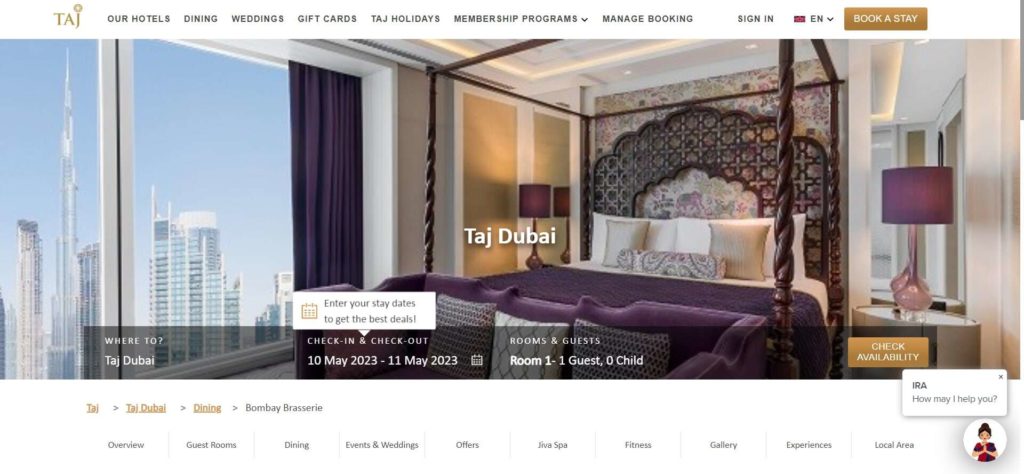 | | |
| --- | --- |
| Criteria | Rating |
| Ambiance | ★★★★★ (5/5) |
| Menu | ★★★★★ (5/5) |
| Authenticity | ★★★☆☆ (3/5) |
| Service Quality | ★★★★☆ (4/5) |
India is home to a diverse range of regional specialties, making this cuisine one of the most eclectic in the world, and this is exactly what Bombay Brasserie shows with its menu.
From seafood coconut curries and vegetarian offerings to a fashionable cocktail selection, this restaurant brings out the sophistication in Indian cuisine.
That being said, it really does not have the most authentic recipes. Most of it has been tweaked for the sake of "elevation" and "gourmet".
While we are not against tweaking and modernizing recipes, we do think that there is enough elevation in certain Indian recipes for them to have a place on a fashionable diner's table.
However, we do have to commend that Bombay Brasserie really commits itself to the concept of gourmet Indian cuisine with its ambiance.
With beautiful murals, a live open kitchen, and a botanical bar concept, the space was made to be a fully functioning stylish restaurant.
It is only made better by the fact that it is neighbors with Burj Khalifa, with the restaurant's floor-to-ceiling windows offering a high vantage point of the area.
Dinners here are elevated to another level with views of the glittering city lights, beautiful architecture, and strategic location.
Amazing restaurant space
Has amazing views of the surrounding Burj Khalifa area
Excellent service
Great menu
Dishes are not authentically Indian
Customer Reviews
It is been long since I had real Indian cuisine
"It is been a long since I had real Indian cuisine. We went there for our anniversary and it was a great success, I would highly recommend you their mushrooms, chicken biryani, prawns curry, chaat and most importantly their dessert lychee… staff are friendly and helpful in recommending the best dishes" —Sue Q, Google Reviews
The best restaurant we have eaten at during our entire stay in Dubai.
"We had dinner here, this is the best restaurant we have eaten at during our entire stay in Dubai.
The dishes are authentic and traditional.
The service was exceptional, the waiters helped us adjust the dishes to our flavor and took care of us throughout the meal.
Highly recommended restaurant, we will definitely be back here! 5++" —Omri Ashkenazi, Google Reviews
2. Armani/Amal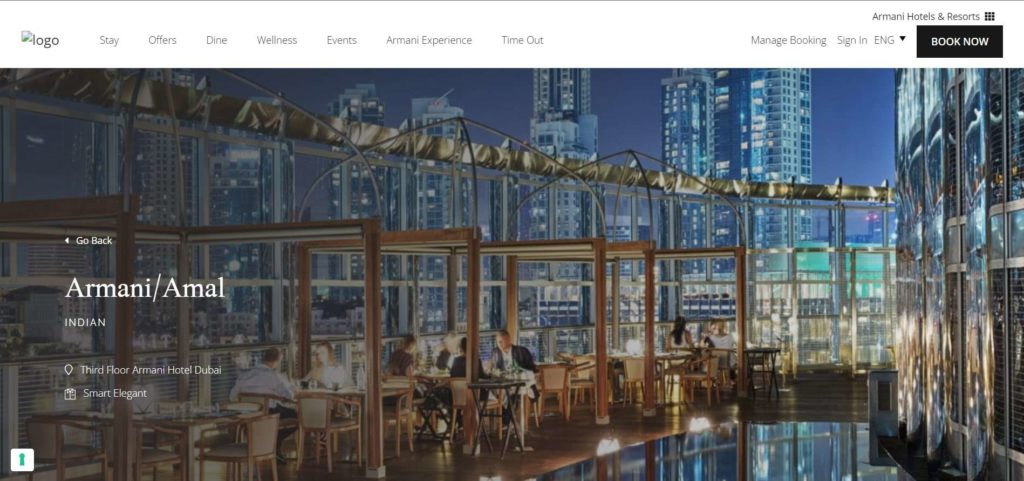 | | |
| --- | --- |
| Criteria | Rating |
| Ambiance | ★★★★☆ (4/5) |
| Menu | ★★★★☆ (4/5) |
| Authenticity | ★★★★★ (5/5) |
| Service Quality | ★★★★★ (5/5) |
Bringing fashion into Indian cuisine, Armani/Amal is one of the long-standing Indian restaurants in Dubai, which is also iconically located on the third floor of the Burj Khalifa.
The menu is a sophisticated take on Indian dishes, with some amazingly innovative tweaks on classic recipes that took us by surprise and filled us up with delight.
We loved watching our curry get prepared tableside using time-honored traditional cooking methods and ingredients.
We love how the restaurant has managed to be innovative and updated Indian favorites without taking away the authenticity of these dishes.
However, the proportions in the context of the price range are concerning. By the end of our meal, we couldn't believe we spent that much for so little.
The service was stellar. They moved and treated us like how the restaurant presents itself: luxurious and high-end.
When it comes to its ambiance, we mean dining on the third floor of the iconic Burj Khalifa doesn't get better than that.
Except for the fact that we did feel like we were the view instead of having our own beautiful view of the building we were in.
Don't get us wrong, the view of the Dubai fountain from its terraces is undeniably beautiful, but it was hard to appreciate the Burj Khalifa when your neck is hurting from looking up too much.
Innovates Indian recipes while keeping them authentic
Excellent service
Great view of the Dubai fountain
Proportions are small and prices are expensive
Not a great spot if you want to see the Burj Khalifa
Customer Reviews
What an experience!
"What an experience! Went there for our anniversary dinner & couldn't be happier! The view is so grand (Dubai fountain view) and overall the service & food everything was top-notch. When you pay this much you expect the best & this really did feel worth it. We tried their 7-course meal & every dish that came was delicious. Hard to pick a favorite. We met the chef Rahul Sharma at the end & his pleasant and humble personality made the experience even better. If you wanna experience luxury along with scrumptious food Amal restaurant at Armani Hotel is definitely something you should try in Dubai."—Meenal Khan, Google Reviews
This is the best restaurant I have been to
"This is the best restaurant I have been to. The first time I visited Amal restaurant was 6 years ago, I have since been a few times. The level of service, the live music as you enter, the cleanliness, and the attention to detail are unmatched. Of course, it is in the Burj Khalifa with the fountain view but that isn't even the best part about the restaurant. The food is made to an incredibly high standard and the waiters and chef ensure you're satisfied. The money is very reasonable for the experience, location, view, and food. Very highly recommended." —Sarah Kay, Google Reviews
3. Mint Leaf of London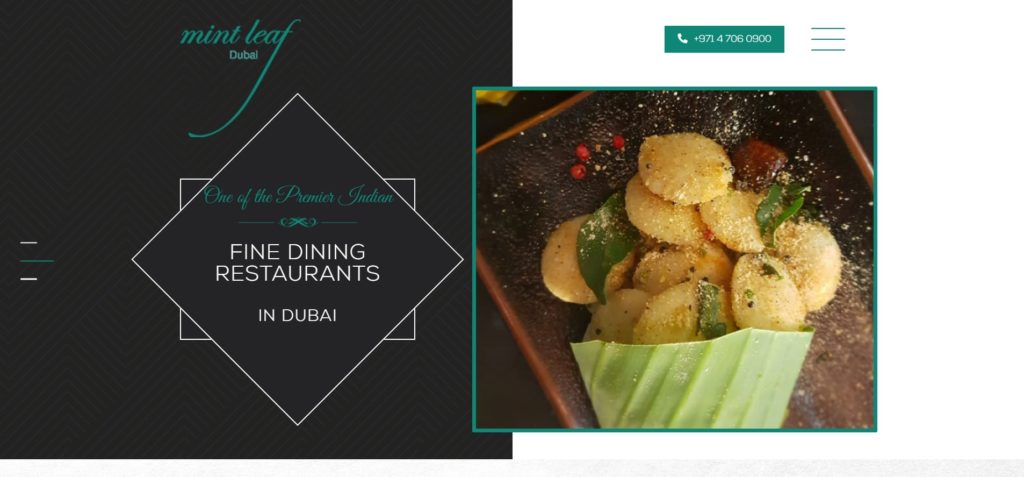 WEBSITE
https://mintleaf.ae/
ADDRESS
Emirates Financial Towers - 15th Floor, South Tower - DIFC - Dubai - United Arab Emirates
CONTACT DETAILS

PHONE: +971 4 706 0900

OPERATING HOURS
Saturday to Sunday and Tuesday to Wednesday: 12 pm - 1 am

Thursday to Friday and Monday: 12 pm - 2 am
| | |
| --- | --- |
| Criteria | Rating |
| Ambiance | ★★★★★ (5/5) |
| Menu | ★★★★☆ (4/5) |
| Authenticity | ★★★★☆ (4/5) |
| Service Quality | ★★★★★ (5/5) |
Widely known for elevating and modernizing its favorite traditional Indian dishes, Mint Leaf of London is one of Dubai's most sought-after Indian restaurants.
Its views are just as good as the food it serves. We enjoyed the city skyline from the 15th floor of the South Tower of the Emirates Financial Towers through its floor-to-ceiling windows.
So, do yourselves a fantastic favor and ask for a table near these, so you can make the most of the majestic vibes.
On top of that, the interior matches the luxury that the view gives. The space feels open and beautiful, and there is a sense of old opulence in the details in the finishings on the walls and the quality of its cutlery.
As for the menu itself, we love how authentic Indian spices and fresh ingredients are found in its dishes, making what it serves still heavily traditional.
However, we do think that some techniques used take away the cultural essence of some dishes.
In other words, we often thought, during our dining experience here, that the food feels like the Western world's interpretation of modern Indian cuisine.
As for its customer service, excellence is the only word that comes to mind.
We love the meticulousness the kitchen puts into the plating. The staff was efficient, professional, and warm throughout our whole dining experience with them.
Serves authentic, luxurious Indian cuisine
Excellent customer service
Restaurant feels opulent
Offers a fantastic view of the city
The flavors are brought down for the Western taste
Less focus on traditional cooking and more on gourmet
Customer Reviews
110% excellence!
"The overall experience at the Mint Leaf of London Dubai was extraordinary!! The dishes were filled will flavor and spices that tingled the senses! We enjoyed the non-vegetarian 5-course meal paired with 4 types of wines and they did not disappoint with the variety of flavors! Also, our server Joanah ensured that we were treated with 5-star availability while dining! The chef, Manoj, really put all the hard work into each unique dish we were presented with tonight! We were very impressed with the customer service and professionalism that was displayed this evening! 110% excellence!!" —Danielle Owens, Google Reviews
Superb dining experience
"Superb food, service, and ambiance. This restaurant definitely earns the five-star rating and raving reviews it has. The chef, Mr. Manoj has to be complimented on the food preparation, everything was so perfectly cooked, not less, not more, just perfect. The taste of the fusion Indian cooking was simply superb. Mr. Adnan who waited on us was so very cordial and pleasant and made us feel very comfortable.
Overall a fantastic experience.
We had gone for Lunch, I guess the view from the restaurant will be fantastic at night. Would definitely come back just to experience dinner with a Burj Khalifa view…" —Eapen Thomas, Google Reviews
4. Indego by Vineet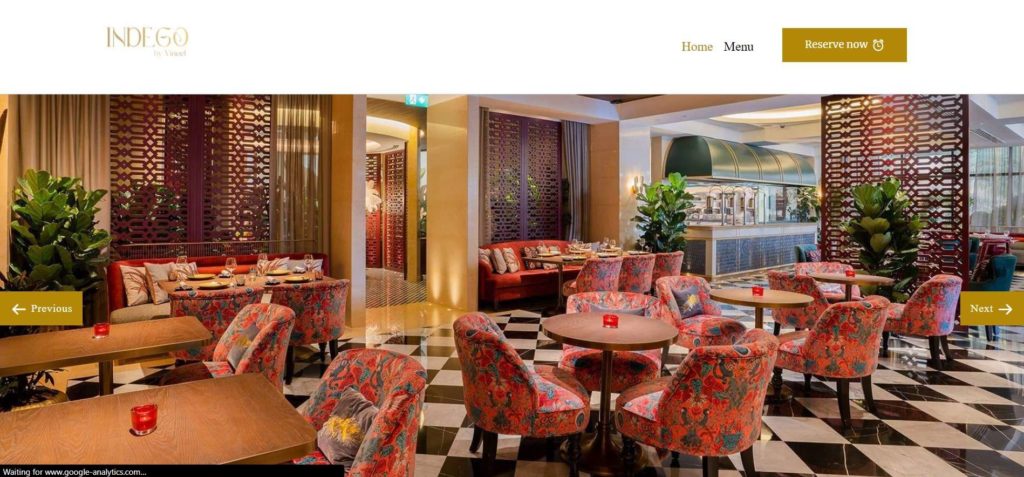 | | |
| --- | --- |
| WEBSITE | https://www.indegobyvineet.com/ |
| ADDRESS | Grosvenor House, a Luxury Collection Hotel, Al Emreef Street, Dubai Marina, Dubai |
| CONTACT DETAILS | PHONE: +97143176000 |
| OPERATING HOURS | Every day: 7 pm - 12 am |
| | |
| --- | --- |
| Criteria | Rating |
| Ambiance | ★★★★☆ (4/5) |
| Menu | ★★★★★ (5/5) |
| Authenticity | ★★★★★ (5/5) |
| Service Quality | ★★★★★ (5/5) |
Founded by Vineet Bhatia with the intention to update and honor beloved Indian street food, Indego By Vineet elevates street side bites with gourmet twists and innovations.
We love how its gourmet acclaim doesn't get in the way of honoring traditional Indian cooking and continues to make space for Indian street food in the gourmet world.
The restaurant really goes authentic with the use of tawa or griddle, tandoor or clay oven, sigdi or grill, and handi or stew pot.
We also love that it keeps its dishes playful and focuses on the harmony of spices and flavors, as the core principle of its cooking. This is also found in the playful elegance of its plating too.
The service was nothing less than professional and efficient while also being friendly and warm, just as what we had come to expect when it comes to a fine dining restaurant.
We are also big fans of its alfresco area. It provides incomparable views of the city skyline because this backdrop elevates the ambiance and makes for some very intimate moments.
However, there is too much furniture in such a small space, and the spacing of the tables and chairs are too close to each other. This makes the space feel crowded and stuffy.
Serves elevated authentic Indian street food dishes
Exceptional service
Beautiful ambiance and backdrop
Too much furniture in such a small space
Tables and chairs are too close to each other
Customer Reviews
One of the best Indian restaurants out there
"Indego restaurant is one of the best Indian restaurants in Dubai. The food and presentation are Amazing..we ate the starter and dessert and it was very good; the rest of the food and decoration is also very good; the second thing is the staff and the manager is also very good so I will tell everyone that you must try it out!!! I guarantee that you will enjoy it a lot." —Meena Sharma, Google Reviews
Amazing service, amazing food
"I visited the newly refurbished Indego by Vineet for dinner recently and the venue looks stunning. It is an Indian fine dining restaurant located in Grosvenor Hotel, Dubai Marina. Their drinks and food menu offer great options. We had many dishes along with their signature cocktails. The presentation, the plating, the flavor, and the taste of the food were impressive. And the exceptional service complemented the food and drinks." —Meghana Rao, Google Reviews
5. Rang Mahal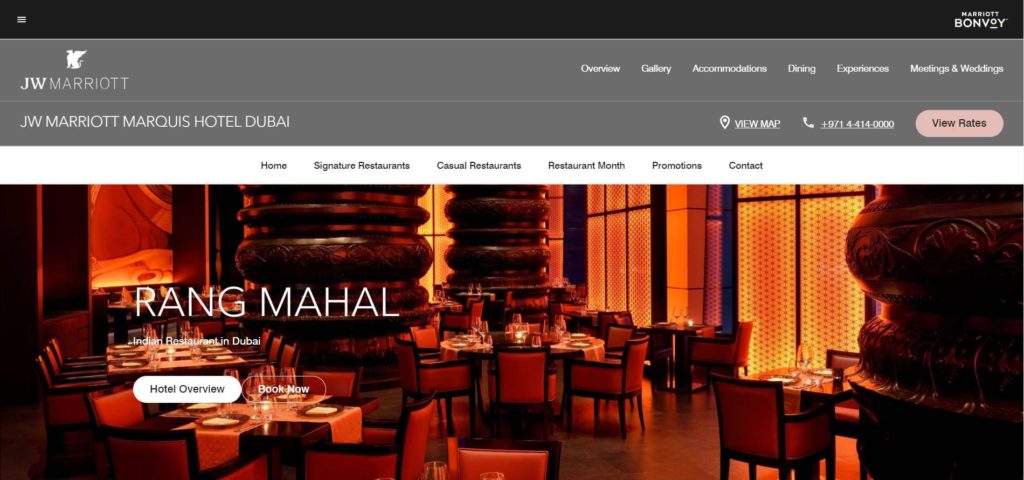 | | |
| --- | --- |
| Criteria | Rating |
| Ambiance | ★★★★★ (5/5) |
| Menu | ★★★★★ (5/5) |
| Authenticity | ★★★★★ (5/5) |
| Service Quality | ★★★☆☆ (3/5) |
Perched on the fourth floor of the JW Marriott Marquis Dubai hotel, Rang Mahal matches the kaleidoscopic colors of its view with its decor and plating.
With gigantic Madhubani-inspired paintings looking over its customers, its impact is only challenged by the views of the beautiful Dubai Canal.
When the sun fell, we enjoyed the city lights reflecting on the body of water, reminding us of a parallel dimension that perfectly encapsulated how we felt about the restaurant's space.
And the plating of the food plays such an important role with this too. Translating to the 'Palace of Colors', Rang Mahal's food is served in shades of amber, gold, and crimson creating a magical mood.
Speaking of food, the menu features the best dishes from India's many regions. We especially love the minced lamb kebab, which is based on a household recipe.
We also love how these dishes did not lose their authenticity. They are prepared and cooked the same way it was taught back in their homeland, the only difference is that the plating elevates it to another level.
One of its critical downsides, however, is that it is remarkably hard to get a table here. On top of that, we've had a couple of mishaps with our reservation, so that is definitely something to take note of.
Amazing view of the Dubai Canal
Beautiful ambiance
Authentic Indian food
Difficult to get a table
Reservation mishaps are common here
Customer Reviews
The hype is definitely worth it
"A place very difficult to get a table at but once you have a taste of their food you will know that the hype is definitely worth it.
Hands down the best Indian cuisine restaurant I've visited in Dubai. The unique concoctions of dishes and drinks are eye-pleasing and delicious at the same time!
Definitely recommend this restaurant to anyone who wants to have unique Indian dishes in Dubai.
Situated on the fourth floor of JW Marriott Marquis in Business Bay, Downtown Dubai, Rang Mahal is a must-visit for Indian food lovers and tourists who are looking for something unique and interesting to try." — Uditi Bhatt, Google Reviews
Stunning visuals, scrumptious dishes, and accommodating staff!
"Stunning visuals, scrumptious dishes, and accommodating staff!
Rang Mahal has one of the best ambiances upon entering, and the dishes certainly did not dampen the expectations that are built up while entering.
The staff is also accommodating and fluid with regard to requests you make for the dishes.
Loved the pineapple chutney in the complimentary chips and dips given at the start.
Tried their festive season set menu, and every single dish from the chaat to the dessert was excellent. It was filling as well, as the dessert could not be finished even though it was good." —Alister Saldanha, Google Reviews
FAQs about Indian Restaurants in Dubai with a View
---
We hope this helped you find your favorite Indian restaurant in Dubai with a view. Also, if you're looking for more restaurant recommendations, then check out these articles: