The 5 Best Luxury Indian Restaurants in Dubai
From the symphonic aroma of the spices to the elegant styling of the dining space, luxury Indian restaurants are some of our favorite choices for when we feel like splurging.
Dubai is no stranger to the luxury of an Indian feast, and with a large Indian community in the city, there are numerous high-end Indian cuisine destinations found here.
So we went around the coast to try out some highly recommended spots and give you our favorite luxury Indian restaurants in Dubai.
How We Picked the Best Luxury Indian Restaurants in Dubai
Before we get right into our list of the best luxury Indian restaurants in Dubai, here are the factors we considered for our entries on this list:
1. Mint Leaf of London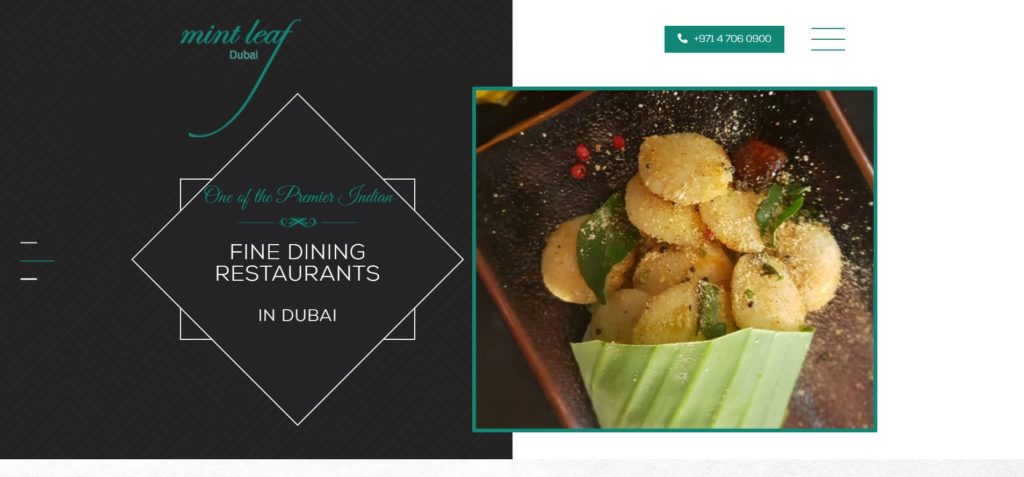 WEBSITE
https://mintleaf.ae/
ADDRESS
Emirates Financial Towers - 15th Floor, South Tower - DIFC - Dubai - United Arab Emirates
CONTACT DETAILS

PHONE: +971 4 706 0900

OPERATING HOURS
Saturday to Sunday and Tuesday to Wednesday: 12 pm - 1 am

Thursday to Friday and Monday: 12 pm - 2 am
| | |
| --- | --- |
| Criteria | Rating |
| Menu | ★★★★☆ (4/5) |
| Authenticity | ★★★★☆ (4/5) |
| Service Quality | ★★★★★ (5/5) |
| Ambiance | ★★★★★ (5/5) |
Mint Leaf of London is one of Dubai's most sought-after luxury Indian restaurants because it is well-known for elevating and modernizing its favorite traditional Indian dishes.
Located on the 15th floor of the South Tower of the Emirates Financial Towers, its location truly plays a vital role in its ambiance.
Dining while viewing the city through the floor-to-ceiling windows was truly a memorable experience for us.
And the interior matches the luxury that the view gives. The space is open and beautifully designed to bring a sense of opulence in the details found in the finishings on the wall and the quality of its cutlery.
As for the menu itself, we love how its dishes use authentic Indian spices and fresh ingredients that remain true to the traditional recipes.
However, we do think that some techniques used take away the cultural essence of some dishes.
In other words, we often found ourselves thinking that this is the Western world's interpretation of modern Indian cuisine.
As for its customer service, excellence is the only word that comes to mind.
They are meticulous and full of style in their plating. The staff was efficient, professional, and warm throughout our whole dining experience with them.
Luxury Indian cuisine
Excellent customer service
Beautifully styled restaurant
Offers an amazing view of the city
The flavors are somewhat Westernized
The balance of traditional Indian cooking and gourmet is off
Customer Reviews
110% excellence!
"The overall experience at the Mint Leaf of London Dubai was extraordinary!! The dishes were filled will flavor and spices that tingled the senses! We enjoyed the non-vegetarian 5-course meal paired with 4 types of wines and they did not disappoint with the variety of flavors! Also, our server Joanah ensured that we were treated with 5-star availability while dining! The chef, Manoj, really put all the hard work into each unique dish we were presented with tonight! We were very impressed with the customer service and professionalism that was displayed this evening! 110% excellence!!" —Danielle Owens, Google Reviews
Superb dining experience
"Superb food, service, and ambiance. This restaurant definitely earns the five-star rating and raving reviews it has. The chef, Mr. Manoj has to be complimented on the food preparation, everything was so perfectly cooked, not less, not more, just perfect. The taste of the fusion Indian cooking was simply superb. Mr. Adnan who waited on us was so very cordial and pleasant and made us feel very comfortable.
Overall a fantastic experience.
We had gone for Lunch, I guess the view from the restaurant will be fantastic at night. Would definitely come back just to experience dinner with a Burj Khalifa view…" —Eapen Thomas, Google Reviews
2. Indego by Vineet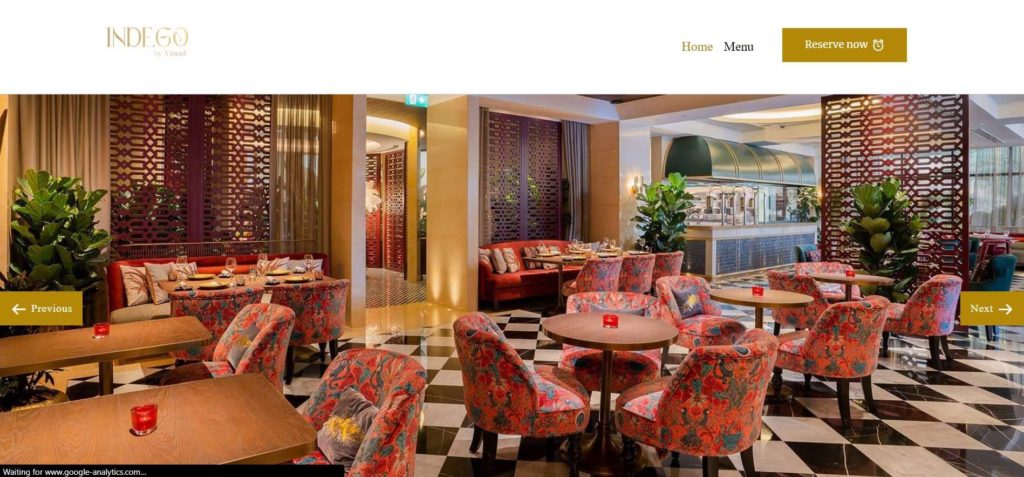 | | |
| --- | --- |
| WEBSITE | https://www.indegobyvineet.com/ |
| ADDRESS | Grosvenor House, a Luxury Collection Hotel, Al Emreef Street, Dubai Marina, Dubai |
| CONTACT DETAILS | PHONE: +97143176000 |
| OPERATING HOURS | Every day: 7 pm - 12 am |
| | |
| --- | --- |
| Criteria | Rating |
| Menu | ★★★★★ (5/5) |
| Authenticity | ★★★★★ (5/5) |
| Service Quality | ★★★★★ (5/5) |
| Ambiance | ★★★★☆ (4/5) |
Updating and honoring beloved Indian street food with gourmet twists, Vineet Bhatia continues his modern progressive campaign on Indian cuisine with Indego By Vineet.
We love how it doesn't let its gourmet acclaim get in the way of honoring traditional Indian cooking.
The restaurant is known for preparing its dishes on tawa or griddle, tandoor or clay oven, sigdi or grill, and handi or stew pot.
We also love the principle it follows when it comes to Indian food, and that is preserving the playfulness found in the harmony of spices and flavors and matching it with a playful elegance in the plating.
Its service is just as you'd expect when it comes to a fine dining restaurant — professional and efficient while being friendly and warm.
As for its ambiance, we love that it's found in the Grosvenor House at Dubai Marina. The whole place is opulent and full of class, which complemented its luxurious nautical area.
Its alfresco area provides incomparable views of the city skyline. We are big fans of this backdrop because it elevates the ambiance and it makes for some very intimate moments.
However, the space can often feel crowded and stuffy. We think this is because some areas have too much furniture, and the tables and chairs are too close to each other.
Serves gourmet traditional Indian street food dishes
Exceptional service
Beautiful ambiance and backdrop
The restaurant can feel crowded and stuffy
Customer Reviews
One of the best Indian restaurants out there
"Indego restaurant is one of the best Indian restaurants in Dubai. The food and presentation are Amazing..we ate the starter and dessert and it was very good; the rest of the food and decoration is also very good; the second thing is the staff and the manager is also very good so I will tell everyone that you must try it out!!! I guarantee that you will enjoy it a lot." —Meena Sharma, Google Reviews
Amazing service, amazing food
"I visited the newly refurbished Indego by Vineet for dinner recently and the venue looks stunning. It is an Indian fine dining restaurant located in Grosvenor Hotel, Dubai Marina. Their drinks and food menu offer great options. We had many dishes along with their signature cocktails. The presentation, the plating, the flavor, and the taste of the food were impressive. And the exceptional service complemented the food and drinks." —Meghana Rao, Google Reviews
3. Tresind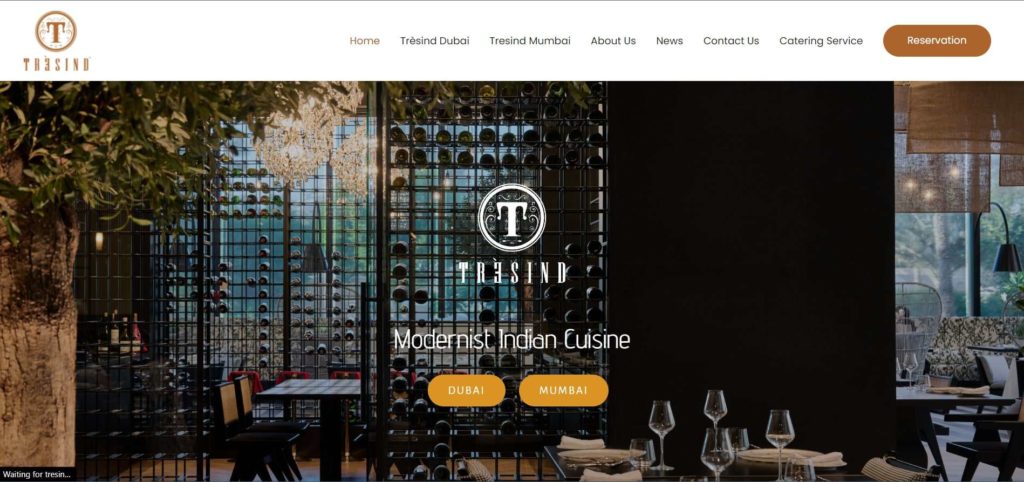 | | |
| --- | --- |
| WEBSITE | https://tresind.com/ |
| ADDRESS | voco Hotel, Level - 2 Sheikh Zayed Rd - Trade Centre - Dubai - United Arab Emirates |
| CONTACT DETAILS | PHONE: +971 4308 0440, +971 56420 9754 |
| OPERATING HOURS | Every day: 12 pm - 3:30 pm and 6:30 pm - 11 pm |
| | |
| --- | --- |
| Criteria | Rating |
| Menu | ★★★★★ (5/5) |
| Authenticity | ★★★★☆ (4/5) |
| Service Quality | ★★★☆☆ (3/5) |
| Ambiance | ★★★★☆ (4/5) |
Composed of a young team of Indians, Tresind is not afraid of paving the path toward reimagining food for today and the future.
So, in a sense, we think that while Tresinde may not be authentic in the usual sense, it does carry on the legacy of Indian cuisine by showcasing its potential to be a part of the contemporary gastronomic industry.
And the restaurant space reflects this mission, too. The interior beautifully combines Indian architecture styling with contemporary minimalistic elements to balance vibrancy and intimacy.
However, we found ourselves getting distracted by the lighting. These were weirdly placed, and the cool and warm lights clashed harshly and ruined the sense of intimacy the place has.
Another weak point was the front-end staff of the restaurant. It was disappointing to see the hostess not even bothering to look up at us and say thank you when we left.
The servers were also lackluster. They were ill-prepared when we asked them which dishes they recommend and gave us a scripted answer that included their two most popular dishes.
Despite that, they accommodated all our requests with utmost efficiency, and we enjoyed it when they explained each dish that was placed on our table.
Serves innovative Indian food
Accommodating service
Beautifully decorated space
Hostess was cold
Servers lack knowledge concerning the menu
Badly designed lighting
Customer Reviews
Innovative food
"We went for the chef's tasting menu which was a 9-course meal. Every item was delicious and had a unique taste. I was skeptical about the mushroom tea, but it was so tasty!!
The presentation is excellent and they explain everything that is being served. All the food was very innovatively prepared and served on different cutlery. Overall it was an amazing experience." —Arpan Makwana, Google Reviews
Wonderful experience from beginning to end
"We had a wonderful experience from the beginning to the end at Trèsind.
Outstanding service, present but not constantly over your shoulder.
We had a vegetarian and non-vegetarian lunch menu: it was delicate, unique, and tasty, and felt like traveling to India.
You understand why the restaurant received an award for Top 50 restaurants in MENA, definitely worth it.
The interior is warm, cozy, and fancy at the same time.
One of our best experiences in Dubai, we will come back. Thank you much." —Karl Lehrer, Google Reviews
4. Carnival by Tresind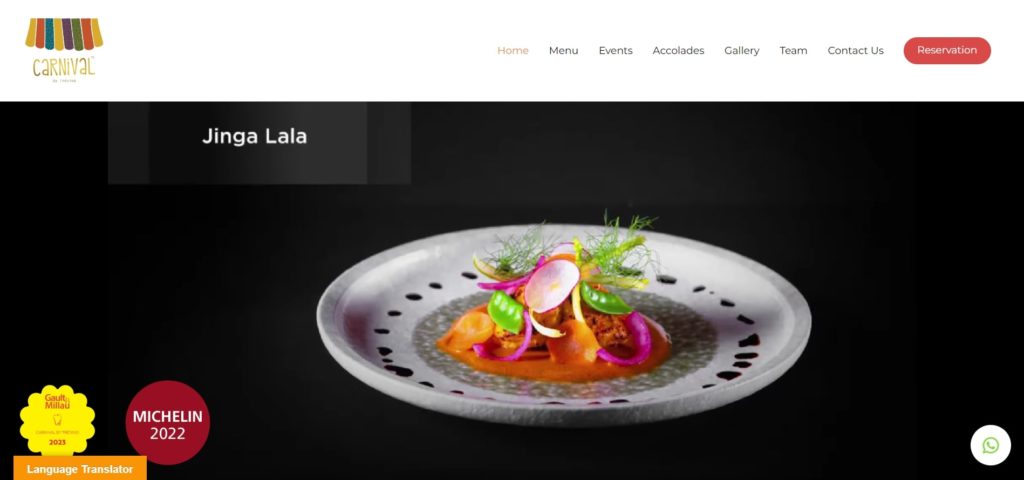 | | |
| --- | --- |
| WEBSITE | https://carnivalbytresind.com/ |
| ADDRESS | The Buildings by Daman - 312 Al Sa'ada Street - Za'abeel - DIFC - Dubai - United Arab Emirates |
| CONTACT DETAILS | PHONE: +971 52 242 4262 |
| OPERATING HOURS | Every day: 12 pm - 11:30 pm |
| | |
| --- | --- |
| Criteria | Rating |
| Menu | ★★★★★ (5/5) |
| Authenticity | ★★★★☆ (4/5) |
| Service Quality | ★★★★★ (5/5) |
| Ambiance | ★★★☆☆ (3/5) |
Modernizing and innovating vegan and meaty Indian dishes is the name of the game for Carnival by Tresind.
The menu offers heaps of protein, from lamb and beef to chicken and fish, and amazing vegan versions of Indian favorites.
However, Carnival by Tresind is not the most authentic luxury Indian restaurant out there. Innovation here means fusing Indian dishes with Western techniques, which can be found in its dishes like the duck curry, and the Carnival chaat.
We do appreciate, however, the conviction to stick with Indian classics and put its own spin on these recipes just so that the food does not feel outdated and mundane.
The service we got was great. We love how the staff made sure that the dishes we ordered were the kinds that we would usually enjoy.
The staff showed great knowledge of the menu and communicated to us their recommendations in the best way possible.
When it came to the ambiance of the restaurant, we loved how the space was decorated to be flamboyant and unabashedly festive.
The plating of the dishes was beautifully quirky, and the seating was not afraid of displaying a rainbow of colors.
However, there were some aspects of the space that clashed with what it was trying to do. The flooring and the ceiling were bland beige and black colors, and the wallpapers did not make sense with the decor.
Great range of vegan and meaty dishes
Innovative Indian dishes
Knowledgable staff
Does not serve authentic Indian food
The decor clashed with the wallpapers and the flooring
Customer Reviews
It is an Indian restaurant but with a lot of great and unexpected twists.
"It is an Indian restaurant but with a lot of great and unexpected twists. We tried the Chef's tasting menu and it was absolutely amazing. To get the whole experience, I would highly recommend going with this option. There is a non-vegetarian and a vegetarian option.
The staff is attentive and explains every course, what it is, and how to actually eat it.
The best is the dessert, when they bring a big plate and paint on the plate with sauces of different flavors, at the end they crush a bar of chocolate in a shape of a cocoa bean onto the plate and add more chocolate.
Everything there has an interesting twist, great ideas, and tastes delicious.
It's not the cheapest Indian restaurant but it's definitely worth trying. The only annoying thing is they add extra taxes and fees on top of the bill which makes 22% extra!! Be aware of that." — Lenka Abs, Google Reviews
A unique experience, fine dining at its best!
"A unique experience, fine dining at its best!
I tried their signature nine-course tasting menu and it's by far one the best experiences I had.
The attention to detail is really one of a kind, the flavors are exquisite, my favorites were the mushroom terrine and the lamb chop with tabasco mash and green pepper sauce.
The lemon pickle sorbet with popping candy was a pop of flavor, really you got to try it for yourself!
The signature cake at the end was a fun way of ending the meal.
Overall, the dining experience was one of a kind, everything was served to perfection, the drinks were unique, the background music was relaxing, the professionalism of the staff.
This restaurant was recommended by Michelin and it definitely rises up to its reputation, will surely come back for more." —Lolita Lolita, Google Reviews
5. The Crossing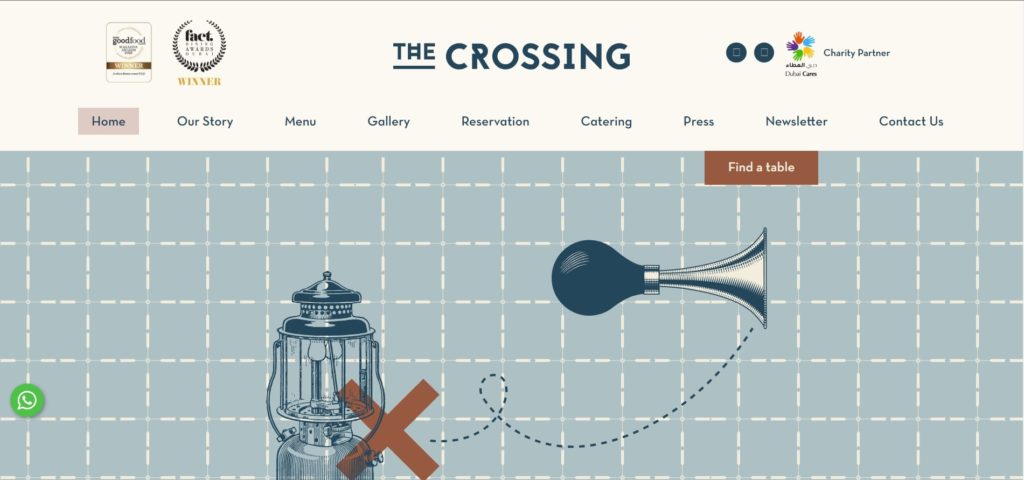 | | |
| --- | --- |
| WEBSITE | https://crossingtherestaurant.com/ |
| ADDRESS | H Dubai - 1 Sheikh Zayed Rd - Dubai - United Arab Emirates |
| CONTACT DETAILS | PHONE: +97144919695 |
| OPERATING HOURS | Every day: 12 PM - 1 AM |
| | |
| --- | --- |
| Criteria | Rating |
| Menu | ★★★★★ (5/5) |
| Authenticity | ★★★★★ (5/5) |
| Service Quality | ★★★★☆ (4/5) |
| Ambiance | ★★★★☆ (4/5) |
With a tasting menu that knocked our socks off with every dish being a showstopper, The Crossing is an award-winning restaurant that brings authentic recipes from the Indian subcontinent.
We love how its menu is a thoughtful curation of nostalgia composed of closely-guarded Indian family recipes.
It brings forgotten regional Indian food to the forefront, from Rajput to North East India.
We think it is also amazing that its menu is made even more authentic by looking back on Indian history and integrating influences from the other cultures that have left their mark on this country.
However, our problem with The Crossing is that the proportions are definitely lacking, which is something hard to mess up with a six-course tasting menu.
We left the restaurant still feeling a little bit hungry despite the amount of money we paid for it.
Thankfully, the staff were very accommodating and made our dining experience a bit better.
We also feel like the ambiance needed some improvement.
While we like the neo-classic minimalistic approach to the look of the restaurant, it did not necessarily feel authentically Indian. This is what we're looking for since the food is cooked and served that way.
The space is definitely pretty and made a great first impression on us, but it quickly wore down. We realized that it felt a bit generic, and definitely needed some unique spin on it.
Great tasting menu
Authentic Indian food
Accommodating service
Proportions were small
The space felt generic and did not match the food
Reviews
It's one of the finest new restaurants in Dubai!
"It's one of the finest new restaurants in Dubai! The food is amazingly tasty, presented in Michelin-inspired style and the service is outstanding. It's super value for money and so nice to see a fab restaurant like The Crossing present Indian cuisine with a global twist! The best part is it's very light and easy on the stomach!" – Sushil Wadhwa, Google Reviews
Excellent food, and very good ambiance.
"Excellent food, and very good ambience. We had been there for a team dinner and the restaurant had put up a set menu that had the right mix of the courses…the chats and the grills stood out. The courses were well spaced out too. The slow-cooked goat meat was simply yummy.
The restaurant has a very good wine selection…a must-try.
Overall a standout 5." – Ashish Chakravarti, Google Reviews
FAQs about Luxury Indian Restaurants in Dubai
---
We hope this helped you find your favorite luxury Indian restaurant in Dubai. Also, if you're looking for more restaurant recommendations, then check out these articles: