5 Providers for the Best Fridge Repair in Dubai
Featured Image Source: Nrd via Unsplash
We often spend quite an amount on our refrigerators, so we expect them to last us long. However, because of how we use them, small damages are unavoidable.
For this, you should get the service of one of the shops for the best fridge repair in Dubai. This article provides a guide on how to find the best fridge repair shop in Dubai.
We've also listed down a few of the best providers we know to make your search easier and faster. At the same time, we've included a list of common fridge problems and prices of their repair to prepare you for the cost of your fridge repair in Dubai.
How Much Does Fridge Repair Cost in Dubai
Below is a table containing the cost of repair for common fridge problems in Dubai. Actual prices may vary.
| | |
| --- | --- |
| Fridge not cooling | AED149 to 999 |
| Thermostat issue | AED149 to 449 |
| Electric wiring problem | AED149 to 399 |
| Fan motor issue | AED149 to 499 |
| Water leakage | AED149 to 399 |
| Door malfunction | AED149 to 749 |
How to Pick the Provider for the Best Fridge Repair in Dubai
For the quick and effective repair of your refrigerator, make sure to employ the service of a reputable repair service provider. Select the provider for the best fridge repair in Dubai with these tips below.
Check for expertise
Before you entrust your home appliance to a service provider, always check for licenses and certifications.
Having received proper training means they are skilled in their job and can fix most of your appliance problems.
This information is typically posted on their business site.
Look for a warranty
There are instances when an appliance breaks down again after a repair due to substandard repair service. For this, it is best to choose a provider that offers a guarantee of at least a week up to a month, preferably longer.
It is important to check for a warranty so having the appliance repaired again would not cost you extra. A guarantee also proves that a provider is not simply ripping people off and is confident that they do excellent repairs.
Read reviews
Before settling for a certain fridge repair provider, be sure to check their online reviews.
These tell you not only about the effectiveness of their repairs but also the promptness of their response, the efficiency of the repairs, and the cost of their service.
Ultimately, these details will help you determine whether they are the right provider for your fridge repair needs.
The Providers for the Best Fridge Repair in Dubai
You should now know what to look for in a provider for the best fridge repair in Dubai.
To get you started on your search for a reliable fridge service provider, check out our list of some of the top-rated Dubai appliance repair shops below.
1.   Best in Town Services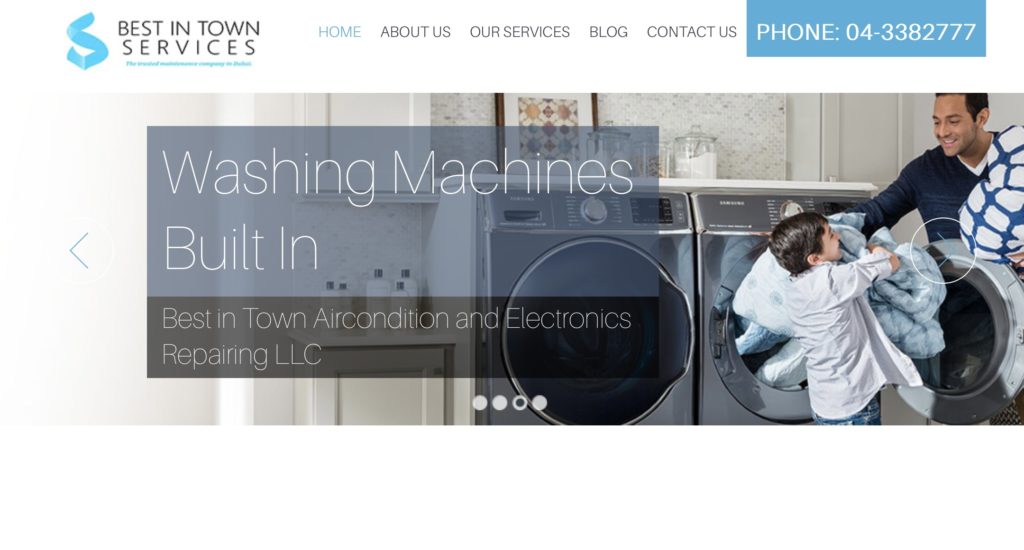 | | |
| --- | --- |
| WEBSITE | https://www.bestintownservices.ae/ |
| ADDRESS | Al Qouz Industrial Area 4, St 22, Warehouse 38, Dubai, UAE |
| CONTACT DETAILS | 04-3382777 |
| EMAIL ADDRESS | [email protected] |
| OPERATING HOURS | Monday to Thursday: 8:00 AM to 8:00 PM; Friday: 8:00 AM to 12:30 PM and 2:00 PM to 7:30 PM; Saturday: 8:00 AM to 8:00 PM |
| | |
| --- | --- |
| 1. ACCESSIBILITY | ★★★★☆ (4/5) |
| 2. EXPERTISE | ★★★★★ (5/5) |
| 3. EASE OF SERVICE | ★★★★★ (5/5 |
| ⮕ Reliability | ★★★★☆ (4/5) |
| ⮕ Range of services | ★★★★☆ (4/5) |
| 4. PROFESSIONALISM | ★★★★☆ (4/5) |
| ⮕ Punctuality | ★★★★★ (5/5) |
| ⮕ Attitude | ★★★★☆ (4/5) |
We stumbled upon Best in Town Services, and boy, were we impressed.
Their services offered are top-notch. They not only provide AC repair, but also maintenance services to ensure that your AC is in tip-top shape all year round.
Their team of professionals is well-versed in all AC makes and models, so you can rest assured they'll get the job done right the first time.
Convenience is also a huge plus for us. We were able to book an appointment easily through their website, and they were able to accommodate our preferred time slot.
But what really sets Best in Town Services apart from the rest is their quality of work. They didn't just fix the issue we had with our AC; they also did a thorough check to ensure there were no other potential problems.
The team took the time to explain everything to us in detail, which was greatly appreciated. We felt like they genuinely cared about our AC's wellbeing.
Dubai is known for being expensive, but Best in Town Services offers fair and transparent pricing. They didn't try to upsell us on anything we didn't need, which is always a plus.
Moreover, their reputation speaks for itself. We heard about Best in Town Services through a friend who had used them before, and they came highly recommended.
Do note, however, they are close on Sundays. We advise paying them a visit on weekdays to avoid any hassle.
Pros
Top-notch services and maintenance for all AC makes and models
Convenient booking process and punctual arrival for appointments
Fair and transparent pricing without unnecessary upselling
Cons
Fully booked on Saturdays
Not available on Sundays
Customer Reviews
Good and ethical business
"We have occasionally contacted Best in Town Services LLC to assist with our Fridge/ice maker. Everyone is incredibly courteous and eager to assist as soon as they can. They recently assisted us and prevented us from purchasing a brand-new refrigerator. Able is an excellent choice for any appliance repairs. They run a good, ethical business. Excellent service and will use them again." — Willie Simpkins
Professional, prompt, and great service
"Amazing service! We called once because our AC wasn't working and turned out to be a tripped wire. The service was so positive especially on December 16 when we called, we had thek come out again and give us a quote for our duct work and converted garage issue. Truly professional, prompt, and great service." — Cory Moreno
2. Buashwan AC & Refrigerator Maintenance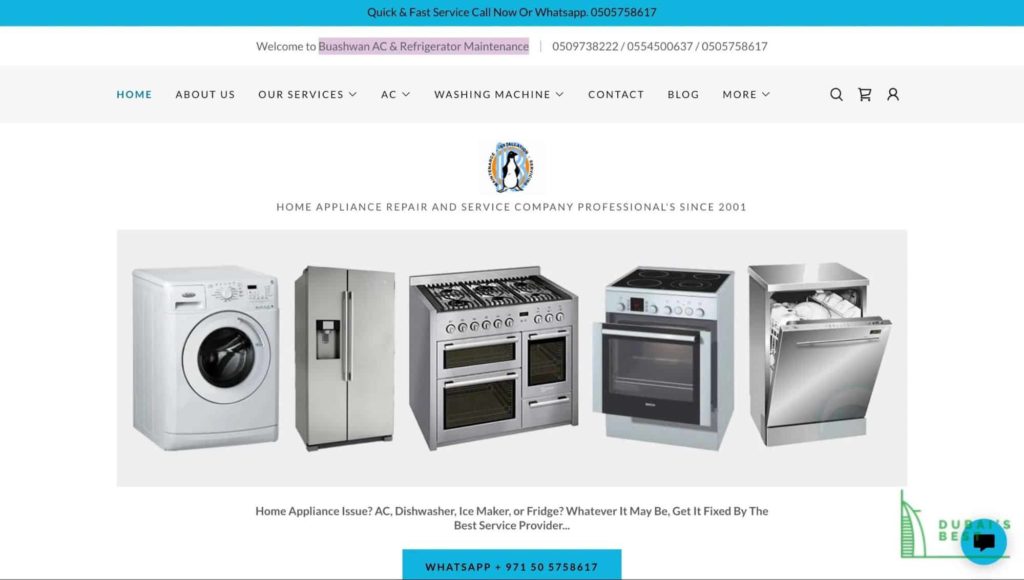 BEST FOR
Fixed repair rates
WEBSITE
https://cfixd.com/
ADDRESS
278 Damascus Street, Al Qusais, Dubai, United Arab Emirates
CONTACT DETAILS
04 263 1292
05 0575 8617
05 5668 8453


[email protected]

OPERATING HOURS
Saturday – Thursday: 8:30 AM – 9:00 PM
Buashwan AC & Refrigerator Maintenance provides excellent residential and commercial fridge repair in Dubai, addressing a variety of problems in major refrigerator brands.
With them, you can choose to have your appliance repaired at their service centre or in your home.
Buashwan AC & Refrigerator Maintenance also lets you know the price of the repair upfront, with fixed rates that cover spare parts and labour. They also do not charge extra for weekend repairs.
Plus, they provide a one month guarantee which ensures the quality of their work.
Fixes residential and commercial fridges
Offers home service
One-month guarantee
Closed on Fridays
No 24/7 repair service
Customer Reviews
Satisfied client Sanat Rane reviewed:
"My fridge had a problem. I called their company and interacted with Syed Zoheb. I found him a very intelligent, professional, and down to earth person. He did the work on time and I appreciated his efforts. Such employees are an asset to the company. Kudos to Zoheb."
Nahom Teweldebrhan also said:
"Professional appliance repair services. Mr Syed Zohaib and his team have given me excellent service, on time, with absolute technical clarity. Most of all, I love his personality. He got things done in the exact time as they have promised."
3.   A to Z Appliances Repair
A to Z Appliances Repair's expert appliance repairmen can fix various refrigerator brands in Dubai at competitive rates.
They repair all sorts of problems in refrigerators, including power consumption issues, broken parts, leaks, and more. They can also replace the dysfunctional part of your fridge, saving you from having to buy a new home appliance.
What makes A to Z Appliances Repair one of the providers for the best fridge repair in Dubai is their 24/7 services anywhere in the city.
With their efficient services, you can also expect them to return your repaired fridge within 24 hours.
Open 24/7
24-hour turnaround time
4.   Just Care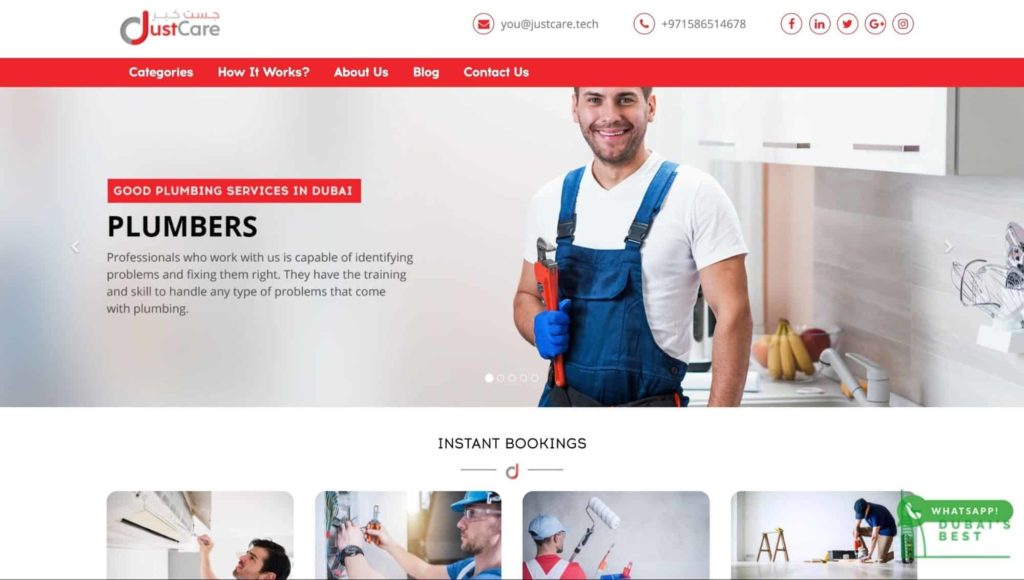 Just Care provides an array of home maintenance services in Dubai, Abu Dhabi, and Sharjah, including refrigerator repair.
Repairs are done by their experienced technicians within a 24-hour turnaround time so you can quickly return to your normal activities with your fully-functional home appliance.
To best provide Dubai residents with their repair services, they have customer service staff available 24/7 for any queries.
The company also values customer satisfaction, providing a full or partial refund for substandard service subject to investigation.
24-hour turnaround time
Hotline open 24/7
Provides a full or partial refund
Charges an inspection fee if repair is not done during their visit
No mention of warranties
Customer Reviews
A previous customer, Anand Krishnamurthy, said:
"Prompt efficient service. Very professional and knowledgeable staff. They know their job and execute it with a great deal of proficiency. Highly recommend them."
Charlotte Duncan also shared:
"Great service. I called and within 3 hours they were here and did everything perfectly! Would highly recommend it."
5.   HomeGenie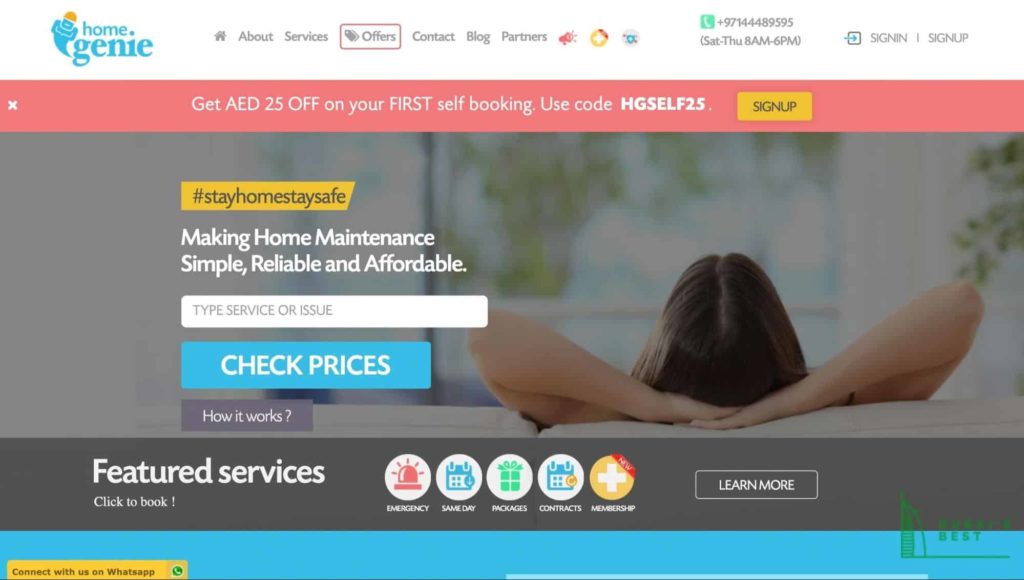 BEST FOR
Great deals
WEBSITE
https://www.homegenie.com/
ADDRESS
Unit 3O-01-2686, Jewellery & Gemplex 3, Dubai, United Arab Emirates
CONTACT DETAILS
+971 4 448 9595

[email protected]

OPERATING HOURS
Saturday – Thursday: 8:00 AM – 6:00 PM
HomeGenie provides solutions for various home maintenance needs. They offer one-time services as well as contract services which are perfect for commercial clients.
They employ licensed and experienced professionals for their refrigerator and other appliance repair services. They also have dedicated customer care staff to handle clients' queries and complaints.
What makes them one of the companies for the best fridge repair in Dubai, however, is their exciting deals. For instance, they offer an AED25 discount for all new customers.
They also provide a 30-day satisfaction guarantee to make sure that your appliance repair needs are properly met.
Dedicated customer service
Contract repair services
30-day guarantee
Closed on Fridays
Extra charge for emergency repairs
Customer Reviews
Sapna Thakur reviewed:
"Excellent Service!! Would highly recommend HomeGenie for solving any kind of home maintenance issues.
The staff is very professional and skilled and the work is done to perfection. It's truly a one-stop solution. I would recommend this group of professionals to everyone."
Shant Daldalian was also impressed with HomeGenie's service. They said:
"HomeGenie is definitely the best service provider available in the market. Very punctual, responsive, absolutely easy to reach and communicate."
6.   Repaircare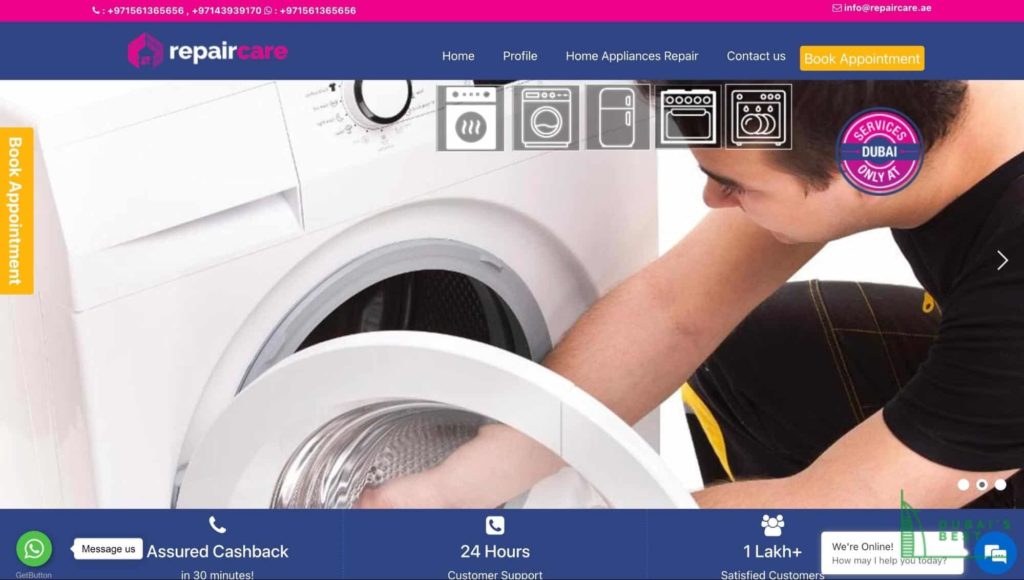 BEST FOR
Two-month satisfaction guarantee
WEBSITE
https://repaircare.ae/index.php
ADDRESS
Al Qusais 3, Dubai, United Arab Emirates
CONTACT DETAILS
+971 4 393 9170
+971 56 136 5656


[email protected]

OPERATING HOURS
Saturday: 7:00 AM – 10:00 PM
Sunday – Thursday: 7:00 AM – 9:30 PM
Repaircare is an appliance repair specialist in Dubai that repairs all major appliance brands. They have a large supply of appliance spare parts that allow them to make any repair.
For their clients' convenience, they can do appliance repairs in your home. Plus, their hotline is open 24/7 to entertain bookings.
Repaircare has fixed rates on all of their repairs, with no extra charge for weekend service.
They also offer a two-month guarantee on their repairs, making them one of the best companies for fridge repair in Dubai.
Has a supply of spare parts
Home service is available
Hotline open 24/7
No extra charge on weekends
Customer Reviews
Deidre Linder, a satisfied client of Repaircare, shared:
"Very efficient engineer, he diagnosed the problem over the phone itself. Highly recommended."
Arjun Ravi also reviewed:
"Very efficient engineer, and fast service. Thank you for your quick support"
FAQs about the Best Fridge Repair in Dubai
---
By hiring any of our picks for the best fridge repair in Dubai, you'll be sure to have your refrigerator back in tip-top shape in no time!
Are there any other providers you'd like us to include in our list? Let us know by sending us a message.
If you're also looking to have your washing machine fixed, check out our list of the best washing machine repair shops in Dubai.