8 Picks for the Best Yacht Rental in Dubai
Featured Image Source: Jordan Cormack via Unsplash
If you're looking to have a private party with only your friends, throwing a yacht party is one of your best (and fanciest) options. For this, you'll need to rent an excellent-quality yacht from one of the providers for the best yacht rental in Dubai.
In this article, we've provided a guide on how to choose the best yacht rental company in Dubai. We've also included a list of the top yacht rental providers to make your search easier.
We've even researched the price of yacht rental in Dubai to prepare you for the cost of your private yacht party.
How Much Does Yacht Rental Cost in Dubai
Below are the prices of yacht rental in Dubai depending on capacity. Actual cost may vary depending on the amenities of a yacht and the added services your chosen provider offers.
| | |
| --- | --- |
| (Per Hour) | |
| 10-person capacity | AED700 to 1,200 |
| 14-person capacity | AED800 to 1,000 |
| 19-person capacity | AED900 to 1,100 |
| 23-person capacity | AED800 to 1,100 |
| 25-person capacity | AED1,300 to 1,800 |
| 30-person capacity | AED2,000 to 2,300 |
| 32-person capacity | AED2,000 to 2,500 |
| 40-person capacity | AED2,000 to 2,500 |
| 45-person capacity | AED3,000 to 3,500 |
| 50-person capacity | AED4,000 to 5,500 |
How to Pick the Provider for the Best Yacht Rental in Dubai
To get a top-quality yacht for your event, make sure to choose a reputable yacht rental provider. Below are some tips you should consider when choosing the best yacht rental company in Dubai.
Check for licenses and insurance
Make sure that the captains and crew of your chosen yacht rental provider received the standard STCW (Standards of Training, Certification and Watchkeeping) training. This ensures that you and your guests will be safe during your cruise.
At the same time, you should make sure that the yacht you are renting is fully-owned by the company. The vessel should also be insured to protect you from fees in case of any damage incurred during your rental period.
Know the services you need
To determine the services you need, know your purpose for your yacht rental. Many people charter yachts for fishing trips, guided tours, dinners or parties.
Most yacht rental companies offer complimentary food and beverages. You may also opt for a package that includes a personal chef.
For dinners and party purposes, some providers can prepare the red carpet and decors for you.
Read reviews
Know what previous clients have to say about a certain yacht rental provider's services.
Here, you'll get an idea about the quality of service, including the food the chefs prepare. Reviews also let you know whether a provider is transparent regarding their fees or if they have a history of charging their clients extra after the service.
The Providers for the Best Yacht Rental in Dubai
Now that you know what to look for in a yacht rental provider, here's a list of the top yacht rental companies in Dubai you should definitely consider.
1. Royal Yachts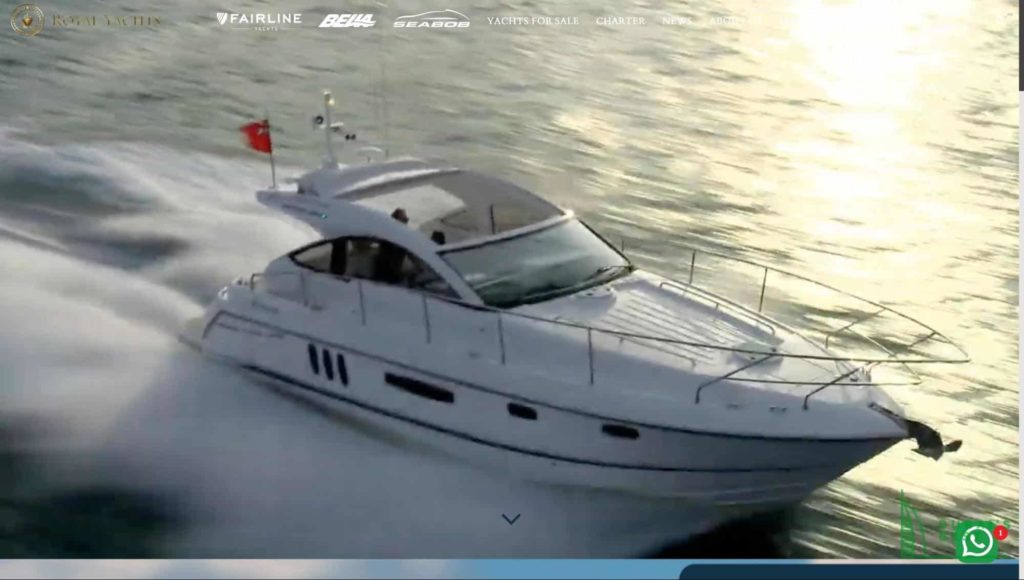 BEST FOR
Yacht parties
WEBSITE
https://www.ry.ae/
ADDRESS
Downtown Boulevard Plaza Tower 2, 1004, Dubai, United Arab Emirates
CONTACT DETAILS
+971 50 226 6906

[email protected]

OPERATING HOURS
Open 24 hours
Royal Yacht offers stylish yachts of different sizes and for different purposes. They also provide many convenient services you may need for your yacht rental.
Their rentals are inclusive of gourmet meals, fresh fruits, an assortment of beverages, and other inclusions.
They also provide catering, live music, and fireworks displays. For an even more memorable yacht party, you can have a LED flyboard show to entertain your guests, something only Royal Yacht offers in Dubai.
The yacht rental company also provides exclusive tour packages, such as their Formula 1 yacht rental package, New Year's Eve rental package, and more.
Open 24 hours
Convenient inclusions
Free airport to residence transport
Hassle-free online booking
Limited selection of yachts
Customer Reviews
Vaishali Tyagi, a highly-satisfied client, reviewed:
"Highly recommended, I booked a 90-minute boat tour Dubai once around the palm island to Burj Al Arab and back for around 35 euros. The guide tells all the places worth seeing and takes pictures of everyone. Highly recommend Nanje Yacht Boat tour."
Another previous client, Kris Anderson, said:
"Fantastic experience! 50 people and 8 crew, amazing service and luxury yacht. It was fresh, clean like a new one!"
2. Nanje Yachts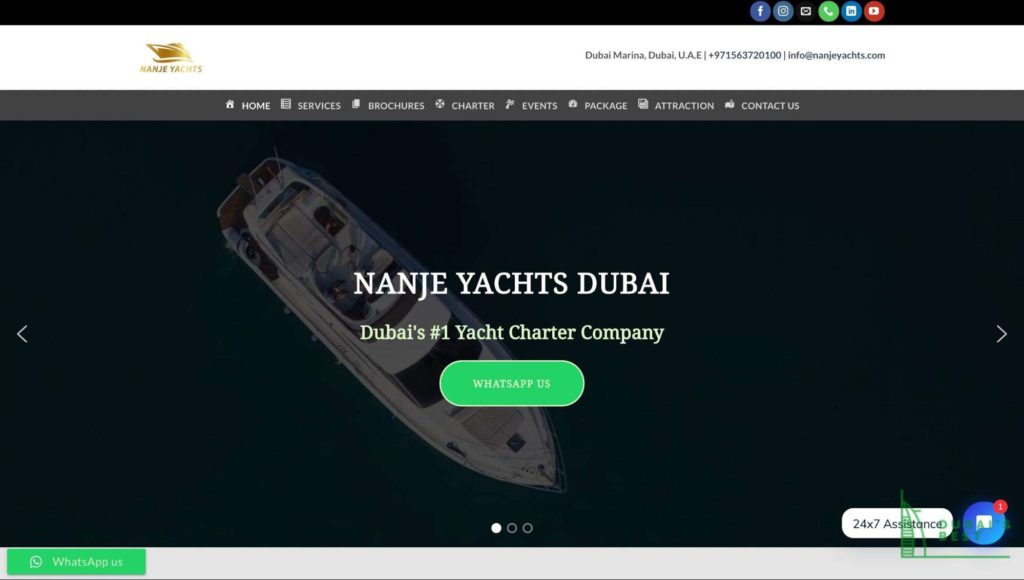 BEST FOR
Huge fleet of yachts
WEBSITE
https://nanjeyacht.com/
ADDRESS
#201, Al Wasl Building Karama, Dubai, United Arab Emirates
CONTACT DETAILS
+971 56 372 0100

[email protected]

OPERATING HOURS
Open 24 Hours
Nanje Yachts has yachts of varying sizes and styles to suit different activities. You can rent their yachts for fishing trips, multi-day cruises, or a sunset or sightseeing cruises that are perfect for dates and wedding proposals.
You can also have a party on one of their yachts and they'll provide you with everything you may need onboard. You and your guests can also enjoy watersports with flyboards, x-jetpacks, jet skis, and more.
They even have a 250-person capacity yacht for corporate events, weddings, and the like.
What makes Nanje Yachts one of the best yacht rental providers in Dubai is that if they don't have the specific yacht you want, they can find it for you.
Open 24 hours
Has a wide variety of yachts for different purposes
Can provide you with everything you may need for a party
Can find you a specific yacht
Limited fishing equipment
Customer Reviews
Shaleela Hameed reviewed Nanje Yachts:
"One of the best services I can say! I have visited many cruises but here the cleanliness, hospitality and the experience with crew and activities were up to the mark. We had chosen 'Sightseeing Package' and I can say, the best trip up to date."
Sarah Graf also left the yacht rental company a positive review:
"Had a lovely experience when we booked a 4-hour boat trip with them. Started perfectly on time, the boat was nice and clean. The fishing equipment was well prepared and the crew was very friendly and attentive. Will definitely book with them again."
3. Seven Yachts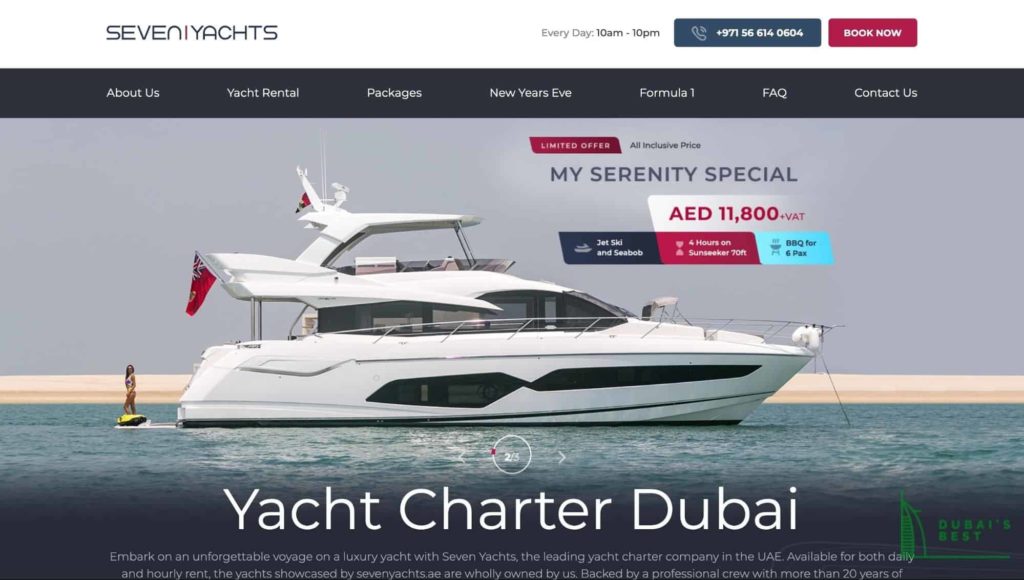 BEST FOR
Long-term cruises
WEBSITE
https://www.sevenyachts.ae/
ADDRESS
Bulgari Yacht Club, Jumeira Bay Island, Jumeirah 2, Dubai, UAE
CONTACT DETAILS
+971 56 614 0604

[email protected]

OPERATING HOURS
Sunday – Saturday: 10:00 AM – 10:00 PM
Seven Yacht's rentals are inclusive of a wide variety of beverages, fresh fruits, and bath accessories. Fuel and moorage expenses are also covered in their basic package.
The provider has several extra services that can make your vacation more convenient and enjoyable. One of these is coordinating your transfer from the airport to the Bulgari Resort and Residences.
With Seven Yacht, you can even have a Michelin star chef prepare your meals during your cruise. If you want to have some fun in the water, they can also arrange various water activities for you.
Seven Yacht allows you to cruise safely with their professional crew with 20 years of experience in sailing. Their yacht rentals are also available for tours and long-term cruises.
Option to have Michelin-starred chef onboard
Experienced crew
Limited yacht selection
Hotline not available 24/7
Customer Reviews
Mariana Garcia left Seven Yachts a positive review:
"This is one of the best yacht charters in Dubai which I know! They have a very professional European crew and very beautiful and comfortable yachts."
Adeel Ghaziani also said:
"Had my pre-wedding shoot on DayDream Yacht by Seven Yachts. Amazing experience. Friendly staff. Thank you, Seven Yachts."
4. Xclusive Yachts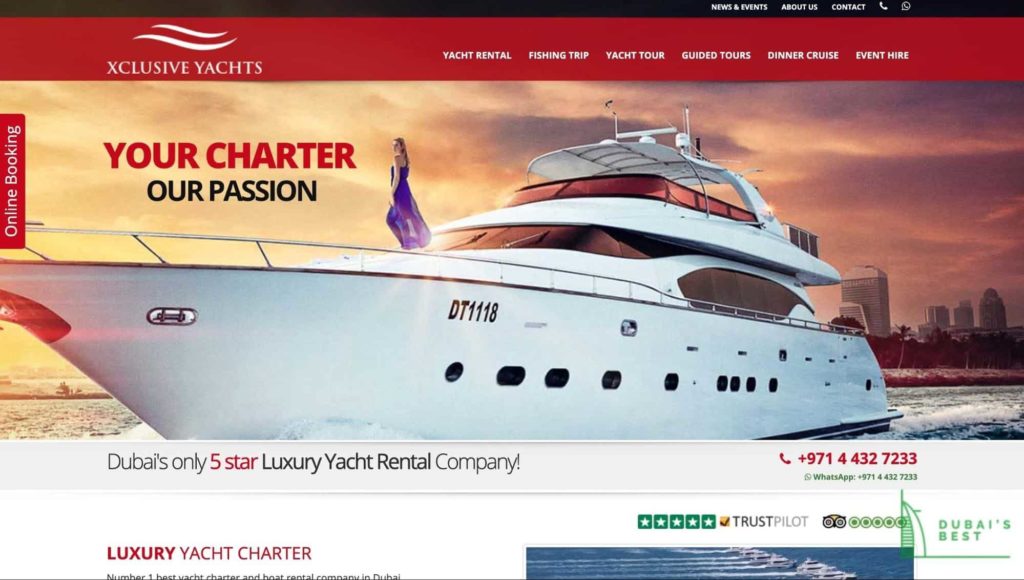 BEST FOR
Affordable boat rental packages
WEBSITE
https://xclusiveyachts.com/
ADDRESS
Retail Unit 3, Marina Level, Al Majara Tower, Al Hubob Street, Dubai Marina, Dubai, United Arab Emirates
CONTACT DETAILS
+971 4 432 7233

[email protected]

OPERATING HOURS
Sunday – Saturday: 8:30 AM – 10:30 PM
Xclusive Yachts offer a variety of boat rental packages that each have impressive inclusions. For yachts, they have the luxury yacht charter and the more economical shared yacht tour.
Their luxury yacht charter includes a red carpet as well as dedicated assistance during the meet and greet. You can also arrange for your choice of menu to be served during your cruise.
On the other hand, the shared yacht tour allows you to tour Dubai by sea with the company of other tourists.
This package is inclusive of beverages and food. Specifically, they serve a breakfast menu for the morning tour and a barbecue menu for the rest of the day.
Variety of rental packages
Has both luxury and cost-friendly options
Hotline not available 24/7
Customer Reviews
Previous client Nada Aslam was pleased with Xclusive Yacht's service. They shared:
"The boat was beautiful and modern, with a very relaxing ambience. The staff was extremely friendly and welcoming. Would definitely recommend a relaxing evening with friends and a great tour of Dubai."
Madelina Hrubaru, another satisfied client, reviewed:
"We loved The dinner BBQ cruise! The staff were really kind and professional, the food was delicious and the cruise took us to the main attractions of Dubai. The yacht was modern and luxurious. Definitely recommended."
5. Aquarius Yacht Rental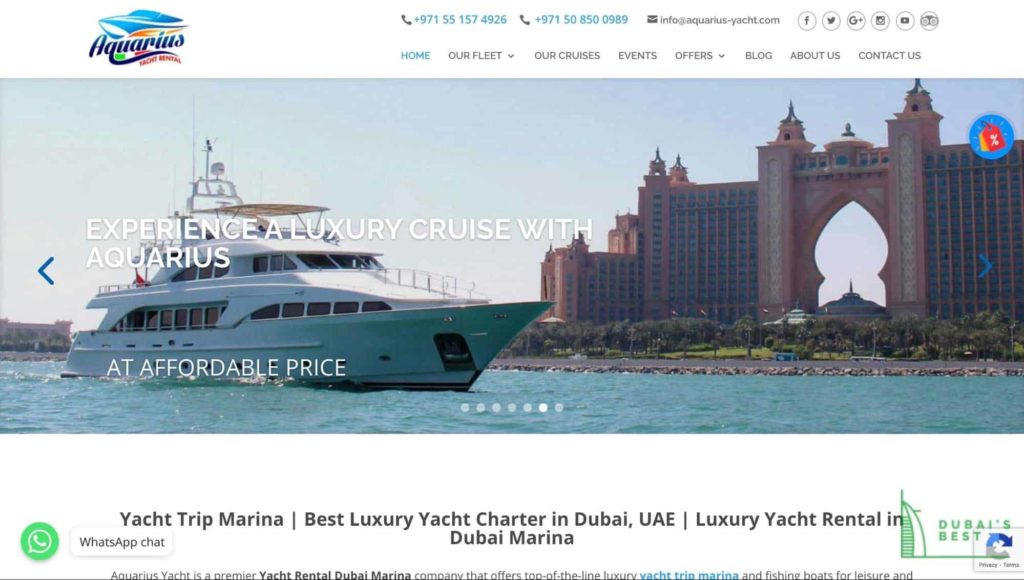 BEST FOR
Special offers
WEBSITE
https://aquarius-yacht.com/
ADDRESS
Office 2301, API Trio Novotel Hotel, Al Barsha, Sheikh Zayed, Dubai, United Arab Emirates
CONTACT DETAILS
+971 55 157 4926
+971 50 850 0989


[email protected]

OPERATING HOURS
Open 24 hours
Aquarius Yacht Rental has a wide selection of well-maintained luxury yachts in Dubai.
These are manned by their professional crew to guarantee the safety of all passengers. To ensure that you get first-class service, their staff are also trained to organize events on sea.
You can also hold your events on their luxury yachts.
They can prepare your choice of cuisine and decorate the yacht to suit any event. For a hassle-free transfer, they can even arrange a limousine for you.
Plus, they offer discounts on special events and holidays, which makes them one of the providers for the best yacht rental in Dubai.
Open 24 hours
Huge fleet of yachts
Can prepare food and decorate the yacht to suit any event
Limited inclusions on their yacht rental
Customer Reviews
Lorenza Gazzola left a review:
"Amazing experience. Simply perfect: from the booking till the end of the cruise, everything has been handled perfectly by all the staff. My VVIP guests were really impressed. Thank you for delivering all your promises in an excellent way!"
Dania Droubi also said:
"I booked the Aquarius Yacht for my daughter's birthday party. The staff are friendly and helpful. They were ready for us when we arrived and they made sure everybody is safe.
The yacht is amazing and has all the amenities needed. Definitely will recommend it to friends and rent it out again."
6. Champion Yachts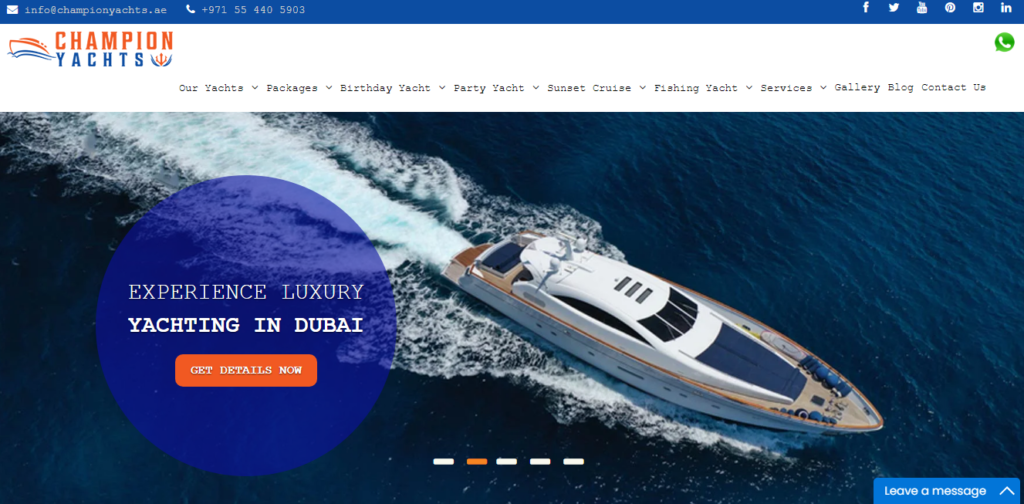 BEST FOR
Yacht and Cruiser Rentals
WEBSITE
https://www.championyachts.ae/
ADDRESS
Marina Plaza, Suite #2906, 81 00000 Dubai, United Arab Emirates
CONTACT DETAILS
+971 55 440 5903 /

[email protected]

OPERATING HOURS
Monday – Sunday : 10:00AM – 7:00PM
Champion Yachts is a company that offers yacht and cruiser rentals and other interrelated services for over 10 years. It is Dubai-based and is known for both its luxurious and home-like comfort and experience in every rental done.
They use only high-quality brands along with a professional crew onboard that will do their best to accommodate and cater to the needs of the clients aboard as best as they can. They also offer a wide array of packages based in Dubai that is both value-driven and comprehensive for each of the client's needs.
Founded back in 2015 on Marsa Dubai, they offer a wide array of packages that vary on the occasion such as weddings, birthdays, new year parties, and the like, and also other production events such as film shooting and photoshoots, team building activities, and even fishing.
We recommend this company for clients interested in renting yachts or cruisers in Dubai areas they provide a holistic experience such as security, hostess, and decorations that will enhance and enable a memorable experience with them.
Experienced staff
Value-based packages
Available for a wide array of occasions and events
Area of availing services are limited only to specific places in Dubai
Customer Reviews
Here are some reviews from their clients:
"There's something that really drives me to rent a yacht from Champion Yachts- it's user- centric, easy and the best luxury yachting experience I could ever have!" – Tim Simons, Australia
"Maintained to the highest standards, Champion Yachts has delighted me with its crew and luxury services on- board in Dubai." – George Baker, Switzerland
7. Mala Yachts Services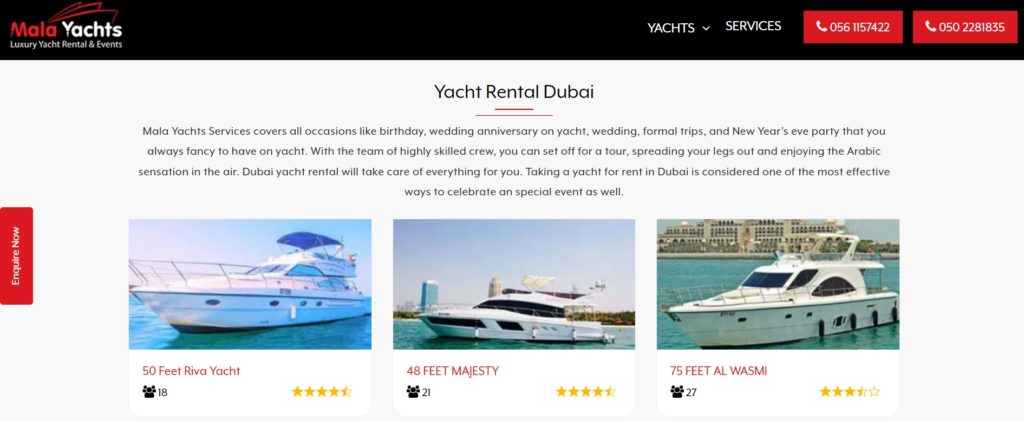 BEST FOR
Yacht Rentals
WEBSITE
https://malayachts.ae/
ADDRESS
Office No: 124 ARJ Building
Sheikh Zayed Rd – Dubai.
CONTACT DETAILS
Tel: 056 1157422, 050 2281835
Email: [email protected]
OPERATING HOURS
Contact for more details
Taking a yacht for rent in Dubai is considered one of the most effective ways to celebrate an special event as well. Luckily, Mala Yachts Services can cover all occasions like birthday, wedding anniversary on yacht, wedding, formal trips, and New Year's eve party that you always fancy to have on yacht.
With a team of highly skilled crew members, they ensure that you can set off for a tour, stretch your legs, and enjoying the Arabic seas. Trust that they will take care of everything for you.
They are widely recognized for their hospitality towards their customers in addition to their superb facilities.
If you're looking for a specific thing to set up for your loved one's birthday or for your family trip, feel free to tell their team. We've heard that they're highly accommodating and will do their best to make your dreams a reality.
Smoking is allowed, but only in some areas
You can bring your own food and beverages
No one is allowed to interrupt your privacy on board
Better for smaller groups
Customer Reviews
Here are some reviews from their clients:
"I recently attended a business meeting on a yacht that was conducted by one of my closest colleague. The yacht was quite spacious and gave a royal feeling. I was also quite impressed by the services they provided and the best part was when they served food. Not only the food was delicious but also the way they served gave me a grand feeling. A really nice experience. Thank you Mala Yachts!"
"I had never been on a yacht before this birthday party of my brother who conducted his 31st birthday on a yacht. I was really excited in the beginning and wanted to stay there all day. The ambience was so good and it felt we were somewhere out of the city. We were in such a calm and soothing place where no one was there to disturb us and everyone was enjoying the beauty of nature and amazing views that were passing by. Amazing service a big thumps to the team."
8.   Dreamdays.ae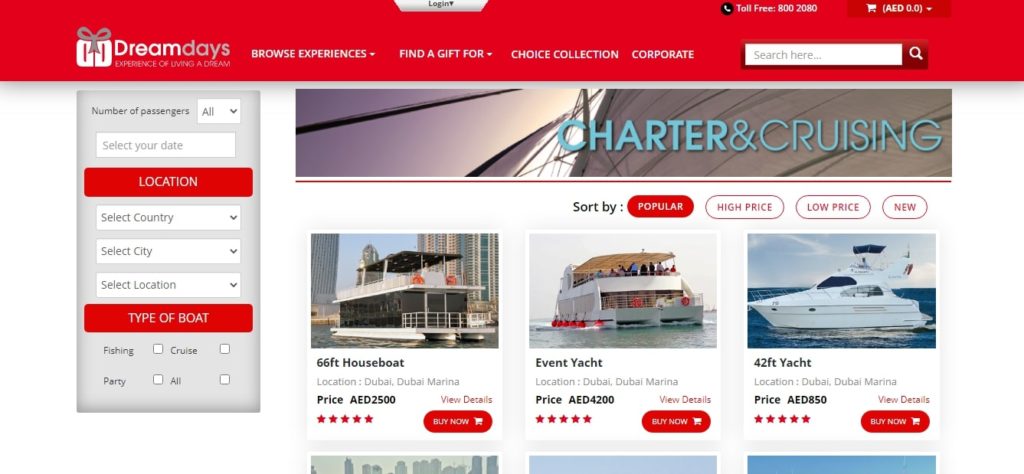 BEST FOR
Diverse experiences for all occasions
WEBSITE
https://www.dreamdays.ae/yacht/
ADDRESS
509, 5th Floor, Ibn Battuta Gate Offices 5th Interchange
CONTACT DETAILS
800 2080 (Toll Free Customer Hotline)
+971 4 4329392 (Customer Service)
+971 4 4329393 (with Departments)


[email protected]

OPERATING HOURS
Saturday – Friday: 09:00 AM – 6:30 PM
Dreamdays.ae is a company that provides its clients with various activities and experiences hotel accommodations, rentals, cruises, spa treatments, and local excursions among many others. Founded back in 2005, they have since then delivered over 300 experiences and trips to clients that go even way beyond UAE.
We like that their packages are customizable and can be personalized to suit the budget of the client and especially geared to accommodate the preferences and needs of the client.
Clients can be sure that they employ only experts for the job wherein they can have access to professional advice on what packages, trips, and procedures to take in order to have the experience of their dreams.
They have some complaints regarding cases of customer service and some areas of their services that could use improvement, but clients still commend them for their helpful and communicative approach when it comes to planning the trip for them.
Overall, with a wide plethora of options to choose from and book directly on their website, we recommend that clients in the area looking for a specific activity to accommodation check them out.
Customizable packages
Accommodates international trips
Online booking available
Customer service could be improved
Customer Reviews
Here are some reviews from their clients:
"I just have to say how helpful the staff at dream days have been each time I've called. Extremely professional polite and friendly and actually always phone back straight away."
"Excellent service. I usually book through their customer service , very friendly team, always they have great new activity to offer. just recently done Shark tour , thanks for Dreamdays for organizing the day for our team and thanks Cathy for great advise! I'll use your service soon again."
FAQs about the Best Yacht Rental in Dubai
---
That's it for our list of providers for the best yacht rentals in Dubai! With one of these companies, you'll surely have a memorable Dubai vacation experience.
Do you know other yacht rental companies we should add to our list? Let us know by sending us a message.
If you're also looking to tour the city by land in style, you should check out our list of the best luxury car rentals in Dubai.