The 5 Best Family Restaurants in Dubai
A restaurant can be a good place for people to bond and talk over a good meal. Family restaurants are establishments that serve different cuisines in various proportions meant for sharing.
In addition, they can cater to both families and friends hanging out with each other. If you're looking for a good place for your next outing, here are our top picks for the best family restaurants in Dubai!
How Much Does Food in Family Restaurants Cost
Different restaurants will have various dishes available. Prices might vary depending on the location, the kind of food they are serving, as well as if you're dining in a fancy restaurant or not.
With that being said, we've prepared a table estimating common menu items that you might see in these establishments:
| Food | Average Estimated Cost |
| --- | --- |
| Combo Meals  | AED 25 - AED 40  |
| Salad  | AED 15 - AED 20  |
| Sandwiches  | AED 15- AED 20  |
| Desserts  | AED 26- AED 60  |
| Tea  | AED 11 - AED 20  |
| Coffee  | AED 11 - AED 25  |
The Best Family Restaurants in Dubai
We've considered the following criteria for the companies in this list:
1. Pawar Family Restaurant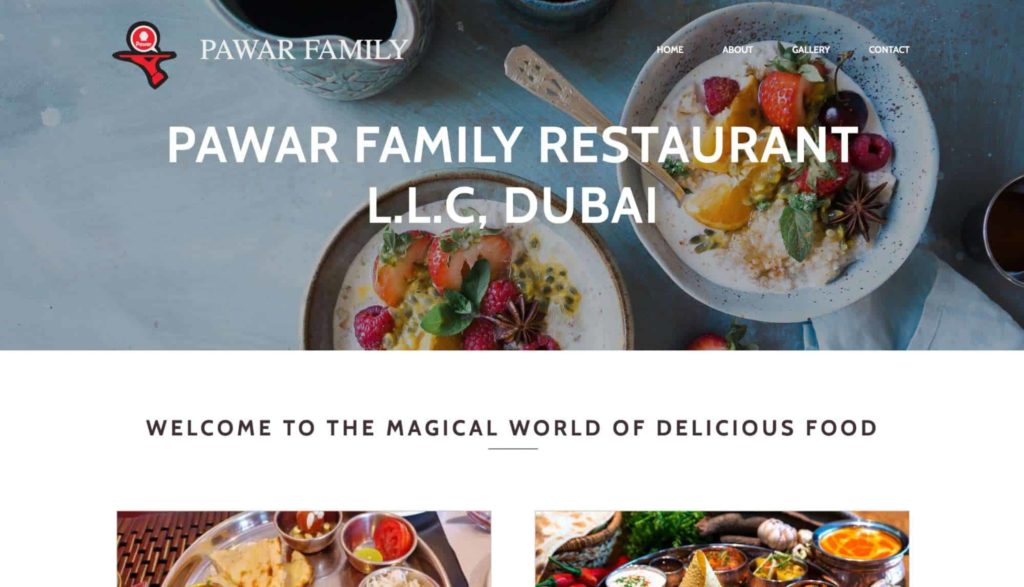 | Test | Info |
| --- | --- |
| FOOD | Special Punjabi Foods, North and South Indian Dishes, Chinese Cuisine, Burgers, Sandwiches, and more! |
| WEBSITE | https://pawarfamilyrestaurant.com |
| ADDRESS | WARSAN1 AL REAFEE BUILDING, DUBAI - Dubai - United Arab Emirates |
| CONTACT DETAILS | Phone: +971 4 770 1073 |
| OPERATING HOURS | 8:00 AM - 12:00 AM (Monday - Sunday) |
| | |
| --- | --- |
| Criteria | Ratings |
| Menu | ★★★★★ (5/5) |
| Price | ★★★★☆ (4/5) |
| Location | ★★★★☆ (4/5) |
| Customer Service | ★★★★☆ (4/5) |
Pawar Family Restaurant is a food establishment opened in 2021. It is a good place to spend time with your loved ones and they serve a pretty good variety of authentic dishes.
These include Punjabi, North and South Indian cuisines. They can also provide various Chinese dishes and sandwiches.
The most notable aspect of this restaurant is, as we've said, their menu. People flock here specifically for their culture-specific cuisine and vegetarian menu items.
We've observed that the restaurant employs a very simple and basic aesthetic in the interior.
However, customers can choose to sit outdoors as well.
They also offer a table where guests can happily eat on the floor with comfortable seating arrangements. We do have to note that while the space seems big, the tables are quite placed close to each other.
So if you're uncomfortable with eating near another person's table, we recommend requesting the staff to place you on a faraway table, but this might not be advisable during peak hours.
Overall, we recommend Pawar Family Restaurant for their great menu variety. If you're craving for some Indian or Punjabi food, this is the place to go!
Offers vegetarian menu items 
Has different table styles for guests 
Spacious interior 
Specializes more in serving Punjabi cuisine 
Tables are quite close to each other
Customer Reviews:
Good Service, Spacious Restaurant
"Nice and spacious restaurant. Stuff Parathas are very nice. Also liked Puri Bhaji for breakfast. Yesterday for dinner had egg curry, paneer kadai, jeera rice and all were prepared very nice. Good and quick service. They provide delivery to nearby areas. They also have outside sitting arrangements and also Dhaba style sitting arrangements on cots like beds." – Manoj Kuber
Fast Service, Good Food Quality
"I celebrated a Birthday party with family.. its a good place for get together.. Non veg and veg both food quality are soo good … Table service was very fast and you can enjoy Dhaba style dining outside sitting on the Charpai like india high way.. so try it one time as per my suggestion. Thank you to Pawar Restaurant. Keep it up 👏🏻" – Tara Datt
2. Rasa Family Restaurant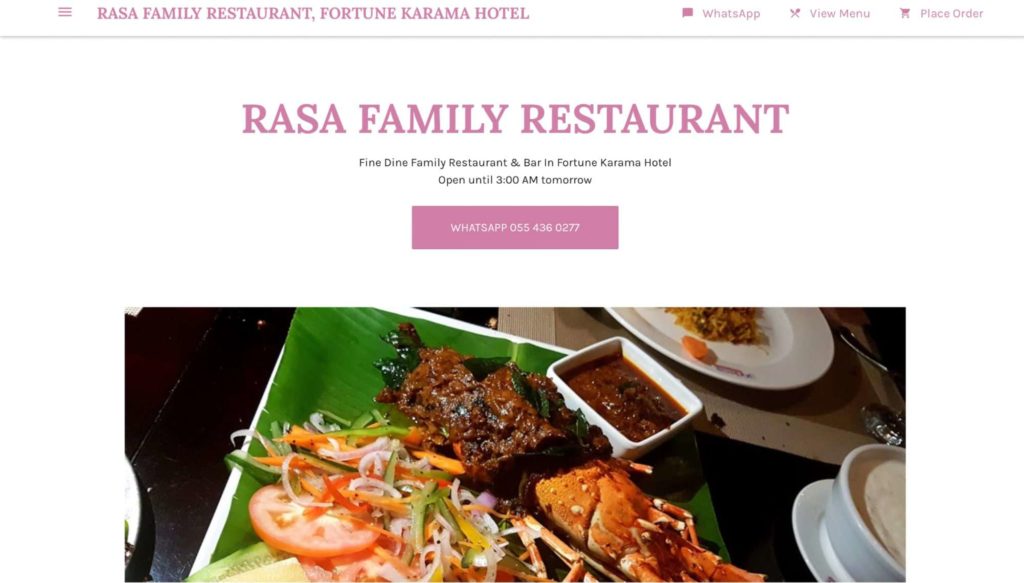 | | |
| --- | --- |
| Criteria | Ratings |
| Menu | ★★★★☆ (4/5) |
| Price | ★★★★☆ (4/5) |
| Location | ★★★★★ (5/5) |
| Customer Service | ★★★★☆ (4/5) |
This is the place to go if you're craving for some good South Indian cuisine. Rasa Family Restaurant is an establishment located in Fortune Karama Hotel.
Established in 2019, the place specializes in serving various dishes from South India. In addition, clients can enjoy Kerala, Mangalorian, and Goa cuisine in this area.
We've observed that the menu is quite varied, with good options for main dishes as well. They have a lot of seafood dishes in their menu, so we recommend you to go here if you're interested in any of the cuisine we've mentioned.
We also like this restaurant because they offer special promotions. These include a special buffet dinner every Thursday and Friday, where you can enjoy their dishes as much as you can.
But if you're not interested in their buffet service, we will point out that even during regular days, their serving portions are quite big. This is perfect for sharing with a group of people!
Looking at the interior of the restaurant, all we have to say is that it looks very luxurious and stylish. Comfortable chairs, couches, and expensive-looking tables adds to the grand experience of dining in a hotel.
Interested parties can reserve a table ahead of time but we recommend avoiding peak seasons. Otherwise, make sure to book early to avoid the crowds.
Moreover, a lot of previous customers shared that they had to wait quite a bit for their food. Some experienced waiting for around one to two hours, which is rather slow in our point of view.
Regardless, Rasa Family Restaurant earns a spot in our list for their good specialty cuisine and their wonderful and comfortable interior.
Great indoor dining space 
Good menu variety 
Large serving portions
Table reservation required
Can have long waiting times 
Customer Reviews:
Great Menu Variety, Polite and Helpful Staff
"Authentic Mangalore food- tried & tested!
They also have an amazing choice of dishes in Goa and Kerala cuisine but we specifically tried the Mangalore cuisine.
Some of the items we ordered were not on the menu card but on what was printed outside. There is also a separate tea zone. Outdoor seating is available. The staff were very polite and helpful in giving us suggestions." – Nandita V
Quick Service, Great Food Quality
"Indian Food is famous for its diversity but thats not it. theres much more to indian food than you can think of. The true definition of it can be seen in the costal region that showcase the vast variety of food that a lot of us dont even know of is at Rasa with dishes from Kerala, Goa and Mangalore. A perfect blend of Flavours and spice in every dish.
We ordered
Mangalore Buns
Appam
Beef Kerala Pepper Fry
Chicken Ghee Roast
Prawns Goan Curry
The staff is courteous and quickz Every dish is tasty and is delectable
Loved this place and the food.Its perfect to dine with family as well" – Fatima Abdullah
3. Masha and the Bear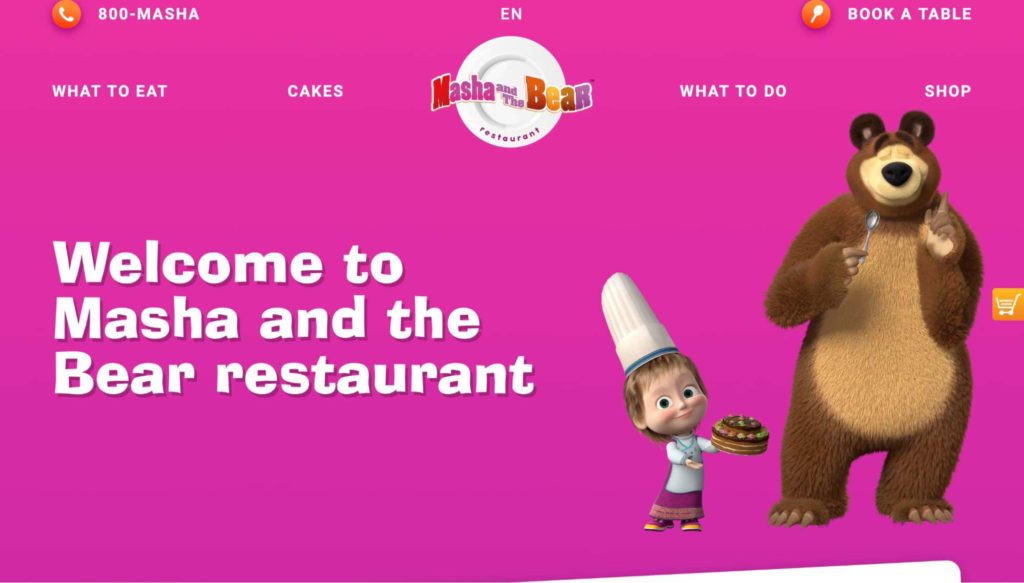 Test
Info
FOOD
English Breakfast, Omelettes, Pancakes, Salads, Soups, Cottage Cheese, Pasta, and more!
WEBSITE
https://mashabear.rest
ADDRESS
212 The Walk - Dubai Marina - Dubai - United Arab Emirates
CONTACT DETAILS
Phone: +971 800 62742
OPERATING HOURS
9:30 AM - 11:30 AM (Monday - Wednesday) 

9:30 AM - 12:30 AM (Thursday - Sunday) 
| | |
| --- | --- |
| Criteria | Ratings |
| Menu | ★★★★★ (5/5) |
| Price | ★★★☆☆ (3/5) |
| Location | ★★★★☆ (4/5) |
| Customer Service | ★★★★☆ (4/5) |
Masha and the Bear is a family restaurant that caters more for children. Previously known as Oompa Loompa, this establishment provides amenities and entertainment for children.
These include workshops where children can learn to create different dishes. Namely, they are Chocolate Pop It and Pizza Workshops.
If you wish to let your kids be in these activities, we recommend coming in earlier during the schedule for any of those workshops. Alternatively, you can just book via calling the restaurant as well.
Even though the place seems catered to kids, the general aesthetic and interior design of the restaurant can be palatable to adults as well.
We do have to note that their dining area is a bit limited, so it can easily get filled up especially during peak hours. There's some tables outdoors, but that's around 3-4 tables.
Looking at their menu, we've observed that they have quite a big variety. From breakfast food to soups to pastas and main courses – you can certainly get a lot of choices.
The most notable thing about their menu is their big beverage variety– juices, milkshakes, tea, and more. They also offer alcoholic drinks such as mojitos.
Overall, we recommend Masha and the Bear for families with children who would want to play around or join some workshops. Their cuisine variety is also great for all ages!
Has workshops for kids 
Restaurant has a play area for children 
Good menu variety 
Has a separate kids menu
Can be a bit expensive 
Small dining area 
Customer Reviews:
Good Food, Great Play Area
"The kids will absolutely love this place! Great food and a fantastic environment of fun and learning. They provide workshops (chocolate, cupcake and pizza making) and there is a play area where the parents can enjoy their time while the kids play." – Hala, via Google Reviews
Great Space, Good Menu Variety
"Tried out the place after a friend suggested it for our meetup as we wanted to have a moment to talk, enjoy our favourites while the kids also have their good play time moments. Masha & the Bear is a fun theme & the place has a soft play area, with Meet & Greet with the characters too..Place is beautifully done & the menu had a good variety to decide from. We 4 friends tried out their Coffee, Lentil Soup, Pasta, Burgers, Kebabs, Cake pops along with Mojitos & liked the overall service & food. Overall it was a good experience & we look forward to visiting again." -Syed Sarim
4. Peppers Dubai Mall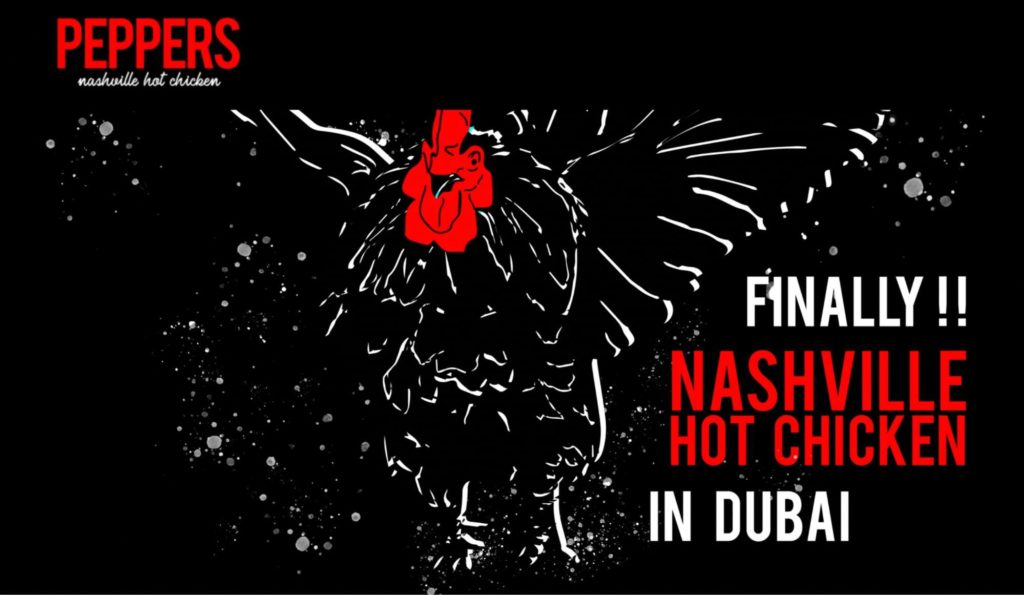 Test
Info
FOOD
Sandos, Loaded Fries, Mac N Cheese, Tenders
WEBSITE
https://www.trypeppers.com
ADDRESS
The Dubai Mall, Second Floor, Zabeel Extension - Dubai - United Arab Emirates
CONTACT DETAILS
Phone: +971 4 333 6077
OPERATING HOURS
12:00 PM - 1:00 AM (Monday - Thursday)

12:00 PM - 12:00 AM (Friday - Sunday) 
| | |
| --- | --- |
| Criteria | Ratings |
| Menu | ★★★☆☆ (3/5) |
| Price | ★★★★☆ (4/5) |
| Location | ★★★★☆ (4/5) |
| Customer Service | ★★★★★ (5/5) |
Opened in 2020, Peppers was created by Abdelrahman Alteneiji after being inspired during his trip to the United States. Wanting to bring home the taste of Nashville style hot chicken, he opened the restaurant after his trip.
In terms of menu variety, we'd like to point out that there's not a lot of dishes on their menu. This store specializes in selling three mains: sandos, tenders, and loaded fries.
What's great about their menu is that customers can customize the spice level of their meals. Aside from that, their serving portions are quite large, so you'll definitely be getting value for your money.
For people who would want to munch on their hot sandos or fries, their interior is certainly fit for dine-in. With comfortable chairs and a good interior design, you can certainly have fun with your friends inside while eating.
We do have to note that it's not that spacious. It can easily get filled, especially during meal hours.
Regardless of how busy they can be, we've observed Peppers' staff still be capable of taking care of their customers really well. They can still handle orders and requests efficiently!
Overall, we recommend Peppers for the spice-lovers out there. With their customization options and big servings, you and your companions will certainly have a good time!
Great interior space 
Allows customers to pick varying spice levels 
Can get very busy 
Limited menu 
Customer Reviews:
Good Experience, Quality Food
"We came from Oman to try Peppers as my cousin has recommended it to us. I was excited about tasting it delicious chicken burger and their fries. First, the lady who took our order asked told us that there are only three items on their menu which are the chicken burger, fries and chicken strips. We had no issue with it as we have ordered the chicken burger and the fries with chicken. Then she asked what do we prefer to have in the burger and the fries which are the pickles and coleslaw and we love both options. When I first tried the fries with the coleslaw I really didn't like much as it was sweet however, it was not bad also. I recommend to whoever doesn't like to much sweetness with the chicken do not order either the burger or the fries with the coleslaw. Overall, it was a good experience and if I came back to Dubai again I will come and order it right." -Ahmed Al-badi
Great Food
"I tried them for the first time back in January. I was in love with them almost instantly.
Loved their burgers especially the super spicy one. There are hardly many items on their menu but it is so high in demand because of the quality of their food and the taste.
We came here another few times and also tried their raw milk ice cream which is coated with something like frosties but it tastes so good 😍 Thinking about it, I think I'll be visiting soon again." – Sifat Salim
5. Social House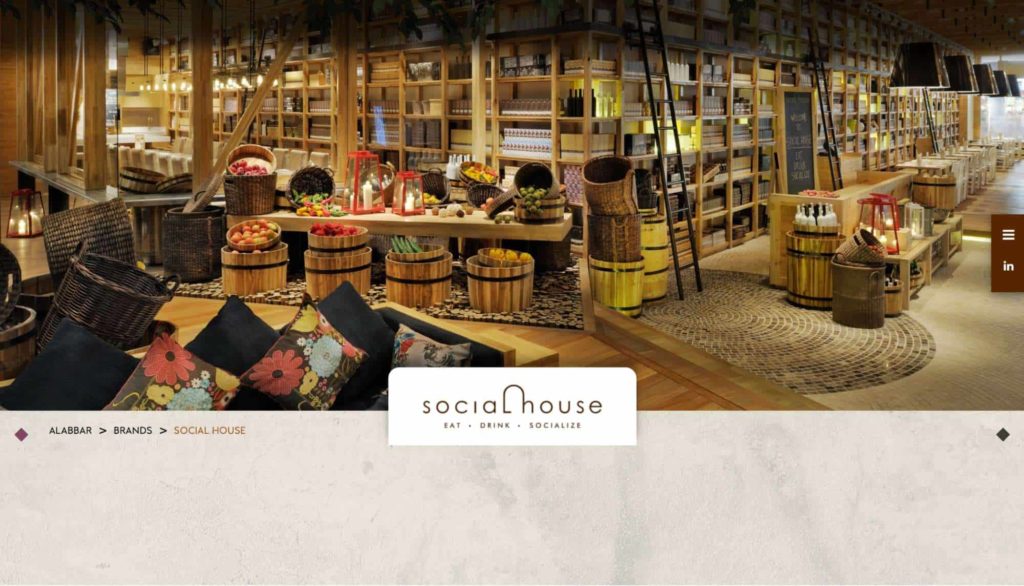 Test
Info
FOOD
Sushi Platters, Pasta, Smoothie Bowls, Prawns, Quesadilla, Lamb, Beef, and more!
WEBSITE
https://www.alabbarenterprises.com/brands/social-house
ADDRESS
level LG - Unit LG - 100 - B - Financial Center Rd - Downtown Dubai - Dubai Mall - Dubai - United Arab Emirates
CONTACT DETAILS
Phone: +971 4 339 8640

Email : [email protected]

OPERATING HOURS
9:00 AM - 12:00 AM (Sunday - Thursday) 

9:00 AM - 1:00 AM (Friday - Saturday)
| | |
| --- | --- |
| Criteria | Ratings |
| Menu | ★★★★★ (5/5) |
| Price | ★★★★☆ (4/5) |
| Location | ★★★★☆ (4/5) |
| Customer Service | ★★★★☆ (4/5) |
Social House is a restaurant that serves various dishes from different parts of the globe. More specifically, they include American, Mediterranean, and Asian cuisine.
Here's the first thing that we've noticed about Social House: this place is very luxurious. It's definitely a fine dining establishment.
There are indoor and outdoor spaces available for customers. People mostly go to the Social House for the scenic views that they offer.
Guests can enjoy the view of Dubai's Dancing Fountains and The Burj Khalifa while eating in the restaurant.
Another aspect we like about them is their ambience. Stepping inside, we felt that aside from the place looking expensive, it's also very homey.
You'll certainly be comfortable eating here!
Looking at their menu, we've observed that there's a lot of choices for clients. From starters to main dishes to drinks, you'll certainly be spending quite some time picking what you want.
Heads up though: this place can be a bit expensive. Factoring the views they offer as well as the Social House being a fine dining establishment, you'll have to spend a bit more money than usual.
We recommend the Social House for their scenic views, and menu variety. It's the perfect place for celebrations and special events with your family!
Offers private dining areas 
Scenic location 
Provides good dining ambience 
Reservation required 
Price a bit expensive 
Customer Reviews:
Good Food, Scenic View
"Quality cuisine, food full of flavors, amazing atmosphere and very good view of the Dubai fountain. We enjoyed our afternoon lunch and savored every bit of our food. Thank you to our attendants that even on a busy weekend we didn't have to wait to receive our orders." – Mai P.
FAQs About Family Restaurants Dubai
---
We hope that you and your family can visit any of the places on our recommendations on your next dinner date! If you're interested in looking up other food places, here's our top picks on the best Chinese food restaurants in Dubai!