The 5 Best Pediatric Surgeons in Dubai
There are times when children will need treatment that goes beyond the scope of what a pediatrician can offer. Sometimes, surgery is needed to treat more serious illnesses.
Pediatric surgeons each have their own specializations in providing efficient care and surgery for their patients. If you're in need of one, here are our recommendations for the best pediatric surgeons in Dubai!
Do take note, that these are in no particular order.
How Much Does Cost Pediatric Surgery Cost
Pediatric surgeons can perform various surgeries that can include major, minor, elective, required and emergency procedures.
Major surgeries are procedures on the head, neck, chest, and on the belly. For children they can also be the removal of brain tumors, correction of bone malformations, and repair and transplantation of organs.
Minor surgeries, on the other hand, involve operations that require a short recovery time. These include placement of ear tubes, hernia repairs, and correction of bone fractures.
Elective surgeries are helpful but not essential such as circumcision and removal of birthmarks. This is in contrast to required surgeries which involve necessary procedures such as spinal fusions.
Lastly, emergency surgeries are performed to respond to an urgent medical need. These can be the repair of injured internal organs after an incident.
With all of that being said, we've listed some of the specific surgical procedures your child can undergo. We've also added the estimated cost corresponding to each operation:
| Surgical Procedure | Average Estimated Cost |
| --- | --- |
| Brain Tumor Removal  | AED 15610 - AED 183652 |
| Bone Malfunction Correction  | AED 33057 - AED 146922 |
| Organ Transplant  | AED 146922 - AED 202017 |
| Hernia Repair  | AED 14324 - AED 45913 |
| Circumcision | AED 205 - AED 5509 |
| Bone Fracture Correction | AED 7346 - AED 36730 |
| Biopsy  | AED 3673 - AED 18365 |
The Best Pediatric Surgeons in Dubai
The following criteria is what we've used in assessing the following medical professionals:

1. Dr. Medhat Abu-Shaaban Of My PediaClinic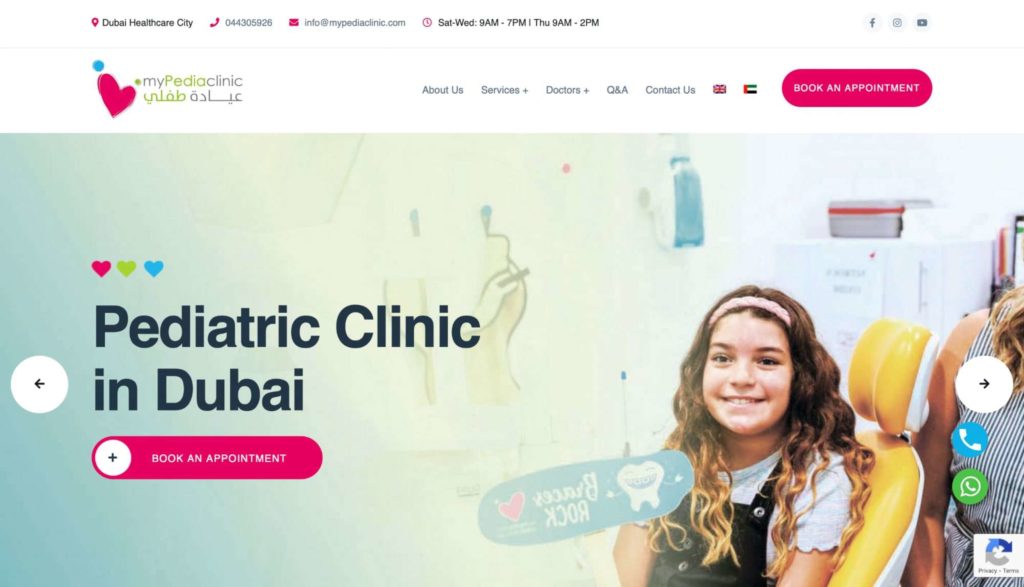 Test
Info
SPECIALIZATIONS
Gastrointestinal Problems, Spitting Up (Reflux), Vomiting, Colic, Diarrhea, Constipation, and more!
WEBSITE
https://mypediaclinic.com
ADDRESS
Al Razi Building No 64 Block B First Floor Unit 1011 Dubai Health Care City - Dubai - United Arab Emirates
CONTACT DETAILS
Phone: +971 055 931 1752

E-mail: [email protected]

OPERATING HOURS
9:00 AM - 7:00 PM (Sunday - Wednesday)

9:00 AM - 2:00 PM (Thursday)
| | |
| --- | --- |
| Criteria | Ratings |
| Expertise | ★★★★★ (5/5) |
| Communication | ★★★★☆ (4/5) |
| Facilities | ★★★★★ (5/5) |
| Availability | ★★★★☆ (4/5) |
MyPediaclinic is a multi-speciality healthcare establishment in Dubai. Mainly a pediatric clinic, they also extend some of their services for adults.
This clinic has garnered achievements for the quality of their services. One of the awards they have on their belt is Dubai Healthcare City Authority's Best Multispeciality Clinic in 2020.
The experts they have on call usually have five to ten years of experience. One of them is Dr. Medhat Abu-Shaaban.
This particular doctor is actually the founder and head of MyPediaclinic. With over 32 years of experience in general pediatrics and surgery, he has catered to a lot of patients over the years.
What's also great about him is that he is an American Board Certified Pediatrician. This means that his medical practice has passed the standards of American medicine.
His expertise in pediatric surgery involves minor surgeries. People seek his expertise when kids need aid in untying their tongue, so to speak and other procedures.
These include adhesion corrections for the prepuce and glans, removal of warts, molluscums or skin tags, and umbilical granuloma cauterization.
We do have to point out that he only does minor surgeries. If you're looking for a specialist who would work on major surgeries, we recommend looking for another specialist.
For his 32 years of experience as a pediatric surgeon and his American board certification, Dr. Abu-Shaaban earns a recommendation from us!
Specialist has 32 years of experience 
American Board certified doctor
Minor surgical procedures only 
Appointment required
Customer Reviews:
Great Service, Expert Care
"I had an amazing experience with both Dr. Rita and Dr. Medhat! Dr. Rita was the one who diagnosed my son with tongue tie when he was just 3 weeks old. I had no clue he had this, I just told her he was not latching on properly and was struggling to drink from the bottle. She immediately knew what it was and was able to diagnose it and get Dr. Medhat to see him. Dr. Medhat operated on him in the clinic as it is a simple procedure and now after a month of stretching and massaging my son drinks normally 🙂 I love that they didnt just tell me oh your son is fussy, or ignored my comments. They really give the best attention to their patients.
I trust them with both my kids :)" – Mona Faris
Good Medical Service, Professional and Caring Staff
"What a wonderful clinic. Dr Medhat and his staff are amazing. They helped us with our daughter's tongue tie. He went out of his way to help us just before the EID break. He is professional and really caring." – Aldo Panaino
2. Dr. Mazen Salowm of Medcare Women and Children Hospital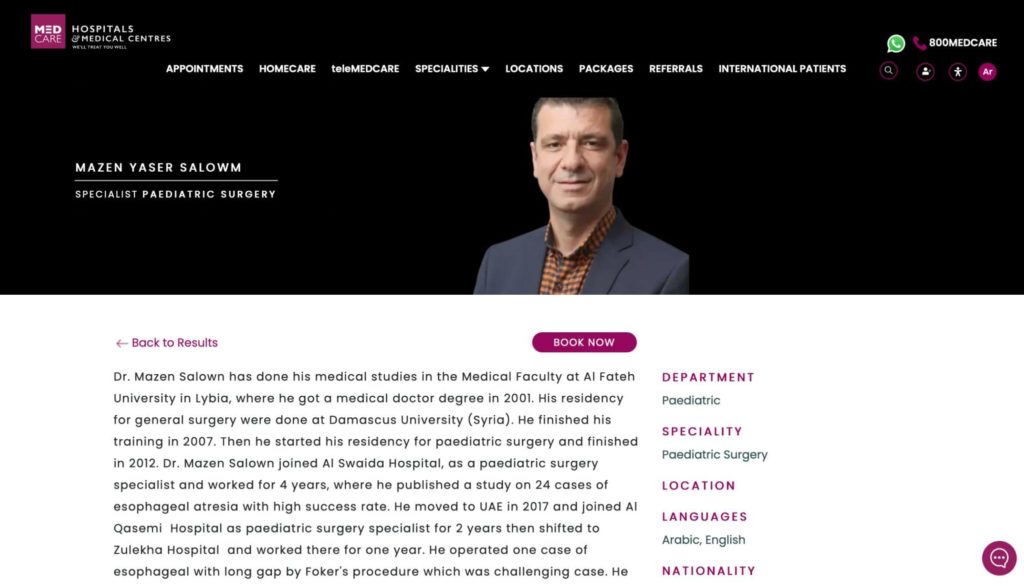 | Test | Info |
| --- | --- |
| SPECIALIZATIONS | Plastic Surgery For Congenital Deformities, Cleft Lip Surgeries, Hypospadias, Microtia |
| WEBSITE | https://medcare.okadoc.com/en-ae/doctor/oncologist/sharjah/mazen-salowm |
| ADDRESS | Al Safa 2, Beside Manara Services Centre, Sheikh Zayed Road (Opposite Noor Islamic Bank Metro Station), Dubai |
| CONTACT DETAILS | Phone: +9718006332273 |
| OPERATING HOURS | Open 24 hours. (Monday - Sunday)  |
| | |
| --- | --- |
| Criteria | Ratings |
| Expertise | ★★★★★ (5/5) |
| Communication | ★★★★☆ (4/5) |
| Facilities | ★★★★☆ (4/5) |
| Availability | ★★★★☆ (4/5) |
Medcare Hospital opened in 2007 and is a private hospital in the UAE. With multiple branches and satellite clinics, the establishment offers multi-specialty services for patients in various Emirates.
Looking at the doctors on their roster, we've observed that the company employs doctors and surgeons with 5 to 10 years of experience. Dr. Mazen Salowm is one of them.
Dr. Salowm is a resident pediatric surgeon for Medcare's Dubai branch. What's great about him is that he has over ten years of experience doing surgical procedures on young patients.
His specializations include cosmetic surgeries for cleft lips and for congenital deformities. Aside from that, Dr. Salowm also does minor surgeries for the male genitalia and the ears.
These include fixing hypospadias and microtia. Overall, we believe that Dr. Salowm can cover minor surgeries, with his focus on cosmetic or plastic surgery for children.
His range of specialties is one of the most limited though, compared to the rest that we've looked at.
In terms of customer service, Medcare offers a good insurance billing system. Insurance holders of companies such as Daman, Dubai Care, Saico Health, and more can avail lower rates of his services.
We recommend Dr. Salowm for his 10 years of experience and his specializations in cosmetic surgery!
Accepts multiple insurances 
Surgeon has 10 years of experience
Booking required 
Limited surgical treatments covered 
3. Dr. Muhammad Eyad Ba'ath of American Hospital Dubai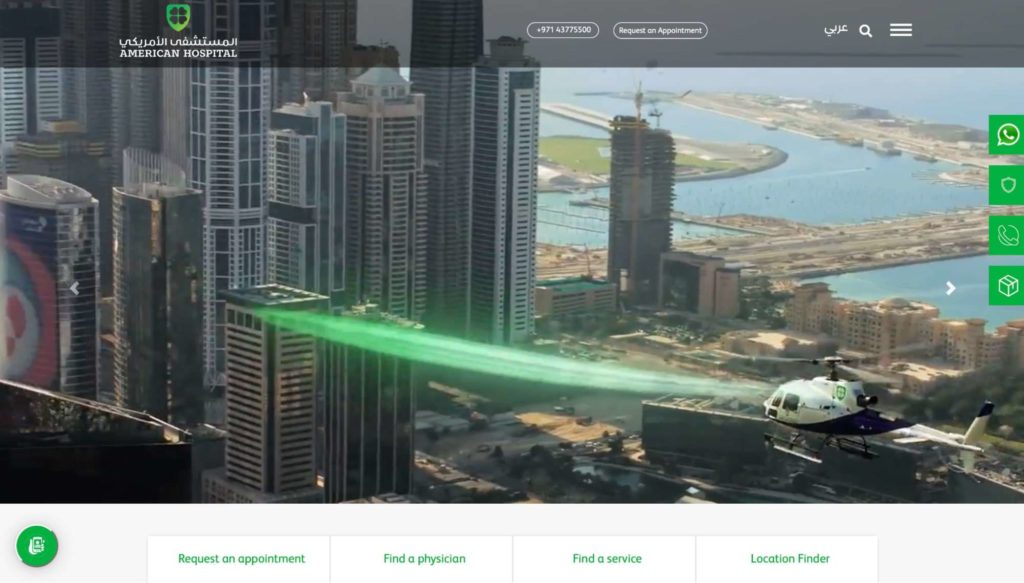 | Test | Info |
| --- | --- |
| SPECIALIZATIONS | General Pediatric Surgery, Pediatric Urology, Minimally Invasive Surgery including scarless surgerym, Fecal and Urinary Incontinence, Hypospadias, Neurogenic Bladder, and more! |
| WEBSITE | https://www.ahdubai.com |
| ADDRESS | 19th St - Oud Metha, P.O. Box 5566 - Oud Metha, Dubai |
| CONTACT DETAILS | Phone: +971 4 377 5500 |
| OPERATING HOURS | 8:00 AM - 8:00 PM (Monday - Sunday)  |
| | |
| --- | --- |
| Criteria | Ratings |
| Expertise | ★★★★★ (5/5) |
| Communication | ★★★★☆ (4/5) |
| Facilities | ★★★★★ (5/5) |
| Availability | ★★★★☆ (4/5) |
The American Hospital is a multi-special private hospital in the UAE. Opened in 1996, this large hospital is known for its 254-bed patient capacity.
The hospital also has large sections for its more than 40 medical and surgical clinics. This is to ensure they can accommodate its staff, doctors, and patients properly.
Looking at the establishment's interior, it looks like a typical hospital. White walls, benches and chairs to sit around.
It's simple, plain, but clean-looking. The surgical rooms and testing areas of the hospital are well-equipped with devices needed to properly aid the medical needs of their patients.
For its doctors, the hospital employs experts that have ten or more years of experience in their chosen medical practices. One of them is Assistant Professor Dr. Muhammad Eyad Ba'ath.
Dr. Ba'ath is a Consultant Paediatric Surgeon with over 8 years of experience. Out of all the surgeons we've found, he has the most number of specialties.
These include general pediatric surgery, pediatric urology, minimally invasive surgery, as well as fecal and urinary incontinence. He trained in various hospitals in the USA, UK, and the UAE.
We do have to note that his focus is mainly on urology, but he can also do other general surgeries.
Overall, we advise booking an appointment with Dr. Ba'ath for his years in the medical field and his wide range of surgical expertise or specializations!
Specialist has 8 years of experience 
Doctor can do different types of surgeries 
Mainly a urologist 
Appointment required
4. Dr. Montaser Mahmoud Of Dr. Hassan Ali Mundi Medical Center
Test
Info
SPECIALIZATIONS
Hernia-Related Surgery, Bowel Atresia Procedure, Hypospadius And Penile Rotations, And More!
WEBSITE
https://hmguae.com
ADDRESS
68JF+PJ2 - Umm Hurair 2 - Dubai Healthcare City - Dubai - United Arab Emirates
CONTACT DETAILS
Phone : +971 44297777

Email : [email protected]

OPERATING HOURS
8:00 AM - 8:00 PM (Saturday - Thursday)

4:00 PM - 8:00 PM (Friday)
| | |
| --- | --- |
| Criteria | Ratings |
| Expertise | ★★★★★ (5/5) |
| Communication | ★★★★☆ (4/5) |
| Facilities | ★★★★☆ (4/5) |
| Availability | ★★★★☆ (4/5) |
Opened in 2015, Dr. Sulaiman Al Habib Hospital is a medical establishment that provides specialist-oriented and multi-disciplinary healthcare to people in Dubai.
We've noticed that the hospital is fairly spacious. With multiple floors and wide spaces, the establishment makes room for the different medical practices they house and offer to patients.
Interior wise, it's nothing extravagant. It has enough waiting rooms and spaces where patients and their companions can sit in between appointments or procedures.
The consultation and surgical rooms are also well-maintained and equipped with the necessary tools and furniture needed by the doctors and staff.
Parking wise, the hospital has an extra area underground. So no need to worry about where you'll have to put your car during your visit!
Moving on to the experts they have on call, one of the disciplines in this hospital is pediatric surgery. Dr. Montaser Mahmoud is the establishment's resident surgeon for that said field.
What sets Dr. Mahmoud apart from the rest is his years of experience, which are two decades. Aside from that, he also has a master's degree in surgery– so rest assured that your child will be in expert hands.
He specializes mainly in urology-related surgical operations. These include treating bowel atresia, fixing anorectal malformations.
Aside from these, he can also provide his expertise in treating congenital hernia and undescended testicles for young male patients.
As you've noticed on the list of procedures he specializes in, he mainly focuses on urology. If your child needs to be treated for conditions outside this field of medicine, Dr. Mahmoud will not be of assistance to the patient.
Regardless, we believe that with the doctor's 20 years of experience and great educational background, he is definitely an expert you can rely on for your child's urology-related disorders!
Doctor has 20 years of experience 
Specialist has a master's degree in surgery
Hospital has extra underground parking 
Hospital offers medical packages or promos
Appointment required 
Pediatric surgeon is mainly a urologist
5. Dr Ayman Al Jundi Of Kings's College Hospital London
| Test | Info |
| --- | --- |
| SPECIALIZATIONS | Gastroenterology, Respiratory, Liver |
| WEBSITE | https://kingscollegehospitaldubai.com/dr/murtaza-najmi/ |
| ADDRESS | Kharbash Building - Jumeirah Beach Road Umm Suqeim 1 Billqetair Street (37B street - 2nd Floor - Dubai - United Arab Emirates |
| CONTACT DETAILS | Phone: +971 4 519 9999 |
| OPERATING HOURS | 8:00 AM - 8:00 PM (Monday - Sunday)  |
| | |
| --- | --- |
| Criteria | Ratings |
| Expertise | ★★★★★ (5/5) |
| Communication | ★★★★☆ (4/5) |
| Facilities | ★★★★☆ (4/5) |
| Availability | ★★★★☆ (4/5) |
King's College Hospital London is a 100-bed facility that employs doctors in various fields in medicine. The establishment is an international multi-specialty hospital that opened a branch in Dubai in 2004.
As we've stated, this facility is quite large and can therefore hold a large quantity of patients. The interior of King's College Hospital London has spacious and comfortable waiting areas with plenty of seating.
Moving to the doctors in the establishment, we like that the company hires a roster of doctors from various countries such as India, the UK, the UAE, and the US.
These professionals have at least five to ten years of experience in their chosen fields as well!
One of these experts is Dr. Ayman Al Jundi, a resident pediatric surgeon. He studied and trained in the UK, and has over 40 years of experience.
He can do various general pediatric surgical procedures and can treat patients from infancy up to 13 years of age.
He specializes in treating urological disorders such as hernias, penile deformities, testicular disorders. Aside from that he can also treat diseases in the bladders and kidneys.
He can also do corrective surgery on congenital malformations of the gastrointestinal and urinary systems.
Interested parties can call the hospital to book an appointment. A notable thing about the hospital's services is that their official website also serves as an online platform for booking appointments.
This is convenient for the potential patients because they can compare their doctor's schedule with their own availability.
We recommend seeking his services or counsel for general pediatric concerns or urology-related disorders!
Specialist has over 40 years of experience 
Surgeon can do multiple procedures 
Registered in UK's General Medical Council
Appointment required 
Limited parking space 
FAQs About Pediartric Surgeons in Dubai
---
Hopefully, these experts can be of assistance to your child in their time of need. If you're looking for more medical professional recommendations, check our list on the best sports doctors in Dubai!