The 5 Top Fast Food Restaurants in Dubai
No matter where you go, there's plenty of choices to grab a bite to eat! While fancy food places are certainly an option, sometimes we just want something fast, good and filling.
Dubai is no stranger to fast food chains and restaurants! So if you're looking to grab some good fast food, we've got you covered with our top picks for the top fast food restaurants in Dubai!
How Much Does Fast Food Cost
By definition, fast food is a mass-produced item that is designed to be released or made in a short amount of time. Essentially, they are food that's cooked frozen but may also be preheated or precooked.
With that being said, here's a reference table on the various types of food you can get at fast food establishments along with their estimated cost:
| Food | Average Estimated Cost |
| --- | --- |
| Combo Meals | AED 25 - AED 40 |
| Salad | AED 15 - AED 20 |
| Sandwiches | AED 15- AED 20 |
| Desserts | AED 26- AED 60 |
| Tea | AED 11 - AED 20 |
| Coffee | AED 11 - AED 25 |
The Best Fast Food Restaurants in Dubai
Finding the best food restaurant is not an easy task, but we can narrow it down to a couple of top options. We've considered the following criteria for the companies in this list:

1. Hardee's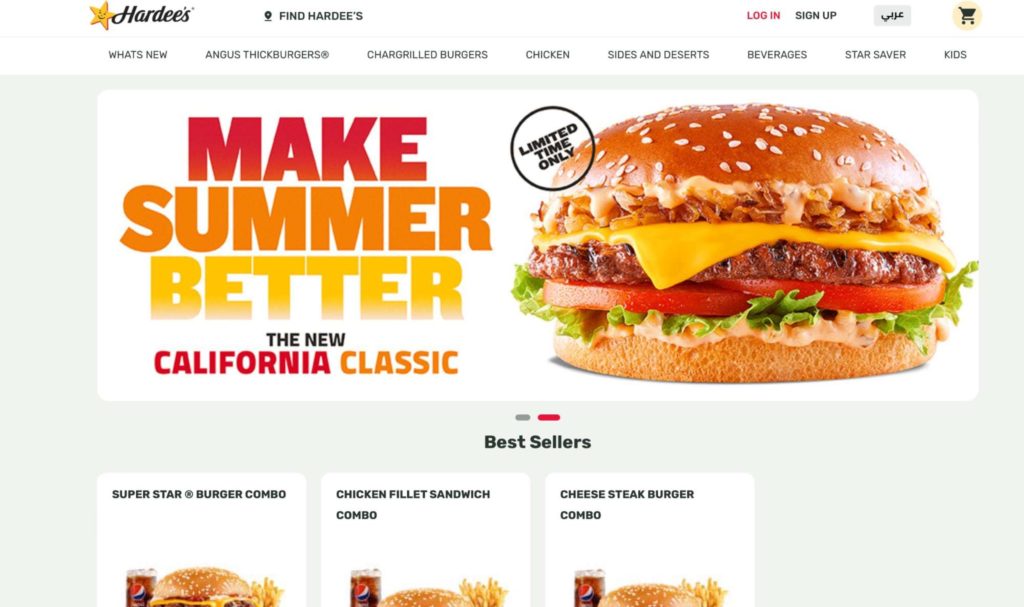 | Test | Info |
| --- | --- |
| FOOD | Burgers, Sandwiches, Fries, Chicken, |
| WEBSITE | https://www.hardees.ae/en/home |
| ADDRESS | KHALEEJ CENTRE, NEAR AL FAHIDI METRO STATION, MANKHOOL BUR DUBAI - Dubai - United Arab Emirates |
| CONTACT DETAILS | Phone: +971 600 569000 |
| OPERATING HOURS | 10:00 AM - 1:00 AM (Monday - Sunday) |
| | |
| --- | --- |
| Criteria | Ratings |
| Menu | ★★★★★ (5/5) |
| Price | ★★★★☆ (4/5) |
| Location | ★★★★☆ (4/5) |
| Customer Service | ★★★★☆ (4/5) |
Opened in the UAE in 1981, Hardee's is an American-based food chain that offers burgers and chicken-based dishes in Dubai.
Hardee's is a typical Western cuisine-focused restaurant. Essentially, you'll only be visiting here if you want some burgers and chicken.
In terms of menu variety though, they have various types of these common dishes to choose from. These include thick burgers, double cheeseburgers, and more.
As we've pointed out earlier, this place focuses on selling burgers. One thing that we particularly like is their dedicated kids' menu.
It doesn't have many options for children, but it does cover all the basic dishes offered by the restaurant. By that, we mean Hardee's tries to offer kid versions of their burgers, sides, and chicken dishes.
Looking at their space, we've noticed that it's quite alright. Not that striking aesthetically, but it does boast a comfortable atmosphere.
Speaking of space, diners in Hardee's can expect limited support from its staff during busy hours. We've observed the employees have some lapses in some orders or requests during peak hours.
Some of the previous clients we've conversed with also raised this disadvantage about the establishment. Others noted that they experienced around 35 minutes to 1 hour of waiting time for their food.
We advise avoiding peak hours in this restaurant. Alternatively, you can also order via their exclusive application or via various delivery software available.
Regardless, we would recommend Hardee's for the burger lovers out there. With the wide menu selection, eating here will be a good experience!
Has a kids' menu
Good menu variety
Focuses on burgers 
Limited customer service 
Customer Reviews:
Good Menu Variety, Great Food
"One of my favorite joint for burgers.. They have brilliant options for grilled burgers.. chicken or beef.. both are really good.. and they have the best spicy curly fries.." -Vikas Mulchandani
2. Sah El Nom Express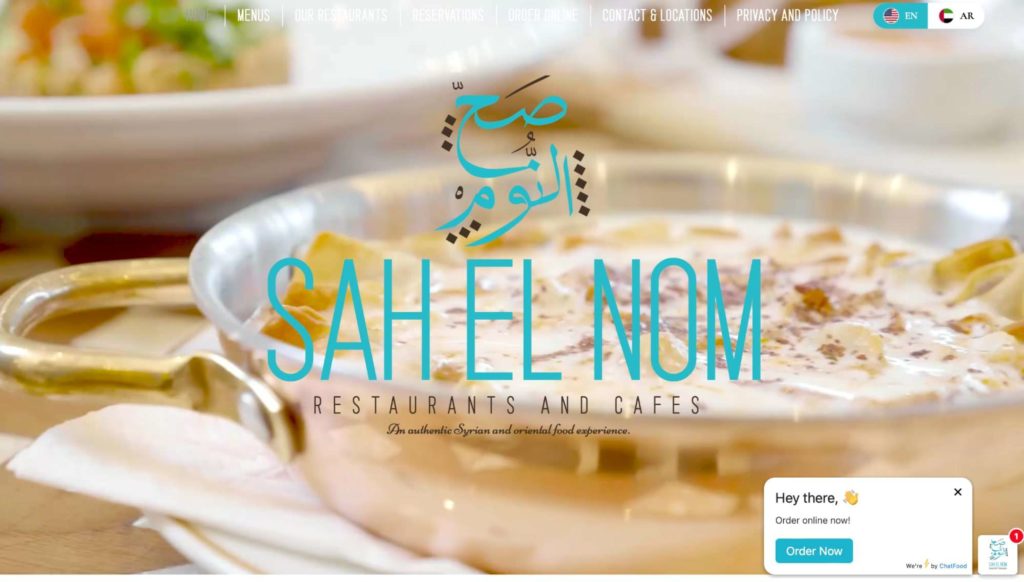 Test
Info
FOOD
Shawarma, Burger, Hummus, Broasted Chicken, Rotisserie Chicken, Kebab, and more!
WEBSITE
https://www.sahelnom.com
ADDRESS
57WH+MM5 - The Dubai Mall Food Court, Level 2 - Dubai - United Arab Emirates
CONTACT DETAILS
Phone: +971 4 583 9444
OPERATING HOURS
10:00 AM - 12:00 AM (Monday - Thursday) 

10:00 AM - 1:00 AM (Friday - Sunday) 
| | |
| --- | --- |
| Criteria | Ratings |
| Menu | ★★★★★ (5/5) |
| Price | ★★★★☆ (4/5) |
| Location | ★★★★☆ (4/5) |
| Customer Service | ★★★★☆ (4/5) |
Established in 2015, Sah El Nom Express is an extension of the restaurant chain of the same name. This establishment is the fast food version of the parent company's services.
For a good price and fast serving time, Sah El Nom Express offers Syrian and Western dishes for customers. They have a wide variety of items that you can try, which we love.
People can get various types of shawarmas, burgers, pizzas, and kebabs, to name a few.
However, many go to Sah El Nom Express for their specialty shawarmas.
Interested individuals can order via visiting Dubai Mall's food court or online. We like that they allow different options on how to get their food.
Speaking of food courts, Sah El Nom Express is located in one. This means that if you're planning to grab a bite from their restaurant, you won't be dining in an exclusive location made by the company.
If eating in food courts is not your thing, we recommend ordering online or getting their menu items via takeout.
Overall, we recommend this restaurant for their wide menu variety. If you're interested in getting some shawarmas, Sah El Nom Express has the options for you!
Menu item variety 
Allows online orders 
Can get busy 
Interior is not exclusive to patrons only
Customer Reviews:
Affordable and Quality Food
"Highly recommended 🇦🇪✌🏻
Delicious and affordable food such as shawarma and our favorite fajita and many more.
Special thanks to ms. Abigail for amazing customer service. She really took care of our orders very well and suggested delicious food. She definitely deserves a raise👍🏻
Thank you." – Carl Jomel Lim
Clean Location, Good Food
"The food was wonderful, the place was clean, and the staff was excellent.
Great experience and replay." – Noor Kattash
3. New York Fries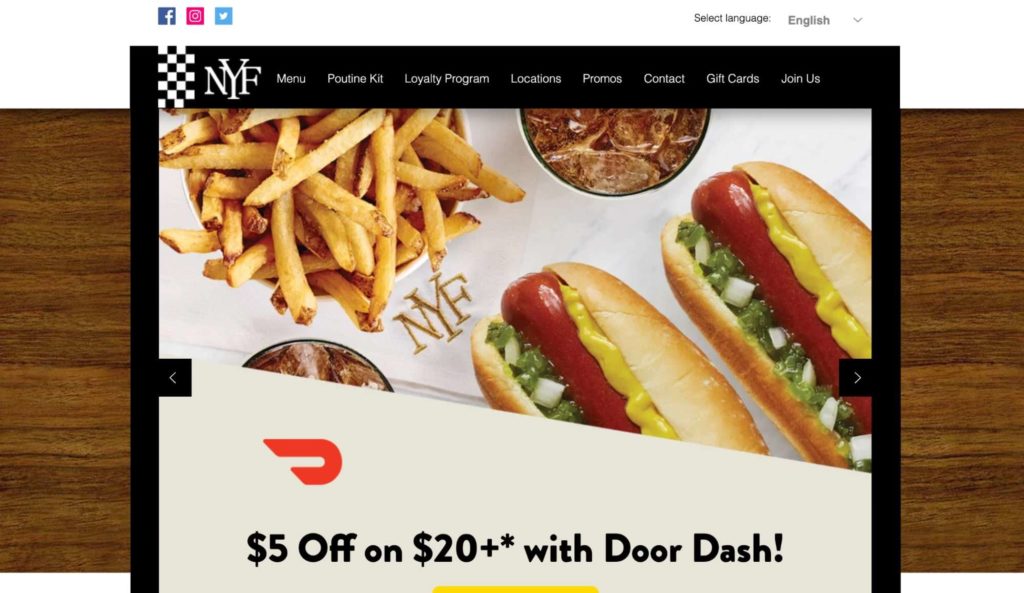 Test
Info
FOOD
Fries, Poutine, Premium Hotdogs, Dips
WEBSITE
https://www.newyorkfries.com/
ADDRESS
Unit SF - 130 - 23 - Financial Center Rd - Downtown Dubai - Dubai - United Arab Emirates
CONTACT DETAILS
Phone: +971 4 339 8302
OPERATING HOURS
10:00 AM - 12:00 AM (Sunday - Wednesday)

10:00 AM - 1:00 AM (Thursday - Saturday)
| | |
| --- | --- |
| Criteria | Ratings |
| Menu | ★★★★★ (5/5) |
| Price | ★★★★☆ (4/5) |
| Location | ★★★☆☆ (3/5) |
| Customer Service | ★★★★☆ (4/5) |
Now this is the place to go if you want some good quality french fries!
New York Fries is a Canadian-based fast food restaurant. We've observed that they focus mostly on serving fries, hot dogs, and poutine.
For reference, poutine is just a bowl of fries accompanied by good chunks of toppings such as meat and various sauces.
The most notable thing about this place is the customization they allow. Customers can pick what toppings to go along with the fries – from dips to toppings and sauces, the choice is yours!
We do have to note that their poutine menu does not allow this flexibility. They do have various types of the said menu item available, so that's great!
Another great aspect about New York Fries is their portions. Their hotdog, fries and poutine are especially big and filling and certainly worth the price!
However, do take note that it's essentially just a food stall. This means that you'll have to find a table within the area to eat it, or you can just take it back home.
So, if you're having a craving for some fries, New York Fries is definitely a good place to consider. They have large servings and will definitely fill up your belly.
Allows order customization
Big portions 
Not much menu variety 
Store is essentially a food stall 
Customer Reviews:
Great Food
"If you love fries as well, then you've already been to @nyfme or you really need to check it out. The Canadian chain serves freshly made fries with a range of delicious toppings that elevate the simple side dish. NYF makes the fries with just the right crispyness on the outside and fluffy on the inside, with its flavour being further enhanced by the toppings. The flagship flavour is Poutine, Canada's fav dish. It's a delicacy that combines French fries, cheese curds and gravy. You just ride the gravy train on this one. My favourite is the Butter Chicken Fries. The sauce is flavourful but could be slightly spicier for a kick. The meat is a mix of chunks and stringy bits of chicken that have slowly become part of the texture of the sauce. Brilliant. The newly added chicken tenders were surprisingly great. Fried to order they are crunchy and dipped with their house sauces make them a must-try. I also tried their hot dogs which were OK. With a toasted bun, I think it would go better with the sausage. What I liked was that I could get a range of fresh condiments put into the hot dog making it more personalised to my taste. New York Fries are perfect and delicious. That's enough. That's everything. Check it out." – Jay Mathur
Attentive Staff, Big Food Portions
"Age, gender, taste sensibilities, whatever demographic you might pick, there's a french fry preparation for everybody out there. I visited the New York Fries at Dubai Mall Food Court .Those of us who have snagged a taste, know just how utterly addictive this famous Poutine fries dish can be. Their poutines are generously topped with cheese and other toppings. NYF has definitely one of our go-to options, especially for days we can't be bothered to sift through the menu. They have a host of loaded fries options for people with different kinds of preferences, but the ones with cheese are what I can't stop thinking about.
We ordered:
Premium Chicken Hot Dog
Premium Beef Hot Dog
Cheese Fries
Bacon Cheese Fries and
Nachos Fries
The staff is attentive and food all served in generous quantities and packed with mouth-watering taste. You can even customize your fries and hot dogs as well" -Fathima Abdullah
4. Jollibee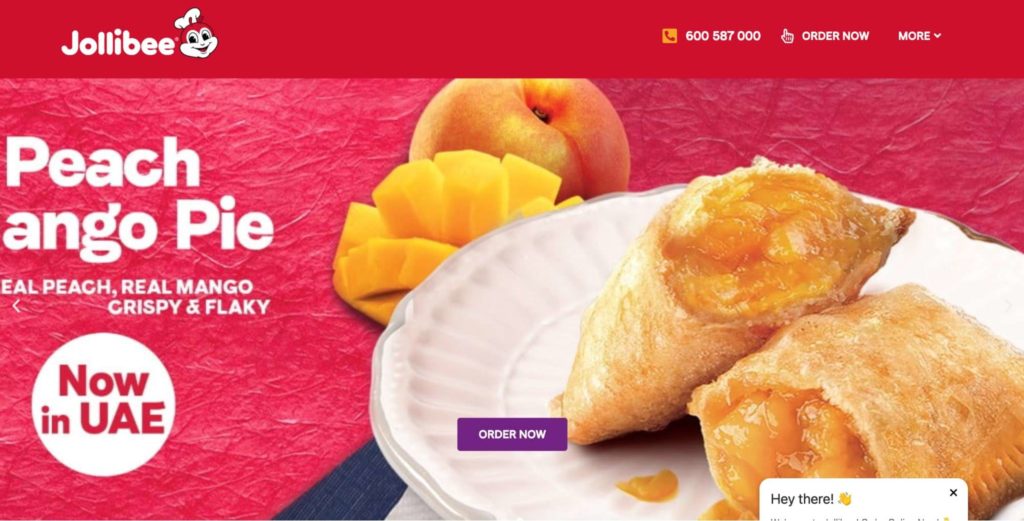 Test
Info
FOOD
Chicken, Palabok, Spaghetti, Fries, Burger, Pies, and More!
WEBSITE
https://jollibeeuae.com/
ADDRESS
Level 2, Food Court, Dubai Mall - Financial Center Rd - Dubai - United Arab Emirates
CONTACT DETAILS
Phone: +971 600 587000
OPERATING HOURS
9:00 AM - 12:00 AM (Sunday - Thursday)

9:00 AM - 1:00 AM (Friday - Saturday)
| | |
| --- | --- |
| Criteria | Ratings |
| Menu | ★★★★★ (5/5) |
| Price | ★★★★☆ (4/5) |
| Location | ★★★★☆ (4/5) |
| Customer Service | ★★★★☆ (4/5) |
Opened in the Philippines in 1978, Jollibee has now reached other countries including the UAE. This fast food chain is most notable for its Chickenjoy, a fried chicken dish well-known for its crispiness.
In terms of the menu, we believe that there's a lot of variety here. But we do have to note that customers visit this store for the dish we mentioned earlier.
They also have pasta dishes, burgers, and fries. In addition to that, they offer desserts and different kinds of beverages.
In terms of overall dish type, it's a certain blend of Filipino and Western cuisine. They also serve breakfast dishes, by the way!
A good aspect of Jollibee is that they offer "combo" meals, where you can get combinations of different kinds of food from their menu for a lower price. In addition, they have bundle meals for sharing portions of their products.
Interested parties can head over to their restaurant to dine in or take out. Aesthetic-wise, the interior of the restaurant is kept simple and clean with comfortable chairs to sit on.
We do have to note that if you order 3 or more items, the waiting time can go from 20 to 30 minutes. During peak hours, it can go as long as 30 to 45 minutes.
The company also offers delivery services for those who would want their dishes to be delivered elsewhere!
If you're interested in some Filipino and Western cuisine, we recommend heading over to Jollibee!
Good menu variety 
Offers combo meals and bundles 
Allows deliveries 
Can get very busy 
Long waiting times 
Customer Reviews:
Polite and Friendly Staff, Good Food
"I love Jollibee. I went here for breakfast. I'm not sure if the corned beef is meant to be swimming in that much oil, but I don't care because fat is where the flavor's at and you can pour dat stuff all over your rice. Hell yeah. Good breakfast. Staff are polite and friendly. 👍" – Sam A
Great Staff
"Whatever your nationality is. You must try Jollibee. This staff who took our order was so nice. keep on smiling kabayan, spread happiness. Regarding the food all was okay aside from the spaghetti thats a little salty, maybe only bcos of my taste bud. Im not into salty things but thats as usual i guess in pastas, but please add more cheese to balance the taste. The rest was tasty." -Fearless EU, via Google Reviews
5. My Shawarma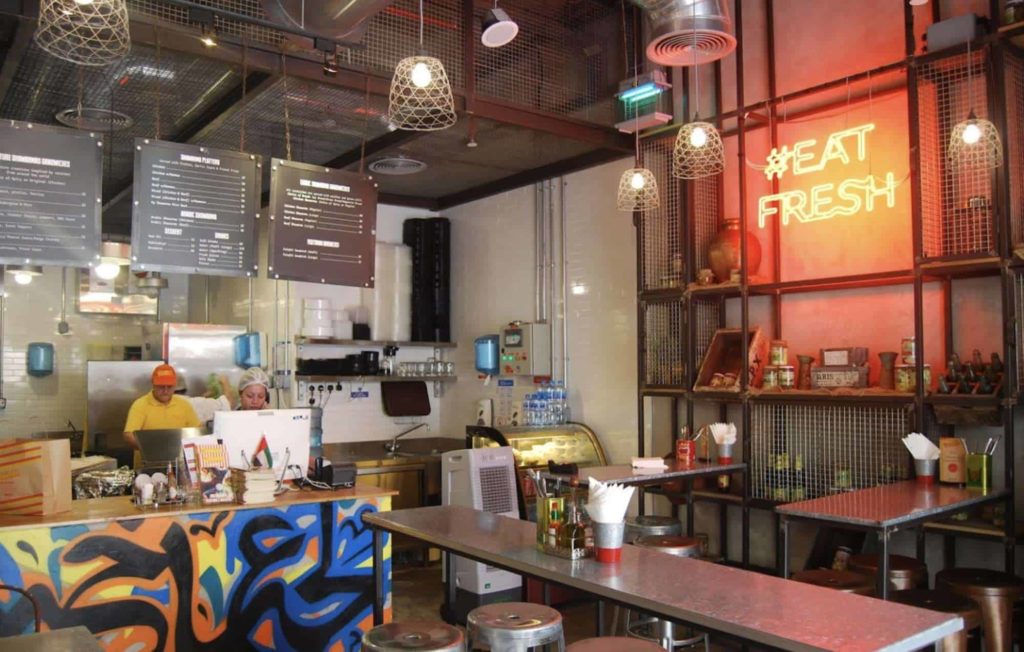 | Test | Info |
| --- | --- |
| FOOD | Salads, Chicken Shawarma, Beef Shawarma, Shawarma Burger |
| WEBSITE | https://www.facebook.com/My-Shawarma-106958990993238/about/ |
| ADDRESS | Emerald Court Building, Barsha 1, Dubai, PO Box 71965 - Dubai - United Arab Emirates |
| CONTACT DETAILS | Phone: +971 4 347 3680 |
| OPERATING HOURS | 11:30 AM - 12:00 AM (Monday - Sunday)  |
| | |
| --- | --- |
| Criteria | Ratings |
| Menu | ★★★★★ (5/5) |
| Price | ★★★★☆ (4/5) |
| Location | ★★★★☆ (4/5) |
| Customer Service | ★★★★☆ (4/5) |
Here is a fast food place for some good shawarma dishes!
My Shawarma combines various flavors and dishes all around the UAE to provide different kinds of tastes to its customers. We do have to note that the main focus here is their shawarma.
In terms of menu variety, essentially, there's not a lot. It's just shawarma, hummus, and salads. There are drinks available as well.
The limited variety lies now in the various types of those dishes available. This is certainly a more specialty store.
One of the good aspects of this store is its serving size. According to the customers we've conversed with, they were initially surprised by the generous portions, but nonetheless pleased.
Moving towards their actual store, the first thing we'd like to note is that the place is a bit small. It is well-designed and lit, yes, but the space is quite narrow.
Customers will also have to sit in quite uncomfortable chairs. They're essentially stools, so if you're not used to sitting without having some back support, you won't be comfortable eating here.
On the other hand, clients can enjoy their time here with My Shawarma's good food and free wi-fi.
Just a bit of a heads up for interested parties: not a lot of parking space here. We recommend going here outside of peak hours or finding an alternative space for your car.
Overall, we recommend My Shawarma for its good serving portions and free wi-fi!
Good serving sizes 
Has wi-fi inside their shop 
Offers home delivery
Limited menu variety
Few parking slots 
Customer Reviews:
Good Food, Reasonable Price
"It was a good experience! I visited this place My Shawarma, located Al Barsha. Near the metro station. I ordered chicken shawerma, rice shawerma. Chicken shawerma was so delicious! I like banana juice also. Price is good. Quality also. I highly recommend this place 👍" – Юлия Лакирева
Great Food, Offers Discounts
"I loved their beef shawarma so I am going to start my review with that. Apart from that they sell varieties of shawarma and falafels which you could try. Also their garlic sauce is so delish! Totally a must visit place to shawarma and if you do do try their Beef Shawarma! 😋 Talking about ambience the place was pretty great but was little small. They have zomato pro available which will reduced your bill to 20% and that's great.. good food and discounts always makes me happy ☺️🤑You can follow me on @eatwhileyoutravel on Instagram for more such reviews 😍" –Eatwhileyoutravel
FAQs About Fast Food Restaurants in Dubai
---
And that's all for this article! If you're interested in other restaurants and food places around Dubai, here's our piece on the best Japanese restaurants in the city!