6 Options for the Best Dishwasher Repair in Dubai
Featured Image Source: Brooke Lark via Unsplash
A well-functioning dishwasher certainly makes one's home life easier. For urgent, effective repair for your broken dishwasher, be sure to get the services of one of the companies that offer the best dishwasher repair in Dubai.
This article contains a guide on how to choose a reliable dishwasher repair company. We've also included a list of the top-rated service providers to make searching for the best dishwasher repair in Dubai easier.
Also included in this article is a table with the costs of dishwasher repair in the city to prepare you for the expenses of your repair.
How Much Does Dishwasher Repair Cost in Dubai
Below are the rates of dishwasher repair services in Dubai excluding VAT and the cost of spare parts. The actual price may vary depending on your provider.
| | |
| --- | --- |
| Inspection Fee | AED50 |
| Dishwasher Repair | AED120 to 750 |
| Per Hour Rates | |
| <1 Hour | AED99 |
| 1+ Hours | AED199/hour |
How to Pick a Provider for the Best Dishwasher Repair in Dubai
To guarantee that your dishwasher will be fixed quickly and effectively, make sure to get the services of the best dishwasher repair company. Select a provider for the best dishwasher repair in Dubai with these tips below.
Check for licenses and certification
Getting a licensed repair company with certified repairmen assures you that you're getting the best quality services.
These certifications and licenses show you that a provider is properly-trained and well-equipped to conduct repairs on your home appliances.
You may also look for companies that are authorised by your dishwasher brand. Usually, these companies have been trained to have expertise in repairing the brand's products.
Compare prices
While some companies have set rates per hour of repair, some providers calculate their fee based on the complexity of the repair and the spare parts required.
To get dishwasher repair services at the best price, make sure to ask different providers for a quote. Knowing the price of the entire repair before the service protects you from hidden charges.
Just note that some providers charge an inspection fee to visit your home and provide a quote for your repair. However, you may be able to find a company that offers a physical or online quotation for free.
Look for a warranty
Warranties prove the company's confidence in the quality of their services.
A longer warranty period usually means the provider is certain that the appliance won't break down for the same reason after their repair.
Checking for a warranty also protects you from the cost of further repairs, as it gives you access to free repair services.
The Options for the Best Dishwasher Repair in Dubai
With the tips above as your guide, you should now be able to select the best repair service provider in Dubai to fix your dishwasher.
Find your dishwasher repair partner faster with this list of the best dishwasher repair companies in Dubai below.
1. ART Technical Works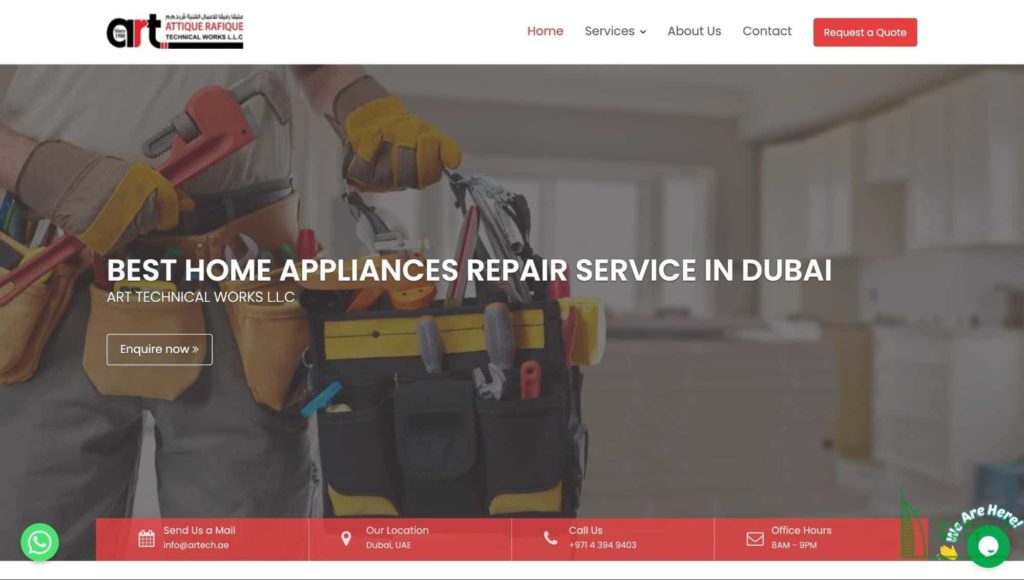 | | |
| --- | --- |
| BEST FOR | Wide variety of dishwasher brands |
| WEBSITE | http://www.artech.ae/ |
| ADDRESS | Office No. 07, Souq Al Kabeer, Bur Dubai, United Arab Emirates |
| CONTACT DETAILS | +971 50 795 1065 [email protected] |
| OPERATING HOURS | Saturday – Thursday: 8:00 AM – 9:00 PM |
For reliable dishwasher installation and repair in Dubai, get the services of ART Technical Works. They've been providing repairs since 1987, which proves their vast experience and excellent reputation.
The company repairs a wide variety of international and local dishwasher brands. They also mend different types of dishwashers, namely the freestanding, semi-integrated, and integrated kinds.
To ensure the long-lasting effect of their repairs, they make sure to use the best dishwasher spare parts. Their one-month guarantee on all their repairs shows their confidence in the quality of their services.
Provides one-month guarantee
No hidden charges
Availability of same-day repair services is not guaranteed
Customer Reviews
Khan Saeed Sherani left ART Technical Works a positive review. They said:
"I had a service call this morning. This was my first time to use ART Technical Works.
The technician's name was Sadiq he was absolutely the cleanest, most thorough, and most courteous person I have had the experience of working with.
I will definitely call ART Technical when the occasion arises again. Thank you again for the service. Highly recommended to my family and friends."
Property manager Mohamed Abououdah also said:
"Very quick response and low rates for maintenance and new appliances. Dealing with ART was great in all aspects. As a property manager, I would strongly recommend them."
2. JustCare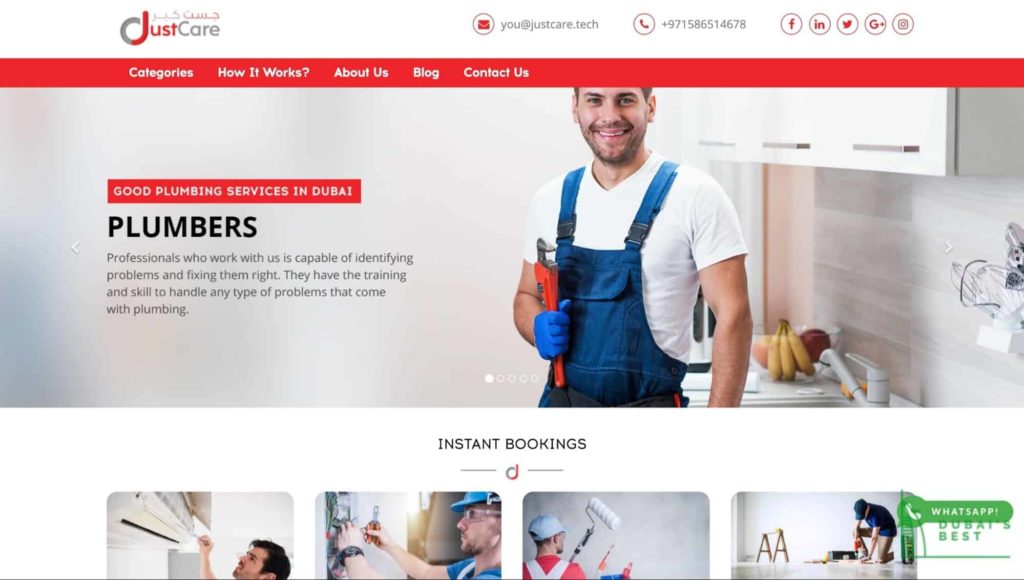 | | |
| --- | --- |
| BEST FOR | 24-hour turnaround time |
| WEBSITE | https://justcare.tech/ |
| ADDRESS | Dubai Hills Estate, Dubai, United Arab Emirates |
| CONTACT DETAILS | +971 58 651 4678 [email protected] |
| OPERATING HOURS | Saturday – Thursday: 8:00 AM – 7:00 PM Friday: 1:00 PM – 7:00 PM |
Just Care is one of the most trusted providers for reliable home maintenance services in Dubai, Sharjah, and Abu Dhabi. Among their wide array of offerings are quick and effective appliance repairs, which include dishwasher repairs.
As experts in the industry, they understand the value of your home appliances. Thus, their technicians work fast to be able to return your home appliance to you within 24 hours.
In the event of low-quality service rendered by one of their repairmen, they can also provide a full or partial refund.
Providing the best customer service, the company can also entertain your questions at any time of the day with their 24/7 call support.
24/7 customer support
Provides full or partial refunds
Charges a fee if you decide not to push through with the repair on their visit
No warranty
Customer Reviews
Avak Avakian, a highly-satisfied customer, shared:
"Excellent workmanship. I booked on Thursday late in the evening and they were able to come on Friday on time and finished the required work and went above and beyond with helping with a couple of other household items. Highly Recommended"
Another previous client, Emma Harvey, reviewed:
"The guys were very prompt at attending the emergency. They were professional and thorough. Great job guys!"
3. HomeGenie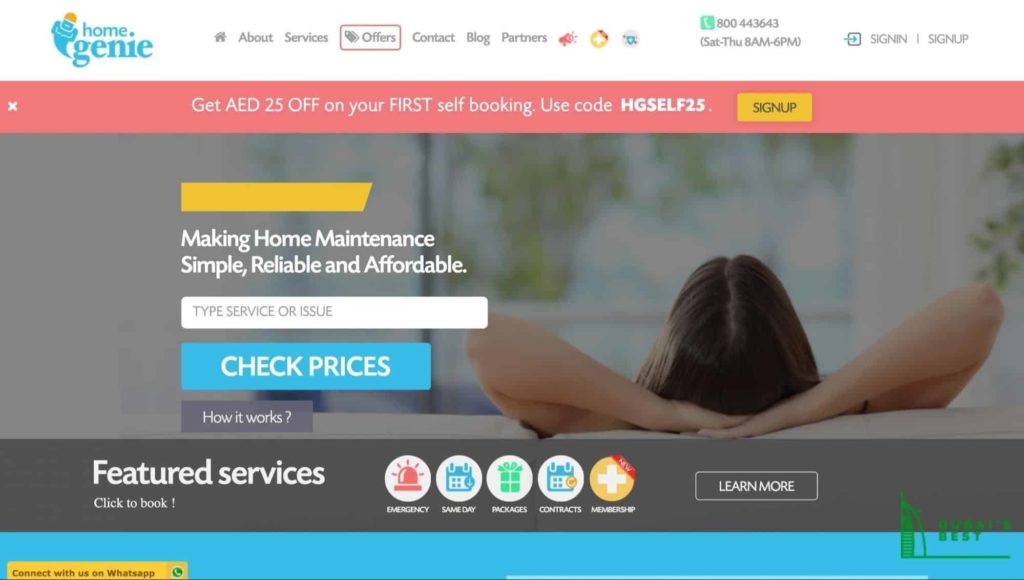 | | |
| --- | --- |
| BEST FOR | Membership packages and deals |
| WEBSITE | https://www.homegenie.com/ |
| ADDRESS | Unit 3O-01-2686, Jewellery & Gemplex 3, Dubai, United Arab Emirates |
| CONTACT DETAILS | +971 4 448 9595 [email protected] |
| OPERATING HOURS | Saturday – Thursday: 8:00 AM – 6:00 PM |
HomeGenie allows you to book repair services any time online or through their app. They can provide both same-day and emergency repairs in Dubai.
Their dishwasher repair experts can take care of any brand of dishwasher sold in the U.A.E.
They deal with various issues, such as leakage, noise, and clogged drainage. They can also determine what causes the foul smell coming from your dishwasher.
To help you save on your repairs, HomeGenie offers a variety of membership packages and deals. They also provide a one-month warranty as well as insurance for any damage that may be incurred in your home during their repair.
Easy booking process
Same-day and emergency repairs available
Provides warranty and insurance
Charges extra for emergency and Friday repairs
Expensive call-out charge
Customer Reviews
Rajesh Thakur was pleased with HomeGenie's service. They reviewed:
"True to their name, HomeGenie provides all kind of home services at the value for money you are looking at. The best part is, ever since we starting using them, there is no need to keep a directory of suppliers for various services."
Prakriti Singh also shared their experience with HomeGenie. They said:
"HomeGenie is my go-to service provider for day-to-day home maintenance. I most of all really like that they are available when I need them."
4. Technical Repairing Services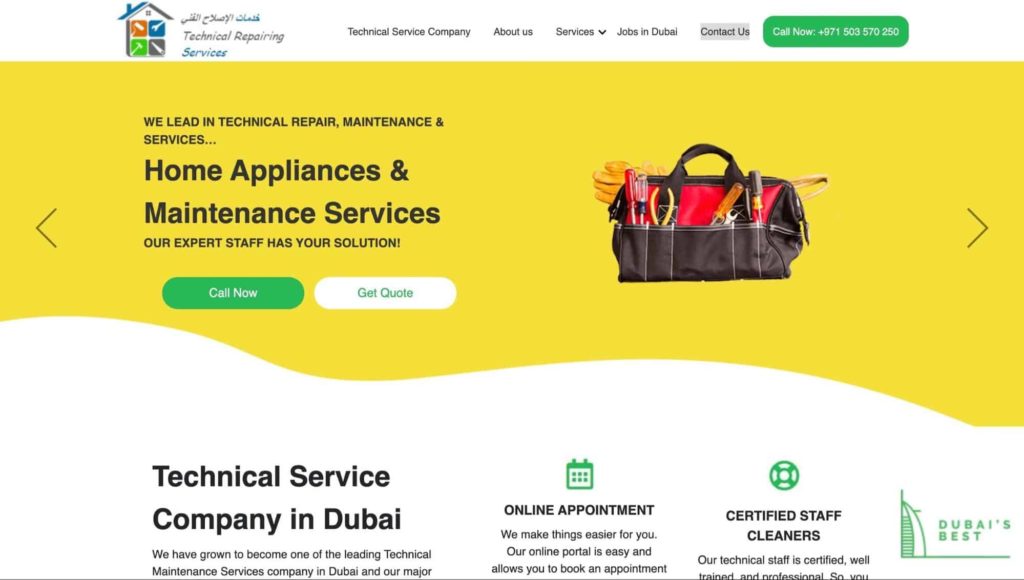 | | |
| --- | --- |
| BEST FOR | Commercial dishwasher repairs |
| WEBSITE | https://technicalrepairingservices.com/ |
| ADDRESS | International City, Cluster Russia, Building V-13, Office No 10., Dubai, United Arab Emirates |
| CONTACT DETAILS | +971 503 570 250 +971 4 457 2028 [email protected] |
| OPERATING HOURS | Saturday – Thursday: 9:30 AM – 7:30 PM |
Technical Repairing Services has over 10 years of experience in offering repair and maintenance services in Dubai.
Their experts can provide appliance installation, maintenance, and repair for homes and businesses. However, they specialise in doing repairs for commercial clients.
In fact, they are the trusted repair service provider by clients from different industries. Their clientele consists of clients from industries such as real estate, hospitality, food and beverage, and more, making them the ideal provider for the best dishwasher repair in Dubai.
To cater to your questions on their appliance repair services, Technical Repairing Services also has dedicated 24/7 customer support.
Offers residential and commercial appliance repair services
24/7 customer support
Customer Reviews
Satisfied client Pushan Khanna reviewed Technical Repairing Services:
"Very prompt and professional. The team of technicians are competent and could resolve the problem within a short time. There were no surprise bills in the end! Excellent!!!"
Robbie McAllister, another previous client, said:
"Any time I have had to call Amir and the guys at Technical Repairing Services, they always respond and come immediately to sort out my problem. I would recommend them for any maintenance jobs needing to be done around the home."
5. Repaircare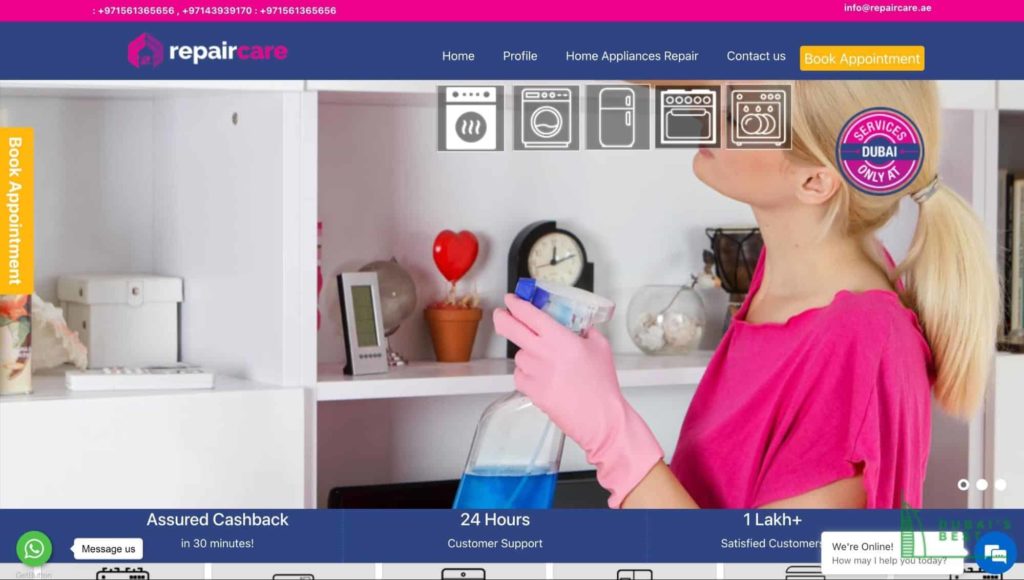 BEST FOR
Satisfaction guarantees
WEBSITE
https://repaircare.ae/index.php
ADDRESS
Al Qusais 3, Dubai, United Arab Emirates
CONTACT DETAILS
+971 4 393 9170
+971 56 136 5656


[email protected]

OPERATING HOURS
Saturday: 7:00 AM – 10:00 PM
Sunday – Thursday: 7:00 AM – 9:30 PM
Repaircare repairs all major appliance brands in Dubai, including Panasonic, Maytag, Frigidaire, and Fisher & Paykel dishwashers.
For your security and to save time, they can conduct their repairs in your home. You can also book their services online at a time most convenient for you.
While they do all these for you, they do not sacrifice the quality of their repairs. All of their repairs come with a 6-month guarantee, which only proves their competence as a repair service provider in Dubai.
If you decide to do your dishwasher repair yourself, they also sell a variety of appliance spare parts.
24/7 booking
Provides free estimates
Offers same-day services
Does not charge extra on weekends
Does not provide emergency repairs
Customer Reviews
Inkar T. was amazed by the quality of Repaircare's service. They shared:
"I needed to fix my dishwasher on the same day because I had a lot of stuff in my kitchen after the party. These guys saved my time and fixed it in one day. Thank you. I definitely call you again if I have something that needs to be fixed."
Arjun Ravi also said:
"Very efficient engineer, and fast service. Thank you for your quick support."
6. Home Fix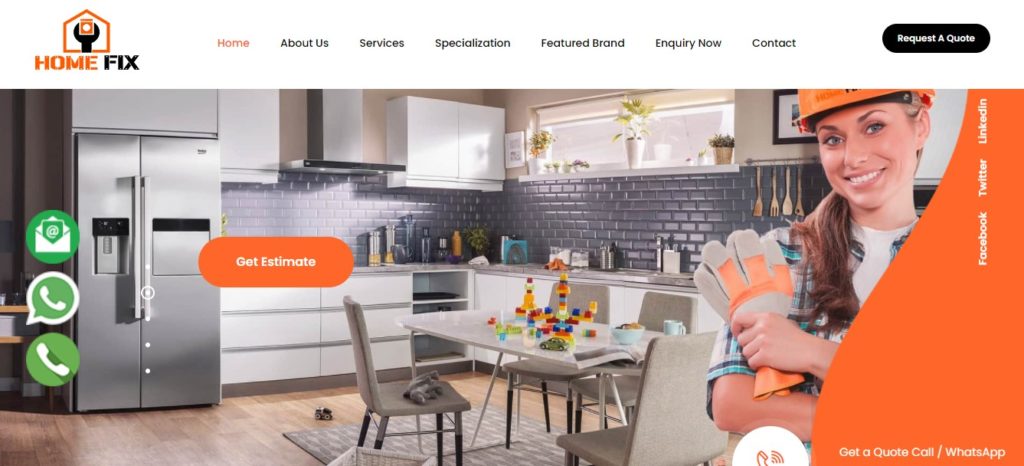 BEST FOR
Home Appliances Repair
WEBSITE
https://www.thehomefix.ae/
ADDRESS
Plot No: 597-226, Warehouse No 15, Dubai Investment Park 2 – Dubai
CONTACT DETAILS
Phone: 04 272 6866
Mobile: 0504663801
WhatsApp: 0553786012
Email:

[email protected]

OPERATING HOURS
Sat to Thu 8:00 am To 10:00 pm
With over 15 years of experience, Home Fix can repair, install, and help you maintain almost all types of appliances that can be found in different households.
If you notice that your dishes do not get cleaned as they used to, the dishwasher's door is not closing, or it is noisy when you are using it, you need to call an expert to fix it as soon as possible.
You do not want all the hassle in washing your dishes manually right?
Aside from only getting your dishwasher fixed, you may want them to check up on your other appliances to see if it is still in a good condition. This can help you monitor and make them last longer.
Can quickly get a quote
Can cater to all brands and models
Base rates are unavailable on their website
FAQs about the Best Dishwasher Repair in Dubai
---
With one of these options for the best dishwasher repair in Dubai, you'll have your kitchen appliance running again in no time!
Do you know any other dishwasher repair companies we should add to this list? Let us know by sending us a message.
If you're looking for a reputable fridge repair company, you can also check out our list of providers for the best fridge repair in Dubai.