The 5 Best Locksmiths in Dubai
We usually don't give much thought to the locks in our homes and businesses, but these small things keep intruders away from our valuables. So, in case of damage to your locks, get the services of one of the best locksmiths in Dubai.
This article includes a guide on how to find a reliable locksmith who can repair your locks efficiently. The list below also contains the best locksmiths in Dubai so you can call a provider ASAP.
To prepare you for the cost of locksmith services in Dubai, we've looked at the average costs per service and compiled them in the table which you will see below.
How Much Do Locksmith Services Cost in Dubai
The table below contains the price of common locksmith services in Dubai. Note that the actual costs may vary depending on your chosen provider.
Locksmiths that charge by the hour may also apply additional fees for materials used.
| | |
| --- | --- |
| Call-out charge | AED129 to 150 |
| Rate after the first hour (for providers that charge by the hour) | AED129 |
| Key duplication | AED50 to 80 |
| Lock replacement | AED150 to 500 |
| Door handle replacement | AED150 to 500 |
| Latch repair | AED150 to 500 |
| Car unlock | AED50 |
How to Pick the Best Locksmith in Dubai
For cost-friendly, quick, and effective home repairs, it helps to make sure you're getting the best provider in your area.
To select the best locksmith in Dubai, you can refer to these tips we've prepared for you below.
Ask for referrals
When choosing a locksmith, don't just go for the first provider you find on Google. Being on the top search result does not guarantee the quality of their service.
Instead, ask friends and family if they have trusted locksmiths. This saves you money and time as it helps you avoid substandard service from an unreliable provider.
If you can't get any referrals, you can also look for the top-rated locksmiths online and read reviews from their previous clients. This tells you whether their repairs are effective and efficient.
Opt for an experienced locksmith
Looking for a provider with longer years of experience guarantees you quicker service. This is because seasoned locksmiths have most likely seen and repaired all kinds of problems in locks.
It also helps to find a locksmith with an expertise in the type of lock repair that you need, especially if you require smart door or car lock repair.
To make sure that the locksmith you're getting can be trusted to work in your home, you should also get only the services of a licensed provider.
Get quotes
Lock repair service rates usually vary greatly from provider to provider. This is especially true if the locksmiths don't have set rates and instead provide quotes to each customer.
If this is the case, it is best to ask three or more locksmiths for a quote. This allows you to get the best value for your money.
The Best Locksmiths in Dubai
With the tips above, you should now be able to select a reliable lock repair service provider. Find the best locksmith in Dubai faster with this list below.
1.   Digital Key Lock Repairing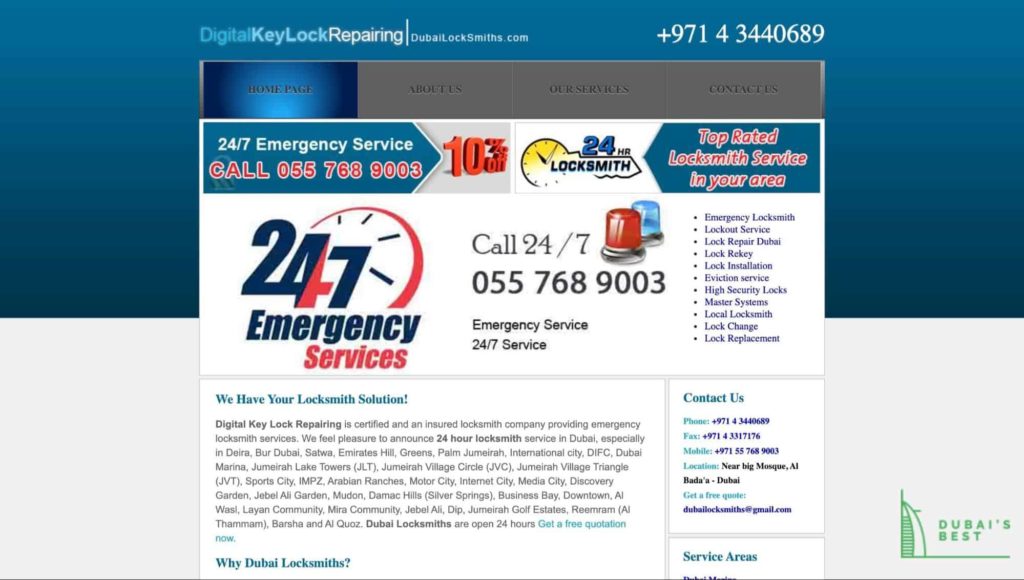 | | |
| --- | --- |
| BEST FOR | Emergency car lock repairs |
| WEBSITE | https://www.dubailocksmiths.com/ |
| ADDRESS | Al Bada'a, Dubai, United Arab Emirates |
| CONTACT DETAILS | 055 768 903 +971 4 344 0689 +971 55 768 9003 |
| OPERATING HOURS | Open 24 hours |
Digital Key Lock Repairing provides 24-hour lock repairs in Dubai. They service various areas in the city.
In particular, their locksmiths provide excellent residential and commercial lock repairs. Besides servicing common lock problems, their offerings also include the repair of high-security locks and panic bars.
Digital Key Lock Repairing also addresses automotive locksmith needs. They can even duplicate keys for luxury cars.
With their fast response, they are the best locksmith in Dubai for emergencies like pets or children locked inside your car.
Open 24 hours daily
Prompt response
Free quote via text message
Customer Reviews
Sajith Bichu shared their experience with Digital Key Lock Repairing:. They said:
"They reached me within an hour once I shared my location, even though it was on the New Year holiday.
They first validated my car ownership. Then, within 5 minutes, they unlocked my car which was accidentally locked with the keys inside, thanks to my kids. No breaking of glass, no other messy attempts, just by using their professional gear.
Highly recommended."
Katarina Podlesnaya was also impressed with Digital Key Lock Repairing's service, sharing:
"Super responsive. They arrived 30 minutes after the phone call and completed the job very quickly and professionally. Thank you so much! Highly recommend."
2.   Mr Locksmith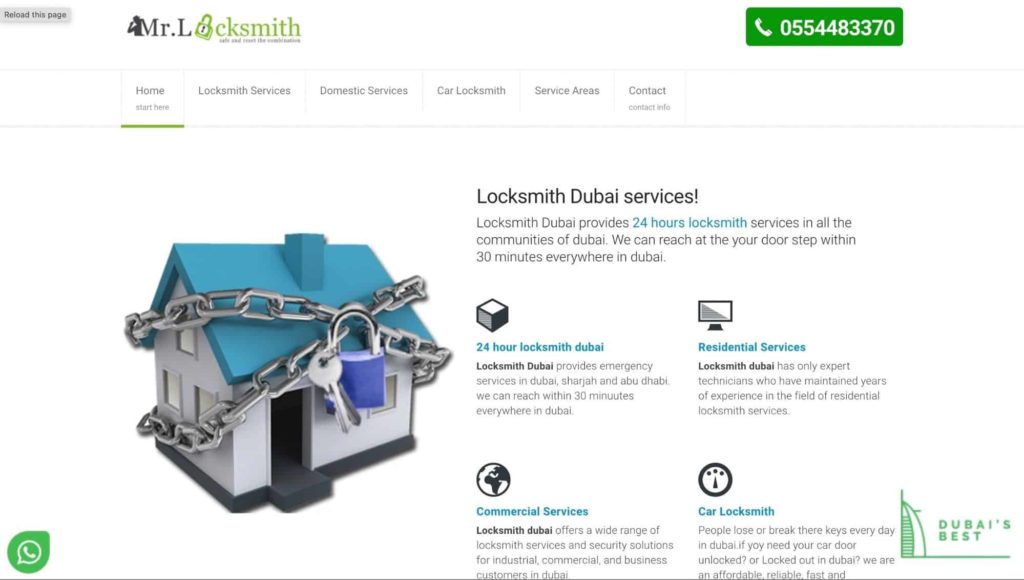 | | |
| --- | --- |
| BEST FOR | Safe and cabinet lock repairs |
| WEBSITE | https://www.locksmithdubai.ae/ |
| ADDRESS | Shop S06, Building X08, England Cluster International City, Dubai, United Arab Emirates |
| CONTACT DETAILS | +971 55 4483 370 +971 55 984 0111 +971 55 984 0222 [email protected] |
| OPERATING HOURS | Open 24 hours |
Locksmith Dubai provides prompt locksmith services all over Dubai. They guarantee that they can arrive at your doorstep in 30 minutes at any time of the day.
Their services include lock beaking, lock repair, lock change and key making. They do this for homes, businesses and automobiles.
The best thing is that Locksmith Dubai's locksmith services are not limited to home doors. They also provide solutions for locked or damaged safes, cabinets, and garage doors.
Plus, to best ensure your safety, Locksmith Dubai also offers the installation of security cameras and the installation and repair of intercom systems.
Open 24/7
Installs security cameras and intercom systems
No satisfaction guarantee
Customer Reviews
A previous customer named Laila S. said:
"I received wonderful, quick and professional support from Locksmith Dubai. After being locked out of my home in the evening, they were able to send a technician to replace the lock within 30 minutes— a lifesaver! Strongly recommend their service."
Furthermore, a client named Mihai Sava reviewed:
"They arrived on time, fixed my safe in 10 mins, handed over the new key, and everything was sorted out smoothly. Highly recommended!"
3.   Kurtuba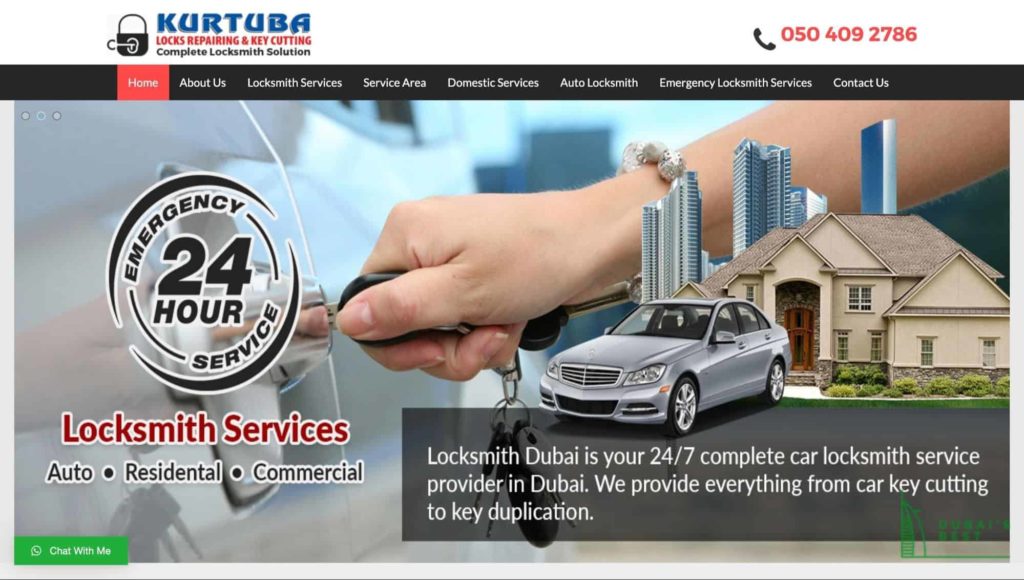 Kurtuba has a team of reliable, licensed with vast experience in repairing different kinds of locks. They provide residential, commercial, and car lock needs in Dubai 24/7.
Besides the repair of traditional locks, they also offer the installation of more modern, digital lock systems. They can even make copies of your building access card to make entry much easier for tenants or employees.
Plus, Kurtaba also provides quick car key replacement services for a variety of car brands, including an array of luxury brands.
They can attend to any of your emergency locksmith needs in Dubai, with a response time of 30 minutes.
24 hour-service
Provides car key replacements for different brands and models
Quick response
May take more time to respond on Fridays and holidays
Customer Reviews
Kourosh Dara reviewed Kurtuba, saying:
"Fantastic service. Khalil and the team were there in 1 hour which is first class service given Friday prayer time commitments.
Lock was changed with no damage and it took 10 minutes. New lock is good to go. Highly recommended!"
On the other hand, Brayden Ainzuain's review reads:
"The guys were very helpful, professional, and nice! I would recommend for anyone to contact them and work with them.
They installed my August Smart Lock fast and successfully. Thanks a ton, guys!"
4.   Locksmith DXB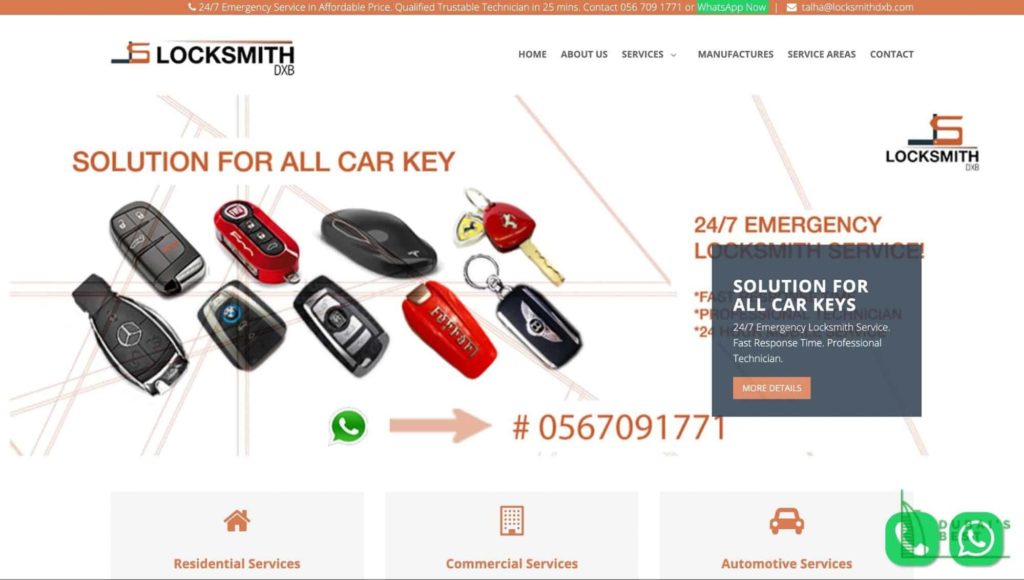 Locksmith DXB offers comprehensive locksmith services in Dubai 24/7. However, they specialise in electronic car key repairs for a variety of car brands.
Many clients prefer Locksmith DXB's service over their car dealers because the locksmith company provides cheaper yet equally effective car key solutions.
What's more, Locksmith DXB also provides a service that is perfect for people who habitually lose their car keys. They do key programming which solves your issue with your car's auto-lock feature.
This is also faster than getting an electronic car key replacement from your car dealer.
24/7 services
Can repairs and duplicate electronic car keys
Limited residential and commercial locksmith services
Customer Reviews
Mary Jane Bandol gave Locksmith DXB 5 stars on Google. They reviewed:
"I panicked when I realized that I accidentally locked the car key inside of my car on a Friday evening. After my call, their staff came to the exact address I provided in less than 30 minutes and opened my car in less than 2 minutes.
It was a shame I was not able to ask the name of the person who came and assisted me as he did a great job and was very professional."
Another previous client, Morgan, said:
"These guys duplicated and fixed an electronic car key for us. They had really fast service. They came to us, gave a much better price than others quoted, and were friendly and knowledgeable. Will definitely use it again and recommend it."
5.   Key Maker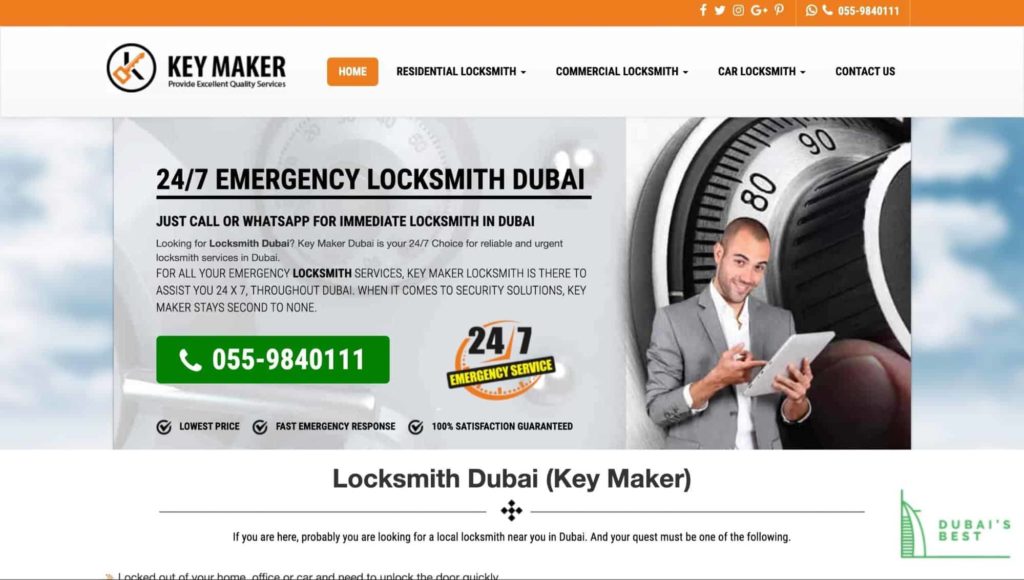 Key Maker provides 24-hour locksmith services in Dubai. They address a wide variety of residential, commercial and automotive locksmith needs. However, their expertise in master key systems makes them one of the best locksmiths in Dubai.
They can install this type of system at your business establishment for convenient access of members of your organisation. This enables you to unlock all rooms by using your key on one lock.
At the same time, this system secures your establishment from intruders. Of course, Key Maker can also provide the maintenance services this security system requires.
Besides master key systems, Key Maker also installs and maintains electronic, keyless door entry systems for commercial spaces and medical and educational institutions.
Offers installation and maintenance of master key systems
Offers installation and maintenance of electronic door entry systems
Speedy response is not guaranteed
Customer Reviews
Winnie Chan was highly-satisfied with Key Maker's service. They reviewed:
"Excellent service, would recommend to others. I needed a key for my 2013 Cadillac SRX, they came promptly as agreed, provided a new key fob that functioned exactly the same as the original. Fair price and half the price from dealership."
Derik De Beer, also a previous client, said:
"I called Dubai Locksmith and received an immediate response. They arrived and replaced my lock in record time. Fast and Efficient Service. Thank you."
FAQs about the Best Locksmith in Dubai
---
With one of these best locksmiths in Dubai, your lock problem will surely be addressed in no time!
Are there other locksmiths in Dubai you think we should add to this list? Send us a message and let us know.
If you're looking for a handyman in Dubai for general home repairs, you can also check out our list of the best handymen in Dubai.