5 Firms for the Best Translation Services in Dubai
Featured Image Source: Joshua Hoehne via Unsplash
The accurate translation of important documents can open opportunities for you or your company. To impress your clients or investors, make sure to hire a company for the best translation services in Dubai.
This article contains a short guide on how to find a reputable translation company. We've also included a list of providers for the best translation services in Dubai for your consideration.
So that you're prepared for the cost of translation services in Dubai, we've even done the research and compiled them in the table which you will see below.
How Much Do Translation Services Cost in Dubai
Here is a list of some of the most common translation services offered in Dubai and their cost. Note that the actual price may vary depending on your translation company.
| | |
| --- | --- |
| Translation services | |
| Professional translation | AED0.5/word |
| Professional translation with quality check | AED0.75/word |
| Professional translation with quality check and revision | AED0.95/word |
| UAE legal translation | AED0.25 to 1.95/word |
| Australian-certified translation | AED1.20/word |
| Interpreting | AED400/hour AED2,500/day |
| Video Subtitling | AED60/minute |
How to Pick the Firm for the Best Translation Services in Dubai
To guarantee the success of your project, get the services of one of the best translation companies in Dubai.
Below are some tips to help you select the best translation service provider in the city.
Find translation experts
Native speakers sure can translate your text into their language. However, when dealing with important documents that can make or break your business, it is best to leave them to experts.
To guarantee that the translation agency is fully-capable of translating your work, you should check for their certifications.
Select a company that specialises in your industry
Find a translation firm that is adapted to your industry. They need to have a good understanding of jargons to be able to translate these properly.
This is also important because you want them to use the best wording possible to help you achieve your purpose for your translated document.
Look for editing services
You want your document to be grammatically correct for it to be effective. Thus, make sure to get a translation company that ensures that your text is edited after translation.
If editing isn't part of a company's basic package, they should offer it for a minimal fee.
The Firms for the Best Translation Services in Dubai
Now that you know what to look for in a firm for translation services, you should be able to select the best provider for your specific needs.
To get you started on your search, here are some of the best firms for translation services in Dubai.
1.   MikDoss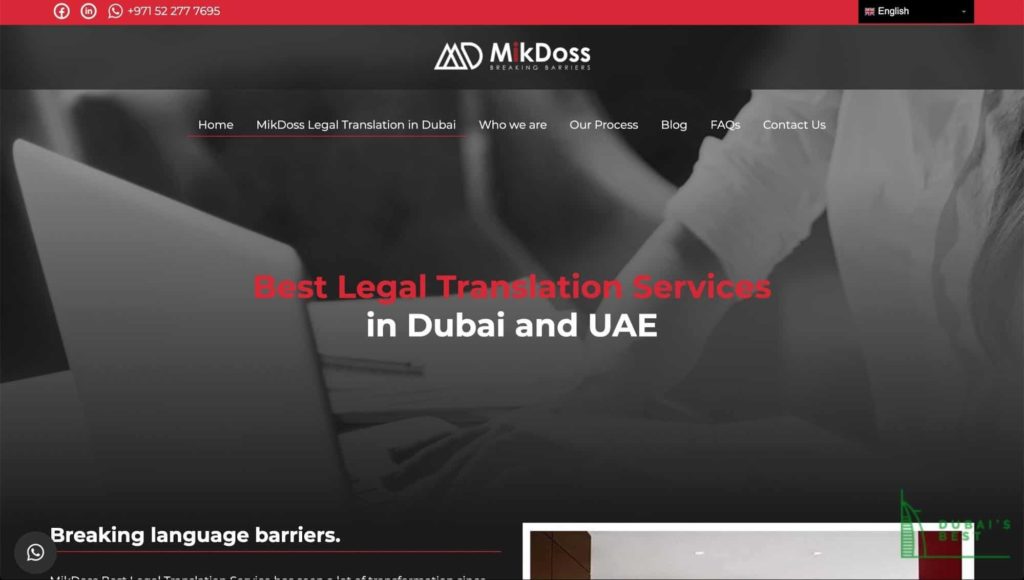 MikDoss has 10 years of experience in providing translation services in Dubai. Their expertise has allowed them to create their own translation software, which helps them deliver translations faster.
Despite this, they maintain a human aspect in the work they do, with 57 linguists who can do translations for more than 130 language pairs.
Although MikDoss is best known for their legal translations, they also help businesses in the medical, life sciences, construction, petroleum, and gaming industries.
They can translate IPOs, audit reports, and manuals for companies. They can also help localise websites for businesses branching out in Dubai.
Provides services 24/7
Multiple offices in Dubai
Services are pricier than others
Doesn't do subtitling and interpretation
Customer Reviews
Duncan Sandison was highly-satisfied with MikDoss' work. They said:
"I have used MikDoss several times for the translation of legal contracts, documents, and memos. They have always been fantastic to work with, professional, accurate, and incredibly quick. I highly recommend them!"
Gabriel Piper also shared:
"I got my requested documents translated from German into Arabic and English super quick within the same day in a few hours. They were easily contacted via WhatsApp. Huge thanks to Mikael."
2.   Halftime Translation Services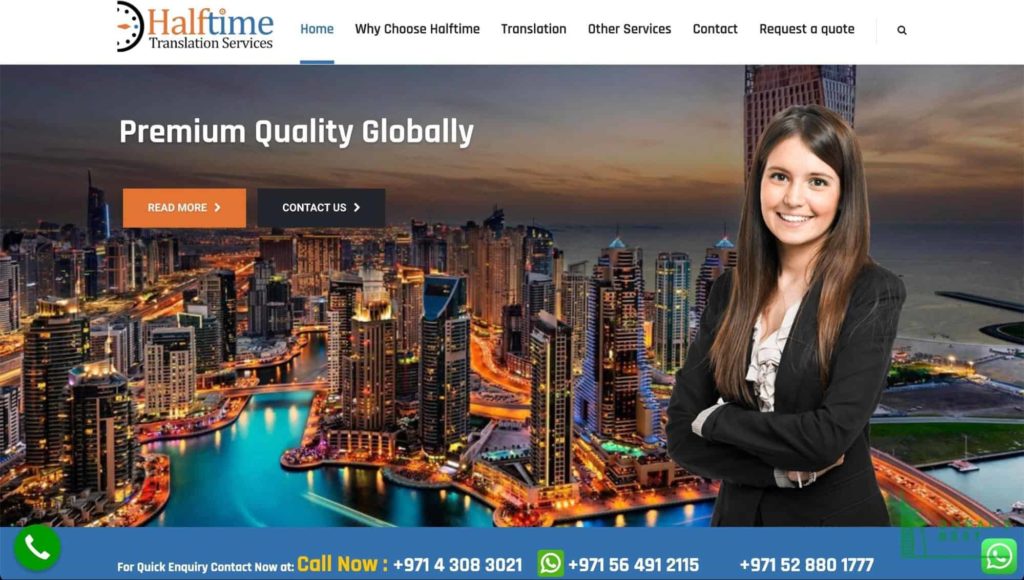 BEST FOR
English to Arabic legal translation
WEBSITE
https://www.halftimetranslation.com/
ADDRESS
48 Burj Gate, 5th Floor, Office No. 521, Downtown Dubai, United Arab Emirates
CONTACT DETAILS
+971 52 880 1777
+971 4 308 3021


[email protected]

OPERATING HOURS
Saturday – Friday: 8:00 AM – 8:00 PM
Halftime Translation Services offers a wide array of translation services in Dubai. They can do financial, academic, medical, technical, and website translation.
They can translate in over 120 languages, such as French, German, Russian, Italian, Spanish, Chinese, and Urdu.
Accredited by the Ministry of Justice of the UAE, they can also be trusted with your English to Arabic legal translation needs.
Beyond document translation, Halftime Translation Services also provides subtitling and event interpretation services.
Due to their excellent work, they are trusted by big clients which include the InterContinental Hotels Group.
UAE Ministry of Justice-accredited
Subtitling services
Offers copywriting, typing services, and more
Service is not available 24/7
Customer Reviews
Hameed Ali reviewed Halftime Translation Services:
"I highly recommend this company for interpretation services! Last week, I had an event of multi-languages and Halftime Translation Services provided me with equipment and French, Persian, German, Russian, Italian, and Spanish interpreters. Thank you, Halftime."
Jeana Joy also shared their experience with the firm:
"The best translation company ever! I deal with this company on a weekly basis and, every time, they surprise me with their high-quality translations and quick turnover."
3.   Alliph Translations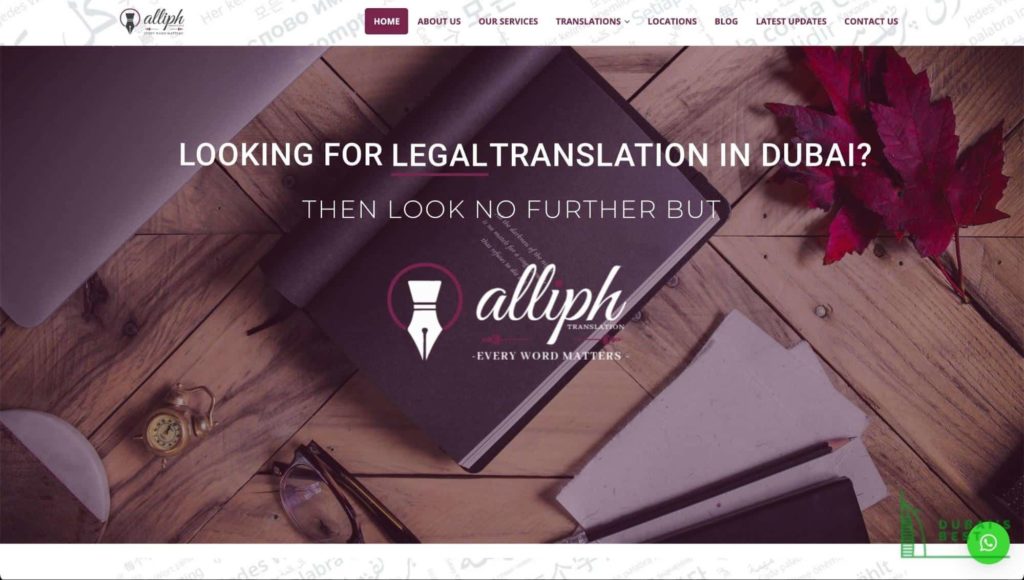 | | |
| --- | --- |
| BEST FOR | Translations for marketing needs |
| WEBSITE | https://alliph.com/ |
| ADDRESS | Find the branch nearest to you here. |
| CONTACT DETAILS | Find their contact details here. |
| OPERATING HOURS | Open 24 hours |
Alliph Translations takes pride in its human-powered translation services with more than 3,000 translators and interpreters. Their large team can help clients translate in over 130 languages.
While they are experts in legal translation, they also provide financial, medical, technical translations and more. They also accept book translation and website localisation projects.
Moreover, Alliph Translations' services are also ideal for business owners who wish to succeed in Dubai.
They offer excellent interpretation services, translation of advertisements, and multilingual marketing assistance.
24/7 services
Large team of translators and interpreters
Multiple offices in Dubai
No minimum number of words
Customer Reviews
Satisfied client Beatriz Rivas Villalba shared:
"Amazing service, good price, and super fast, less than 24 hours in my personal case. Without any doubt, I will trust this company every time I will need a legal translation! I really appreciate your help."
Meanwhile, Alyazya Eid said:
"They were really so helpful and they made sure that everything went smoothly. Also, they stick with the deadline and can fix your concerns easily without any problems."
4.   Lang247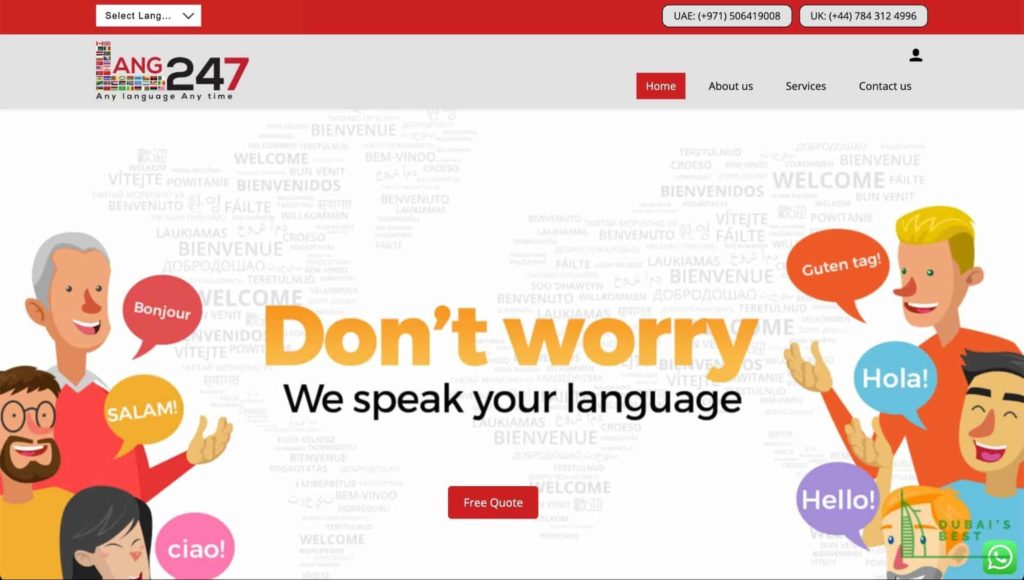 BEST FOR
Wide translation content coverage
WEBSITE
https://www.lang247.com/
ADDRESS
309, Level 41, Emirates Towers, Sheikh Zayed Rd, Dubai, United Arab Emirates
CONTACT DETAILS
+971 50 641 9008


[email protected]

OPERATING HOURS
Open 24 hours
Lang247 translates different types of text in over 130 language pairs. They can translate anything from government documents to tweets and other social media posts for a variety of industries.
They do this with the help of their 5,000 native-speaking translators around the world.
However, what sets them apart from other translation companies in Dubai is their dedication to providing high-quality translations fast.
To show that they take customer satisfaction seriously, they apply a deferred payment system. They also offer a discount of up to 100% for translations delivered later than discussed.
24/7 services
Large team of translators
No onsite services
No interpretation services
Customer Reviews
Maryam Akram reviewed Lang247:
"Brilliant work, reliable people. Easy communication via WhatsApp, great for a tech-phobic like me. Sent the document on WhatsApp, I got it back translated, stamped, and signed. Polite and courteous customer service with good English. Would definitely recommend it."
Another previous client, Hamza Ali Farouq, said:
"Got birth certificate legally translated today. Great service by Zak. Will recommend. Thanks!"
5.   Dynamic Translation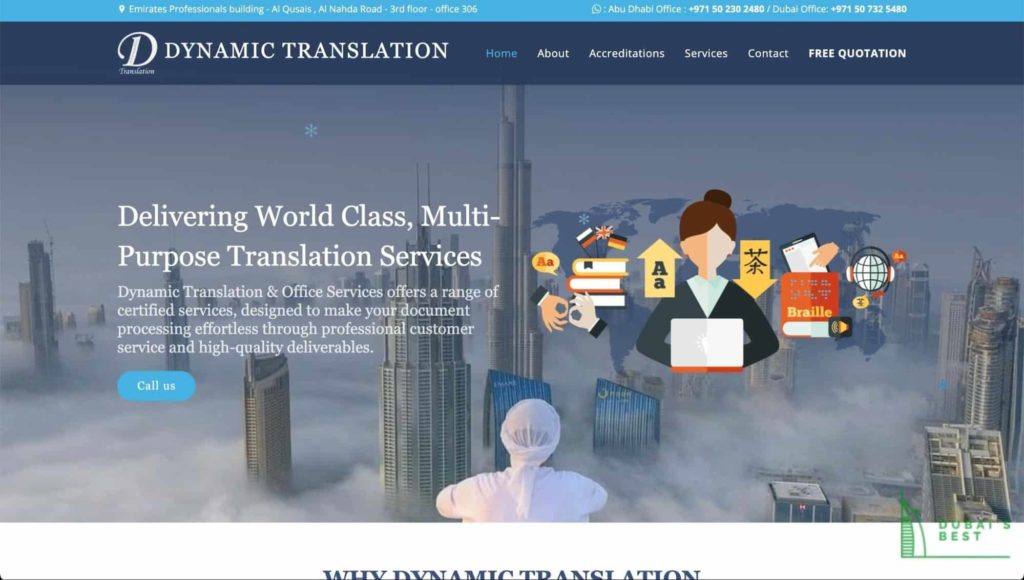 BEST FOR
Certification of legal documents
WEBSITE
http://www.d4t.ae/
ADDRESS
Emirates Professionals Building, 3rd floor, Office 306, Al Nahda Road, Al Qusais, Dubai, United Arab Emirates
CONTACT DETAILS
+971 4 280 9494


[email protected]

OPERATING HOURS
Saturday – Wednesday: 8:00 AM – 6:00 PM
Thursday: 8:00 AM – 4:00 PM
Dynamic Translation has 20 years of experience in providing translation and certification services in Dubai. They have staff that can translate documents, websites, and audio and video content into 14 languages, including Dutch, German, Polish, Korean, and Japanese.
On top of these, they also provide interpretation services.
The company can be trusted to handle your legal documents, as they are accredited by several government offices and embassies. These include the French, British, Canadian, and Belgian embassies, the UAE Ministry of Foreign Affairs, and the Ministry of Justice.
They also work in partnership with the best courier services in the UAE to ensure that your translated hard copy documents reach you safely.
Recommended by government bodies and embassies
Works with the best courier service providers in the UAE
Services are not available 24/7
Limited languages available
Customer Reviews
Bobby Ninan shared their experience with the translation company, saying:
"5 stars for service! Been here on two occasions for some legal paperwork.
They are very customer focused and reliable. Everyone from the reception staff to the centre manager I have interacted with is very professional. Highly recommended if you are looking for services offered by them."
Lyra Pleia also reviewed Dynamic Translation:
"They're the best! I tried other companies providing legal translation and I'm glad I chose Dynamic just like I did 3 years ago.
Fast translation and polite customer service. For a small service fee, they will get it stamped by the Ministry of Justice. They can deliver the finalized documents directly to your doorstep."
FAQs about the Best Translation Services in Dubai
---
That's it for our list of firms for the best translation services in Dubai. One of these providers will surely be able to help you or your company achieve your goals.
Do you know other translation companies we should add to this list? Let us know by sending us a message.
If you're also looking for SEO agencies in Dubai for your business, check out our list of the best SEO companies.